Nursing is a demanding but incredibly rewarding field, requiring dedication, compassion, and a lot of hard work. Nurses can choose from dozens of specialties and a variety of settings, including frontline hospital work, education, and private healthcare. Whatever your role, as a nurse, you'll find that soft skills — including communication, problem solving, and conflict resolution — are essential, as are hard skills in patient care, technology, and basic medical procedures.

There are multiple pathways leading to nursing, all culminating in the National Council Licensure Examination (NCLEX). Aspiring nurses can pursue a Diploma, Associate Degree, or Bachelor of Science in Nursing, while accelerated programs are open to those with an existing undergraduate degree or experience in the field.

In 2021, the face of nursing is expected to change significantly. Shortages elsewhere in the medical field are likely to lead to an increased demand and higher responsibilities for Nurse Practitioners and more nurses choosing to specialize. Nurses are also likely to see a greater emphasis on technology in healthcare, including telehealth visits, medical chatbots, and online education programs. The US Bureau of Labor Statistics predicts a 12% job growth for nurses over the next several years, well above the national average.
General Nurse Resume Sample
The most important duty of a nurse is patient care, but that's far from their only responsibility. As a nurse, you'll be administering medication, monitoring and evaluating patient progress, and working closely with doctors to provide care in hospitals, clinics, residential homes, and a variety of less typical environments. To land a nursing position, you'll need to emphasize both hard and soft skills in your resume.
Recruiter Insight: Why this resume works in 2021
Experienced Nurse Resume Sample
As an experienced nurse, you'll want to emphasize your experience in the field and advanced skill set. You may find yourself moving into positions of leadership or other increased responsibilities, which means highlighting transferable skills and evidence of solid career progression. Your accomplishments are key — instead of listing as many bullet points as you can, consider your most impressive achievements, particularly ones that demonstrate leadership and commitment.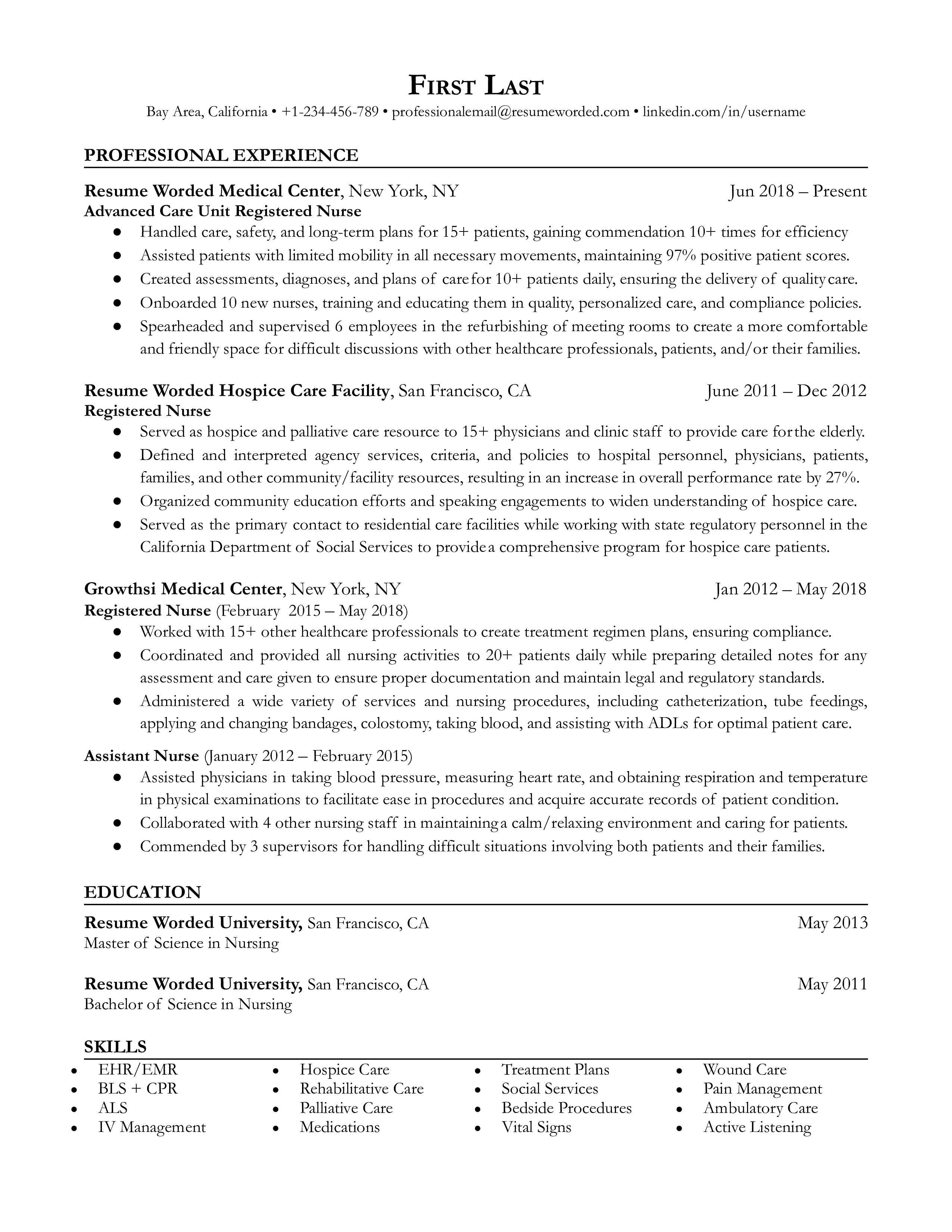 Recruiter Insight: Why this resume works in 2021
Certified Nursing Assistant Resume Sample
As a certified nursing assistant, you'll work closely with patients under the supervision of registered nurses. Your nursing assistant resume should emphasize the hard skills you'll need to do the job, including performing routine medical procedures like taking blood samples, monitoring vital signs, cleaning and sterilizing equipment, and assisting patients with eating, dressing, and bathing. You'll also need a solid understanding of relevant policies and legislation, including HIPAA.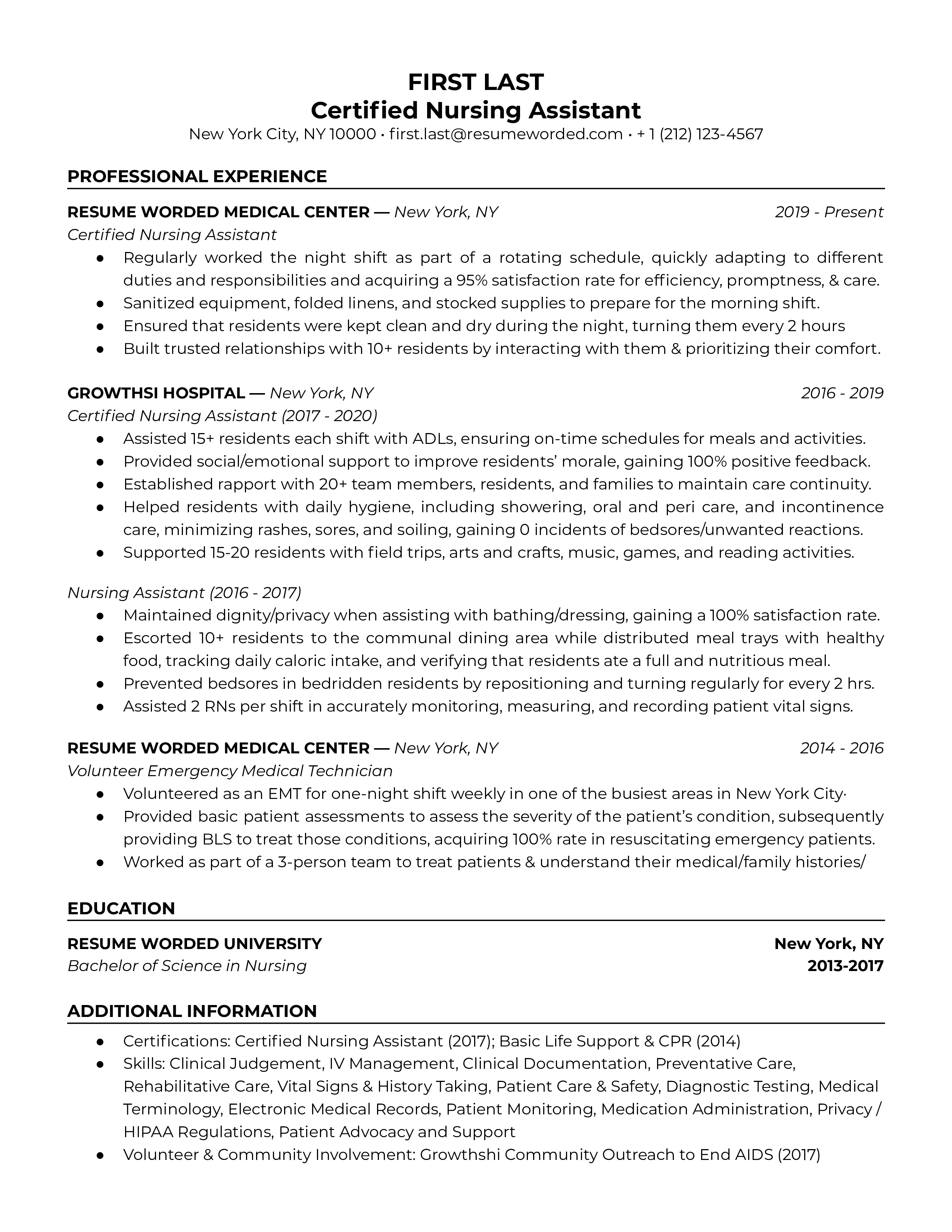 Recruiter Insight: Why this resume works in 2021
Registered Nurse Resume Sample
Registered nursing is a step up the nursing ladder, allowing you to provide care directly to patients. Licensure as a registered nurse (RN) is also a pathway to graduate nursing programs, practice as a nurse practitioner, and specialty certification. As an RN, you'll provide education and advice to patients and coordinate with physicians and other members of your healthcare team, meaning communication skills are also essential.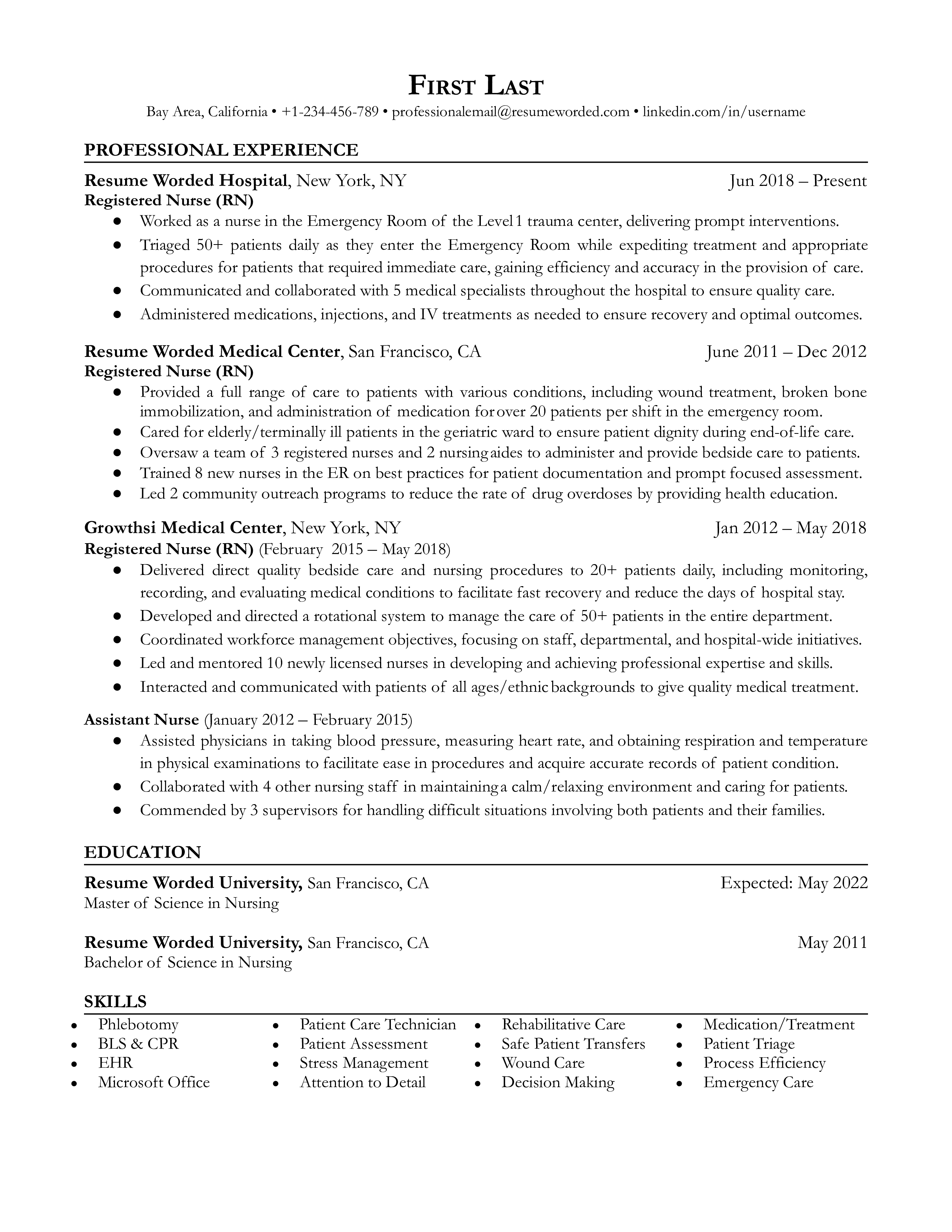 Recruiter Insight: Why this resume works in 2021
ICU Nurse Resume Sample
Working in the intensive care unit (ICU) of a hospital means working in an emergency setting providing care to critically ill patients. As an ICU nurse, you may also work in an emergency room or burn center. The crucial and fast-paced nature of ICU nursing means you'll need extensive nursing experience and additional certifications. Your resume should also emphasize transferable skills recruiters are looking for, including quick thinking and decision-making.
Recruiter Insight: Why this resume works in 2021
NICU Nurse Resume Sample
Neonatal intensive care (NICU) nurses provide critical care for premature and severely ill infants. As an NICU nurse, you'll also run NICU equipment, support women during labor, provide neonatal services to healthy newborns, and document patient histories. You'll need a high level of compassion, the ability to work in a stressful, fast-paced environment, and specific skills in neonatal care, telemetry monitoring, and neonatal medical equipment.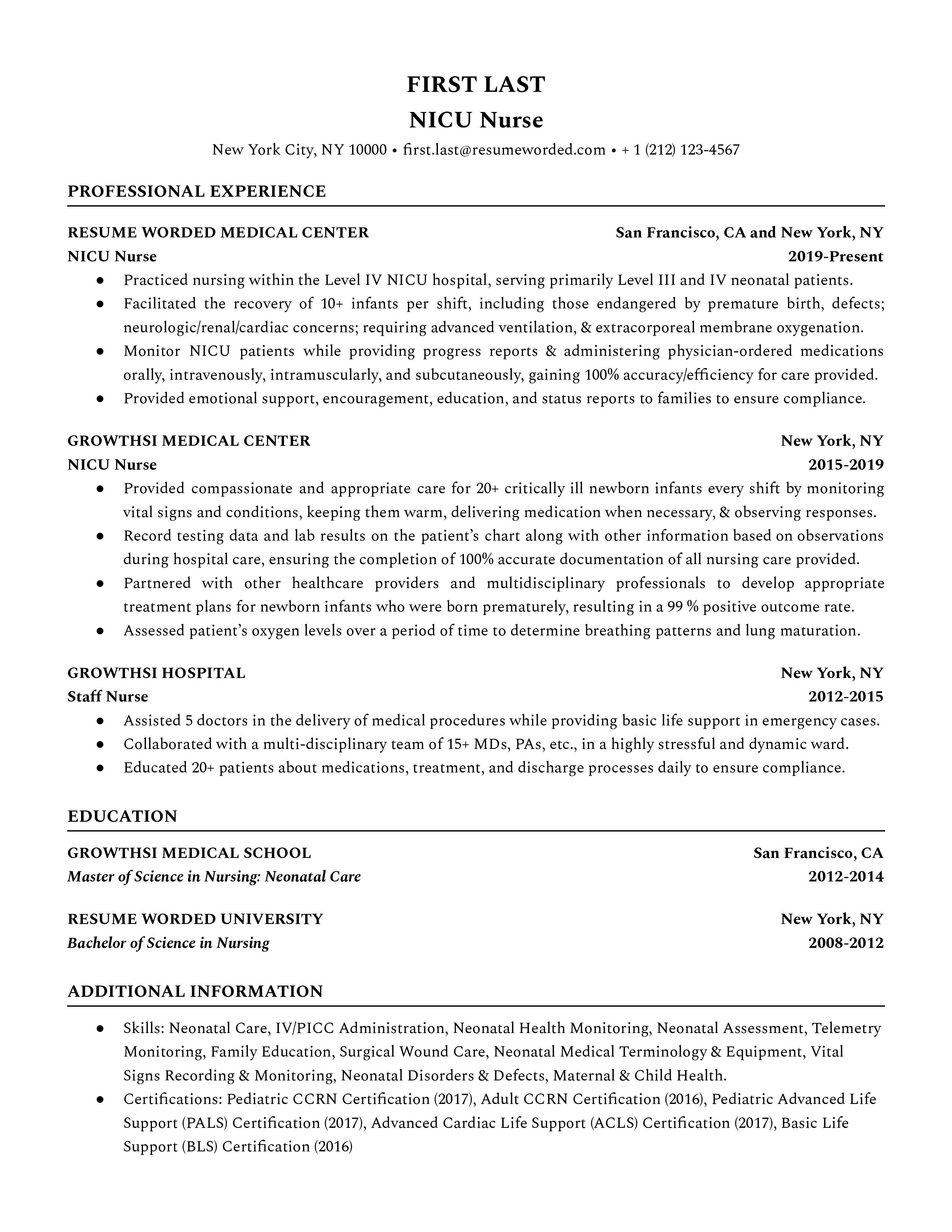 Recruiter Insight: Why this resume works in 2021
Psychiatric Nurse Resume Sample
Psychiatric nurses are responsible for supporting patients with mental health and substance abuse issues. As a psychiatric nurse, you'll be spending more time with a smaller number of patients, developing strong relationships and building trust in order to support patients over the long term. Soft skills in this role are a must, so use your accomplishments to highlight your empathy, resilience, and people skills.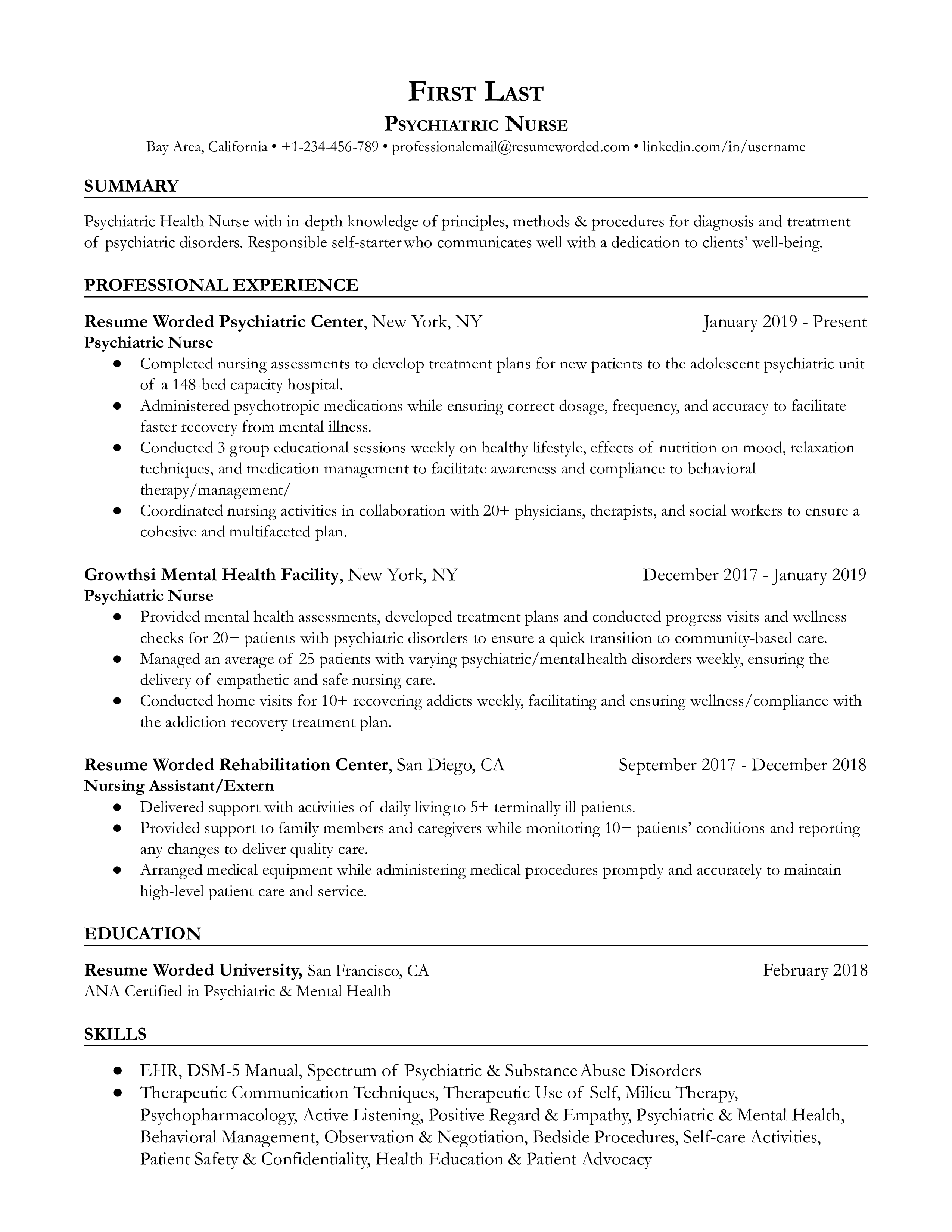 Recruiter Insight: Why this resume works in 2021
Nurse Case Manager Resume Sample
Unlike most nursing positions, the role of a nurse case manager is more administrative in nature. As a nurse case manager, you'll be in a supervisory role, with responsibilities including making decisions regarding budgets and scheduling, managing a team of nurses, and developing patient care plans. Your resume should highlight soft skills like leadership, decision making, and communication alongside hard skills in patient care and technology.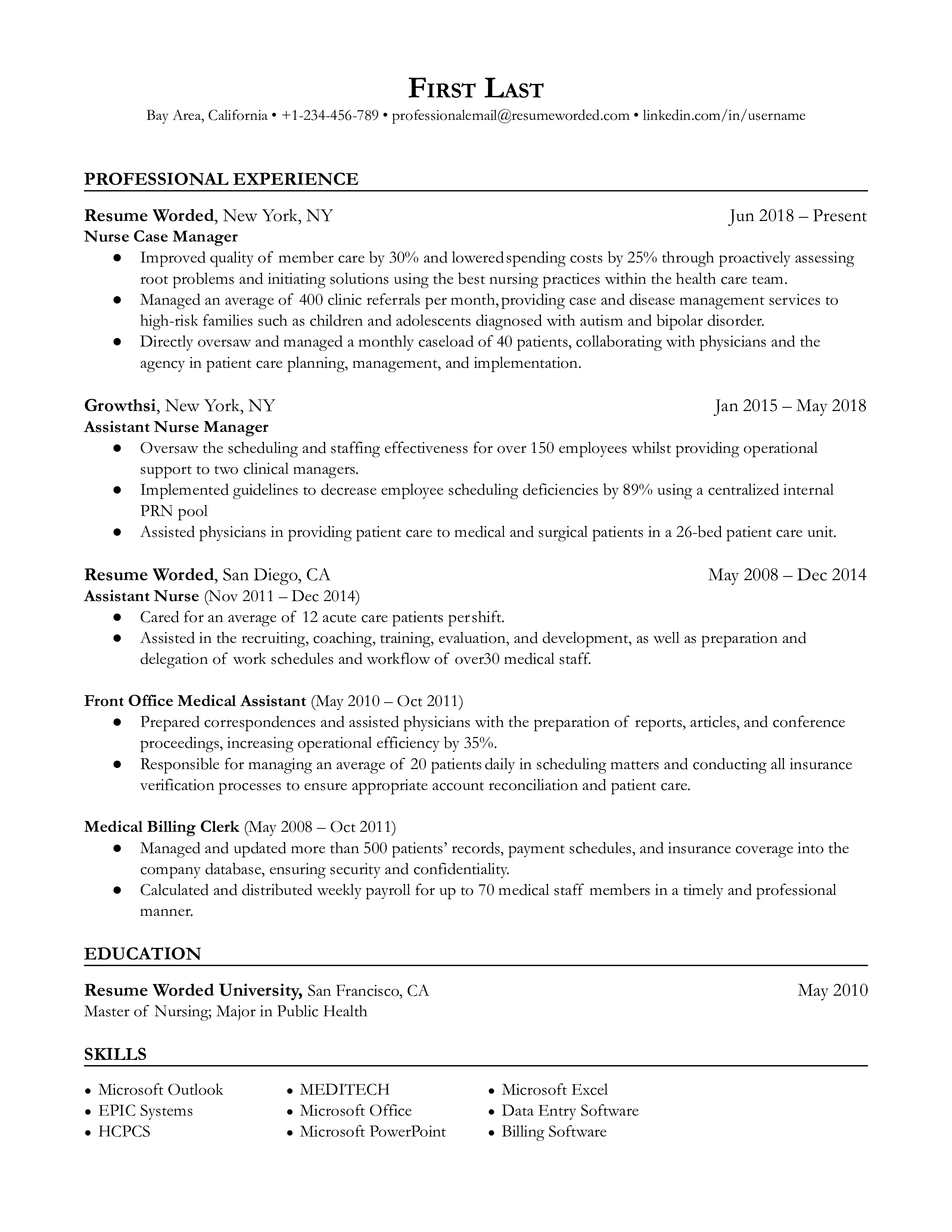 Recruiter Insight: Why this resume works in 2021
Nursing Student Resume Sample
As a nursing student, you'll be relying less on traditional work experience to fill out your resume and more on the skills you've gained through coursework and student nursing placements. Even without much experience, you can distinguish yourself by listing your student nursing experience the same way you would paid experience, focusing on your accomplishments and making sure to include relevant skills and keywords.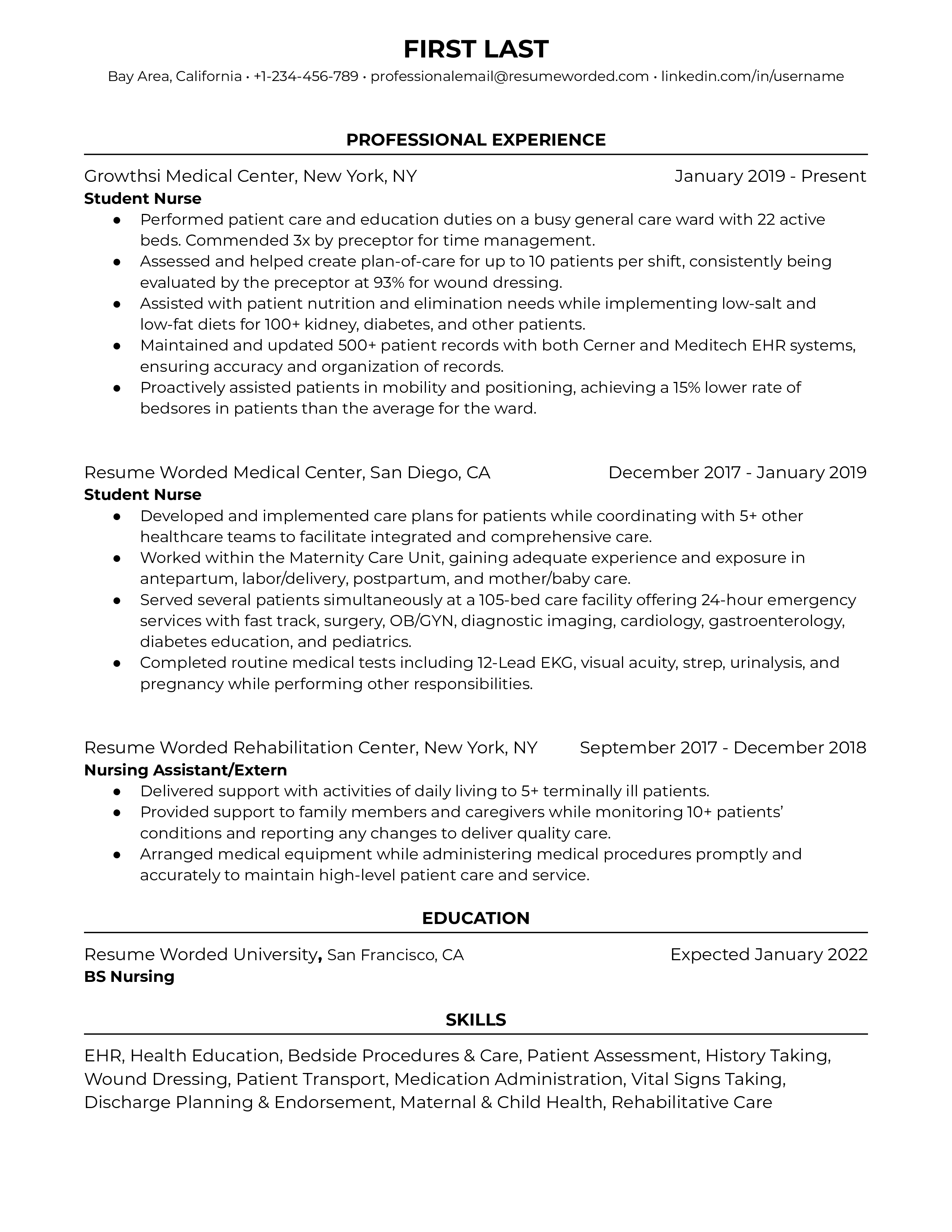 Recruiter Insight: Why this resume works in 2021
Travel Nurse Resume Sample
Travel nursing is a unique experience, allowing you to travel across the United States or even around the world. Many travel nurses still work in traditional hospital and clinic settings, but on temporary contracts. As a travel nurse, you may be entitled to additional benefits, including a higher salary and free accommodation or tax-free housing stipend. You'll need a high level of flexibility to succeed in this role.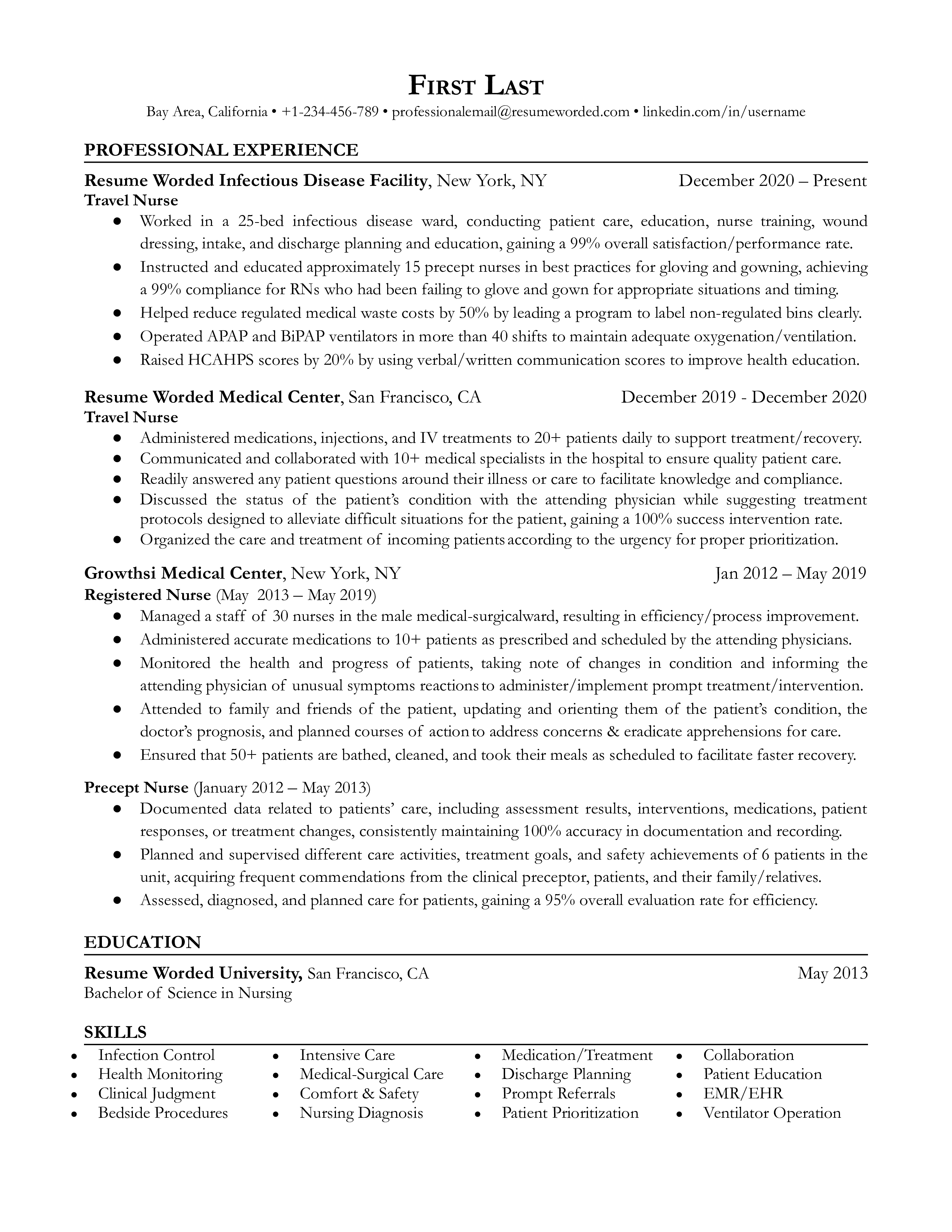 Recruiter Insight: Why this resume works in 2021
Nurse Practitioner Resume Sample
Nurse practitioners serve as primary care practitioners, often with responsibilities approaching those of physicians. Nurse practitioners need at least a master's degree but command a higher salary and a greater return on investment than a full medical doctorate. As a nurse practitioner, you'll have the ability to perform physical examinations, prescribe medication, assist in surgical procedures, and even practice independently in some states.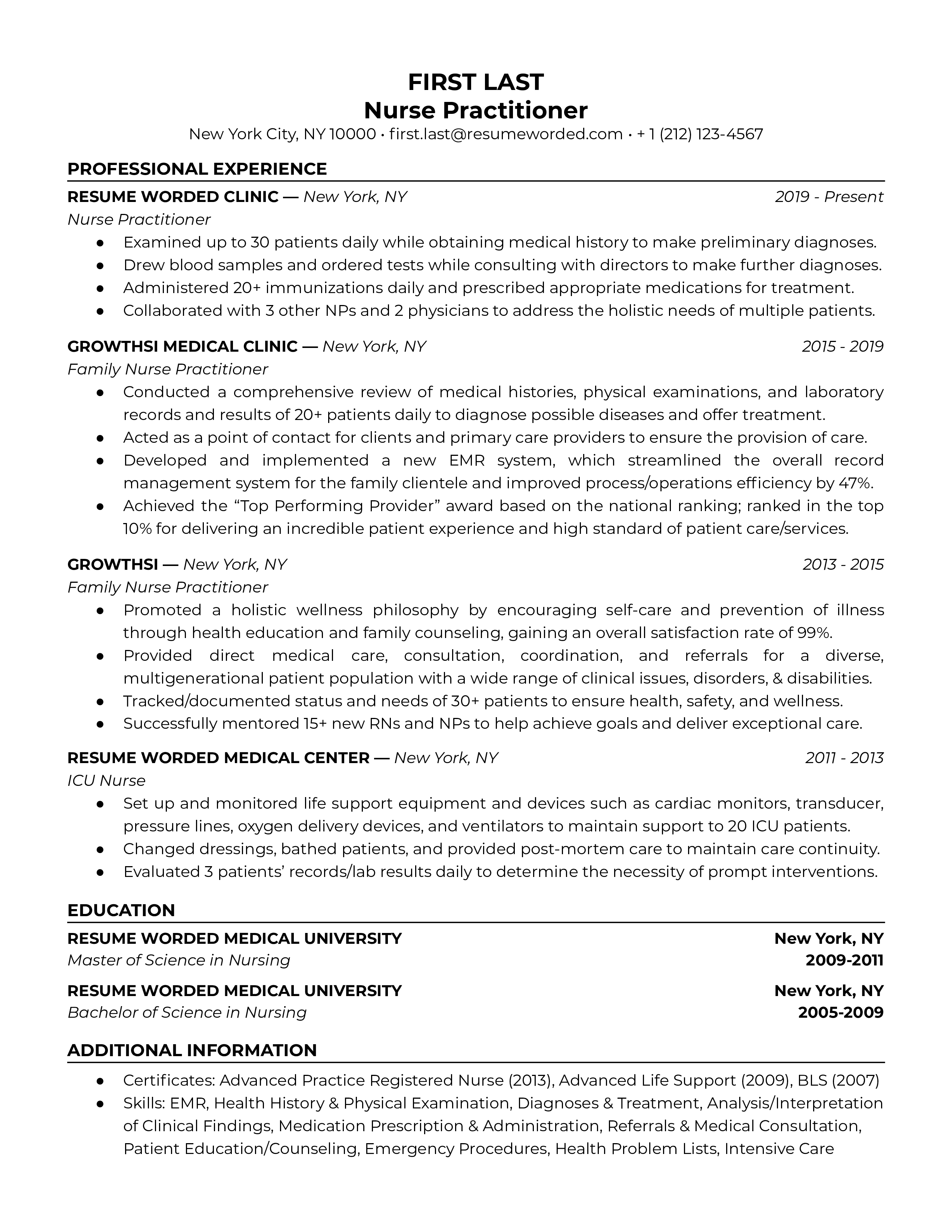 Recruiter Insight: Why this resume works in 2021
New Grad Nurse Resume Sample
As a new graduate nurse, you'll face a steep learning curve, so be prepared to learn and adapt on the go. Without much professional work history on your resume, you should highlight any nursing experience you've gained during your studies, including student nursing placements, clinical practicums, and any experience as a technician or extern.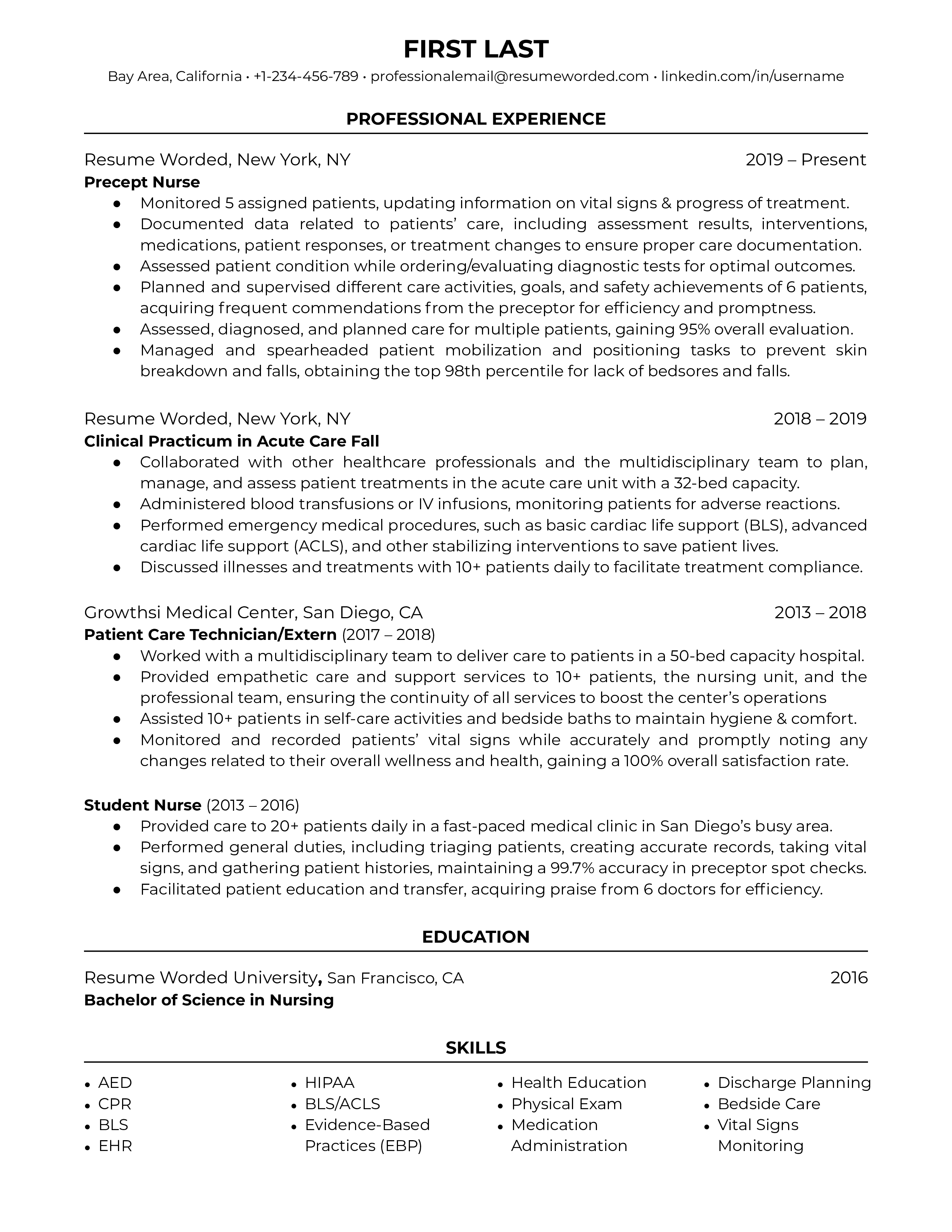 Recruiter Insight: Why this resume works in 2021
Skills For Nursing Resumes
Targeting your skills section is the easiest way to tailor your resume to the specific job you're applying for. You can use a separate section at the bottom of your resume for this or include these skills as part of your bullet points. If you are using a dedicated skills section, make sure you're only listing hard skills — soft skills, like communication and attention to detail, should be demonstrated through your accomplishments instead.

Often, recruiters will be looking for specific skills and may even be using ATS to automatically screen resumes for certain keywords. You can get a feel for what keywords you should be including by reading over the job description, or by checking out our list of recommended skills and keywords or using our free Targeted Resume tool.
Nursing
Basic Life Support (BLS)
Patient Safety
Healthcare Management
Hospitals
Advanced Cardiac Life Support (ACLS)
Inpatient Care
Healthcare
Acute Care
Electronic Medical Record (EMR)
Nursing Management
Medical-Surgical
Patient Education
Cardiopulmonary Resuscitation (CPR)
Clinical Research
Nursing Education
Healthcare Information Technology (HIT)
Patient Advocacy
U.S. Health Insurance Portability and Accountability Act (HIPAA)
Pediatric Advanced Life Support (PALS)
Action Verbs For Nursing Resumes
You probably know that it's important to focus your bullet points on your accomplishments. But how? Frame your achievements in a positive light by using strong action verbs at the start of each sentence. Structuring your bullet points this way emphasizes what you actually did and avoids listing bullet points that read more like a job description.

In addition to technical skills and medical know-how, nurses need a lot of transferable skills — think qualities like leadership, communication, empathy, and resilience. The best way to show that you have these qualities is through your choice of action verbs. If you're applying for an entry-level nursing assistant role, you might want to emphasize your ability to follow instructions and work as part of a team, so choose verbs like Assisted or Prepared. If you're looking for a more senior role, highlight your leadership potential with verbs like Implemented or Oversaw.
Monitored
Prepared
Diagnosed
Assessed
Organized
Assisted
Coordinated
Triaged
Administered
Trained
Educated
Evaluated
Operated
Improved
Implemented
Oversaw
For a full list of effective resume action verbs, visit Resume Action Verbs.