Case managers work directly with patients and healthcare providers to determine the best way to provide necessary care. As a case manager, you'll need to balance patients' needs with the resources available to you, which may vary depending on the context of your employer. Case managers often work for hospitals, private healthcare providers, and insurance companies, which means you'll need to consider cost efficiency alongside patient care — which is to say that case management isn't an easy job, but it is an extremely rewarding one.

Since you'll be working in the medical field, you'll need to demonstrate core technical skills as well as transferable skills like communication, crisis management, and conflict resolution. You may need a background in nursing, social work, as well as specific certificates or licencing depending on your field and state. Common prerequisites include the Certified Case Manager (CCM) and Accredited Case Manager (ACM) certifications.

Case manager salaries vary according to your field and background, with nurse case managers earning the highest salary at an average of over $70,000 a year. In 2021, case managers will need to be aware of trends like telehealth services and the growing impact of data mining and artificial intelligence.
Case Manager Resume Templates
Case Manager Resume Sample
Download Resume Template (Google Doc)
Download Resume in PDF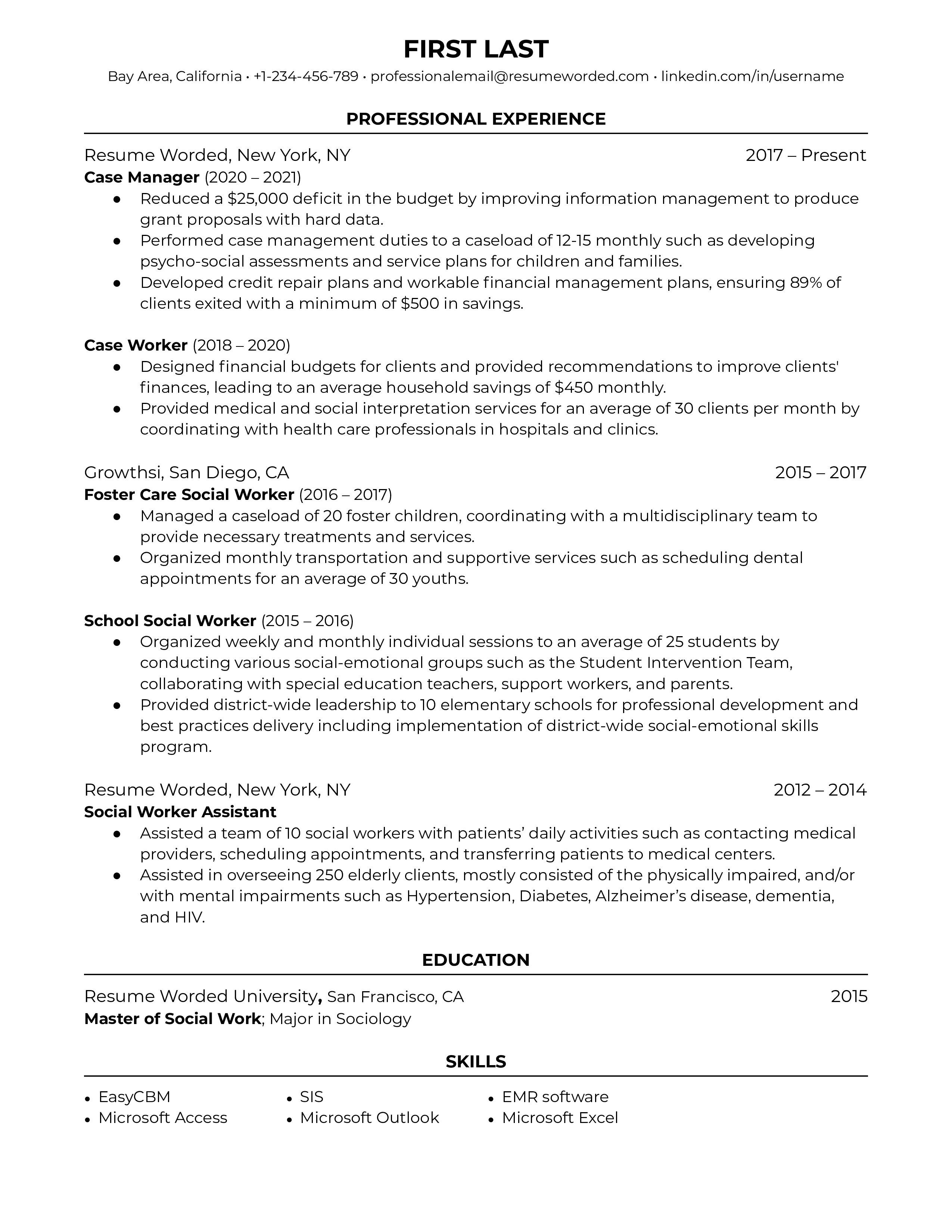 Why this resume works in 2021
As a case manager, you'll be handling case assignments, coordinating patient care, and looking out for the needs of your clients. This means you'll need technical skills in healthcare management, program development, reporting, and cost analysis, as well as soft skills like empathy, problem solving, and communication. Resist the temptation to load your resume with buzzwords or subjective statements and focus on demonstrating your accomplishments in action.
Improve your Case Manager resume, instantly.
Use our free resume checker to get expert feedback on your resume. You will:
• Get a resume score compared to other Case Manager resumes in your industry.
• Fix all your resume's mistakes.
• Find the Case Manager skills your resume is missing.
It's instant, free and trusted by 1+ million job seekers globally. Get a better resume, guaranteed.
Upload your resume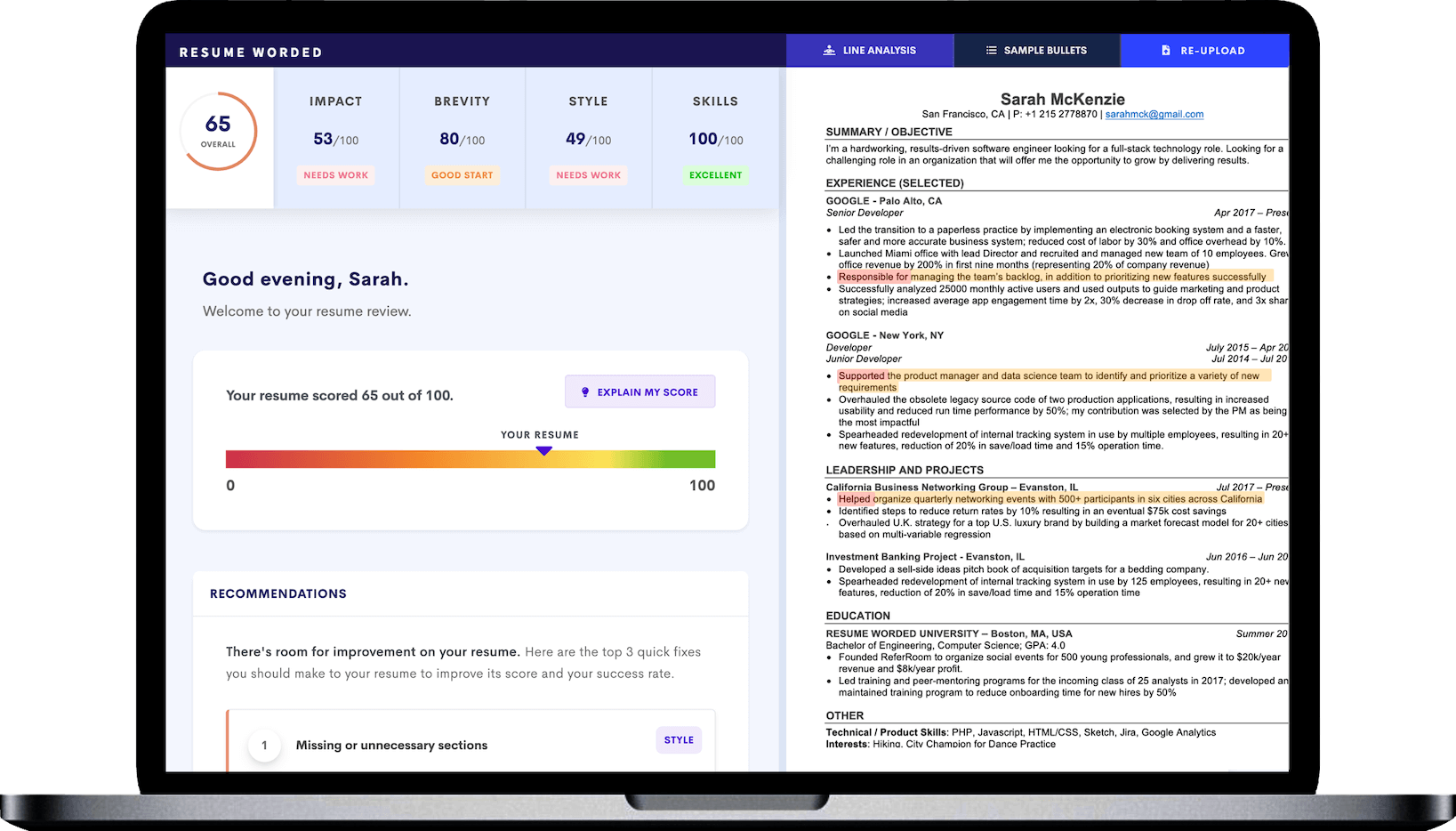 Mental Health Case Manager Resume Sample
Download Resume Template (Google Doc)
Download Resume in PDF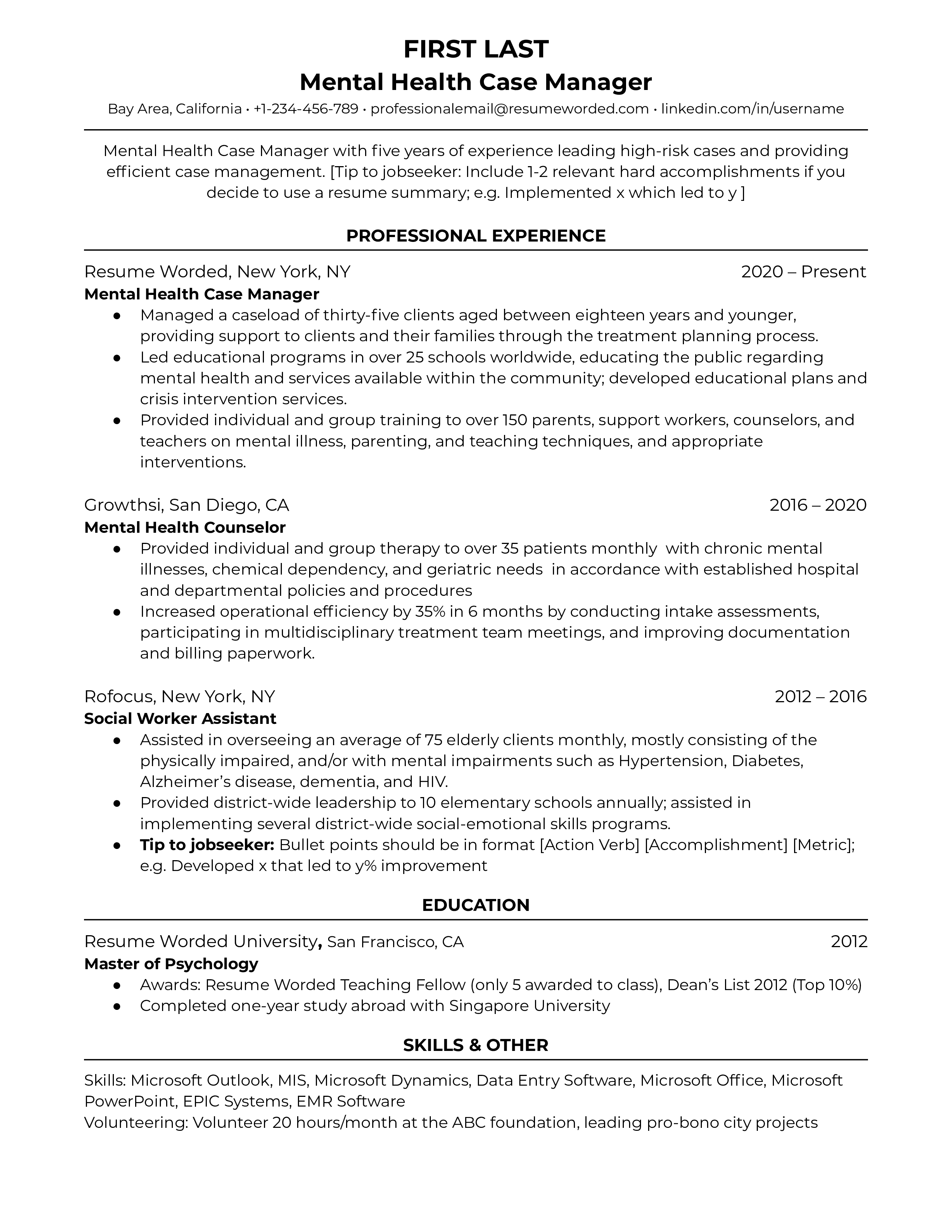 Why this resume works in 2021
Mental health case managers work closely with patients who have additional psychological, behavioural, or substance abuse issues. You'll need a healthy dose of compassion and people skills in addition to an understanding of mental health support services and the ability to develop individual treatment plans. As a mental health case manager, you could work in a variety of settings including hospitals, treatment centers, rehabilitation facilities, and private homes.
Nurse Case Manager Resume Sample
Download Resume Template (Google Doc)
Download Resume in PDF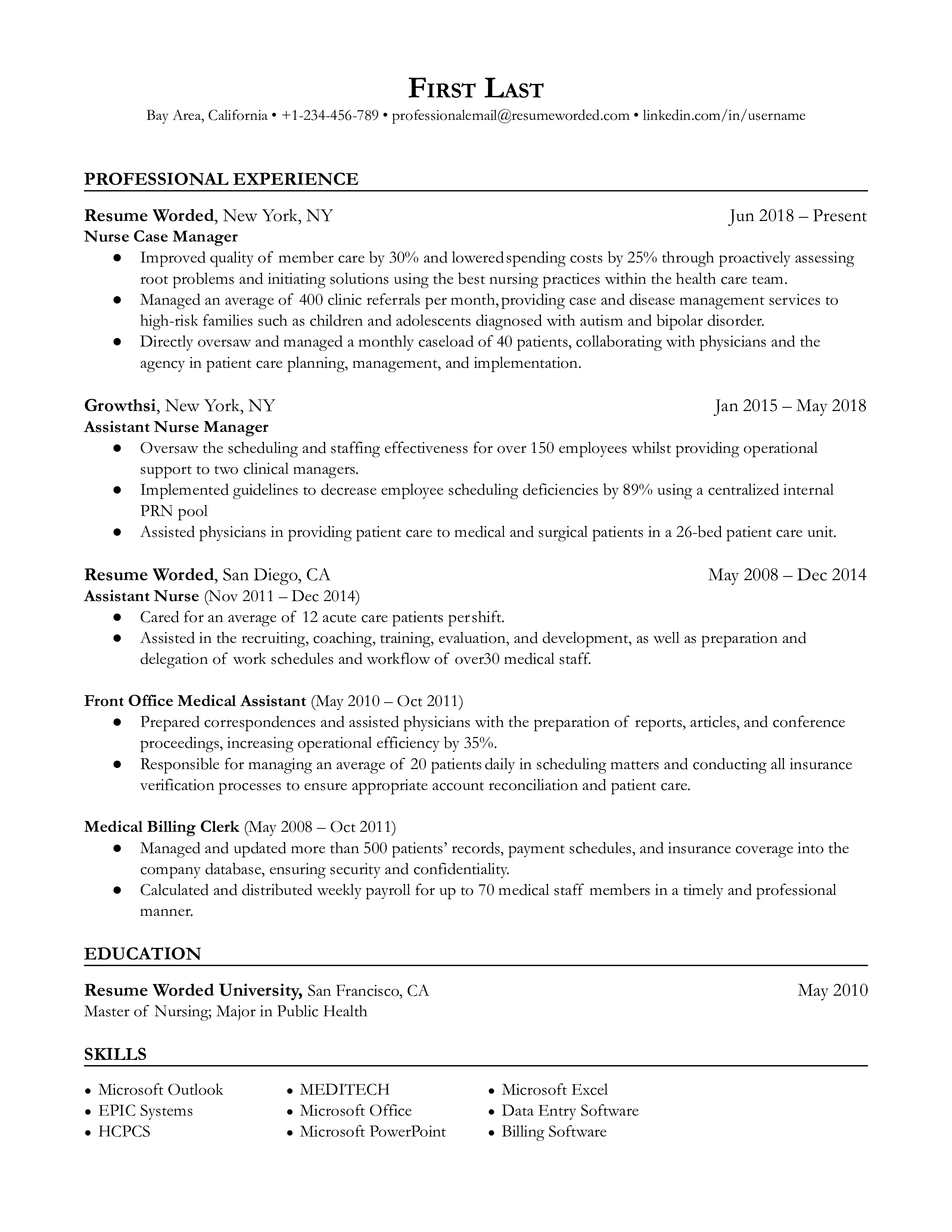 Why this resume works in 2021
Nurse case managers are registered nurses (RNs) who provide dedicated recovery plans to individual patients, often in a hospital or acute care setting. In addition to licensure as an RN, you'll need an understanding of patients' health needs, the ability to monitor patients and work with other care professionals to ensure continued recovery, and the knowledge and background to source cost-effective care solutions.
Skills For Case Manager Resumes
Case Management
Social Services
Crisis Intervention
Mental Health
Community Outreach
Nonprofit Organizations
Case Management Services
Program Development
Motivational Interviewing
Mental Health Counseling
Group Therapy
Working with Adolescents
Healthcare
Psychotherapy
Behavioral Health
Social Work
Nursing
Psychology
Healthcare Management
Public Speaking
How to use these skills?
Including the right skills and keywords on your resume could mean the difference between getting the job and your resume falling through the cracks. An increasing number of recruiters use Applicant Tracking systems (ATS) to automatically scan for keywords and filter out any resumes that don't list core skills. To avoid this, make sure you're explicitly listing your hard skills — like software and certifications — in an easily scannable way.

How do you figure out which skills hiring managers are looking for? The job description itself is always a good place to look — most job ads will highlight the most essential skills needed for the position. If you're still not sure, we've analyzed over one million job postings to compile a list of top resume skills and keywords, and we also provide a free Targeted Resume tool that will give you personalized feedback and suggestions for improvement.
Action Verbs For Case Manager Resumes
Provided
Organized
Developed
Managed
Decreased
Cared
Led
Improved
Oversaw
Facilitated
Implemented
Arranged
Monitored
Processed
Screened
Increased
How to use these action verbs?
You know the importance of focusing on your accomplishments, but do you know the best way to do it? By using strong resume action verbs! Starting each bullet point with an action verb enables you to frame your accomplishments in a positive light and keeps the spotlight on what you actually achieved — not just what you were told to do.

Want to convince a hiring manager how well you work with patients? Focus on using action verbs like Cared or Assisted. Need to emphasize your organizational skills? Choose Implemented, Facilitated, or Arranged. And if you're looking to take the next step and want to highlight your leadership and initiative, verbs like Improved, Oversaw, and Increased may be what you're looking for.

For a full list of effective resume action verbs, visit Resume Action Verbs.