"No experience, but I learn things really quickly, I promise!"
It doesn't exactly sound professional, does it? But if you can't come right out and say it, how can you let hiring managers know that you're a quick learner?
❌
DON'T: Say "I'm a quick learner" in your cover letter or put "fast learner" in your skills section.
✅
DO: Show, don't tell! Use your resume bullets to highlight real examples of your ability to learn quickly.
Let's start by taking a look at what these examples should look like — and where you should put them.
How to show you're a quick learner
You can highlight being a quick learner on your resume by:
Including relevant bullet points. A line like "Optimized financial reporting process by upgrading accounting system; doubled process efficiency and reduced errors by 25% within one year of joining the company" tells people you not only learn quickly but also make an impact fast.
Showing experience in different departments or a wide range of tasks. One thing hiring managers love to see is a broad range of responsibility — perhaps you managed a team that involved everything from design and coding to operations and marketing. This shows you are able to learn new skills, even if they're outside your subject matter expertise.
Tailoring your skills section. Instead of focusing on a narrow range of skills, choose two or three different but related skill sets to highlight — for example, maybe you have coding skills AND software fluency AND operations expertise, or a public speaking background AND speak multiple languages.
Highlighting your education. Showing knowledge of actively learning new skills is another good way to show you're a quick learner. Don't just stop at formal degrees — including one or two more recent certifications or short courses is a good way to demonstrate a commitment to ongoing learning.
Using synonyms to talk about it. It can actually be okay to say you're a quick learner in your cover letter or resume summary — as long as you're not too obvious about it.
Now, let's explore some examples of what all that should look like on your resume.
Write resume bullet points that show your ability to learn quickly
Like any soft skills, you should demonstrate that you're a fast learner through your bullet point accomplishments. Choose examples that demonstrate your ability to learn quickly, like cross-training in other departments or an early promotion.
Let's take a look at a few examples of actual bullet points you can use on your resume: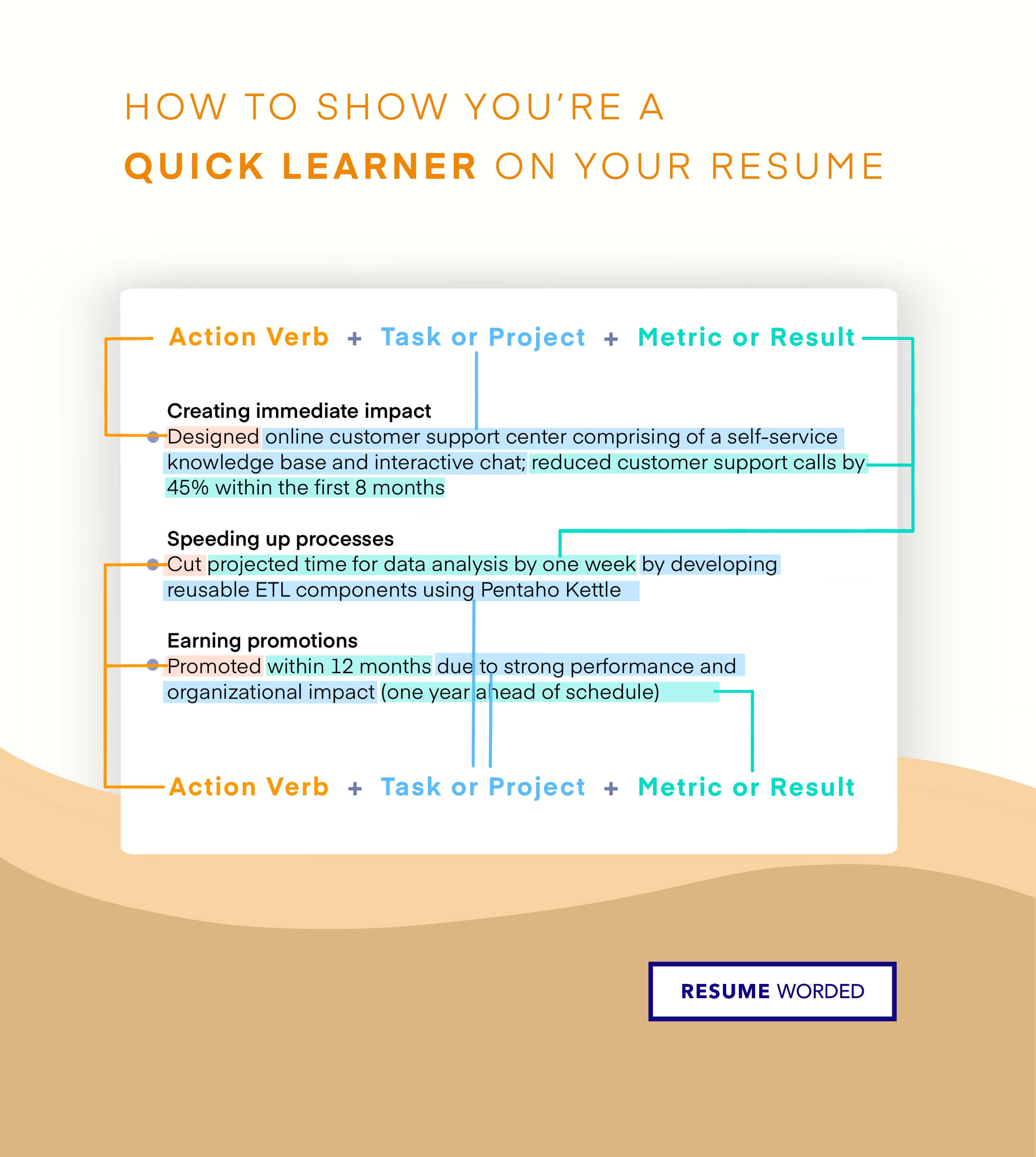 Designed online customer support center comprising of a self-service knowledge base and interactive chat; reduced customer support calls by 45% within the first 8 months
The keyword "first 8 months" is an effective way to show your ability to make immediate impact at organizations you work in. Ultimately, that's what recruiters look for — saying you're a fast learner isn't enough, you need to show that you can actually implement what you learned.
Cut projected time for data analysis by one week by developing reusable ETL components using Pentaho Kettle
Nothing says "fast learner" like getting things done ahead of schedule. Include accomplishments where you expedited a process or fast-tracked results.
Promoted within 12 months due to strong performance and organizational impact (one year ahead of schedule)
Similarly, an early promotion is always a good thing to include on your resume. In this case, it underscores that your ability to learn quickly was noticed by others and resulted in business gains. Here's how these bullet points could fit on a resume:
The structure of your bullet points should largely remain the same:
Start your bullet point with a relevant action verb, like Accelerated, Mastered, or Expedited.
To emphasize being a fast learner, you can also varying up your action verbs and use ones like "Researched", "Analyzed", "Learned" or "Optimized" which all show you're someone who can learn new technical skills.
Remember to follow this up with exactly what you did and what it achieved for the company — numbers and metrics are your friends.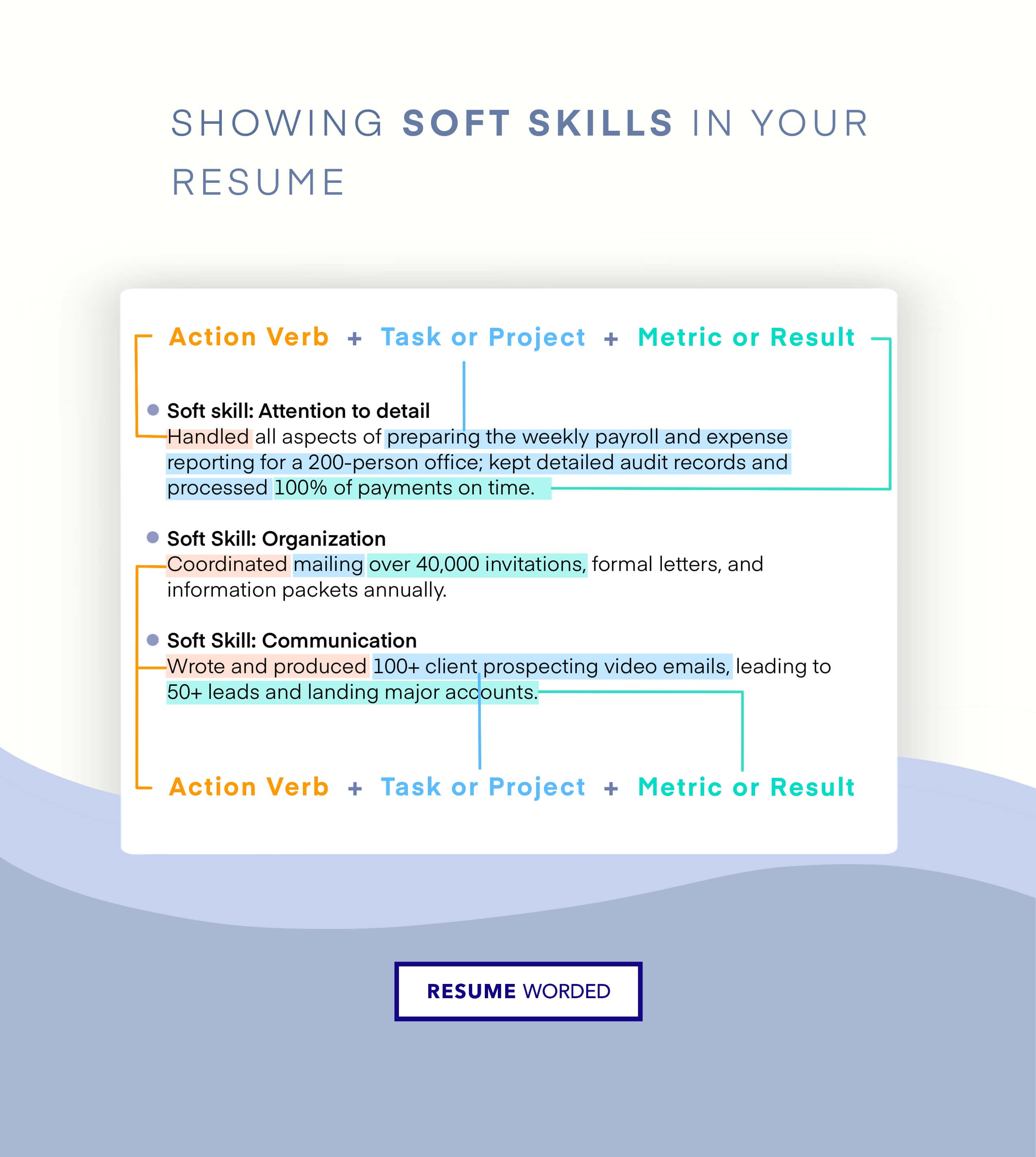 When you're done, use Score My Resume to find out how you score and give you tips on how to quickly improve your resume.
Find out if your bullet points show you're a quick learner
One of the easiest ways to let hiring managers know you're a quick learner is to use your resume to highlight accomplishments that show your ability to learn quickly and make impact. Upload your resume to the tool below - it'll let you know if you have highlighted the right accomplishments and other soft skills.
Include varying responsibilities and involvement in various departments
One thing hiring managers love to see is a broad range of responsibility — perhaps you managed a team that involved everything from design, coding, operations and marketing.
This is extremely positive from a hiring manager's perspective, as that shows you were able to quickly get up to speed when using new skills in a professional setting.
So, when you're writing your bullet points, make sure to stress different skills — you can do that by varying up your use of action verbs and highlighting across different departments. Let's look at an example:
Led evaluation and selection of new CRM system; spearheaded a cross-functional team (Technology, Business Development, Management) to implement the system; successful adoption accelerated revenue growth by 25% in 1 year
Devised a pricing and branding strategy with the Strategy team to launch a new three-tier pricing model; achieved a 27% increase in profit
Say you're a quick learner in your resume summary or cover letter
Another place that you can highlight you're a fast learner is in your resume summary. A sentence like "Self-taught Python developer" in your resume summary is effective at doing this.
Here's a summary example you might find useful:
Your cover letter, if you have one, give you a chance to expand a little on how being a quick learner is relevant to the position you're applying for. That means you should:
Focus on how it relates to the job. You want the hiring manager to understand how your ability to learn quickly will benefit them.
Use concrete examples, similar to how you should list accomplishments in your experience section.
Use synonyms so you aren't just saying "quick learner" over and over. Try "adept," "capable," "receptive," "retain information," and "able to quickly grasp new concepts."
In your cover letter, you can use sentences like the following to show you're a fast learner:
"I'm someone who hits the ground running — at [Role], I implemented a new process to reduce customer complaints by 20% in my first 3 months."
"Although I hadn't formally learned or programmed in Python, I was able to quickly learn and use my existing programming knowledge to start fixing bugs in just the first two months after joining"
"At my last role, I quickly got up to speed with [new system or process that you have not used before]..."
You can also discuss how you joined a new role that was very different to my last role — increased and varied responsibility is always effective at showing you're a quick learner.
Show you're a fast learner through the application process
It's not just a cliche — actions really do speak louder than words. If you say that you're a quick learner on your resume, hiring managers will be looking for evidence of that in how you act throughout the hiring process. That means you'll need to:
Take initiative. Seek out answers for yourself rather than asking the recruiter basic questions.
If you land an interview, prepare some answers for behavioral questions that show your ability to learn quickly; for example, a time you picked up a new skill at work or were able to work independently at a higher than expected level.
Be prepared to hit the ground running when you start the new job! If you've sold yourself as a quick learner, you may need to forgo some basic hand-holding.
Why is being a quick learner an advantage?
What hiring managers are looking for
Being a quick learner can be a valuable skill to include on your resume, but it has very little meaning on its own. Hiring managers don't necessarily care that you're a fast learner, but they do care what you can do with it. That means emphasizing related skills like:
Active listening
Learning new skills and processes
Planning
Resourcefulness
Ability to hit the ground running
Acting on feedback
Being a quick learner isn't about being smart or academic performance, so don't focus on things like GPA (unless you're a very recent graduate) or test scores.
Instead, focus on job-specific skills, like the ability to quickly absorb new information and hit the ground running in a new position, or requiring minimal supervision to get the job done. But don't list those as skills or buzzwords — remember that being a fast learner is a soft skill, which means you need to demonstrate it through your accomplishments.
Also worth keeping in mind is that while the ability to learn quickly can be an advantage if you're new to the workforce or changing careers, it doesn't replace actual experience. Someone with relevant skills, education, and work experience on their resume is almost always going to be more appealing to a hiring manager than someone they'll have to train, however briefly.
When being a quick learner actually matters
Being a quick learner can be an advantage in just about any role, but it can be particularly important if:
You're applying for job in a particularly fast-paced environment or one where you'll be required to wear multiple 'hats'
You need to be able to hit the ground running and get up to speed quickly
You'll be working with minimal supervision (including remote work or hybrid positions)
You're in a role where learning itself is a focus — for example, education, training, research, or academia
You're changing careers or pivoting to a new role
More examples
Ready to get started? Here are some other examples of how to say you're a quick learner in your:
Work experience bullet points
Education section
Skills or Additional Information section
Feel free to copy these examples directly or tailor them to reflect your own experience.
Work experience examples
Created a performance reporting template, achieving an 80% reduction in the preparation time of standard client materials.
Being a quick learner is an advantage for your employer when it saves the company time. If your ability to learn quickly significantly improved your performance or output, make sure to highlight that part.
Extracted pieces of DNA and protein from formaldehyde-embedded tissue in 150+ biological samples within 11 weeks on the job.
Anything that you achieved in your first few months can be used as evidence of being a fast learner. As a bonus, it also emphasizes that you'll be quick to bring value to the company.
Researched double cell lithium content and developed new methods that safely transported them, which saved the company $40K per year.
The key to a truly impressive resume bullet point is demonstrating the benefit your actions had. An accomplishment like the one above shows what you learned quickly and why it was important.
Education examples
RESUME WORDED UNIVERSITY
Master of Science in Management with Honors; Major in Management
Expected May 2022
Awards: Bill & Melinda Gates Fellow (only 5 awarded to class), Director's List (top 10%)

CFA INSTITUTE
CFA Level 2
August 2019
One of the best ways to demonstrate that you're a quick learner is through a commitment to ongoing learning. In addition to any prestigious awards, make sure to include any relevant mid-career qualifications in your Education section.
Skills section examples
Technical Skills: Advanced in Java, PHP, Javascript, HTML/CSS; Proficient in MATLAB
Languages: Fluent in French (native), English; Conversational Proficiency in Chinese
Including skills you've picked up — including technical skills and foreign languages — is a great way of showing your ability to quickly grasp and retain information.
You can show you're a quick learner by including any technical skills, hard skills and foreign language skills you've picked up (search for the right skills using the tool below!).