Being good with computers is a relevant skill in nearly any profession. Whether you're in a tech-based role or industry or mostly use a computer for checking emails, technology is an increasingly important part of most jobs, and that's not likely to change any time soon. Unfortunately, it's also incredibly easy for people to think that they're good with computers just because they know how to navigate Microsoft Office. So, how do you show that you really mean it when you say that you're tech savvy?
How to highlight computer skills on your resume
Add specific technical skills to your skills section.
Include examples of tech-based accomplishments in your bullet points.
Use action verbs to highlight exactly what you did.
Include the impact of your accomplishments via clear metrics.
Emphasize tech savviness in other areas of your resume.
Get expert feedback on your resume once you're done.
Find out if your resume shows enough of your technical skills and accomplishments
To show recruiters you're good with computers, try to emphasize any accomplishments you have that involve technology or software related to your job. An effective way to see if your tech-based accomplishments are strong is to upload it to the tool below — it'll scan it and let you know if you've shown enough of these accomplishments.
List technical skills in your skills section
The good news is, technology is a hard skill (meaning it's objective and easy to prove), which makes it fine to list in your skills section.
Do: List specific skills that you're likely to use in your new role, like Google Calendar, retail management systems, or Python.
Don't: Include basic computer skills that hiring managers expect everyone to have, like Windows 10, Microsoft Office, or email. That could signify that you're an older worker on your resume and may cause age discrimination.
If you want to find technical skills specific to the job you're applying to, use our skills search tool below and it'll give you a list of skills relevant to the job. The tool also gives you the option to add your resume, it'll perform a quick scan and tell you what skills are missing.
Include technology-based accomplishments
If you want to take it a step further, don't just list what you know, but explain how you've used that knowledge. Include resume bullet points that illustrate tech-based accomplishments, like how you used a software program to complete a project or how you led a transition from one tool to another that saved your company money.
Use action verbs
Keep your accomplishments focused on what you actually did by starting off with a precise action verb. Get rid of duty-based bullet points like "Responsible for" or "Tasked with" in favor of unique action verbs that tell their own story. Try:
Devised
Automated
Overhauled
Coded
Assembled
Engineered
Conceptualized
Predicted
Diagnosed
Deployed
Troubleshooted
Redesigned
Include clear metrics
What's better than computer skills? Computer skills that matter — in other words, skills that could save your company time, make money, or solve ongoing problems. Instead of just saying that you used a specific tool or program, specify what the end result was as well.
Bad example: Evaluated and reviewed processes for onboarding vendors.
Good example: Evaluated and reviewed processes for onboarding vendors saving $750,000 in annual costs while improving bookkeeping efficiency by 10%.
And here's another example:
Bad example: Developed dynamic and interactive websites.
Good example: Developed dynamic and interactive websites that ensured high traffic, page views, and user experience which resulted in a 45% increase in sales revenue.
Let's look at some more examples of how to show you're good with computers: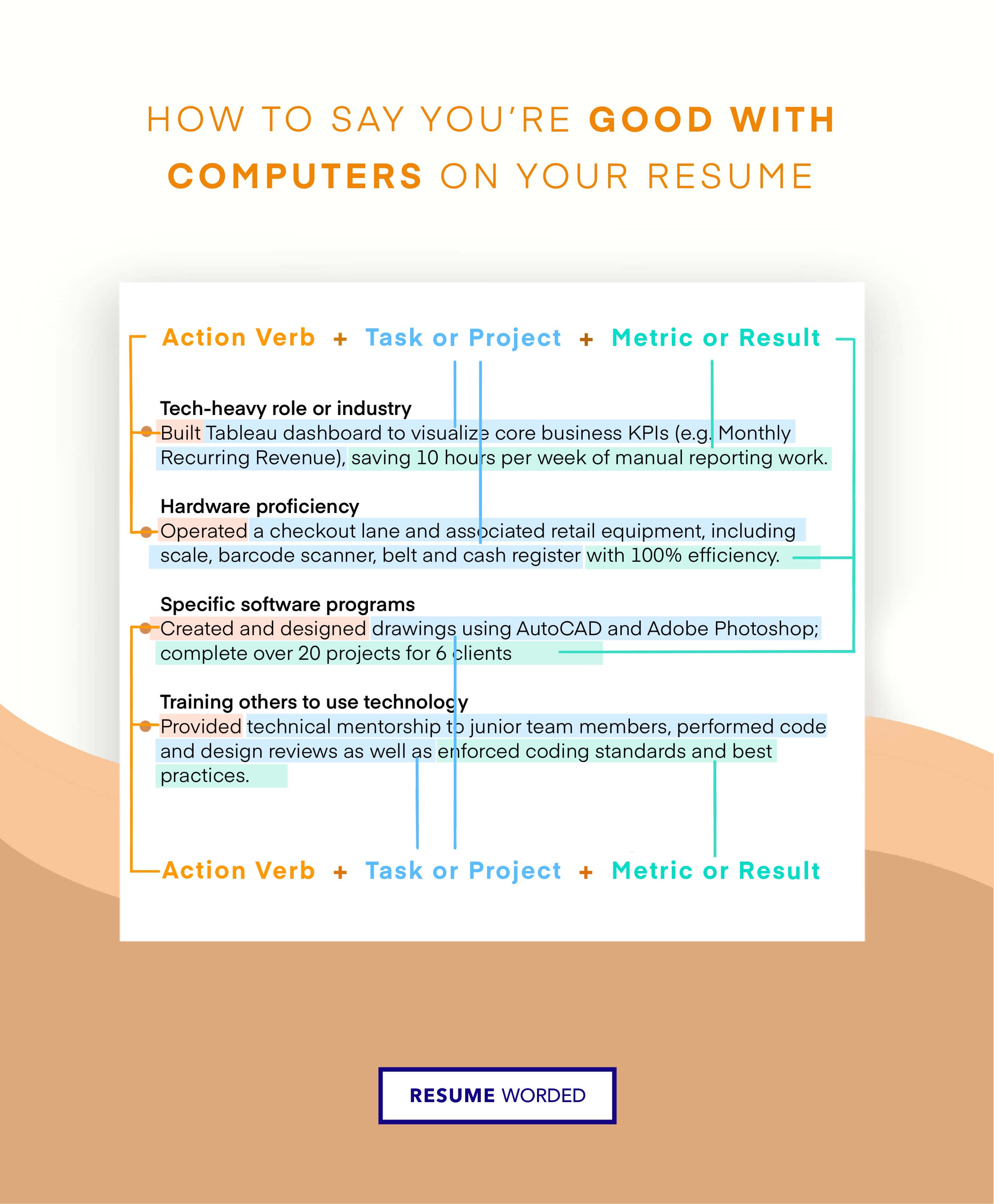 Get expert advice
If you're having trouble crafting the perfect resume, Resume Worded Pro lets you buy sample bullet points that show other core skill sets that recruiters want, including management skills, communication, leadership, and teamwork.
Already written a resume that just needs a bit of polish? Score My Resume is a free tool that will provide expert feedback on how to improve your bullet points and target specific keywords.
Examples of showing you're good with computers on your resume
Ready to add some tech savvy to your resume? Here are some bullet point examples you can use in nearly every situation.
Tech-heavy role or industry
When applying for jobs that heavily rely on technology, use your bullet points to be explicit about where your expertise lies and how it can benefit a potential employer.
Built Tableau dashboard to visualize core business KPIs (e.g. Monthly Recurring Revenue), saving 10 hours per week of manual reporting work.
Entry-level positions
If you're good with computers but haven't had a chance to use those skills in a professional setting, you can highlight things like relevant qualifications, personal projects, and extracurricular activities.
Designed and implemented movie recommendation application in 4-person team using Python in 3-day hackathon.
Enabled users to be recommended movies based on 50+ data points; awarded most innovative project by Google engineer.
Mid-level and senior positions
If you're applying for a more senior position, hiring managers want to see how you've used your tech savvy in a leadership role with significant impact.
Led evaluation and selection of new CRM system; spearheaded a cross-functional team (Technology, Business Development, Management) to implement the system; successful adoption accelerated revenue growth by 25% in 1 year.
Increased productivity by 20% through becoming a subject matter expert of a new automated tracking tool and sharing it with the team.
Specific software programs
If you have much-needed expertise in a niche or widely-used program, choose examples of accomplishments that demonstrate how you've used that software in a professional capacity.
Utilized AutoCAD and Adobe to create design drawings and complete over 20 projects.
Hardware proficiency
If the job you're applying for requires working with a specific hardware or machine, letting hiring managers know you're already familiar with it can cut down on training time and make you a much more attractive candidate.
Operated a checkout lane and associated retail equipment, including scale, barcode scanner, belt and cash register with 100% efficiency.
Coding and programming
If you're familiar with specific programming languages and that's a skill you'll be using in the position you're applying for, go ahead and get specific about what you know.
Performed extreme coding to include Java MapReduce, Hive, Avro, Paquet Impala, and Shell Scripting.
Troubleshooting and problem solving
Sometimes, tech savvy isn't about what you know, but how you figure out what you don't know. Problem solving is a related and in-demand skill set worth highlighting in your accomplishments.
Handled 40 incoming calls daily whilst troubleshooting hardware and software scenarios of over 300 applications on various systems.
Training others to use technology
Being able to use technology is good. Being able to train others to use it? Can be priceless. If you've successfully trained other people in specific technology, highlight those accomplishments front and center.
Provided technical mentorship to junior team members, performed code and design reviews as well as enforced coding standards and best practices.
Trained 15 new employees to transcribe, verify and enter data from source documents directly to the computer, and to operate other office and data processing equipment.
Basic computer literacy
Computer skills don't have to be complicated. If you're applying for a position where being good with computers isn't a given — but may still be an advantage — try highlighting core tech skills in a reader-friendly way.
Increased operating efficiency by 32% through updating the company's database systems, both manually and electronically, and reviewing files and records.
Maintained attendance and scheduled vacation days for 40 salaried employees using Excel.
Highlight your skills upfront
If you really want to emphasize your computer skills — say, if you're applying for a role where those skills are essential or you have a specific in-demand skill set — you can address them in other places, like your resume title, summary, and cover letter.
That doesn't mean you can come right out and say "I'm tech savvy" or "I'm good with computers." Recruiters don't care about your self-assessment — they want results they can judge for themselves. Instead:
Include a resume title that's an exact match for job you're applying for to help you bypass automated resume screeners
Highlight key technical skills in your resume summary, like software programs or tools that are an important part of the job
Use synonyms in your cover letter to avoid repeating yourself, like "software proficiency" or "adept at troubleshooting." Even better if you can point to specific examples!