Like anything in life, there's no one size fits all solution to writing a resume. This means that a lot of tips geared toward first-time job seekers can leave older employees with even more questions. Like: Do I really need an education section if I graduated a few decades ago? How am I supposed to fit thirty years' experience on a one-page resume? And how I make myself appear younger on a resume to combat potential discrimination?
We'll cover those questions and more, but first, here are the most essential tips for writing a resume as an older worker.
Tips for writing a resume as an older worker
Use a modern resume format or template
Leave dates off your resume (including your graduation date, age, and date of birth)
Don't list experience older than 10-15 years
Customize your resume by tailoring your work experience and adding keywords
Revamp your skills section to remove outdated skills and include new technologies
Highlight recent training
Address any career breaks (including retirement)
Emphasize your experience — it's a strength, not a weakness!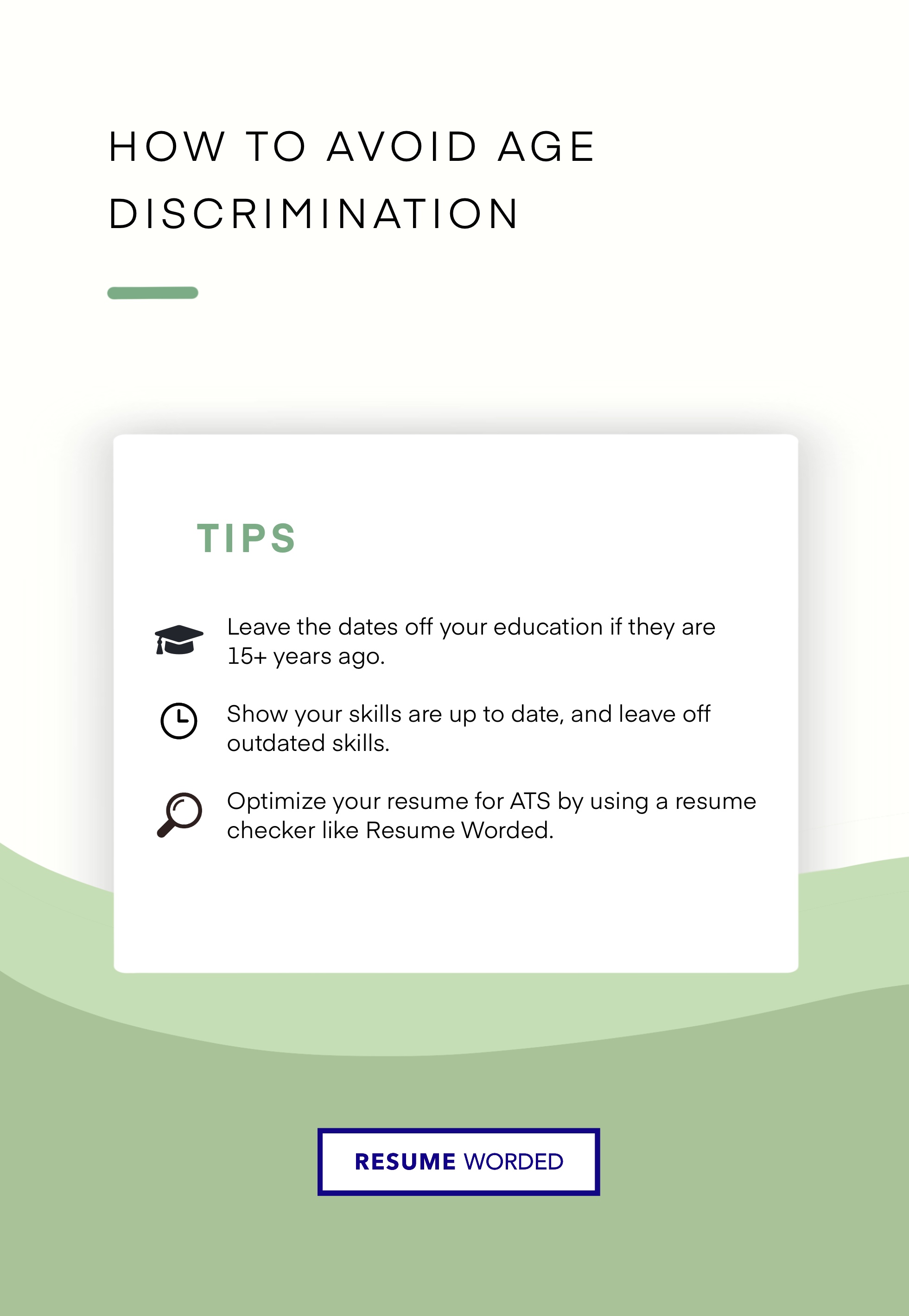 How to format your resume as an older worker
If you've been in the workforce — or out of it — for a long time, it may have been a while since you last updated your resume. If there's a chance yours is looking a little dated, here's how to quickly modernize your resume:
Choose a clean, modern font like Arial, Georgia, or Helvetica
Forget outdated style rules like using paragraph indents or double spaces after a full stop
Stick to standard formatting, including default margins and spacing
Upgrade to a newer version of Microsoft Word of switch to Google Docs
Skip the hassle and download an ATS resume template
💡
DO: If in doubt, use a pre-made template or stick to the default options in your word processing program.

DON'T: Attempt to get fancy with your formatting just to prove that you know your way around Microsoft Office.
Leave unnecessary dates off your resume
We'd love to tell you not to worry about age discrimination, but unfortunately, it does happen. The best way to avoid it? Leave dates off your resume.
We're not talking about dates of employment — those should always stay. On the other hand, if you graduated more than a decade ago, it's perfectly fine to leave off your graduation date. And never directly list your age or date of birth on your resume — in fact, the fewer personal details you list, the better.
💡
DO: List your college or university, the degree you attained, and your major — without the dates.

DON'T: Leave out dates of employment — these are always necessary, no matter how long ago they were.
Only include your most recent and relevant experience
Here's a little-known tip: You don't need to list every job you've ever held on your resume. In fact, if you entered the workforce 20+ years ago or have changed careers, you definitely shouldn't.
Stick to jobs that demonstrate skills and accomplishments that are relevant to the position you're applying for — 10-15 years of work experience is plenty, unless you're applying for a senior-level position that explicitly requires longer.
💡
DO: Restrict older jobs to a single line listing the company, job title, and dates — or leave them off your resume entirely.

DON'T: Go all the way back to the beginning of your career.
Optimize your resume
If it's been a while since you last applied for a job, you may not have had to deal with Applicant Tracking Systems (ATS). ATS are automated software that screen out applicants who don't meet basic requirements by searching for set words or phrases and are used by an estimated two-thirds of companies.
What does this mean for you?
In simple terms, make sure the software can read your resume by including relevant keywords, avoiding images and decorate fonts, and uploading your resume as a pdf.
💡
DO:
Upload your resume to a
free resume checker
to make sure it includes necessary keywords and is compatible with ATS.
DON'T:
Use resume "shortcuts" like pasting the job description in white font — modern resume scanners strip the formatting and reveal these cheats.
Embrace new skills and technology
The biggest concern hiring managers are likely to have is whether your skills are up to date. You can allay these concerns by listing technical skills that are relevant to the job you're applying for.
Not sure exactly which skills belong on your resume?
Check the job description for "must have" skills
Use our skills and keywords finder to search for relevant skills in your role or industry
Prioritize new or emerging technologies, like Software as a Service (SaaS) or Slack — especially if you're working remotely.
💡
DO: Create a skills section at the bottom of your resume for technical skills, techniques, qualifications, and other relevant information.

DON'T: List outdated technical skills or ones that employers expect as a bare minimum, like email or Microsoft Word.
If you need help finding new technology and hard skills that are most relevant to the job you're applying for, use the tool below to get a list of relevant ones.
Highlight recent training
Another way to prevent your skills from getting rusty is to freshen them up with a short course or relevant certification. Search for reputable providers or well-known qualifications, especially if you're looking for online courses.
Depending on how essential the qualification is to the position you're applying for, you can list it at the top of your resume in your education section or resume summary, or at the bottom with your skills and additional information.
Address career breaks
Returning to the workforce after some time off — or even coming back from retirement? The good news is that gaps on a resume aren't as big a deal as they used to be.
The bad news is that you do still need to address it. The best place to do this is in your cover letter. Give a brief explanation of what you were doing (like raising children, traveling, or caring for a family member) and reiterate your enthusiasm for returning to work.
You can also deal with career gaps directly in the work experience section of your resume with a simple heading like "career hiatus" or "other experience," especially if you've used your time to volunteer or take on a personal project.
💡
DO: Use an "additional experience" section to explain what you've been doing during a career hiatus.

DON'T: Explicitly say that you're returning from retirement.
If you're an older worker wondering what else, like age or graduation dates, should or shouldn't be included in your resume, upload it to the tool below — it'll perform a quick scan and let you know what to remove or add into your resume.
Leverage your experience
Older job seekers have a lot of advantages over those who are newer to the workforce, not least of which is a bigger network. Whether you're returning to work after some time off, changing careers, or looking to move on after a long stint at the same company, it's time to reach out to ex-colleagues and other professional contacts. Ask your network for potential job leads, advice, and connections within their company or industry — anything that can give you an edge over your younger competition.
Resume examples for older workers
Ready to start updating your resume? Keep scrolling for resume templates you can use if you're:
An experienced worker seeking a high-level role
Changing careers
Returning from retirement or another career break
If you're an experienced hire seeking a senior-level position
This is where your years of experience shine! Focus on your ability to lead a team, work in a high-stakes or high-pressure environment, and deliver results that affect the company's bottom line.
In this template, we include only relevant experience — just the last 10-15 years is more than sufficient. We've left off older educational experience pre-MBA.
Download this template: Google Docs | PDF
If you're changing careers
It might feel weird starting from scratch, but you can still include any skills or accomplishments from previous roles that are relevant to your new industry or role. You don't need to include every job you've ever held, but do focus on transferable skills and accomplishments that are relevant to the new position.
Download this template: Google Docs
If you're returning after a career break
You don't need to explicitly say that you're ending your retirement or coming back to work after raising children, but you should include some explanation of what you've been doing with your time away from your career.
This resume template highlights the career break in an 'Other Experience' section, which is ideal for an older worker who's returning back to the workforce.
Download this template: Google Docs | PDF
Common misconceptions about resumes for older workers to avoid
FALSE: A fancy resume will make you appear younger
Fancy resume formats aren't impressive, and they're definitely not going to make you appear younger or more in touch. On the contrary, they're hard to read and demonstrate a lack of professionalism. Stick to a simple, standard resume format, like our ATS-ready resume templates.
FALSE: Your resume needs to include every job you've ever held
Your resume should be a brief summary of your most relevant skills and experience, not an exhaustive list of your entire professional history. Leave off any experience that's much older or no longer relevant.
FALSE: You should include a resume objective
Resume objectives are outdated. They're also particularly unnecessary if you have any kind of professional experience. If you're changing careers or want to highlight key skills and experience upfront, a resume summary is a much better option.
FALSE: You should list familiarity with older technology
Including outdated skills on your resume won't do anything but frame you as out of touch with current workplace norms. Unless you're applying for a job as a fax machine technician or COBOL developer, leave proficiency with older technologies and programming languages off your resume.
FALSE:  If you have a lot of experience, you need an extra long resume
For older workers with more experience, a two-page resume is completely fine. There's no need to try to condense 30+ years of experience onto a single page, especially if it's all still relevant.
If you spent a long time away from the workforce — for example, because you were raising children or are changing careers — you may only need a one-page resume. Leaving off older experience altogether might be better if it avoids raising questions about long career gaps.
FALSE: It's okay to lie about your age on a resume
Never lie on your resume, even as something as seemingly inconsequential as your age. Omission is different from lying — it's fine to leave dates of graduation off your resume, for example — but even a small lie can be grounds for immediate rejection.