Operations managers are high-level professionals who oversee the day-to-day operations of a business. They often manage multiple departments, balancing budgets and allocating resources to make the company as efficient and profitable as possible.

This upper-management role is as rewarding as it is challenging; you'll have wide-ranging responsibilities and will need a broad skill set to meet the demands of your job, but you'll be able to use your expertise and leadership to steer your company towards long-term growth and success.

As businesses are increasingly recognizing the crucial importance of these types of managers, the field is growing; some sources have projected a 6% increase in operations manager job opportunities from 2019 to 2029. Positions often pay well and can be competitive, even for qualified candidates.

If you're applying for an operations manager job in 2021, you need to show that you have what it takes to thrive in that role. Recruiters want to see that you have leadership abilities, management experience, interpersonal skills, and the capacity for making sound decisions that can positively impact the future of a company.

In order to leave a lasting impression on a hiring manager, you'll need a strong resume that sets you apart from other applicants. Read on to learn more about how to create a stellar operations manager resume that will showcase your most pertinent skills and abilities.
Operations Manager Resume Templates
Operations Manager Resume Sample
A successful operations manager needs to have a variety of skills. Excellent communication and leadership skills are vital because operations managers must work effectively across different teams and departments. More than anything else, these managers need to be able to generate measurable results for companies. A resume like this one uses detailed examples and numbers to show how you made a difference in previous positions.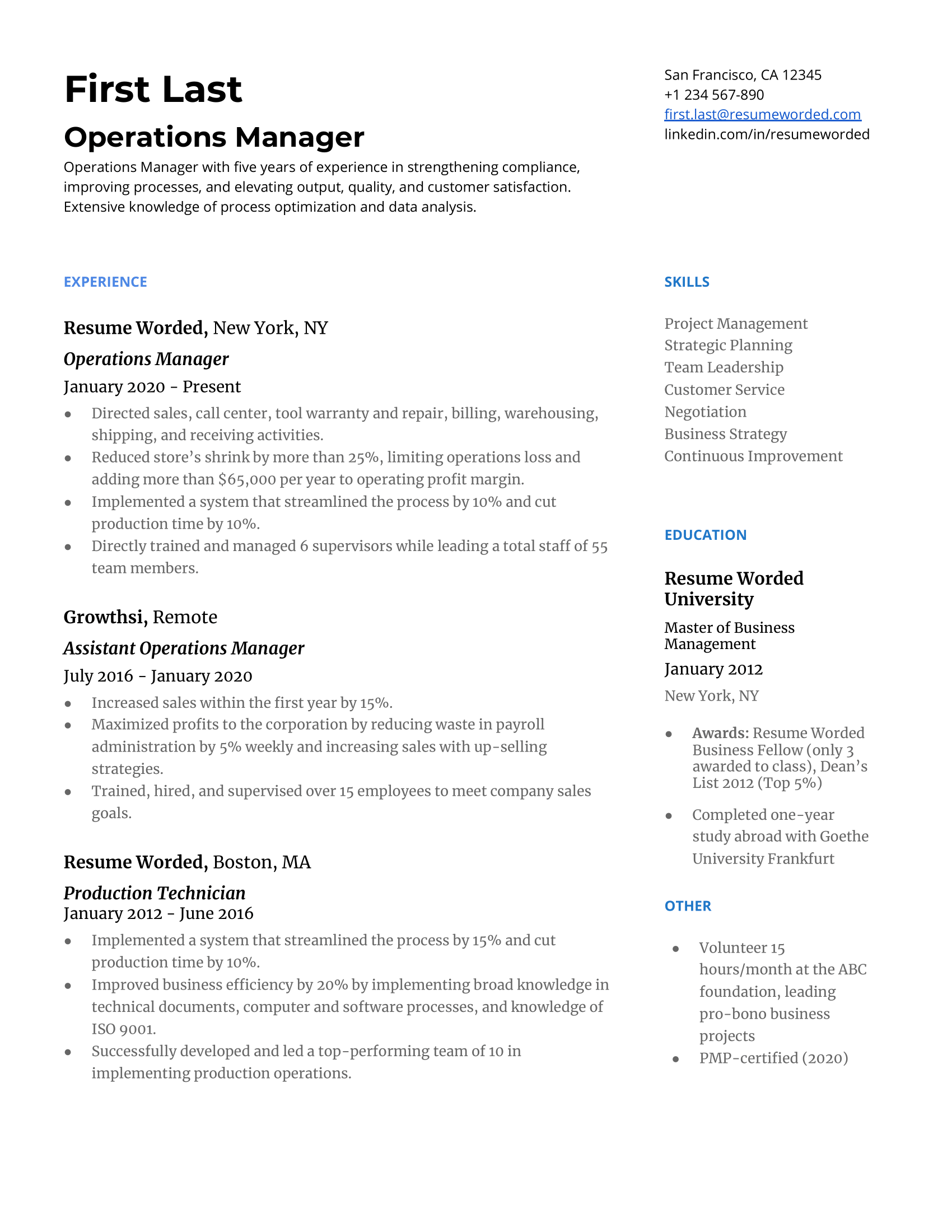 Recruiter Insight: Why this resume works in 2021
Business Operations Manager Resume Sample
Business operations managers may have more senior or executive roles at some companies than other operations managers. This resume showcases extensive experience within the field and accomplishments that demonstrate a high level of ability. Past promotions look good on any resume, but they're especially important for business operations managers because they show leadership and proactivity.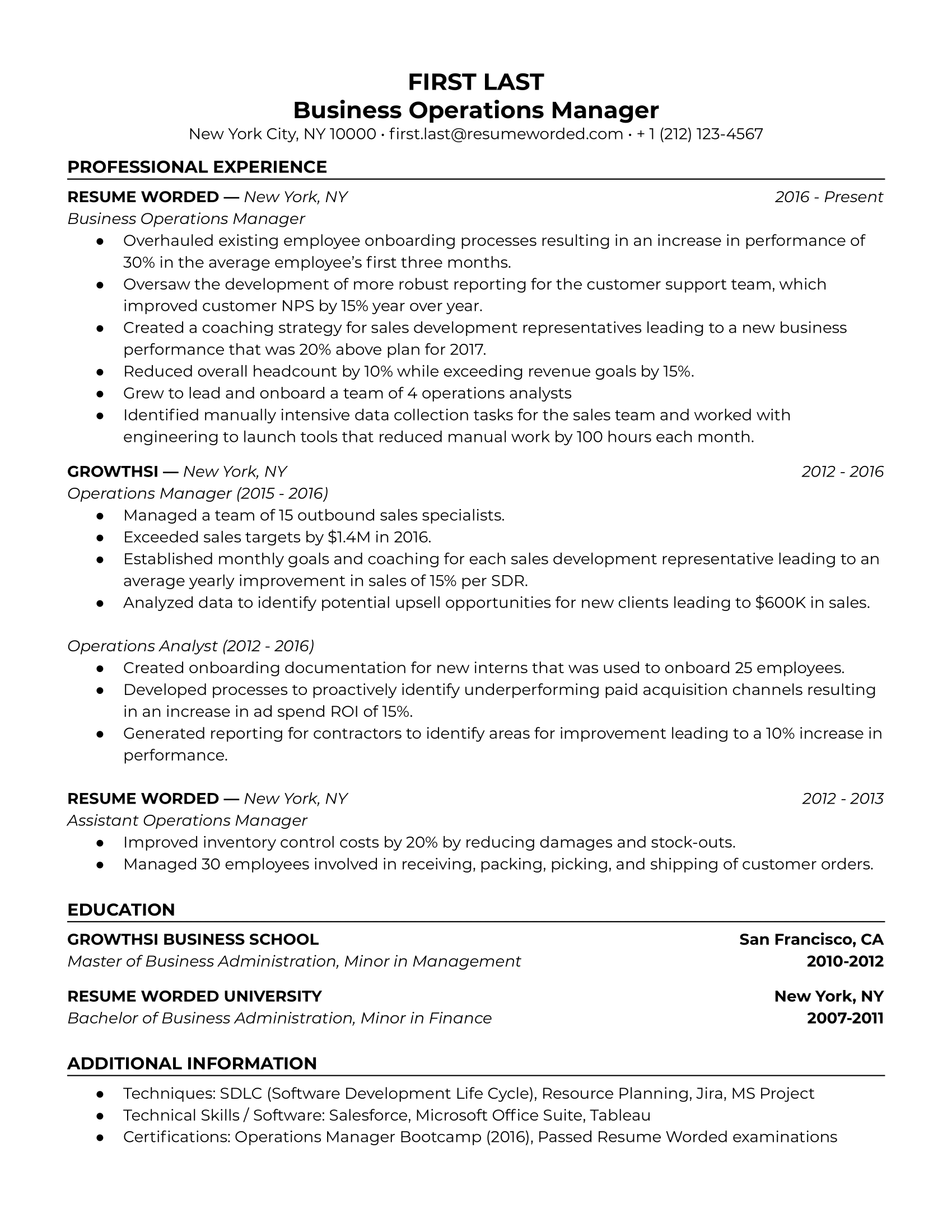 Recruiter Insight: Why this resume works in 2021
Technical Operations Manager Resume Sample
Technical operations managers work closely with technical teams to ensure that projects run smoothly and are completed according to all necessary specifications. They need to balance technical concerns with the interests of the company as a whole. If you're applying for one of these jobs, use a resume like this one to showcase a blend of technical and managerial abilities.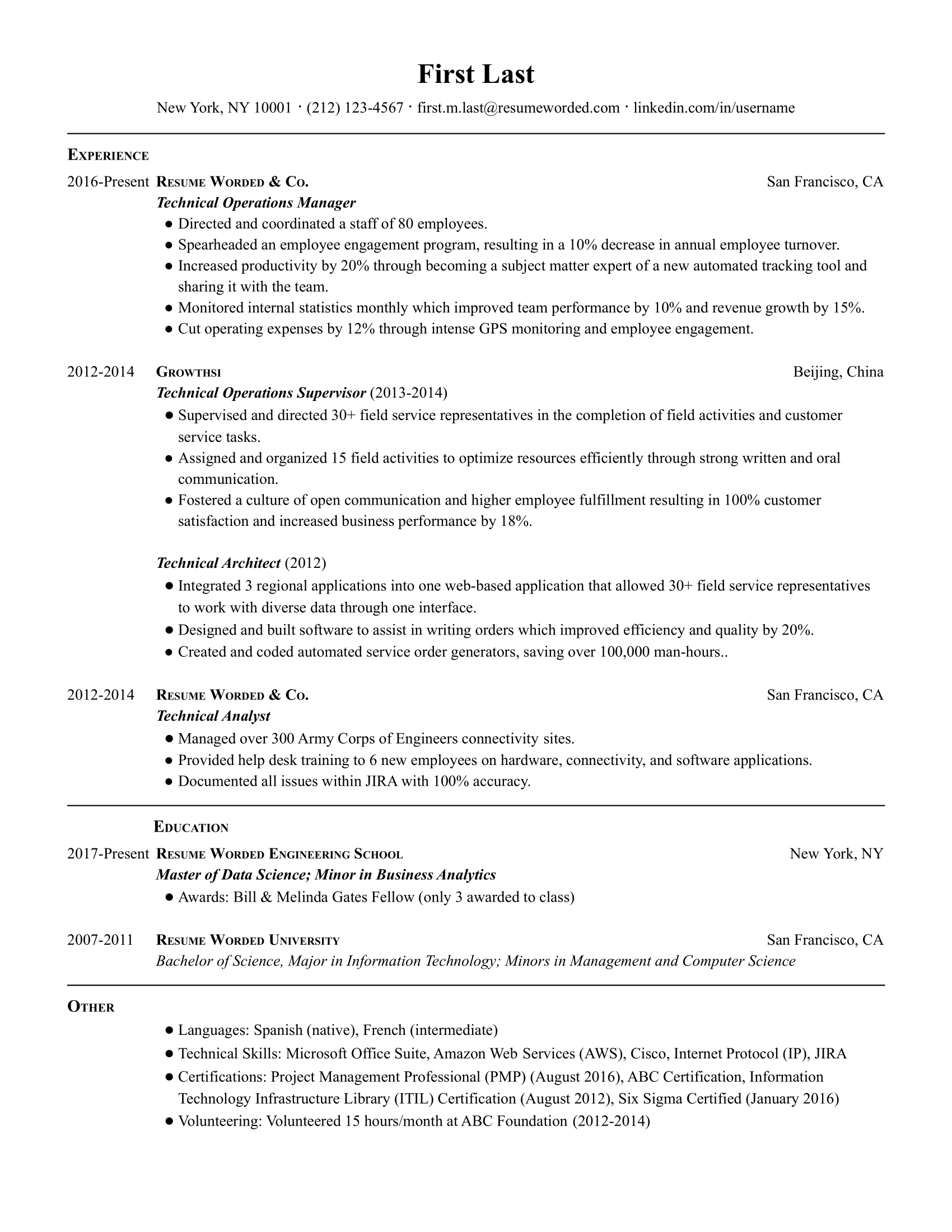 Recruiter Insight: Why this resume works in 2021
Sales Operations Manager Resume Sample
Some companies employ sales operations managers to oversee their sales teams. These managers have a myriad of responsibilities, including training new sales staff, fostering communication between employees and clients, and streamlining sales processes. When you're seeking one of these roles, your resume should show that you have some background in sales as well as management.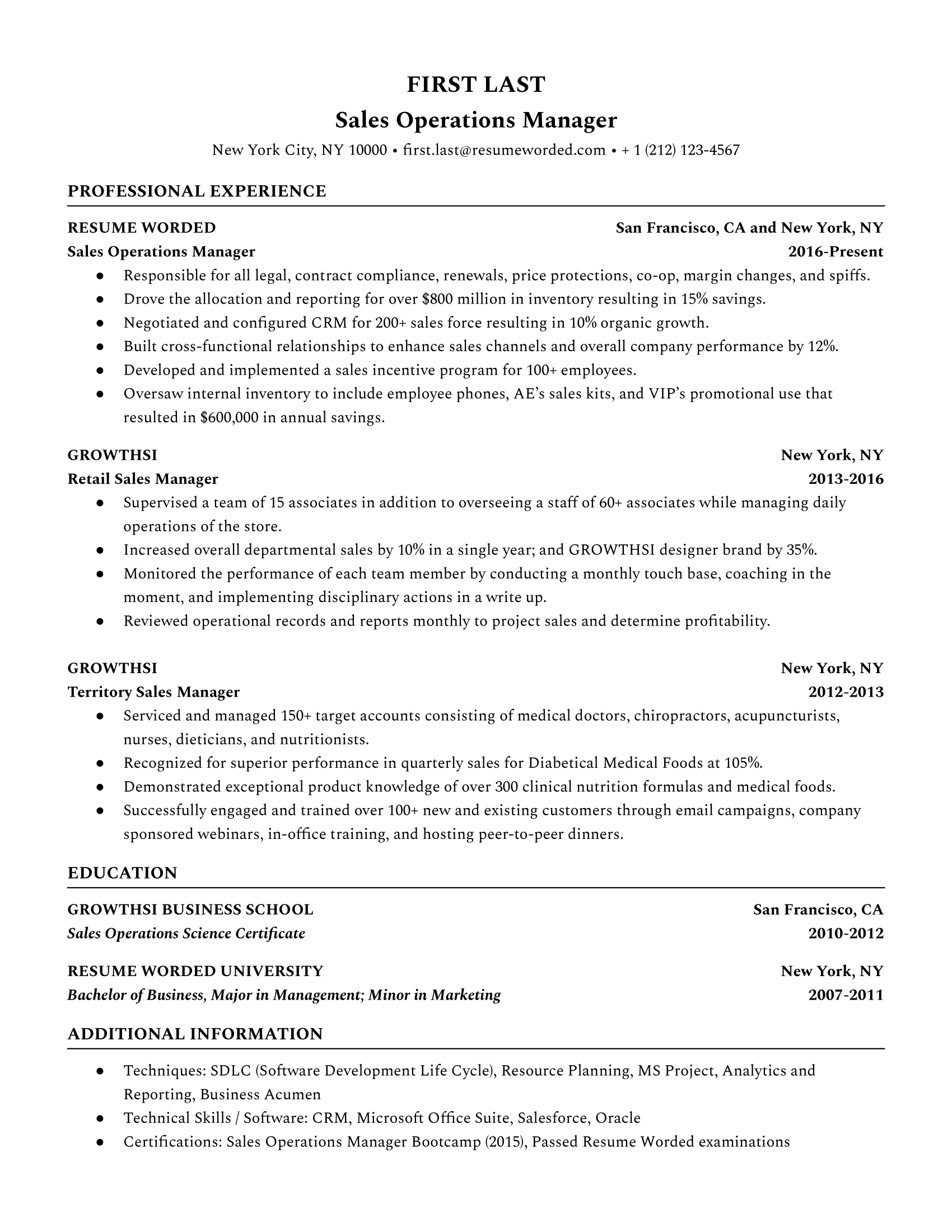 Recruiter Insight: Why this resume works in 2021
Marketing Operations Manager Resume Sample
A marketing operations manager supervises and optimizes companies' marketing efforts. They may plan and implement campaigns, manage social media accounts, analyze performance, and ensure that all projects and messaging align with the company's brand. A resume like this one is a strong choice for aspiring marketing operations managers -- it emphasizes skills specific to marketing and work experience in related positions.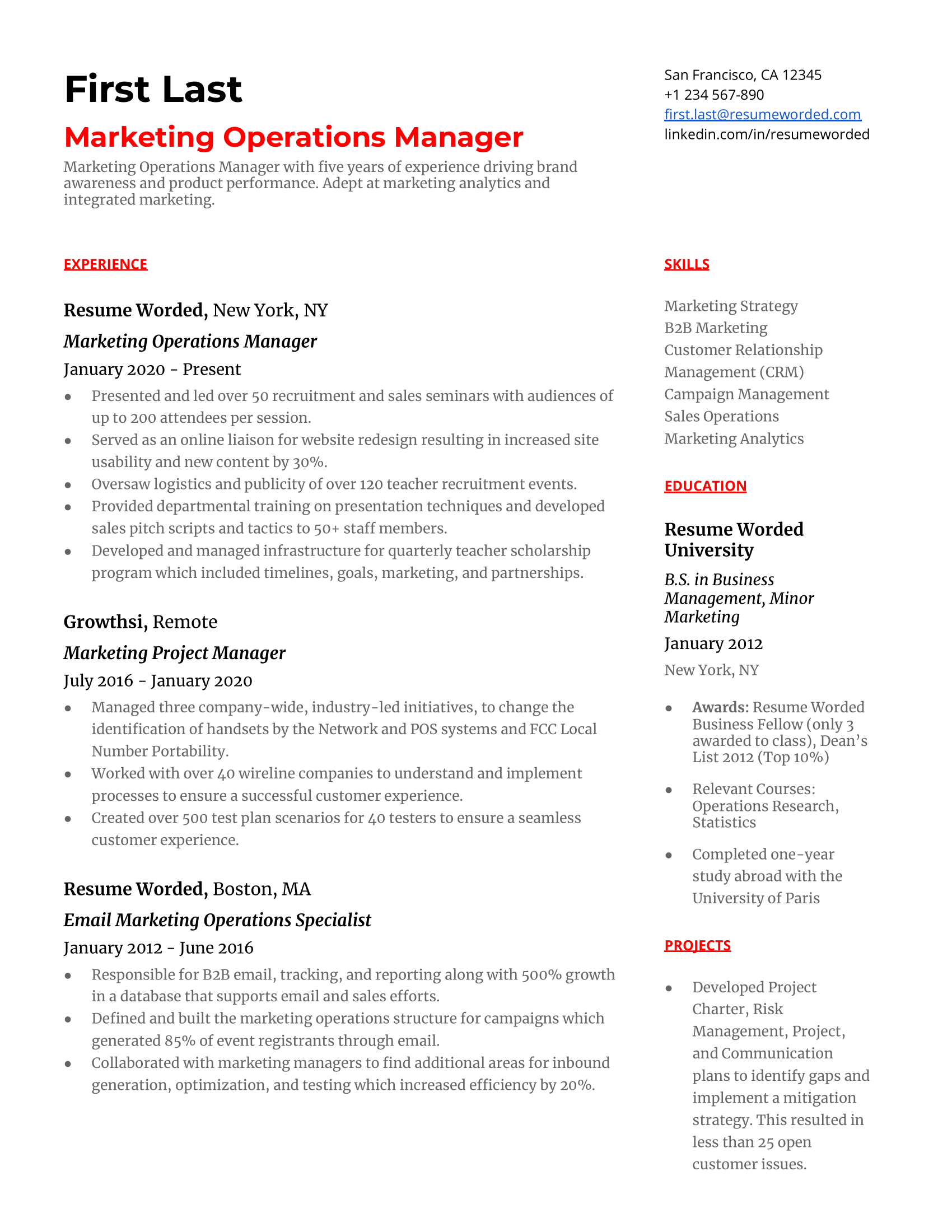 Recruiter Insight: Why this resume works in 2021
Operations Associate (Entry Level Operations Manager) Resume Sample
Operations associates can learn about business operations as they work to support the day-to-day functioning of a company. While you do need to be organized and conscientious for this type of role, you don't need management experience for this entry-level role -- so use your resume to underscore your education and internship history, as shown in this resume.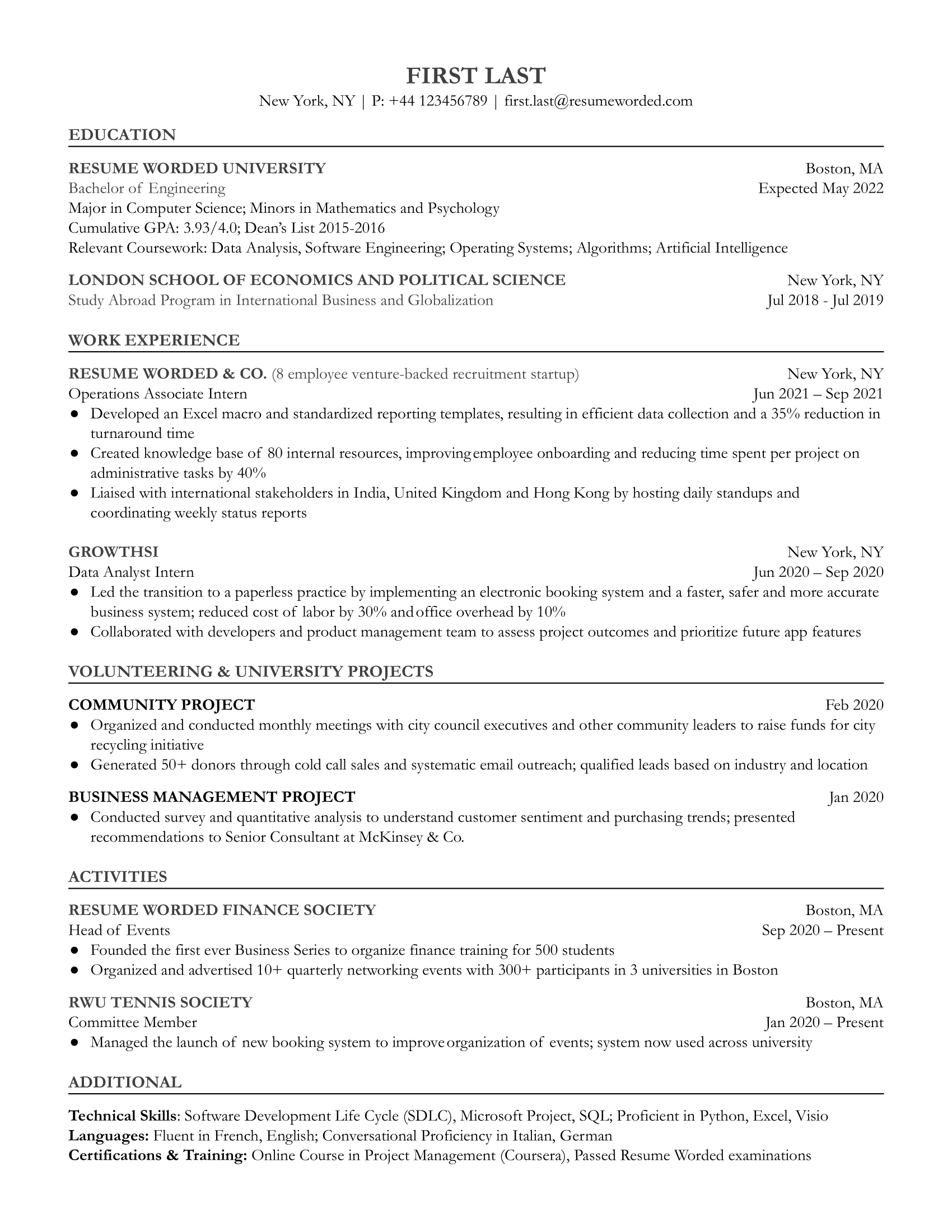 Recruiter Insight: Why this resume works in 2021
Skills For Operations Manager Resumes
Operations managers need to be effective communicators who are adept at managing and working with others. They should be excellent leaders who can analyze processes, think critically, and make decisions that are in a company's best interest. When you're pursuing an operations manager role, it's on you to show hiring managers that you can handle the responsibilities that come with the job.

In your resume, be sure to emphasize any managerial or leadership experience you have. For technical positions, use your skills section to showcase your hard technical skills. Other potential skills to highlight through your work experiences include budgeting, planning, strategizing, analysis, delegation, team building, and conflict resolution.
Operations Management
Inventory Management
Logistics Management
Team Building
Supply Chain Management
Sales
Sales Management
Customer Satisfaction
Contract Negotiation
Warehouse Operations
Negotiation
Budgeting
Customer Service
Account Management
Strategic Planning
Inventory Control
Team Leadership
Teaching
Continuous Improvement
Project Planning
Operations Manager Resume Tips
So now that you know what skills you need in order to be a great operations manager, what else should you keep in mind when you're writing your resume? Here are some tips to guide you.
Action Verbs For Operations Manager Resumes
When you're applying to become an operations manager, you should always start your bullet points with precise and powerful verbs that tell hiring managers what you accomplished in your prior work experiences.

Operations managers do need a range of skills for their jobs, but as upper-level managers, they especially need to display leadership and management capabilities. Although there are many possible action verbs they could choose from, aspiring operations managers may want to pay special attention to the Executive and Management verbs.
Implemented
Released
Generated
Instructed
Launched
Overcame
Investigated
Accelerated
Initiated
Streamlined
Prioritized
Executed
Analyzed
Chaired
Evaluated
For a full list of effective resume action verbs, visit Resume Action Verbs.
Resume Bullet Points From Operations Manager Resumes
You should use bullet points to describe your achievements in your Operations Manager resume. Here are sample bullet points to help you get started:
Led the evaluation and selection process for a CRM tool by developing a comparison model, liaising with senior stakeholders and candidate vendors, and running a proof-of-concept
Received Recognition Award for automating booking system, reducing required man-hours by 75%; promoted 6 months ahead of schedule
Refined outsourcing strategy, resulting in increased offshore headcount from 12 to 95 employees and saved $1.2MM
Designed and implemented operational efficiency improvement program for leading UK energy supplier to reduce rate of energy outages by 60% in three years
Proposed and implemented new Employee Incentive program, decreasing employee turnover by over 25%
For more sample bullet points and details on how to write effective bullet points, see our articles on resume bullet points, how to quantify your resume and resume accomplishments.