Creative Director Resumes
Your resume is your first (and often only) impression to a potential employer. You'll want to make it count by tailoring your resume to the job with action verbs and relevant skills. Here are four excellent templates that will help your resume land you an interview for a creative director role in 2022.
Associate Creative Director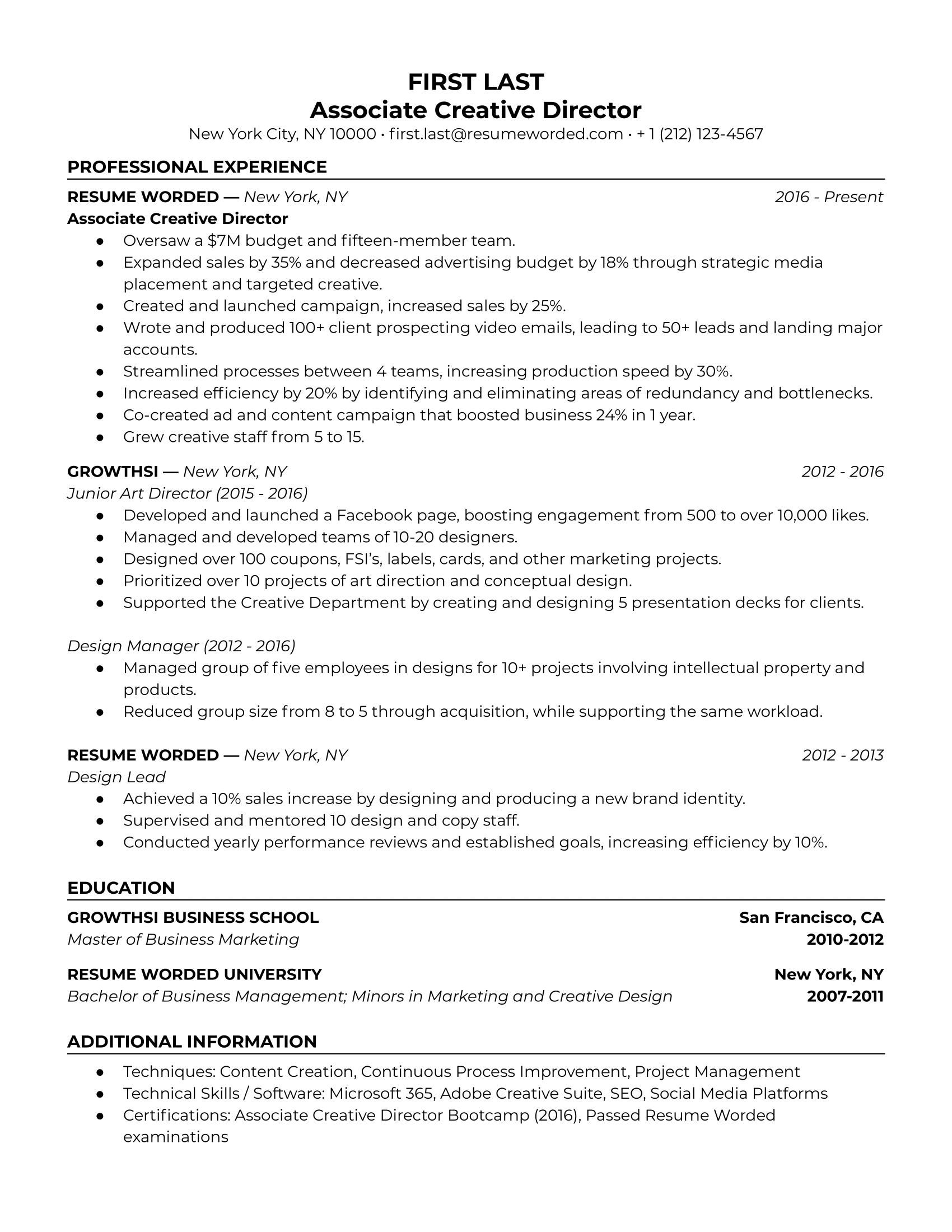 An associate creative director may be someone with less experience than a creative director, and is perfect if you're looking to grow into the position and obtain experience. As a mid-level role, you'll want to use a strong combination of your work experience, education, skills, and certificates to prove that you're looking to continue your career.
Expand
Download .DOC or .PDF
Creative Marketing Director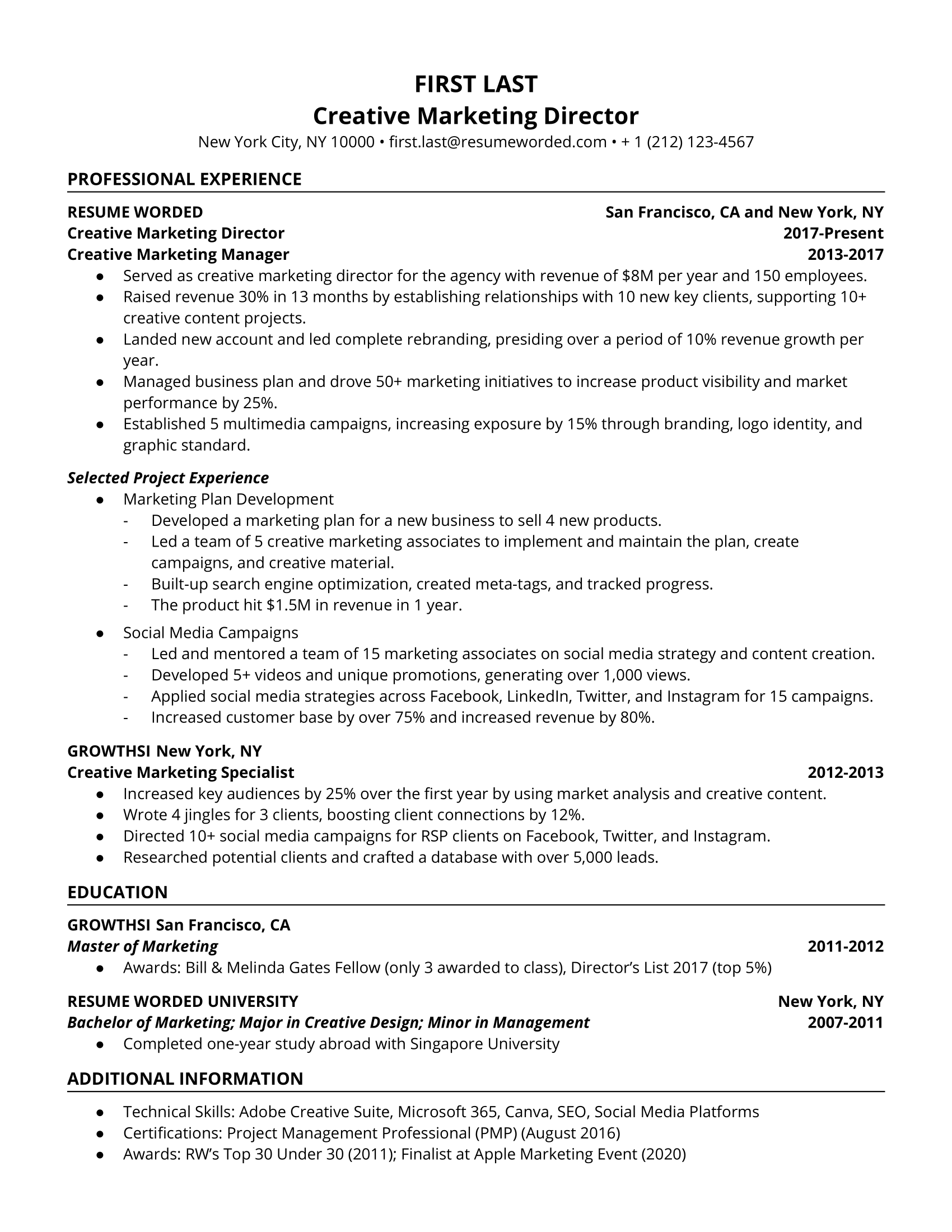 Creative directors can have niches, but a specialized one for marketing makes the most sense since creativity is often used for various marketing strategies. You'll want to use specific projects that you've accomplished while showcasing your marketing prowess and leadership abilities. This resume template will help you stand out when applying for a senior-level marketing role with creative marketing experience.
Expand
Download .DOC or .PDF
Chief Creative Officer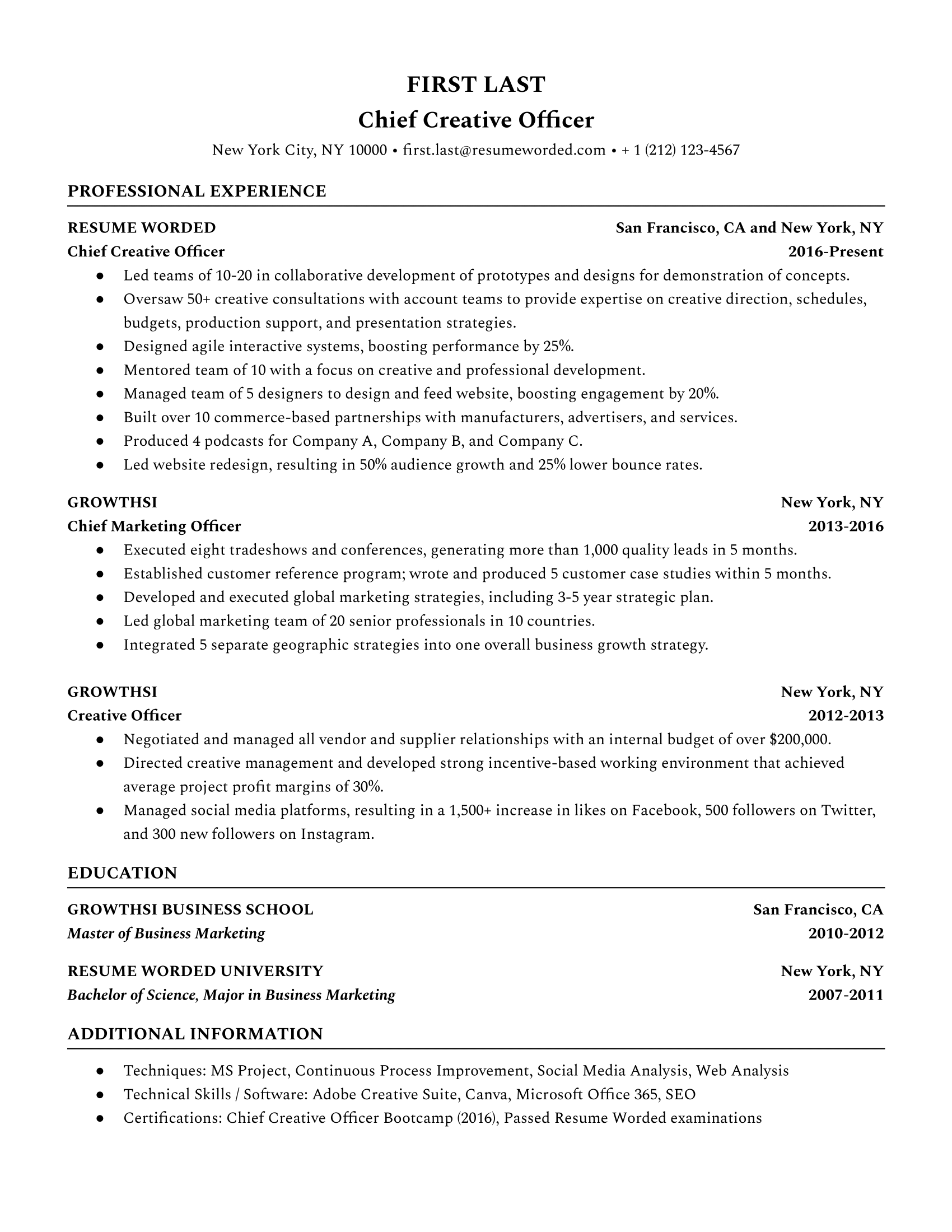 Different kinds of C-suite positions beyond CEO, COO, CFO, and more are becoming more popular as roles to establish strong leadership at companies. The Chief Creative Officer role is one of these and is similar to a Chief Marketing Officer. An emphasis on your leadership and management experience will be key here, as this role is one of the heads of the organization.
Expand
Download .DOC or .PDF
Load more resumes
Creative Director resume guide
Marketing Manager Resumes
Skilled marketing managers are highly sought-after by businesses in virtually every industry. Our resume templates will help you shine as a job candidate in 2022 (Google Docs and PDFs attached).
Load more resumes
Marketing Manager resume guide
Digital Marketing Resumes
In today's competitive job market, you need a strong resume to stand out from the candidate pool and impress both recruiters and hiring managers. You will want to tailor your resume specifically to the job that you are applying for with relevant keywords, action verbs, and transferable skills. Here are seven digital marketing templates to help you jumpstart your resume in 2022.
Load more resumes
Digital Marketing resume guide
Event Coordinator Resumes
Want to be an event coordinator in 2022? We've compiled two resume templates for you that'll help you land your dream event coordinator role, along with other key tips and industry knowledge you'll need to gain an extra edge against the competition. (Google Docs and PDFs attached).
Event Coordinator resume guide
Action Verbs For Marketing Resumes
Doubled
Increased
Advanced
Boosted
Generated
Administered
Organized
Spearheaded
Improved
Streamlined
Led
Collaborated
Managed
Developed
Launched
How to use these action verbs?
Lead your bullet points with strong action verbs like the ones on this list. Whether you've supervised people or teams, developed successful digital marketing ideas/strategies, or generated sales, using the right verbs to talk about your experiences makes your accomplishments stand out and show the depth of your experiences.

Avoid using the same action verb more than twice on your resume.