Creative directors are in charge of all things creativity. When it comes to general marketing, designing, copywriting, sales, and more, the creative director is responsible for cross departmental collaboration and supervises team members. They oversee events, projects, launches for new products, and more while making sure the team meets deadlines. Creativity is a must for this role and you'll want to let your muse shine!

Social media marketing as a whole has taken off and will continue to with the technological evolution that we're experiencing. As a result, creative directors will still be necessary in the online world and should be expected to grow in these industries in order for companies to stay competitive.

Since creative director roles typically require five or more years of relevant experience, you'll want to showcase your leadership, project and time management skills. Specific examples of completed projects within deadlines, especially with multiple departments involved, will prove that you're capable of the position that you're applying for and demonstrate your communication skills.

With that being said, let's take a look at what successful creative director resumes look like in 2021. We'll go over four examples of different creative director roles with templates to give you a strong starting point. Then, we'll review a list of powerful action verbs to drive your achievements home and a list of skills that recruiters and companies are looking for in a creative director.
Creative Director Resume Templates
Creative Director Resume Sample
As an experienced creative director that demonstrates growth within a company, you'll want your resume to highlight your work history. This creative director resume template provides thorough and detailed examples of your achievements with measurable outcomes, using a combination of action verbs and numbers. The skills section also features a wide variety of hard and technical skills that are applicable to the role that you're applying for.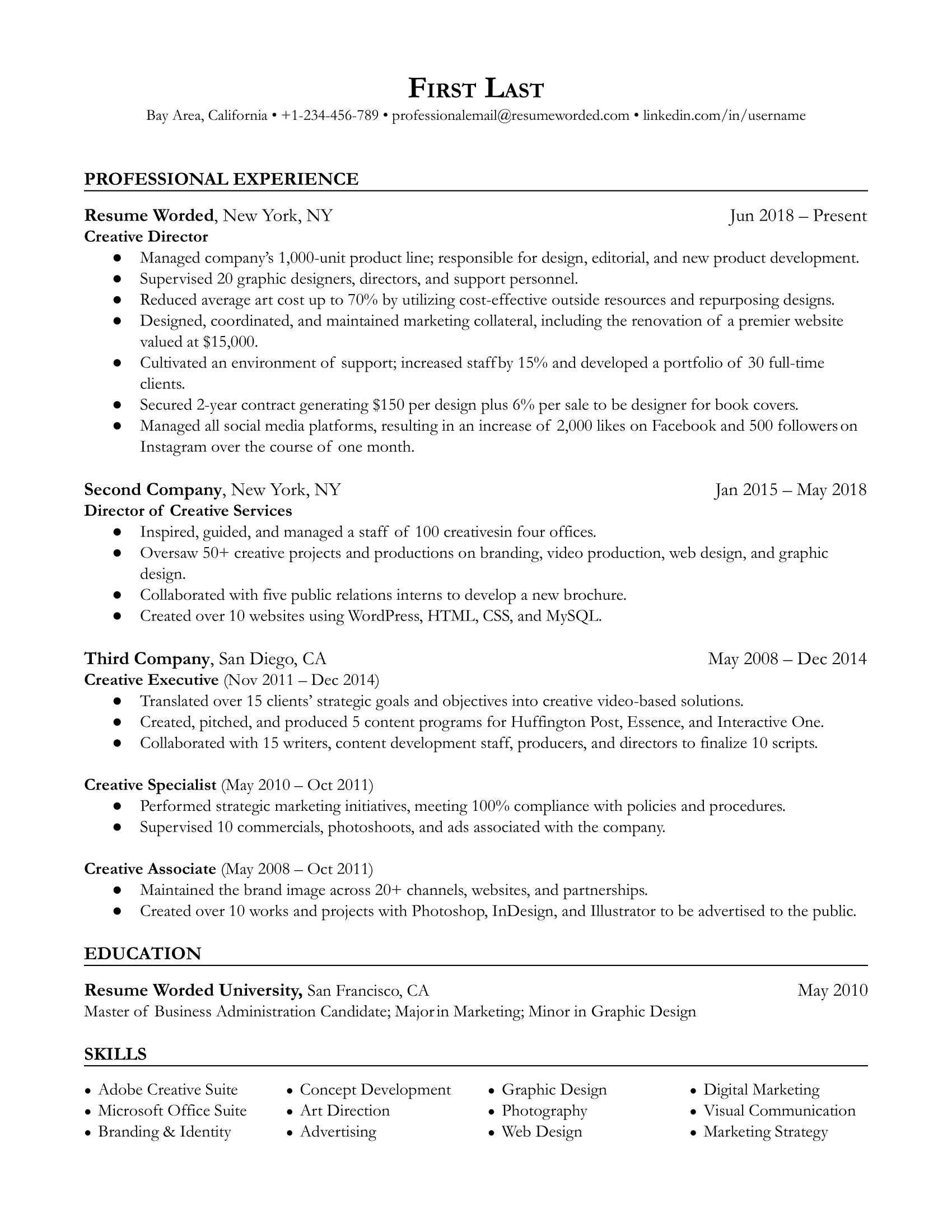 Recruiter Insight: Why this resume works in 2021
Associate Creative Director Resume Sample
An associate creative director may be someone with less experience than a creative director, and is perfect if you're looking to grow into the position and obtain experience. As a mid-level role, you'll want to use a strong combination of your work experience, education, skills, and certificates to prove that you're looking to continue your career.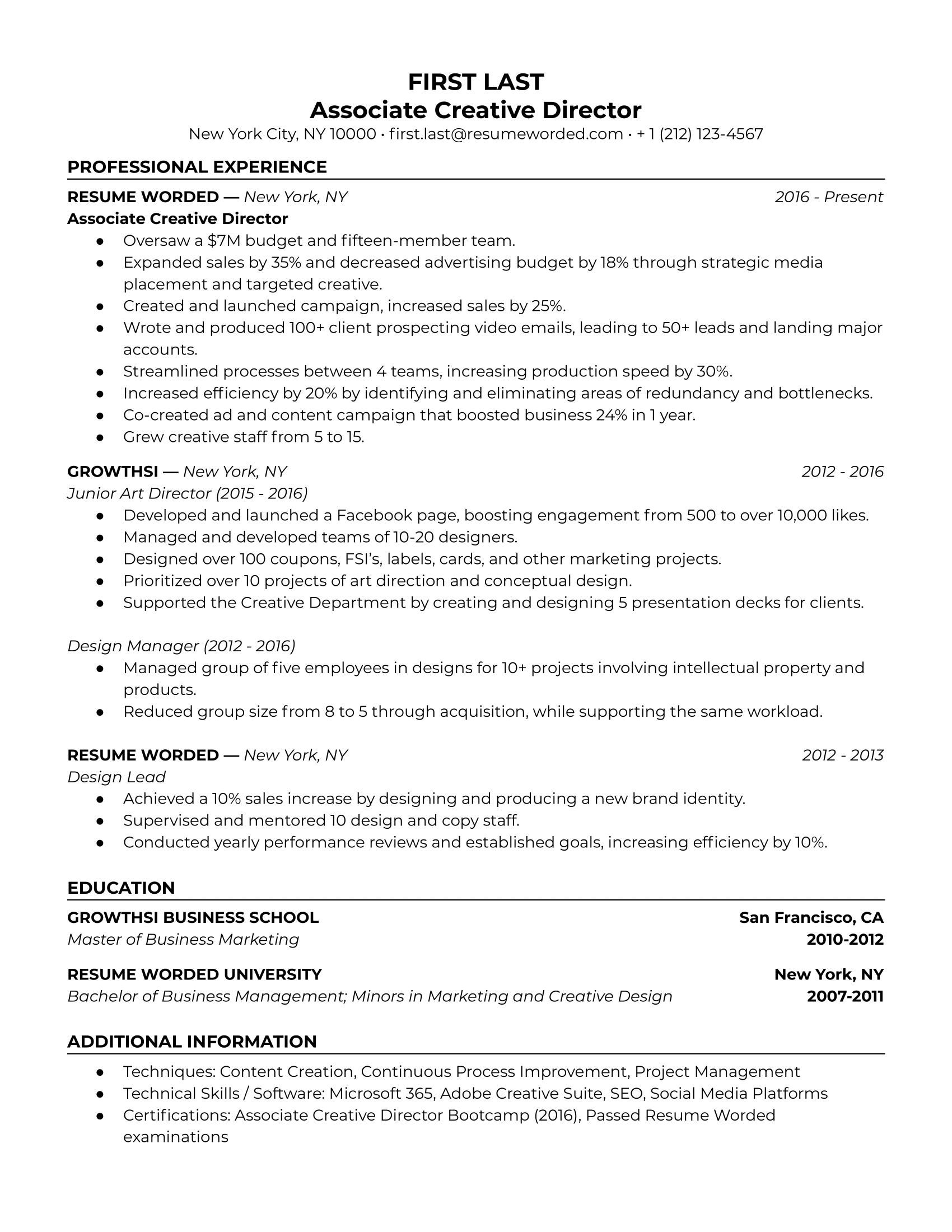 Recruiter Insight: Why this resume works in 2021
Creative Marketing Director Resume Sample
Creative directors can have niches, but a specialized one for marketing makes the most sense since creativity is often used for various marketing strategies. You'll want to use specific projects that you've accomplished while showcasing your marketing prowess and leadership abilities. This resume template will help you stand out when applying for a senior-level marketing role with creative marketing experience.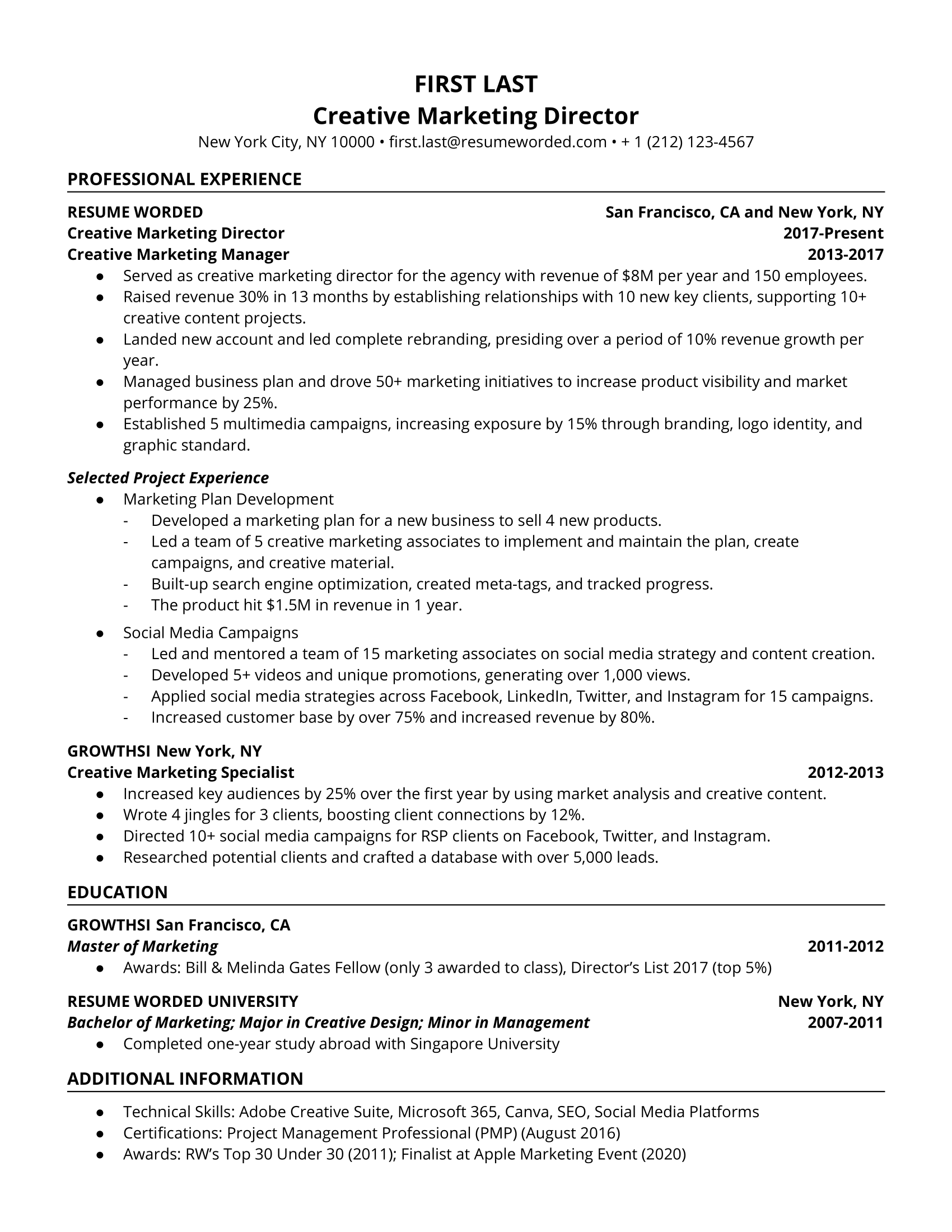 Recruiter Insight: Why this resume works in 2021
Chief Creative Officer Resume Sample
Different kinds of C-suite positions beyond CEO, COO, CFO, and more are becoming more popular as roles to establish strong leadership at companies. The Chief Creative Officer role is one of these and is similar to a Chief Marketing Officer. An emphasis on your leadership and management experience will be key here, as this role is one of the heads of the organization.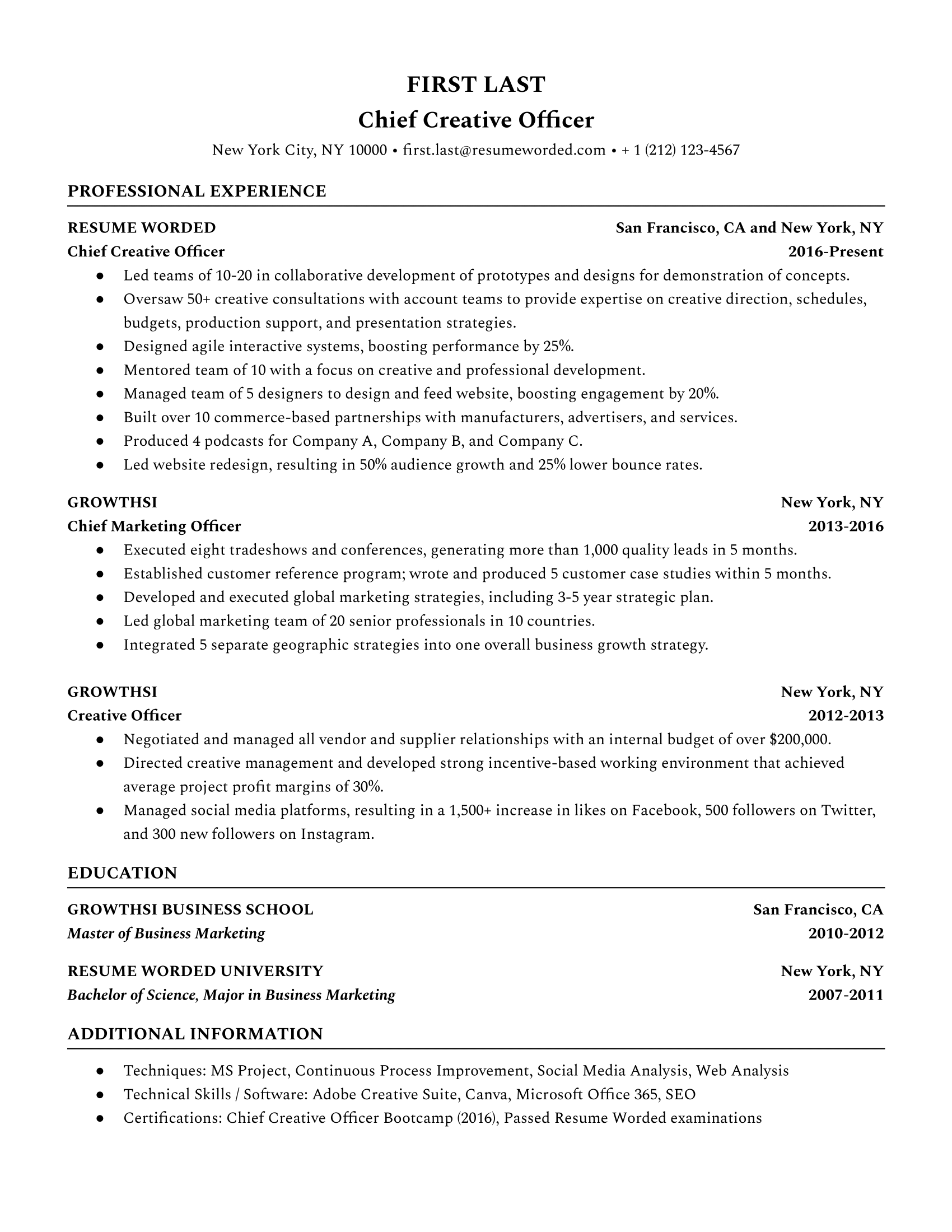 Recruiter Insight: Why this resume works in 2021
Skills For Creative Director Resumes
When applying for a creative director role, your technical skills are going to speak a lot to what you're capable of doing. Make sure to scan the job posting for the description of the role, responsibilities, desired skills if any, and more. Use these key terms in your resume if relevant to you and if you have the skills in order to make it through the applicant tracking system (ATS). Many companies use this software now to automatically screen out candidates that don't fit the criteria that they're looking for, but will have keywords related to the job that will be searched for on your resume.

To give you an idea, here's a list of relevant hard skills that we've found most commonly used on successful resumes for creative directors. These skill sets are transferable from previous positions, such as Adobe Creative suite, Canva, and SEO proficiency.
Art Direction
Brand Development
Graphic Design
Creative Strategy
Adobe Creative Suite
Branding & Identity
Logo Design
Advertising
Branding
Adobe Illustrator
Concept Development
Typography
Adobe Photoshop
Adobe InDesign
Corporate Identity
Graphics
Photography
Social Media Marketing
Web Design
Digital Marketing
Creative Director Resume Tips
Creative directors simultaneously oversee multiple teams and departments. They are responsible for the company's marketing initiatives, using their creativity and inspiration to bring products and services to life to attract more customers. Proficiency with technical software is a must, as these tools are vital to the ever expanding world of social media marketing and digital advertising. They direct the vision of where the art of the marketing will go and complete projects within deadlines and adhering to budgets.

With that out of the way, let's go over some helpful tips to make your creative director resume successful in 2021:
Action Verbs For Creative Director Resumes
Every bullet point should start with a strong action verb to highlight your role in every accomplishment. Especially for a high-level and experienced role like a creative director, you'll want to use powerful verbs like "directed," "initiated," "budgeted," and more. The role requires plenty of project management experience, budgeting experience, and overseeing cross-departmental teams in order to create a cohesive and well-oiled machine to bring the company's marketing ideas to life. If you use more bland verbs such as "made" or "did," you're downplaying your achievements in your experience to sound only like the essentials of what the job required.
Expedited
Launched
Initiated
Analyzed
Implemented
Interviewed
Restructured
Directed
Guided
Assessed
Delegated
Organized
Streamlined
Processed
Simplified
For a full list of effective resume action verbs, visit Resume Action Verbs.
Resume Bullet Points From Creative Director Resumes
You should use bullet points to describe your achievements in your Creative Director resume. Here are sample bullet points to help you get started:
Identified changes to assortment, distribution, and marketing using financial and behavioral analysis that enabled an upmarket fashion company to better target their customers, resulting in $400M growth
Analyzed $800K of monthly marketing spend data to optimize audience, creative and copy of campaigns; increased conversion by 12% MoM and decreased cost per acquisition by 35%
Designed, executed, and optimized digital marketing campaign on Google's AdWords for $20B CPG company, yielding 20% ROI improvements
Optimized budget allocation of the increased marketing spend of $10MM across 5 cities
Doubled new user acquisition from 10-15 users to 20-25 through the implementation of new marketing strategies focused on online advertising and improving the company's web presence, social media, and search engine optimization.
For more sample bullet points and details on how to write effective bullet points, see our articles on resume bullet points, how to quantify your resume and resume accomplishments.