Graphic designers create customer-focused designs, frequently working on projects like websites, games, product packaging, and advertising campaigns. Most graphic design work is based around marketing and visual branding, but employment opportunities can include everything from creating logos for multinational corporations to working with local governments and schools.

As a graphic designer, you'll work account managers and creative directors to create a brief, develop concepts, and finalize a design that meets the client's objectives. You'll need excellent time management, the ability to collaborate well and work under pressure, and of course a hefty dose of creativity. Traditionally, graphic designer jobs ask for an undergraduate graphic design degree, but recent trends have seen the industry move away from requiring formal qualifications and toward online short courses. Either way, you'll need hard skills with a variety of design software including Acrobat, Dreamweaver, Illustrator, and InDesign, along with an impressive portfolio to showcase your skills.
Graphic Designer Resume Templates
Graphic Designer Resume Sample
As a graphic designer, you'll be working closely with clients to develop their brands and ensure the success of their advertising and marketing campaigns. Put your best foot forward with a resume that emphasizes your hard skills, proficiency with graphic design software, and experience contributing to the success of client projects.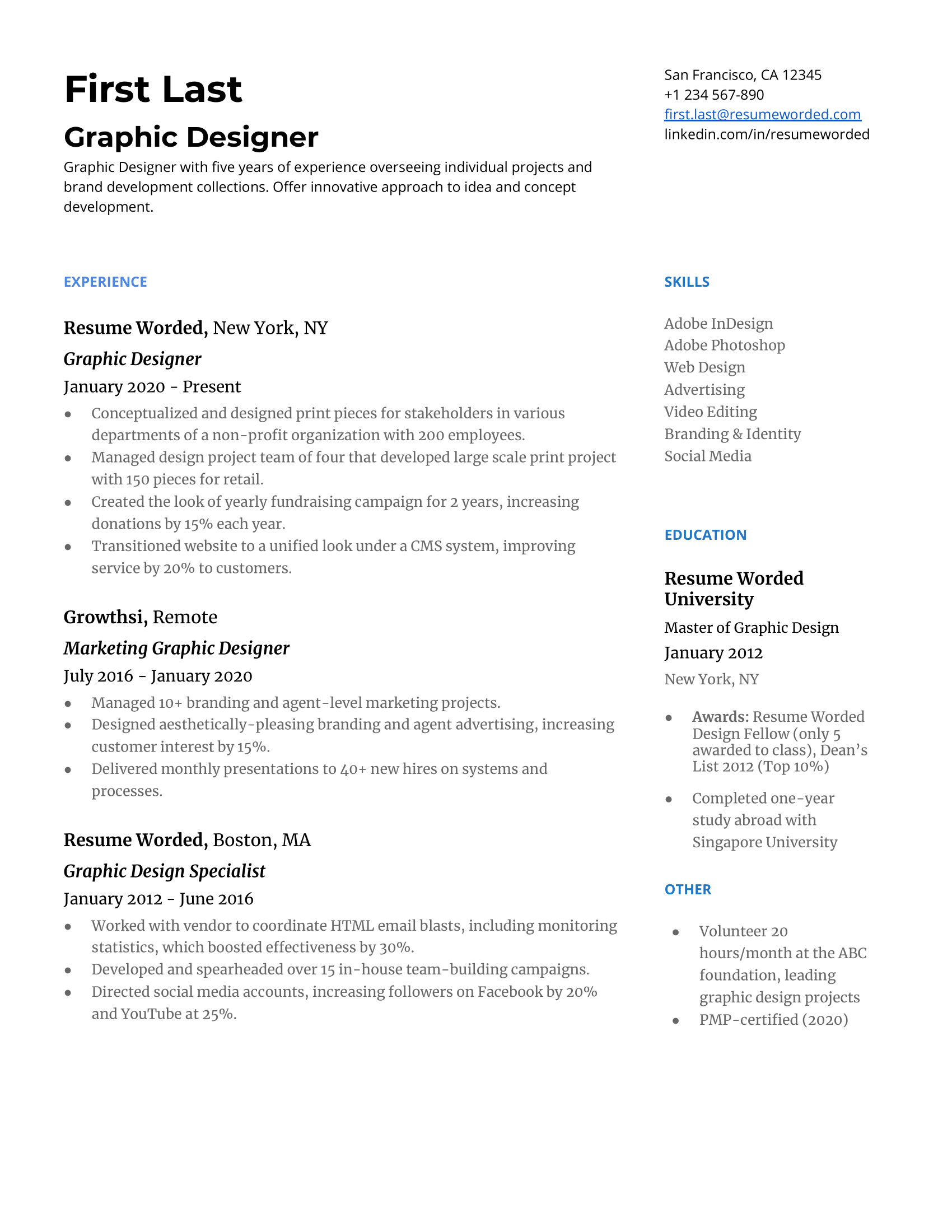 Recruiter Insight: Why this resume works in 2021
Junior Graphic Designer Resume Sample
Landing a role as a junior graphic designer isn't as hard as you might think. Most employers are looking for graphic design ability — as evidenced by your portfolio and qualifications — over extensive experience, which means emphasizing your hard skills and any relevant educational background. If you're a recent graduate, don't forget about university projects and internships, which can go a long way toward making up for minimal work experience.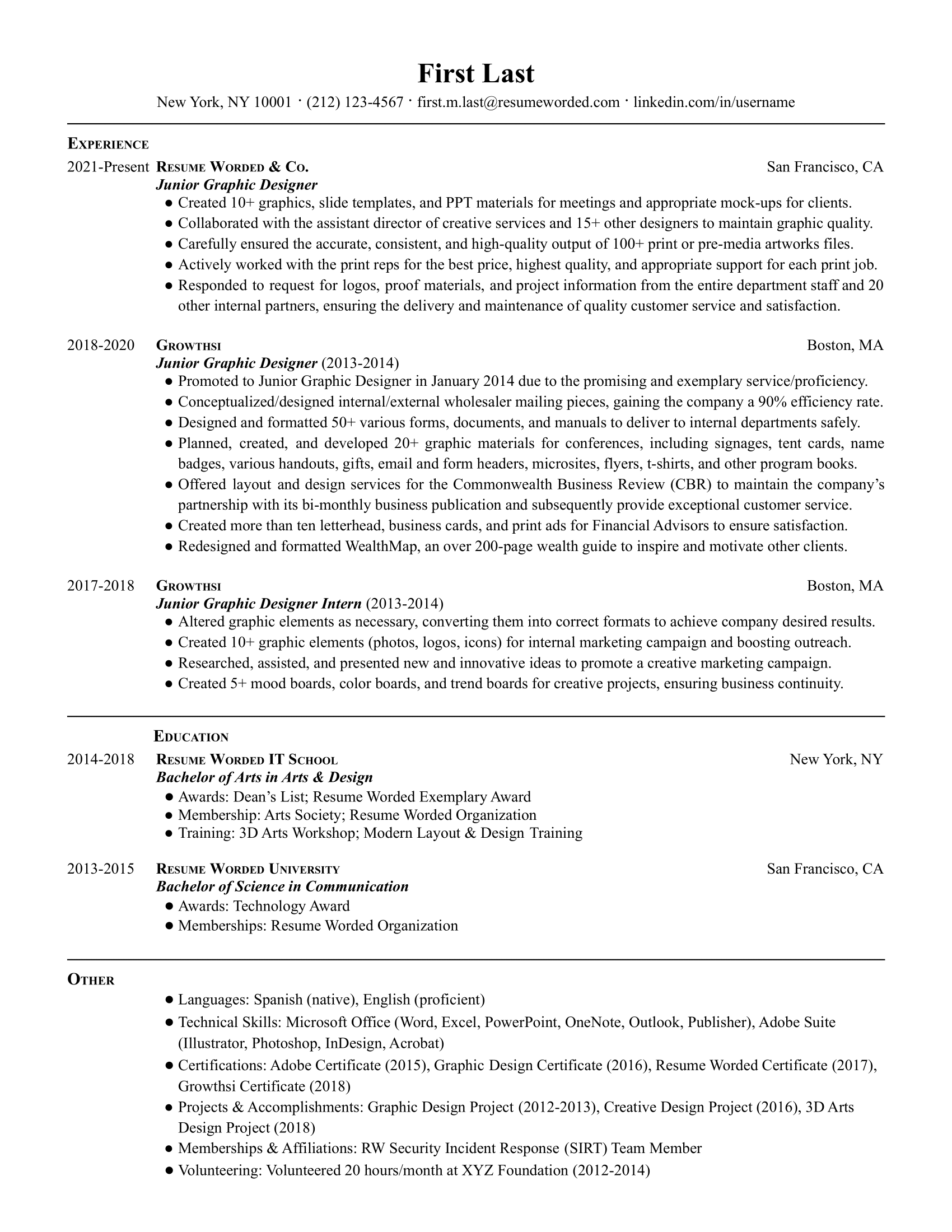 Recruiter Insight: Why this resume works in 2021
Senior Graphic Designer / Director of Graphic Design Resume Sample
As a senior graphic designer or graphic design director, you'll be taking on high-level responsibilities and overseeing an entire department. Your resume needs to show significant experience as a graphic designer, as well as the capacity to lead a team to success. Make sure you're emphasizing past leadership roles you've held as well as a commitment to ensuring the overall success of a company.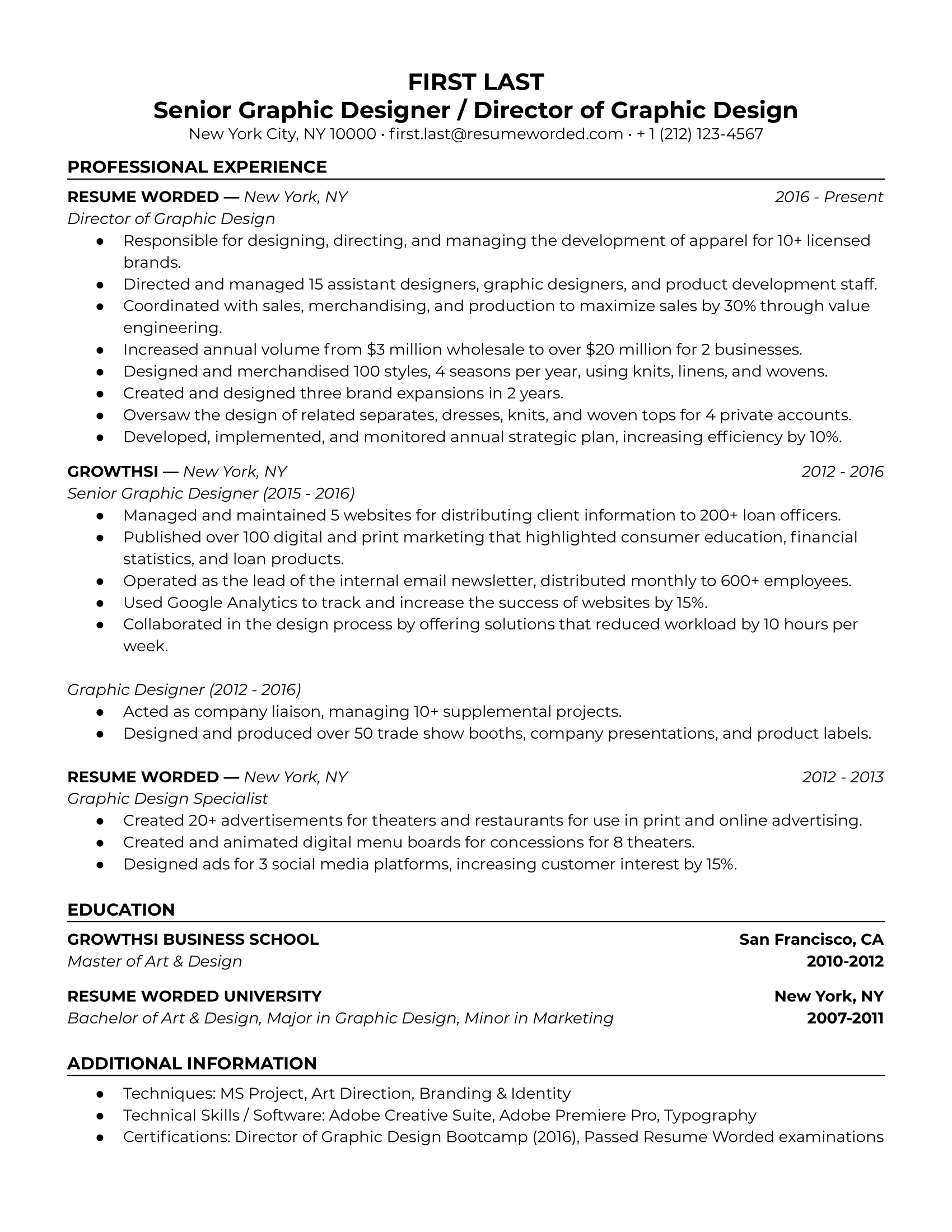 Recruiter Insight: Why this resume works in 2021
Graphic Design Manager Resume Sample
Graphic design managers have to juggle a lot of different roles. As well as the usual design skills, you'll need an ability to manage a team, develop strategies, work collaboratively with other departments, and evaluate the performance of other employees. To land the role, make sure your resume reflects soft skills like leadership and conflict management on top of your graphic design experience.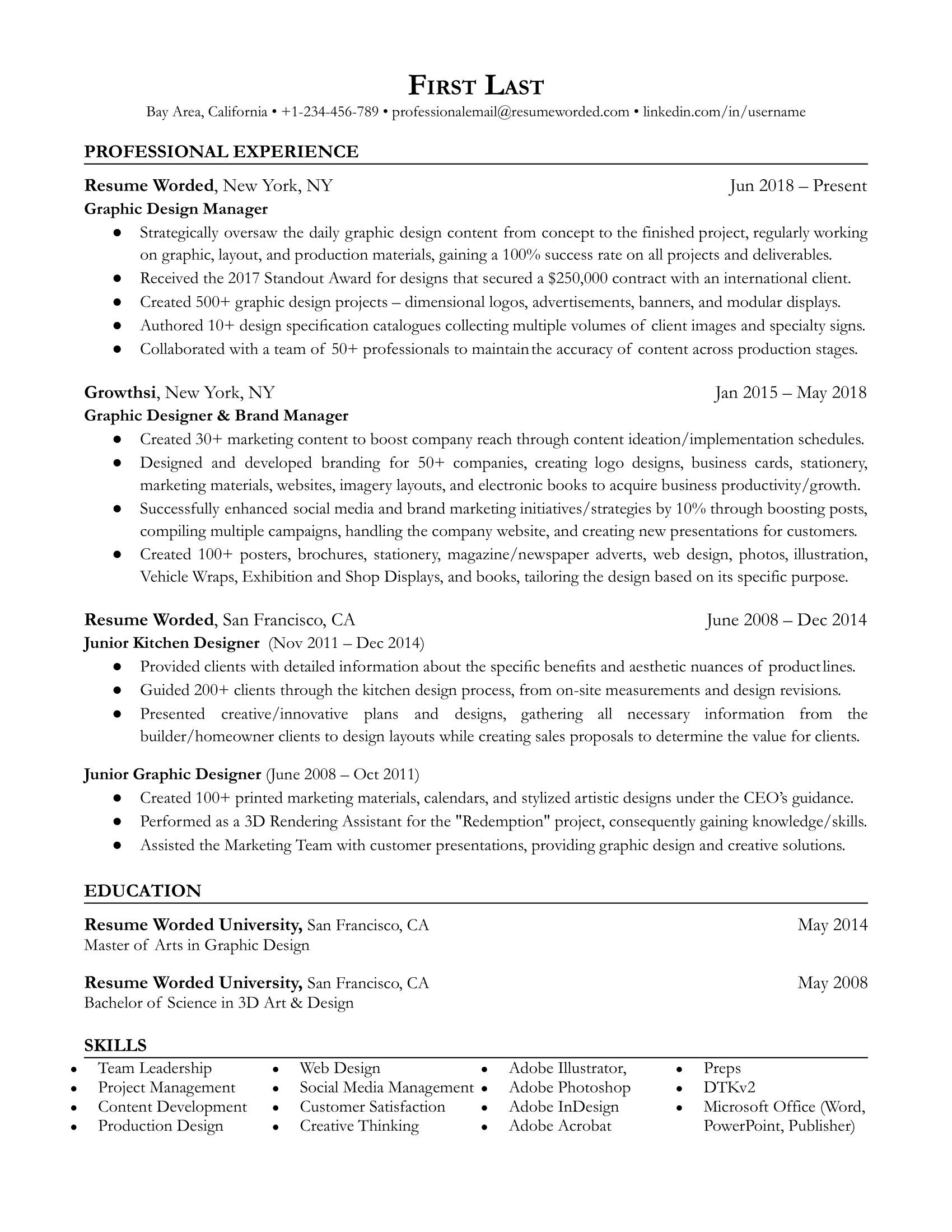 Recruiter Insight: Why this resume works in 2021
Freelance Graphic Designer Resume Sample
Freelance graphic designers work on the same kinds of projects as any other graphic designer, but as self-employed contractors. If you're looking to pick up more freelance work, or to transition from freelance to regular employment, you'll need a resume that emphasizes your ability to take initiative, work to a deadline, and understand your clients' needs.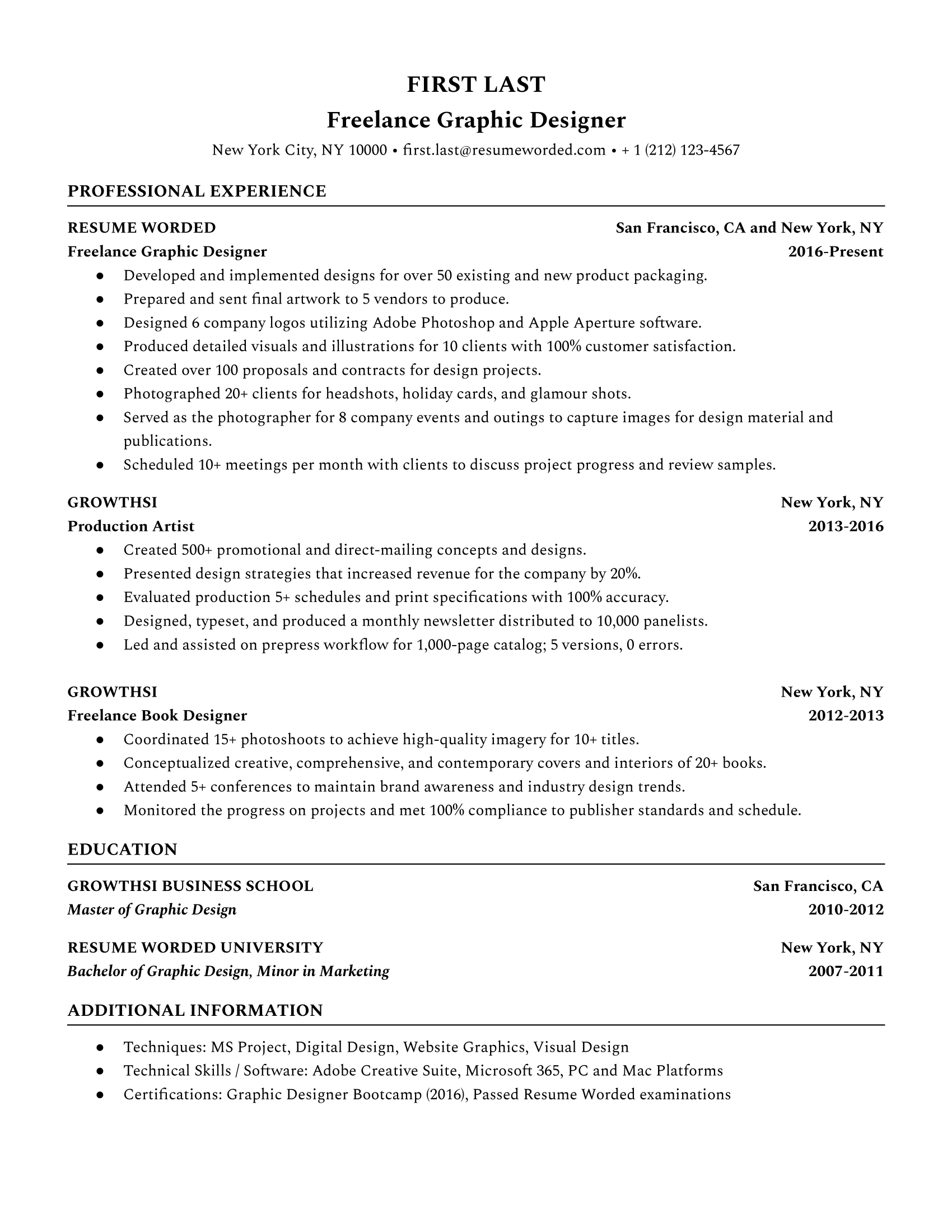 Recruiter Insight: Why this resume works in 2021
Creative Graphic Designer Resume Sample
The role of a creative designer can be broader than just graphic design. Creative designers need an excellent understanding of branding, marketing, and social media as well as proficiency with graphic design software. To land a role as a creative graphic designer, make sure your resume highlights your understanding of brand awareness and experience guiding products through the entire creative process.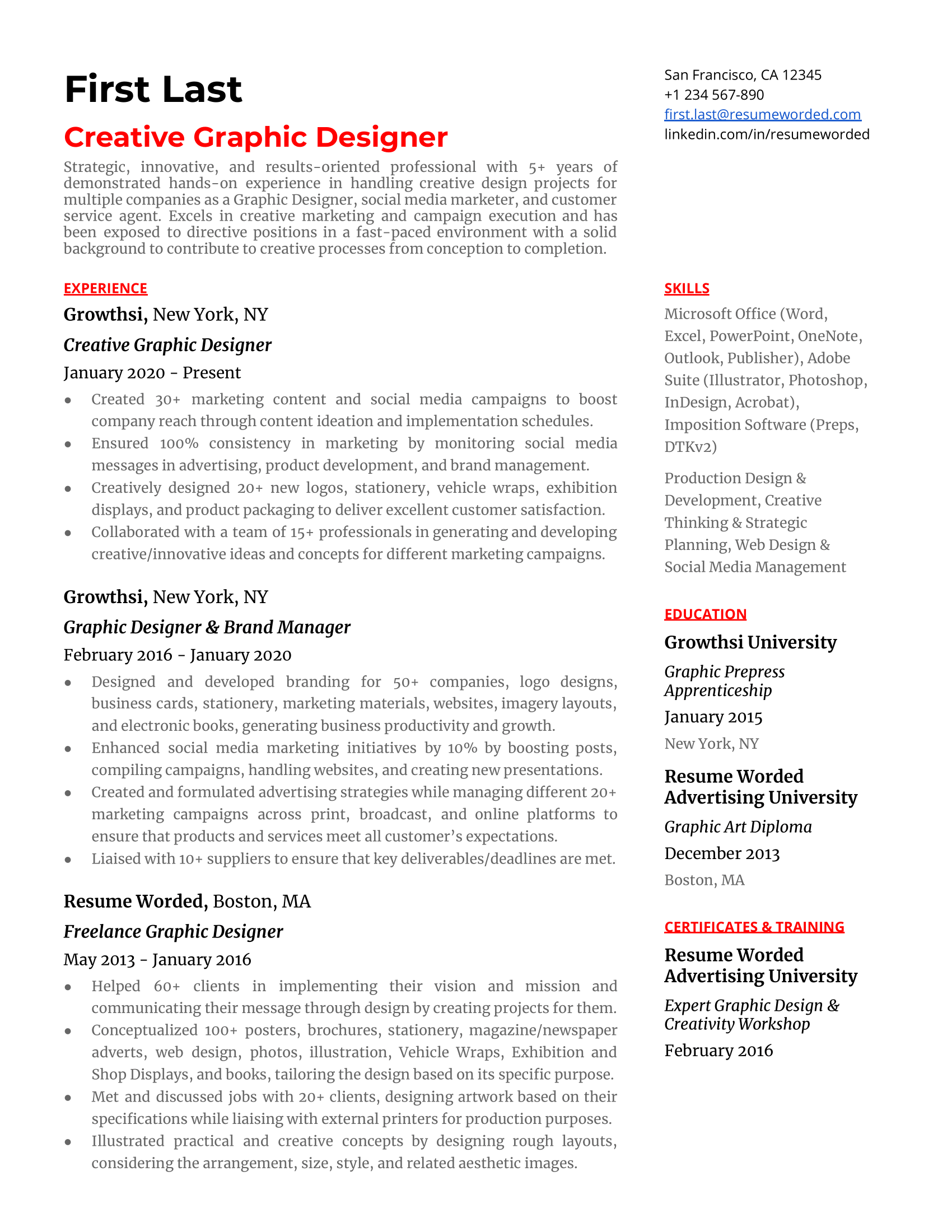 Recruiter Insight: Why this resume works in 2021
Skills For Graphic Designer Resumes
Unsurprisingly, the most important hard skills for graphic designers are design software skills. Developing proficiency with a few key design programs — whether that's self-taught or through formal qualifications — is essential to landing a role as a graphic designer. Make sure to list these skills somewhere in your resume, either in your bullet points or a separate skills section, to bypass any Applicant Tracking Systems and impress recruiters.

The exact skills you need may depend on the exact job you're applying for, so always read the job description thoroughly to find out which skills are the most important and tailor your resume accordingly. Our Targeted Resume tool will point out any important skills or keywords you're missing and give you personalized advice on how to improve your resume.
Graphic Design
Logo Design
Adobe Illustrator
Adobe InDesign
Typography
Adobe Creative Suite
Graphics
Adobe Photoshop
Page Layout
Illustration
Web Design
Branding & Identity
Brochures
Poster Design
Photography
Art Direction
Branding
Advertising
Print Design
After Effects
Action Verbs For Graphic Designer Resumes
Graphic designers need to be able to conceptualize visuals, create compelling and on-brand designs, and present their ideas to clients. Use action verbs in your resume to highlight those skills — for example, using Illustrated or Fashioned shows your ability to create and finalize a design, while Revitalized and Customized demonstrate an awareness of branding and client needs.

Always structure your work experience bullet points with the action verb first. This puts the emphasis on what you actually accomplished, rather than simply listing job duties. For even more ideas to kickstart your graphic designer resume, check out our full list of resume action verbs.
Conceptualized
Created
Designed
Planned
Illustrated
Fashioned
Streamlined
Revitalized
Established
Customized
Developed
Redesigned
Integrated
Revised
Shaped
Presented
For a full list of effective resume action verbs, visit Resume Action Verbs.
Resume Bullet Points From Graphic Designer Resumes
You should use bullet points to describe your achievements in your Graphic Designer resume. Here are sample bullet points to help you get started:
Revamped website flows and navigation menus, reducing the frequency of misdirected customer service queries by 30% and increasing traffic to previously neglected pages
Designed and launched customer feedback systems for Selfridges, improving net promoter score by 30 points in pilot teams over 6 months
Identified and mapped all manual process flows for current system to formulate logic and design for the new automated system
Re-designed website and developed social media marketing plan; increased total membership by 28% and social media followers by 17%
Led full redesign of website with findings from customer segmentation and competitive research, increasing website leads by 200%
For more sample bullet points and details on how to write effective bullet points, see our articles on resume bullet points, how to quantify your resume and resume accomplishments.