Architecture is a uniquely artistic, technical, and social profession. You must know how to weave together complex design and engineering concepts, yet also have the social chops to communicate your vision to a diverse set of team members -- from civic officials to financiers, construction managers to urban planners, or even other architects. You should also have a strong grasp of the different types of materials you're working with, and -- perhaps most importantly -- know the fundamentals of constructing a safe, sound structure from the ground up.

In 2021, the architecture industry is utilizing an exciting array of new technology. Aspiring graduates and job seekers should be comfortable working with tools such as 3D modelling, VR, and other software that helps facilitate the building process. Additionally, as climate change becomes a growing concern, having knowledge/experience with sustainable architecture trends, or a credential such as LEED Green Associate, can truly set you apart from the crowd.

It's an industry with rapidly changing needs and challenges -- one where you can quite literally see the fruits of your labor in the real world. If this sounds exciting, architecture may be the perfect profession for you. Continue reading below to see what a well-written architecture resume should look like in 2021.
Architecture Resume Templates
Architect / Architecture Resume Sample
Architects with a few years of experience should use their resume to detail the wealth of experience and skills they've developed throughout their career. As mentioned above, great architects are those who can operate at the intersection of artistic design, technical engineering, and social collaboration. Make sure to highlight these skills so that architecture recruiting managers know you have what it takes to succeed.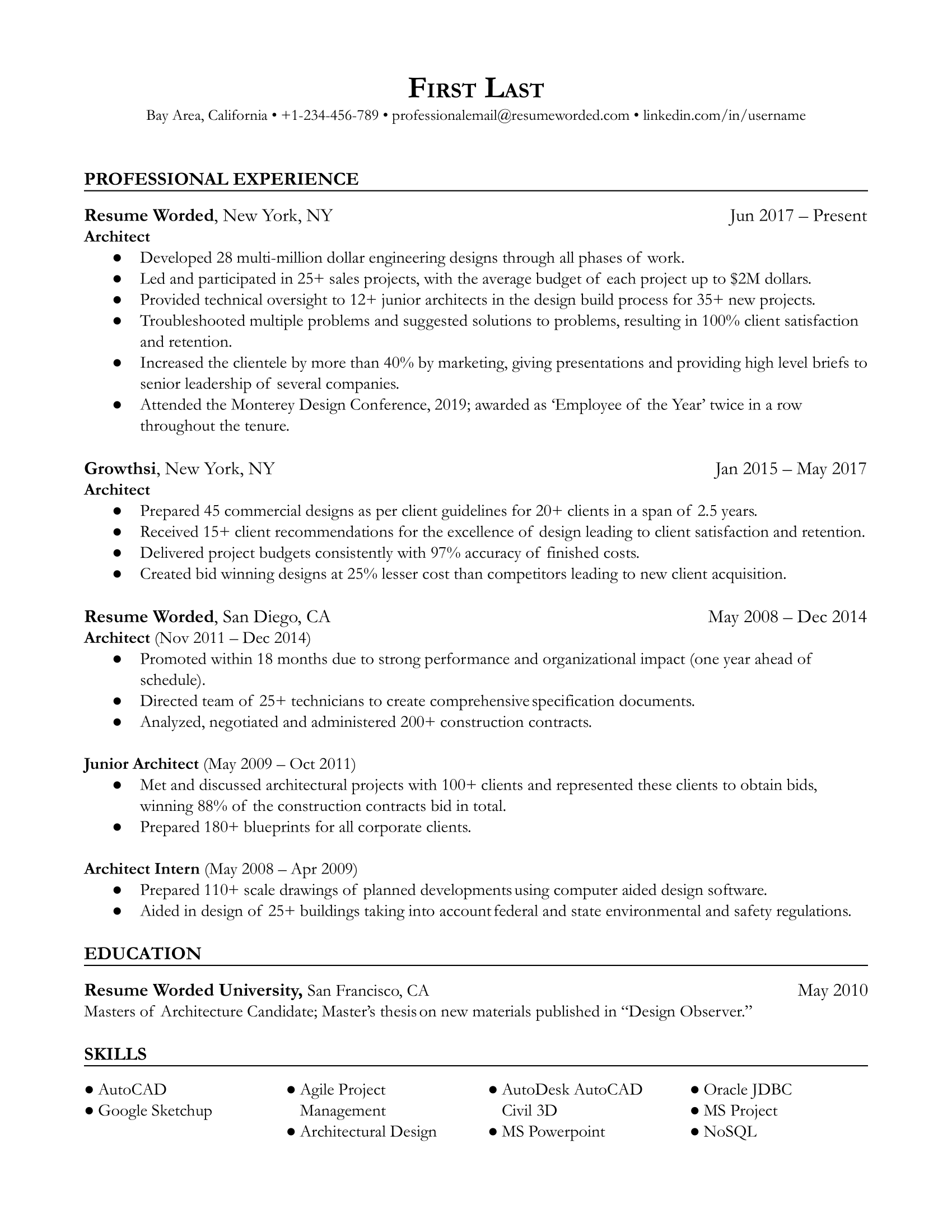 Recruiter Insight: Why this resume works in 2021
Skills For Architecture Resumes
When you find the architecture roles you want to apply for, make sure to read through the job description carefully and note what kind of software they are looking for.

As mentioned above, architecture projects are using more and more technology such as 3D or VR modelling to help anticipate problems or visualize the final product. When applying to a new architecture role, it's important to show the recruiter that you are up to speed on such tools. Include relevant software you have familiarity with, such as AutoCAD, Google Sketchup, etc.

Note that architecture skills may vary widely by the type of building or project -- for example, different tools will be required when building a hospital vs. a residential complex. If you can, take the time to find out what tools the company is using so you have a better idea of what kind of skills/software to include in your architecture resume.
Revit
SketchUp
Architectural Design
AutoCAD
Rhino 3D
Architecture
Adobe InDesign
Architectural Drawings
Design Research
Adobe Illustrator
Rendering
Sustainable Design
Adobe Photoshop
V-Ray
AutoCAD Architecture
Construction Drawings
Sketching
Lumion
Adobe Creative Suite
Model Making
Action Verbs For Architecture Resumes
Architects excel at both engineering and design. They can work skillfully with a variety of team members to construct a building from the ground up, and they can skillfully communicate their ideas.

It's important to emphasize your skills in these areas when writing your architecture resume. For example, to highlight your experience in working with different people, use words such as "developed" or "collaborated".

As mentioned above, architecture is a heavily project-based profession, so it's important to draw attention to your project work with action verbs as well. Use strong verbs to start out your bullet points, and demonstrate your accomplishments in leadership .
Redesigned
Shaped
Conceptualized
Integrated
Structured
Illustrated
Planned
Established
Designed
Revitalized
Instituted
For a full list of effective resume action verbs, visit Resume Action Verbs.