UX (user experience) design is all about controlling how users interact with digital products and services. Most often, this means things like websites and mobile apps, but UX design is used in everything that has a digital interface, including next-generation smart appliances. In 2021, with the rise of ecommerce and increasing demand for online capability, UX designers can expect to focus on building remote collaboration software, personalizing user experiences, simplifying micro-interactions, and moving into the realm of augmented reality.

A recent report from LinkedIn named UX design as one of the top 5 in-demand hard skills. While salaries vary according to years of experience, company, and location, the median salary for UX designers in the U.S. is between $85,000-$100,000, while entry-level UX designers can expect to earn upwards of $75,000. The good news is, you don't need a specific background to become a UX designer — by learning key UX principles, completing a few projects or short online courses, and building a portfolio, you'll be well-placed to land a position.
UX Designer Resume Templates
UX Designer (User Experience Designer) Resume Sample
Download Resume Template (Google Doc)
Download Resume in PDF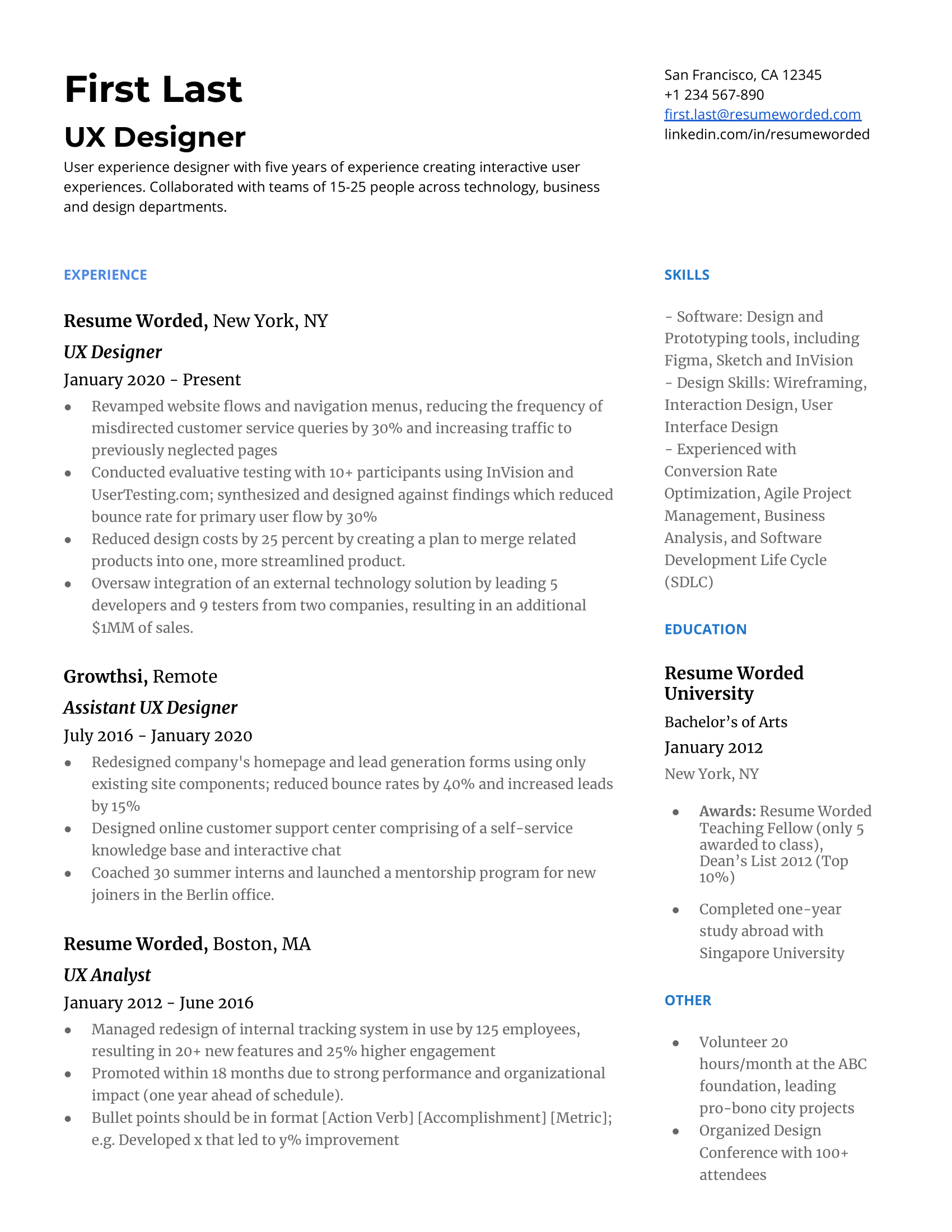 Why this resume works in 2021
UX designer is a role that blends visual design skills, writing, coding, and research. As a UX designer, you'll be designing apps, building prototypes, and performing testing and analytics as well as collaborating with clients and other teams. A resume that emphasizes your hard skills and hands-on experience is your key to landing the perfect role.
Senior UX Designer Resume Sample
Download Resume Template (Google Doc)
Download Resume in PDF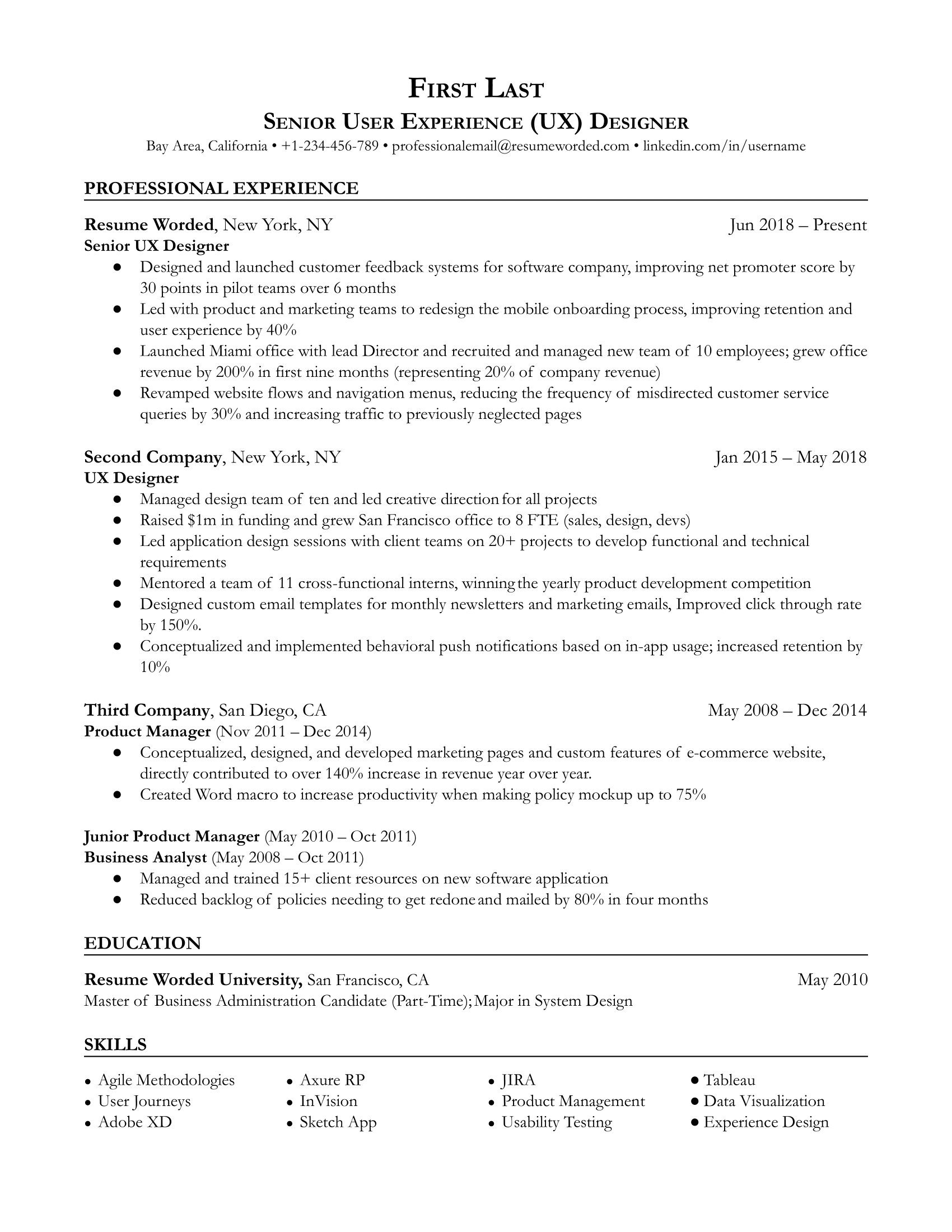 Why this resume works in 2021
UX designers (user experience designers) with at least 5-10 years' experience in the field may want to take the next step and search for senior UX design roles. Senior UX designers take on a management role, leading a UX team and overseeing the design process. To land a senior UX designer role, highlight experiences that showcase your leadership and communication as well as your technical skills.
Entry Level UX Designer Resume Sample
Download Resume Template (Google Doc)
Download Resume in PDF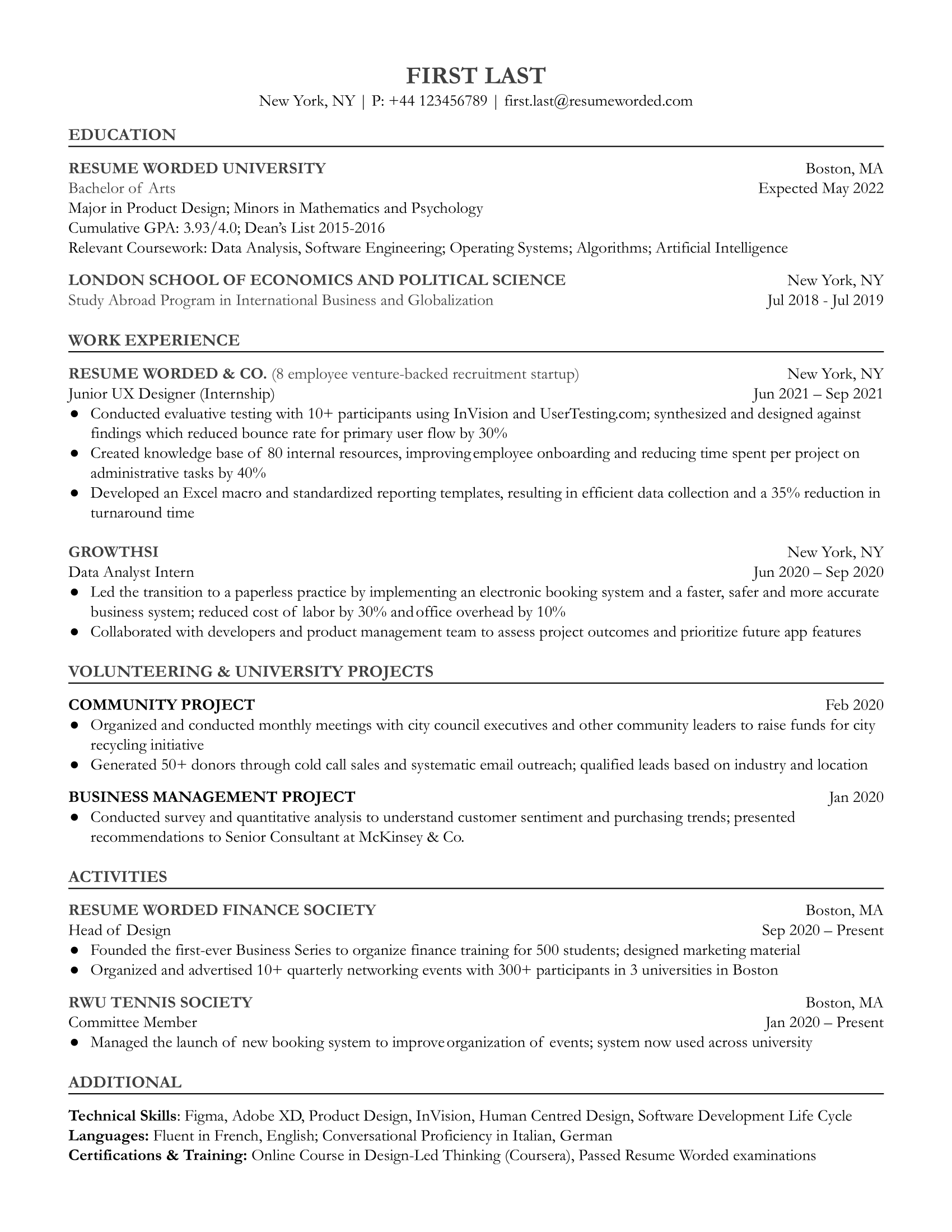 Why this resume works in 2021
UX (user experience) design is an emerging industry that relies more heavily on demonstrable skills than extensive experience, so entry level UX designers are very much in demand. Highlighting your UX design experience through projects, internships, and formal certifications is key to landing an entry level UX design role.
UI / UX Designer Resume Sample
Download Resume Template (Google Doc)
Download Resume in PDF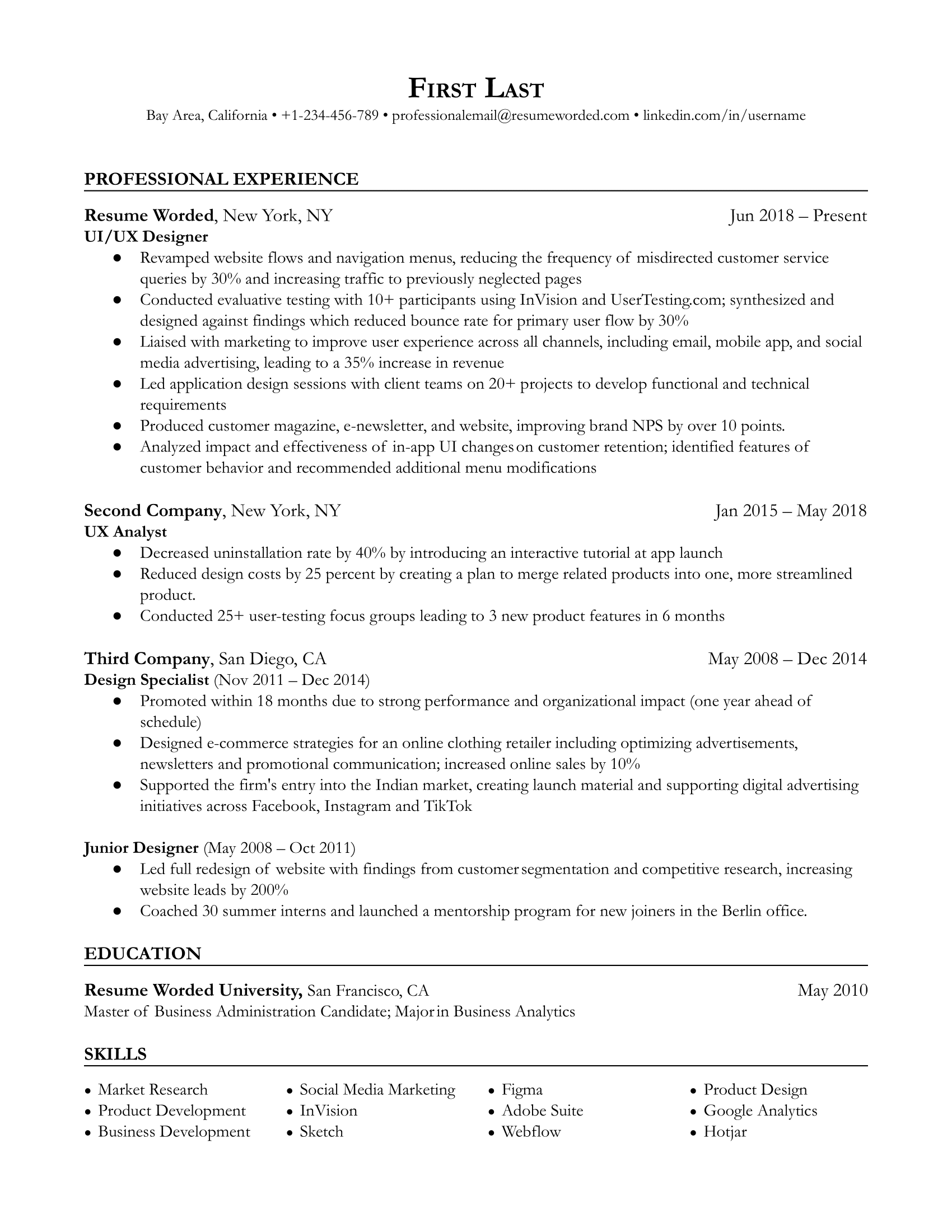 Why this resume works in 2021
UX design and UI (user interface) design are often used interchangeably, with some jobs advertising for a hybrid UI/UX designer. UI design roles are more focused on visual design elements, including color schemes, icons, typography, and responsive design. Many advertised UX designer roles also ask for UI design skills, so positioning yourself as a UX/UI designer is a good way to instantly expand your job market.
UX Engineer (Usability Engineer) Resume Sample
Download Resume Template (Google Doc)
Download Resume in PDF
Why this resume works in 2021
A UX (user experience) engineer is responsible for building design systems and front-end engineering rather than finalizing the look and design of a product. UX engineers collaborate with designers, researchers, and programmers and need a solid understanding of design principles as well as technical skills including familiarity with creative software, programming languages, and experience testing and debugging.
Skills For UX Designer Resumes
Wireframing
User Experience Design (UED)
User Experience (UX)
User Interface Design
Usability Testing
Interaction Design
InVision
Sketch App
User-centered Design
UX Research
Information Architecture
Prototyping
Visual Design
Rapid Prototyping
Usability
Axure RP
User Flows
Design Thinking
Web Design
Adobe XD
How to use these skills?
When it comes to UX design roles, hard skills are key. Get a feel for the skills you'll need by looking over these top skills for UX designers and reviewing the job description itself. Including the right skills, either in the skills section of your resume or within your work experience bullet points, can not only make the difference between the 'yes' pile and 'no' pile, it might be the key to even getting your resume past the initial screening stage. (Read more about Applicant Tracking Systems.) For even more tips on what UX design skills employers are looking for, use our free Targeted Resume tool for personalized advice on what skills and keywords will help your resume get seen.
Action Verbs For UX Designer Resumes
Designed
Implemented
Streamlined
Conceptualized
Created
Integrated
Revamped
Planned
Shaped
Customized
Structured
Conceived
Modernized
Improved
Devised
Led
How to use these action verbs?
Starting your bullet points with action verbs is the best way to highlight what you've actually accomplished. Follow this up with clear metrics and the impact they had on the company to really impress. Check out our full list of resume action verbs for even more ideas of effective action verbs to include in your UX designer resume.

Employers are looking for UX designers who can solve problems, design effective and user-friendly products, and create functioning prototypes, so focus on action verbs and accomplishments that highlight your skills in action. For example, use verbs like Designed and Conceptualized to demonstrate your ability to create a framework, or Streamlined to emphasize a focus on improving the end user experience.

For a full list of effective resume action verbs, visit Resume Action Verbs.