If you have a desire to work in television or film production and an affinity for being flexible in a fast-paced environment, then you're well suited to being a production assistant. Representing the entry level position for the industry, production assistants will work directly with production crews to ensure they have everything they need for the show to go on.

Effective production assistants are able to anticipate the needs of the crew, meaning it helps to have good communication skills and critical thinking. While you'll want to emphasize hard skills in your resume, hiring managers will be looking for evidence of the scope and capacity of your accomplishments, along with your ability to be detail-oriented.

In this guide, we'll look at two examples of resumes for production assistants to help base your resume on. From there, you can refine your background by selecting the best skills to highlight. Lastly, incorporate hard-hitting action verbs to make the best impression on hiring managers.
Production Assistant Resume Templates
Production Assistant Resume Sample
Aim to be succinct and precise in your resume to demonstrate that you are respectful of the hiring manager's time and understand the efficiency expected from production assistants. One way to do this is to use quantitative values to specify how many projects you've completed, or how many people you've worked with at different tasks.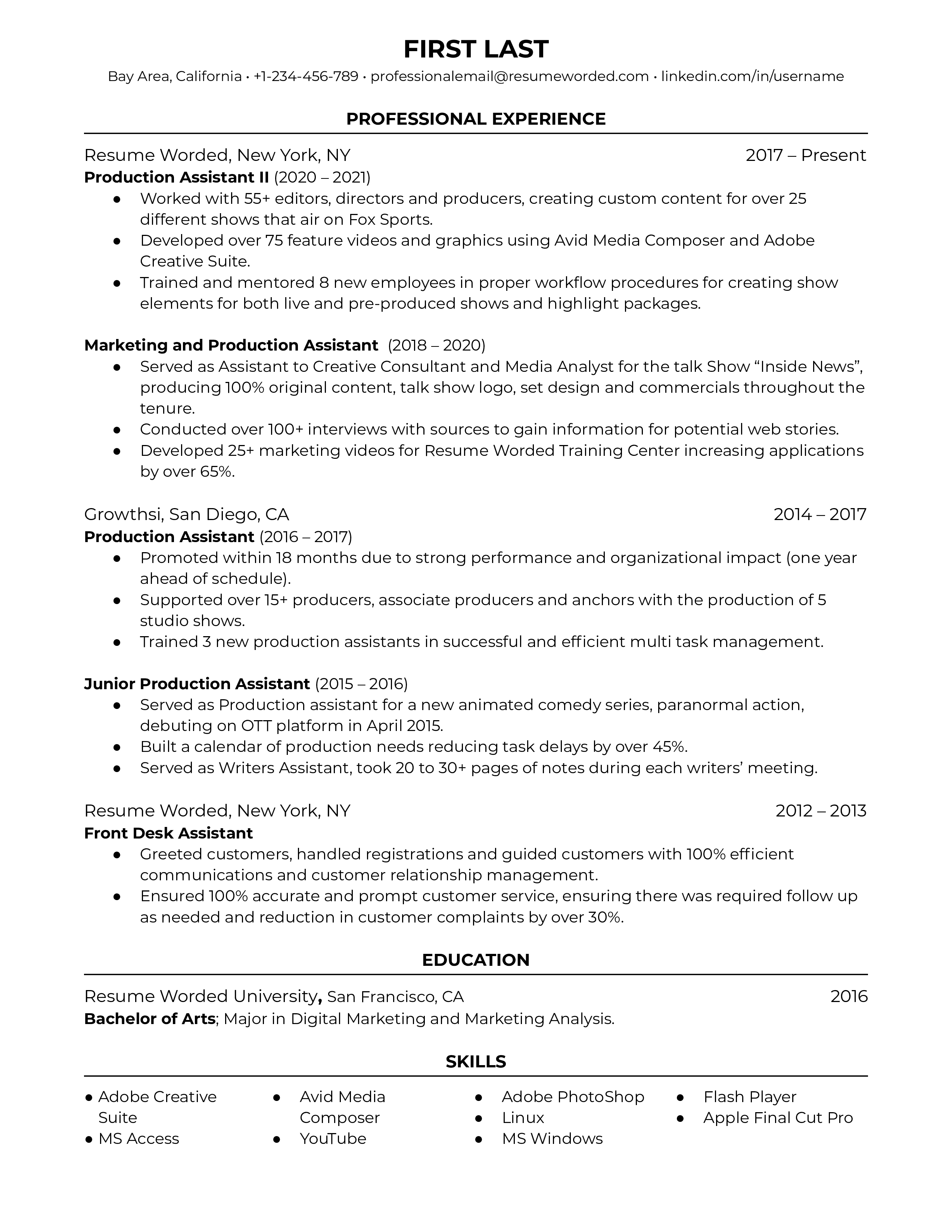 Recruiter Insight: Why this resume works in 2021
Film Production Assistant Resume Sample
Rather than incorporating television production, film production assistants are focused on movies. Movie production is generally more linear, with one portion happening at a time, while the tasks of television production are all at once (leading to a more hectic environment). Film production assistants should aim to incorporate a variety of skills in their list of bullet-pointed accomplishments, as well as a skill bank.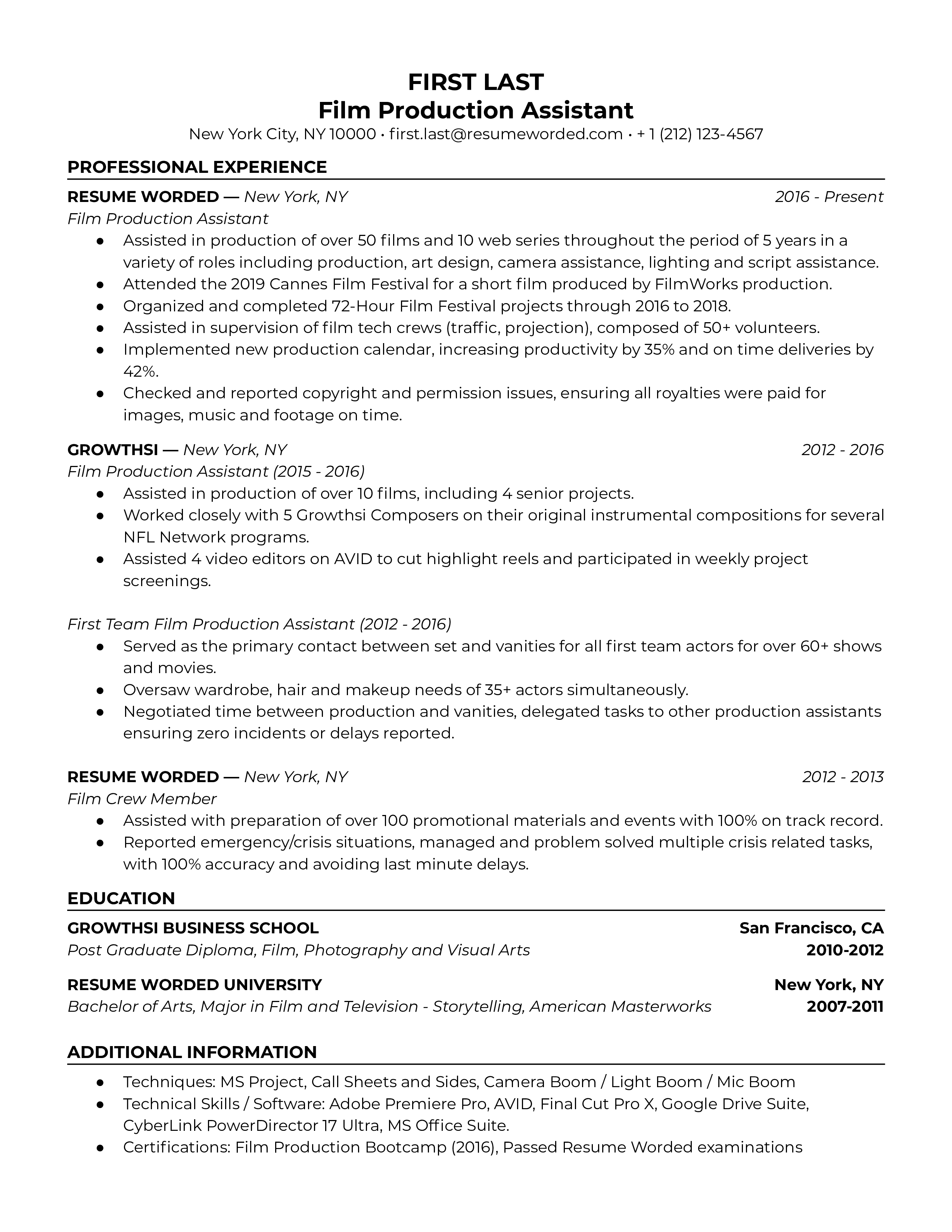 Recruiter Insight: Why this resume works in 2021
Skills For Production Assistant Resumes
As a production assistant, your skills will be primarily related to your past work with assistant production crews in a multitude of areas. While knowing what to include can be difficult, we've narrowed down the most commonly used skills that hiring managers will be looking for in their production assistant applicants. Using these skills throughout your resume will help you clear applicant screening systems.

When relevant for your personal background, you should aim to use these skills for each of your bullet points. Since being a production assistant means you've done a lot of different tasks for a variety of crews, you should include as many appropriate skills as possible. Avoid overusing the same skills as it can make your resume run together.
Video Production
Video Editing
Adobe Premiere Pro
Film Production
Final Cut Pro
Production Assistance
Adobe Photoshop
Film
Editing
Television
Video
Camera Operation
Video Post-Production
Social Media
Adobe Creative Suite
Photography
Entertainment
Broadcasting
Videography
Avid Media Composer
Action Verbs For Production Assistant Resumes
Hiring managers often have a number of resumes to scan, and not much time to do it. While some of your accomplishments as a production assistant should begin with "Assisted", others should incorporate as many of the above action verbs as are appropriate to your experience. These strong action verbs will solidify your credibility to hiring managers, especially when placed at the beginning of the bullet point.
Negotiated
Delegated
Developed
Implemented
Increased
Organized
Trained
Mentored
Conducted
Promoted
Improved
Completed
Facilitated
Led
Created
Produced
For a full list of effective resume action verbs, visit Resume Action Verbs.