As long as companies are selling products, there will be a need for skilled people who help sell them - and that means sales managers are a field that will enjoy consistent demand. The Bureau of Labor Statistics, in fact, anticipates a steady four percent growth in sales manager positions each year through 2029.

Along with determining how best to assist companies in selling their products, sales managers are generally expected to be able to work with individual clients to gain their interest (and keep it) in high value products.

Sales managers can be employed in a wide variety of industries, and the responsibilities each position involves will be specific to the job title. With that in mind, the job listing you're applying for will be the first major indicator as to the type of resume you should submit.

Read on as we discuss five templates for different positions within the sales manager field, highlight what they do best, and go over some best practices to keep in mind.
Sales Manager Resume Templates
Sales Manager Resume Sample
A general sales manager will be expected to have a basic familiarity with all of the aspects of the sales management position. To indicate this, you should focus on including action verbs and skills that are relevant to sales managers wherever possible.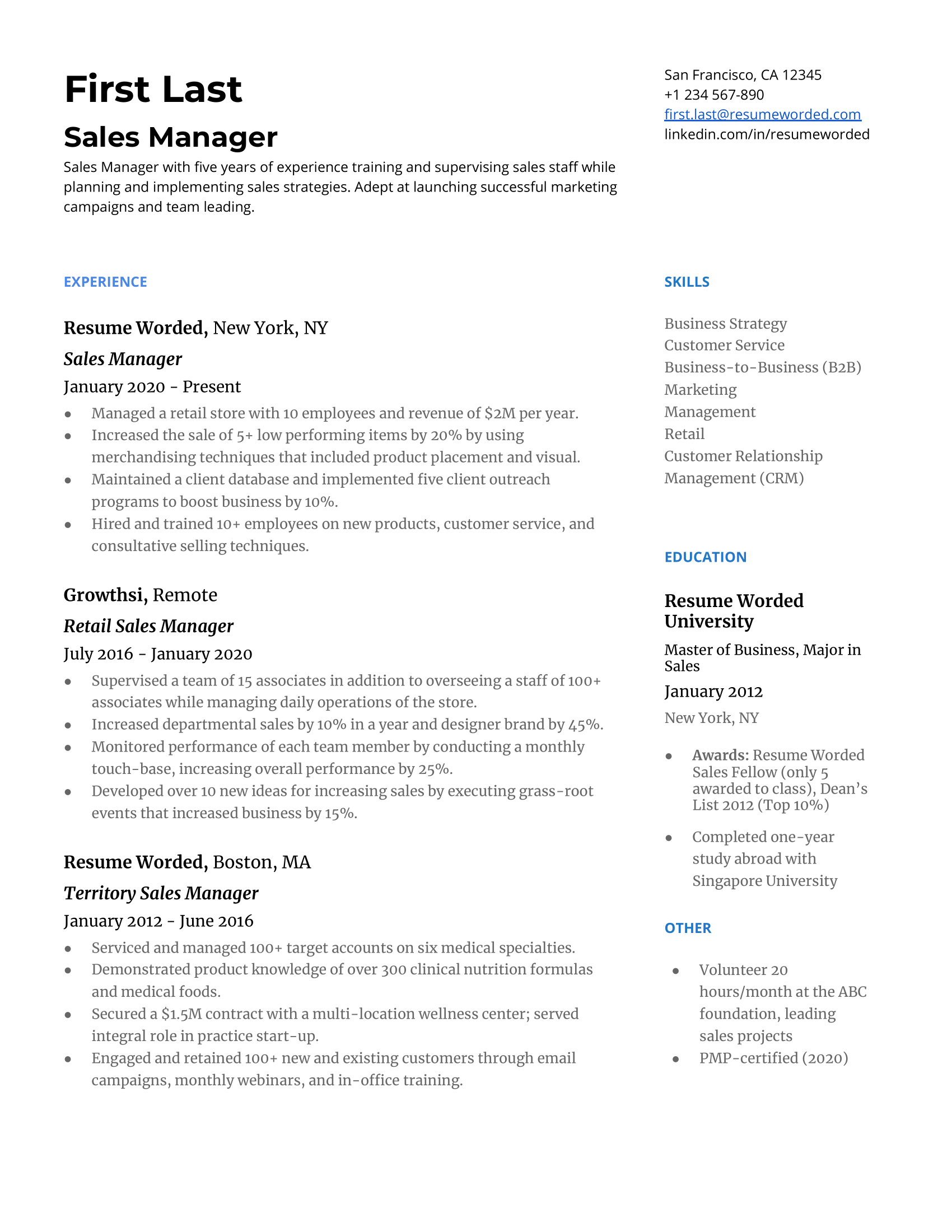 Recruiter Insight: Why this resume works in 2021
Regional Sales Manager Resume Sample
Regional sales managers should aim to indicate their proficiency with sales management at both the lower and upper levels to show they have both the fundamental skills and greater vision needed for a sales position with more responsibility. This resume does that with its heavy use of quantifiable data points and by showing progressive growth along the sales management career path.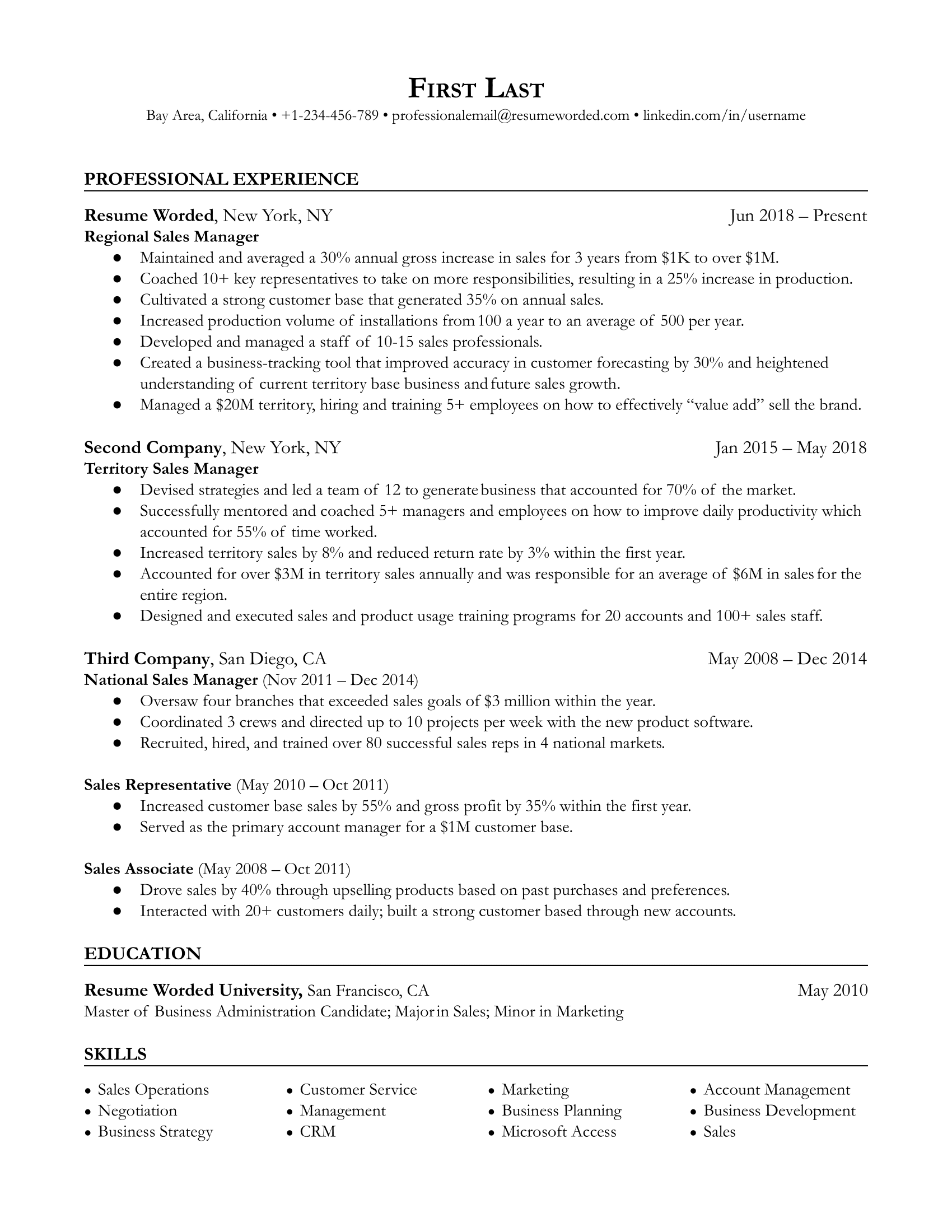 Recruiter Insight: Why this resume works in 2021
Hotel Sales Manager Resume Sample
Hotel sales managers are involved in the marketing of the hotel itself, and so it helps to indicate your ability to develop and implement successful marketing strategies. In this resume, the applicant references their marketing accomplishments alongside their ability to improve staff performance (including implementing CRM tools and educating the staff accordingly), giving the impression of overall capability when it comes to hotel brand management.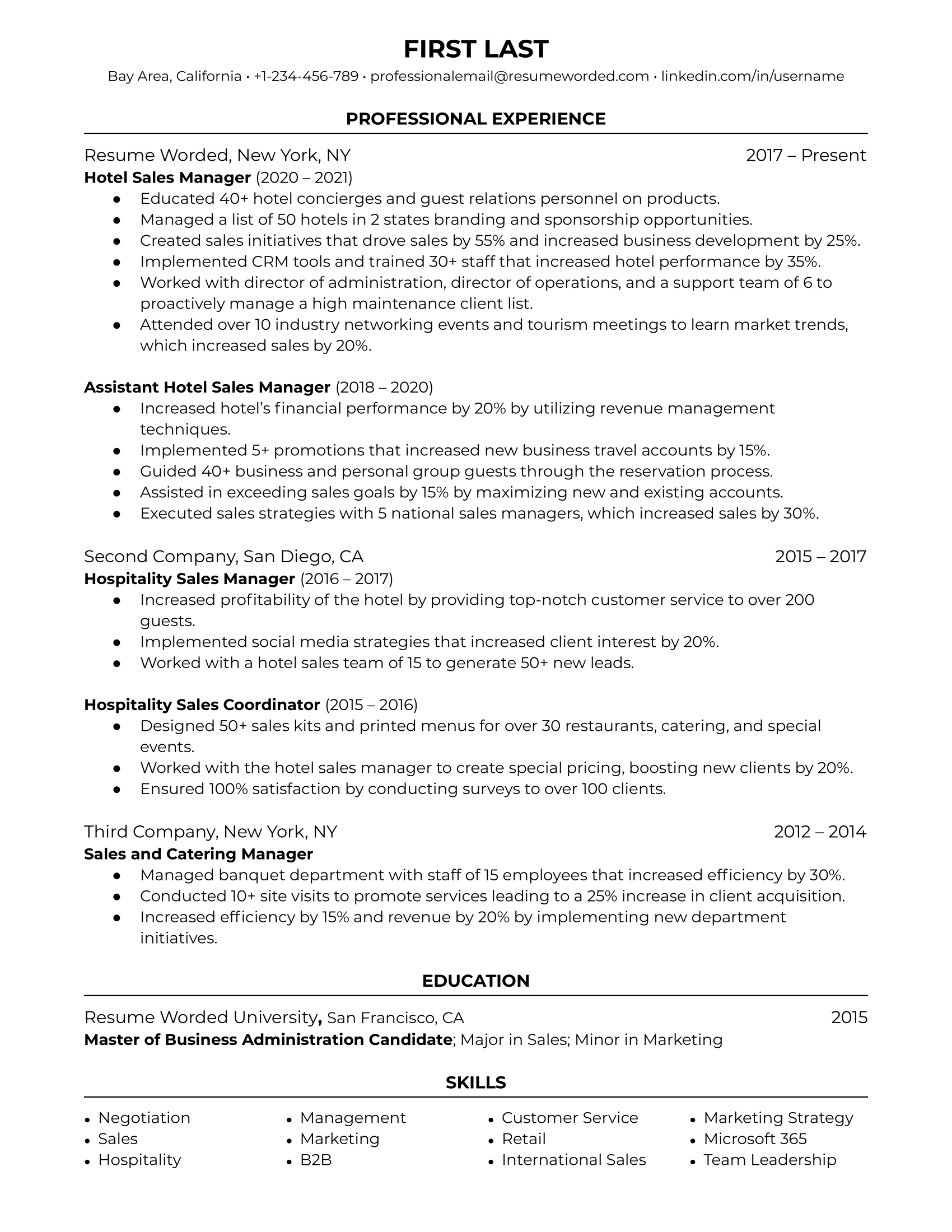 Recruiter Insight: Why this resume works in 2021
Automobile / Car Sales Manager Resume Sample
As automobiles are high ticket items, automobile sales managers should be prepared to indicate that they have familiarity with the financing process and have made measurable gains within that field. This applicant does so by including finance-relevant data points. Furthermore, by including a relevant additional information section, the impression of overall competency is boosted.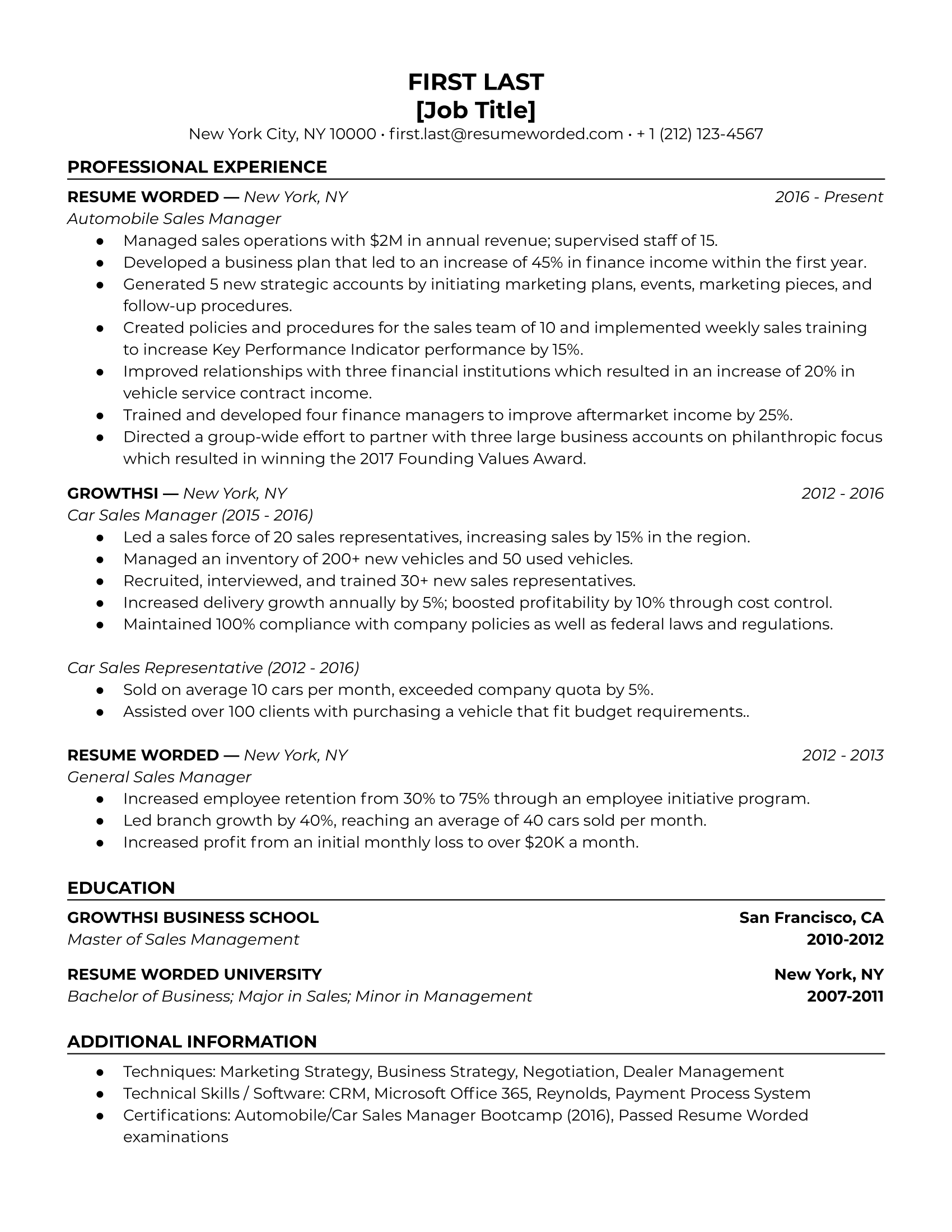 Recruiter Insight: Why this resume works in 2021
Retail Sales Manager Resume Sample
Retail sales managers are on the front lines of sales, meaning they will be having more customer interactions than sales managers in other positions. This applicant shows that they have the ability to work with both customers and employees in a way that supports business sustainability.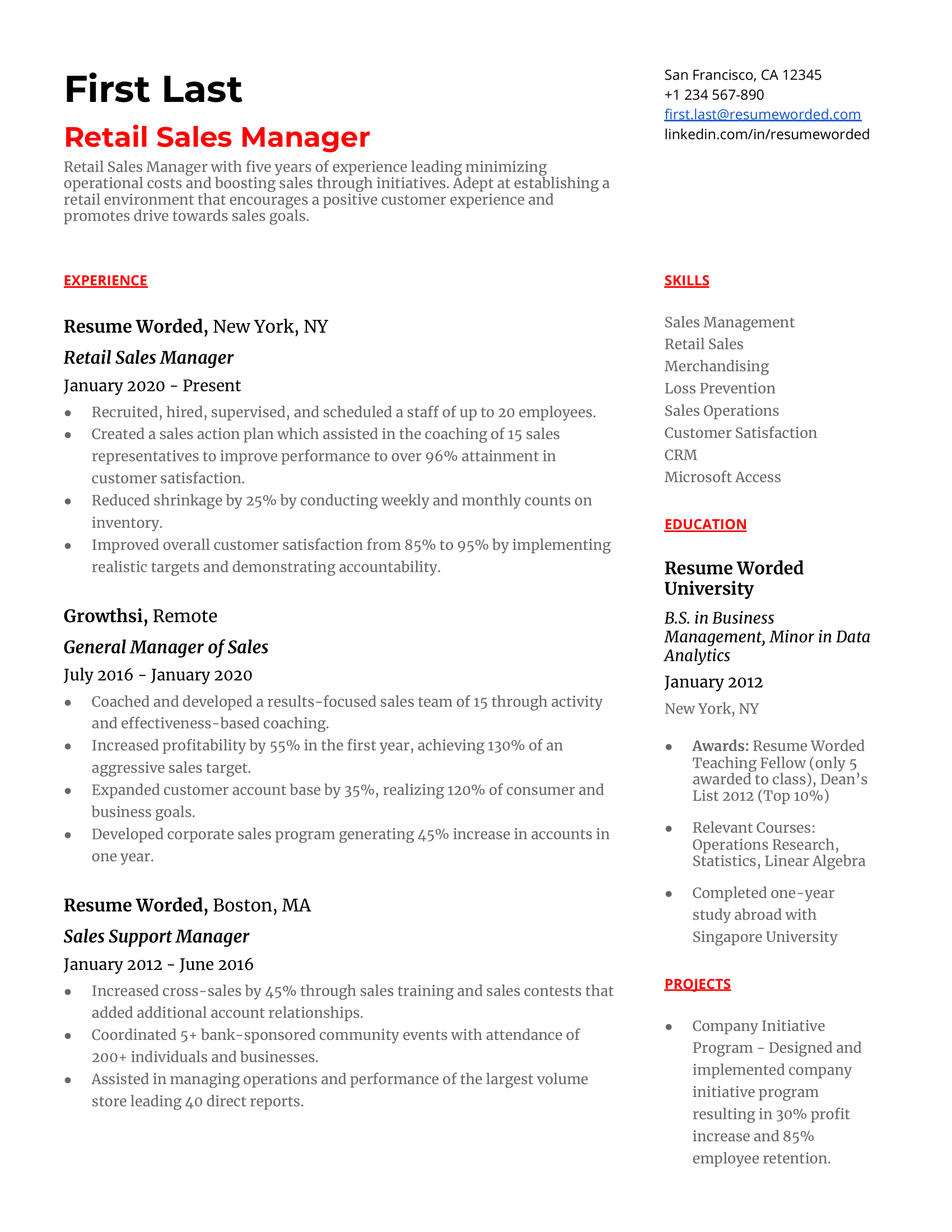 Recruiter Insight: Why this resume works in 2021
Skills For Sales Manager Resumes
While it's true that sales managers can work in a variety of industries, hiring managers are looking for general skills in their applicants. On the left, we've listed the most common skills for sales managers to include on their resumes.

You should aim to include the relevant sales managers skills that you have for each of the sales-related positions that you've held. If you're applying for a position with a specific job title (such as regional sales manager or hotel sales manager), use our templates above to help you determine what skills are best to include.

Your skills can be listed in a summary at the start of your resume, in a skills bank on the side or bottom of your resume, and in your list of accomplishments at sales-related positions.
Sales Management
Account Management
Key Account Development
Sales Operations
Marketing Strategy
Sales Presentations
Business-to-Business (B2B)
Trade Shows
Sales
Business Development
Merchandising
Forecasting
Sales Process
Product Development
Consumer Products
Negotiation
Pricing Strategy
Retail
Direct Sales
Contract Negotiation
Sales Manager Resume Tips
When piecing together your sales manager resume, your first step should be reviewing the job listing to determine what kind of sales manager they're looking for. The specific position title is the first clue, but you can also get an idea from the language used. For example, if the listing references working with clients, be sure to include any accomplishments pertaining to customer satisfaction, increasing sales, or maintaining a customer base.
Action Verbs For Sales Manager Resumes
To get an idea of what action verbs you should be using in general as a sales manager, you can refer to the list on the left. These action verbs have been gleaned from sales manager resumes, and will enable your resume to make an impression on hiring managers while also making it past automatic screening tools.

As noted above, you should tailor your action verbs to specific positions based on your experience.
Recommended
Counselled
Sold
Developed
Negotiated
Recruited
Trained
Instructed
Grew
Initiated
Promoted
Consulted
Increased
Expanded
Persuaded
For a full list of effective resume action verbs, visit Resume Action Verbs.
Resume Bullet Points From Sales Manager Resumes
You should use bullet points to describe your achievements in your Sales Manager resume. Here are sample bullet points to help you get started:
Led the firm's sales and business operations in South Africa, responsible for $45MM annual sales and capability building of 200+ sales personnel
Scripted and tested phone sales process; increased customers by 30% in 6 months
Generated 50+ project requests through cold call sales and systematic email outreach; completed due diligence to qualify leads based on credit, industry and location
Managed a portfolio of 5 customers, generating new business revenue totaling $10M / year
Determined sales effectiveness strategy for a ERP software supplier to increase sales by $10M over three years
For more sample bullet points and details on how to write effective bullet points, see our articles on resume bullet points, how to quantify your resume and resume accomplishments.