Businesses in industries of all types are looking to restructure and expand into new markets as a result of the economic turmoil caused by the pandemic. This is where business development specialists come in, enabling businesses to act on viable opportunities and operate with optimal flexibility.

Business development specialists are in high demand. Per Zippia, the field is growing by eight percent a year and the average salary is over $92,000.

Business development can encompass a variety of roles, meaning that the skills you'll need will vary depending on the position you're applying for. Some business development specialists are dedicated to client management, while others may be more focused on assessing the departments and operations of a business to determine what type of marketing campaign can be run with the resources available. Generally, though, having a background in business, sales, or finance will come in handy.

While the type of resume you craft will be dependent on your personal experience and the particular job listing, this guide will cover six example templates of business development specialists that you can use to base your resume on. Additionally, we'll discuss the most common types of skills hiring managers will be looking for, and finish up with some tips that are helpful to keep in mind as you craft your own business development resume.
Business Development Resume Templates
Business Development Representative Resume Sample
Business development representatives are more involved in handling client relationships, and this resume reflects that. If you have a similar background across sales, client management, or product-related analysis for clients, you should emphasize your associated skills and accomplishments. Tying them to numerical values will further solidify your case.
Recruiter Insight: Why this resume works in 2021
Business Development Manager Resume Sample
A skilled or experienced business development manager can be the defining asset of a business due to the responsibilities encompassed by the position, and hiring managers are looking for applicants who have risen to the challenge. If you have a significant background in business development management, you should similarly emphasize the most impactful accomplishments at your most recent position.
Recruiter Insight: Why this resume works in 2021
Business Development Executive Resume Sample
As a business development executive, you'll be expected to take the reins of a business's growth. When applying for this position, you should aim to include a broad range of relevant accomplishments that show your ability to manage personnel and departments, increase the client base, or improve sales through meeting senior clients.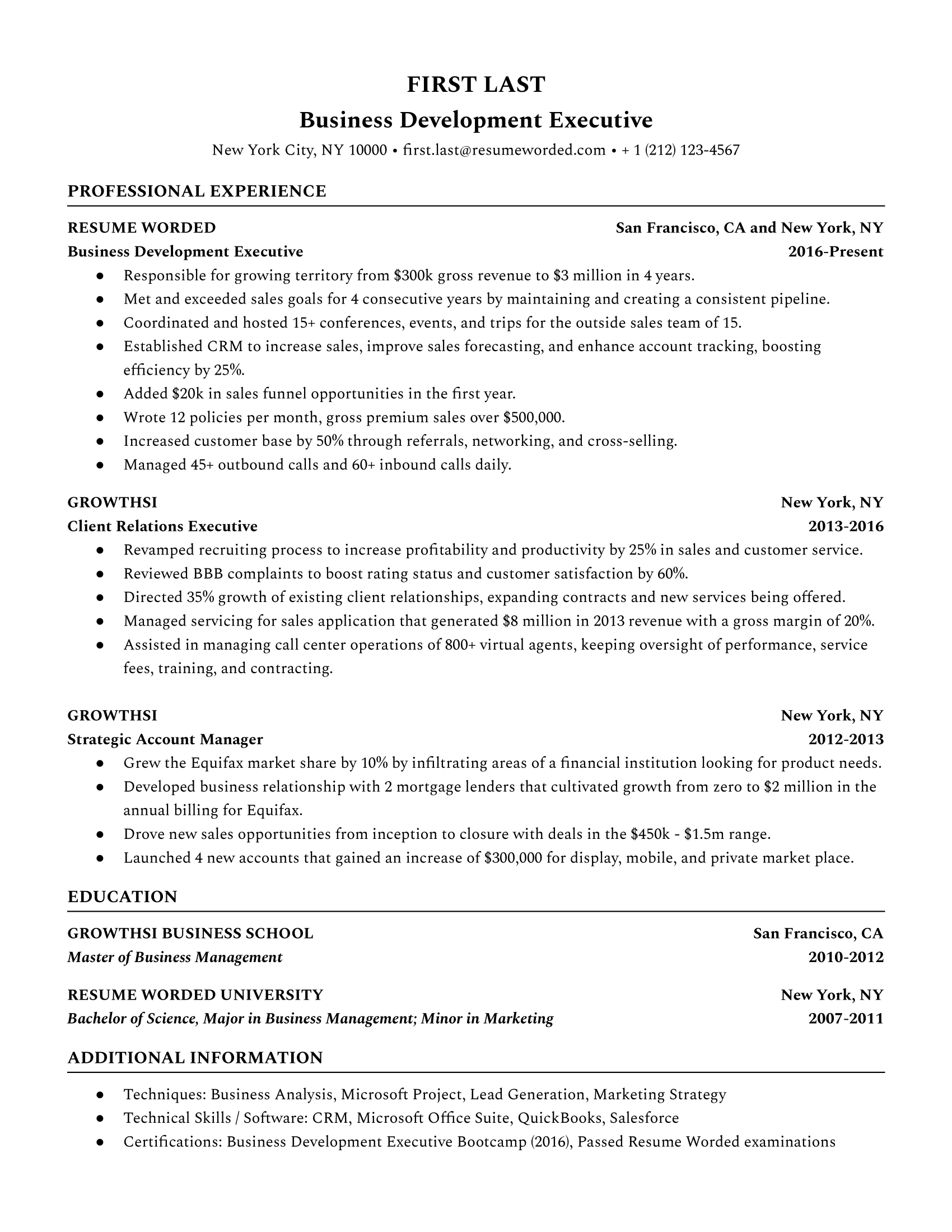 Recruiter Insight: Why this resume works in 2021
Business Development Associate Resume Sample
Business development associates can be expected to have familiarity with maintaining client relationships and increasing the number of customers at the same time as being familiar with the inner workings of companies. This resume shows that they have worked with both outside sales teams as well as internal departments.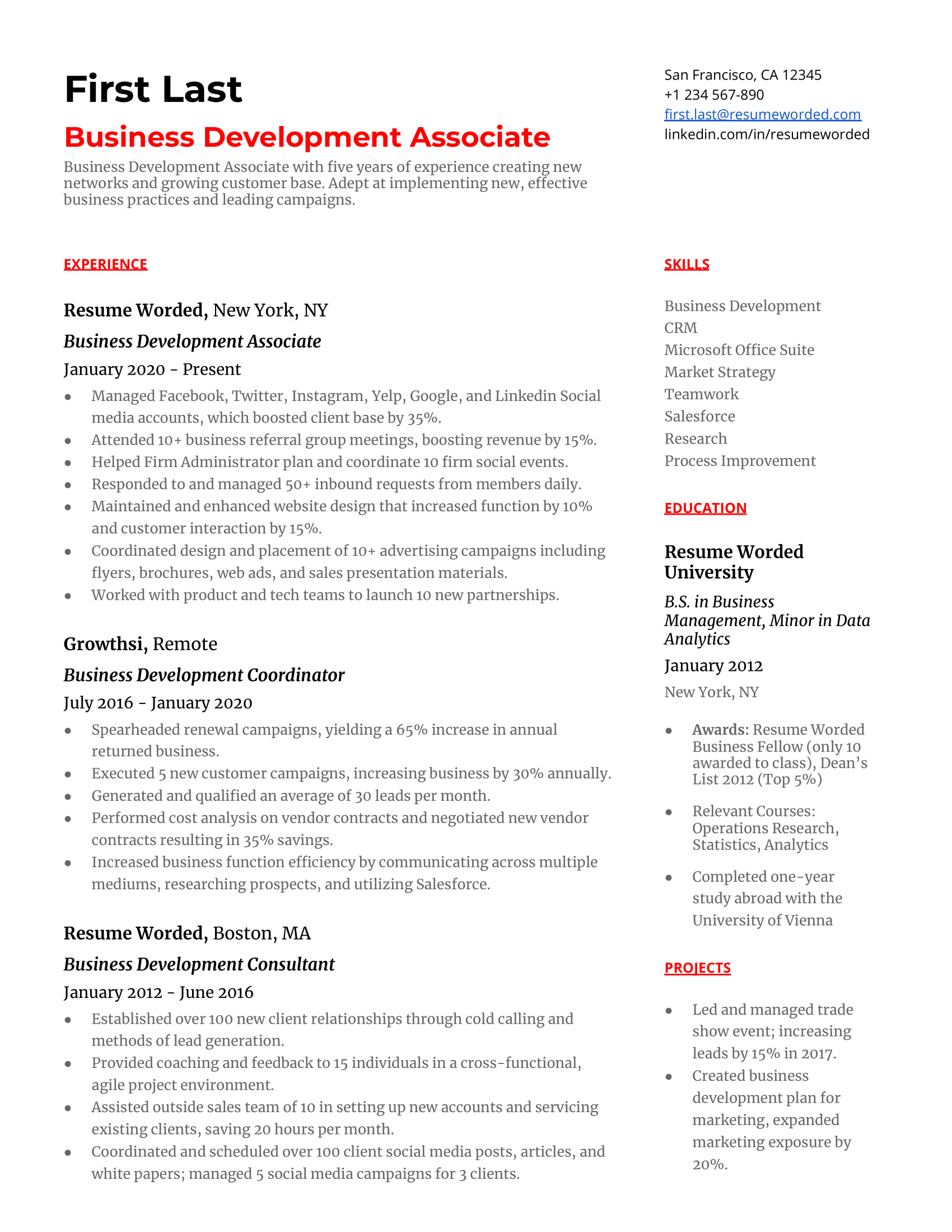 Recruiter Insight: Why this resume works in 2021
Entry-Level Business Development Manager Resume Sample
Entry level business development managers can make a big impression even with less experience in the field. This applicant showcases their ability to come up with strategies, find opportunities, and produce new business throughout their application by using strong action verbs. As a result, creativity and innovation are both soft skills that come across well without being directly mentioned.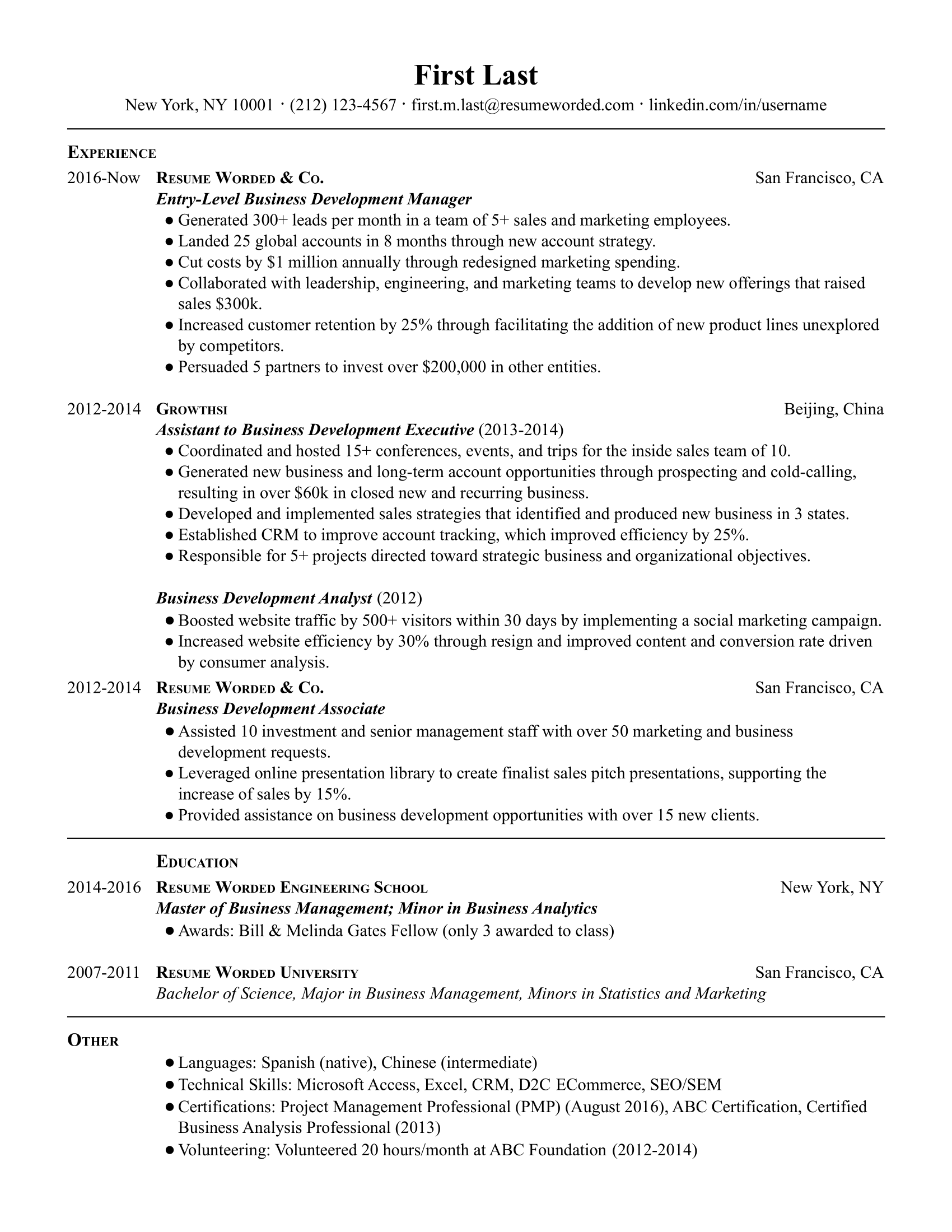 Recruiter Insight: Why this resume works in 2021
Director of Business Development Resume Sample
At the high end of business development is the director, often responsible for one or more departments dedicated to business growth. Directors require the ability to see the overview of a business and assess its place within the industry. This resume encapsulates that by including foundational positions and skills crowned by impactful, businesswide accomplishments.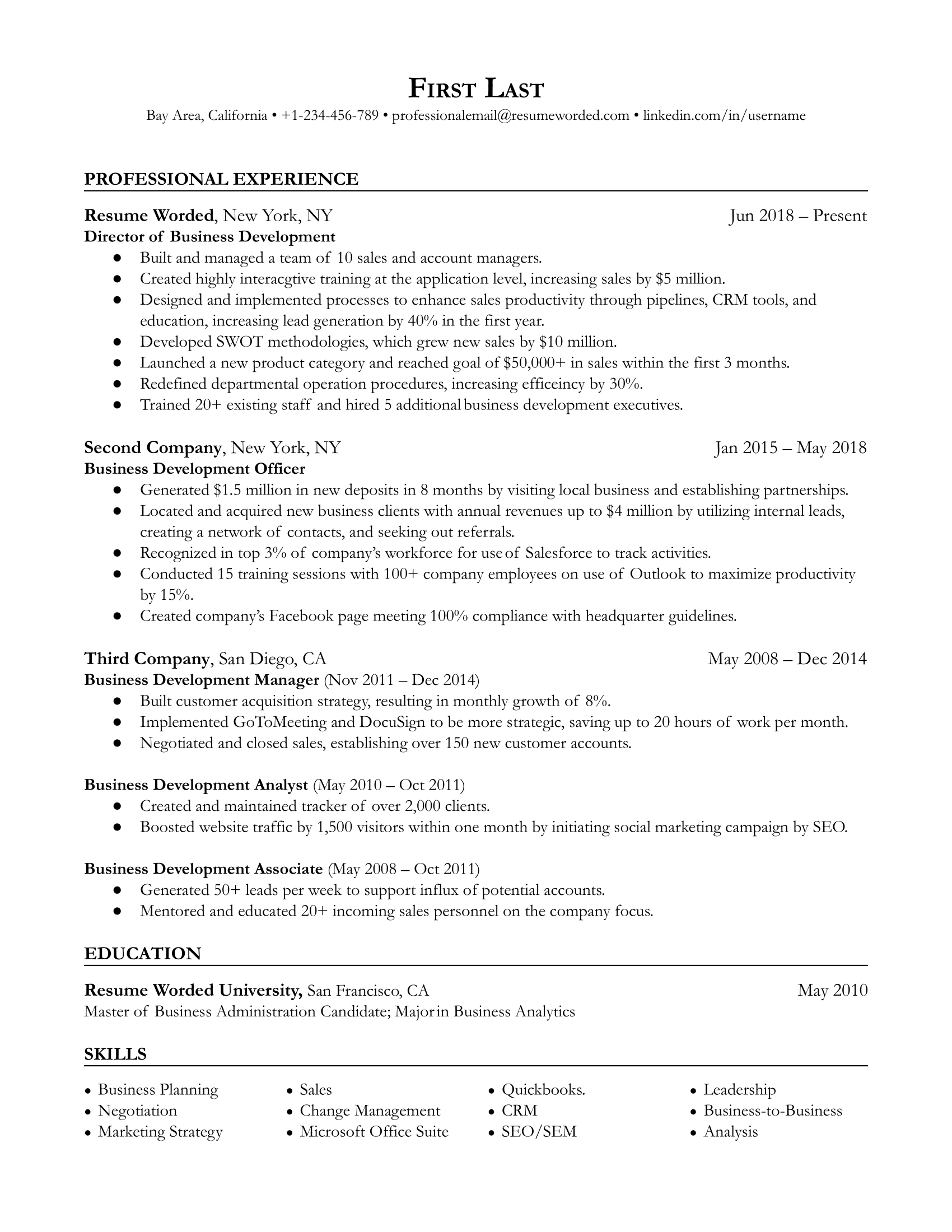 Recruiter Insight: Why this resume works in 2021
Skills For Business Development Resumes
Not every business development specialist comes from a similar background. However, hiring managers and applicant tracking systems will be looking for specific skills that indicate that you have the ability to help the business via marketing, client management, or revenue growth.

On the left, we've identified the most common business development skills that hiring managers want to see.

After you've matched either your background or the position you're applying for with a template similar to one of the ones we've looked at, you should determine what skills are most relevant to your experiences. The list of skills can help you determine the accomplishments you should include, and these should be listed in bullet point form under every position (or in a break out "Projects" section as in the fourth resume we looked at earlier).

Additionally, you should include your hard skills and the techniques you have learned (such as "Business Strategy" in the second resume template) in a skills bank at either the bottom or the right side of your resume.
Business Development
Sales Management
Account Management
Business-to-Business (B2B)
Marketing Strategy
Sales
Sales Process
Business Strategy
Sales Operations
Customer Relationship Management (CRM)
Negotiation
Lead Generation
Marketing
Cold Calling
Contract Negotiation
Direct Sales
Sales Presentations
Strategy
Solution Selling
Salesforce.com
Business Development Resume Tips
As indicated by the variety of resumes we looked at above, business development specialists can focus on a variety of skills and accomplishments. With that in mind, you should focus your resume on matching the requirements outlined (or even hinted at) by the job listing you're applying for.
Action Verbs For Business Development Resumes
Action verbs for business development specialists should generally indicate growth, improvement, and change, as the position relies on being able to generate and pursue new opportunities for businesses. We've included a list of strong action verbs to include on the left.

As an example of this in practice, the business development executive that we looked at above (the third template we reviewed) included a selection of relevant action verbs at each bullet point. We noted earlier how they described "growing territory", but it's also worth mentioning that they increased the customer base by 50 percent, boosted the BBB rating status, and "revamped" their recruiting process.

The verbs you choose to describe your accomplishments should be similarly dynamic (rather than flat or static). Put another way, business development specialists aren't meant to maintain a status quo, but to elevate a business's potential.
Scheduled
Directed
Developed
Recommended
Prioritized
Managed
Supervised
Influenced
Facilitated
Persuaded
Motivated
Resolved
Accelerated
Overhauled
Convinced
Transformed
For a full list of effective resume action verbs, visit Resume Action Verbs.
Resume Bullet Points From Business Development Resumes
You should use bullet points to describe your achievements in your Business Development resume. Here are sample bullet points to help you get started:
Strengthened relationships with 6 strategic partners (including Expedia, Skyscanner and Airbnb) through follow-up meetings with C-suite executives
Generated 50+ project requests through cold call sales and systematic email outreach; completed due diligence to qualify leads based on credit, industry and location
Developed dashboards containing performance metrics to global and local senior management teams; dashboards used by 30+ executives
Conducted due diligence to assess and value potential acquisitions in childcare industry; assessed 30+ companies and recommendation was acquired by company
Developed and executed customer referral program, leading to 50% increase in referral business and $2MM of incremental revenue
For more sample bullet points and details on how to write effective bullet points, see our articles on resume bullet points, how to quantify your resume and resume accomplishments.