Sales associates are the face of a company and an indispensable part of a company's sales process. As a sales associate, you are at the front lines, and you could be selling anything from clothing to car parts.

You are a fantastic relationship builder and can strike up an easy conversation with almost any customer they meet. You can read people's body language well and have a strong sense of empathy for the confusing parts of making certain purchases. You're always able to keep a positive attitude and are patient even with frustrated customers.

With in-person retailers slowly opening back up in 2021, the demand for this position will undoubtedly increase, and there are abundant opportunities for those looking to work as a sales associate.

Sound like something you're interested in? Continue reading below to see what a great sales associate resume should look like in 2021.
Sales Associate Resume Templates
Sales Associate Resume Sample
Sales associates that have a few years of experience in the industry should focus on highlighting the skills they've developed throughout their career. Make sure to demonstrate such capabilities as working efficiently with point of sale systems or managing smooth customer relations. Follow this template to highlight your abilities as you put together your sales associate resume.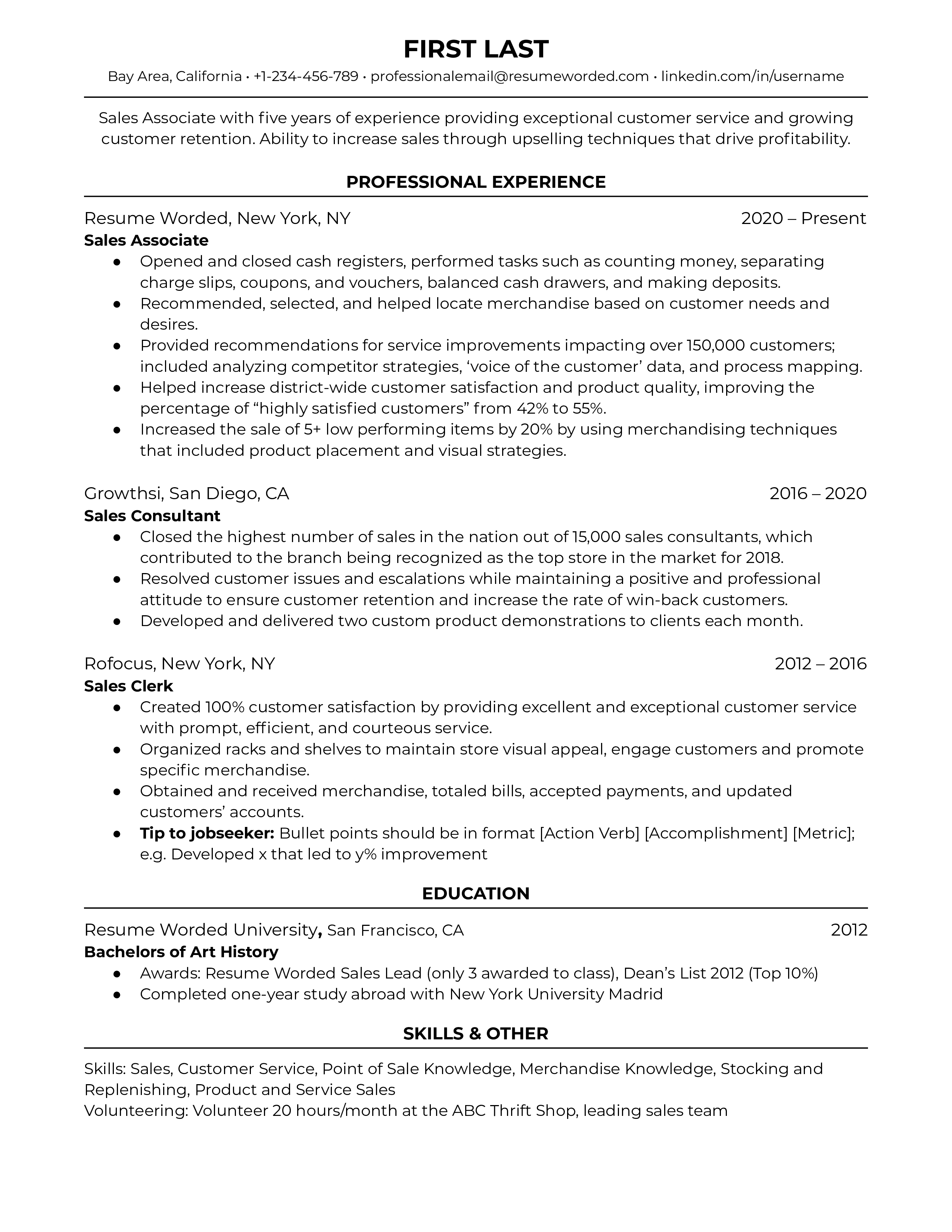 Recruiter Insight: Why this resume works in 2021
Sales Associate / Retail Salesperson Resume Sample
A retail sales associate, typically a sales associate working specifically in a brick-and-mortar store, must have excellent interpersonal skills and the emotional intelligence to interact with a variety of different customers daily. When crafting your retail sales associate resume, make sure to emphasize the relevant skills and experience you have developed in your past retail roles.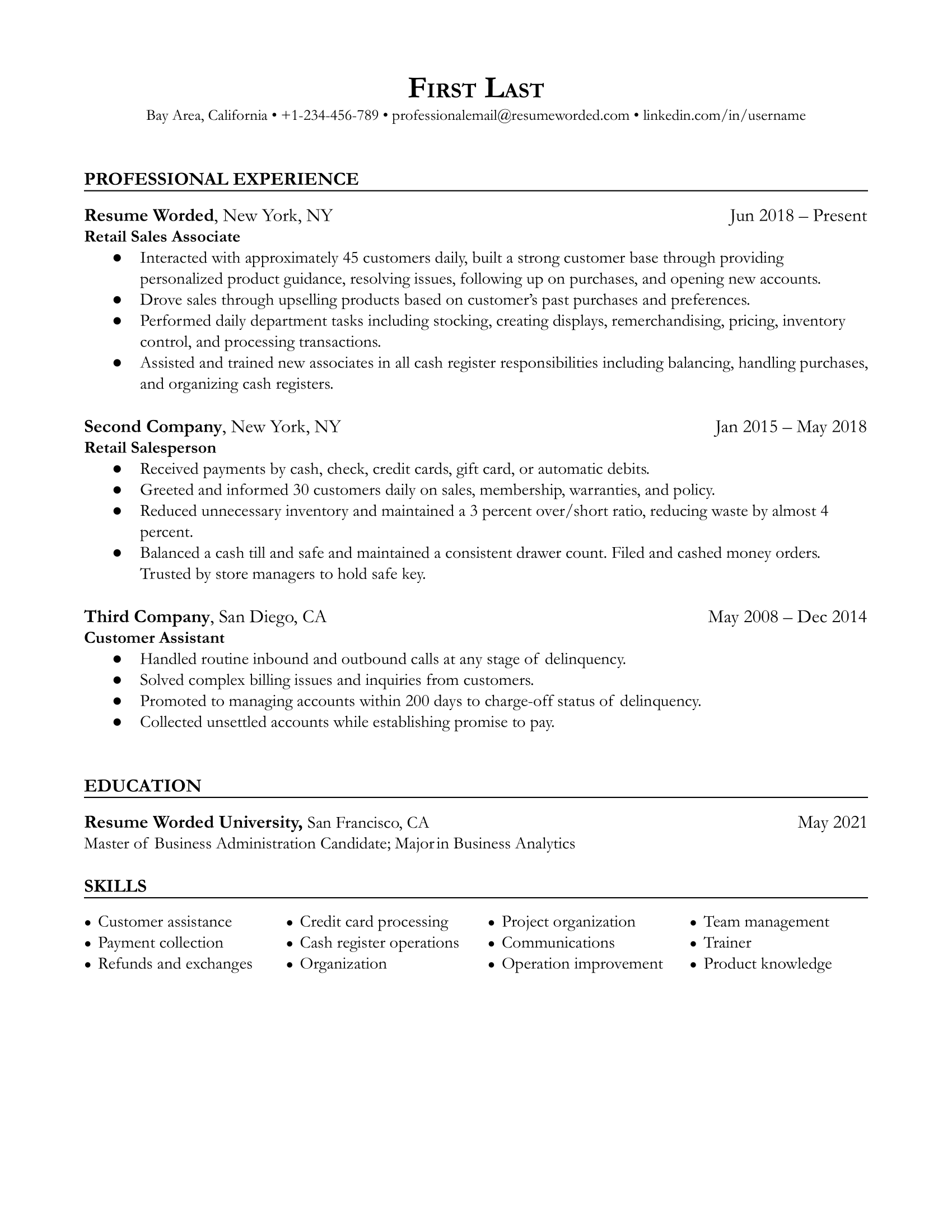 Recruiter Insight: Why this resume works in 2021
Entry-Level Sales Associate Resume Sample
If you just recently graduated from college, you may not have several years of sales experience under your belt. That's normal, and there's no need to fret about it -- hiring managers know to look at different areas of your resume to gauge your skills and abilities in the workplace. Use this template to sell yourself to companies and demonstrate that you are absolutely capable of getting the job done.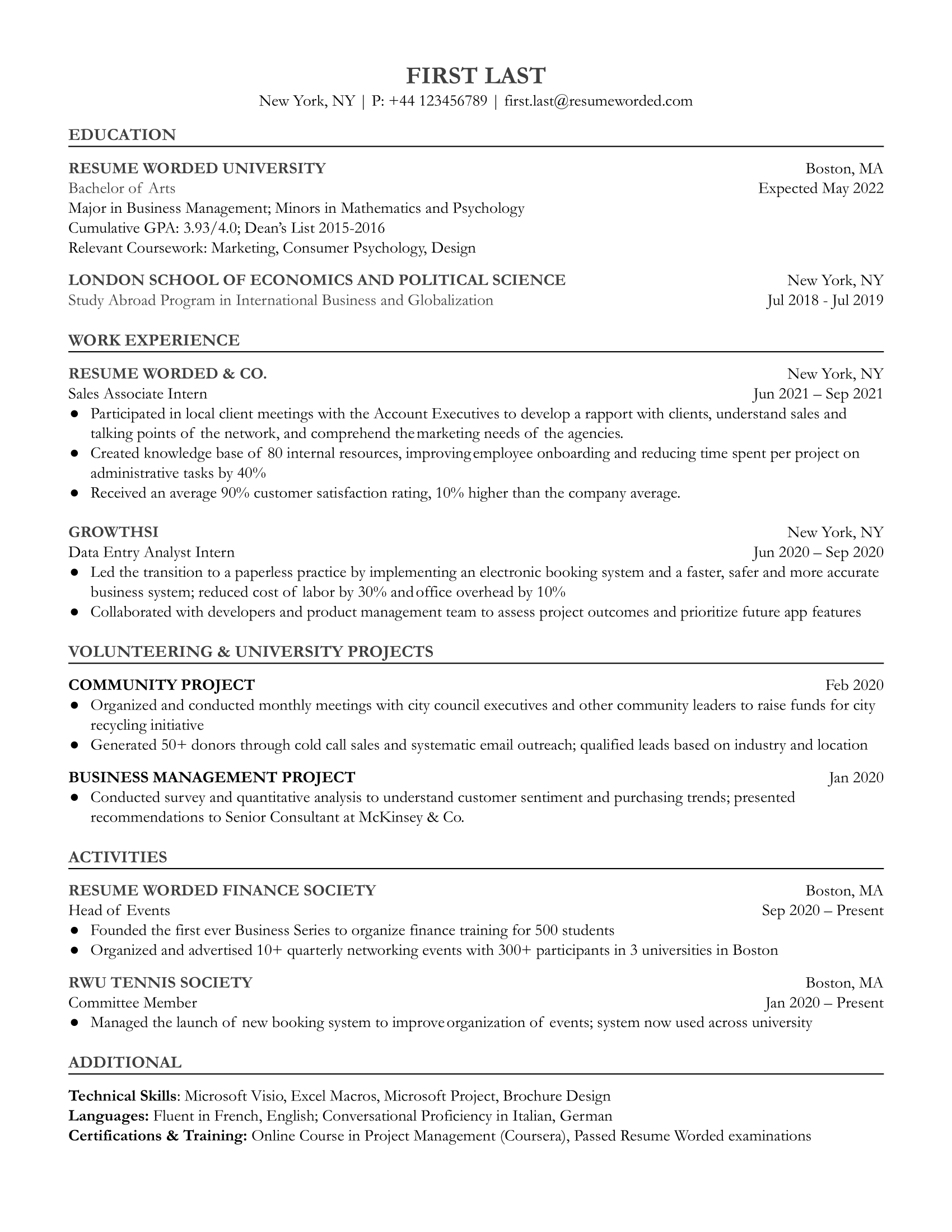 Recruiter Insight: Why this resume works in 2021
Senior Sales Associate Resume Sample
A senior sales associate is in charge of overseeing sales policies and initiatives, and is typically on track to get promoted to a management position. It's important to demonstrate your experience in sales and your ability to lead others and ensure the team is hitting sales quotas. In addition, you should highlight your career journey through increasing levels of responsibility, and exhibit excellent sales numbers from past positions.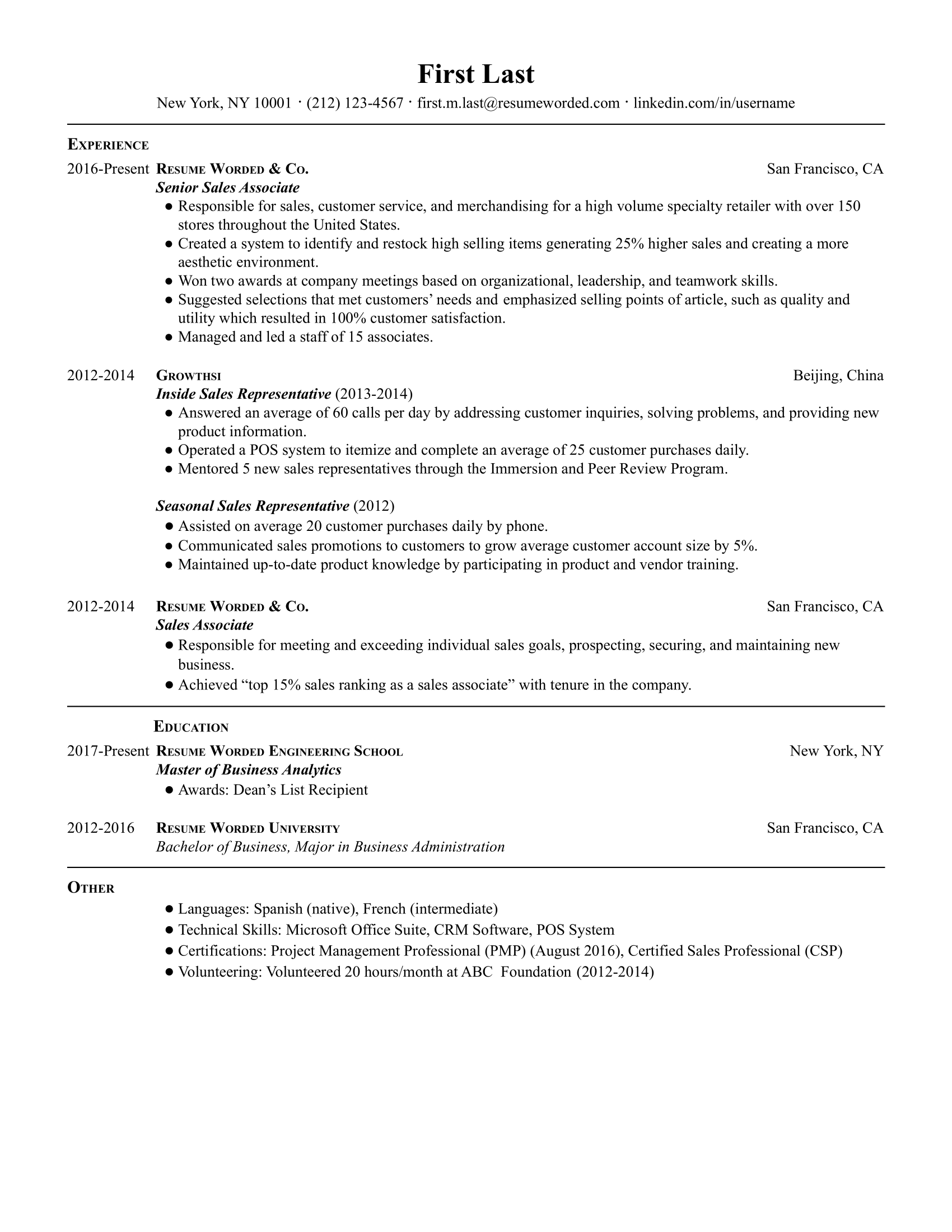 Recruiter Insight: Why this resume works in 2021
Sales/Customer Assistant Resume Sample
Unlike a general sales associate or retail sales associate who works in-store or selling directly to customers, a sales/customer assistant is more likely to be working between businesses (B2B) and assisting with the sale of products/services between those businesses. Follow this template when crafting your sales/customer assistant resume.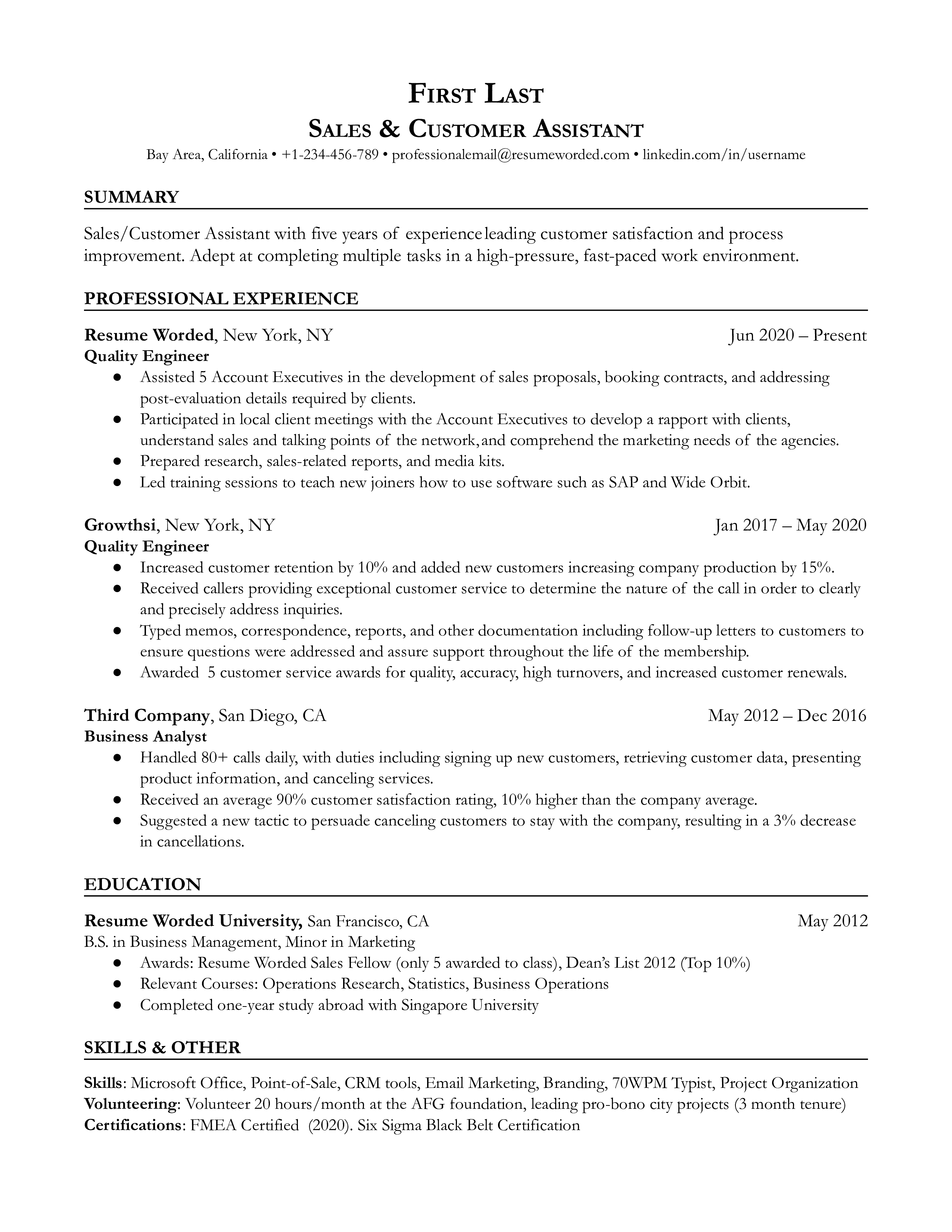 Recruiter Insight: Why this resume works in 2021
Skills For Sales Associate Resumes
Working as a sales associate requires strong organizational, communication, and problem-solving skills. In some cases, you might need to have specific product knowledge or experience within a certain industry. Keep this in mind as you fill in your skills section, or choose which skills to expand on in your work experience section.

As mentioned earlier, it's always important to read through a job posting carefully. Whether you're writing a resume for the first time or making adjustments to your current one, you should take the time to understand what kind of experiences and skills the company is looking for in a new hire.
Apparel
Retail
Cashiering
Merchandising
Retail Sales
Visual Merchandising
Time Management
Teamwork
Sales
Customer Service
Communication
Organization Skills
Social Media
Inventory Management
Fashion
Cash Handling
Physical Therapy
Interpersonal Skills
Adobe Illustrator
Phone Etiquette
Action Verbs For Sales Associate Resumes
Sales associates must be excellent communicators, must know how to quickly get up to speed on a new product/service to answer customer questions. You must demonstrate exceptional professionalism and display empathy and tact in case a customer gets confused or frustrated.

When writing your sales associate resume, keep these qualities in mind as you choose action verbs to describe your experiences. Use the ones that reflect your strongest assets and that are relevant to the position. For example, use words like "resolved" or "handled" to emphasize your empathetic nature when you approach challenging customer problems.

Besides the list we have here, you can come up with ones of your own to use, or even read through various relevant job descriptions to see what kind of action verbs companies tend to use when they're looking to hire sales employees.
Sold
Advised
Developed
Structured
Designed
Conceptualized
Sped up
Redesigned
Troubleshooted
Led
Drove
Communicated
Teamed
Reported
Organized
For a full list of effective resume action verbs, visit Resume Action Verbs.
Resume Bullet Points From Sales Associate Resumes
You should use bullet points to describe your achievements in your Sales Associate resume. Here are sample bullet points to help you get started:
Led full redesign of website with findings from customer segmentation and competitive research, increasing website leads by 200%
Determined sales effectiveness strategy for a ERP software supplier to increase sales by $10M over three years
Grew revenue from $1MM to $2.5M in one year by expanding channel partnerships; exceeded target by 150%
Managed a portfolio of 5 customers, generating new business revenue totaling $10M / year
Initiated and managed relationships with key enterprise customers; wrote and executed business plan that resulted in 120% ($5MM) increase in division revenue over 3 years
For more sample bullet points and details on how to write effective bullet points, see our articles on resume bullet points, how to quantify your resume and resume accomplishments.