Retail is a demanding and fast-paced industry. If you're starting out in retail — or looking to move up the chain — you'll need communication skills, great customer service, and the ability to solve problems on the fly. For those serious about the business, employers are also looking for people with business acumen, cultural awareness, and strong numeracy skills.

While many retail jobs are part-time, there's also an ongoing need for professional, full-time retail workers. You don't need a specific background or experience to work in retail — soft skills, a good work ethic, and a professional, can-do attitude will get you a long way, especially in entry-level positions. In 2021 and beyond, look out for a growing shift toward online retail and eCommerce as well as emerging trends like machine learning, personalized shopping experiences, and influencer marketing. Technical skills, sales, marketing, and social media savvy will all land you ahead of the curve when it comes to retail positions in the near future.
Retail Associate Resume Sample
Retail associates are front-line sales assistants and the face of any retail store. As a retail associate, you'll be working with customers as well as processing payments, cleaning, and handling stock. In many stores, you may be responsible for upselling and meeting sales goals, so make sure your resume highlights your soft skills as well as any previous sales or customer service experience.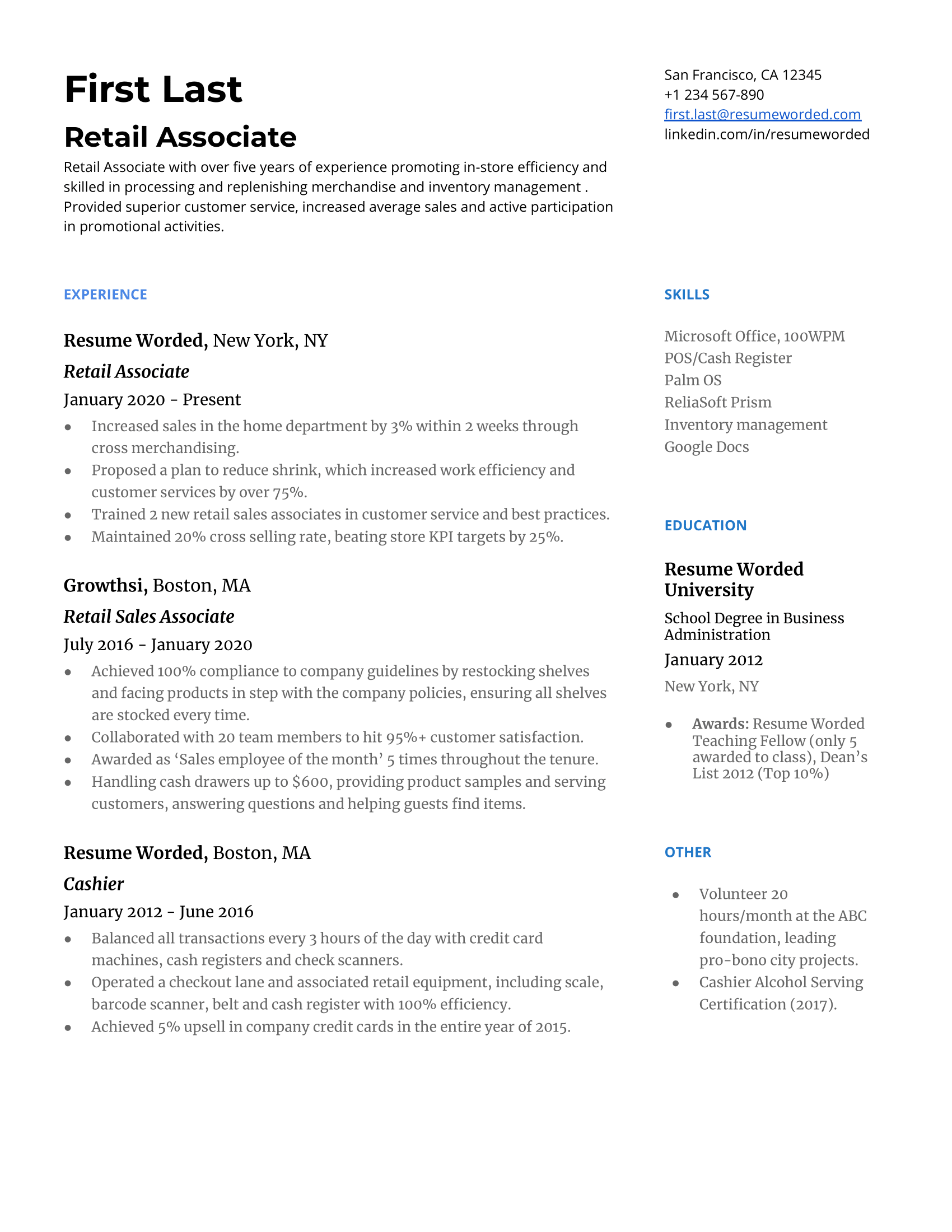 Recruiter Insight: Why this resume works in 2021
Retail Manager Resume Sample
As a retail manager, you'll be responsible for the day-to-day running of a store — think balancing a budget, scheduling shifts, setting sales targets, and motivating a team. There are multiple routes to becoming a retail manager, including working your way up the ladder as a sales associate, transitioning from a management role in a different sector, or pursuing a degree in business or another field relevant to your industry.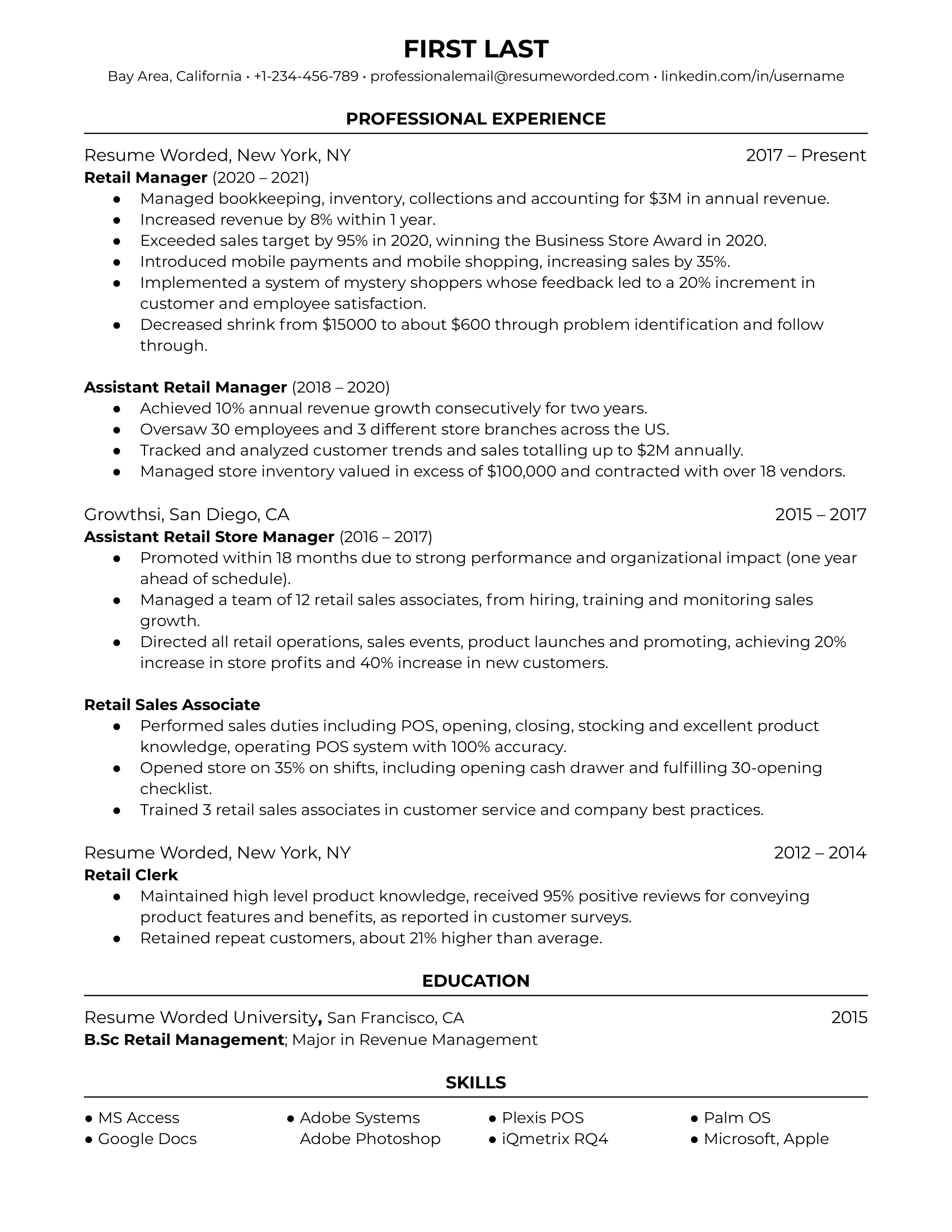 Recruiter Insight: Why this resume works in 2021
Retail Salesperson / Retail Salesman Resume Sample
Retail salespeople need a big dose of people skills alongside an awareness of sales and marketing strategies, business trends, and basic software and point of sale (POS) hardware. Retail salespeople need to demonstrate their ability to make a sale and may even work on commission, so make sure to emphasize the times you exceeded sales goals or provided excellent customer service.
Recruiter Insight: Why this resume works in 2021
Retail Sales Manager Resume Sample
Retail sales managers are on the front lines of sales, meaning they will be having more customer interactions than sales managers in other positions. This applicant shows that they have the ability to work with both customers and employees in a way that supports business sustainability.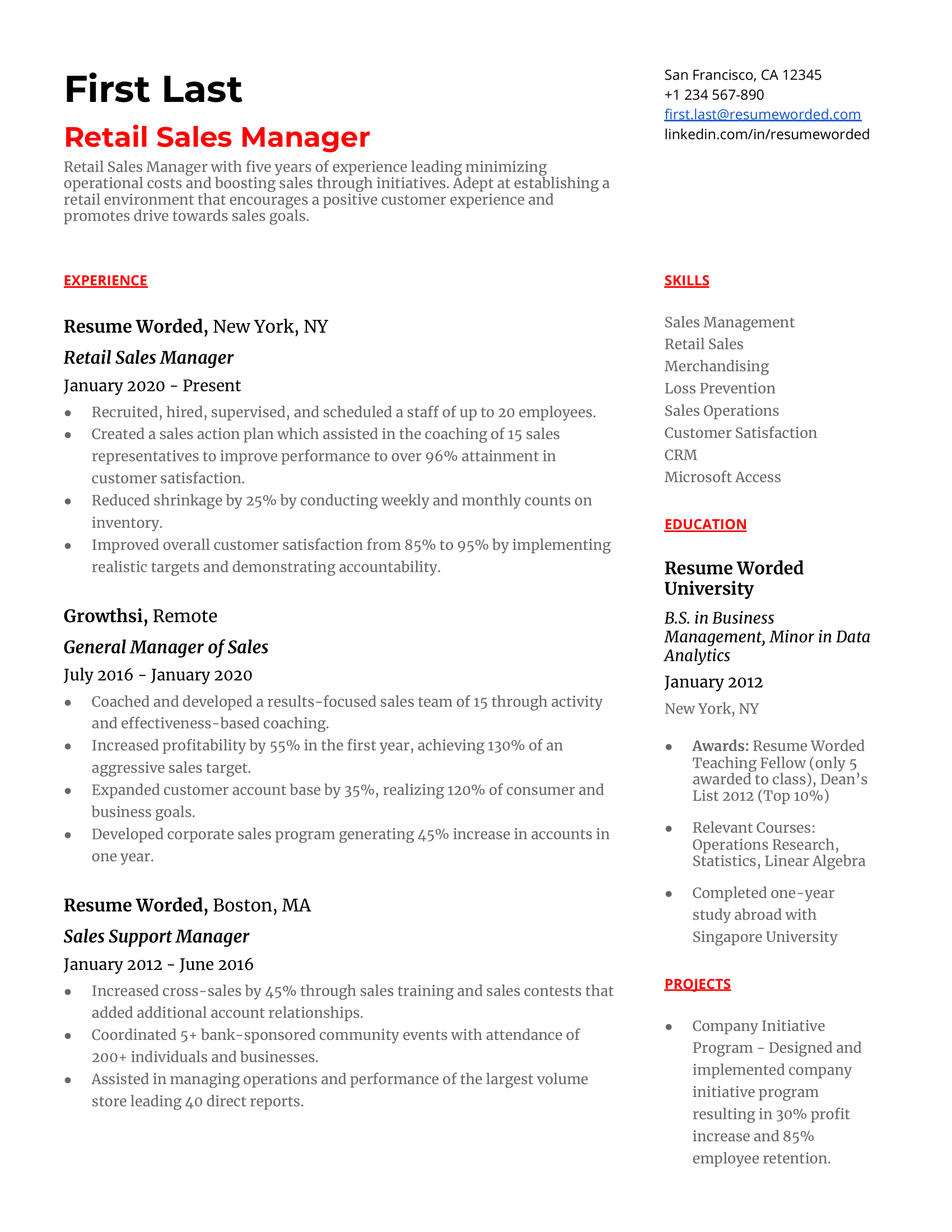 Recruiter Insight: Why this resume works in 2021
Retail Pharmacist Resume Sample
Retail pharmacists work in a retail environment, rather than in a hospital or healthcare setting. As a retail pharmacist, you'll be responsible for dispensing prescriptions, counselling patients and providing advice on health and medication, and managing your store. This might include managing other staff, monitoring inventory, and ensuring compliance with safety regulations, which means your resume needs to emphasize both hard and soft skills.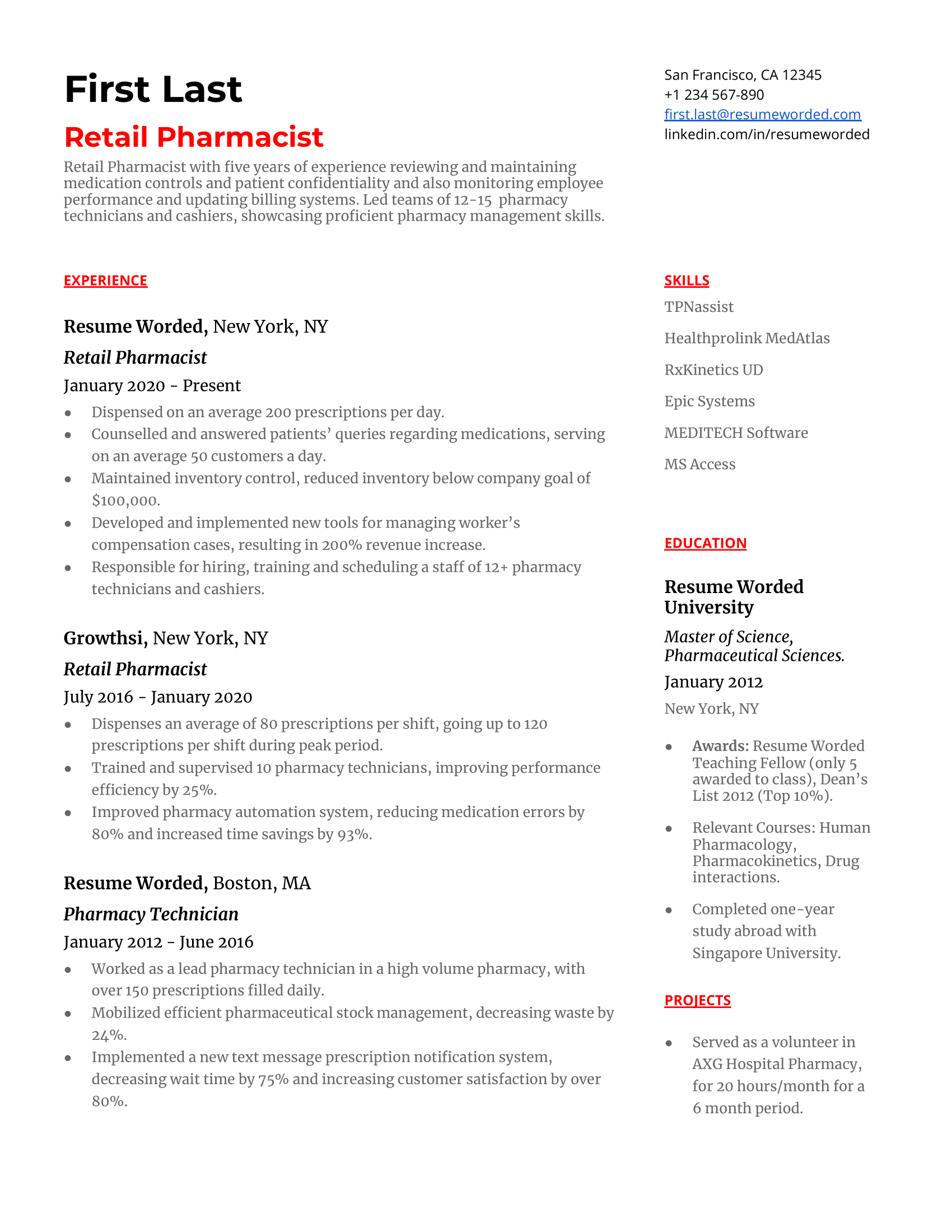 Recruiter Insight: Why this resume works in 2021
Skills For Retail Resumes
The skills you'll want to list on your resume will depend on what type of retail you're applying for — an experienced retail manager, for example, will need a very different skill set from an entry-level retail associate. In general, though, most retail jobs will call for a lot of soft skills — things like communication, problem solving, and customer service — that don't belong on a skills list. Instead, highlight these skills through your bullet points, including metrics where you can to make the achievement more objective.

You can list hard skills in the same way, or in a separate skills section. When it comes to hard skills, you'll want to figure out which ones hiring managers are likely to be scanning for. Our list of top resume skills and keywords has analyzed over one million job descriptions to pull out the most relevant keywords recruiters and ATS are looking for.
Store Management
Merchandising
Retail
Visual Merchandising
Retail Sales
Inventory Management
Loss Prevention
Sales Management
Sales
Inventory Control
Customer Satisfaction
Hiring
Driving Results
Time Management
Customer Experience
Customer Service
Fashion
Team Building
Sales Operations
New Store Openings
Action Verbs For Retail Resumes
Every retail position is public-facing to some degree, which means you should emphasize your ability to communicate, influence, and work as part of a team. If you want to highlight your business finesse, choose action verbs like Influenced, Promoted, and Recommended. If you're aiming for a leadership position, action verbs like Motivated and Trained are ideal. For more ideas, check out our comprehensive list of resume action verbs.

Leading with action verbs means your resume is focused on accomplishments, not duties — hiring managers are far more interested in knowing how many customers you successfully upsold than what areas of the store you cleaned. Remember that, at its core, retail is sales-oriented, which means that numbers are your friend. The more detailed you can be when listing your achievements, the more likely it is that your resume will wind up on the "yes" pile.
Recommended
Motivated
Promoted
Organized
Trained
Achieved
Scheduled
Resolved
Led
Improved
Referred
Influenced
Coached
Increased
Managed
Persuaded
For a full list of effective resume action verbs, visit Resume Action Verbs.