Business Development Resumes
If you're interested in helping businesses act on lucrative opportunities, look no further than the field of business development. With a number of new products and markets constantly emerging, business development specialists are in steady demand. Find out what you should include in your business development resume as we discuss six examples and go over key skills and action verbs that hiring managers are looking for.
Load more resumes
Business Development resume guide
Improve your Sales resume, instantly.
Use our free resume checker to get expert feedback on your resume. You will:
• Get a resume score compared to other Sales resumes in your industry.
• Fix all your resume's mistakes.
• Find the Sales skills your resume is missing.
It's instant, free and trusted by 1+ million job seekers globally. Get a better resume, guaranteed.
Upload your resume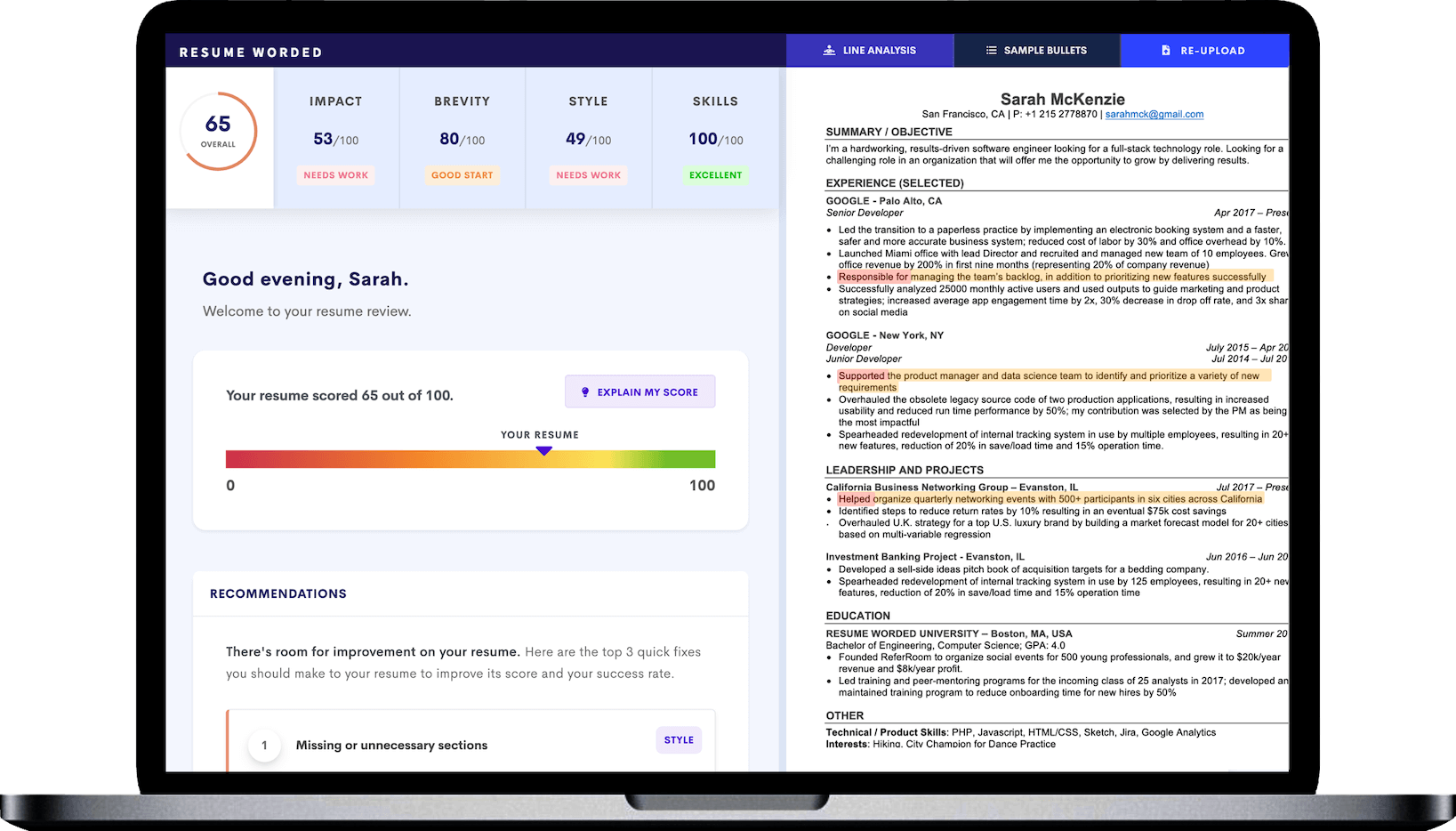 Account Manager Resumes
Account managers serve as the link between a company and its accounts (its customers). When writing your account manager resume, it's crucial to show that you have the skills recruiters are looking for. We've compiled seven resume templates with the most important qualities to have in 2021. (Google Docs and PDFs attached).
Load more resumes
Account Manager resume guide
Account Executive Resumes
Sales is a competitive and fast-paced profession, but the demand for account executives makes it a lucrative career option. In this guide, you'll find account executive resume templates, tips, and industry-specific insights to help you land the perfect role.
Load more resumes
Account Executive resume guide
Retail Resumes
Now that we've seen how essential the retail industry is, retail workers have never been so in demand. If you're new to retail or looking for your next position, this guide has you covered with everything you need to know to write an effective resume, including sample templates for you to use.
Load more resumes
Retail resume guide
Sales Manager Resumes
Sales managers are one of the most consistently in-demand jobs due to the ongoing need for companies to move their products. If you're interested in a specific position, we'll help you tailor your resume to fit the hiring manager's expectations in this guide. To get an idea of what different sales manager resumes should look like, we've included five templates you can follow.
Load more resumes
Sales Manager resume guide
Sales Associate Resumes
Sales associates help customers find and purchase the products and services they need. When crafting your sales associate resume, make sure to include relevant skills that hiring managers are looking for. In this article, we've compiled five resume templates with the most important qualities to have in 2021. (Google Docs and PDFs attached).
Load more resumes
Sales Associate resume guide
Operations Manager Resumes
Operations manager positions can be highly competitive. We've crafted six resume templates to help you snag one of these coveted jobs in 2021 (Google Docs and PDFs attached).
Load more resumes
Operations Manager resume guide
Supply Chain Resumes
Companies around the world are looking for supply chain experts that can help their bottom line. This supply chain resume guide provides an in-depth look at six templates for applicants in various roles in the supply chain field to give you a solid footing for building your own resume. We'll also cover what supply chain-related skills and action verbs you should be including to help your resume stand out.
Load more resumes
Supply Chain resume guide
Real Estate Agent Resumes
Real estate agents are tactful, highly emotionally intelligent, and great at selling. When crafting your real estate resume, it's key to show off your skills and past experience. Below, we've created a template with the most important qualities to have in 2021. (Google Docs and PDFs attached).
Real Estate Agent resume guide
Action Verbs For Sales Resumes
Scheduled
Directed
Developed
Recommended
Prioritized
Managed
Supervised
Influenced
Facilitated
Persuaded
Motivated
Resolved
Accelerated
Overhauled
Convinced
Transformed
How to use these action verbs?
The language you use when talking about your past achievements matters almost as much as the achievements themselves. Resume writing involves an element of storytelling, and if you want your story to be compelling, you need to tell it with strong words that catch the recruiter or hiring manager's eye when they skim your resume.

When writing your sales resume, make sure to use strong action verbs which highlight your sales experience — whether that's a word like "Communicated" or "Presented", to showcase your communication skills, or "Developed" or "Grew" to show your initiative and impact.