Business Development Resumes
If you're interested in helping businesses act on lucrative opportunities, look no further than the field of business development. With a number of new products and markets constantly emerging, business development specialists are in steady demand. Find out what you should include in your business development resume as we discuss six examples and go over key skills and action verbs that hiring managers are looking for.
Load more resumes
Business Development resume guide
Account Manager Resumes
Account managers serve as the link between a company and its accounts (its customers). When writing your account manager resume, it's crucial to show that you have the skills recruiters are looking for. We've compiled seven resume templates with the most important qualities to have in 2022. (Google Docs and PDFs attached).
Load more resumes
Account Manager resume guide
Account Executive Resumes
Sales is a competitive and fast-paced profession, but the demand for account executives makes it a lucrative career option. In this guide, you'll find account executive resume templates, tips, and industry-specific insights to help you land the perfect role.
Load more resumes
Account Executive resume guide
Retail Resumes
Now that we've seen how essential the retail industry is, retail workers have never been so in demand. If you're new to retail or looking for your next position, this guide has you covered with everything you need to know to write an effective resume, including sample templates for you to use.
Load more resumes
Retail resume guide
Sales Manager Resumes
Sales managers are one of the most consistently in-demand jobs due to the ongoing need for companies to move their products. If you're interested in a specific position, we'll help you tailor your resume to fit the hiring manager's expectations in this guide. To get an idea of what different sales manager resumes should look like, we've included five templates you can follow.
Load more resumes
Sales Manager resume guide
Sales Associate Resumes
Sales associates help customers find and purchase the products and services they need. When crafting your sales associate resume, make sure to include relevant skills that hiring managers are looking for. In this article, we've compiled five resume templates with the most important qualities to have in 2022. (Google Docs and PDFs attached).
Load more resumes
Sales Associate resume guide
Operations Manager Resumes
Operations manager positions can be highly competitive. We've crafted six resume templates to help you snag one of these coveted jobs in 2022 (Google Docs and PDFs attached).
Load more resumes
Operations Manager resume guide
Supply Chain Resumes
Companies around the world are looking for supply chain experts that can help their bottom line. This supply chain resume guide provides an in-depth look at six templates for applicants in various roles in the supply chain field to give you a solid footing for building your own resume. We'll also cover what supply chain-related skills and action verbs you should be including to help your resume stand out.
Load more resumes
Supply Chain resume guide
Real Estate Agent Resumes
Real estate agents are tactful, highly emotionally intelligent, and great at selling. When crafting your real estate resume, it's key to show off your skills and past experience. Below, we've created a template with the most important qualities to have in 2022. (Google Docs and PDFs attached).
Real Estate Agent resume guide
Sales Engineer Resumes
In this era of unprecedented digital transformation, technology products are becoming increasingly complex. As a result, tech companies need sales staff that can demonstrate in-depth technical knowledge and practical applications of their products. That's where Sales Engineers come in. They play a crucial role in the sales process, acting as a vital link between the sales and product development teams. Demand will only increase for sales engineers in the coming years, especially as technology advances. Here some ways to target your resume, along with examples and tips, for this challenging and rewarding role.
Technical Sales Engineer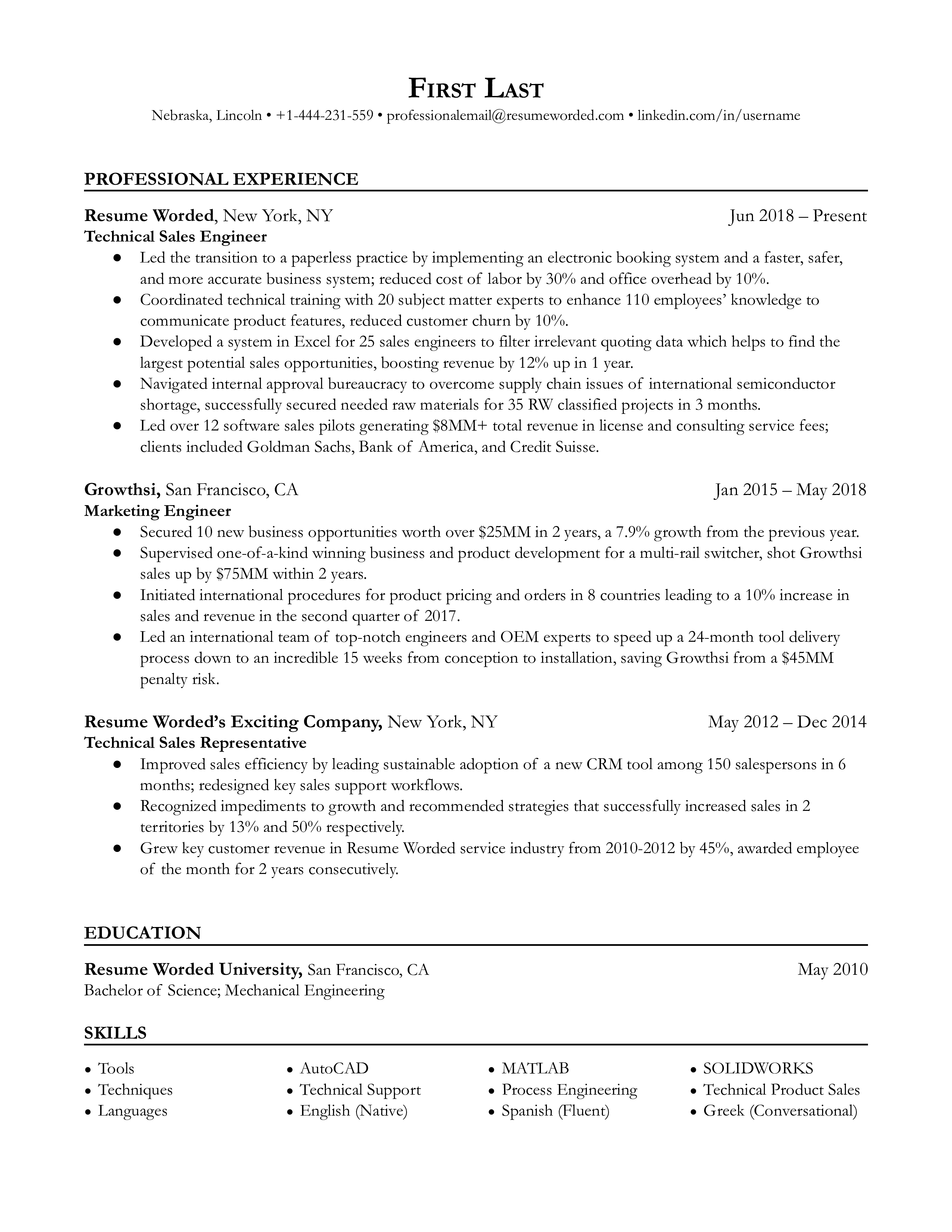 The title technical sales engineer is considered to be interchangeable with sales engineer. Both roles have many of the same responsibilities described above. This resume highlights the mid-career of a technical sales engineer.
Expand
Download .DOC or .PDF
Pre-Sales Engineer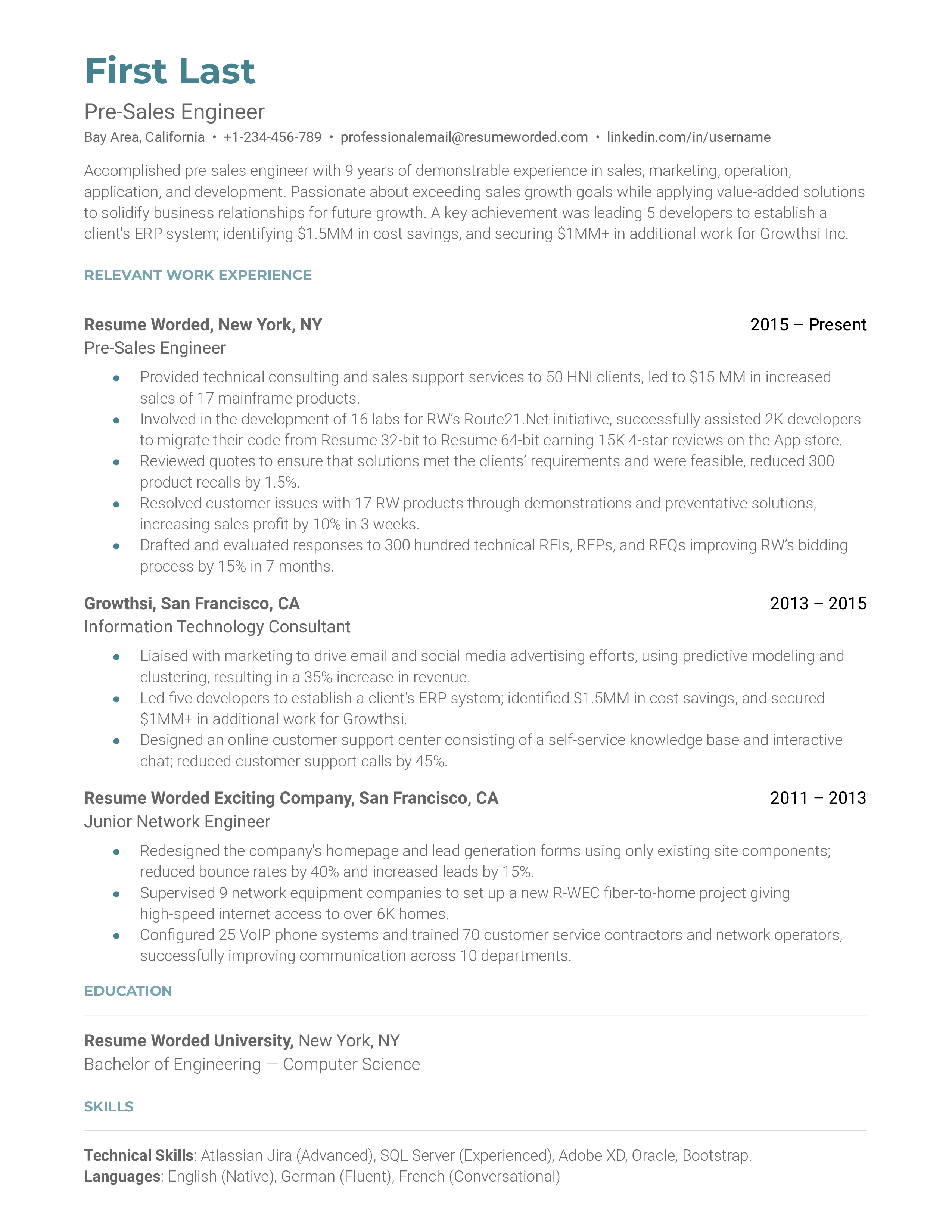 In some cases, companies may divide sales engineering roles into pre- and post-sales positions. In the case of the pre-sales engineer, they will usually have deep knowledge of the product, and may even have contributed to its development. Their key role is to support the sales engineer and function as a product expert by demonstrate its capabilities and benefits to the client, and usually aren't involved in the sales process. This template shows a candidate relatively early in their career.
Expand
Download .DOC or .PDF
Sales Engineer resume guide
Inside Sales Representative Resumes
Over the years, organizations have begun to appreciate the changing faces of sales. In a 2013 Harvard Business Review article, researchers discovered that focus has gradually shifted from "a field sales model to an inside sales model." According to this research, 76% of the study participants acknowledged that inside sales provide a better strategy to penetrate micro-businesses and mid-markets. If you're an inside sales representative, the resume templates below could help you land your next job.
Inside Sales Manager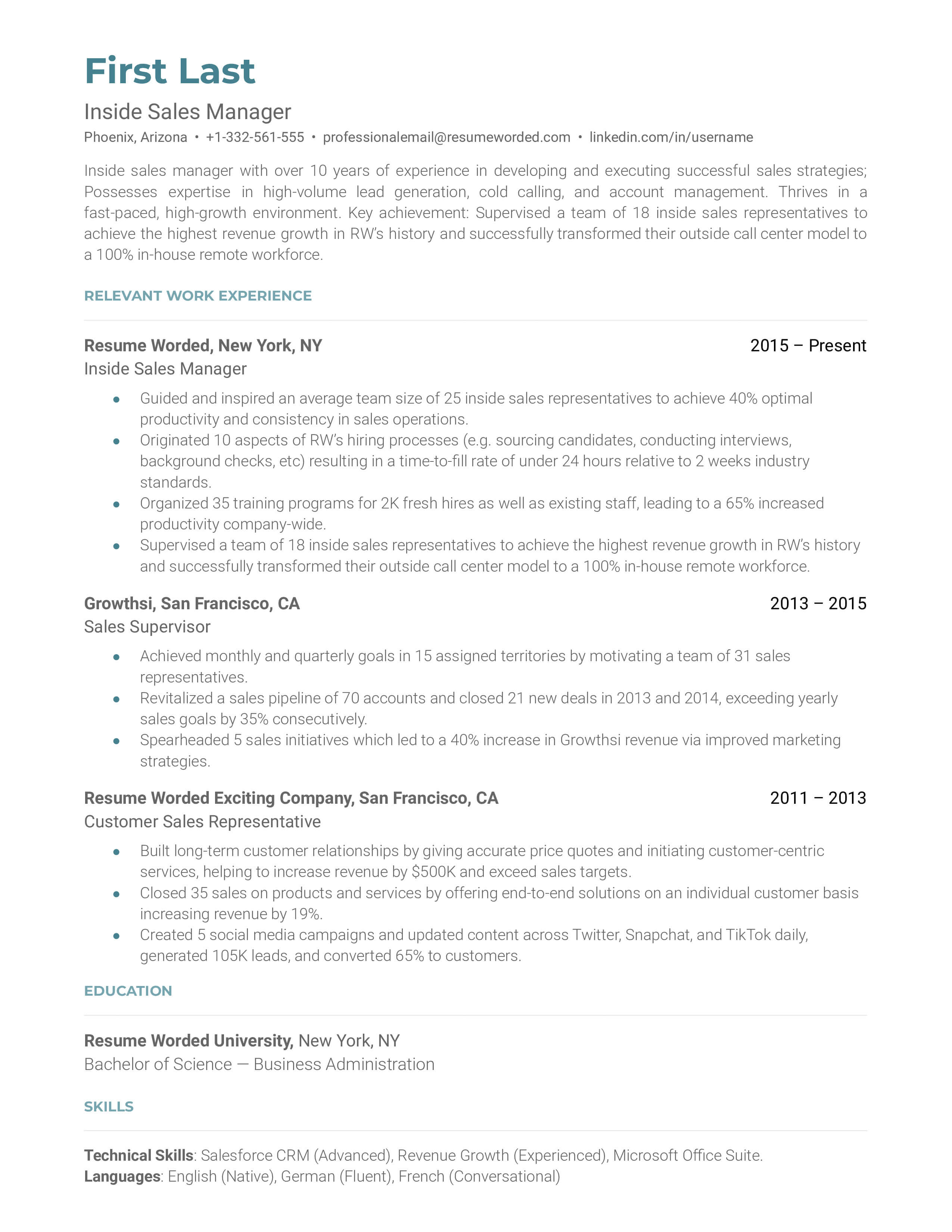 An inside sales manager is the spine behind a performing team of inside sales representatives; some of their responsibilities include training, mentoring, and hiring talented employees. They also monitor sales metrics and sales administration processes, create sales plans for meeting sales objectives, and motivate their sales team. Coupled with all of the above, professionals in this role need excellent communication and leadership skills. This applicant's resume shows some of the abovementioned points, e.g., achievement metrics and leadership skills.
Expand
Download .DOC or .PDF
Inside Sales Associate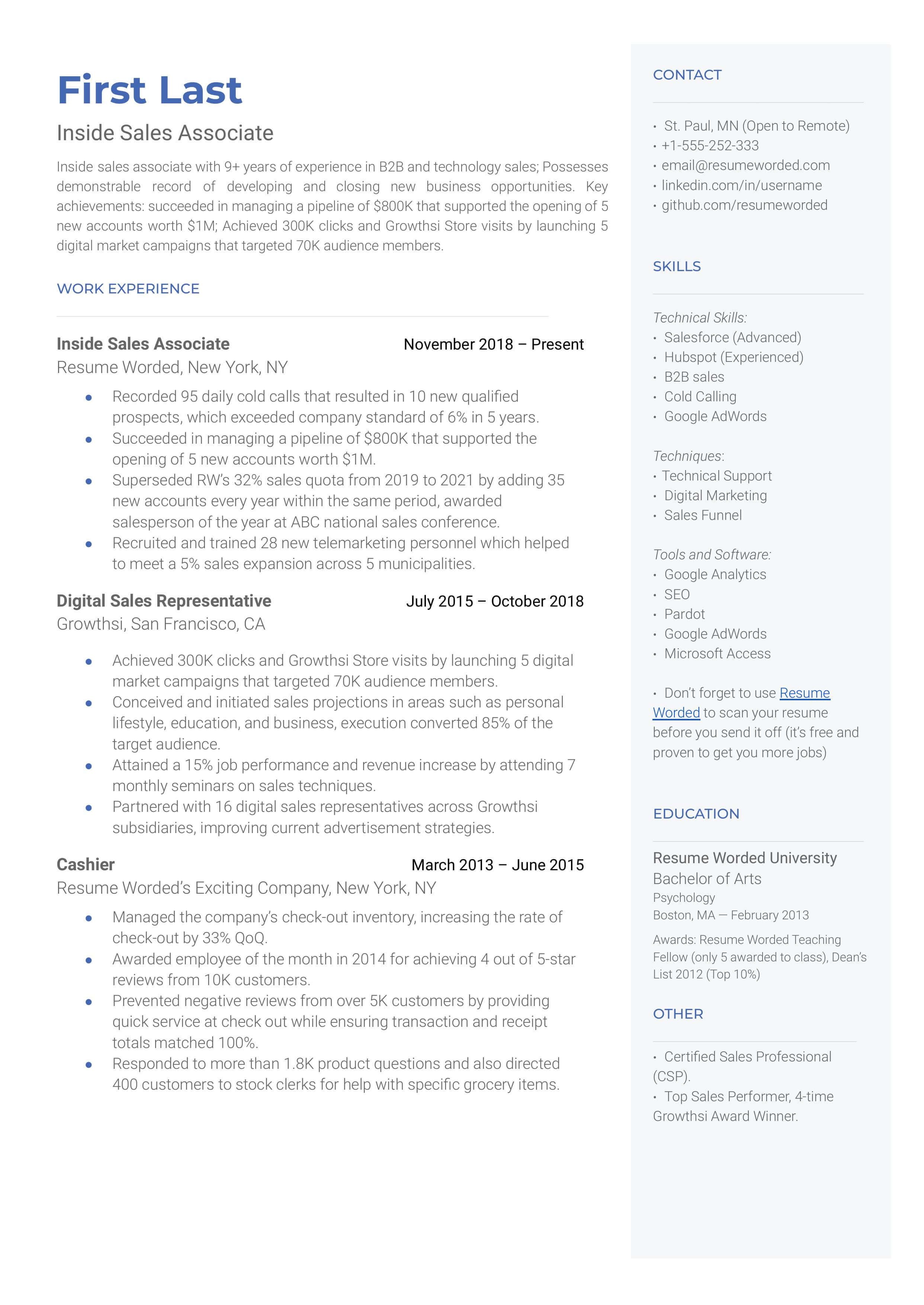 An inside sales associate pitches and sells their company's products to clients via phone calls or emails. They can work in any business setting, giving them ample employment opportunities. Their responsibilities include: Communication with clients Keeping sales records Generating leads Using product knowledge to pitch goods and services, and Responding to product inquiries. Survival in this field means being armed with the relevant sales techniques like thorough product knowledge. Without understanding your product, a question like "how will this item meet my needs" may throw you off balance. One way to boost your sales techniques is by attending seminars like the applicant did in our sample resume. People skills also earned this inside sales representative good client reviews.
Expand
Download .DOC or .PDF
Inside Sales Executive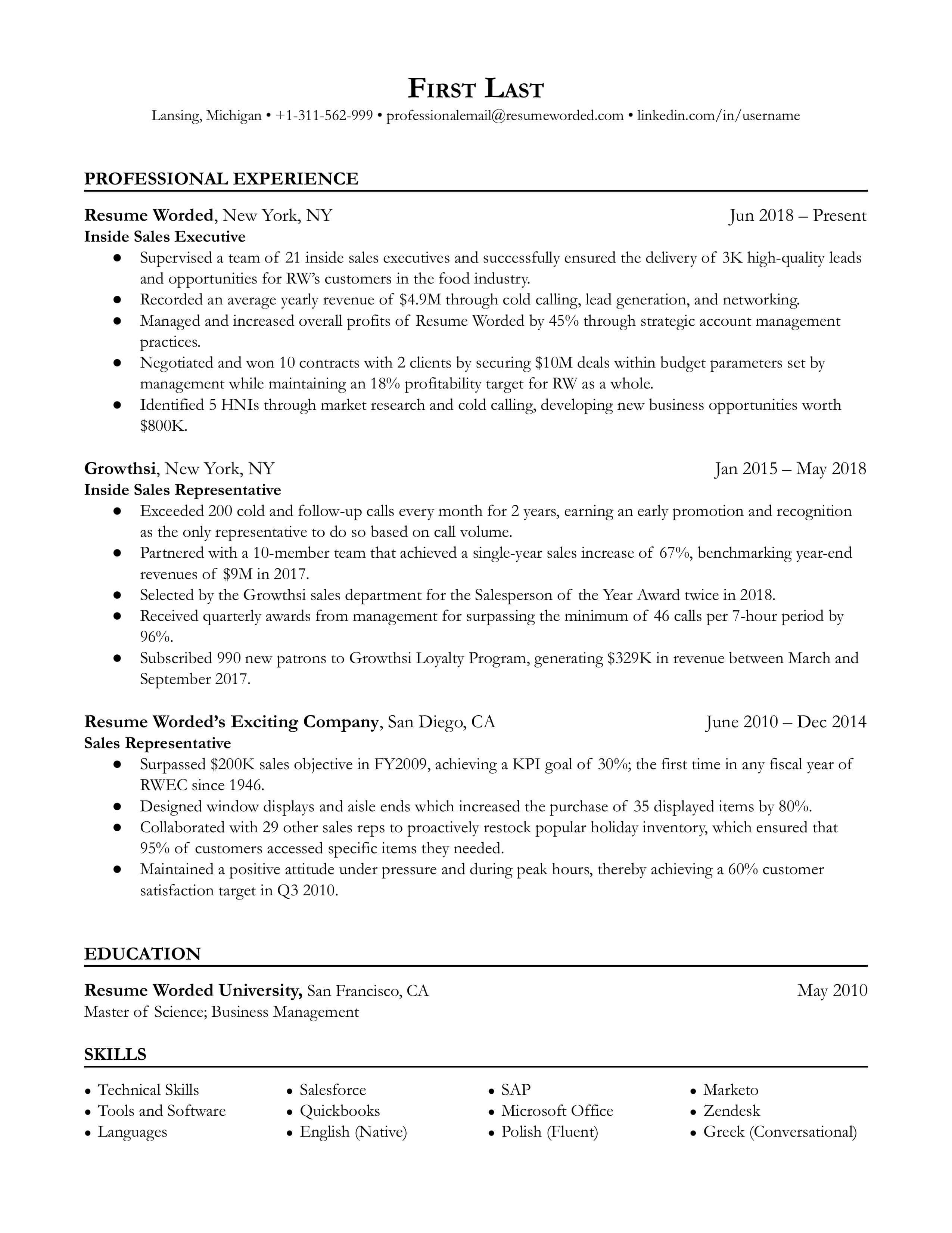 Inside sales executives persuade customers to buy a company's product by interacting with them via outbound phone calls, live webchats, and emails. They need good leadership quality because one of their responsibilities may include managing a couple of inside sales representatives. They also work with the logistics department to ensure goods are delivered on time and follow-up to ensure timely delivery of the products. Below are some responsibilities an inside sales executive may be tasked with: Update CRM software Generate qualified leads Issue quotes Process purchase orders Upsell/cross-sell and Attend industry events, educational workshops, seminars, Etc. These professionals must sufficiently communicate the value proposition of their company's products to new and existing clients. If you find yourself in this role, your resume must showcase your sales achievements, skillsets, methods, and relevant experience.
Expand
Download .DOC or .PDF
Load more resumes
Inside Sales Representative resume guide
Action Verbs For Sales Resumes
Scheduled
Directed
Developed
Recommended
Prioritized
Managed
Supervised
Influenced
Facilitated
Persuaded
Motivated
Resolved
Accelerated
Overhauled
Convinced
Transformed
How to use these action verbs?
The language you use when talking about your past achievements matters almost as much as the achievements themselves. Resume writing involves an element of storytelling, and if you want your story to be compelling, you need to tell it with strong words that catch the recruiter or hiring manager's eye when they skim your resume.

When writing your sales resume, make sure to use strong action verbs which highlight your sales experience — whether that's a word like "Communicated" or "Presented", to showcase your communication skills, or "Developed" or "Grew" to show your initiative and impact.