More than just a salesperson, an account executive is responsible for managing existing clients and seeking out new ones. Successful account executives need the usual soft skills required to thrive in a customer-facing role, including communication skills, organization, and a deft hand in social situations. With the rise of digital communication and remote work in 2021, they'll also need to be tech savvy — think communications software, automating routine tasks, social media expertise, and tracking and understanding sales trends.

Most account executives begin their careers in sales, moving up through account management to the executive level. Generally, candidates will be expected to hold at least a bachelor's degree, and a master's degree (such as an MBA) is preferred. Having a background in business, marketing, finance, or communications can make you extra competitive, but it's also possible to transition from an unrelated field by emphasizing your transferable skills in business development, marketing strategy, and customer relationship management.
Account Executive Resume Templates
Account Executive Resume Sample
Account executives are high-level salespeople. As an account executive, you'll be responsible for closing sales deals, keeping existing customers happy, and bringing on new clients. An account executive is essentially a full service sales representative who'll see new business through the entire sales cycle, from calling leads and hosting demos to closing deals and maintaining ongoing accounts.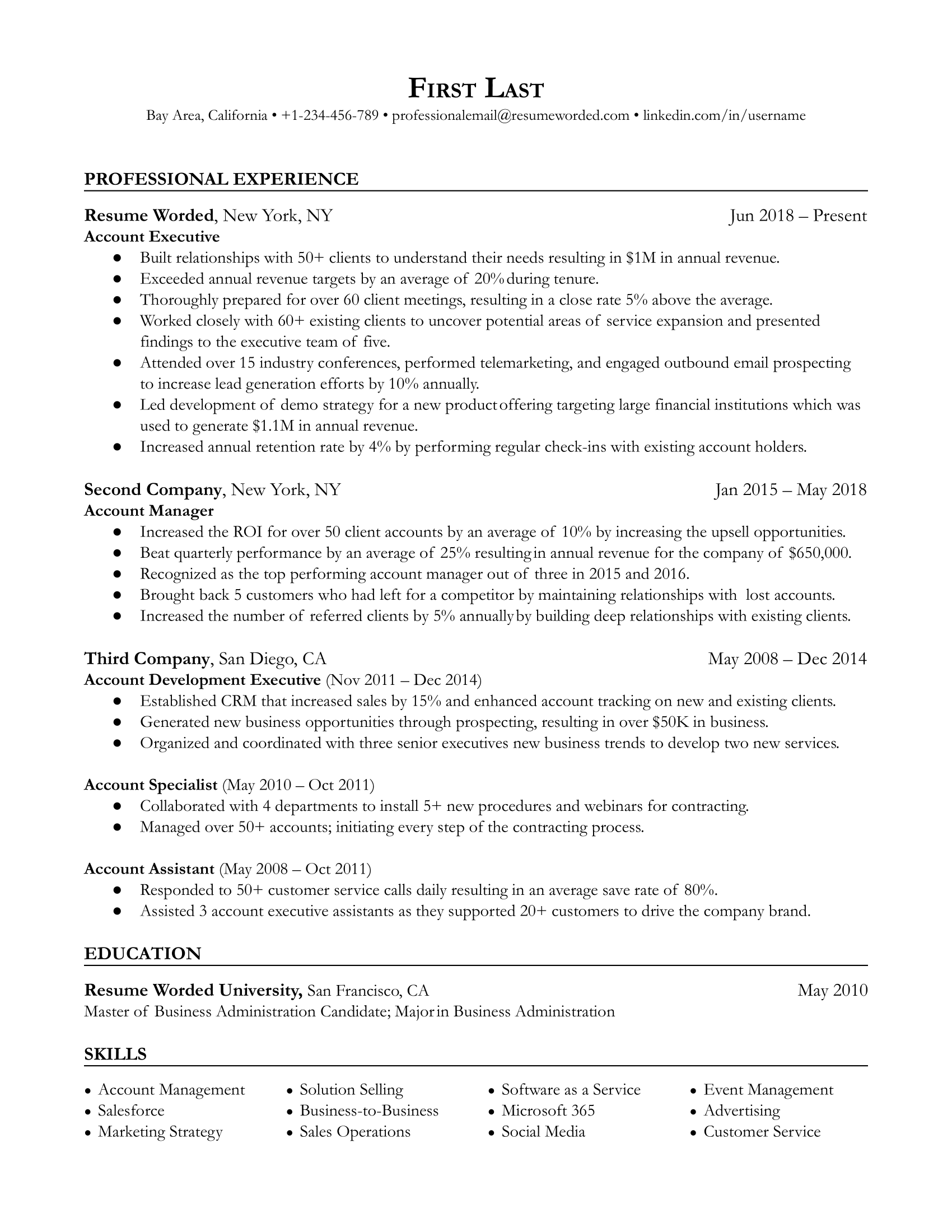 Recruiter Insight: Why this resume works in 2021
Sales Account Executive Resume Sample
All account executives are involved in sales, but you can expect a role specifically billed as a sales account executive to be even more so. You'll need strong sales and people skills for this role. Sales account executives need to be able to identify potential leads, schedule regular meetings to stay on top of existing client accounts, and analyze sales data to make sure they're meeting budget requirements.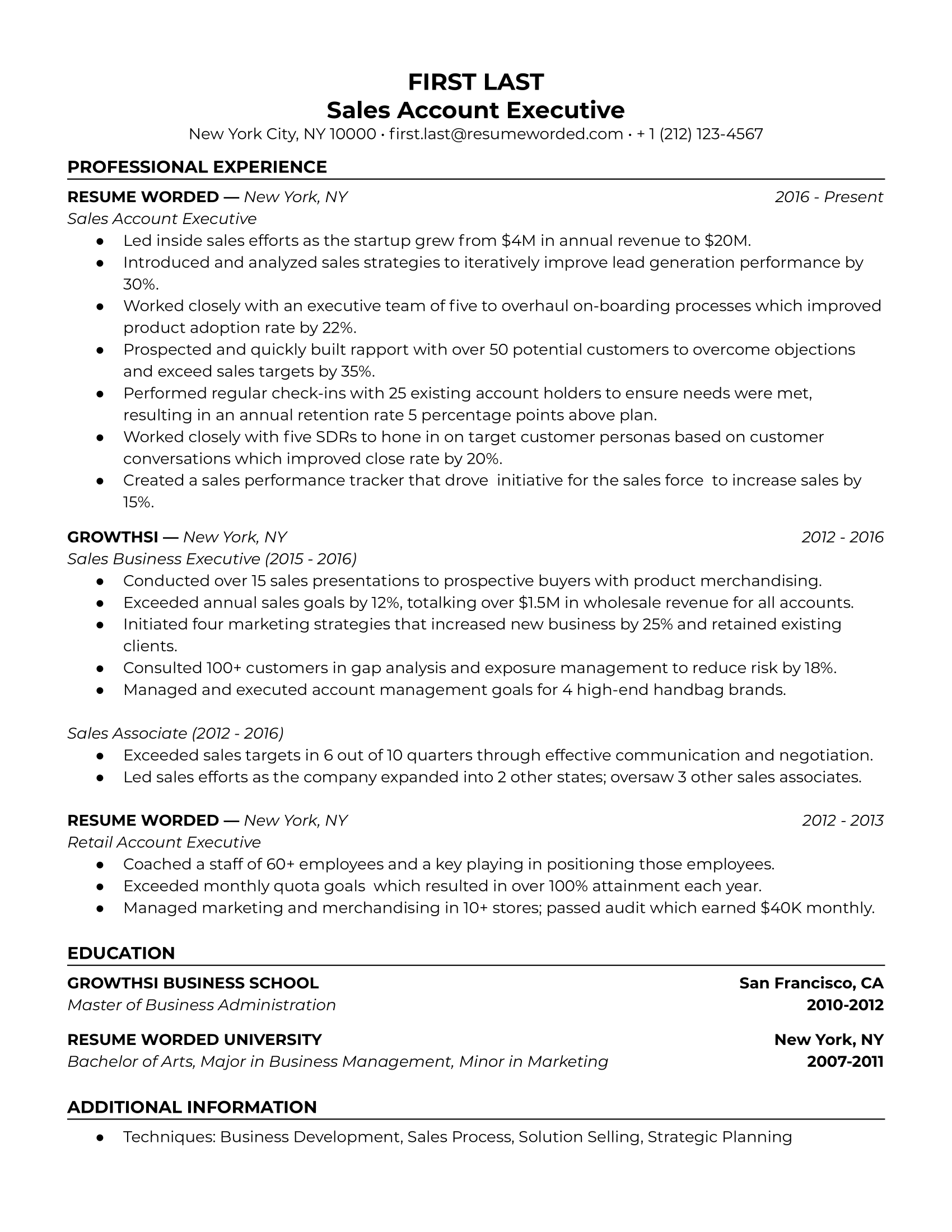 Recruiter Insight: Why this resume works in 2021
Senior Account Executive Resume Sample
As a senior account executive, you'll be taking a leading role in growing a client base and increasing company revenue. You'll be responsible for leading your own team, driving new initiatives, and identifying opportunities for growth. Recruiters for senior-level roles are looking for evidence of strong leadership and communication skills in addition to sales expertise.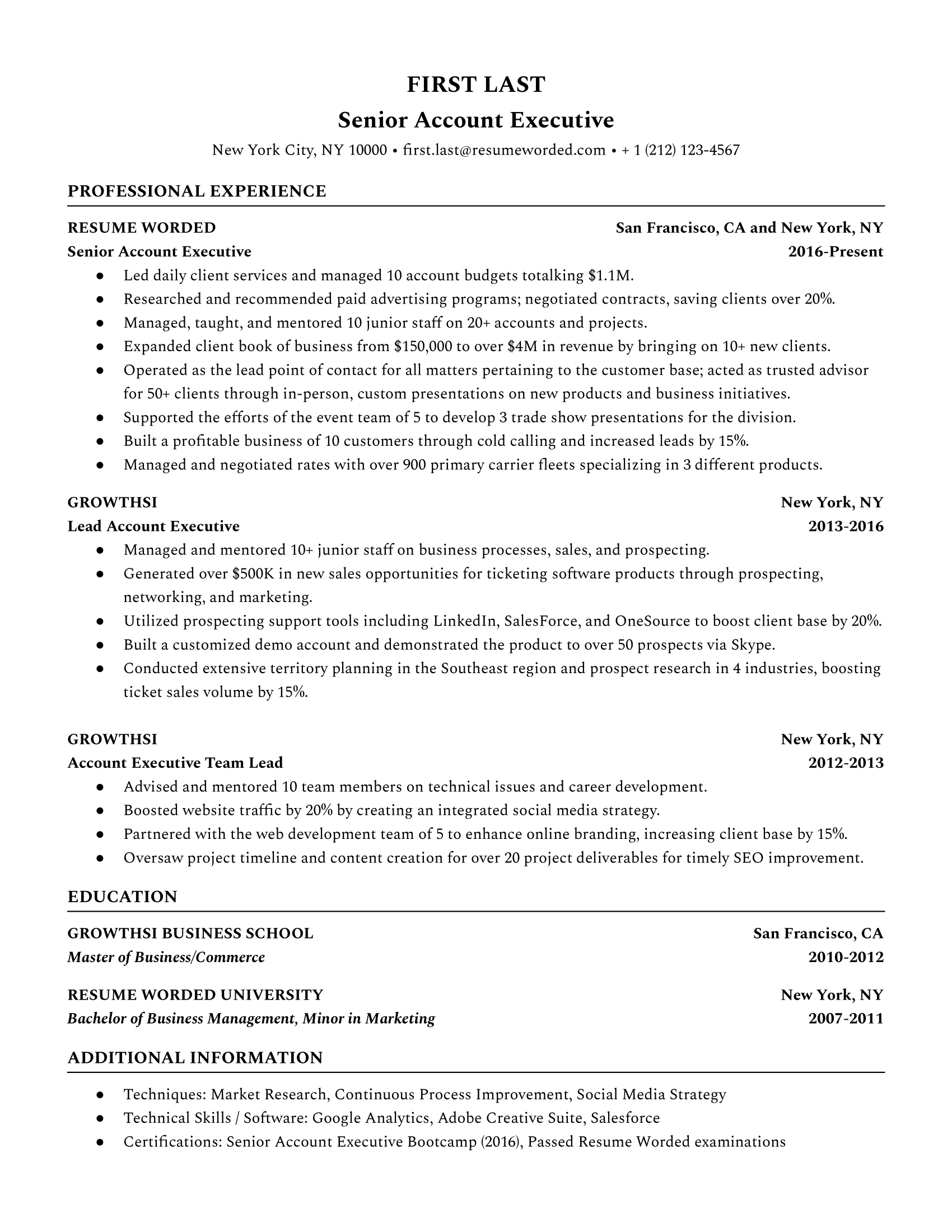 Recruiter Insight: Why this resume works in 2021
Fashion Account Executive Resume Sample
If you're applying for a position as a fashion account executive, you'll need to demonstrate both an aptitude for sales and a working knowledge of fashion. Recruiters will be looking for a solid background in business, sales, or marketing, while a degree in a related field like fashion design or fashion merchandising can also be an asset worth highlighting.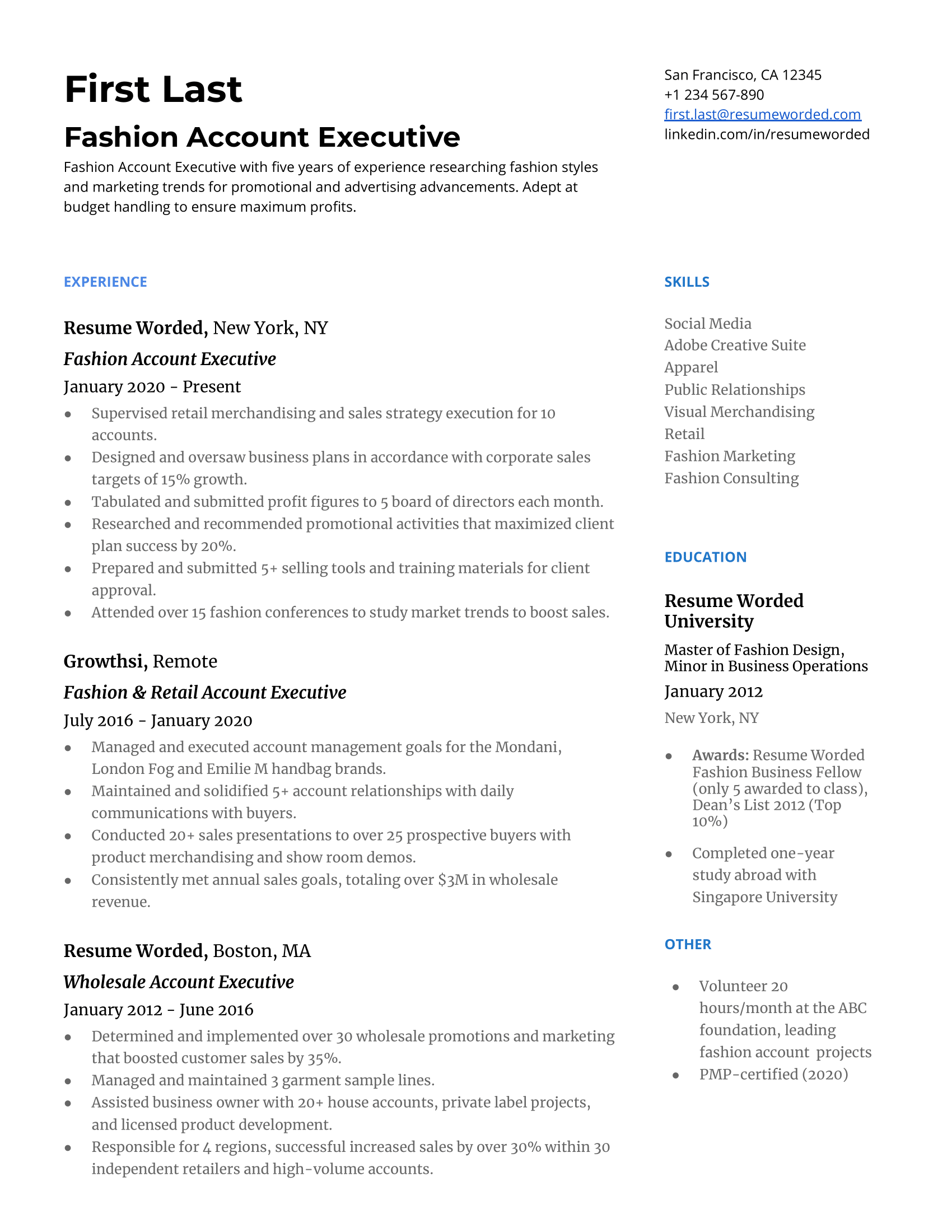 Recruiter Insight: Why this resume works in 2021
Skills For Account Executive Resumes
Review the job description. These skills are an excellent starting point, but the job description itself will tell you exactly what the company is looking for. Pull out any key skills you find and list them somewhere in your resume — this is especially important for getting past any Applicant Tracking Systems (ATS).

Use real examples. The skills needed by account executives are a mix of hard and soft skills, which means it isn't enough to simply list them and move on. Demonstrate these skills through the bullet points in your work experience, using metrics and action verbs.

Personalize it. Employers want to hire account executives with social skills and a flair for communication, so make sure your resume doesn't read like it was written by a robot. Letting some of your personality shine through is the best way to make sure you're a fit for the role.
Account Management
Cold Calling
Sales Process
Sales Management
Direct Sales
Sales
Business-to-Business (B2B)
Salesforce.com
Sales Operations
Business Development
Sales Presentations
Customer Relationship Management (CRM)
Solution Selling
Marketing
Marketing Strategy
Lead Generation
Consultative Selling
Negotiation
Software as a Service (SaaS)
Ticket Sales
Action Verbs For Account Executive Resumes
Your account executive resume should include action verbs that convey the kind of image you're trying to present to an employer. Account executives need to be able to satisfy clients, build a strong customer base, and satisfy the company's bottom line, so choose action verbs that demonstrate your ability to do those things well.

Always start your bullet points with an action verb. Employers don't care about your job duties — they want to know what you actually accomplished. Where possible, follow it up with hard numbers or metrics and the impact it had on the company.
Managed
Prioritized
Influenced
Organized
Increased
Initiated
Expanded
Co-ordinated
Communicated
Presented
Implemented
Prepared
Improved
Streamlined
Supervised
Determined
For a full list of effective resume action verbs, visit Resume Action Verbs.
Resume Bullet Points From Account Executive Resumes
You should use bullet points to describe your achievements in your Account Executive resume. Here are sample bullet points to help you get started:
Designed merchandising strategies for grocery retailers based on regression analysis identifying key store attributes to increase traffic and conversion; resulted in a 25% sales lift
Managed a team of 5 engineers and 8 analysts across Europe and North America to generate annual revenues in excess of $10MM in 2014
Developed go-to-market strategy for ~$100 million B2B market segment; led cross-functional team of 15+ internal stakeholders to prepare new product offering
Analyzed company's 24-month sales results to develop five-year monthly projections by revenue and customer type
Led 4-member team to improve relationships with key institutional clients, growing revenues 30%
For more sample bullet points and details on how to write effective bullet points, see our articles on resume bullet points, how to quantify your resume and resume accomplishments.