Got an entrepreneurial streak? Love helping people find their dream homes? Enjoy calling your own shots and setting your own schedule?

You might be a great fit for real estate.

Real estate agents are perceptive, self-starting, and fantastic at selling. You're the engine behind the housing market, which some experts forecast will top a record $2.53 trillion in sales in 2021.

You're also versatile and know how to wear a lot of different hats. Whether it's reaching out to prospective clients, developing a strong network of resources, staging a home, or executing the sale itself -- there's plenty of things to do on any given day. It's definitely not a boring job!

If this sounds exciting to you, real estate may be the perfect profession for you. Continue reading below to see what a well-written real estate resume should look like in 2021.
Real Estate Agent Resume Templates
Real Estate Agent Resume Sample
Download Resume Template (Google Doc)
Download Resume in PDF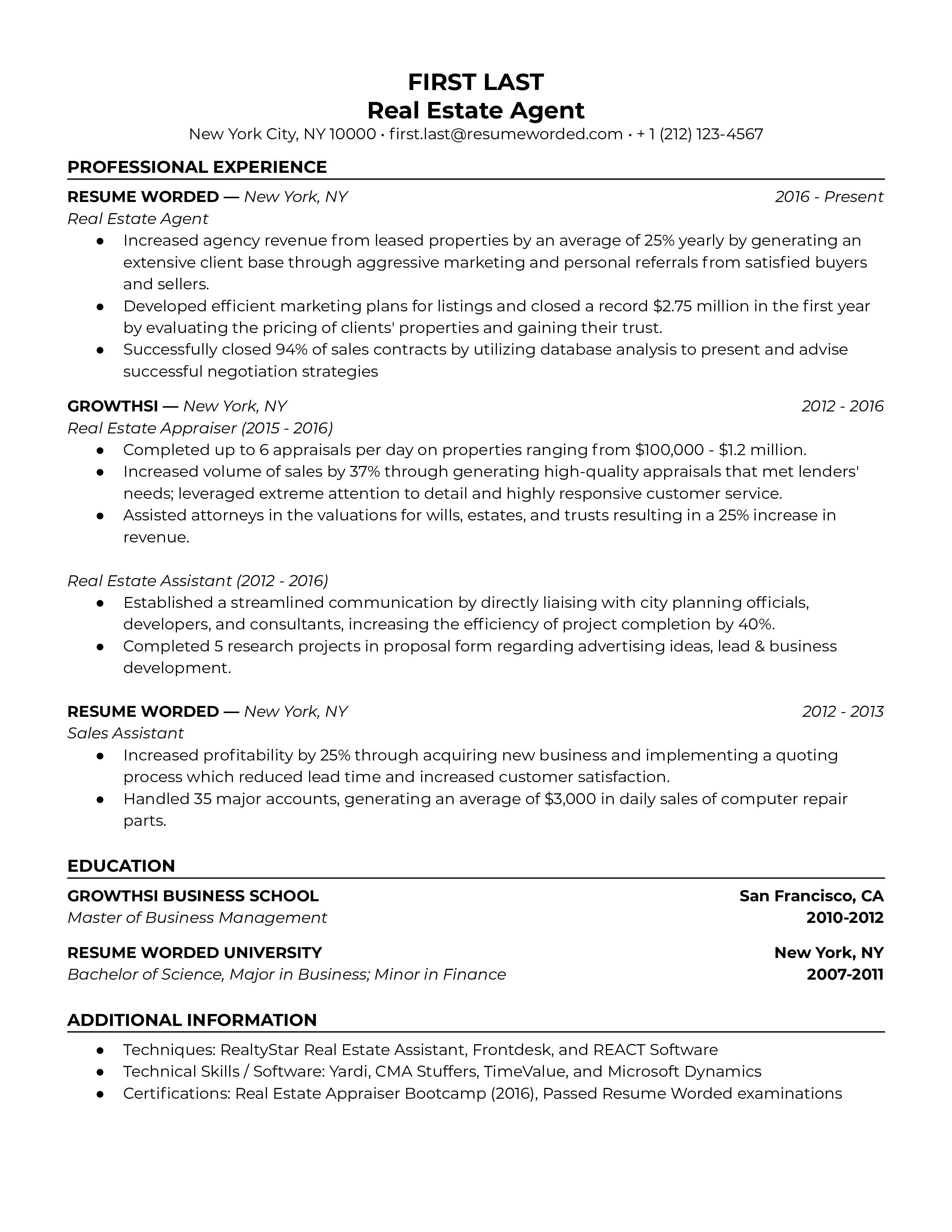 Why this resume works in 2021
Real estate agents with a few years of experience should utilize their resume to demonstrate their expertise in the industry. As mentioned above, real estate is a role with a variety of responsibilities -- and a variety of skill sets. From updating your real estate website to getting through paperwork to keeping your clients satisfied, there's a lot of things you need to be able to juggle concurrently. Make sure to highlight your experience so your clients know you have what it takes to succeed.
Skills For Real Estate Agent Resumes
Working with First-Time Home Buyers
Investment Properties
Residential Real Estate
Sellers
Real Estate Transactions
Real Estate
Buyer Representation
Single Family Homes
Relocation
Short Sales
Listings
New Home Sales
Foreclosures
Condos
Working with Investors
Referrals
Real Estate Owned (REO)
Listing Homes
Real Property
Real Estate License
How to use these skills?
When choosing what skills to include in your real estate agent resume, follow these tips to make sure you're picking the relevant skills that'll help your application stand out.

Real estate is an industry with a particular emphasis on geography -- as you'll tend to be selling houses in a specific locale. If you haven't already, it's important to do your research on what kind of software or services, like Yardi or Timevalue, that other agents in your area are using or offering to their clients. That might mean reaching out to your network or doing some research in online forums.

It's also important to note that your skills section isn't the only area in your resume where you should be displaying your skills. Weave relevant skills throughout your work section, expanding on them in the context of your professional experience.

Finally, consider your audience. Are you applying to join a brokerage or agency? Or are you sending out these resumes as you independently seek out clients? Consider what works with different readers and apply that accordingly -- for example, everyday clients may not understand the technical real estate jargon that would work well if you're applying to a real estate agency.
Action Verbs For Real Estate Agent Resumes
Created
Sold
Procured
Prepared
Advised
Promoted
Closed
Increased
Developed
Supported
Coordinated
Analyzed
Planned
Prospected
Secured
Staged
How to use these action verbs?
Real estate agents are savvy salesmen/women and jack of all trades. They have the organization to maintain paperwork, the EQ to prospect new clients, and the marketing chops to successfully sell themselves.

It's important to emphasize your skills in these areas when writing your real estate resume. For example, to highlight your prospecting abilities, use words such as "developed" or "collaborated".

Real estate is, at its core, the business of selling houses, so it's important to draw attention to all the deals you've successfully closed with strong action verbs. Use strong verbs to start out your bullet points, and demonstrate your accomplishments in leadership .



For a full list of effective resume action verbs, visit Resume Action Verbs.