Financial analysts are experts at analyzing, evaluating, and ultimately improving a company's financial prospects. These in-demand professionals help businesses grow and prosper, which benefits business owners as well as their stakeholders.

On a typical work day, financial analysts may tackle a variety of duties such as gathering and analyzing data, generating reports, and giving presentations. They are also tasked with making recommendations for improvements to maximize their company's profitability.
Job prospects for financial analysts are steadily growing, with a projected 5% increase in opportunities between 2019 and 2029. The average salary is high (around $80,000 per year), and competition for these jobs can be intense.

How can you increase your odds of landing one of these sought-after positions? Having a standout resume never hurts -- it's your first chance to make an impression on a hiring manager, so you've got to make it count. Let's talk about how to create a financial analyst resume that will set you apart from the crowd.
Financial Analyst Resume Templates
Financial Analyst Resume Sample
To succeed as a financial analyst, you'll need an affinity for numbers as well as a solid command of finance-related skills like accounting, budgeting, and modeling. You should also be a natural problem solver and an excellent communicator. Showcase these abilities on your resume using specific examples from your work history. List all relevant hard skills in a prominent skills section.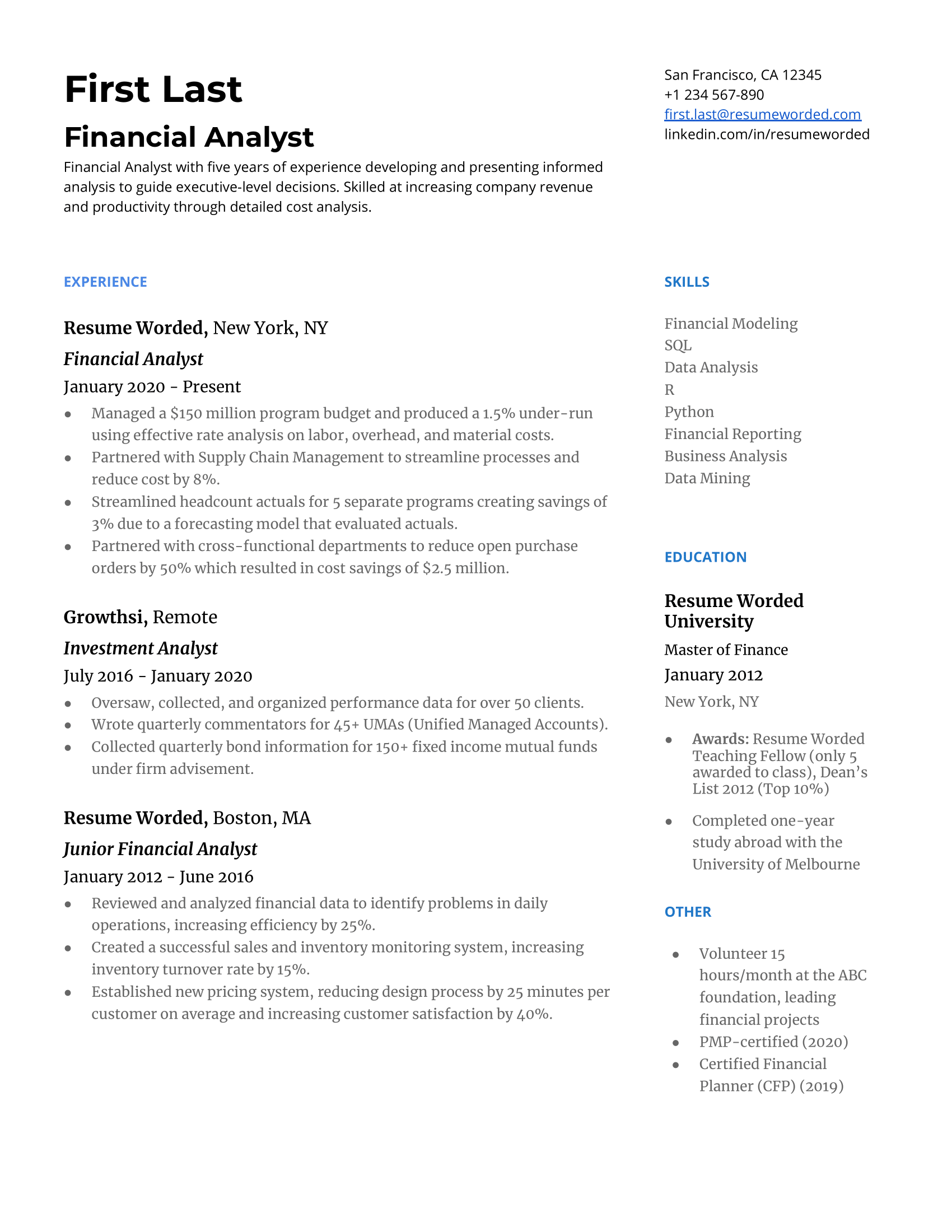 Recruiter Insight: Why this resume works in 2021
Senior Financial Analyst Resume Sample
Experienced financial analysts may have opportunities to advance into more senior positions. Senior analysts develop high-level financial strategies for companies and help lead project teams. When you're applying for this position, your resume should reflect an extensive work history in finance as well as leadership experience. Emphasize any prior leadership roles as well as promotions you've earned in the past.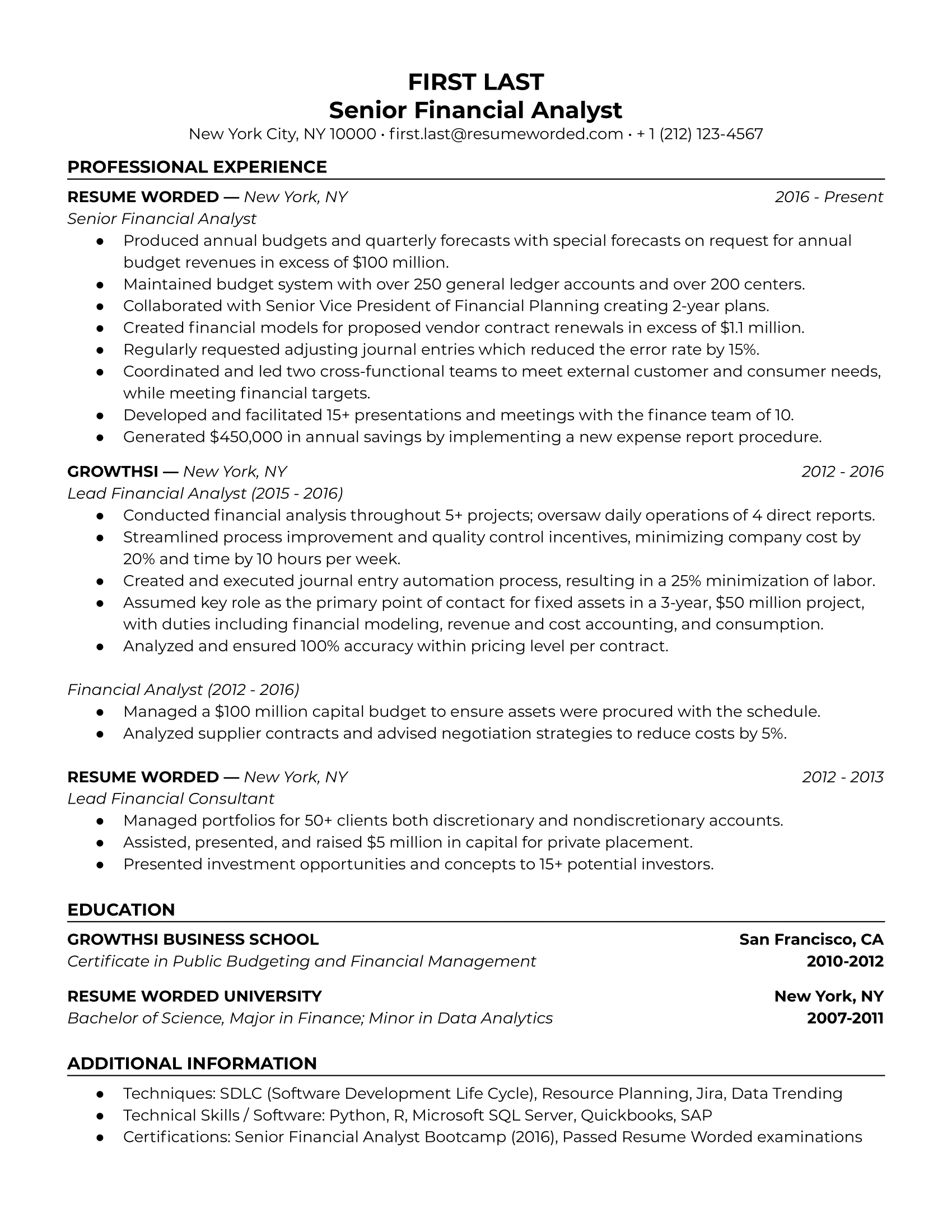 Recruiter Insight: Why this resume works in 2021
Entry Level/Junior Financial Analyst Resume Sample
Junior financial analysts typically collect and analyze data, create reports, and make policy recommendations based on their findings. While you can get this entry-level job with little to no prior work experience, you'll be a more competitive candidate if you've studied business, finance, economics, or a related field in school. Use your resume to emphasize your educational background, and don't forget to also list any relevant internships you've done.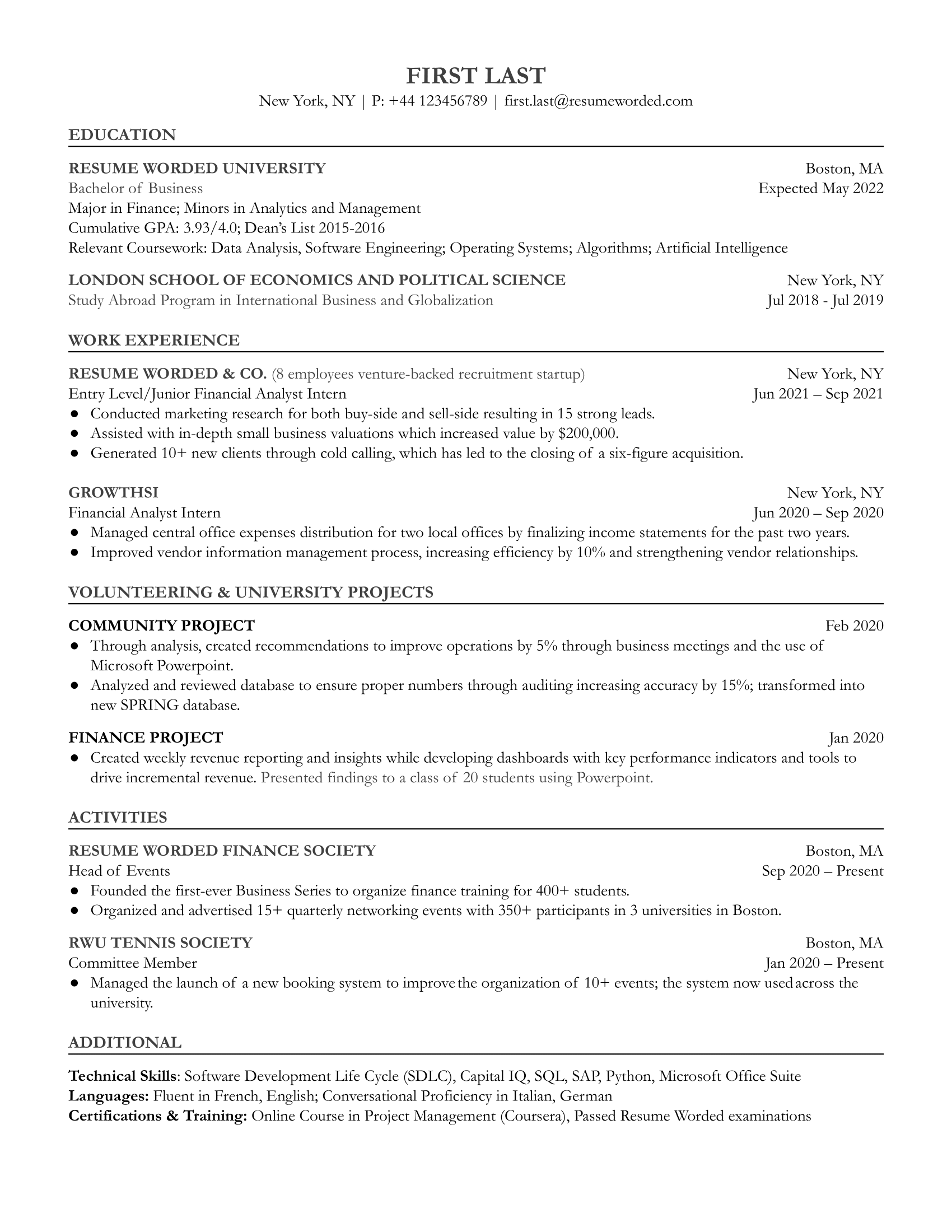 Recruiter Insight: Why this resume works in 2021
Investment Analyst Resume Sample
Investment analysts advise companies in regards to buying and selling stocks, bonds, and other securities. They analyze the existing market conditions and help companies reap the maximum return from their investments. For this role, you need an understanding of economics, strong analytical skills, and the ability to assess and manage risk. Illustrate these skills with specific results you've accomplished in past jobs.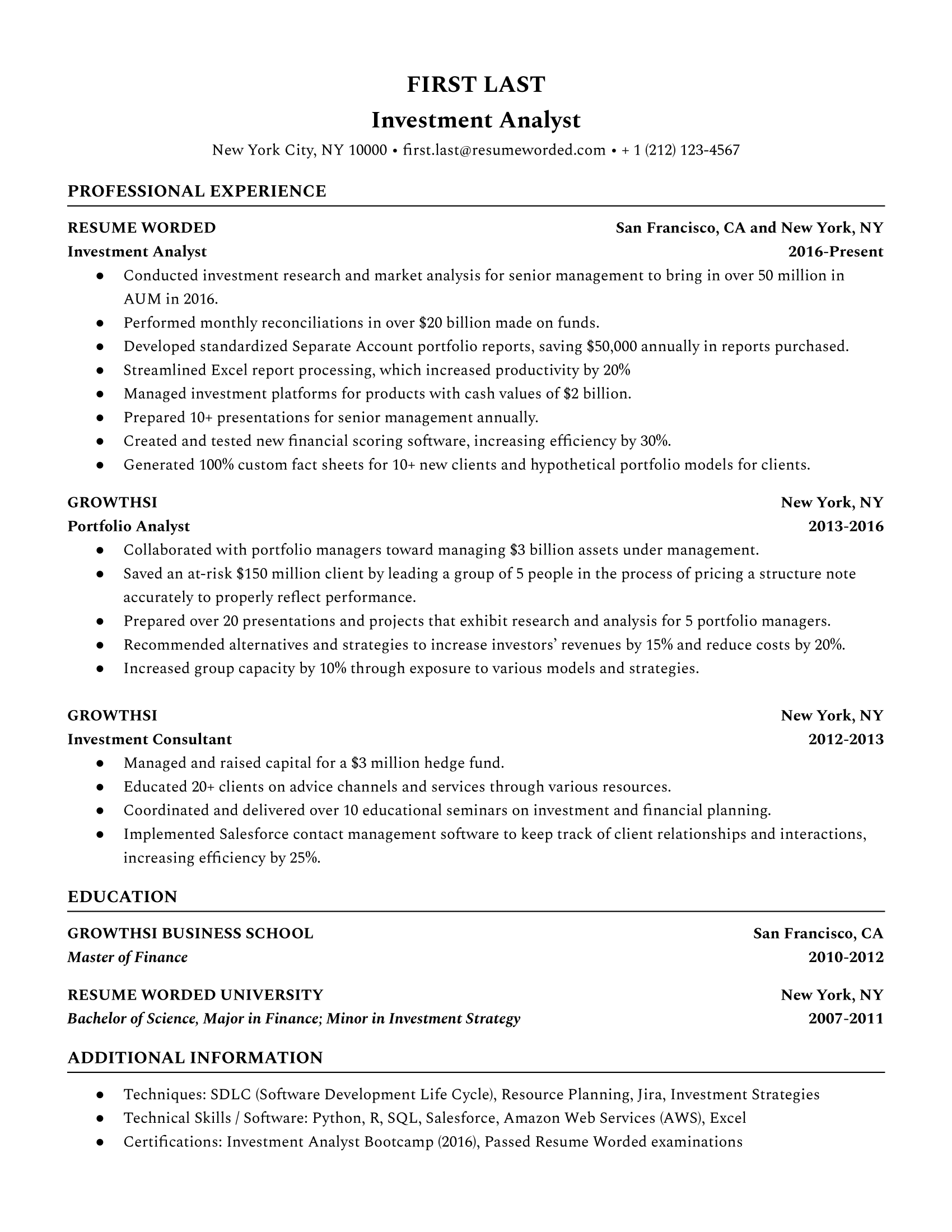 Recruiter Insight: Why this resume works in 2021
Portfolio Manager Resume Sample
Portfolio managers oversee investment portfolios for individuals and companies. They're tasked with choosing the right types of assets for their clients' needs and making prudent investment decisions based on available data. To become a portfolio manager, use your resume to emphasize a strong background in investment as well as financial analysis.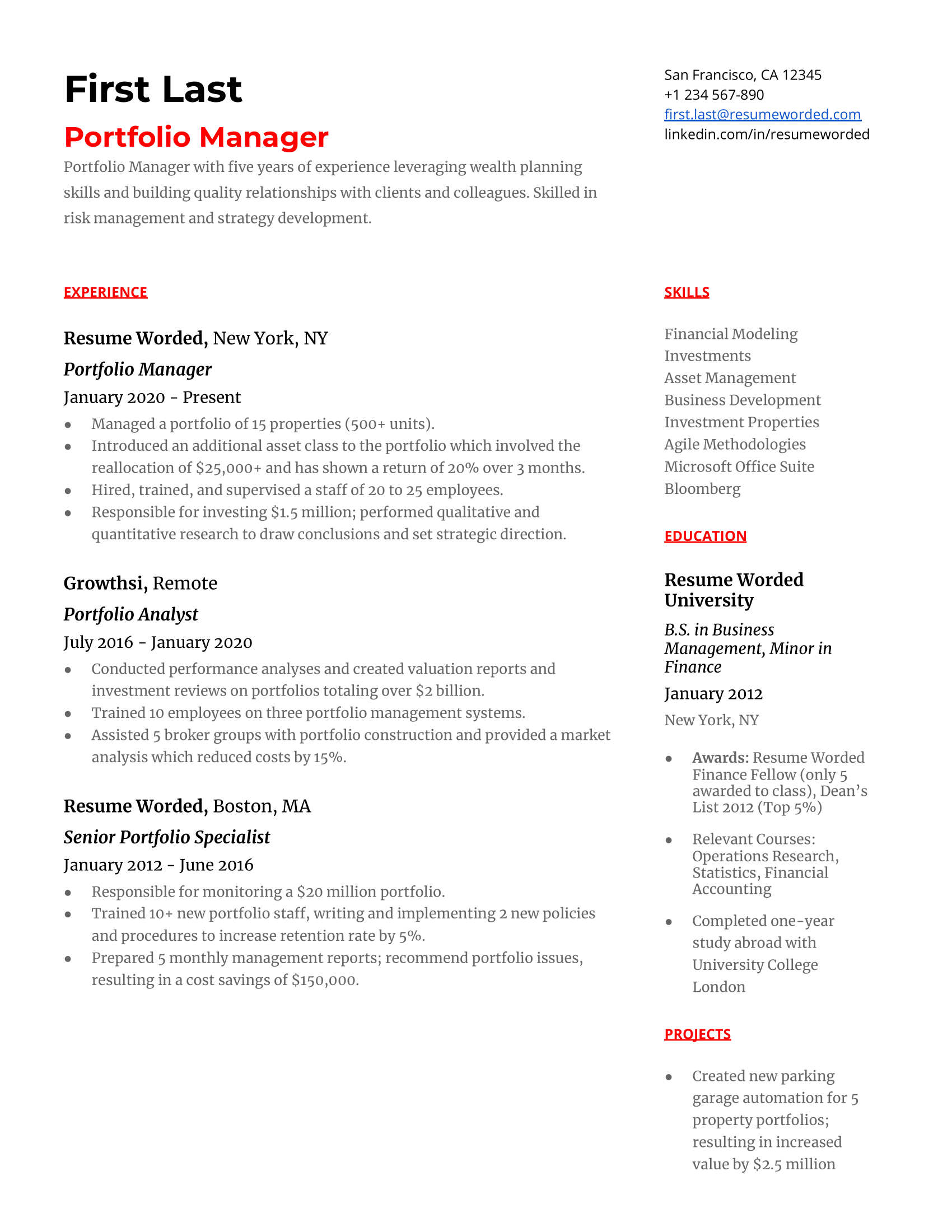 Recruiter Insight: Why this resume works in 2021
Real Estate Financial Analyst Resume Sample
Real estate financial analysts gather market data, make projections, and offer recommendations to companies about opportunities to invest in property. For this position, your resume needs to show that you are adept at researching, analyzing data, making forecasts, and mitigating risk. Having an understanding of real estate is also a plus, although you don't need to be an agent.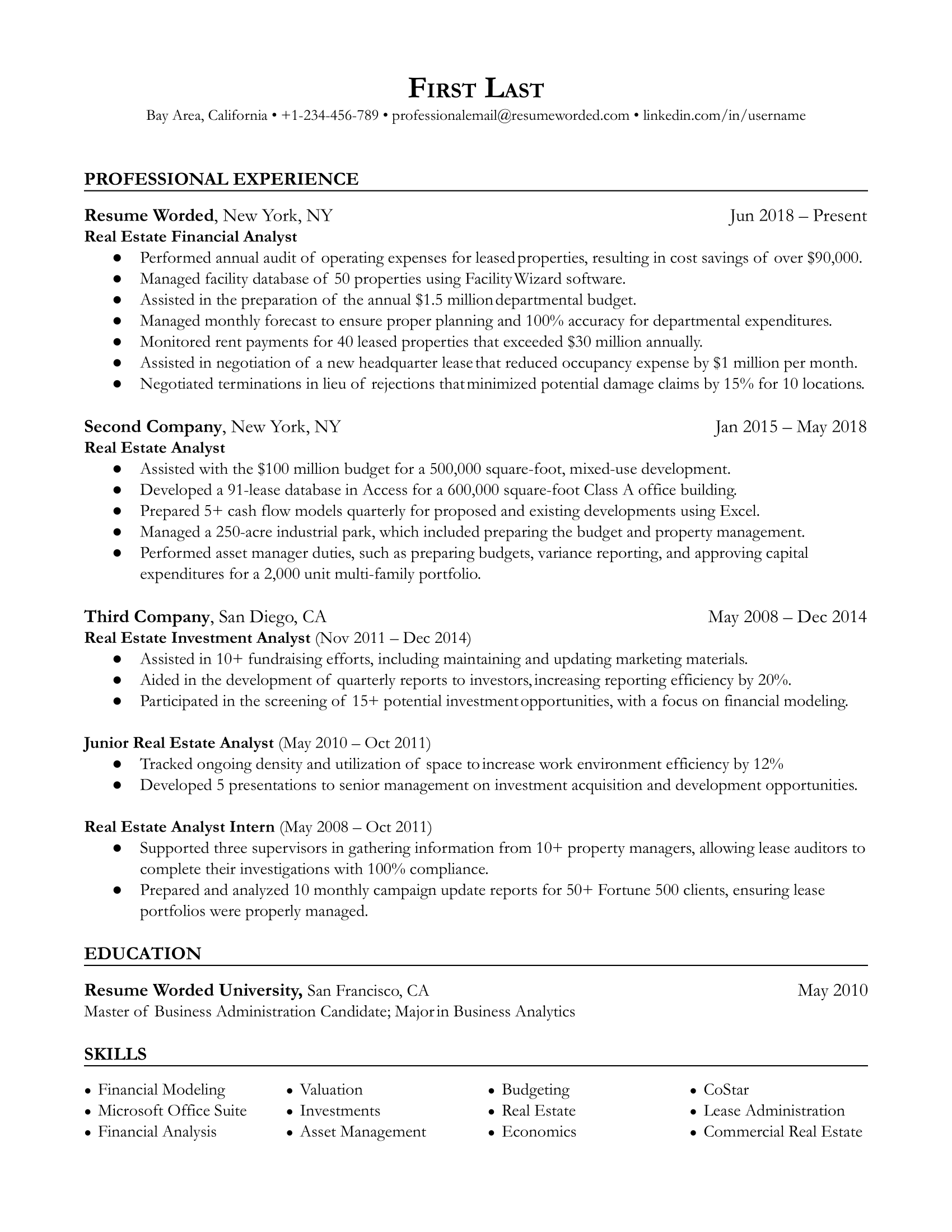 Recruiter Insight: Why this resume works in 2021
Skills For Financial Analyst Resumes
You'll need a unique blend of technical, analytical, financial, and communication skills to excel as a financial analyst. In many cases, your job will primarily consist of gathering and interpreting data, creating reports and models, communicating your findings to others, and making suggestions to improve your company's financial performance.

On your resume, point out specific examples from prior jobs where you've increased revenue, cut costs, streamlined processes, or solved financial problems. And use a separate skill section to list your hard skills, which can include forecasting, modeling, or data analysis software you've used previously.
Financial Analysis
Financial Reporting
Financial Modeling
Finance
Accounting
Variance Analysis
Forecasting
Financial Forecasting
Financial Accounting
Corporate Finance
Account Reconciliation
Budgeting
Essbase
Hyperion
Financial Planning
Financial Statements
Analytical Skills
General Ledger
Data Analysis
SAP Products
Financial Analyst Resume Tips
Ready to become a financial analyst? Here are a few tips for building a resume that will help you get the job.
Action Verbs For Financial Analyst Resumes
A strong financial analyst resume should show plenty of past successes in finance-related jobs, internships, or education. You can heighten the impact of your accomplishments by using precise, clear action verbs to discuss them.

Finance has its own language and skill set, and it demands a level of expertise. You may want to showcase your industry prowess with finance-specific verbs like "budgeted", "analyzed", "planned", or "audited". Using targeted, specific language gives hiring managers more information about what you've accomplished -- and what you might be able to do for them.
Projected
Analyzed
Computed
Modelled
Restructured
Verified
Examined
Assessed
Inspected
Evaluated
Systemized
Organized
Implemented
Calculated
Audited
For a full list of effective resume action verbs, visit Resume Action Verbs.
Resume Bullet Points From Financial Analyst Resumes
You should use bullet points to describe your achievements in your Financial Analyst resume. Here are sample bullet points to help you get started:
Analyzed 50+ companies to identify potential investments, built valuation models, and visited 90+ members of senior management in Germany, Nigeria, Indonesia and Singapore to evaluate companies' growth outlook
Evaluated acquisition opportunities for a German reinsurer. Performed accretion and dilution analyses, conducted market research to gauge the viability and long term prospects of target's businesses
Earned expedited promotion to Senior Analyst after one year as Analyst (earned by less than 1% of cohort)
Created Monte Carlo simulation using Pandas (Python) to generate 30,000 sample portfolios with 8+ constraints
Analyzed industry trends in the automobile sector and presented long and short equity investment ideas for 12 large-cap stocks that outperformed the Bloomberg sector benchmark by 7% in 2014.
For more sample bullet points and details on how to write effective bullet points, see our articles on resume bullet points, how to quantify your resume and resume accomplishments.