The vast number of estates and personal accounts within the finance industry require a steady influx of financial advisors who are adept with numbers and client management. The field is expected to hold at a growth rate of four percent through 2029, according to the Bureau of Labor Statistics, with a median income just shy of $90,000 in 2020.

Financial advisors help clients manage their accounts, and should have a current understanding of the various types of financial accounts clients could be enrolled in. As you'll be dealing with individual clients on a one-to-one basis, it also helps to have a working knowledge of Customer Relationship Management (CRM) software.

Since you'll be working with numbers, having a mathematics background is useful - though it's worth noting that financial advising software can handle all of the heavy lifting in that department. Being detail oriented and accurate are therefore the best traits for financial advisors.

Read on to take a close look at three financial advisor resume templates and review industry-based tips to build your own resume with. At the bottom, we've listed key action verbs and skills you should include to attract the attention of hiring managers and get past automatic screeners.
Financial Advisor Resume Templates
Financial Advisor Resume Sample
Download Resume Template (Google Doc)
Download Resume in PDF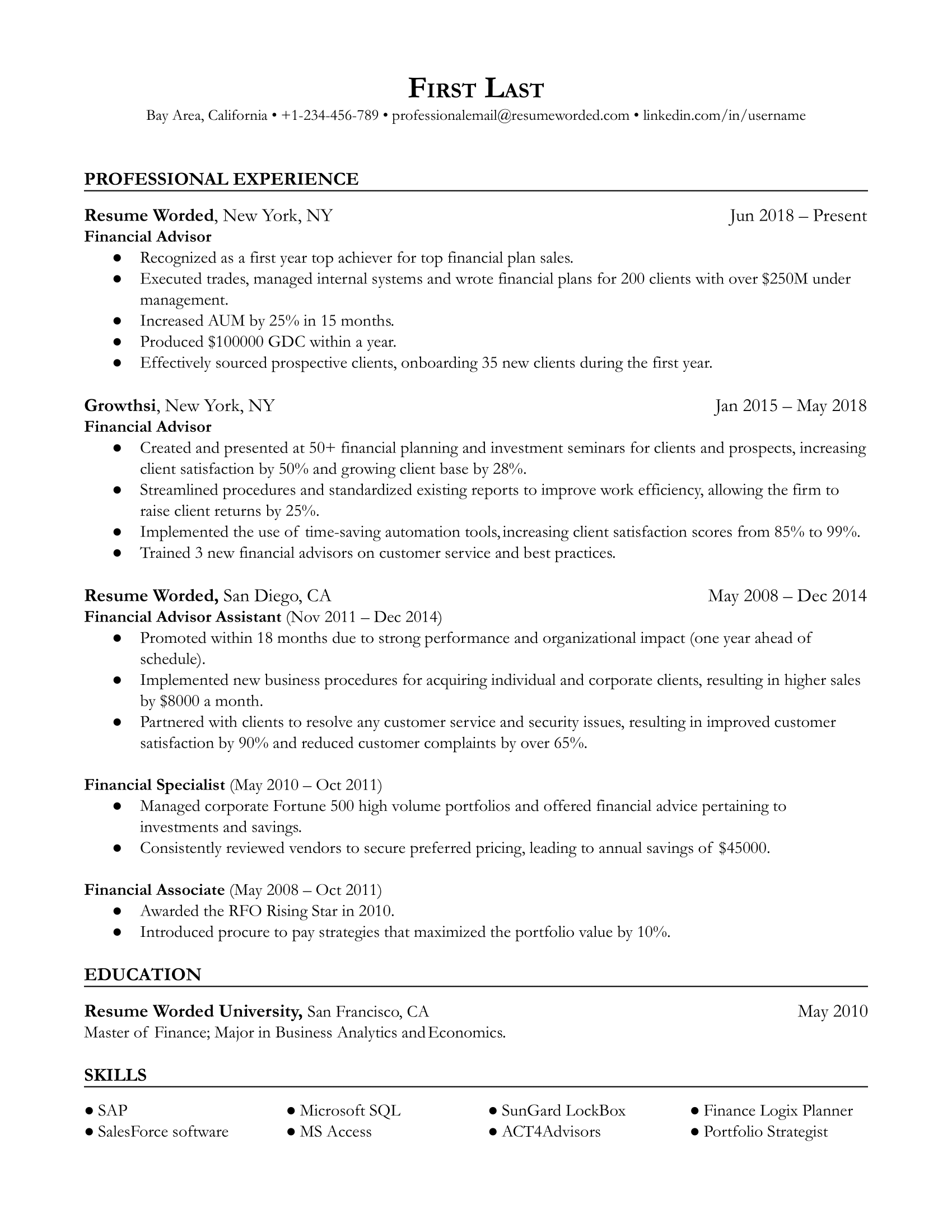 Why this resume works in 2021
As financial advisors are expected to have experience conducting numerous tasks, you should aim to reference a selection of accomplishments from your past employers. Additionally, showing instances where you've been promoted early or recognized with awards is a quick method of indicating your capabilities.
Improve your Financial Advisor resume, instantly.
Use our free resume checker to get expert feedback on your resume. You will:
• Get a resume score compared to other Financial Advisor resumes in your industry.
• Fix all your resume's mistakes.
• Find the Financial Advisor skills your resume is missing.
It's instant, free and trusted by 1+ million job seekers globally. Get a better resume, guaranteed.
Upload your resume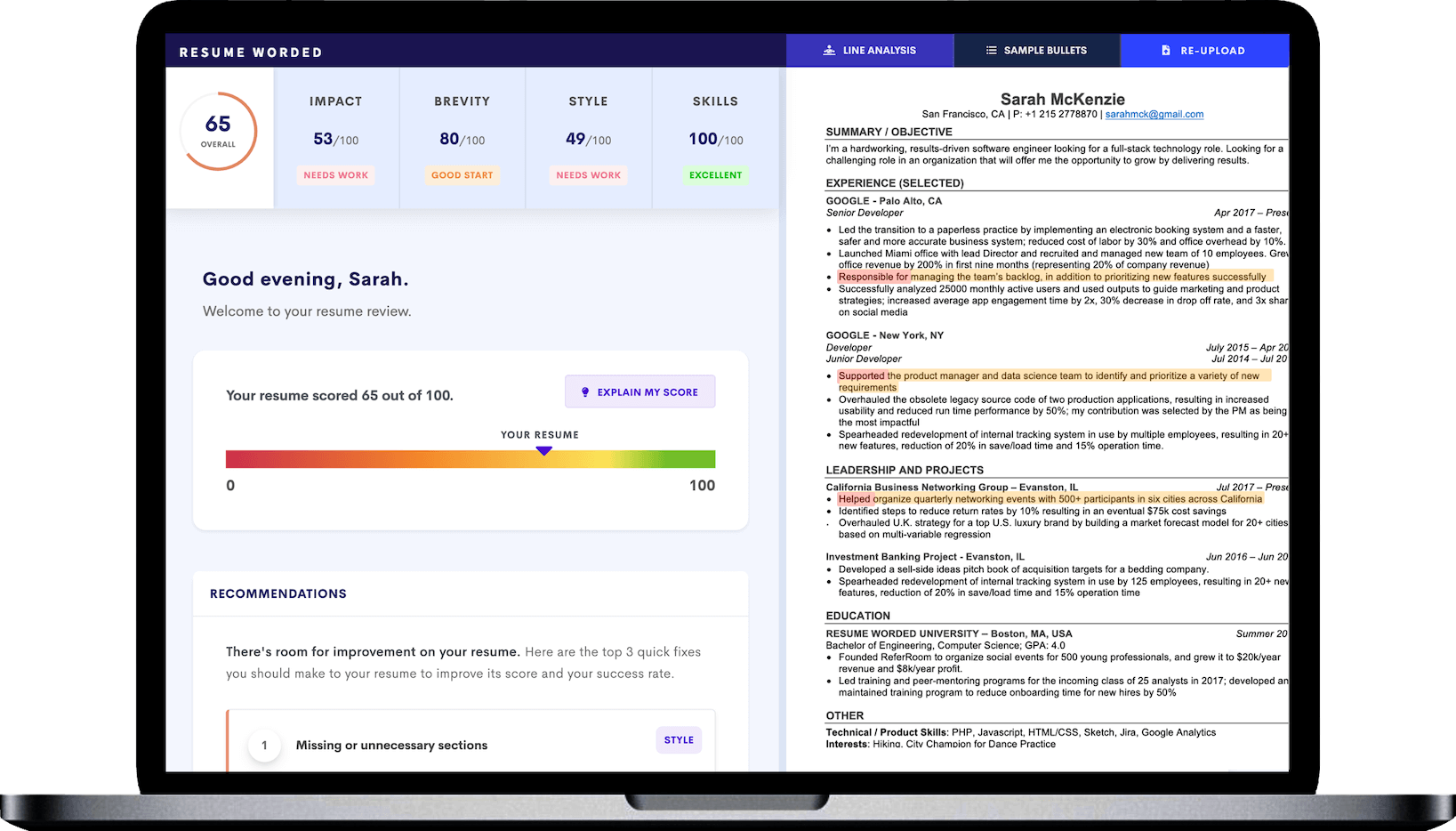 Financial Aid Advisor Resume Sample
Download Resume Template (Google Doc)
Download Resume in PDF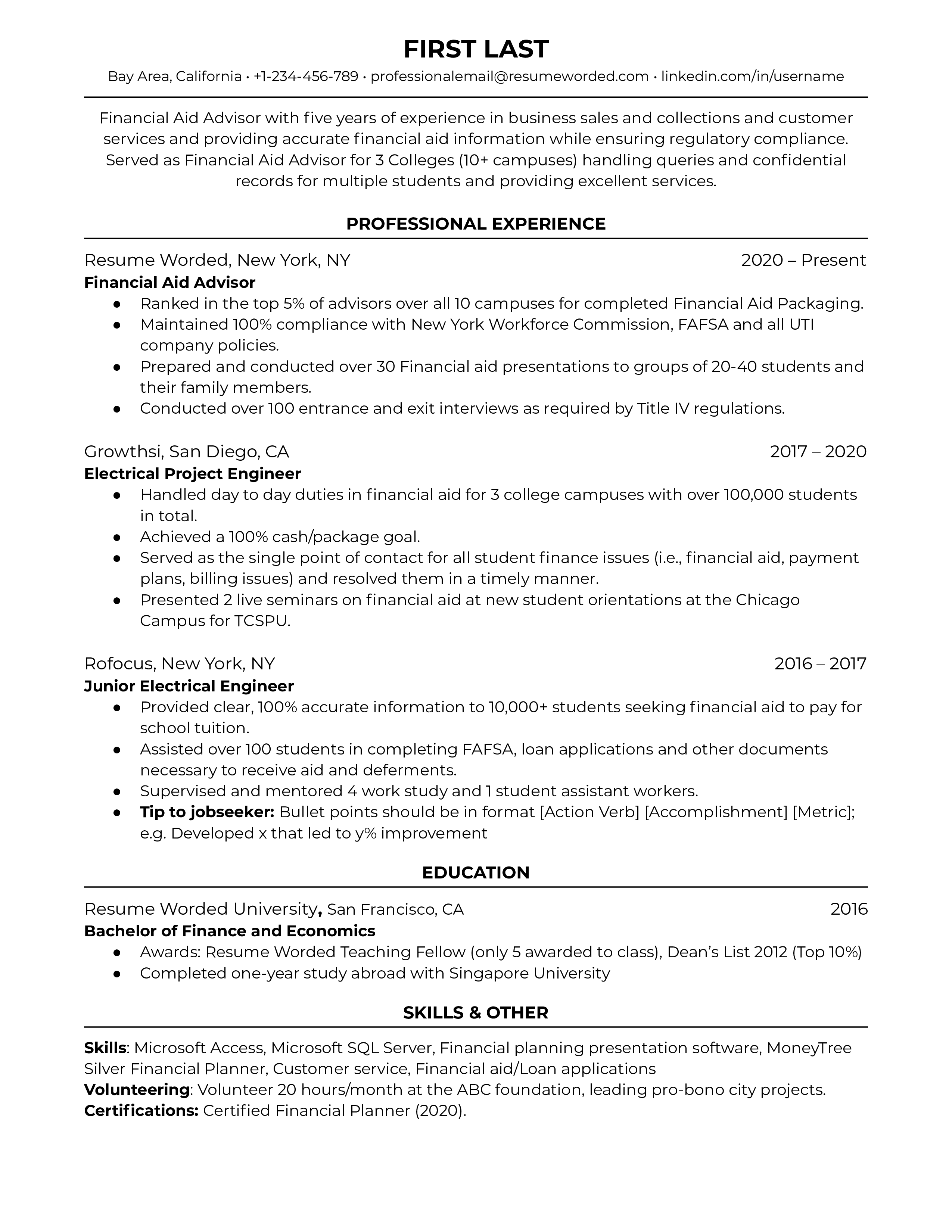 Why this resume works in 2021
Financial aid advisors work specifically in academic settings, meaning you'll need to have (or build) an understanding of student loans, scholarships, and grants. As with all financial advisor resumes, you should rely on quantitative values in your bullet points, and include any volunteering you've done.
Entry Level Financial Advisor Resume Sample
Download Resume Template (Google Doc)
Download Resume in PDF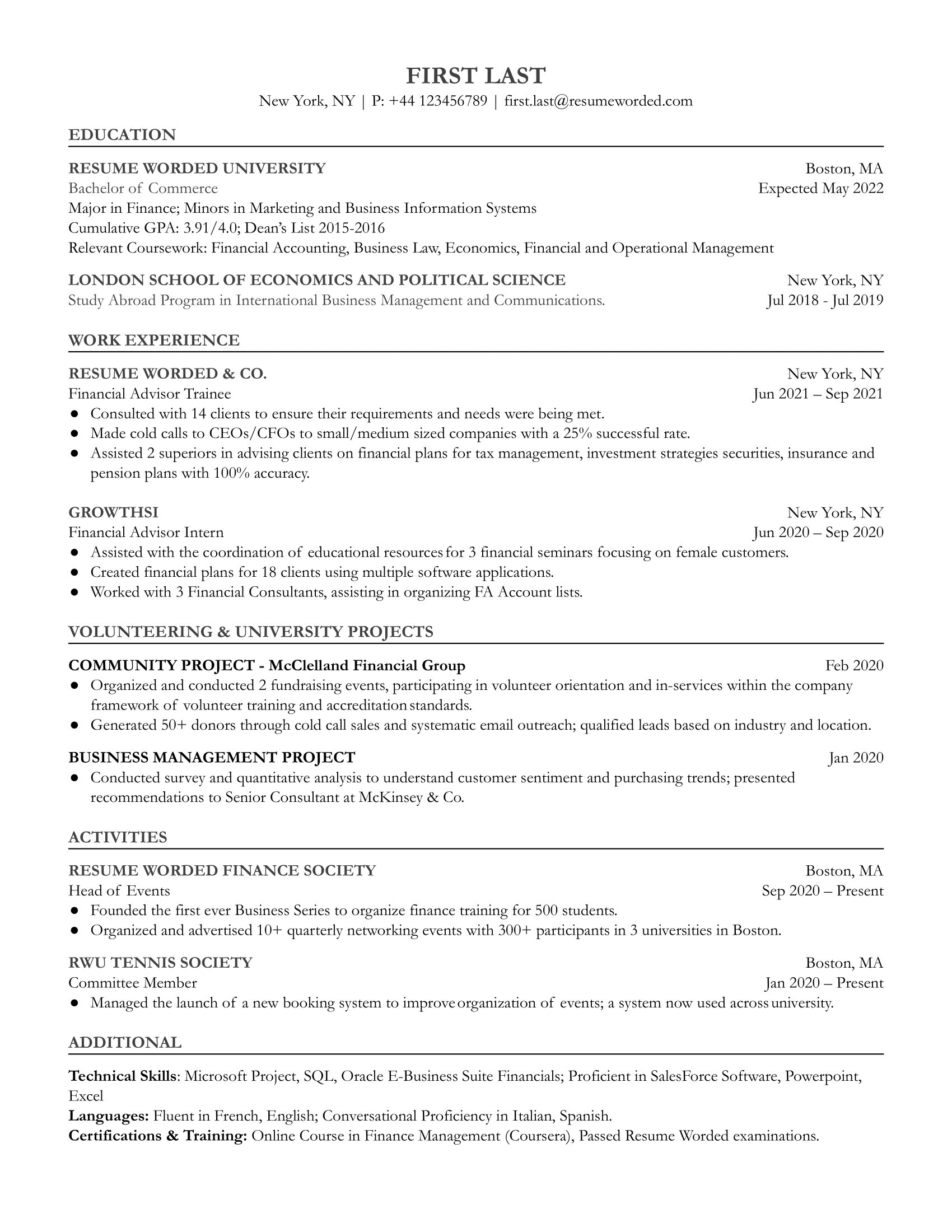 Why this resume works in 2021
Entry level financial advisors can indicate their proficiency in the position by ensuring that their bullet points include relevant skills and their technical skills are listed separately. Additionally, you should list your program name and coursework to emphasize your academic training.
Skills For Financial Advisor Resumes
Retirement Planning
Financial Advisory
Investments
Financial Planning
Wealth Management
Estate Planning
Mutual Funds
Financial Services
Finance
Asset Allocation
Life Insurance
Portfolio Management
Fixed Annuities
Financial Analysis
Investment Strategies
Insurance
401(k) Retirement Savings Plans
Investment Advisory
IRAs
Trading
How to use these skills?
While financial advisors perform a variety of tasks, hiring managers are looking for specific skills to be referenced in your resume. On the left, we've listed the most applicable skills for the financial advisor industry.

As a financial advisor, part of your work may involve giving presentations to clients, meaning providing an initial summary may be called for. One way to incorporate your skills is to include a short summary at the top of your resume, as this both gives you the opportunity to highlight them and shows your aptitude for summarization.

You should also include these skills in the body of your resume to help support your capacity as a financial advisor. Lastly, a skills bank that lists your technical skills and the tools you're familiar with will complete the picture.
Action Verbs For Financial Advisor Resumes
Managed
Projected
Audited
Restructured
Appraised
Maintained
Presented
Implemented
Streamlined
Organized
Created
Generated
How to use these action verbs?
The action verbs on the left are among the most effective for the financial advisor field. Aim to utilize these action verbs at the beginning of your bullet points, which should each describe an accomplishment and include a numerical value for best effect. Don't overuse any single verb, though where one is appropriate in multiple instances, it can help to reiterate it up to two times.

Remember that financial advisors perform a spectrum of duties and try to indicate the breadth of your responsibilities when listing your accomplishments.

For a full list of effective resume action verbs, visit Resume Action Verbs.