For companies of any size, the ability to keep track of incoming and outgoing funds is critical for operating successfully. Bookkeepers, who are typically charged with keeping an accurate record of all financial transactions, are essential for that to take place.

Bookkeepers represent a significant portion of the workforce, with more than 1.5 million employed in the U.S. today. While that number is projected to gradually shrink due to automation stemming from machine learning advances, the demand for bookkeepers is high due to the number of retiring bookkeepers from the Baby Boomer generation.

To become a bookkeeper, or excel at being one, you'll want to have an analytical mind with an affinity for attention to detail. Technical skills are required for bookkeepers, particularly when it comes to accounting software, so anticipate needing to be familiar with some of the more popular options. With the more routine tasks being absorbed by automation, future bookkeepers can be expected to have the ability to see the bigger picture and act in an advisory capacity.

In this guide, we'll be looking at four examples of bookkeeper resumes that you can base your own resume on (depending on your background). To help you fine tune it further, we'll also be going over tips on polishing your resume, including what action words to emphasize to best demonstrate your capabilities.
Bookkeeper Resume Templates
Bookkeeper Resume Sample
If you have experience as a bookkeeper, you can illustrate it in a similar fashion by highlighting your background with working with numbers (by being sure to include ample numerical references). Leading off each bullet point with a bookkeeper-oriented action word and sprinkling relevant skills throughout creates a complete picture of someone who is comfortable in the bookkeeping position.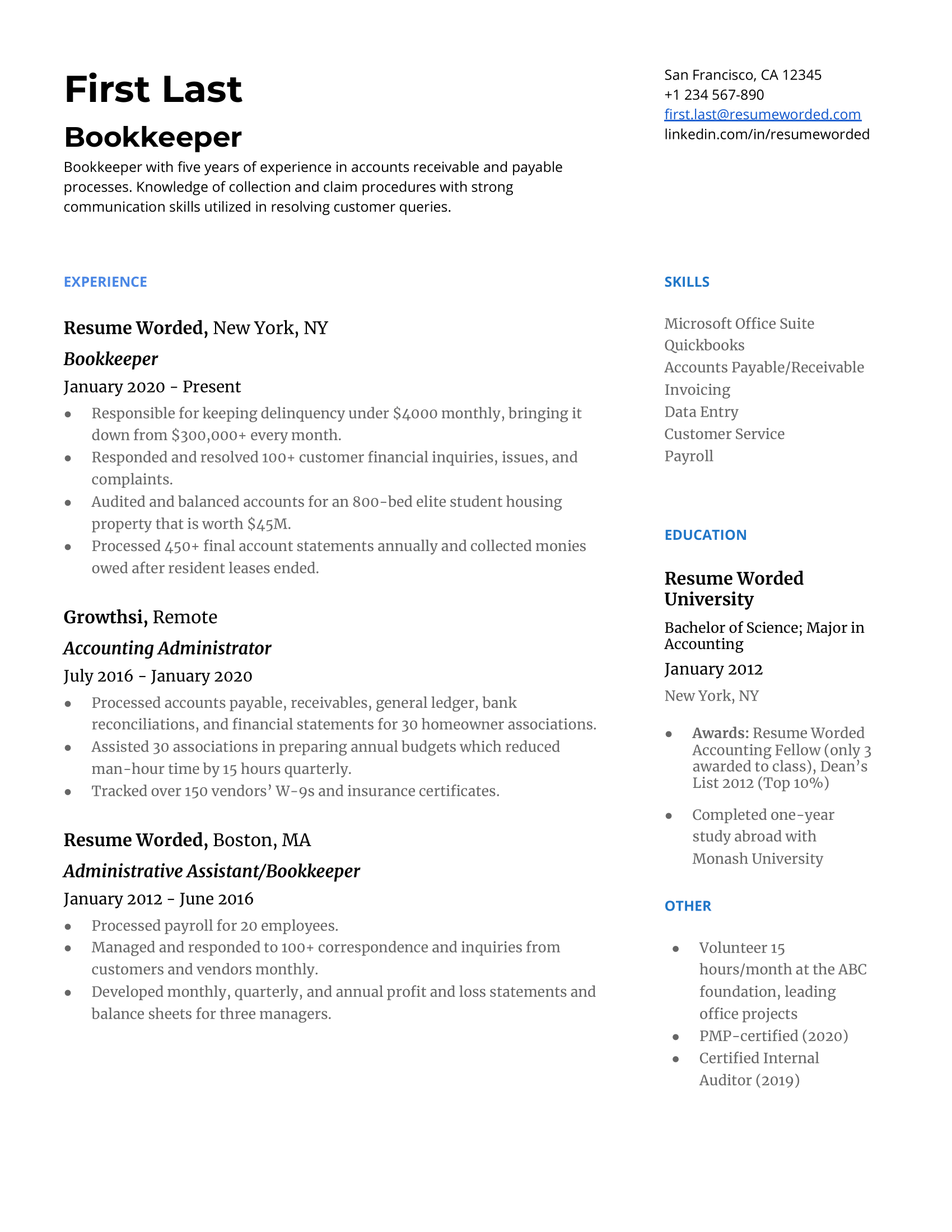 Recruiter Insight: Why this resume works in 2021
Full Charge Bookkeeper Resume Sample
Full charge bookkeepers are solely responsible for a company's accounting department. This means they will want to demonstrate their capacity for leadership and their ability to handle teams, along with managing all of the details of financial operations. This resume shows the bookkeeper's experience in doing so with the inclusion of appropriate accomplishments and a background that indicates professional growth.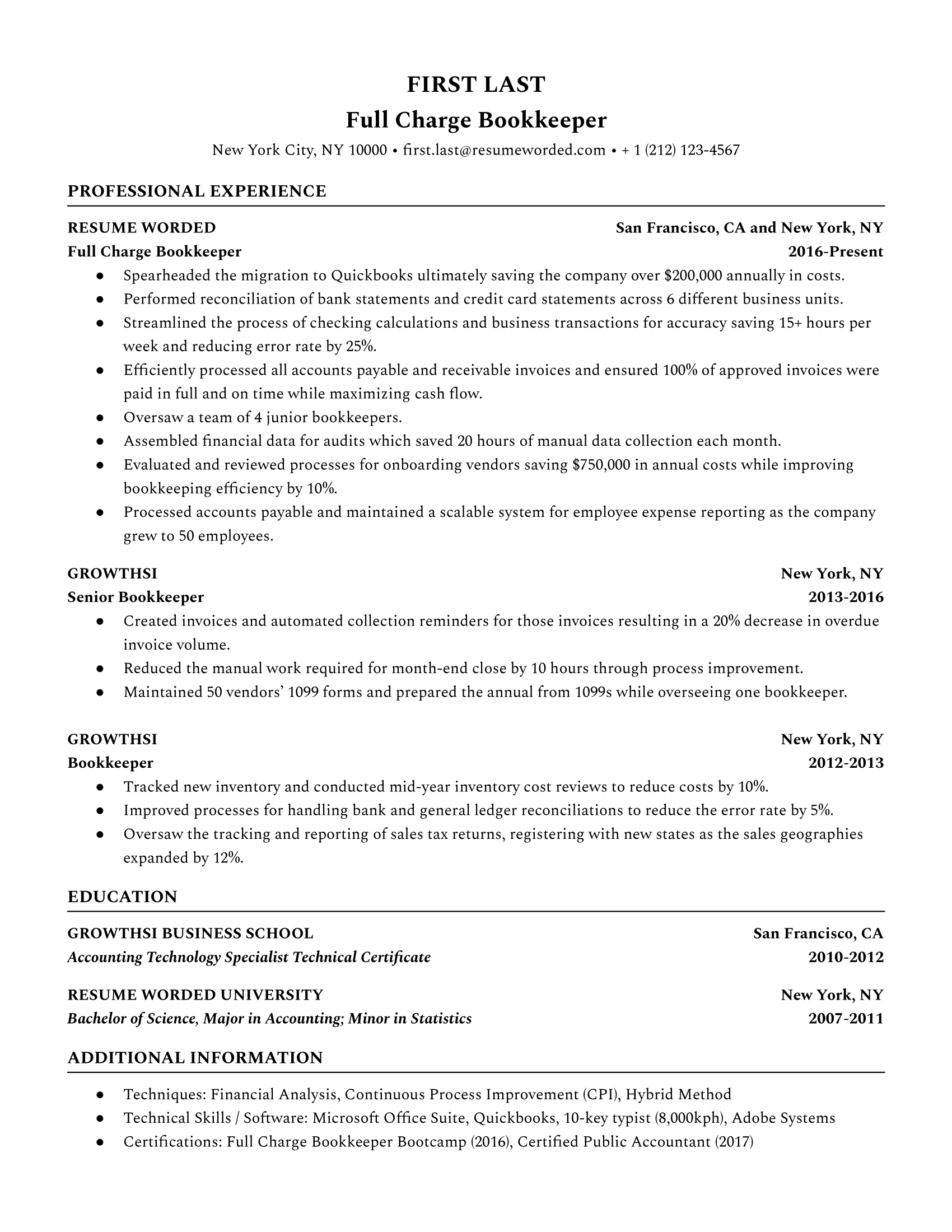 Recruiter Insight: Why this resume works in 2021
Senior Bookkeeper Resume Sample
If you have significant experience as a bookkeeper, you can include each step you've taken along the way in terms of your positions, as in the example of this resume. Showing orderly progression between positions (including promotions) broken up by powerful bullet points that use senior bookkeeper verbs is an excellent formula to follow.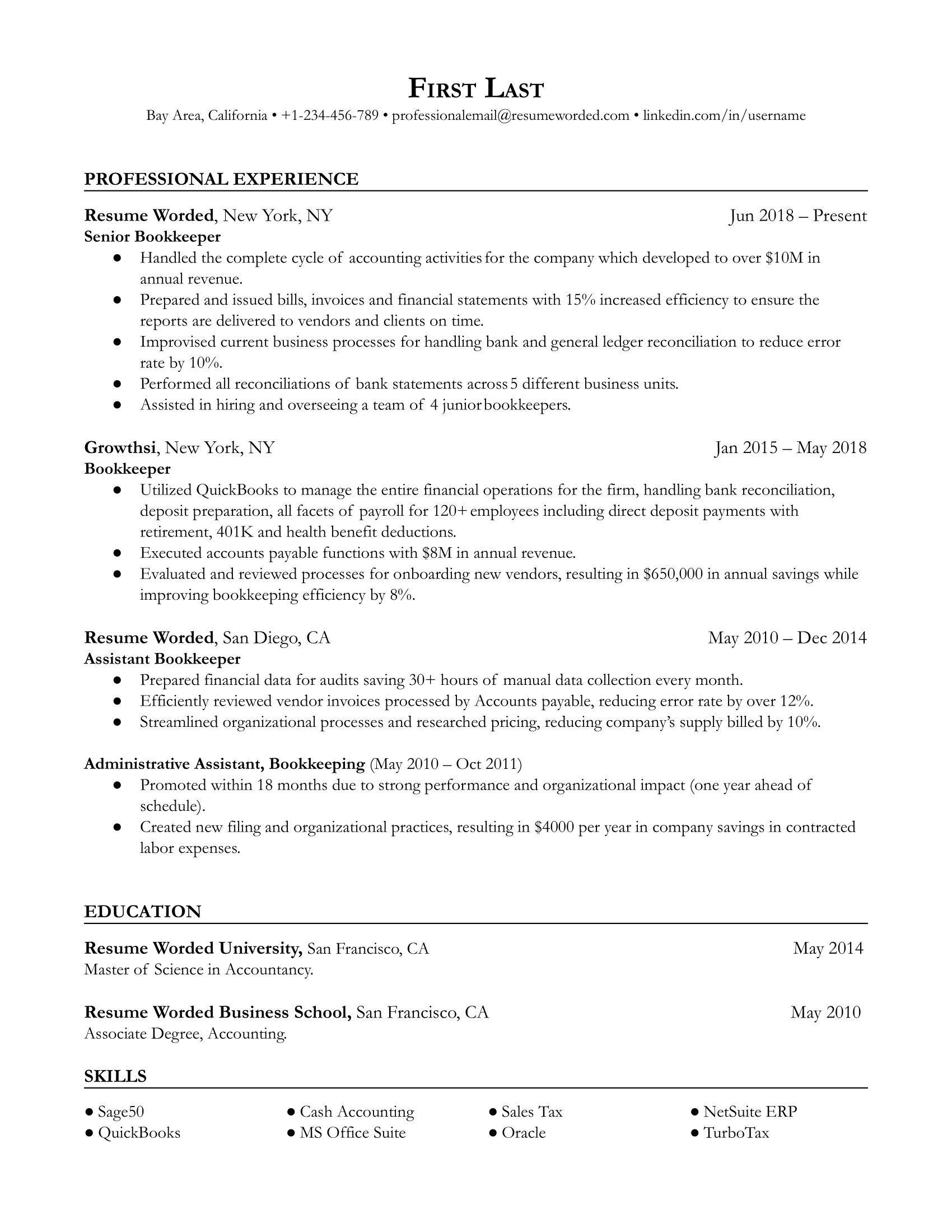 Recruiter Insight: Why this resume works in 2021
Entry Level Bookkeeper Resume Sample
With colleges constantly changing their curriculum, it can help to write out the particular courses that you feel were most helpful to your role as a bookkeeper. Additionally, if you have participated in any outside activities in your community in a bookkeeping, data entry, or organizational capacity, you can include it as part of your relevant experience.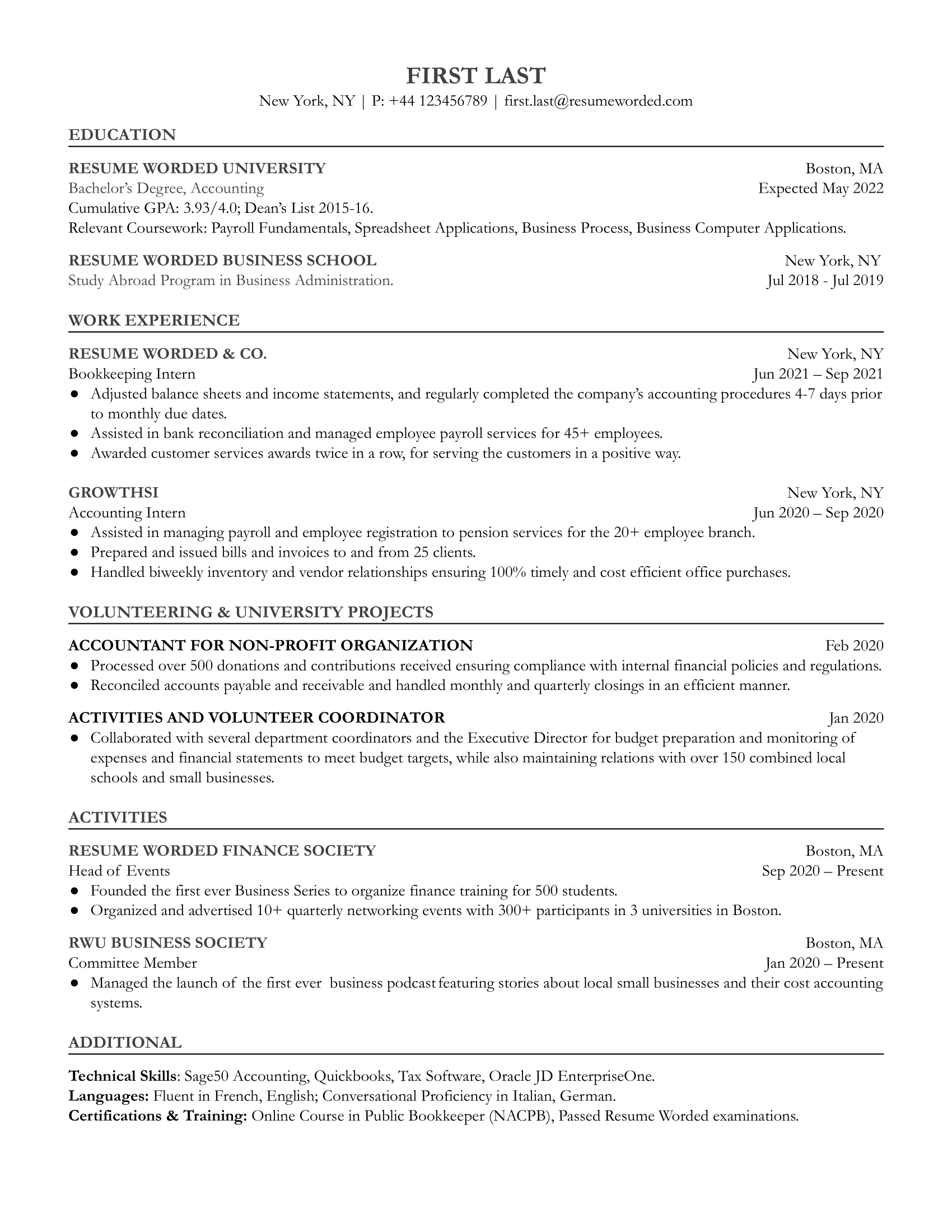 Recruiter Insight: Why this resume works in 2021
Skills For Bookkeeper Resumes
Throughout your resume (and in a skills bank somewhere on your resume), you should aim to include skills that are more relevant to the bookkeeping profession. This not only reinforces to hiring managers that you are familiar with the profession, it also helps clear gatekeeping Applicant Tracking Systems.

On the left, we've collected the skills that come up most often on bookkeeper resumes. Match these with your own experiences and abilities and try to feature at least one in your bullet points and summary (if you opt to include one).

Another helpful resource in identifying what skills you should include is the job listing itself. If it is for a senior bookkeeper, for example, be ready to highlight management and leadership skills in addition to foundational technical skills.
Bookkeeping
QuickBooks
Accounts Payable
Accounts Receivable (AR)
Accounting
Account Reconciliation
Payroll
Bank Reconciliation
General Ledger
Invoicing
Financial Reporting
Financial Statements
Journal Entries
Accounts Payable & Receivable
Financial Accounting
Payroll Taxes
Data Entry
Full-Charge Bookkeeping
Tax Preparation
Budgeting
Bookkeeper Resume Tips
As a bookkeeper responsible for accurately and efficiently entering data, your resume is your first impression on how skillful you are at the task of record management. Along with formatting basics (such as through the inclusion of bullet points and following a uniform listing style for positions), you should aim for creating succinct highlights of your accomplishments (with no more than 1-2 sentences per bullet point, summary, or contextual section, as in the example of the first template we looked at).
Action Verbs For Bookkeeper Resumes
Knowing what action verbs speak strongly about your experiences can also go a long way in creating an impactful resume that will generate interest in hiring managers. Remember how the senior bookkeeper we looked at above used words like "executed" and "improvised"? Both of these words are optimal in the sense that they impart a decisive capability in addition to creativity.

For less senior bookkeepers, such as the one featured in the first template, "audited", "processed", and "developed" are solid options that can kick off into quantifiable, relevant accomplishments. "Assisted" can be a weaker choice, however, as it leaves hiring managers wondering why you didn't take the front reins (unless it is an accomplishment from early in your career).

Don't be afraid to duplicate strong action verbs, such as in the example of the full charge bookkeeper template from earlier. You can include multiple accomplishments (between 2-3) that begin with "oversaw", for instance, as it implies consistency over time.
Audited
Calculated
Projected
Analyzed
Computed
Modelled
Restructured
Verified
Examined
Assessed
Inspected
Evaluated
Systemized
Organized
Implemented
For a full list of effective resume action verbs, visit Resume Action Verbs.
Resume Bullet Points From Bookkeeper Resumes
You should use bullet points to describe your achievements in your Bookkeeper resume. Here are sample bullet points to help you get started:
Led annual budget preparation, performed departmental and account variances, and managed the standard costing globally for 4 sites.
Introduced a new invoicing system that reduced month-end turnaround time by 15%.
Filed payroll tax and sales tax for over 50 international customers each month.
Provided excellent customer service, effectively reducing customer complaints from 65% to 23% within the first 8 months.
Collaborated with 10 department managers and peers to develop and implement policies and procedures that increased internal efficiency by 20%.
For more sample bullet points and details on how to write effective bullet points, see our articles on resume bullet points, how to quantify your resume and resume accomplishments.