Bookkeeper Resumes
The bookkeeping field is wide open for those with a knack for numbers and a desire to help companies keep an accurate perspective of their finances. Learn how to make your bookkeeper resume stand out as we review four templates for bookkeepers from a variety of backgrounds and delve into key tips to keep in mind.
Full Charge Bookkeeper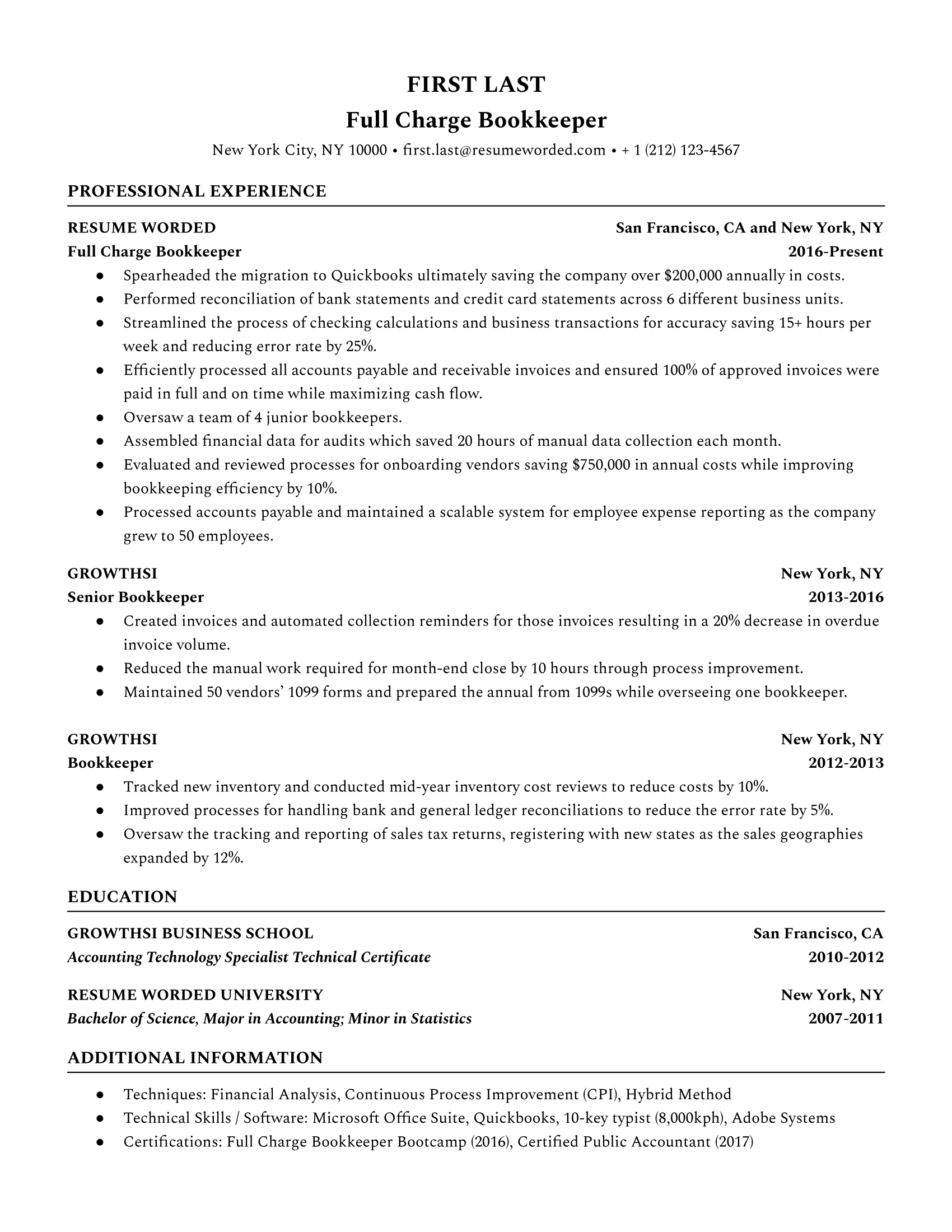 Full charge bookkeepers are solely responsible for a company's accounting department. This means they will want to demonstrate their capacity for leadership and their ability to handle teams, along with managing all of the details of financial operations. This resume shows the bookkeeper's experience in doing so with the inclusion of appropriate accomplishments and a background that indicates professional growth.
Expand
Download .DOC or .PDF
Senior Bookkeeper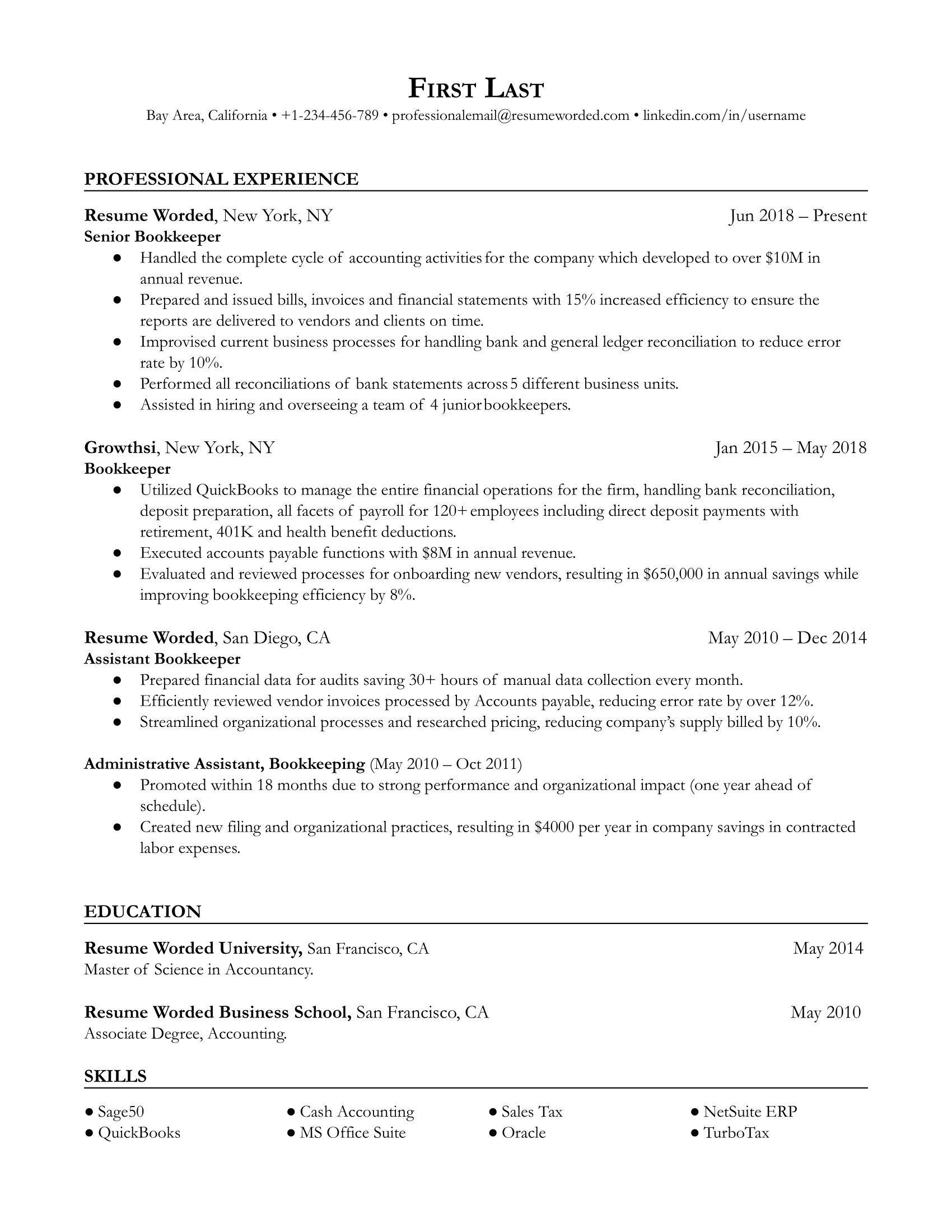 If you have significant experience as a bookkeeper, you can include each step you've taken along the way in terms of your positions, as in the example of this resume. Showing orderly progression between positions (including promotions) broken up by powerful bullet points that use senior bookkeeper verbs is an excellent formula to follow.
Expand
Download .DOC or .PDF
Entry Level Bookkeeper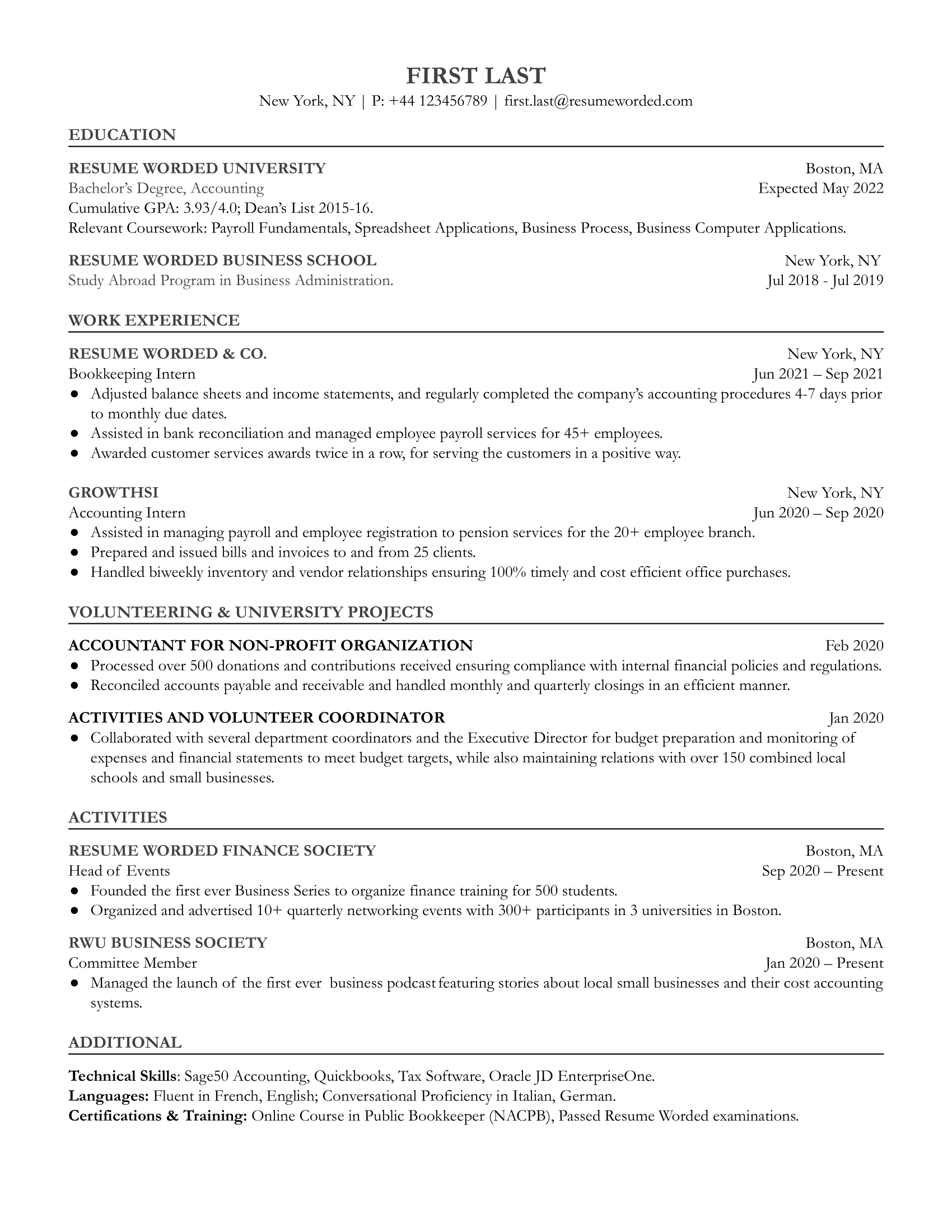 With colleges constantly changing their curriculum, it can help to write out the particular courses that you feel were most helpful to your role as a bookkeeper. Additionally, if you have participated in any outside activities in your community in a bookkeeping, data entry, or organizational capacity, you can include it as part of your relevant experience.
Expand
Download .DOC or .PDF
Load more resumes
Bookkeeper resume guide
Financial Analyst Resumes
Great financial analysts can help companies thrive. We've got six sample resumes here to help you snag a job in 2022 (Google Docs and PDFs attached).
Load more resumes
Financial Analyst resume guide
Accountant Resumes
Accountants are key players in the daily operations of most businesses. We cover what you need to know to land an accounting job in 2022 (Google Docs and PDFs attached).
Load more resumes
Accountant resume guide
C-Level and Executive Resumes
No company can run smoothly without top C-level executives. If you're applying for one of these demanding roles, you'll need a resume that speaks for itself — and we can help. In this guide, you'll find resume examples for any C-suite role as well as key industry-specific tips and insights.
Load more resumes
C-Level and Executive resume guide
Financial Advisor Resumes
The financial advisor career path can be both stable and rewarding, especially if you have an affinity for numbers and data entry. This guide discusses three financial advisor resume templates and provides tips on writing your resume, along with highlighting strong action verbs and skills to include.
Financial Aid Advisor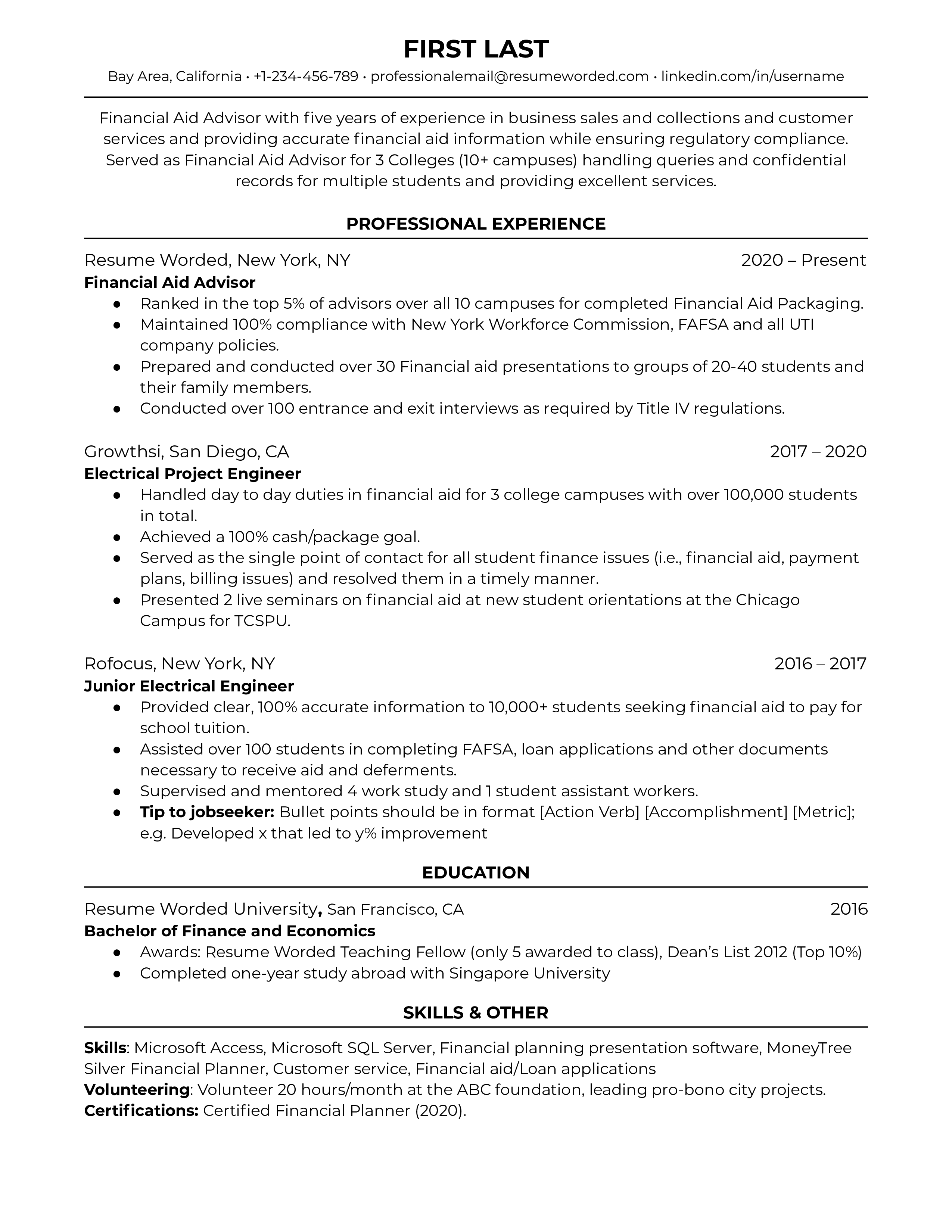 Financial aid advisors work specifically in academic settings, meaning you'll need to have (or build) an understanding of student loans, scholarships, and grants. As with all financial advisor resumes, you should rely on quantitative values in your bullet points, and include any volunteering you've done.
Expand
Download .DOC or .PDF
Entry Level Financial Advisor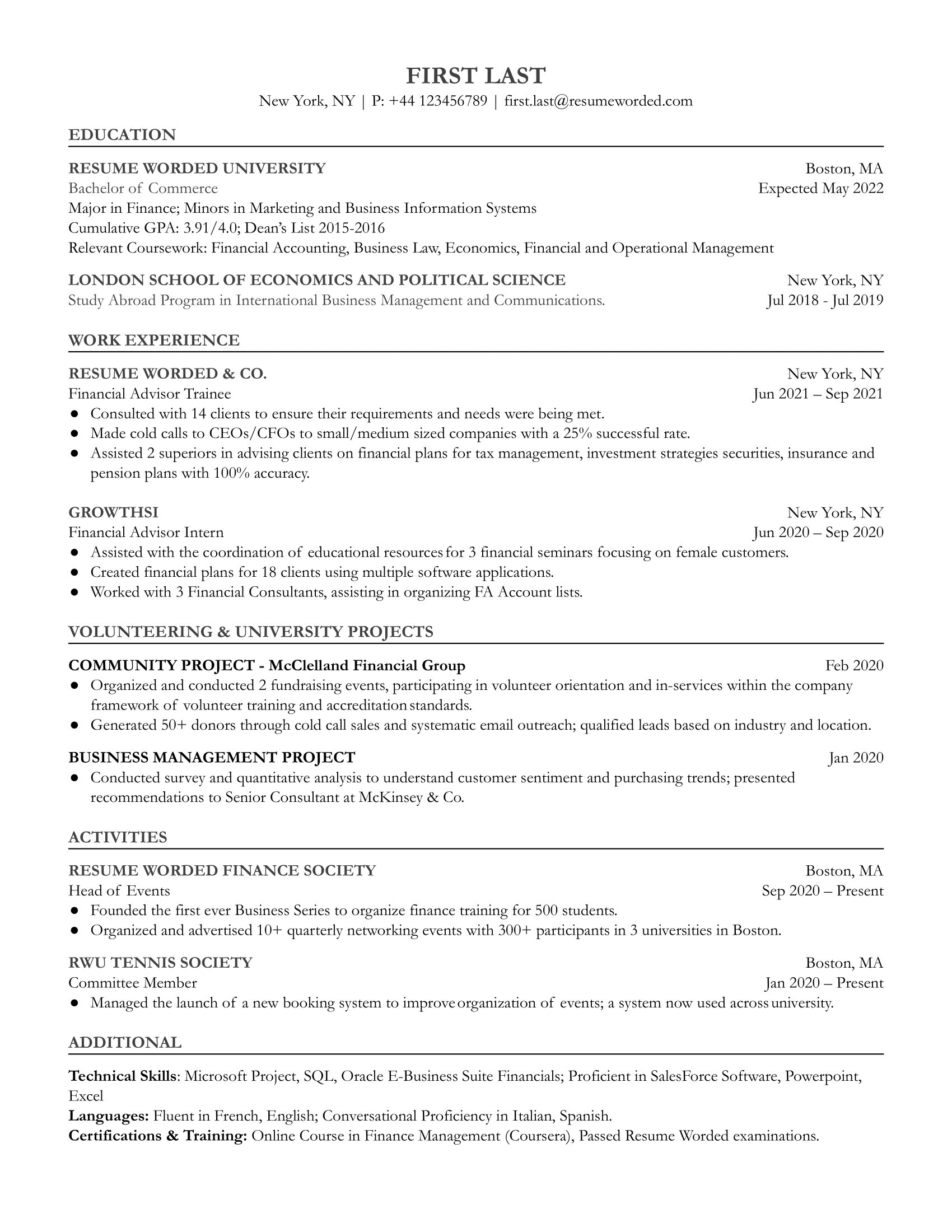 Entry level financial advisors can indicate their proficiency in the position by ensuring that their bullet points include relevant skills and their technical skills are listed separately. Additionally, you should list your program name and coursework to emphasize your academic training.
Expand
Download .DOC or .PDF
Financial Advisor resume guide
Action Verbs For Finance Resumes
Audited
Calculated
Projected
Analyzed
Computed
Modelled
Restructured
Verified
Examined
Assessed
Inspected
Evaluated
Systemized
Organized
Implemented
How to use these action verbs?
A strong finance-based resume should show past successes in finance-related jobs, internships, or education. Always use clear resume action verbs to discuss them.

You may want to showcase your industry prowess with finance-specific verbs like "modelled", "analyzed", or "audited".