Practically all businesses need to do some form of accounting. Companies typically manage their finances by monitoring cash flow and keeping records of transactions. In many cases, they also analyze financial data to gain insights about the health of the business.

Accountants specialize in providing these financial services. Their duties can overlap with those of a financial analyst -- one major difference is that accountants focus on everyday operations, whereas financial analysts provide big-picture insights and recommendations based on company performance and market conditions over time.

In either case, these professionals perform vital work for businesses. Accounting job prospects are expanding and are not likely to disappear anytime soon -- by 2029, the US Bureau of Labor Statistics predicts that accounting jobs will grow by 4%.

Most accountants are detail-oriented, conscientious, and excellent at working with numbers. If you're seeking an accounting job, you need a resume that shows you have the right skills for the job. What does it take to build a stellar accounting resume in 2021? Here are some templates to follow that could increase your odds of getting hired.
Accountant Resume Templates
Accountant Resume Sample
As an accountant, you'll be analyzing data and thinking critically to solve business problems. You'll also need to communicate your findings with others and work on teams. Use your resume to highlight past accomplishments where you've used these skills, and whenever possible, mention the specific results you achieved.
Recruiter Insight: Why this resume works in 2021
Accounting Clerk Resume Sample
Accounting clerks perform various administrative tasks such as bookkeeping, reconciling accounts, tracking payments, and collecting data for audits. To get this job, your resume should reflect that you are highly organized, analytical, and capable of juggling a myriad of responsibilities. Provide examples from your prior work experience to illustrate these skills.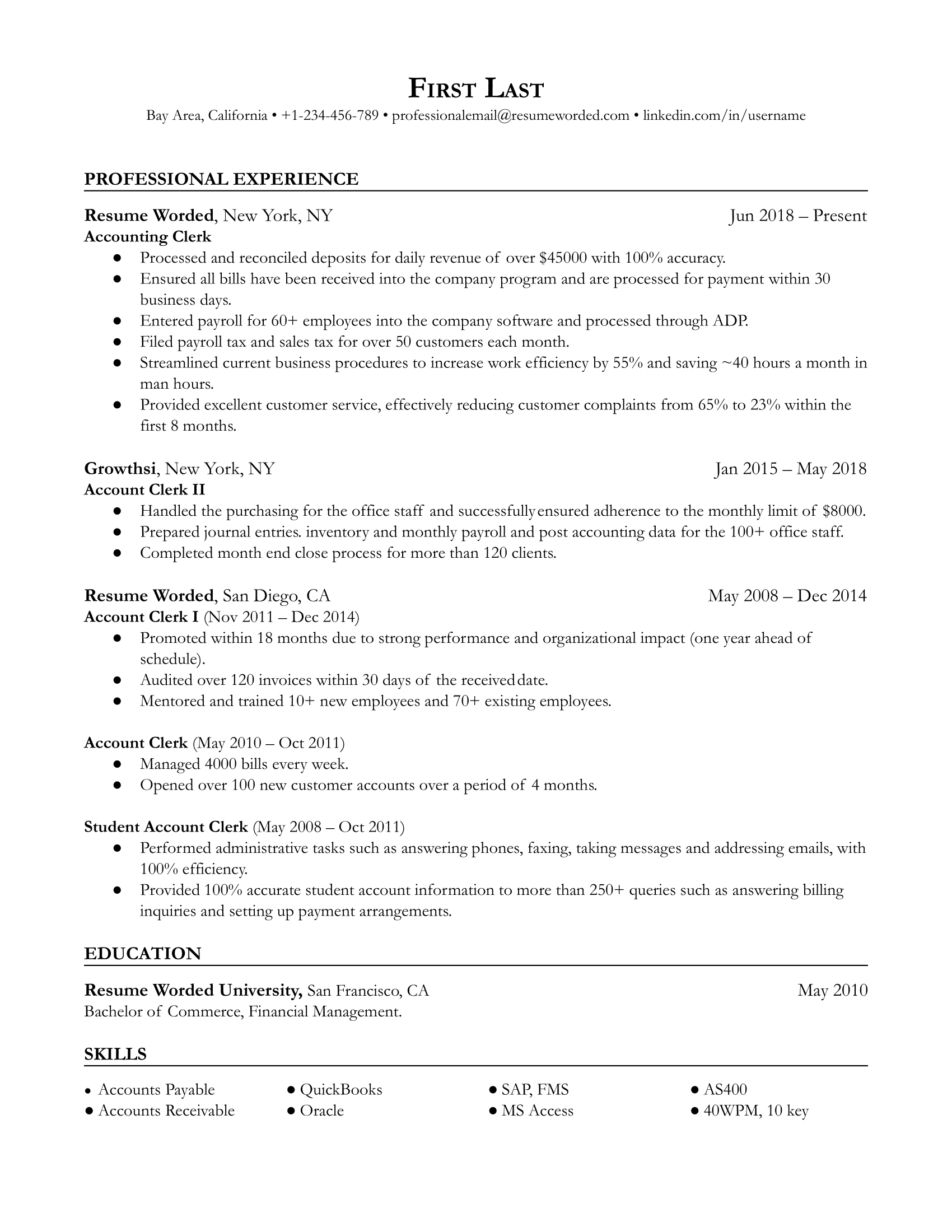 Recruiter Insight: Why this resume works in 2021
Accounting Manager Resume Sample
Accounting managers oversee accounting departments, manage financial reporting, and lead their teams to success. To advance to a management position in accounting, you not only need to be a great accountant; you also need to demonstrate leadership and people skills. Make sure your resume reflects your experience in these areas.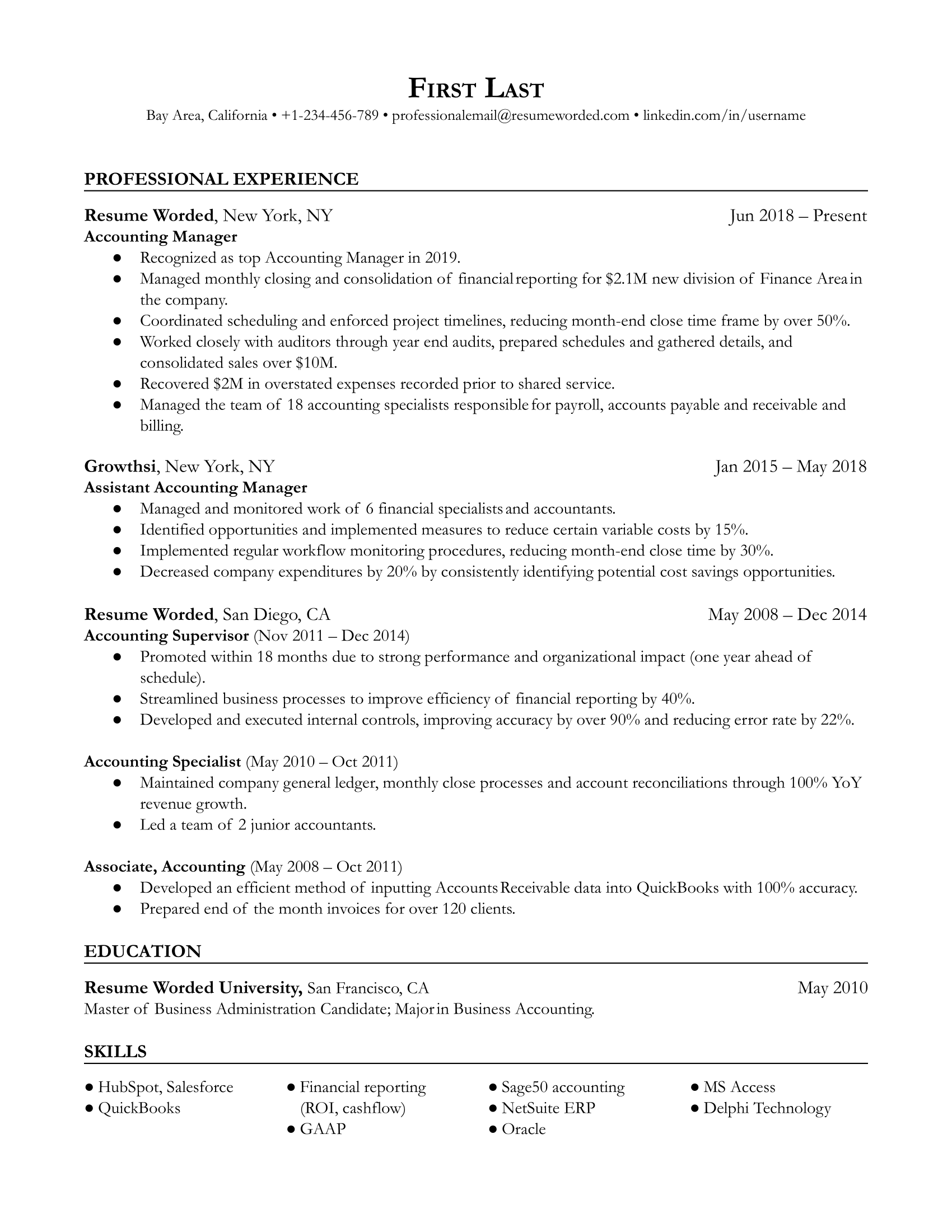 Recruiter Insight: Why this resume works in 2021
Senior Accountant / Accounting Executive Resume Sample
Senior accountants don't always supervise other employees, but they are typically experienced professionals who have worked in accounting for a number of years. As a senior accountant, you'll do some typical accounting tasks, but you'll also do higher-level analyses of your company's financial standing. Your resume should show your aptitude for data analysis and your ability to make complex business decisions that lead to positive outcomes.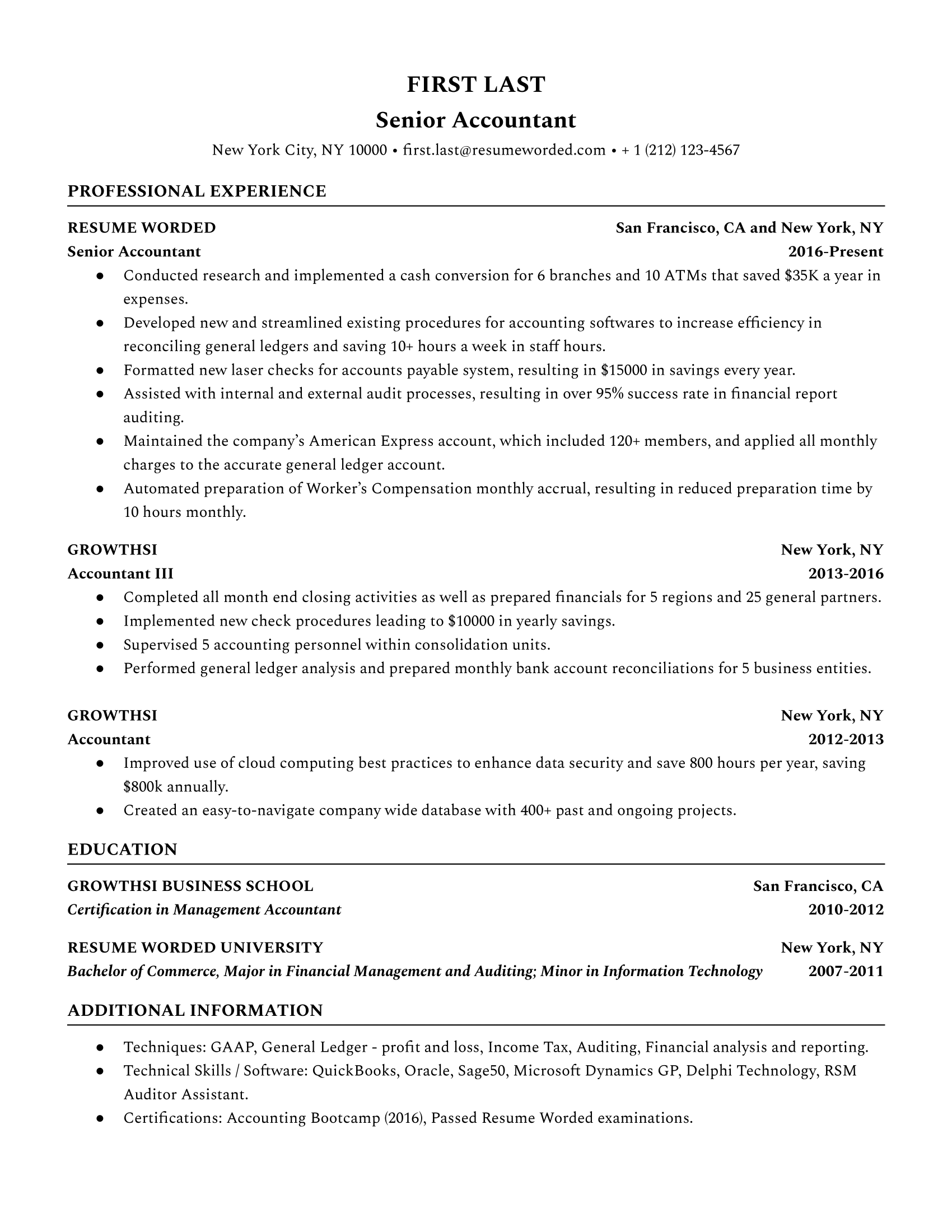 Recruiter Insight: Why this resume works in 2021
Entry Level Accountant Resume Sample
Entry level accountants help with maintaining financial records, gathering data, and assembling basic reports. While you don't need formal accounting experience for this job, it can help to have a bachelor's degree in accounting, finance, or a similar field. Lead your resume with your educational experience, mentioning any relevant coursework (such as business law or microeconomics), and be sure to also mention any relevant internships you've held.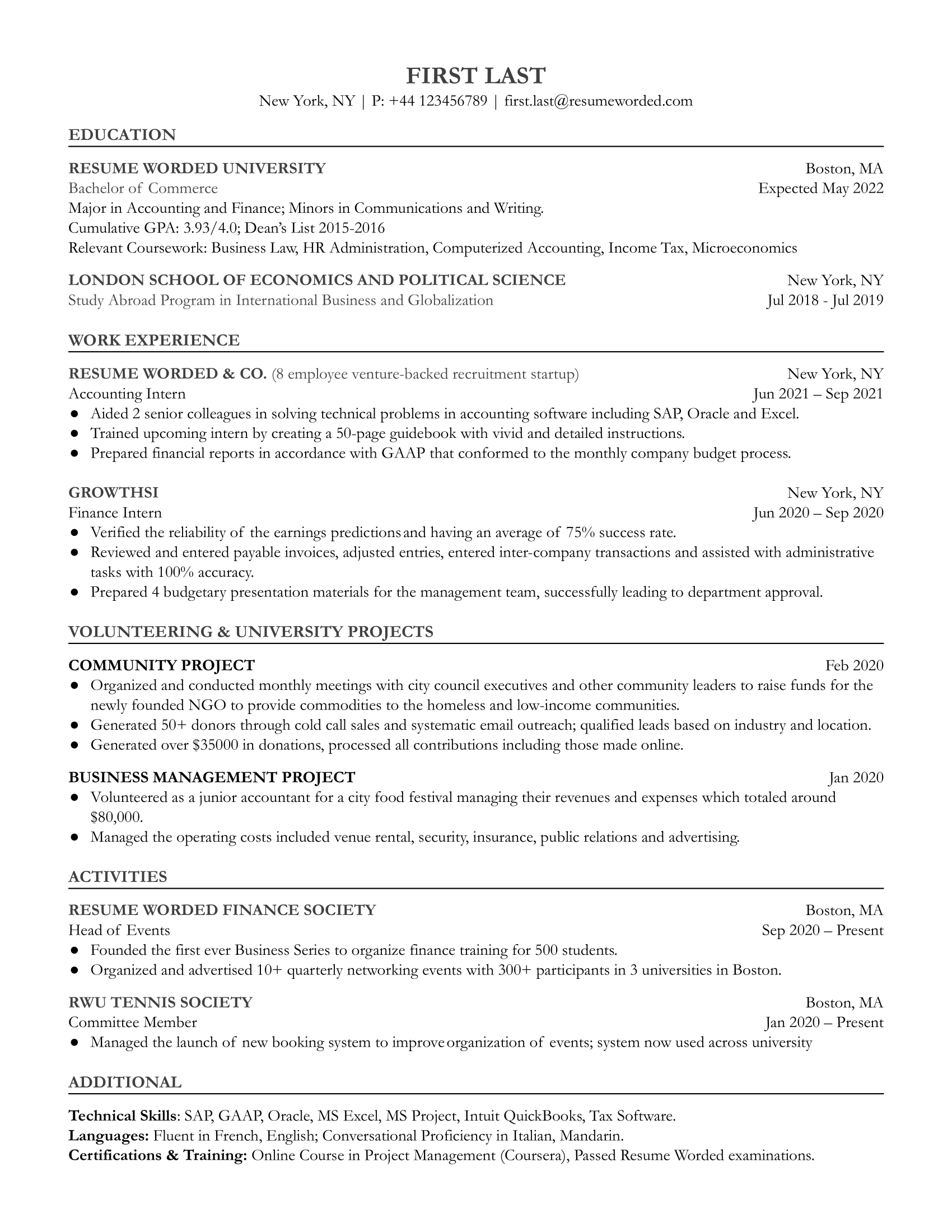 Recruiter Insight: Why this resume works in 2021
Staff Accountant Resume Sample
Staff accountants have a variety of duties that may include bookkeeping, processing payroll, preparing taxes, and generating financial reports and statements. They also help ensure compliance with local laws and regulations.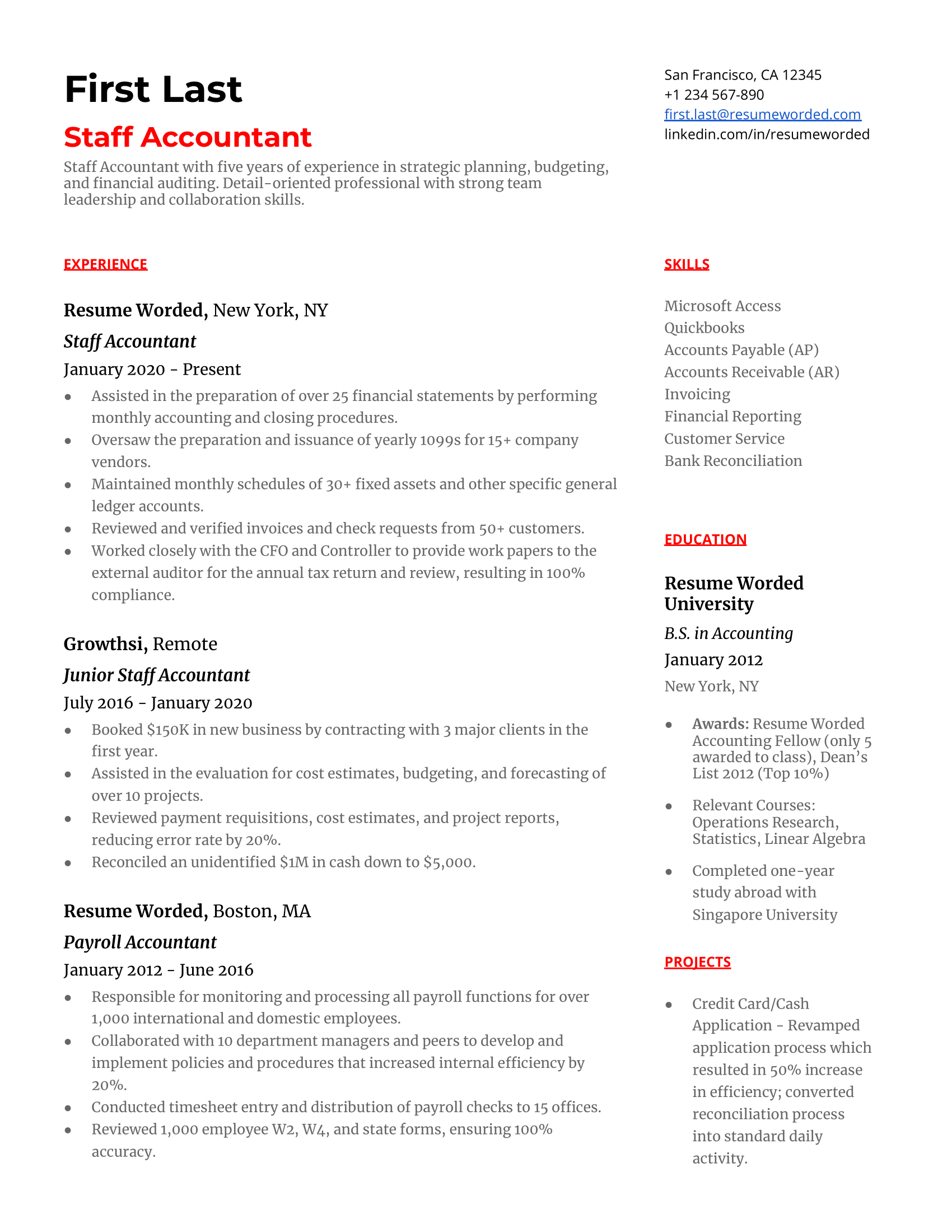 Recruiter Insight: Why this resume works in 2021
Cost Accountant Resume Sample
Cost accountants analyze and assess the costs of producing products or services. They help businesses identify areas where they could become more profitable. In addition to the math and data analysis skills that most accountants need, cost accountants need strong budgeting skills and the ability to communicate effectively with management about their findings. Use your resume to highlight your accounting background and your skills at collaborating with others.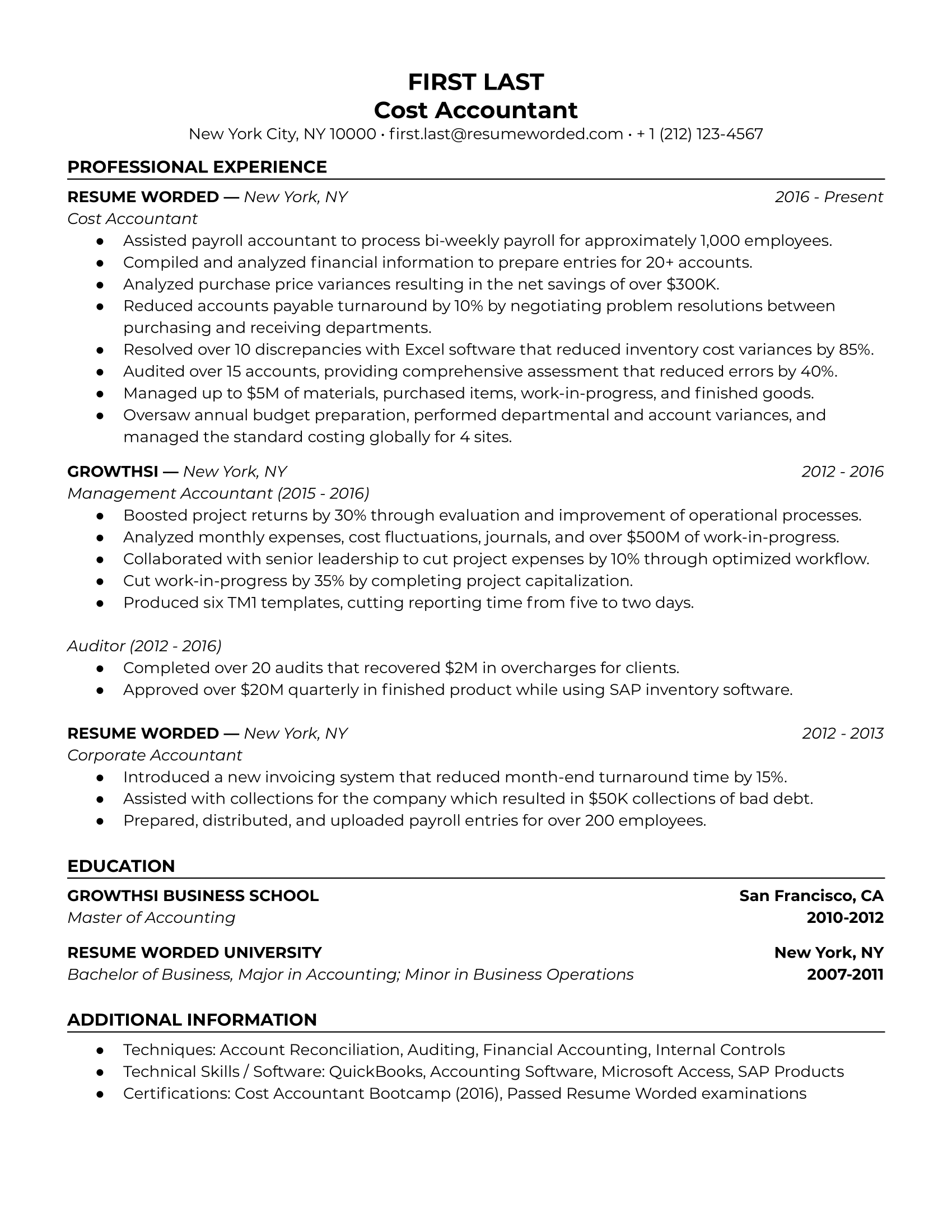 Recruiter Insight: Why this resume works in 2021
Payroll Accountant Resume Sample
Payroll accountants are responsible for processing companies' employee compensation. Each pay period, they calculate each employee's earnings, deduct the proper amounts for income tax and benefits, and issue paychecks. To get a payroll accountant position, use your resume to show that you have general accounting skills, experience using payroll software, and a working knowledge of labor and tax regulations.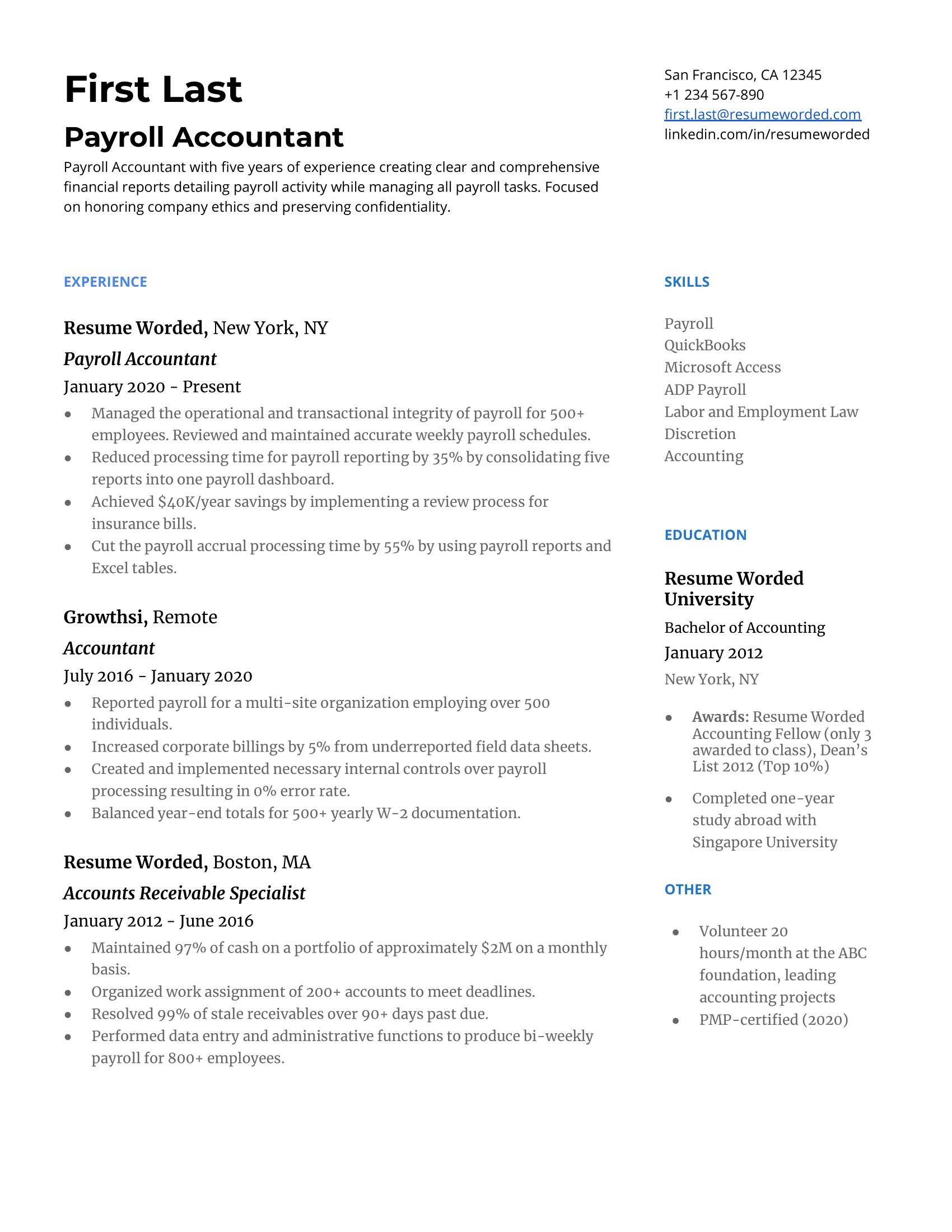 Recruiter Insight: Why this resume works in 2021
Accounting Assistant Resume Sample
In an accounting assistant role, you'll be doing basic accounting tasks such as record keeping, cash handling, and billing to help support your company. You may be able to get this job straight out of school, but some companies may require a few years of accounting experience. Use a resume like this one to showcase the experience you do have, giving specific examples of achievements that illustrate your organizational, analytical, and problem-solving skills.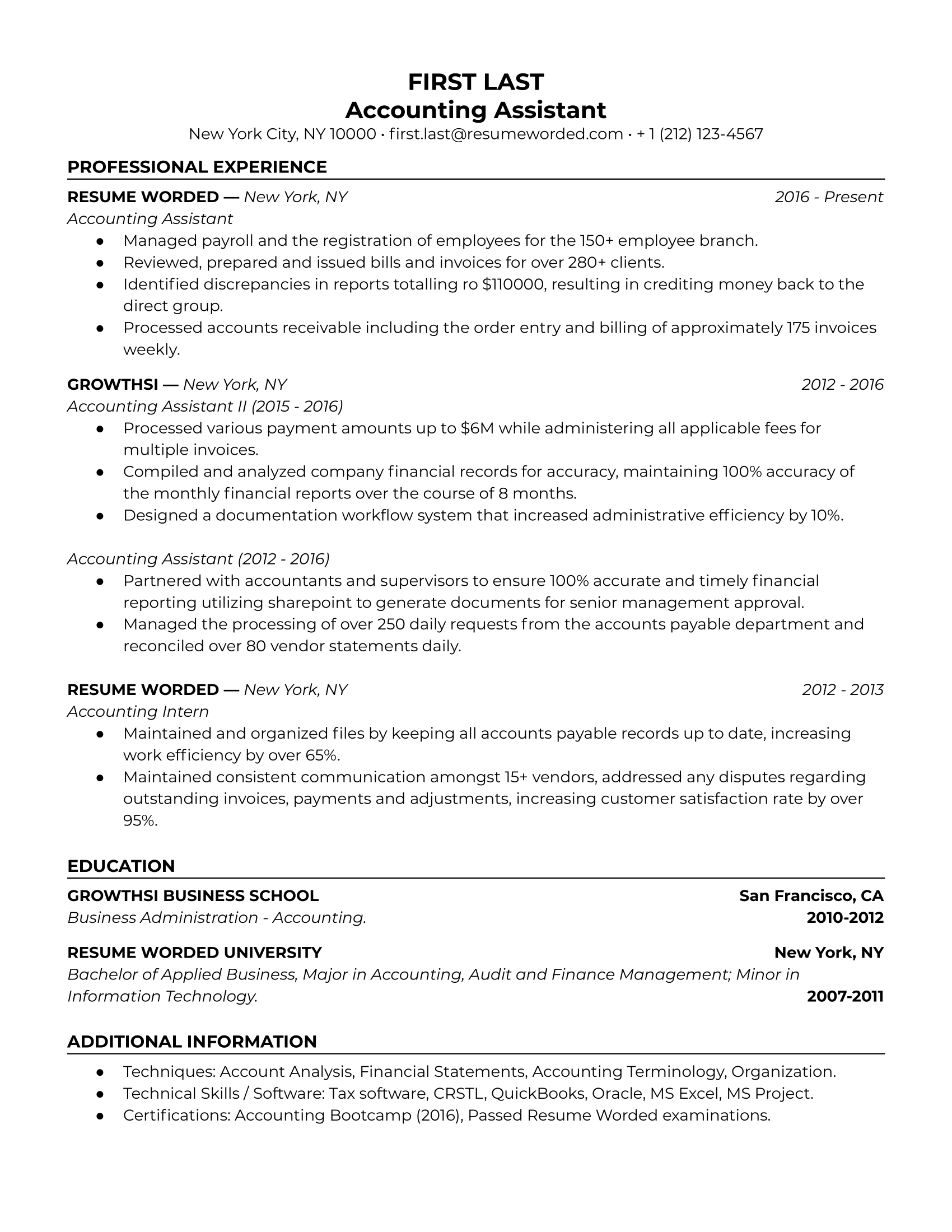 Recruiter Insight: Why this resume works in 2021
Tax Accountant Resume Sample
A tax accountant specializes in preparing and filing tax forms for businesses and individuals. These accountants must stay abreast of current tax regulations to help their clients comply with the law. You'll need specialized knowledge in order to become a tax accountant -- so if you have experience in tax accounting, auditing, or tax preparation, make sure to say so on your resume.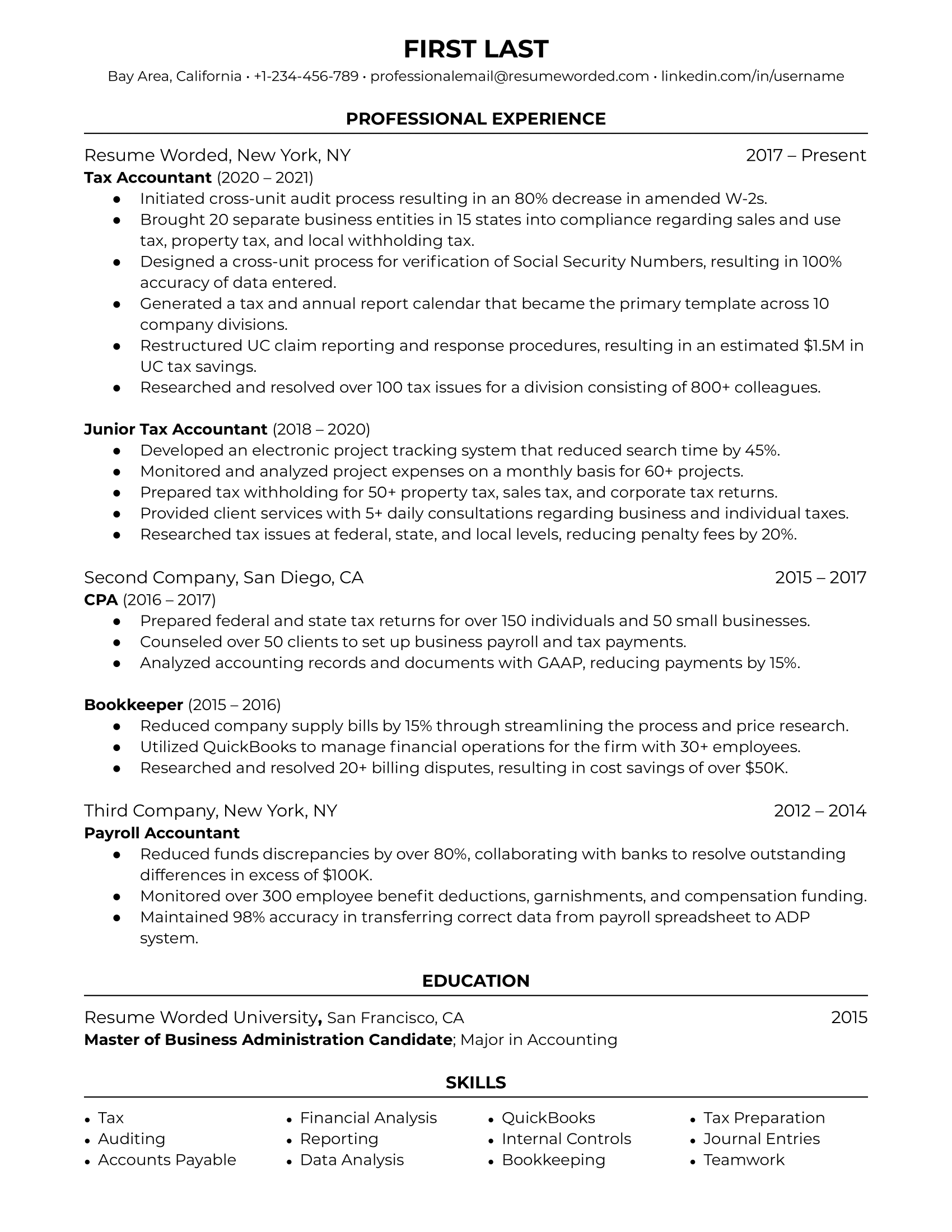 Recruiter Insight: Why this resume works in 2021
Accounting Specialist Resume Sample
Accounting specialists may have wide ranging responsibilities such as maintaining financial records, processing payroll, generating reports, and making projections. To get this job, focus your resume on accounting skills such as balancing budget sheets, processing invoices, or managing account transfers.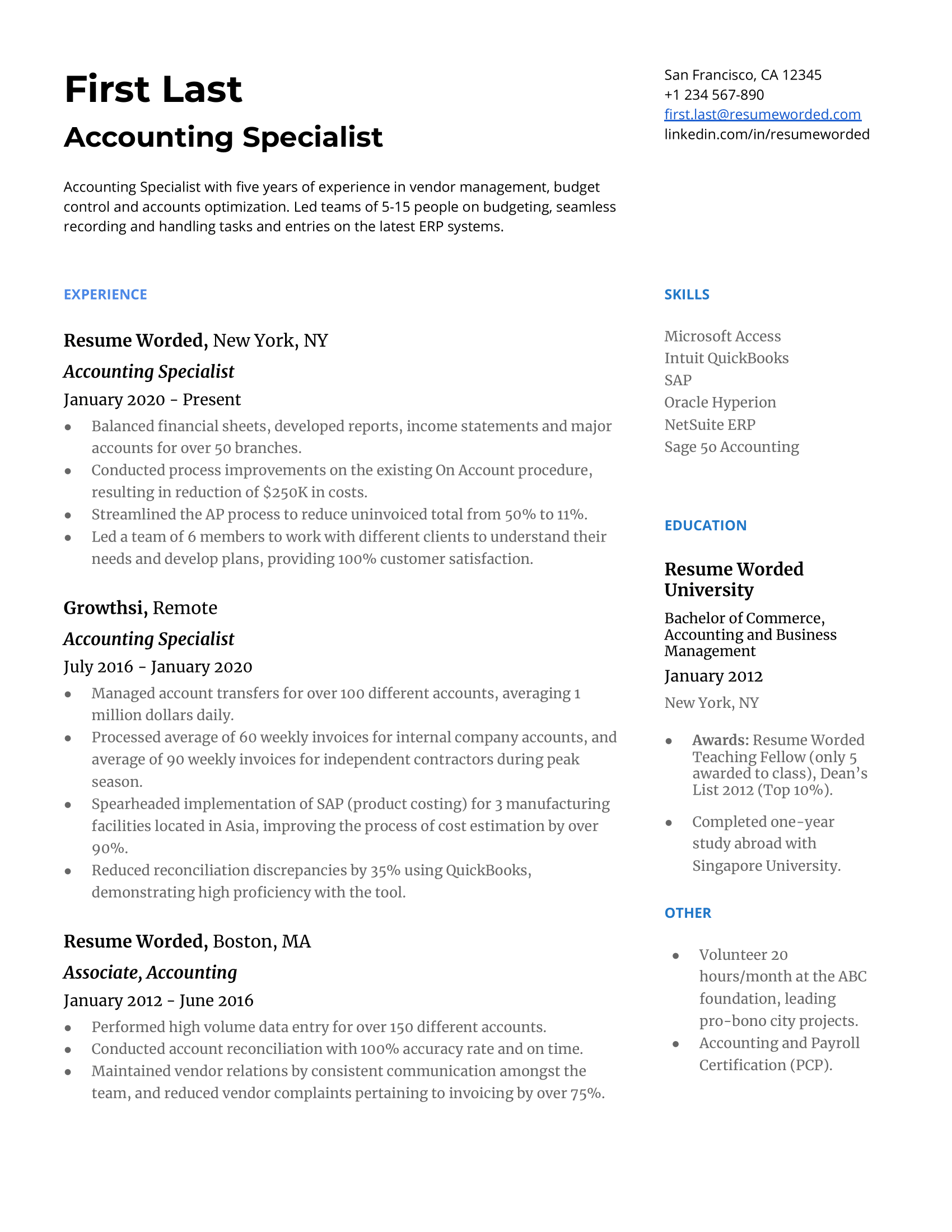 Recruiter Insight: Why this resume works in 2021
Skills For Accountant Resumes
Many people think of accounting as a data-centric job -- and it is. You do need to have excellent math and data analysis skills because you'll spend much of your time working with numbers. However, there is also a collaborative aspect to being an accountant; you'll probably work in teams with others, and in some roles, you'll give presentations and reports to management that will help guide their financial decision-making.

Being a great accountant requires a blend of technical and people skills. So give plenty of examples from your prior work experiences where you've developed and used these abilities. Talk about how you've successfully managed expenses, conducted account analyses, and worked on project teams. Make sure to also list your software proficiencies (such as QuickBooks and Oracle) and other hard skills in a separate skills section.
Account Reconciliation
General Ledger
Accounting
Financial Reporting
Accounts Payable
Financial Accounting
Financial Statements
Journal Entries
Accounts Receivable (AR)
QuickBooks
Bank Reconciliation
Auditing
Financial Analysis
Generally Accepted Accounting Principles (GAAP)
Payroll
Tax
Tax Preparation
Bookkeeping
Internal Controls
Fixed Assets
Accountant Resume Tips
Ready to start preparing your accounting resume? Keep these tips in mind as you write to maximize your chances of getting the job you want.
Action Verbs For Accountant Resumes
When discussing your accounting experience on your resume, you'll want to lead into your achievements with strong action verbs. Choose the clearest, most concise word to express the role you played in your accomplishment. Active, specific verbs like "managed" or "developed" are always a stronger choice than vague phrases like "assisted with" or "was responsible for".

Finally, remember that finance comes with its own specialized "language" and vocabulary. As much as possible, pick verbs that are industry-specific to convey your expertise.
Administered
Allocated
Analyzed
Appraised
Arbitrated
Audited
Balanced
Budgeted
Calculated
Computed
Developed
Managed
Modelled
Planned
Projected
Researched
Restructured
For a full list of effective resume action verbs, visit Resume Action Verbs.
Resume Bullet Points From Accountant Resumes
You should use bullet points to describe your achievements in your Accountant resume. Here are sample bullet points to help you get started:
Collaborated with 10 department managers and peers to develop and implement policies and procedures that increased internal efficiency by 20%.
Provided excellent customer service, effectively reducing customer complaints from 65% to 23% within the first 8 months.
Introduced a new invoicing system that reduced month-end turnaround time by 15%.
Filed payroll tax and sales tax for over 50 international customers each month.
Led annual budget preparation, performed departmental and account variances, and managed the standard costing globally for 4 sites.
For more sample bullet points and details on how to write effective bullet points, see our articles on resume bullet points, how to quantify your resume and resume accomplishments.