Do you like working with people? Enjoy building relationships? Love to travel?

You may have what it takes to be an account manager.

Account managers are excellent communicators and masterful relationship builders. They are responsible for handling key accounts (customers) and they act as the main point of contact between a company and its accounts. Account managers are adept at project management and can skillfully balance the needs of a variety of accounts -- maintaining customer trust, negotiating contracts, and fielding all customer queries in a timely manner.

In 2021, marketplaces are becoming increasingly crowded and competitive -- both on and offline. Especially with the rise of the internet, it's easy for consumers to pull a phone out of their pocket and search up hundreds of different services and to switch to a competitor at a moment's notice.

That's why a team of good account managers can make or break a company. Fostering strong, loyal relationships that stand the test of time is a careful art that requires excellent communication and strategic problem solving. You must think on your feet, quickly understand the varied needs of different clients, and get creative when faced with new and interesting challenges.

Sounds exciting? Continue reading below to see examples of well-written account management resume templates to help you land your next role.
Account Manager Resume Templates
Account Manager Resume Sample
Account managers with a few years of experience should highlight the skills they've developed that pertain to the role. To succeed as an account manager, you must be able to foster long-term relationships and build trust with your accounts while also keeping detailed records of their needs. When writing your account manager resume, make sure to follow this template to highlight your accomplishments.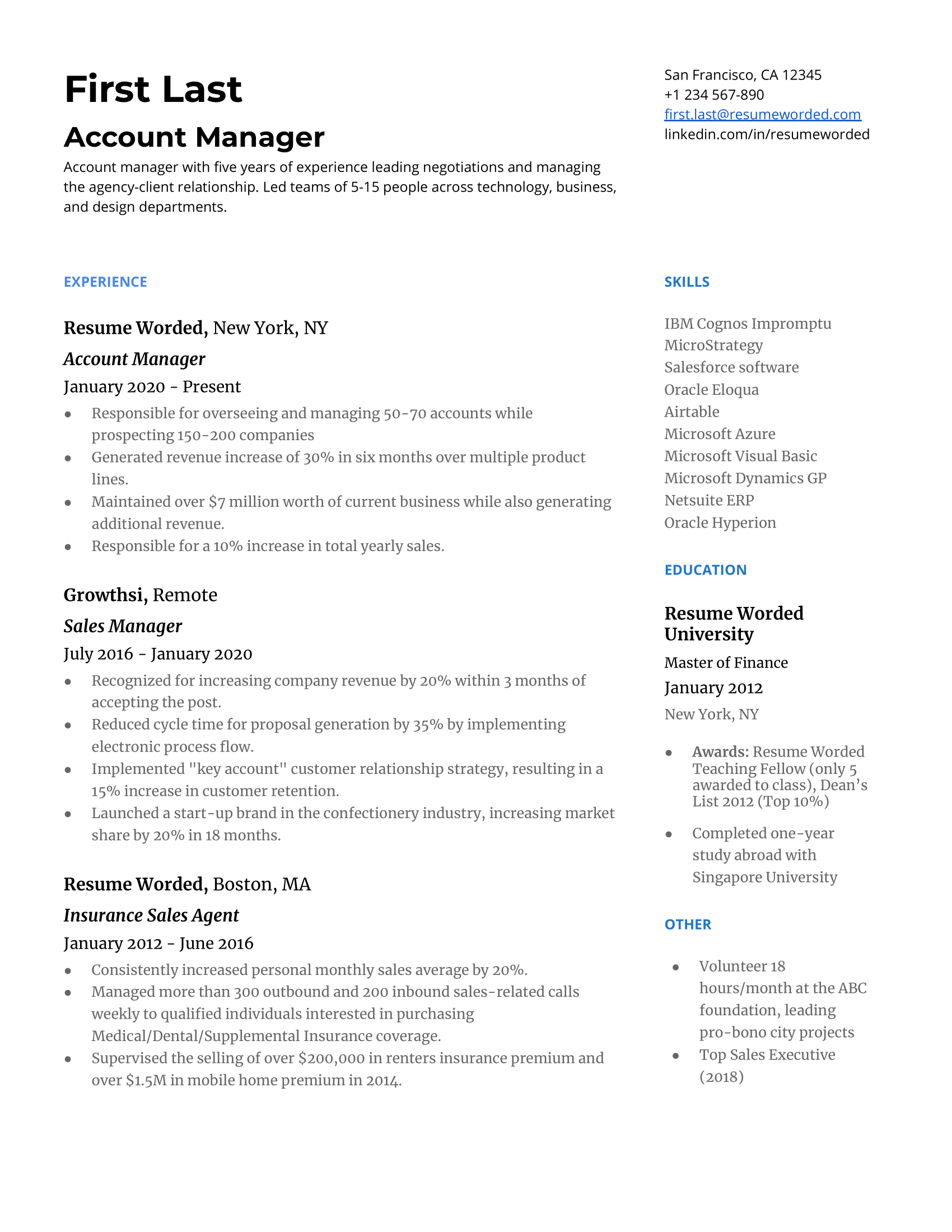 Recruiter Insight: Why this resume works in 2021
Sales Account Manager Resume Sample
A sales account manager manages a portfolio of accounts, maintaining existing relationships and working to generate new sales for their company. While an account manager might work primarily in pre- and post-sales processes, a sales account manager is typically involved throughout the entire sales lifecycle. Thus, when writing your sales account manager resume, make sure to tailor your experience to highlight relevant sales experience and technical skills.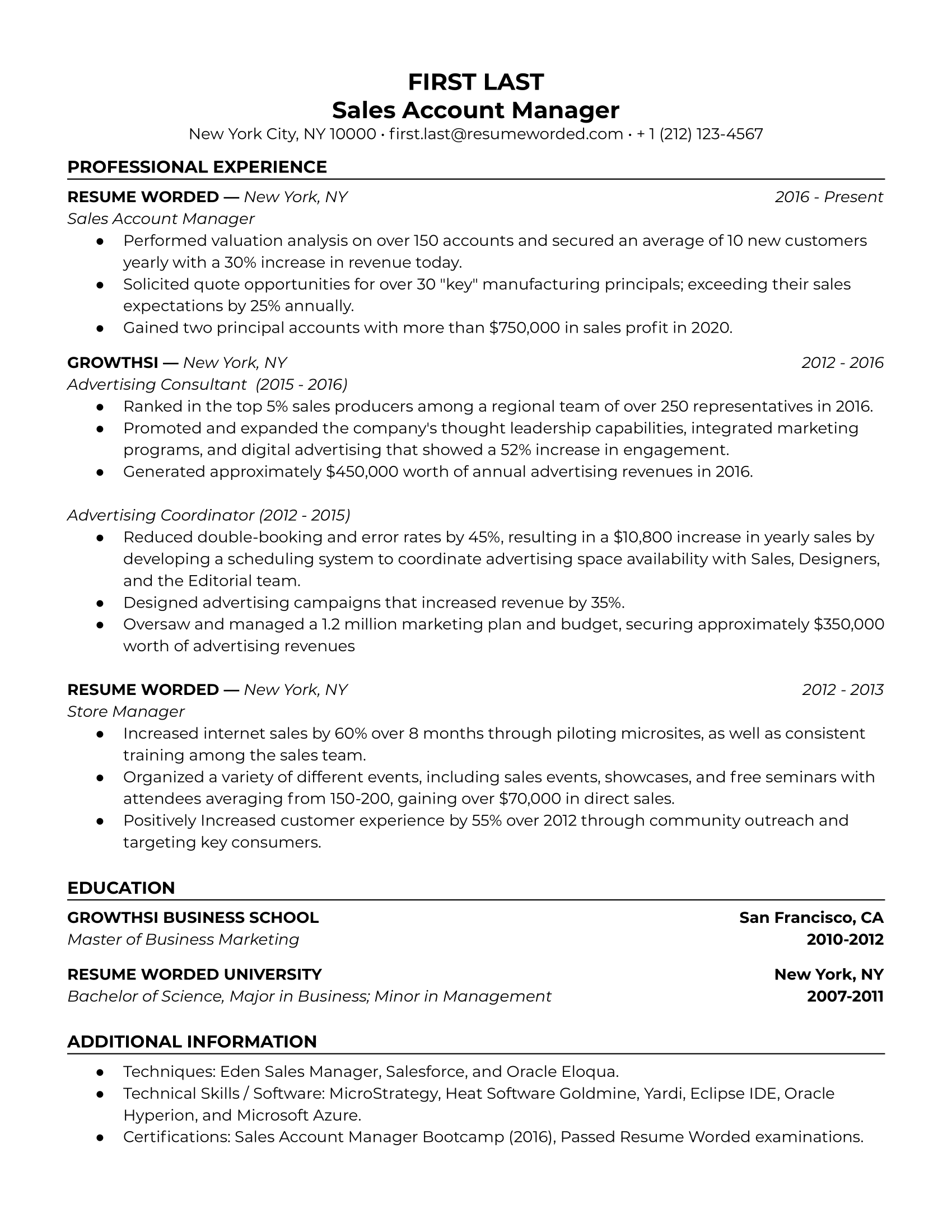 Recruiter Insight: Why this resume works in 2021
Entry Level Account Manager Resume Sample
If you're a recent college graduate or in the middle of changing careers, you may feel like you don't have enough work experience to get a job in account management. Don't worry -- plenty of students have landed strong account manager roles without extensive work experience. You can use this template to sell yourself and demonstrate your skills using a strong education section and your transferrable experience in other realms.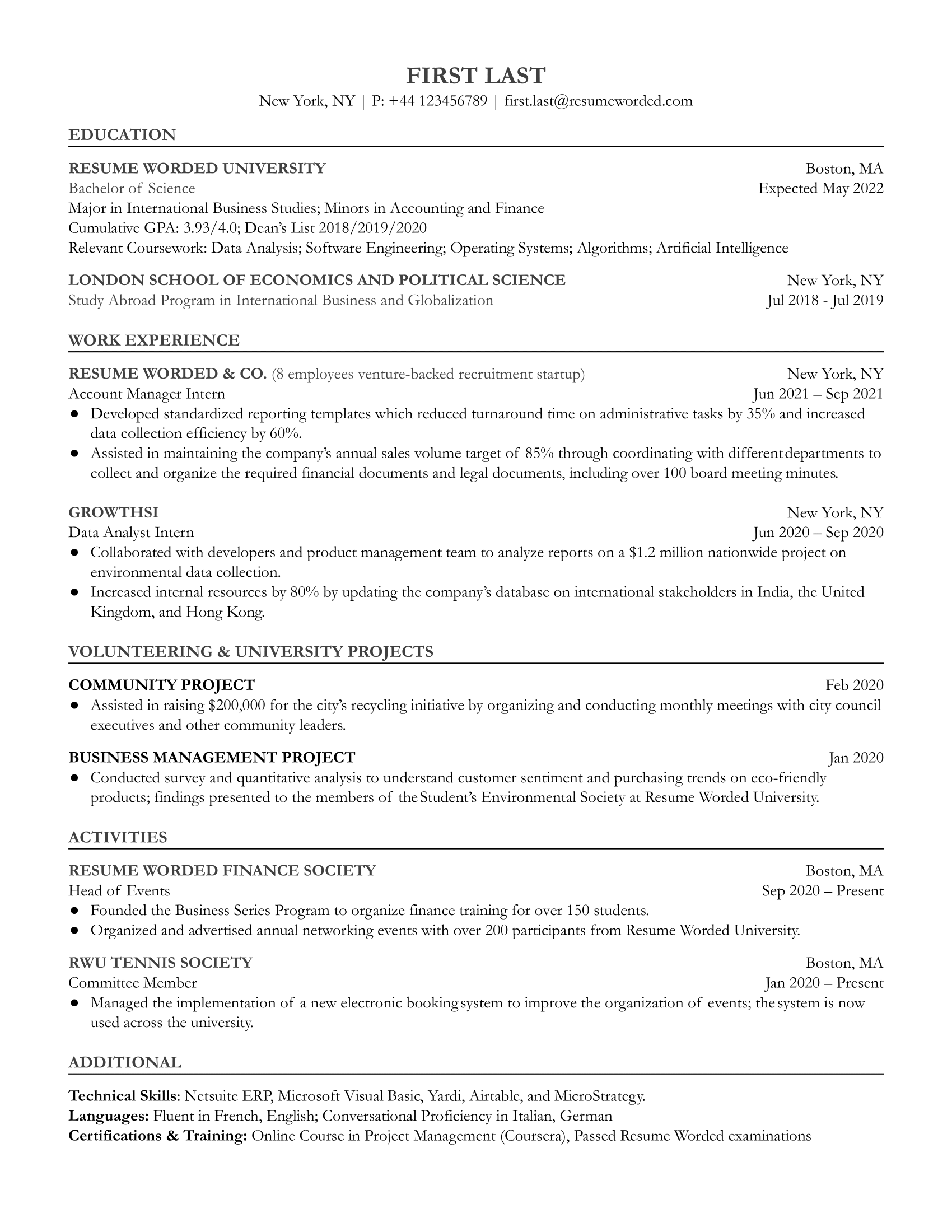 Recruiter Insight: Why this resume works in 2021
Key Account Manager Resume Sample
A key account manager is in charge of the company's most important accounts, ensuring that these relationships are strong -- that they are efficiently catering to their accounts' needs and that all issues are addressed quickly and effectively. While key account managers may be responsible for a smaller number of accounts than a general account manager, the value of these key accounts can add up to a large portion of the company's revenue. Thus, it's crucial to demonstrate in your resume that you have the skills and experience to succeed in such an important role.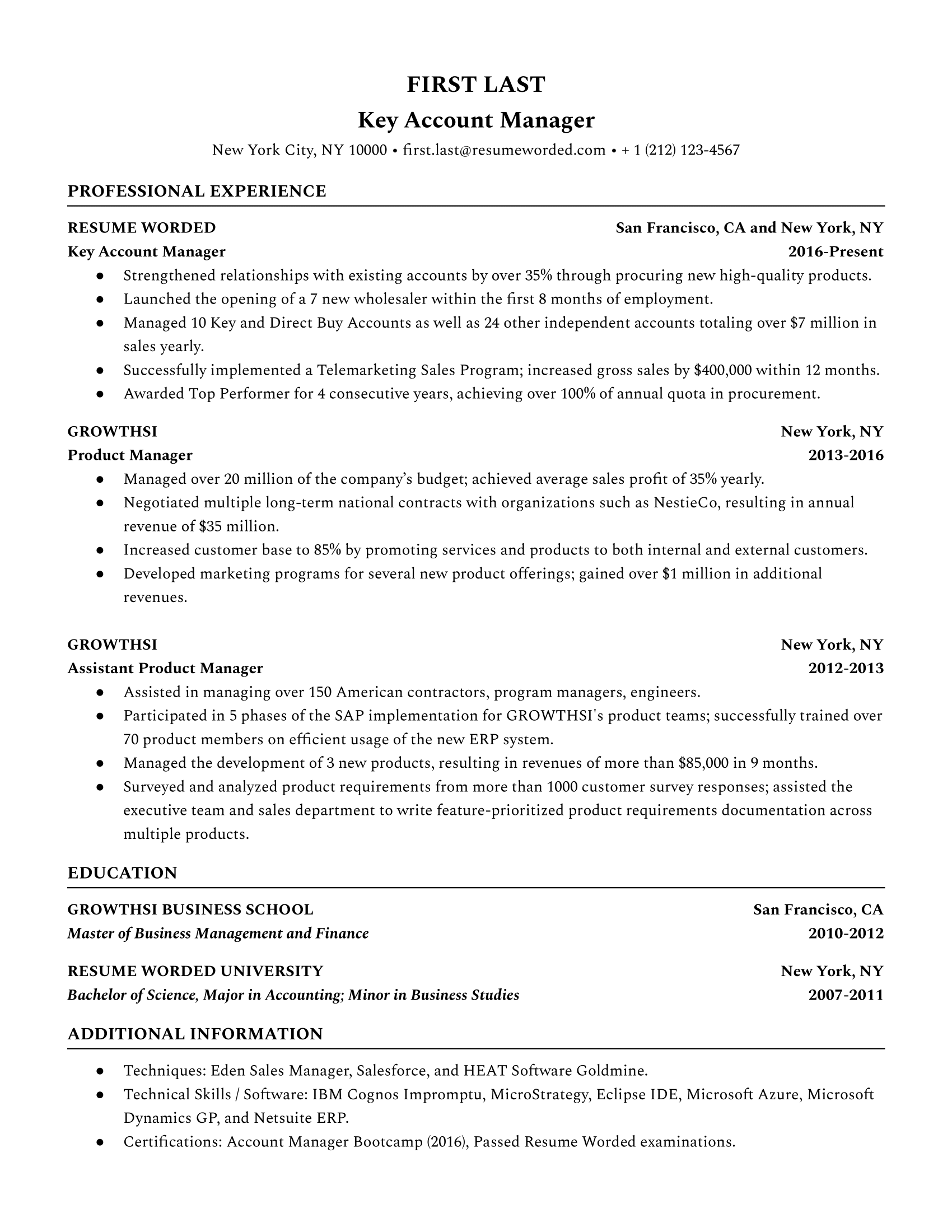 Recruiter Insight: Why this resume works in 2021
Senior Account Manager Resume Sample
A senior account manager is the backbone of a successful sales team. Beyond the expertise of a general account manager, you must be skilled at handling multiple accounts and at meeting important sales quotas, all while managing personnel and leading a team. When writing your resume, make sure to include experience that speaks to your abilities in such areas.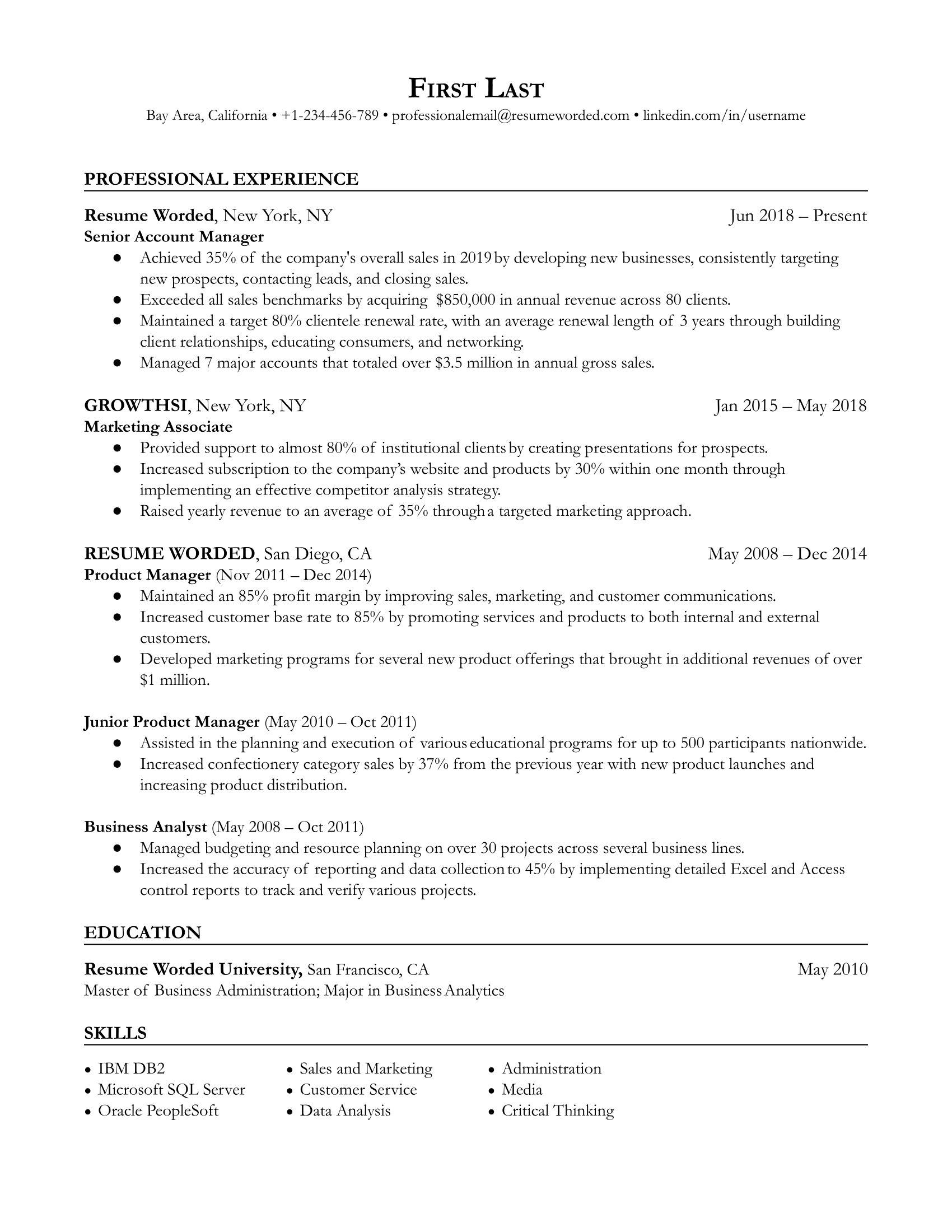 Recruiter Insight: Why this resume works in 2021
Inside Sales Account Manager Resume Sample
Inside sales account managers are similar to sales account managers, and are responsible for maintaining their portfolio of accounts and generating new sales. The main difference is that an inside sales account manager carries out their duties virtually. In the wake of the pandemic, this is a role that has exploded in demand as companies need to hit important sales targets without endangering their workforce.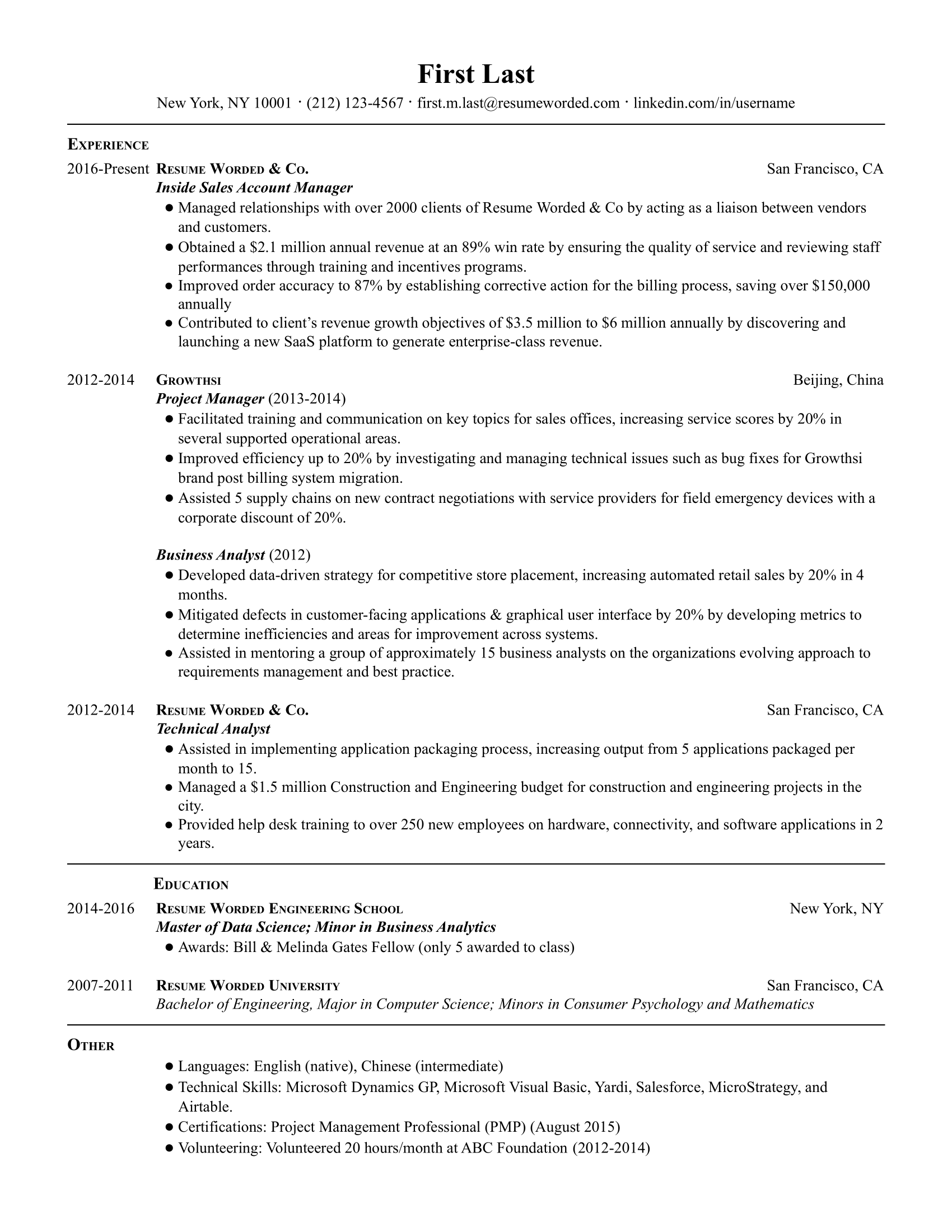 Recruiter Insight: Why this resume works in 2021
Technical Account Manager Resume Sample
A technical account manager (TAM) utilizes similar skills to that of an account manager, and must likewise be adept at relationship building. However, they must also have deep technical expertise and be able to break down complicated product details into simple terms -- both before and after the sale of the product/service they are supporting. When applying for a technical account manager role, follow this template to highlight your technical accomplishments and quantify your previous experience.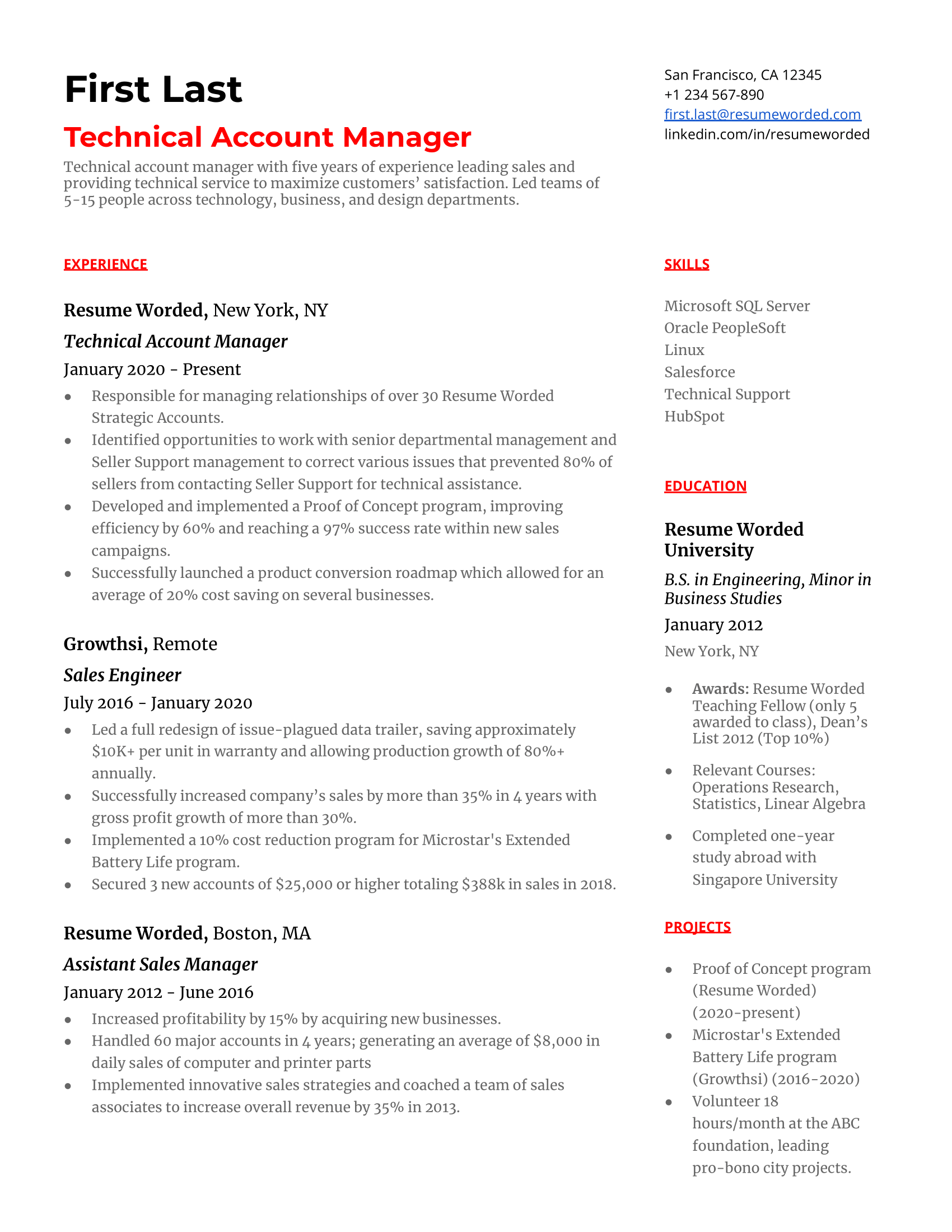 Recruiter Insight: Why this resume works in 2021
Skills For Account Manager Resumes
As you can see from the seven different templates above, there are big differences even within the type of account manager roles that are out there. Make sure to carefully read through the account manager job posting that you are applying to.

When crafting your skills section, take the time to understand what exactly the company is looking for so you can adjust your resume accordingly. Taking notes as you read through different account manager roles can help you get a better idea of what skills/frameworks you should include.

Another useful tip that can save you time during your account manager job search is to create a pool of account management skills sorted by type. Then, as you apply to different roles, pick and choose which skills are most relevant depending on the job description, and swap them in and out to easily create a unique resume each time.
Account Management
Sales Management
Sales Operations
Sales
Sales Process
Direct Sales
Business Development
Negotiation
Business-to-Business (B2B)
Cold Calling
Salesforce.com
Customer Relationship Management (CRM)
Sales Presentations
Marketing Strategy
Solution Selling
Contract Negotiation
Marketing
Outside Sales
Product Development
Customer Satisfaction
Action Verbs For Account Manager Resumes
Account managers are experts at fostering strong relationships, skillfully juggling the needs of multiple accounts, and efficiently communicating with many different types of people. You must have excellent business judgment and be oriented towards results. When writing your account manager resume, make sure to include action verbs that reflect your expertise in such areas -- for example, use words such as "strengthened" or "increased" to emphasize your accomplishments.

Again, it is helpful to review the account manager job description you are applying to and see what action verbs they are using. But make sure not to copy all of their verbs, and instead think critically to come up with creative verbs of your own that are similar in meaning.
Directed
Recommended
Developed
Prioritized
Accelerated
Initiated
Pioneered
Introduced
Guided
Supervised
Managed
Evaluated
Assessed
Communicated
Influenced
For a full list of effective resume action verbs, visit Resume Action Verbs.
Resume Bullet Points From Account Manager Resumes
You should use bullet points to describe your achievements in your Account Manager resume. Here are sample bullet points to help you get started:
Led 4-member team to improve relationships with key institutional clients, growing revenues 30%
Developed go-to-market strategy for ~$100 million B2B market segment; led cross-functional team of 15+ internal stakeholders to prepare new product offering
Accelerated goal to increase digital sales by improving e-commerce experience on existing website and adding new storefronts on Amazon and eBay; analyzed consumer data to ensure accurate targeting by segment; resulting in 300% increase in online orders in the following year.
Managed business relationships with 10 clients, including Volkswagen, Deutsche Bank and McDonalds and presented marketing strategies to senior management to drive ROI and re-engineer sales operations, generating $2MM+ in annual revenue
Developed materials for sales team to articulate value of an unique new platform; performed competitor analysis and customer calls to inform product positioning and pricing
For more sample bullet points and details on how to write effective bullet points, see our articles on resume bullet points, how to quantify your resume and resume accomplishments.