We've all heard how important it is to have a concise, filler-free resume. The most successful resumes are short and easy to skim — especially since most recruiters spend as little as 7 seconds on an initial resume screen.
Knowing that, you want to make sure hiring managers spend that time on things that make the most impact — your work history and accomplishments. How can you trim the fat — aka resume fillers — from your resume without getting rid of anything important?
Here's how to make your resume all killer, no filler.
How to remove fillers from your resume
Focus on the information that recruiters care about — work experience, education, relevant activities, skills, and contact details.
Remove 'filler' words. This includes adverbs, meaningless buzzwords, and corporate jargon.
Leave off older accomplishments or ones that aren't relevant to the job you're applying for.
Expand on the value-adding parts of your resume instead of adding unnecessary sections.
Run your resume through a free resume checker to get personalized suggestions for improvement.
If you're not sure which sections, experience and skills to include or leave off your resume, upload it to the tool below — it'll scan it and give you suggestions on fillers to remove from your resume.
Filler sections to leave off your resume
For a start, here are some things that don't belong on your resume:
A photograph
In the US, including a photo on your resume is not standard and is likely to come off as unusual.
Your full address
A simple location, like your city or state, is enough.
Personal details
Mentioning your age, race, religion, sexuality, marital status, or number of children in your resume isn't just a bad idea — it can also open you up to discrimination and create liability for the company.
A resume objective
A resume summary with specific accomplishments can add value to your resume, but an objective — which is more about your own career goals than what you can do for an employer — doesn't.
Hobbies
In most cases, a hobbies section isn't necessary and is unlikely to add anything of substance to your resume.
References
This includes the line "references available on request." Hiring managers already know this, so leave it off your resume.
Outdated skills
Skills that are obsolete (like Adobe Flash) or assumed to be basic knowledge (like Microsoft Word) will do more harm to your resume than good.
Irrelevant achievements
Not all accomplishments are created equal — and not all of them need to go on your resume. Make sure you're tailoring your resume for a specific job by choosing accomplishments that match the job description. Targeted Resume can help with this.
How to remove filler words from your accomplishments
What are filler words? Here are some examples:
Adverbs, e.g. quickly, successfully, efficiently
Filler phrases, e.g. "in order to …" or "as needed"
Meaningless buzzwords, e.g. dynamic, innovative, visionary
Corporate jargon, e.g. actioned, utilized, synergy
Soft skills, e.g. team player, fast learner, attention to detail
Subjective details, e.g. "a large number" or "a wide variety" — use hard numbers instead
These words all take up space without adding anything substantial to your accomplishments. Scroll down for some real examples of concise, no-filler accomplishments.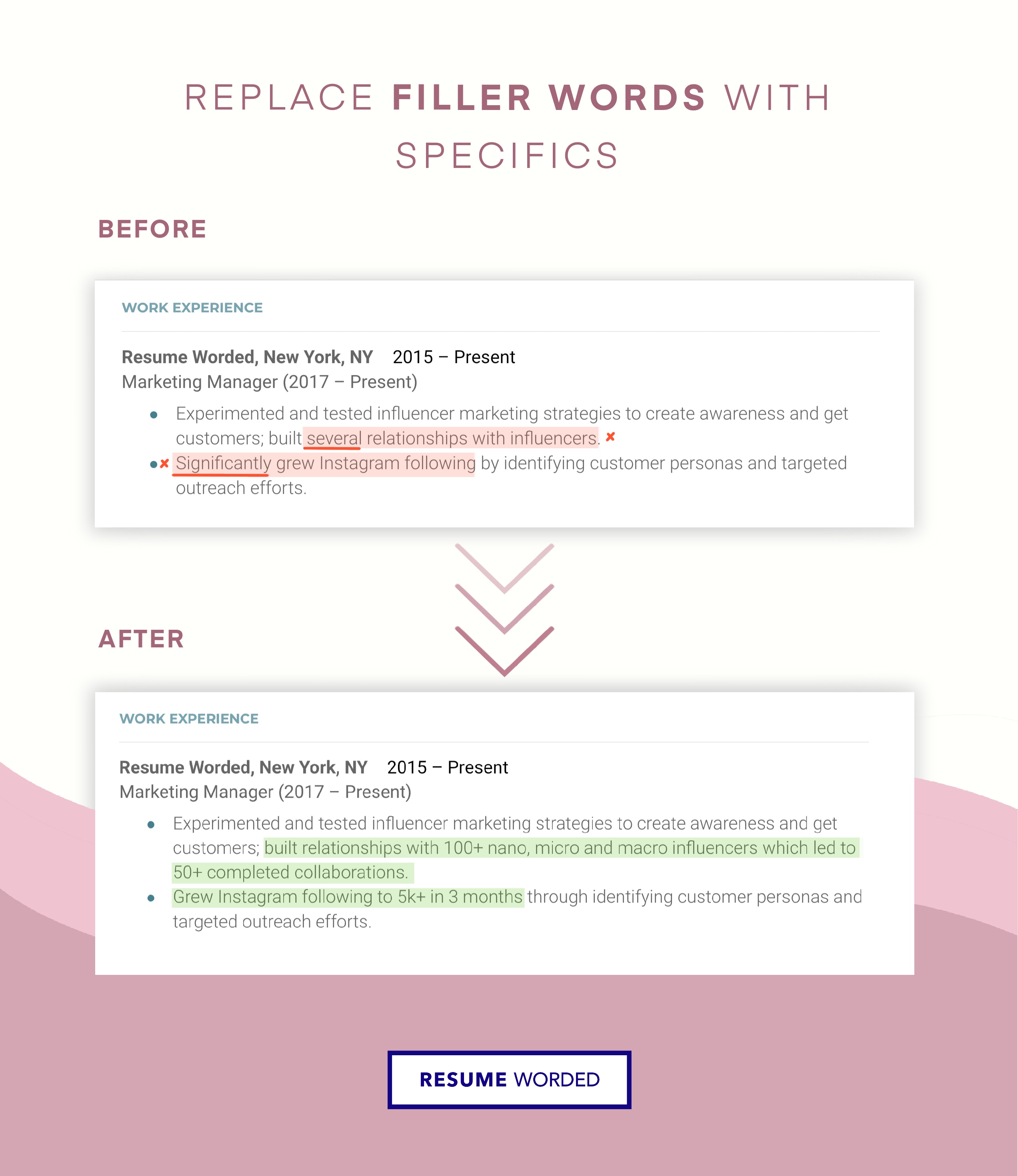 Bullet point examples
Before:
Carried out evaluations of various strategies in order to save clients $200k in fixed costs.
After:
Evaluated 15+ strategies to save clients $200k in fixed costs.
Before:
Founded ReferRoom to organize a variety of social events for several young professionals, and grew it to $20k/year revenue as well as $8k/year in profit.
After:
Founded ReferRoom to organize social events for 500 young professionals; grew company to $20k/year revenue and $8k/year profit.
Before:
Created innovative campaign and oversaw all areas of launch, resulting in an overall outcome of 25% increased sales.
After:
Created and launched campaign; increased sales by 25%.
Before:
Demonstrated communication skills and attention to detail when interviewing a wide variety of survey participants in order to accurately evaluate their responses.
After:
Recruited and interviewed over 125 survey participants to evaluate their responses and medical file for over 6 research projects.
Before:
Creatively brainstormed with client teams and secured buy-in on a large number of projects in order to develop functional and technical requirements as needed.
After:
Led application design sessions with client teams on 20+ projects to develop functional and technical requirements
More tips for removing filler from your resume
If your resume is too long
If you're an entry-level or mid-level hire, you should limit your resume to one page. If your current resume spills over onto part of a second page, you can cut it down to one page by removing filler words or sections as above, or simply leave it as is.
Don't be tempted to add extra information to make it a more even two pages — this will only dilute the more important parts of your resume and make it more difficult for hiring managers to get the information they need.
If your resume is too short
Your resume doesn't need to be long, but it should still take up close to a whole page. Here are some quick tips to beef up your resume without adding filler:
Expand on your accomplishments. If you've only held one or two jobs, that gives you space to include more details. Be specific about exactly what you did in that role and add metrics to illustrate what you achieved.
Add part-time positions. If you're applying for your first full-time job, that doesn't mean your work experience section should be blank. Part-time roles, internships, and extracurricular activities can all provide you with valuable accomplishments to add to your resume.
Include volunteer work. If you have significant volunteer experience, you can create a separate volunteering section, otherwise it's fine to list volunteer work alongside your paid work experience.
Detail your education. If your resume is short because you only just graduated, your education is likely to be your most relevant experience. In that case, include your education section at the top of your resume and add additional details like awards, activities, relevant coursework, GPA, and study abroad.
Categorize your skills. To make your skills section look more impressive, include subheadings for different types of skills — for example, foreign languages, technical skills, certifications, and techniques.