If you've only ever held one job, writing a resume might feel like a daunting task. After all, how do you show career progression when your career hasn't really progressed? It's a little tricky, but it can definitely be done — here's how!
In this article, we'll cover:
How to structure your resume if you've been at only one company, but have held different roles or responsibilities.
How to show a progression of roles and responsibilities, if you haven't been promoted.
What to do if you're changing careers, and just have one relevant job in your target industry.
How to write your resume if you're new to the workforce and have just one job.
Let's start by looking at an example
First, let's take a look at what your resume could look like with only one job on it.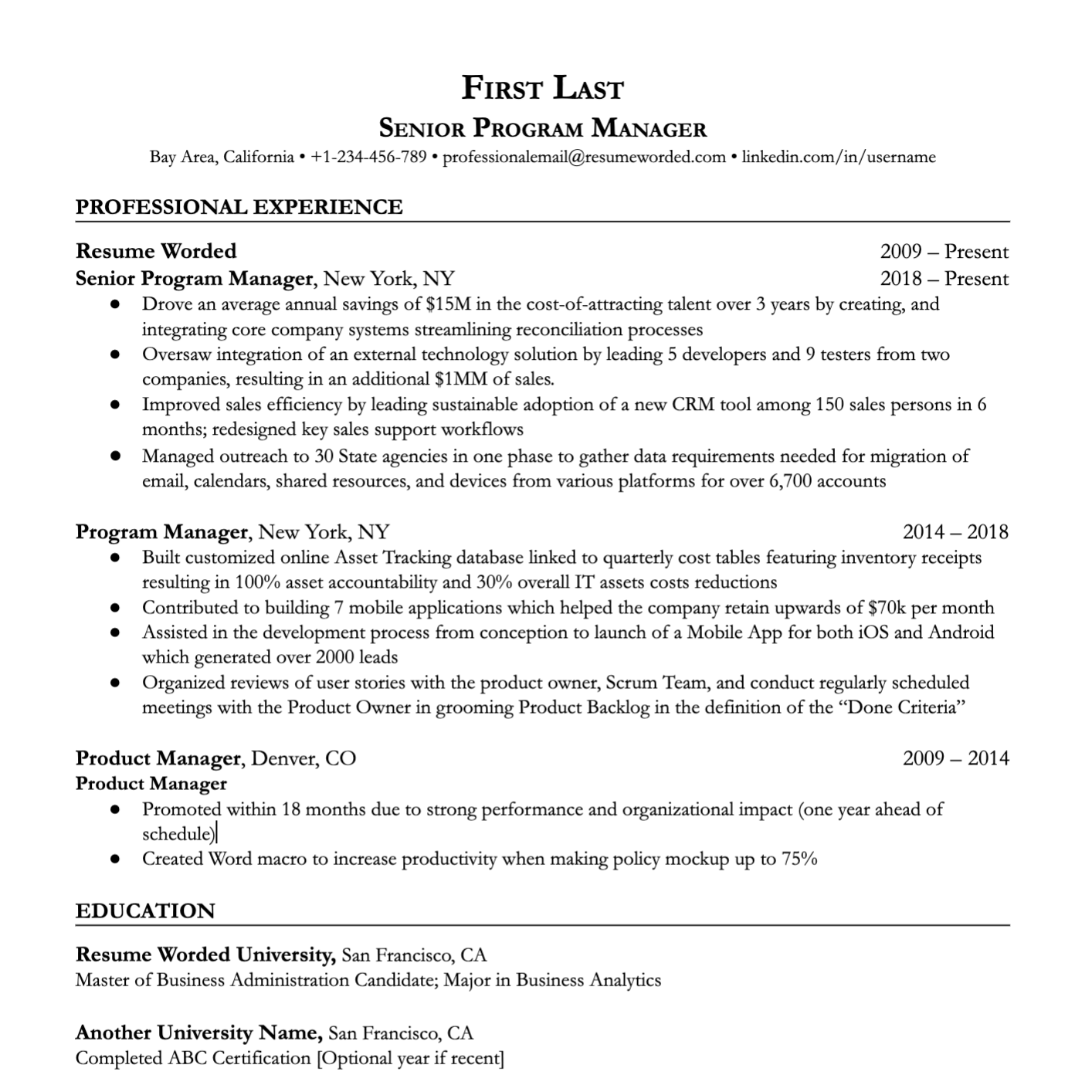 Doesn't look so bad, does it? In fact, at first glance, it's hard to even tell that you've only held one job — and that's the point. Not to hide the truth, of course, but to show real progression regardless of how many companies you've worked for.
How to make a resume with only one job
If you've been at the same company for years
Working at the same company for years can feel like a good thing — after all, it demonstrates loyalty, right? The truth is, it's a mixed bag. On one hand, yes. Staying with one company shows that you aren't a job hopper and are willing to stick around long-term, which are positive qualities.
On the other hand, it does raise questions which can become red flags if not addressed. What kinds of questions? Mostly, employers will be curious about why you stuck around so long. It could be for a good reason — maybe the pay was great or you really loved the work.
But it could also be for a bad one. Were you unable to land a better job? Not motivated enough to try? Simply don't have any interest in progressing beyond your current position? Any of these potential explanations could give a hiring manager pause, which is why there's one simple rule when it comes to writing a single-employer resume:
Show career progression.
Here are some quick ways to show career progression on a resume:
Highlight promotions
Show a progression of roles and responsibilities
Demonstrate a wide range of skill sets
Use numbers to show impact
Get more experience
Before we go ahead, we'd recommend getting a free resume review using the AI tool, Score My Resume. It'll tell you if you're effective enough at showing progression, leadership and passes checks hiring managers are looking for.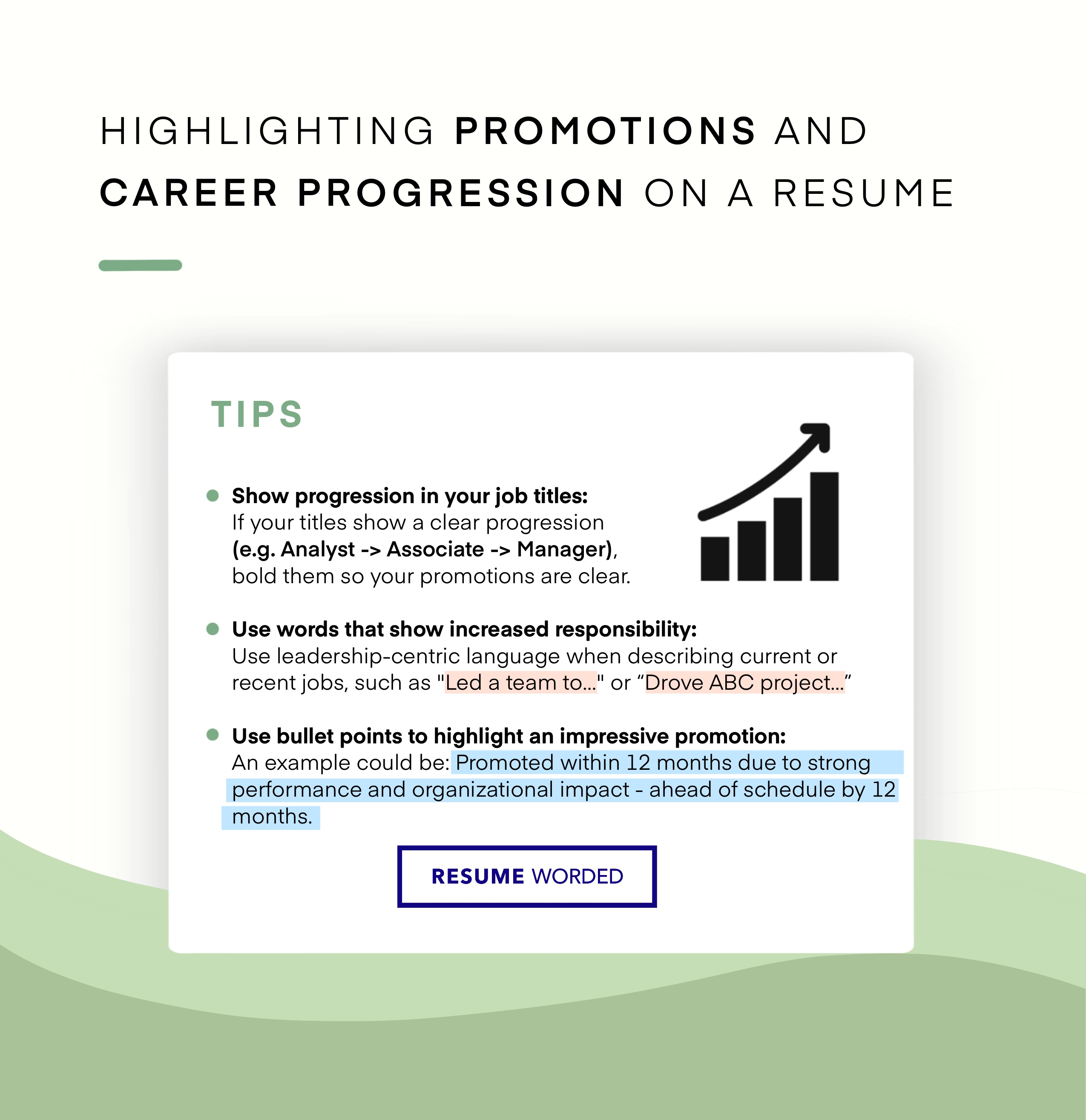 Emphasize promotions on your resume
The easiest way to show career progression is through promotions, so if you've been moving up within the same company, that won't raise eyebrows the same way as if you'd been in the same position for 10+ years. You can highlight a promotion on your resume either by listing the job titles separately with their own bullet points, or by grouping the titles together if your duties were similar.
Let's look at two examples of showing a promotion. This first one is by making the experience seem like two different experiences (under the same company name).
This second example is also effective and calls attention to your promotions:
Use bullet points to call out that you were promoted
Here are some bullet point examples you can use to highlight a promotion:
Promoted to Associate Consultant in 2 years (1 year in advance); the only member in a cohort of 45 Analysts to be fast-tracked
Promoted within 12 months due to strong performance and organizational impact - ahead of schedule by 12 months
Ranked top of the class and offered an early promotion to Senior Analyst after two years
Use resume action verbs which stress your promotions — words like Promoted, Ranked or Grew are great — if you want to read more, here's an in-depth guide on how to show a promotion on a resume.
Show a progression of roles and responsibilities, if you haven't been promoted
If you've worked at the same company for years without being promoted, you can still demonstrate career growth. The trick is to show a progression of responsibilities.
If you've held multiple jobs at one employer without a formal promotion, try listing more impressive and in-depth accomplishments for later roles and fewer or simpler accomplishments for earlier ones.
If you've only ever held the one position, include accomplishments that speak to career growth, like explicitly mentioning times you've taken on additional responsibilities or been entrusted with higher-level tasks.

Here are some bullet point examples you can use:
Oversaw the development of more robust reporting for the customer support team, which improved customer NPS by 15% year over year
Created a coaching strategy for sales development representatives leading to a new business performance that was 20% above plan for 2017
Grew to lead and onboard a team of 4 operations analysts
To ensure your resume's bullet points are effective, make sure you take advantage of free tools like Score My Resume — they'll scan your resume's bullet points and tell you if they're effective from the point of view of hiring managers.
Show off your skills and show progression of skills
Another way to prove that you haven't stagnated in your tenure at one company is by emphasizing skill progression and showing a wide range of skill sets.
Using subheadings is a great way to do this — separate subheadings allow you to list a large number of skills without making your skills section difficult to read. It can also give the illusion of having a more varied skill set, even if all your skills came from the same job.
Demonstrate adaptability
One of the most common concerns recruiters have about people who've held multiple jobs at one company is that they'll be unwilling — or unable — to change in a new role. You can counteract this by demonstrating adaptability within your current role.
That means it can actually be an asset to show times when you've stepped outside of your role, like working closely with another department, taking on additional duties, or undergoing training to freshen up your skills.
Even focusing on a more varied range of accomplishments within the one job can work — anything to show that you're not just a one-trick pony.
Here's a resume example which shows how someone has worked in different projects, with different departments, using different tools and strategies.
Use numbers to show impact
Including numbers and metrics is the best way to make your accomplishments stand out, even if you've only held one job. This is called quantifying your resume's bullet points.
Stating what you did is all well and good, but what potential employers want to know is what you're likely to do for them — and using numbers to show the concrete impact you've made in your current role is the most effective way to do that.
Even a close approximation will do — if you can't find out exactly how much revenue you've generated for your company, or how much you've improved efficiency, listing a good estimate is far more valuable than not using numbers at all.
Here are a few sample resume bullet points which show you how to use numbers in your resume, to increase overall impact.
Get more experience
If you need more experience, why not go out and get it?
There are more options for relevant experience than your work history alone — volunteering, freelance or contract work, personal projects, and extracurricular activities can all be resume-worthy. As long as you can point to an accomplishment or two that align with the position you're applying for, feel free to use non-work activities to round out your professional experience.
If you're changing careers, and just have one relevant job in your target industry
It's always better to limit your resume to relevant experience — but if you're trying to move into a completely different role or industry, you may only have one relevant job and a whole lot of less-relevant ones. So, what then?
Create two different sections
The best strategy in this case is to separate your job history into two sections. Title one "Work Experience" or "Relevant Work Experience" and include jobs that are in the same field — even if that's only one job.
Underneath that, create a new section titled "Other Experience" where you can include less-relevant jobs. For these, list fewer accomplishments, and only ones that demonstrate transferable skills. This allows you to show that you've held more than one job without cluttering up your resume with positions that aren't relevant to the kind of jobs you're applying for now.
If you're currently in the process of changing careers (or you're thinking about it), check out our guide on how to update your resume for a career change.
If you're new to the workforce and have just one job
It's completely fine to have only one job on your resume if you're still at the beginning of your career. In fact, if you've only been working for a year or two, it's better to have held a single job in that period than multiple shorter jobs. That said, even with only one job under your belt, you can still show growth by:
Choosing resume accomplishments that match the position you're applying for
Including metrics to show to impact of your achievements
Tailoring your resume's skills and keywords to match the job description
Including internships, volunteer work, projects, and even relevant coursework until you have more professional experience to replace it with