Administrative assistants are the backbone of the office. They act as liaisons and points of contacts between internal teams and with external teams as needed. Responsibilities include scheduling meetings, managing calendars, ordering office supplies, answering phone calls, taking notes, and supporting management and the team as needed. Administrative assistants help to keep the department organized and running smoothly overall.

There are various types of administrative assistants as well, ranging from departmental support to support for executives and other leadership. They vary in salary, responsibilities, and required experience. The role may range from requiring one year of experience or more.

Since administrative assistants are typically responsible for clerical tasks, decision-making, preparing reports and documents, you will want to showcase your communication, collaboration, and time management skills. Examples include improving efficiency in the department and ways that you maximized productivity by streamlining processes.

Now, let's dive into what successful administrative assistant resume templates look like in 2021. We'll examine five different examples of different administrative assistant roles to showcase the various positions and offer a strong place to start with your resume. After, we'll go over a list of strong action verbs to emphasize your work experience and a list of the most common skills that recruiters are looking for in administrative assistants.
Administrative Assistant Resume Templates
Administrative Assistant Resume Sample
As an experienced administrative assistant with years of professional work history, you'll want to primarily highlight your previous administrative work at companies. This administrative assistant resume template emphasizes strong experience supporting various groups and teams with specific and measurable numbers of accomplishments in the role. You should also supplement your experience with education and skills to create a complete picture to your potential employer.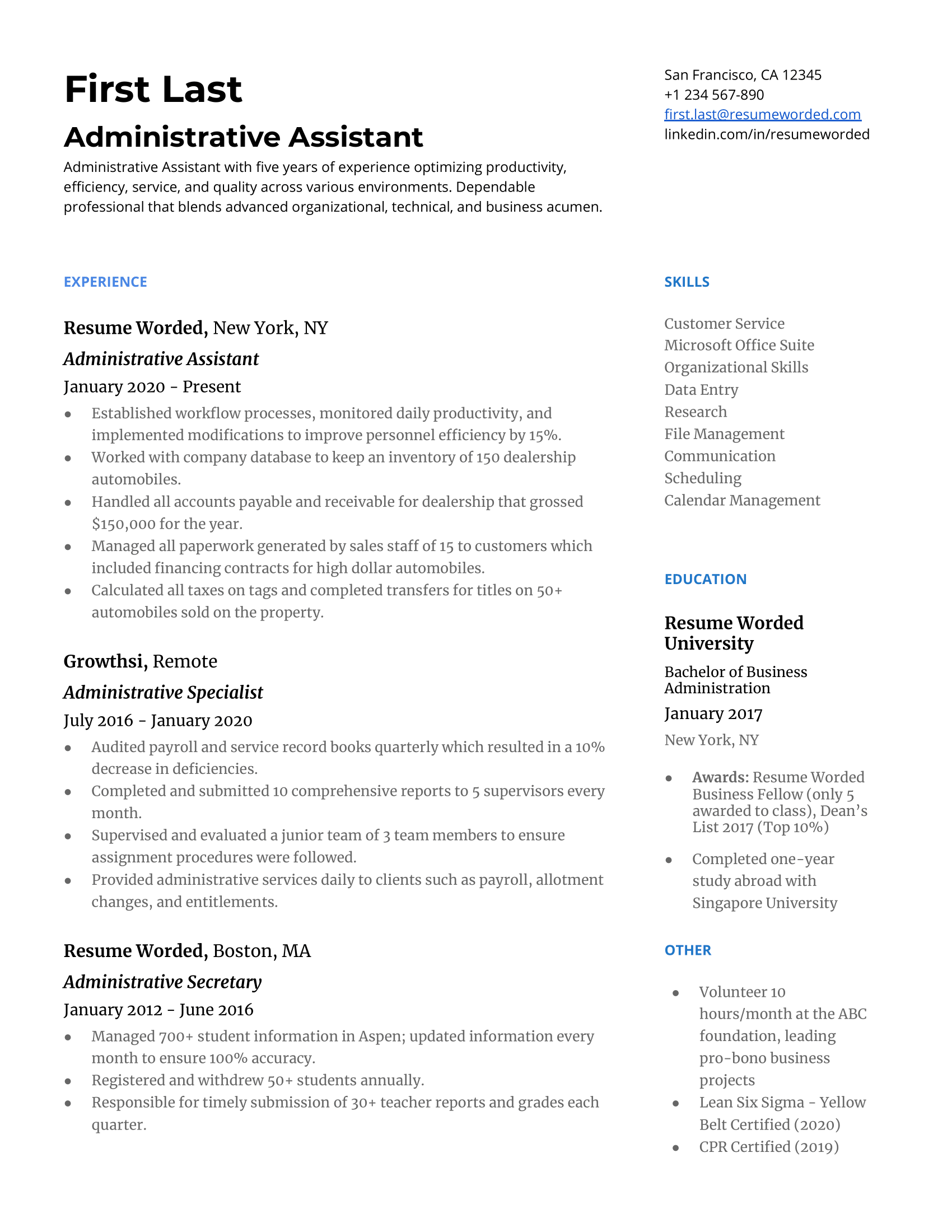 Recruiter Insight: Why this resume works in 2021
Senior Administrative Assistant Resume Sample
A senior administrative assistant is a position that highlights your extensive experience supporting higher management and overseeing other employees in the department. Since you'll have plenty of experience to share, you'll want to detail your accomplishments with specific numbers and highlight your transferable skills from previous roles. This template will show you how to combine both to create a lasting impression on the recruiter.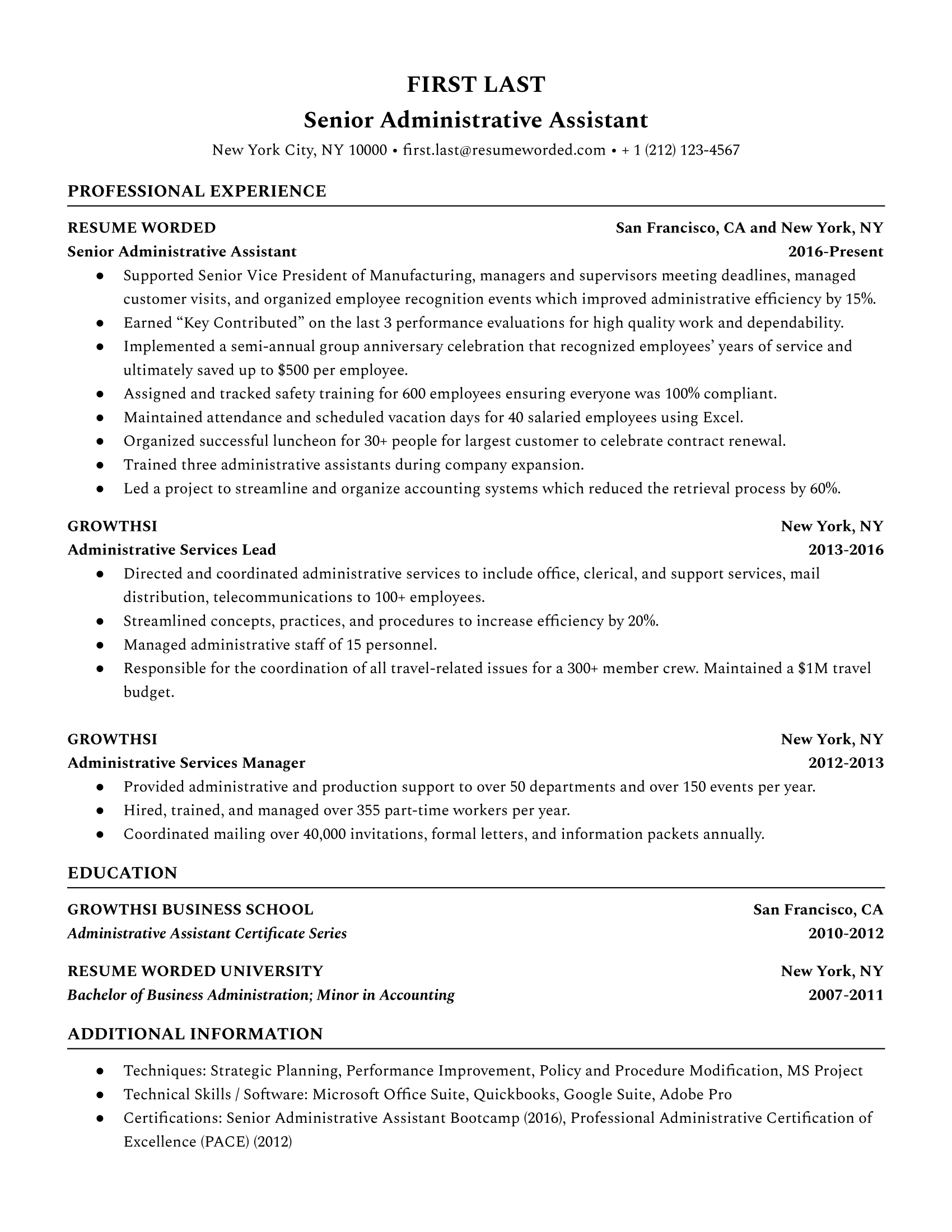 Recruiter Insight: Why this resume works in 2021
Executive Administrative Assistant Resume Sample
As an executive administrative assistant, you will be supporting one or multiple executives in the company. A high-level of discretion and anticipation of what your executives need is a must. To tailor a resume for this position, you'll want to focus on your experience supporting previous executives and how you resolved pain points for them.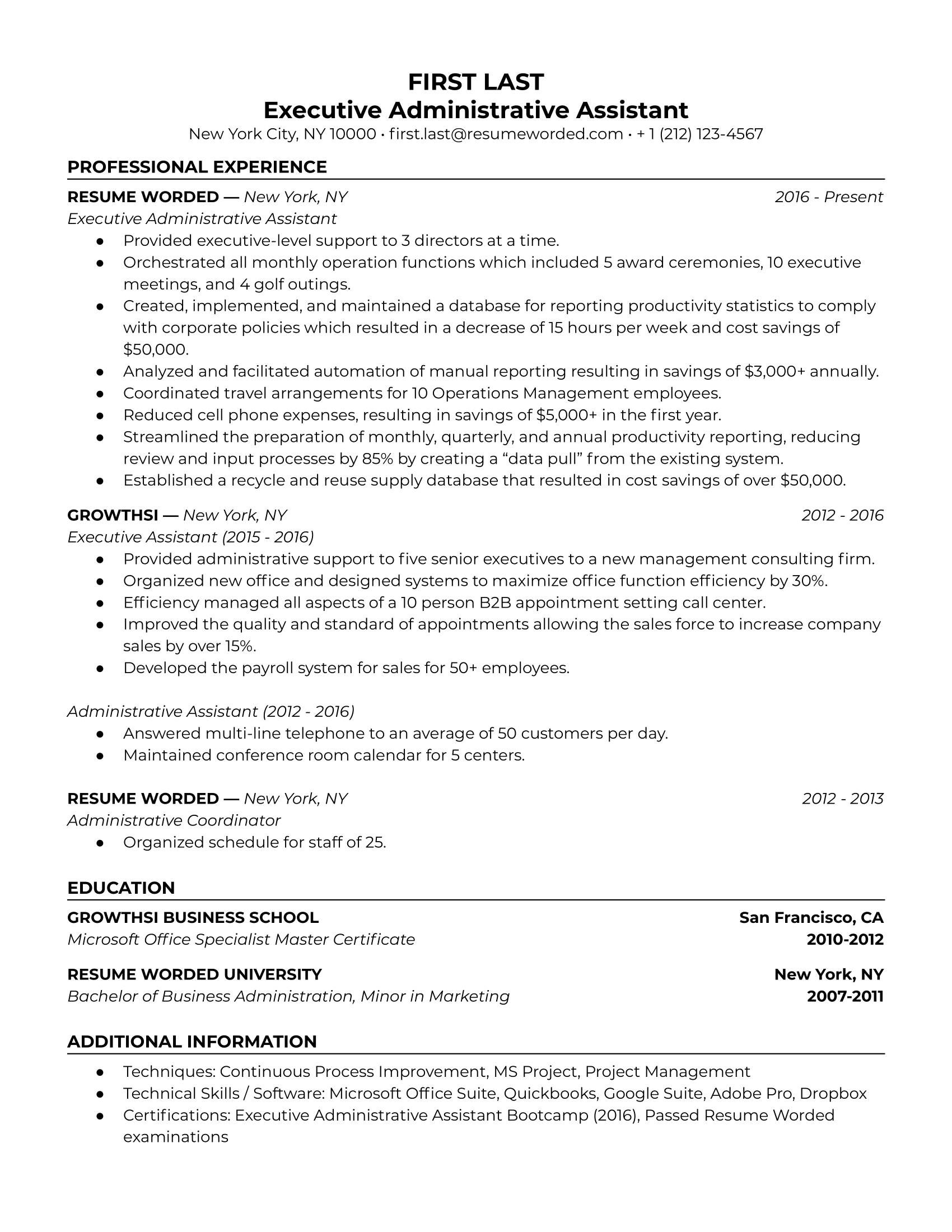 Recruiter Insight: Why this resume works in 2021
Entry Level Administrative Assistant Resume Sample
Just like senior and executive-level administrative assistants, there are also entry-levels administrative assistant positions out there. Don't worry if you don't have administrative assistant work experience or if you're looking to change careers — you should use your education and other related administrative experience to supplement it. You should also highlight relevant skills that are transferable to showcase previous experience with them in different environments.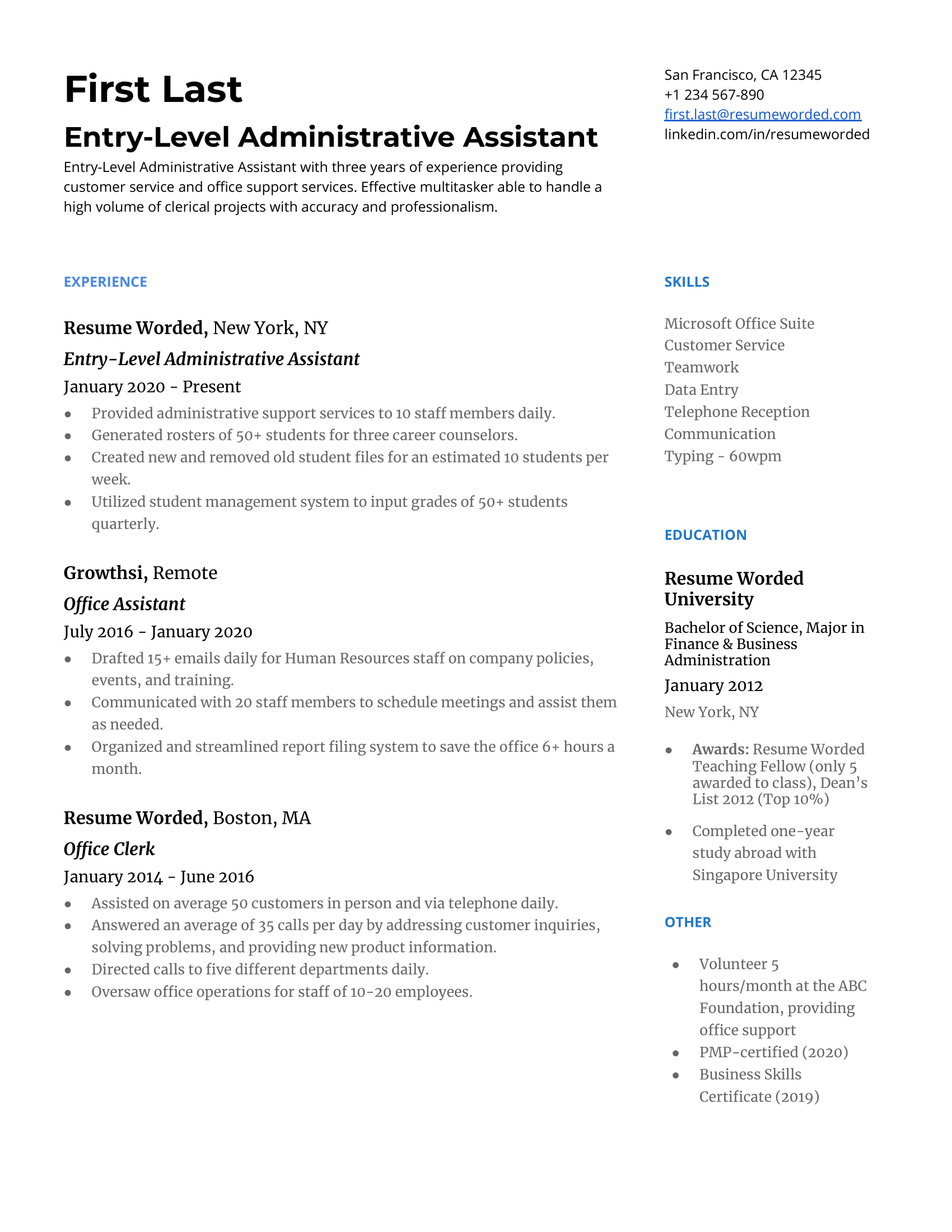 Recruiter Insight: Why this resume works in 2021
Sales Administrative Assistant Resume Sample
Sales are a key function to any business. Without the sales team, the company would probably have a hard time earning revenue for their products or services. As a sales administrative assistant, you'll want to spotlight your related sales and administrative experience to demonstrate that you can do both. You may not only just support the sales team, but also contribute to sales pitches, presentations, and generating leads as well.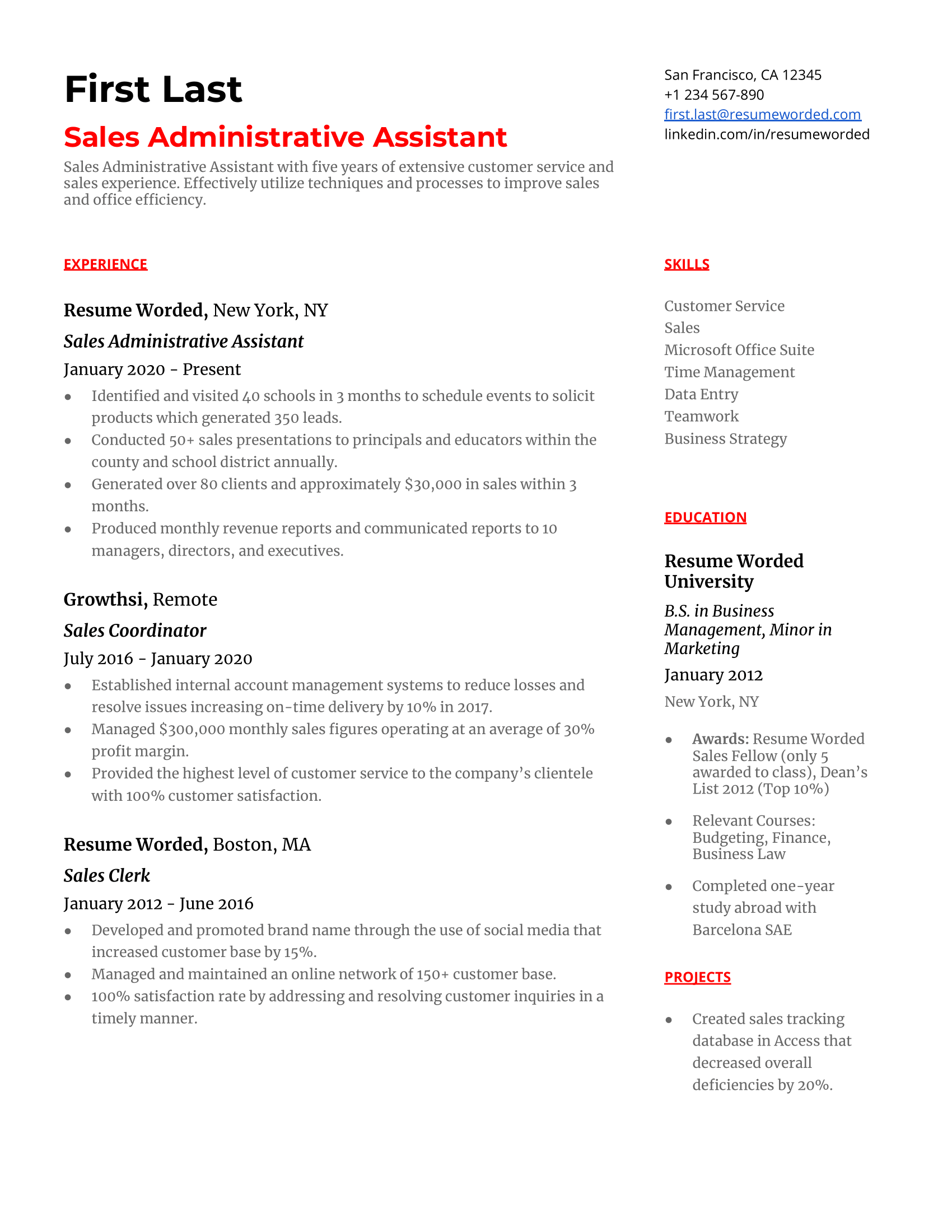 Recruiter Insight: Why this resume works in 2021
Skills For Administrative Assistant Resumes
When you're applying for an administrative assistant position, your relevant administrative skills that are transferable from other roles will play a big part. This may include skills such as customer service, data entry, technology, and more. Make sure that you take the time to carefully read the job posting for the required skills and preferred skills to identify what the recruiter will be exactly looking for in an ideal candidate. You'll want to tailor your resume for each position that you apply for with this in mind, especially since the company is likely using an applicant tracking system (ATS). There will be key words scattered throughout the job posting that you want to strategically use throughout your resume while keeping it natural.

To get you started, here's a list of relevant skills that recruiters and companies are looking for in administrative assistants.
Administrative Assistance
Office Administration
Data Entry
Time Management
Payroll
Accounts Payable
Human Resources (HR)
Event Planning
Administration
Customer Satisfaction
Teamwork
Customer Service
Spreadsheets
Inventory Management
Organization Skills
Microsoft Access
Team Building
Executive Administrative Assistance
Accounts Receivable (AR)
Teaching
Administrative Assistant Resume Tips
Administrative assistants are responsible for maintaining a smooth flow in the office. They coordinate scheduling, support the team and management, take meeting notes, create documentation, answer and direct phone calls, and more. They are fluent in the standard software required for an office environment, while having excellent verbal and written communication skills. A sense of urgency and the ability to prioritize is required for this role, alongside time management in order to complete necessary projects and fulfill daily duties.

Now that we've reviewed what administrative assistants do, let's go over some tips on how to make your resume stand out to recruiters in 2021:
Action Verbs For Administrative Assistant Resumes
Each bullet point in your work history section should begin with an action verb. These action verbs are strong ways to showcase your experience and achievements by showing, rather than telling. Examples of great action verbs for an administrative assistant are "negotiated," "supervised," "calculated," "established," and more to speak to your accomplishments in the role. These words imply the ability to effectively communicate with vendors, leadership and management of other team members, proficiency in numbers, and creating something new.

Descriptors such as "responsible for," "helped," "assisted with," and "handled" imply that you did the responsibilities of the job, but leave the recruiter wanting to know what you specifically achieved in your past roles.
Negotiated
Established
Supervised
Calculated
Surveyed
Systemized
Organized
Reviewed
Extracted
Tested
Interviewed
Assessed
Collected
Simplified
Improved
Revamped
For a full list of effective resume action verbs, visit Resume Action Verbs.
Resume Bullet Points From Administrative Assistant Resumes
You should use bullet points to describe your achievements in your Administrative Assistant resume. Here are sample bullet points to help you get started:
Created Monte Carlo simulation using Pandas (Python) to generate 30,000 sample portfolios with 8+ constraints
Managed user engagement analytics strategy, providing first insight into how users interact with our apps on their tablets and mobile devices
Analyzed brand's pricing, advertising and distribution data and identified seasonal trends and white space by integrating consumer insights; recommended strategic changes in portfolio and marketing plan to C-suite executives, reversing sales slump (+6.5%)
Recommended multi-brand strategy for a leading restaurant chain company to enter fast casual market by evaluating core competencies and performing market analysis
Developed pricing strategy for a digital subscription service by segmenting potential users by behavioral and psychographic attributes from survey data
For more sample bullet points and details on how to write effective bullet points, see our articles on resume bullet points, how to quantify your resume and resume accomplishments.