Customer Service Resumes
Applying for a customer service role? Your resume is an essential part of your application. Below, we've compiled five resume templates with the most important qualities that hiring managers are looking for in 2022. (Google Docs and PDFs attached).
Load more resumes
Customer Service resume guide
Virtual Assistant Resumes
With the world being a lot more interconnected, and the covid pandemic making remote work a normal reality, the virtual assistant industry has been booming. Virtual assistants provide a support system for individuals or companies to make sure things run smoothly and logistics are taken care of. This guide will explore different types of virtual assistance and we will show you strong resumes for each position, as well as give you tips to help you create a resume that recruiters will be interested in.
Load more resumes
Virtual Assistant resume guide
Administrative Assistant Resumes
Your resume is key to landing an interview in today's competitive job market. In order to make your resume appealing, you'll want to tailor your resume to the specific job by using relevant keywords, action verbs, and skills. Here are five templates that will get you started on your resume for an administrative assistant position in 2022.
Load more resumes
Administrative Assistant resume guide
Executive Assistant Resumes
Executive assistants provide crucial support to top executives and are skilled at executing administrative and operational duties. When writing your executive assistant resume, it's important to show that you have the relevant skills to succeed. Below we've compiled five resume templates with the most important qualities to have in 2022. (Google Docs and PDFs attached).
Load more resumes
Executive Assistant resume guide
Office Manager Resumes
Office managers keep businesses running through their prowess with organization, communication, and attention to detail, making them a vital part of operations everywhere. To help you craft an eye-catching resume that will stand out to hiring managers recruiting for an office manager position, this guide will review four types of office manager resume templates. At the bottom, we'll look at key skills and action verbs to incorporate in your resume.
Dental Office Manager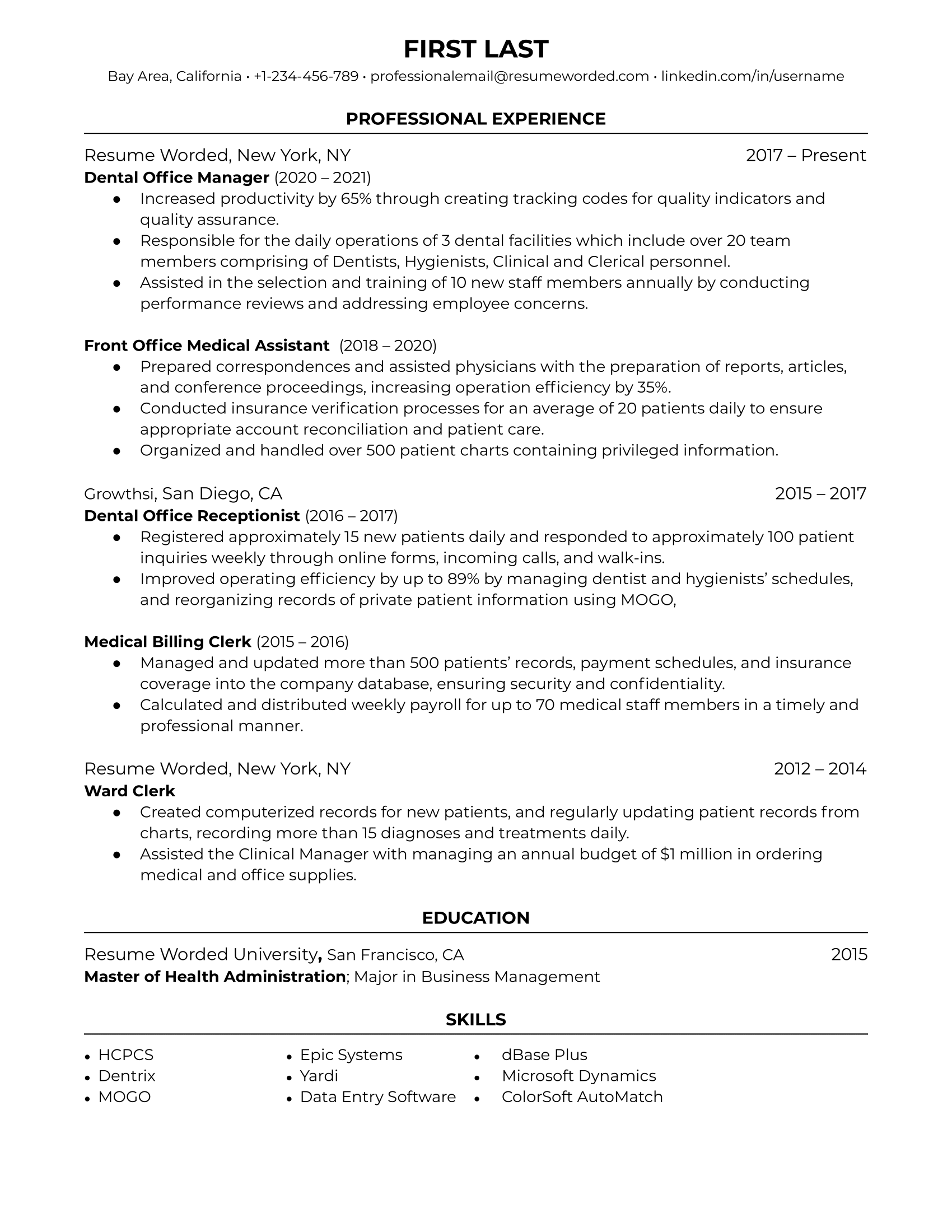 As the name indicates, dental office managers are specifically experienced with working in a dental office setting. Like medical office managers, they'll be accustomed to handling patient information and administering paperwork. You should demonstrate your experience with the work by emphasizing appropriate office manager skills and starting each bullet point with a strong action verb.
Expand
Download .DOC or .PDF
Medical Office Manager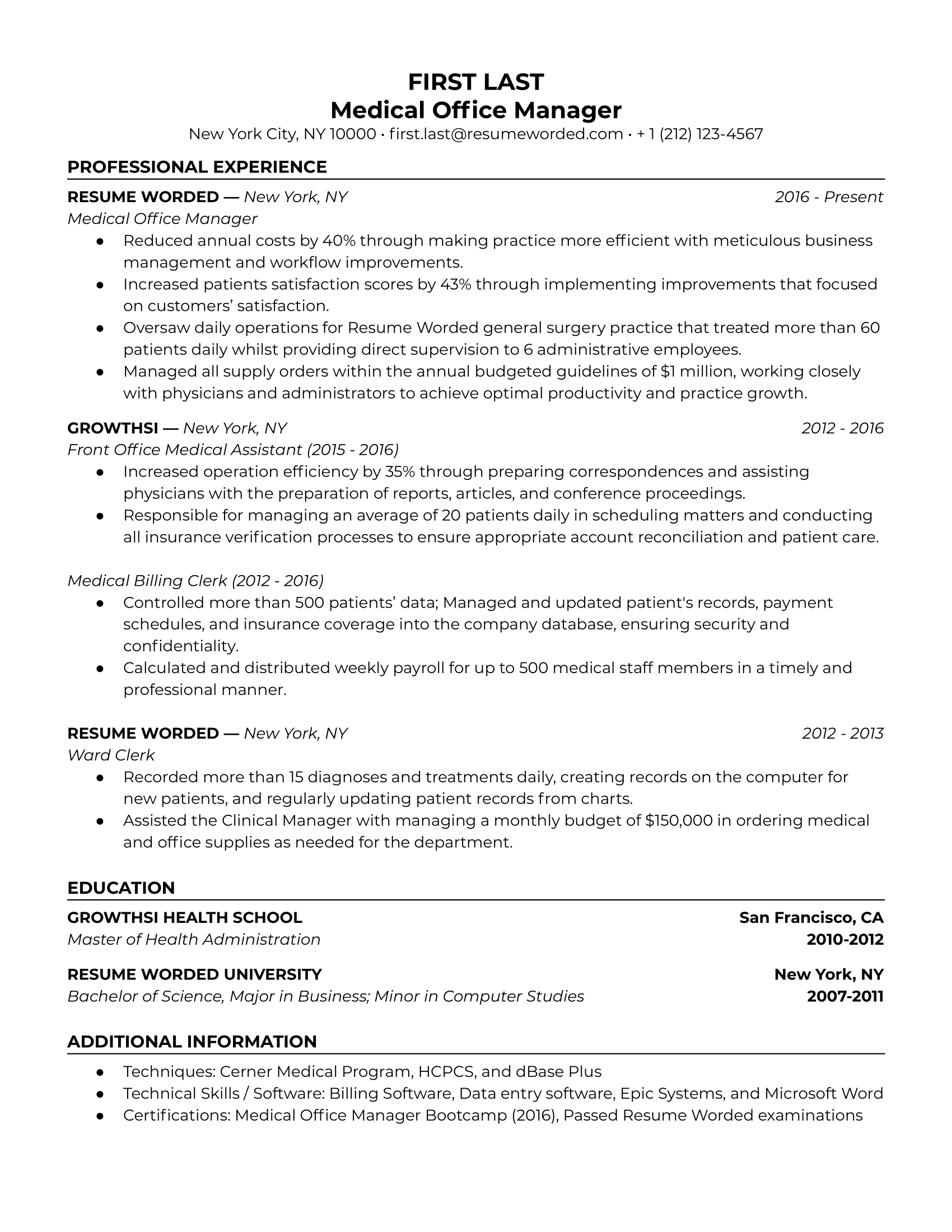 Medical office managers will have experience working with patient records, patient scheduling, office finances, and insurance verification, along with a host of other specialized tasks. Accuracy and attention to detail are more important than ever in this role, and so it helps to provide the scope and scale of your background in the medical industry with quantifiable data points and specific skills.
Expand
Download .DOC or .PDF
Front Office Manager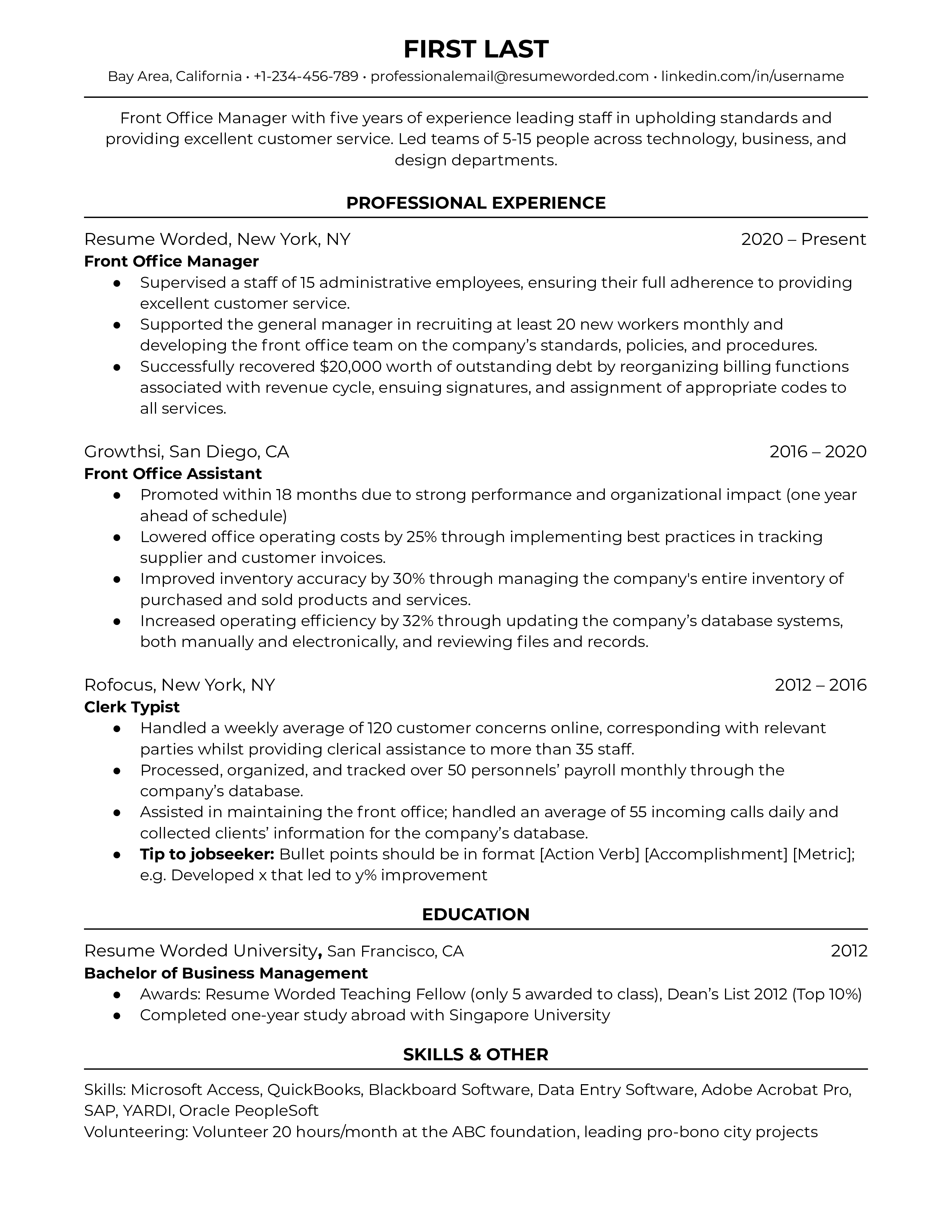 Front office managers are focused on staff management, typically in hotel settings or similar scenarios where the daily operations of a business will come down to your expertise. You can make a potent impression by starting your resume with a short summary or introduction. Adding in volunteer work or relevant certifications will further lend to your credibility as being involved in the front office management role.
Expand
Download .DOC or .PDF
Load more resumes
Office Manager resume guide
Research Assistant Resumes
Becoming a research assistant is an ideal path for those who love to learn new things and challenge themselves intellectually. With a growing demand for capable research assistants, there's never been a better time to apply. This guide contains everything you need to land the right position, including essential skills and sample resume templates for you to use.
Clinical Research Assistant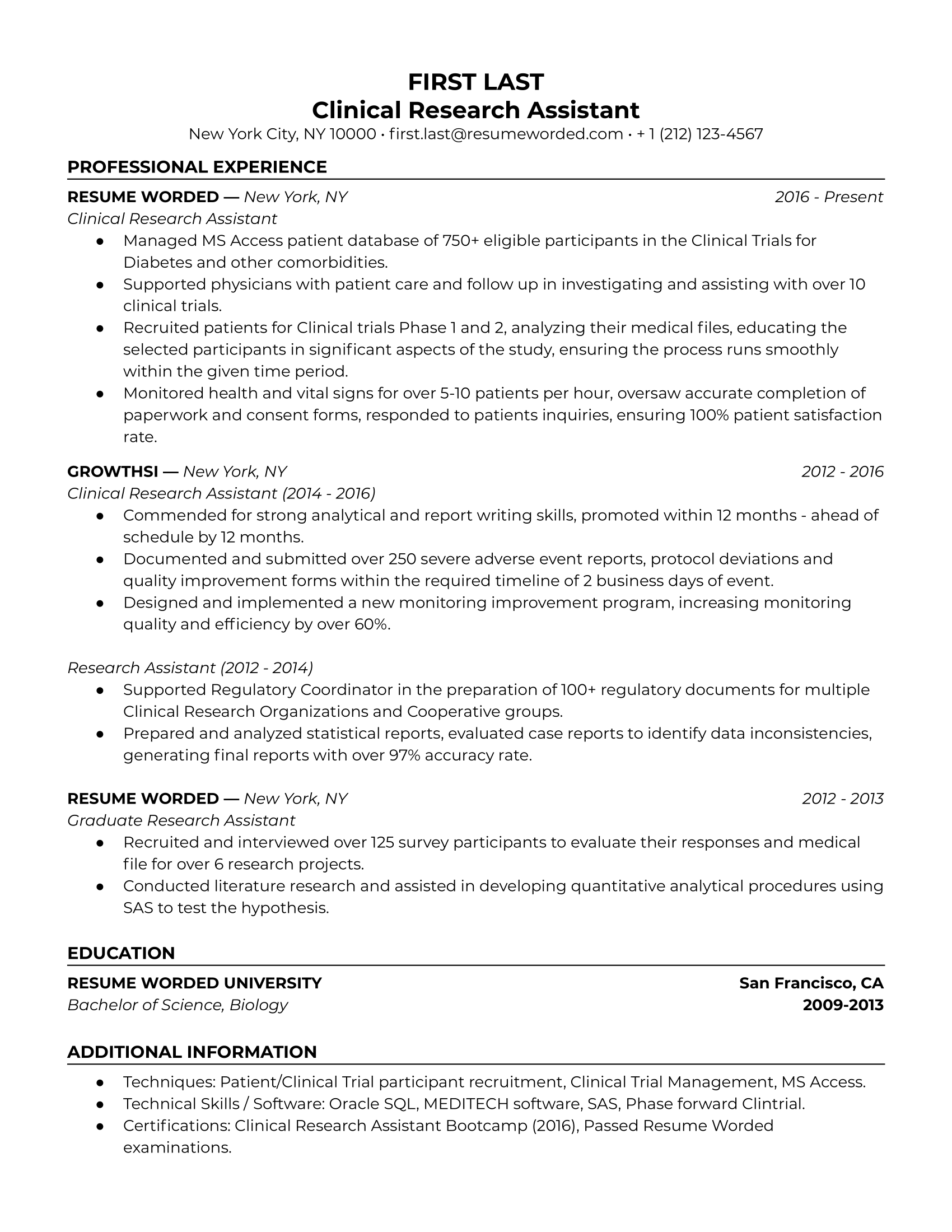 Clinical research assistants work on clinical trials in hospitals and medical research centers. As a clinical research assistant, you'll be assisting doctors and senior researchers by recruiting and enrolling research subjects, developing protocols, setting up and managing trials, collecting and analyzing data, and contributing to trial reports, regulatory authority applications, and grant writing. Ideally, you'll need some experience or a degree in the field of study and clinical trial experience.
Expand
Download .DOC or .PDF
Laboratory Research Assistant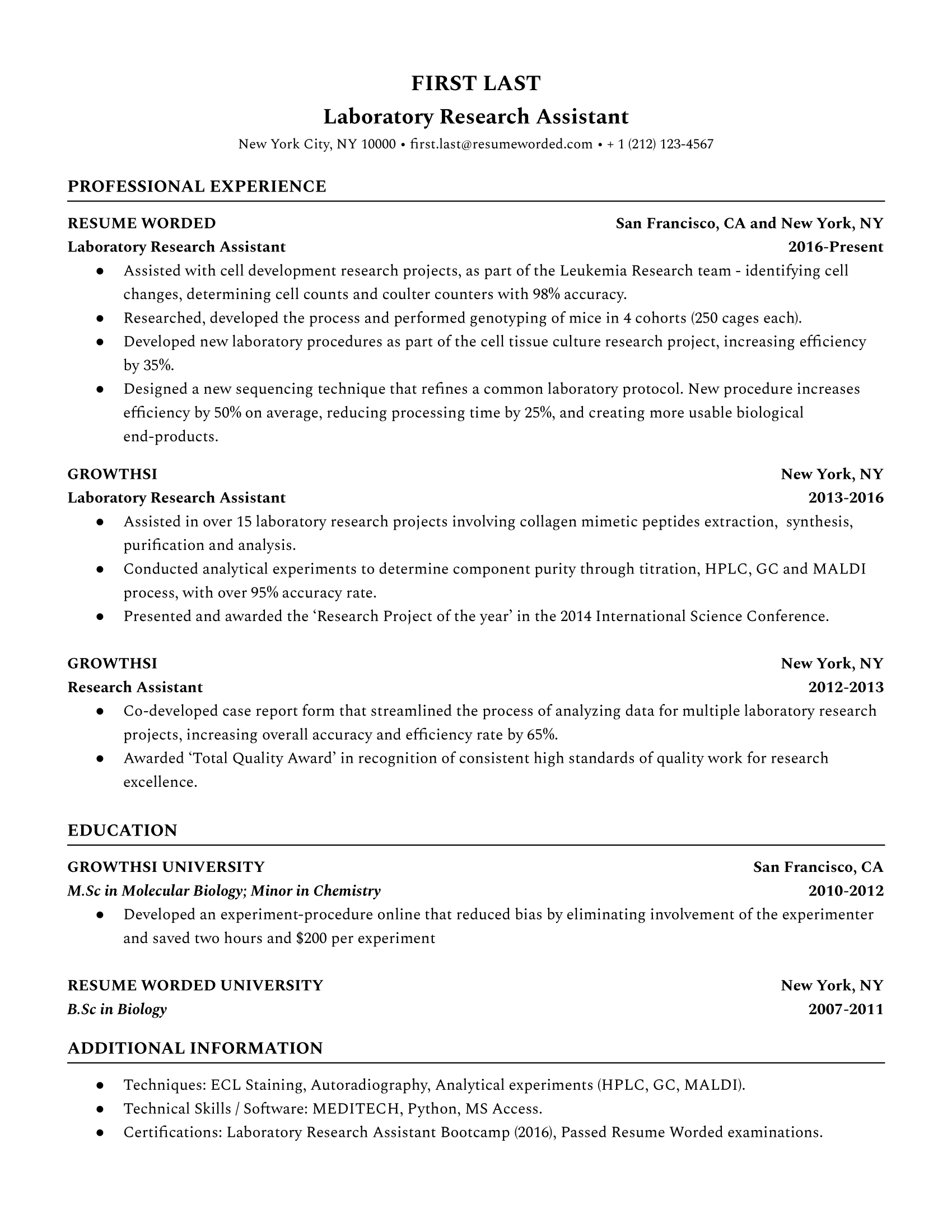 As a laboratory research assistant, you'll be working in a laboratory environment to design projects, conduct research and experiments, write reports, perform general laboratory maintenance, and assist senior laboratory staff — so make sure to emphasize your technical skills. You may be working for a private laboratory, medical or research facility, or pharmaceutical company. Unlike standard research assistant positions, lab assistants typically work full-time, including weekend and evening shifts.
Expand
Download .DOC or .PDF
Graduate Research Assistant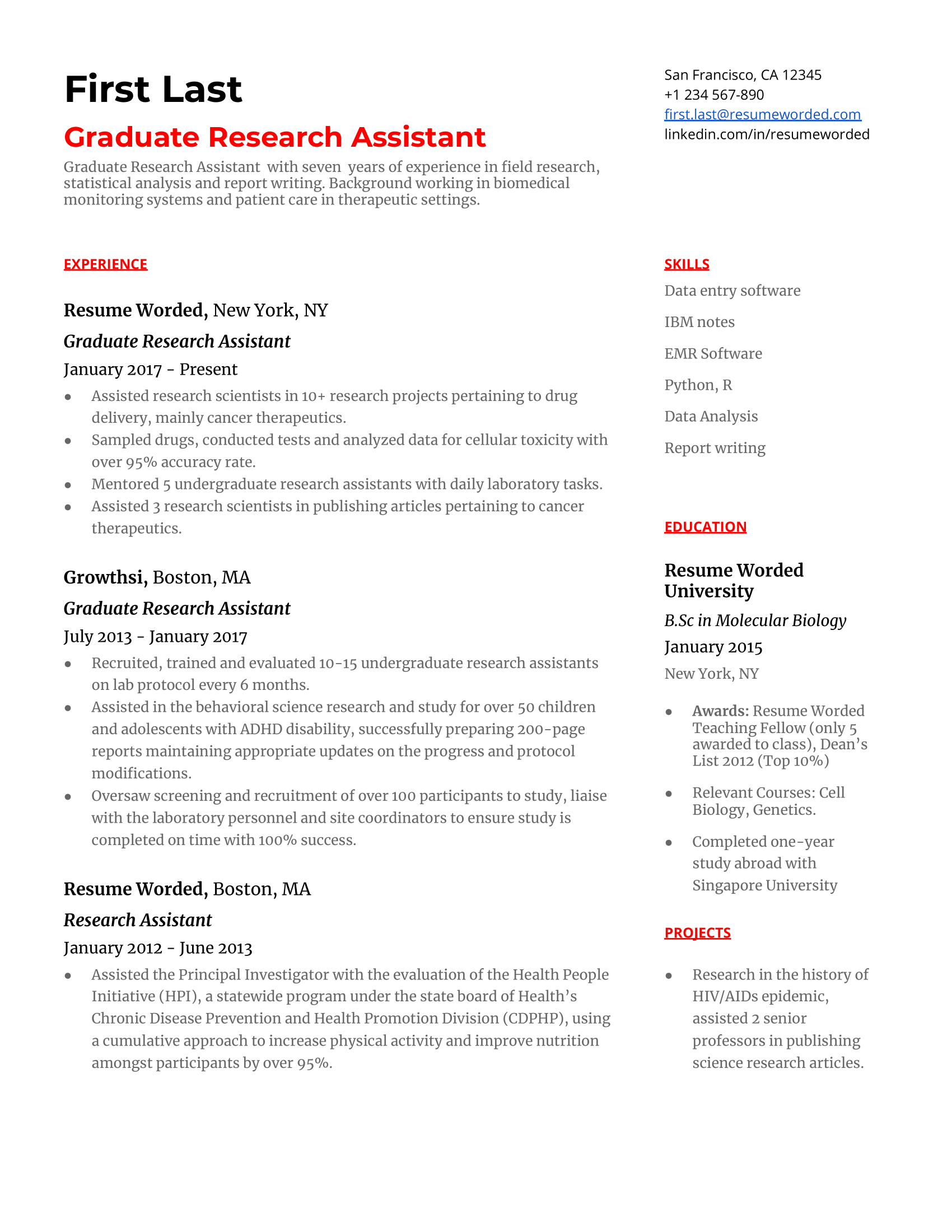 Graduate research assistants are able to work while they study, receiving a tuition reimbursement or stipend as well as valuable experience working in academia. As a graduate research assistant, you'll have completed an undergraduate degree and be pursuing a master's degree or PhD. You'll generally be working closely with a supervisor to support their projects, including conducting research, analyzing data, writing reports, and supervising undergraduate research assistants.
Expand
Download .DOC or .PDF
Load more resumes
Research Assistant resume guide
Customer Success Resumes
New trends, business realities, and consumer expectations have compelled businesses to prioritize customers' needs. Companies know that for consumers to maintain their lifetime value, they must first be successful with their products. But, how do you know what customers need? Is there a playbook for success? In most cases, companies rely on the Customer Success team to solve long-term needs by understanding their customer base. Below is an overview of what you need to know about Customer Success roles.
Customer Success Manager
Since CS is still an emerging specialty, little distinguishes a Customer Success Manager (CSM) from a Customer Success Operations Manager (CS Ops) Manager. Nonetheless, a CSM's primary role is to guide customers through the sales process focusing on value proposition. Customers contact the CSM when they have issues with a product. Consequently, the CSM must have a thorough understanding of the consumer's needs and share this with the product, sales, and marketing teams. This is generally a senior role, so hiring managers focus on experience and achievements. Demonstrate your expertise in working with customers and any notable achievements.
Expand
Download .DOC or .PDF
Customer Success Operations Manager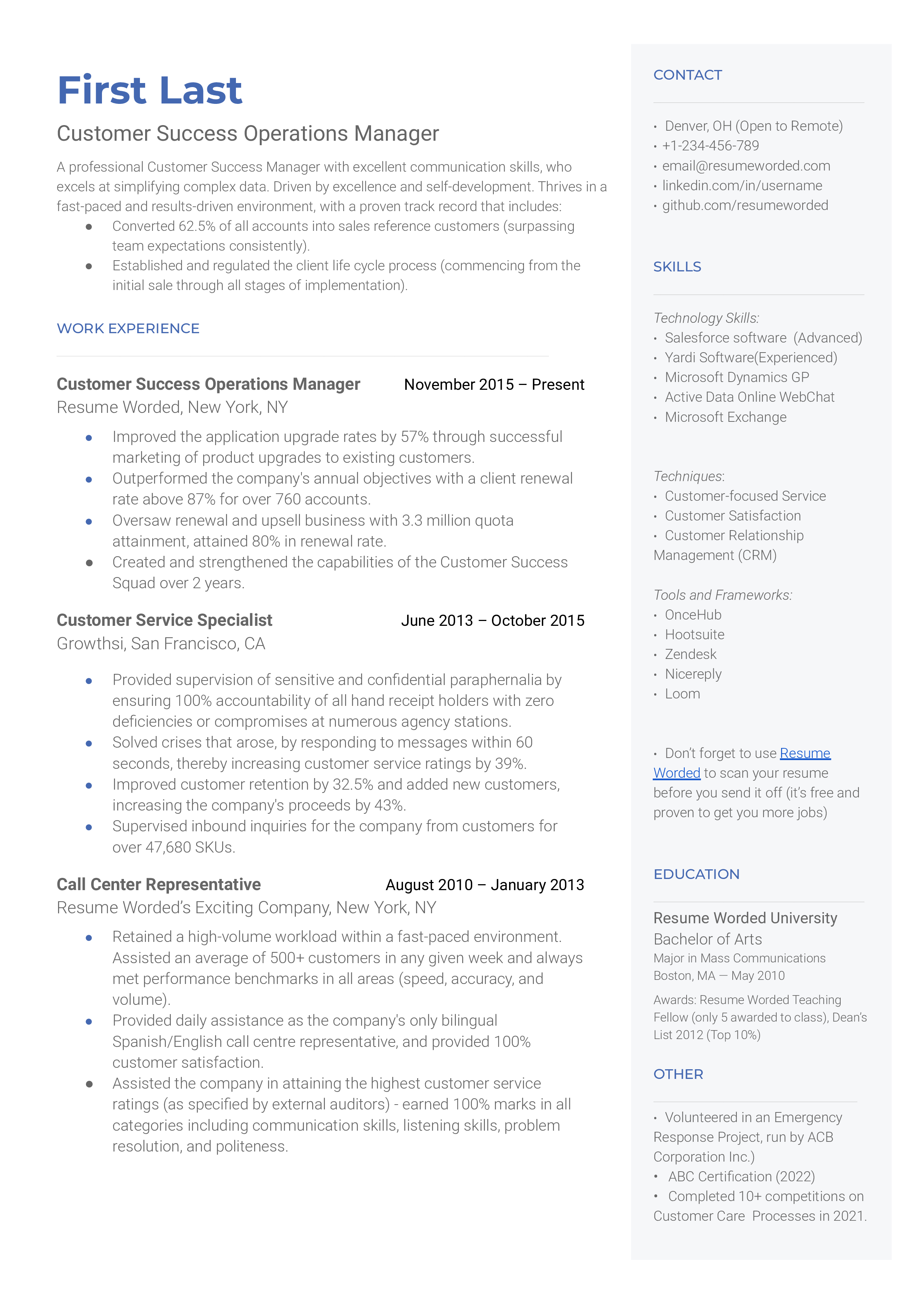 A Customer Success Operations (CS Ops) Manager provides tactical support to the CS team by helping it improve its efficiency and KPIs. To better understand what CS Ops is, think of "success operations" as a product that optimizes processes for Customer Success Managers (CSMs). CS Ops managers establish baseline productivity using various metrics (e.g., net MMR churn) and assess the hindrances to learning about new product features. They evaluate the pain points CSMs face in their daily work and conceptualize how processes work. CSMs identify consistent issues affecting the CS team, break them down into manageable components, and tailor solutions with quantifiable results. In startups and small companies, the CSM mostly doubles as the CS Ops manager. But the need to separate this function into a dedicated role is increasingly apparent. Mostly, the CS Ops manager is a promoted CSM, which means the role calls for extensive experience to immediately build visibility into the CS team's business outcomes, identify areas for improvement, and earmark projects that should be prioritized for Customer Success.
Expand
Download .DOC or .PDF
Implementation/Onboarding Manager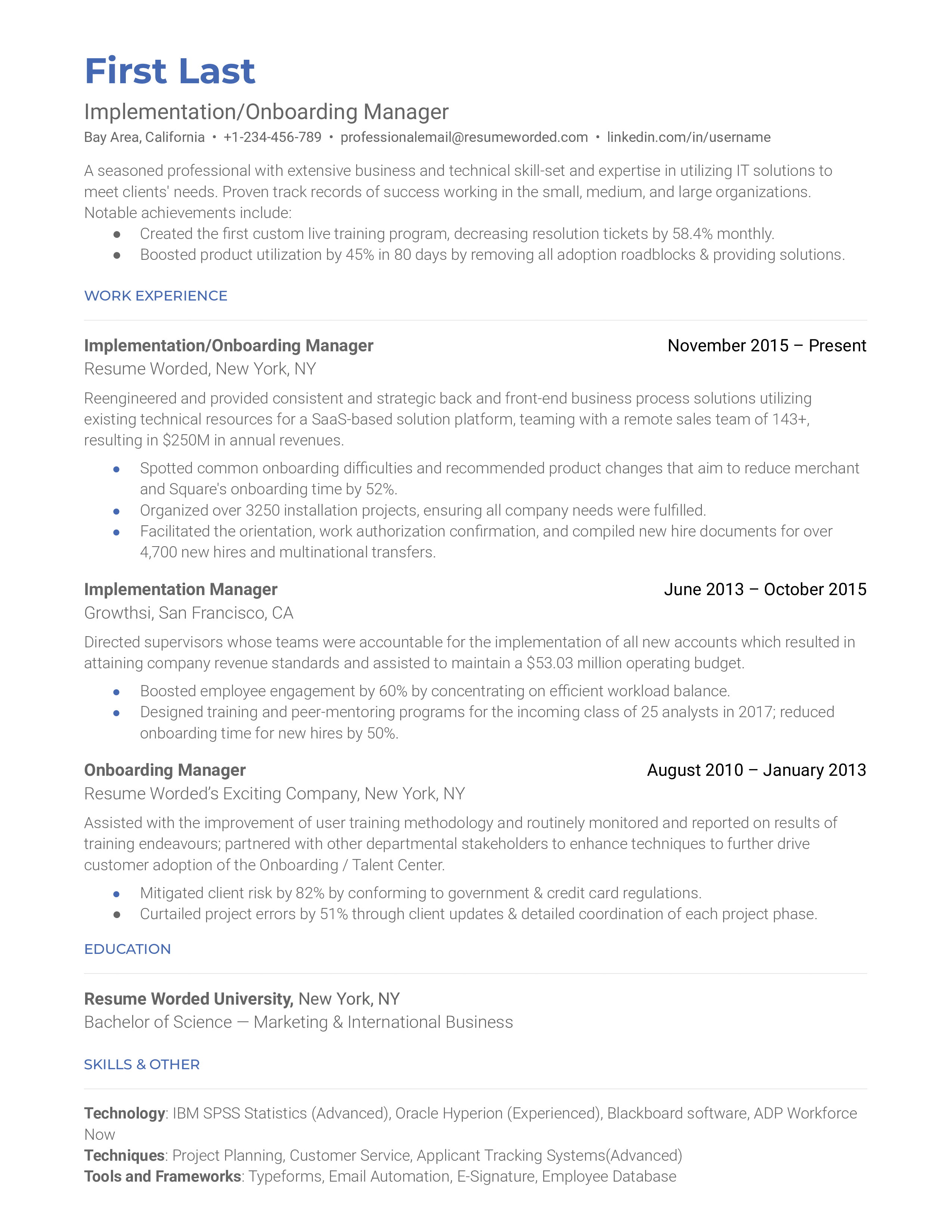 The Onboarding Manager sets up customers for immediate success by facilitating interaction between them and the product post-sale. If a client doesn't like the onboarding, they are likely to churn. So, good onboarding is usually the difference between customer buy-in and churn. Basically, the Onboarding Manager educates new customers, helps resolve technical problems, and smoothens the adoption of the company's products and services. An Onboarding Manager's resume showcases their experience in identifying common onboarding difficulties and possible solutions. This resume demonstrates the applicant's ability to work well with other people to achieve organizational goals. It also highlights the job seeker's leadership skills and technical expertise in mitigating client risk, boosting employee performance, and facilitating Customer Success.
Expand
Download .DOC or .PDF
Load more resumes
Customer Success resume guide
Back Office Resumes
A good percentage of operations in an organization are not client-facing. People who work in these roles are known as back-office staff. The primary responsibility of back-office is to support front office personnel in their work. Every organization has a back-office, so if you're looking for a job, here is how to write your back-office resume, complete with tips and recruiter-approved resume templates for back-office jobs.
Back Office Manager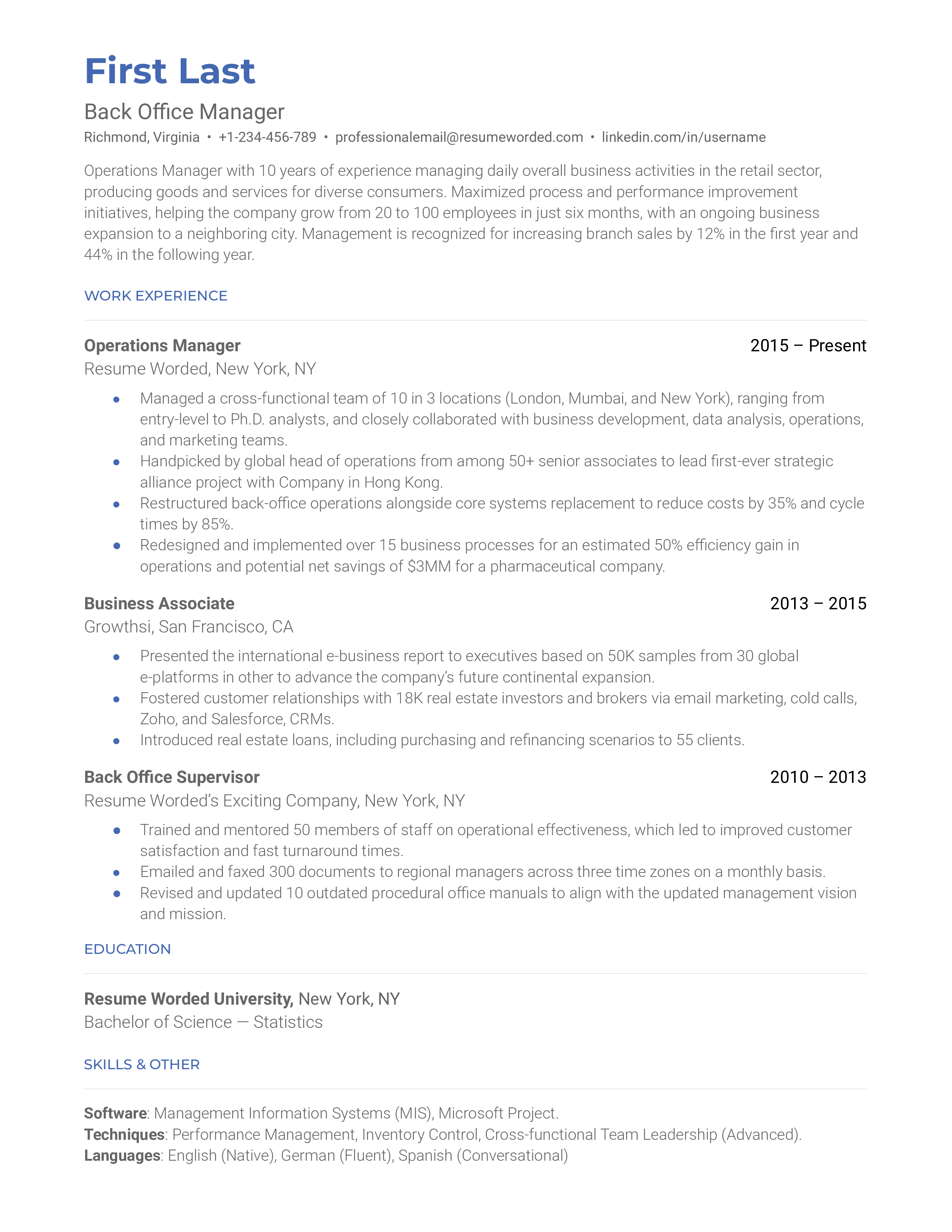 A back-office manager is responsible for work performed by back-office employees. The back-office manager often supervises other back-office employees in entry-level to mid-level positions. While the professional background for back-office managers can be any relevant course, they are mostly sourced from engineering, business management, accounting, or mathematics fields. Back-office managers are usually excellent communicators, thanks to the nature of their work. A back-office manager's resume for a professional with 10+ years of experience should focus on the impact of their work. This means demonstrating the effect of your actions on, say, a company's bottom line, departmental efficiency, etc. This helps the hiring manager assess the value you will add to their company if they hire you.
Expand
Download .DOC or .PDF
Back Office resume guide
Inventory Manager Resumes
Inventory management is essentially the process of ordering a company's stock. These could be raw materials (components) and/or finished goods (products). The point of inventory management is to ensure the organization understands its inventory flows. So if you're aiming for a career in inventory management, you've got to start by writing a functional inventory management resume. Here's how to do it.
Load more resumes
Inventory Manager resume guide
Desktop Support Resumes
Computers went mainstream in the 80s and have become vital components of operational efficiency. In this digital era, organizations rely on computers to run virtually all functions. So as the digital space keeps growing in size and complexity, it's logical that the demand for skilled desktop support staff will also increase. However, the journey to getting into these roles starts by writing a powerful desktop support job resume outlining your skills and expertise. Here is how to do it.
Desktop Support Analyst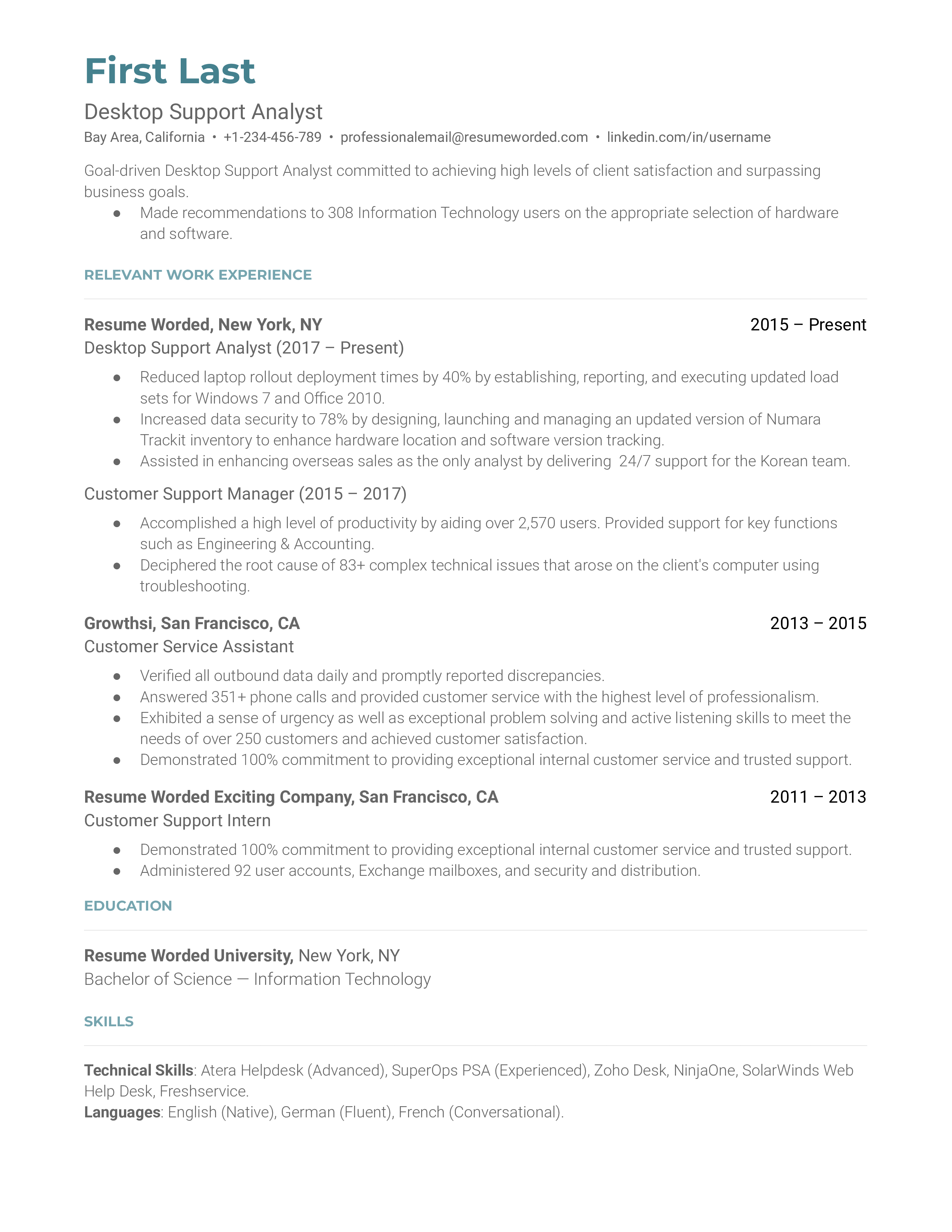 Support analysts analyze, repair and maintain computer software and hardware systems. They can also communicate directly with clients while responding to tickets, troubleshooting or resolving problems. In larger organizations, they may be tasked with developing and enforcing IT policies that promote the organization's overall objectives. This desktop support analyst resume template solely focuses on the applicant's relevant job experience. This is useful if an applicant targets a specific role and wants to match their skill set to those in the job description. Moreover, a solid academic background in Information Technology demonstrates the applicant's foundational knowledge and ties to their career.
Expand
Download .DOC or .PDF
Desktop Support Specialist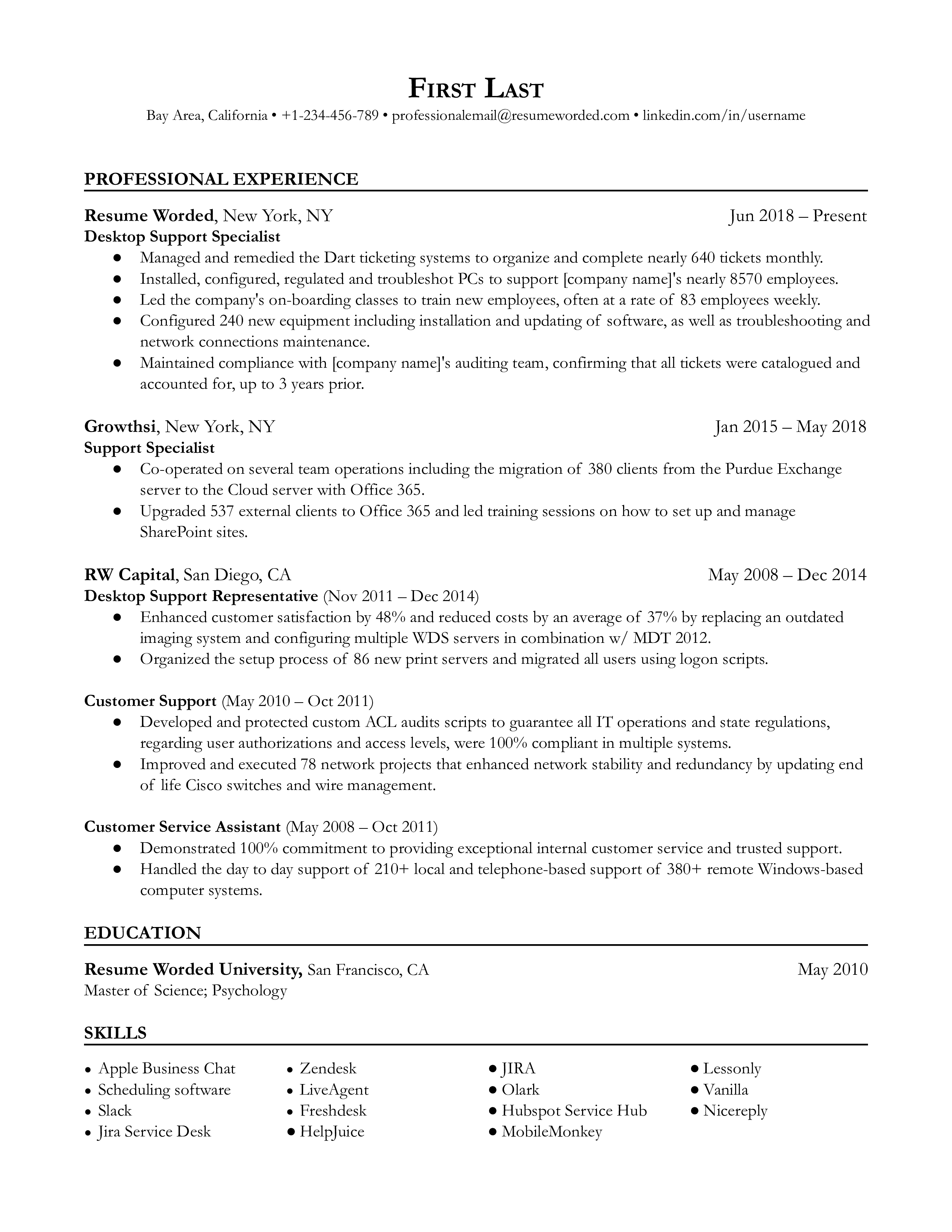 A desktop support specialist is an upper-tier role. The holder of this office essentially performs the functions of a desktop support analyst but on a broader scope. In addition to technical support, a desktop support specialist also offers administrative support. These professionals typically have extensive knowledge of an organization's IT infrastructure and, therefore, oversee its maintenance. As this desktop support specialist resume template indicates, applicants for such top-tier desktop support roles must demonstrate a wealth of experience and an expansive skill set. So, the resume focuses more on these two components. The resume shows the applicant's broader knowledge (Master's degree in Psychology), which can be handy when working with other people and teams on projects.
Expand
Download .DOC or .PDF
Desktop Support Engineer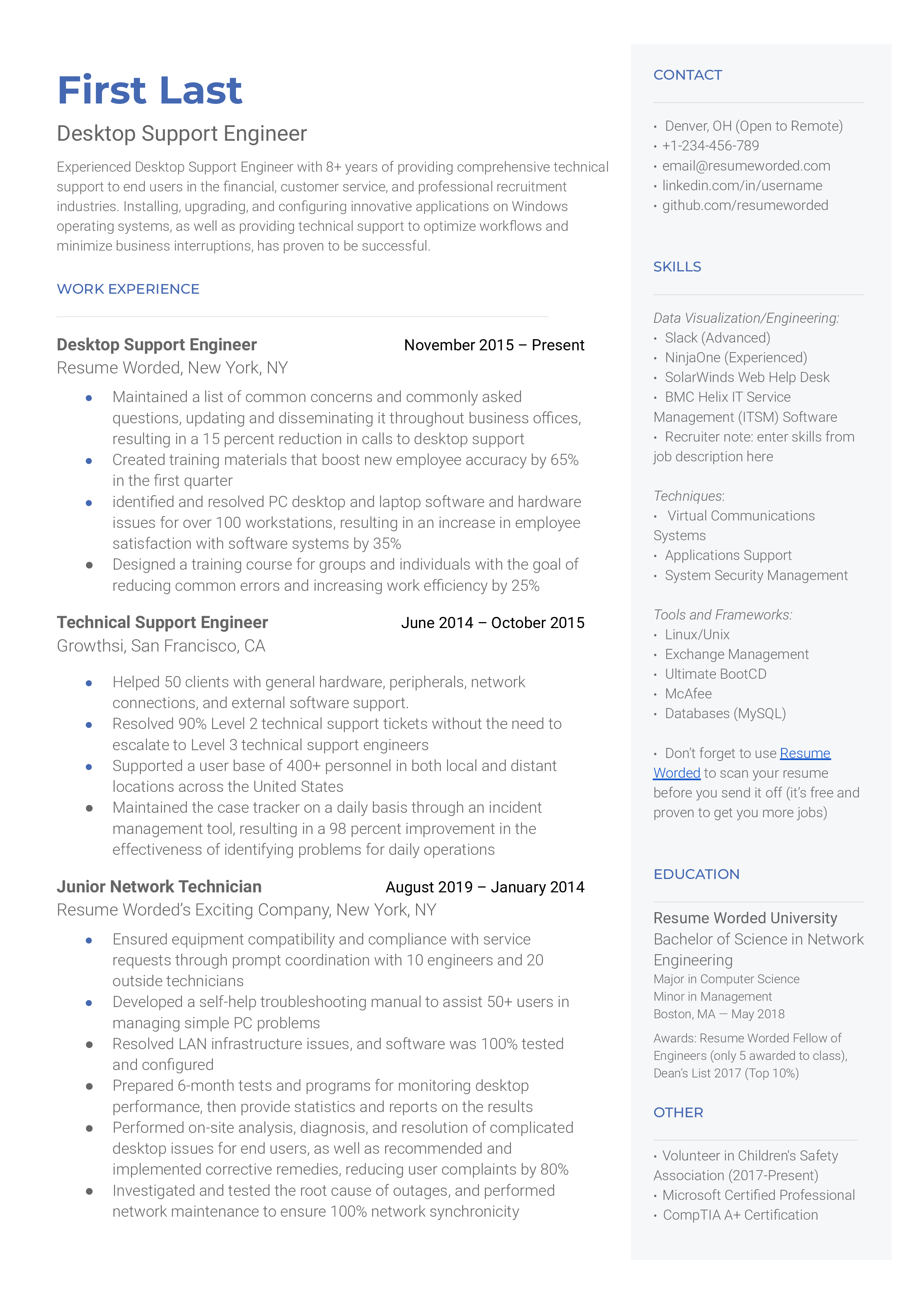 This professional carries out various duties, including fixing software and hardware issues, security and server problems, and customer queries and inquiries. Apart from a strong educational background, proven work experience and advanced knowledge of computers, chipsets, hardware and software systems, and peripherals are major requirements for applicants. This desktop support engineer resume example shows an applicant with extensive industry experience and an equally impressive skill set. The resume zeroes in on the recent roles and responsibilities the applicant performed in the capacity of a support engineer in other workstations. A strong educational background in Network Engineering coupled with a CompTIA A+ certification strengthens this resume significantly.
Expand
Download .DOC or .PDF
Load more resumes
Desktop Support resume guide
Action Verbs For Administrative Resumes
Communicated
Influenced
Arranged
Mediated
Promoted
Trained
Translated
Proposed
Reconciled
Interviewed
Initiated
Improved
Increased
Eliminated
Transformed
How to use these action verbs?
When writing your resume, you should always be using strong action verbs to describe your accomplishments at your previous companies, internships or classes. For administrative roles, use action verbs which highlight your experience with administrative tasks.

For example, "Implemented" or "Created" are good action verbs to show initiative and ownership, while "Collaborated" could be a good verb to highlight your teamwork experience.