Customer Service Resumes
Applying for a customer service role? Your resume is an essential part of your application. Below, we've compiled five resume templates with the most important qualities that hiring managers are looking for in 2022. (Google Docs and PDFs attached).
Load more resumes
Customer Service resume guide
Administrative Assistant Resumes
Your resume is key to landing an interview in today's competitive job market. In order to make your resume appealing, you'll want to tailor your resume to the specific job by using relevant keywords, action verbs, and skills. Here are five templates that will get you started on your resume for an administrative assistant position in 2022.
Load more resumes
Administrative Assistant resume guide
Executive Assistant Resumes
Executive assistants provide crucial support to top executives and are skilled at executing administrative and operational duties. When writing your executive assistant resume, it's important to show that you have the relevant skills to succeed. Below we've compiled five resume templates with the most important qualities to have in 2022. (Google Docs and PDFs attached).
Load more resumes
Executive Assistant resume guide
Office Manager Resumes
Office managers keep businesses running through their prowess with organization, communication, and attention to detail, making them a vital part of operations everywhere. To help you craft an eye-catching resume that will stand out to hiring managers recruiting for an office manager position, this guide will review four types of office manager resume templates. At the bottom, we'll look at key skills and action verbs to incorporate in your resume.
Dental Office Manager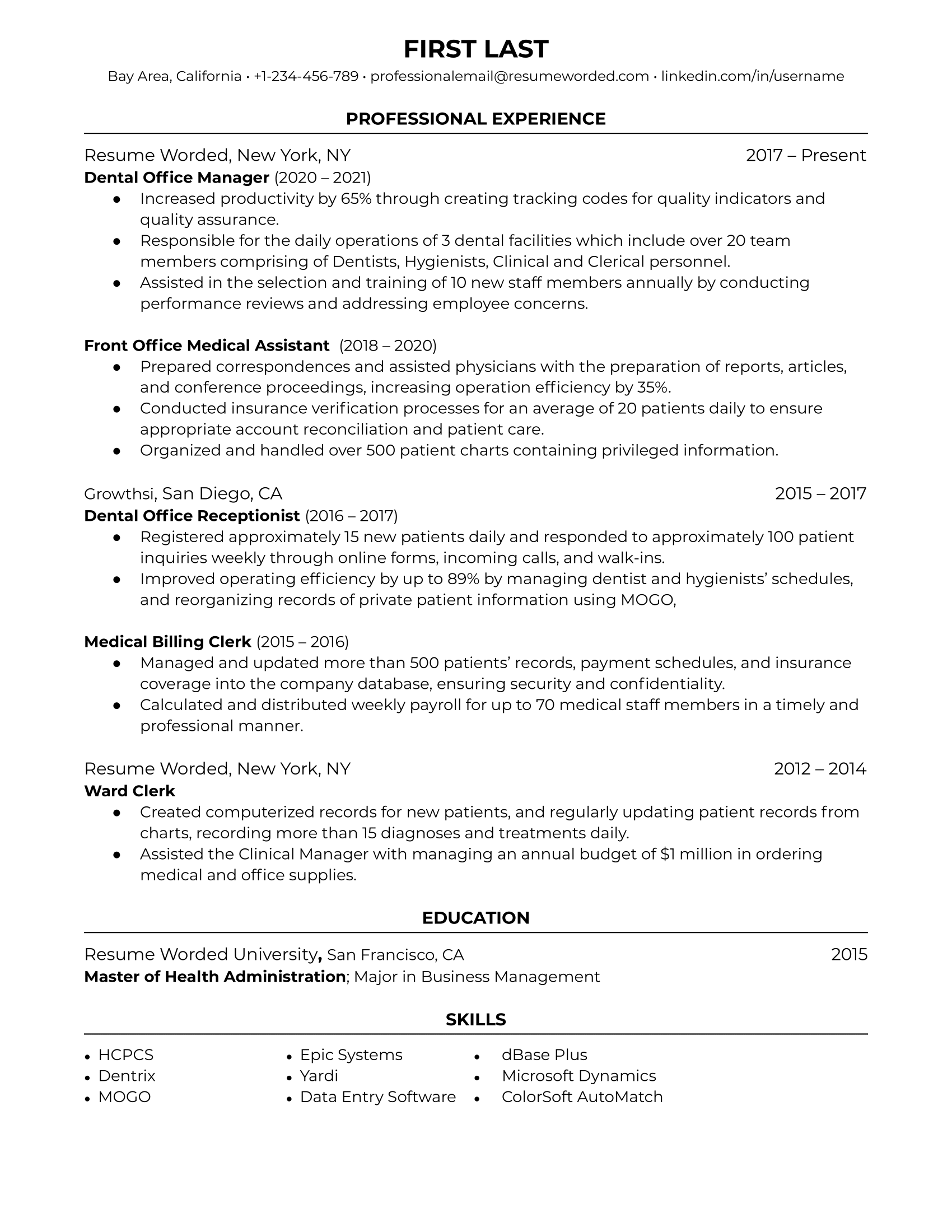 As the name indicates, dental office managers are specifically experienced with working in a dental office setting. Like medical office managers, they'll be accustomed to handling patient information and administering paperwork. You should demonstrate your experience with the work by emphasizing appropriate office manager skills and starting each bullet point with a strong action verb.
Expand
Download .DOC or .PDF
Medical Office Manager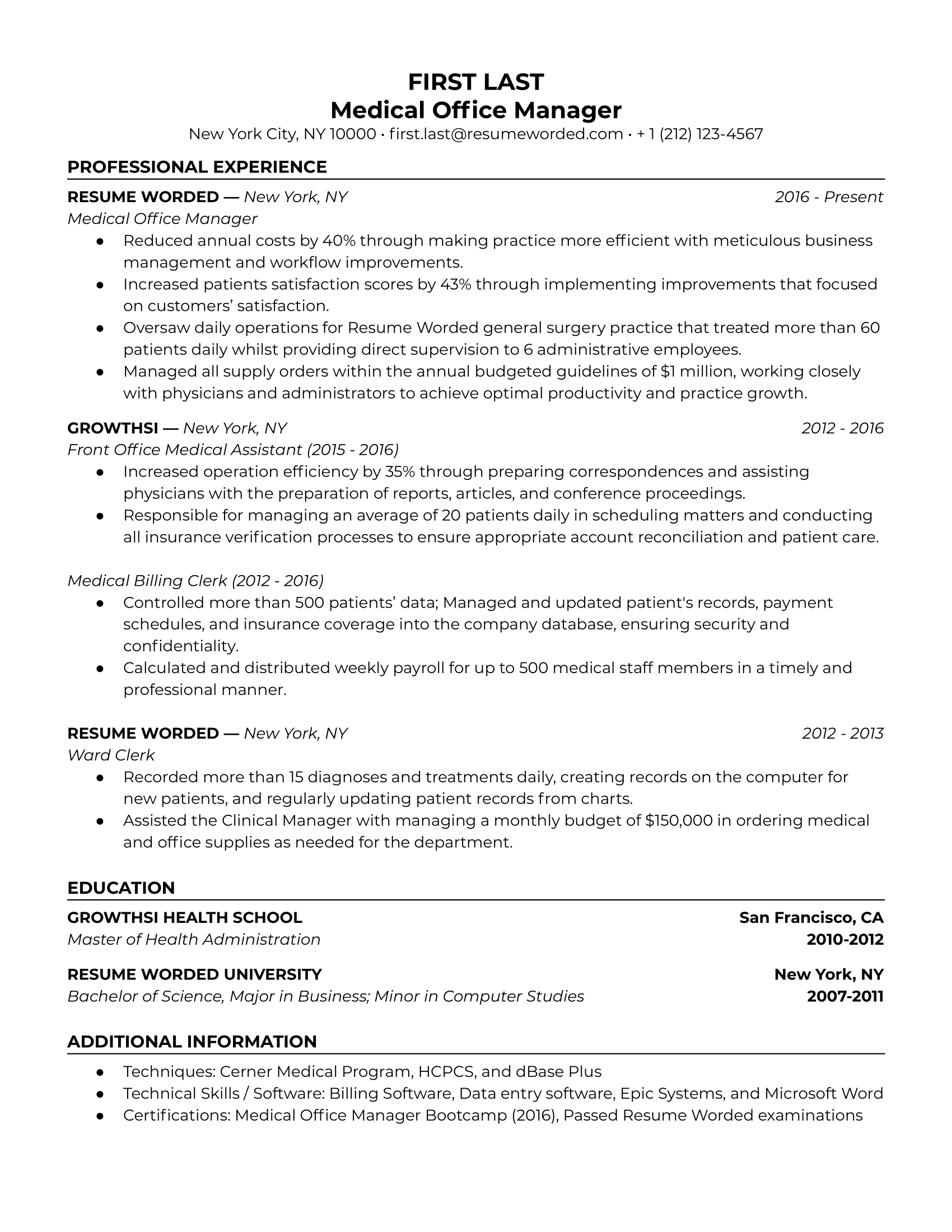 Medical office managers will have experience working with patient records, patient scheduling, office finances, and insurance verification, along with a host of other specialized tasks. Accuracy and attention to detail are more important than ever in this role, and so it helps to provide the scope and scale of your background in the medical industry with quantifiable data points and specific skills.
Expand
Download .DOC or .PDF
Front Office Manager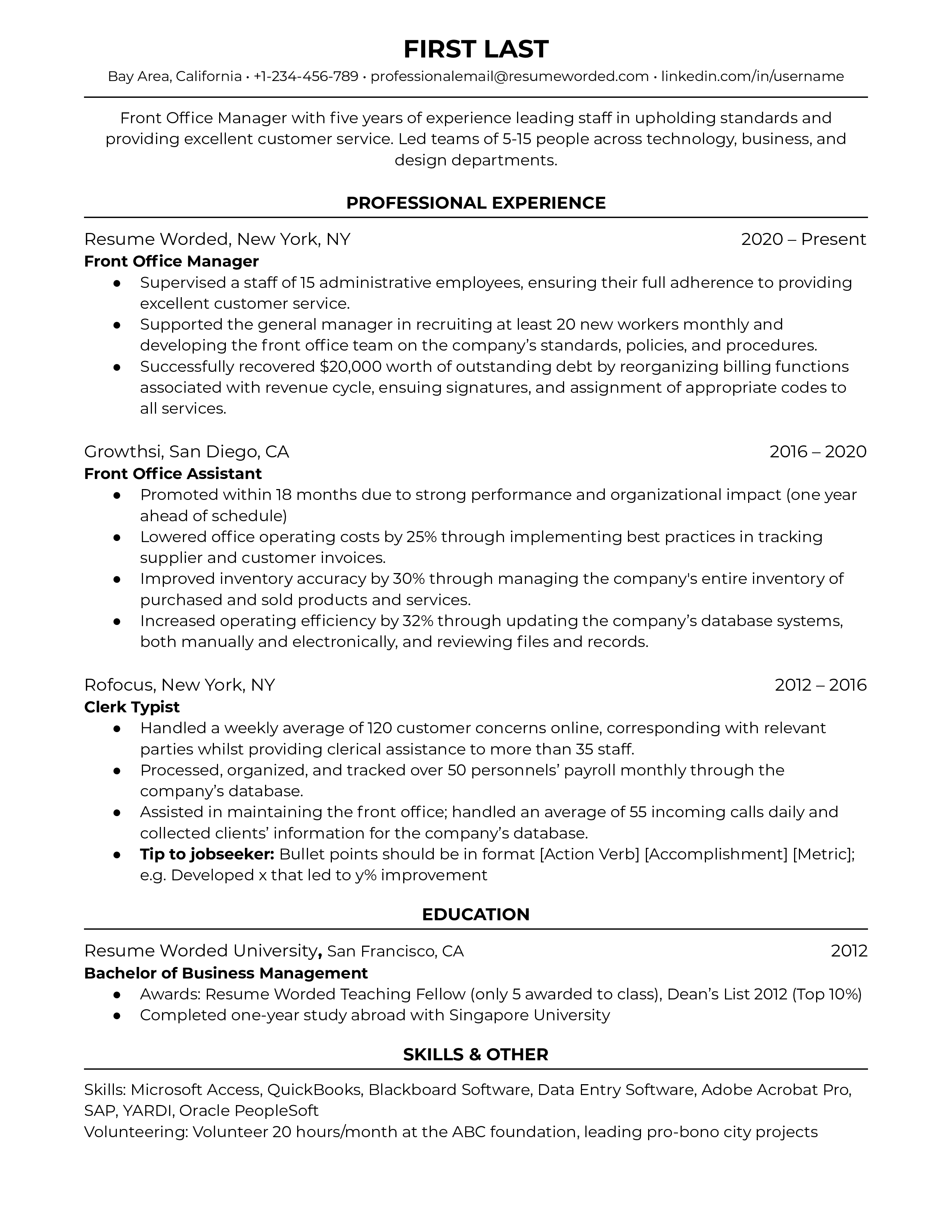 Front office managers are focused on staff management, typically in hotel settings or similar scenarios where the daily operations of a business will come down to your expertise. You can make a potent impression by starting your resume with a short summary or introduction. Adding in volunteer work or relevant certifications will further lend to your credibility as being involved in the front office management role.
Expand
Download .DOC or .PDF
Load more resumes
Office Manager resume guide
Research Assistant Resumes
Becoming a research assistant is an ideal path for those who love to learn new things and challenge themselves intellectually. With a growing demand for capable research assistants, there's never been a better time to apply. This guide contains everything you need to land the right position, including essential skills and sample resume templates for you to use.
Clinical Research Assistant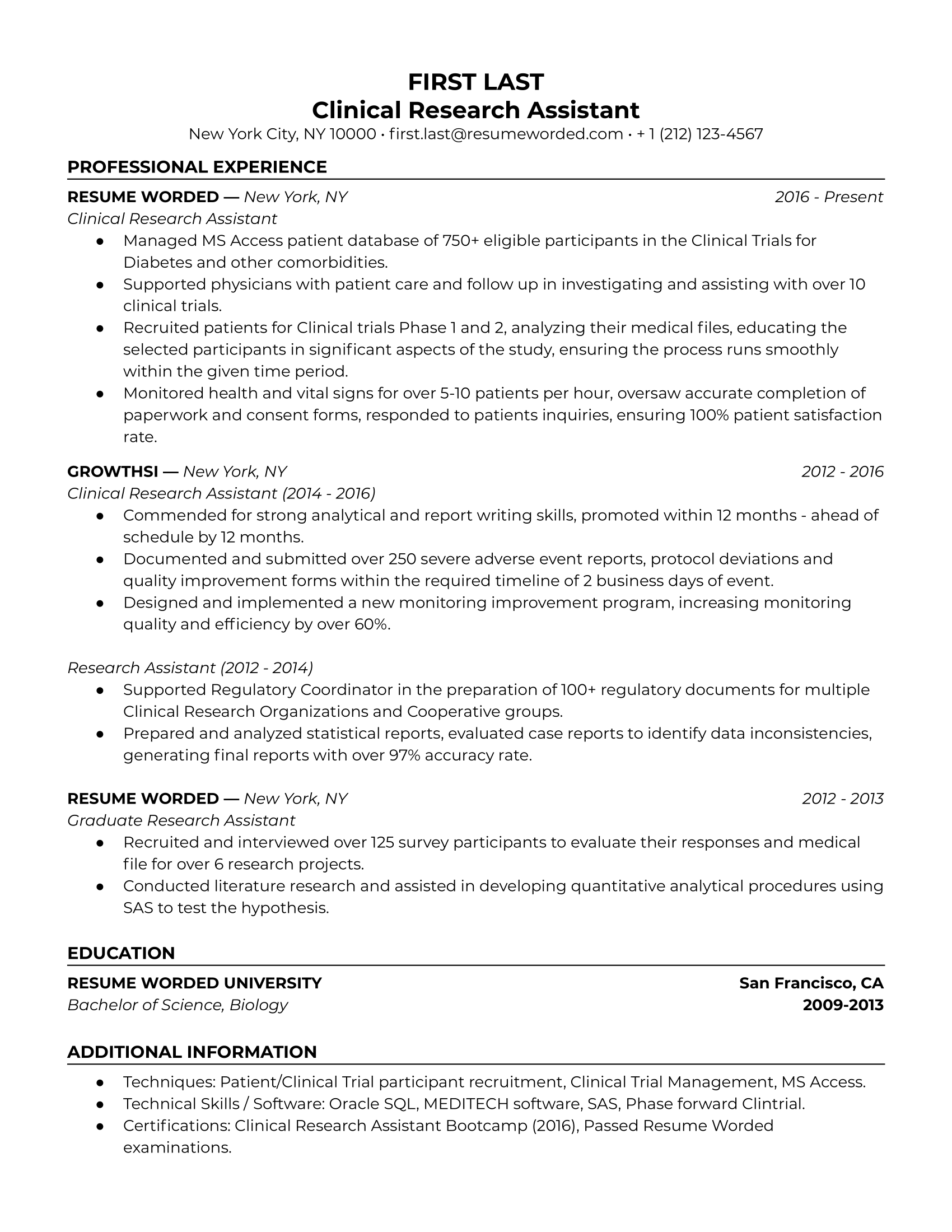 Clinical research assistants work on clinical trials in hospitals and medical research centers. As a clinical research assistant, you'll be assisting doctors and senior researchers by recruiting and enrolling research subjects, developing protocols, setting up and managing trials, collecting and analyzing data, and contributing to trial reports, regulatory authority applications, and grant writing. Ideally, you'll need some experience or a degree in the field of study and clinical trial experience.
Expand
Download .DOC or .PDF
Laboratory Research Assistant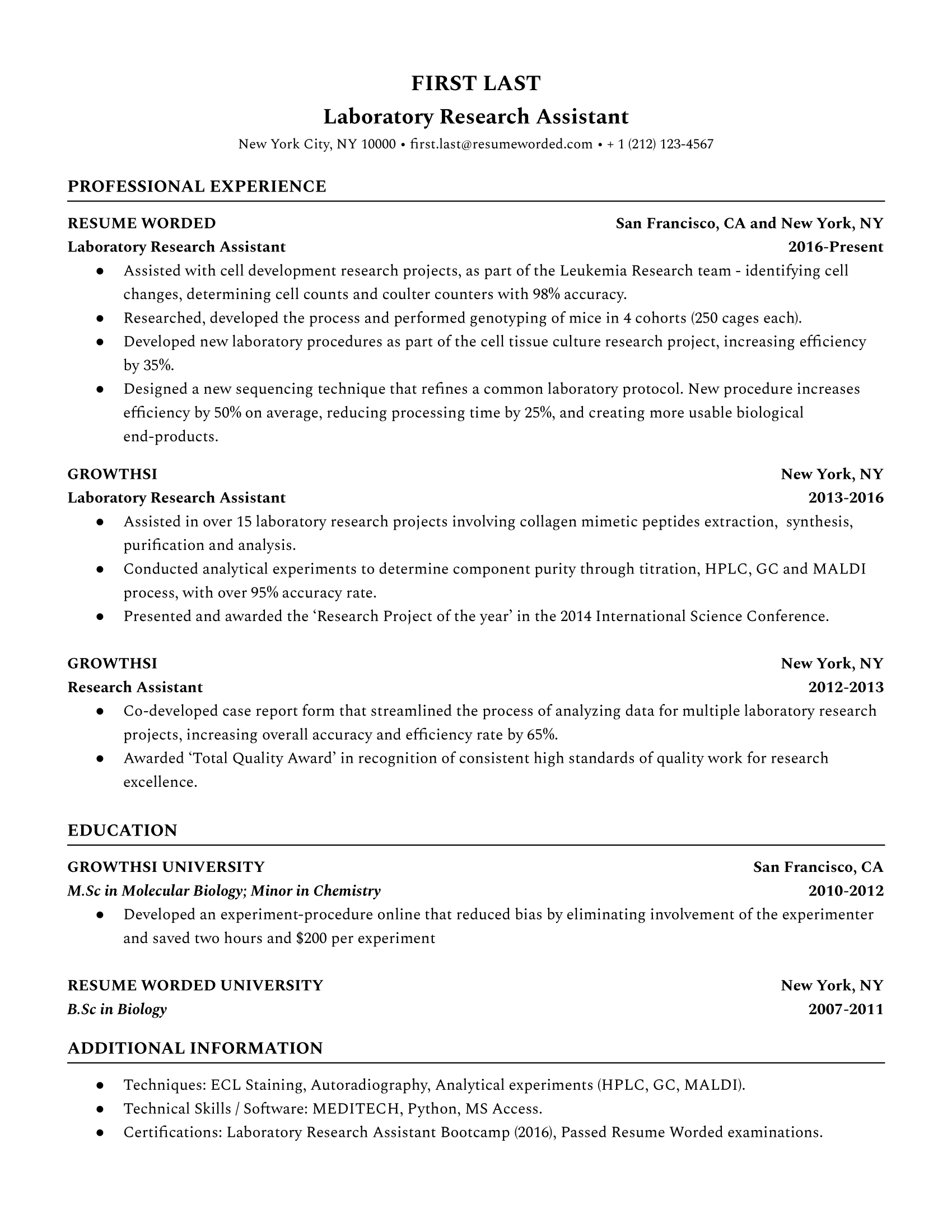 As a laboratory research assistant, you'll be working in a laboratory environment to design projects, conduct research and experiments, write reports, perform general laboratory maintenance, and assist senior laboratory staff — so make sure to emphasize your technical skills. You may be working for a private laboratory, medical or research facility, or pharmaceutical company. Unlike standard research assistant positions, lab assistants typically work full-time, including weekend and evening shifts.
Expand
Download .DOC or .PDF
Graduate Research Assistant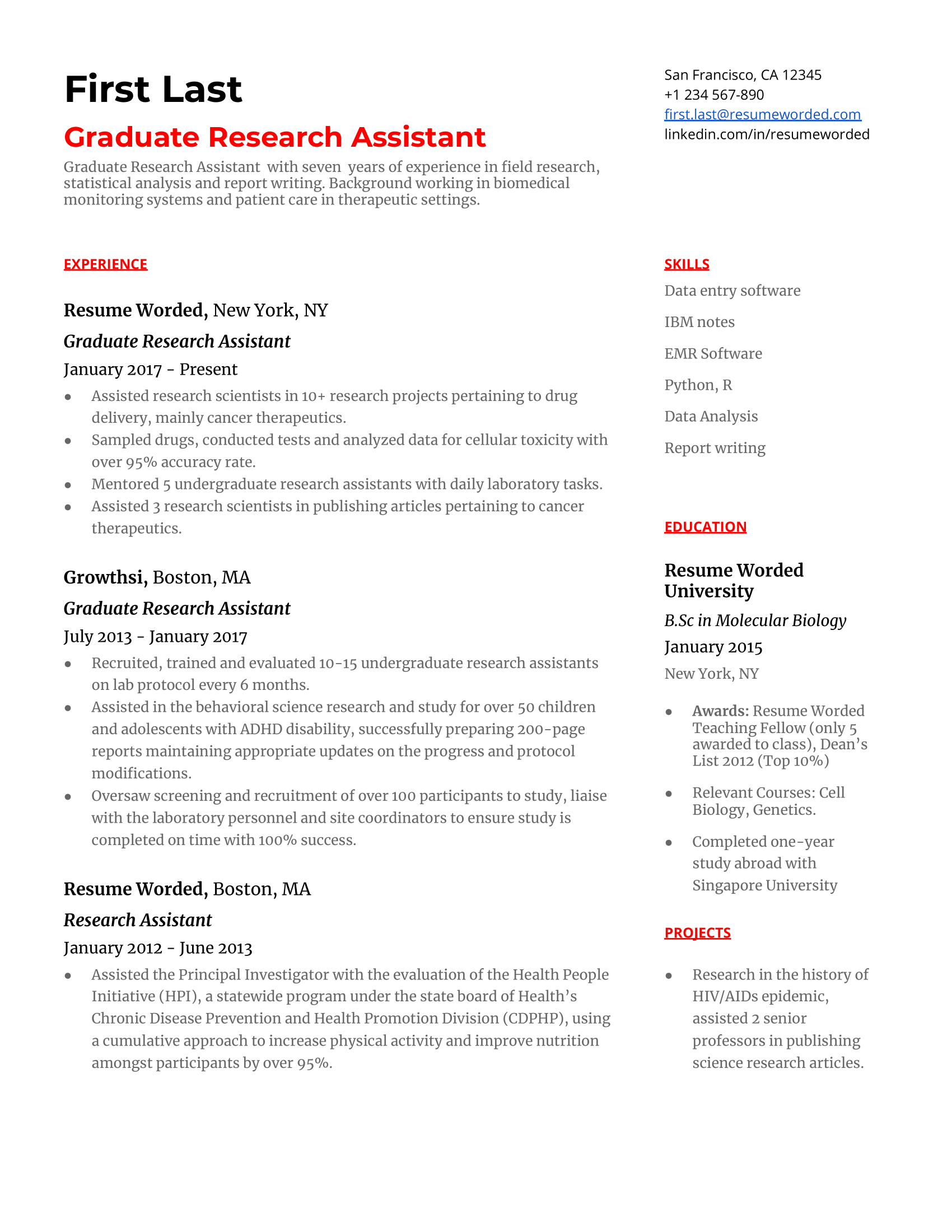 Graduate research assistants are able to work while they study, receiving a tuition reimbursement or stipend as well as valuable experience working in academia. As a graduate research assistant, you'll have completed an undergraduate degree and be pursuing a master's degree or PhD. You'll generally be working closely with a supervisor to support their projects, including conducting research, analyzing data, writing reports, and supervising undergraduate research assistants.
Expand
Download .DOC or .PDF
Load more resumes
Research Assistant resume guide
Action Verbs For Administrative Resumes
Communicated
Influenced
Arranged
Mediated
Promoted
Trained
Translated
Proposed
Reconciled
Interviewed
Initiated
Improved
Increased
Eliminated
Transformed
How to use these action verbs?
When writing your resume, you should always be using strong action verbs to describe your accomplishments at your previous companies, internships or classes. For administrative roles, use action verbs which highlight your experience with administrative tasks.

For example, "Implemented" or "Created" are good action verbs to show initiative and ownership, while "Collaborated" could be a good verb to highlight your teamwork experience.