Research assistants provide support to individuals or research teams conducting experiments, analyzing data, and collecting information. Many research assistants work in academia for colleges and universities, but are also in demand from research centers, think tanks, public interest groups, and private consulting and market research firms.

Most research assistant jobs are temporary contract positions. While this means that there are fewer permanent roles for those seeking additional job security, it provides a high level of flexibility, with many jobs available part-time. Additionally, the Bureau of Labor Statistics predicts an employment growth of 5%, which is above the national average.

Becoming a research assistant generally requires at least an undergraduate degree in a related field, though some positions will require postgraduate qualifications. The role is ideal for recent graduates and PhD candidates, as it provides hands-on experience with applied research, including opportunities to publish papers. Whatever your academic background, all positions will require you to possess technical skills, experience in the field, and an aptitude for data analysis, problem solving, communication, and time management.
Research Assistant Resume Templates
Research Assistant Resume Sample
Download Resume Template (Google Doc)
Download Resume in PDF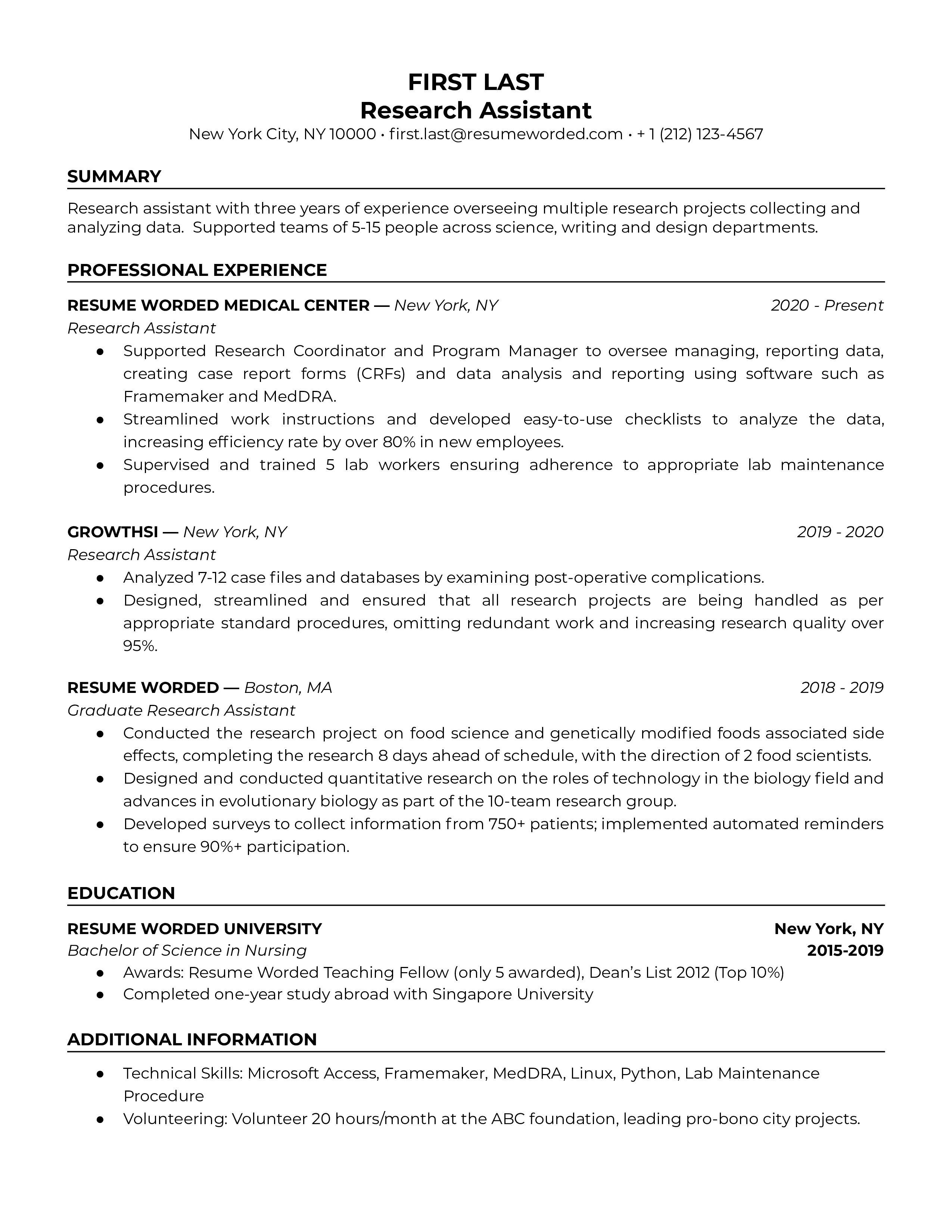 Why this resume works in 2021
The duties of a research assistant will vary depending on the field you're working in, but will almost always include planning research projects, reviewing literature, writing proposals and grant applications, conducting interviews and surveys, developing statistical models, analyzing data, producing reports, and presenting research findings. While research assistants can be found in just about any academic field, they all share a need for communication, critical thinking, and problem solving skills.
Improve your Research Assistant resume, instantly.
Use our free resume checker to get expert feedback on your resume. You will:
• Get a resume score compared to other Research Assistant resumes in your industry.
• Fix all your resume's mistakes.
• Find the Research Assistant skills your resume is missing.
It's instant, free and trusted by 1+ million job seekers globally. Get a better resume, guaranteed.
Upload your resume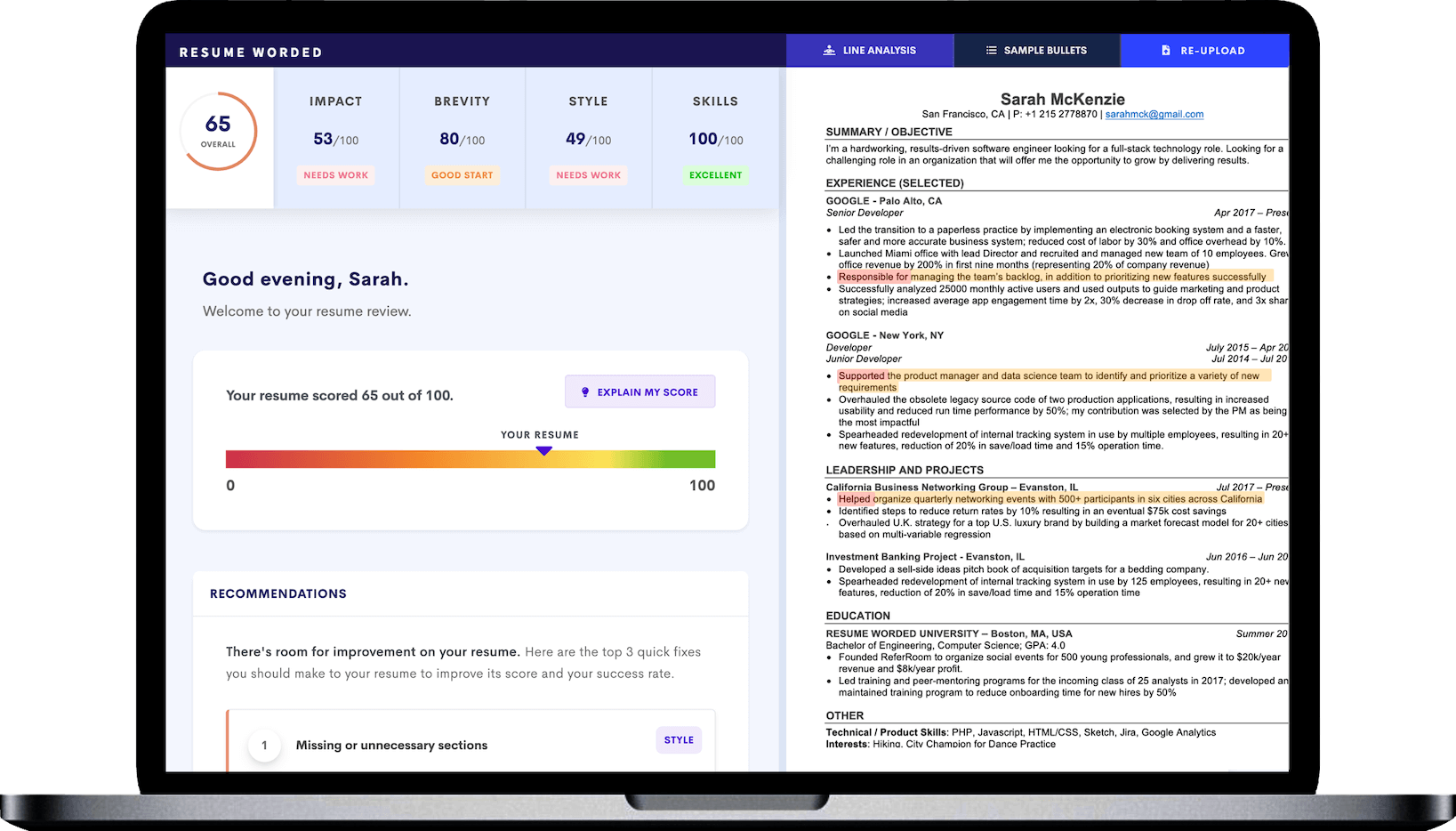 Clinical Research Assistant Resume Sample
Download Resume Template (Google Doc)
Download Resume in PDF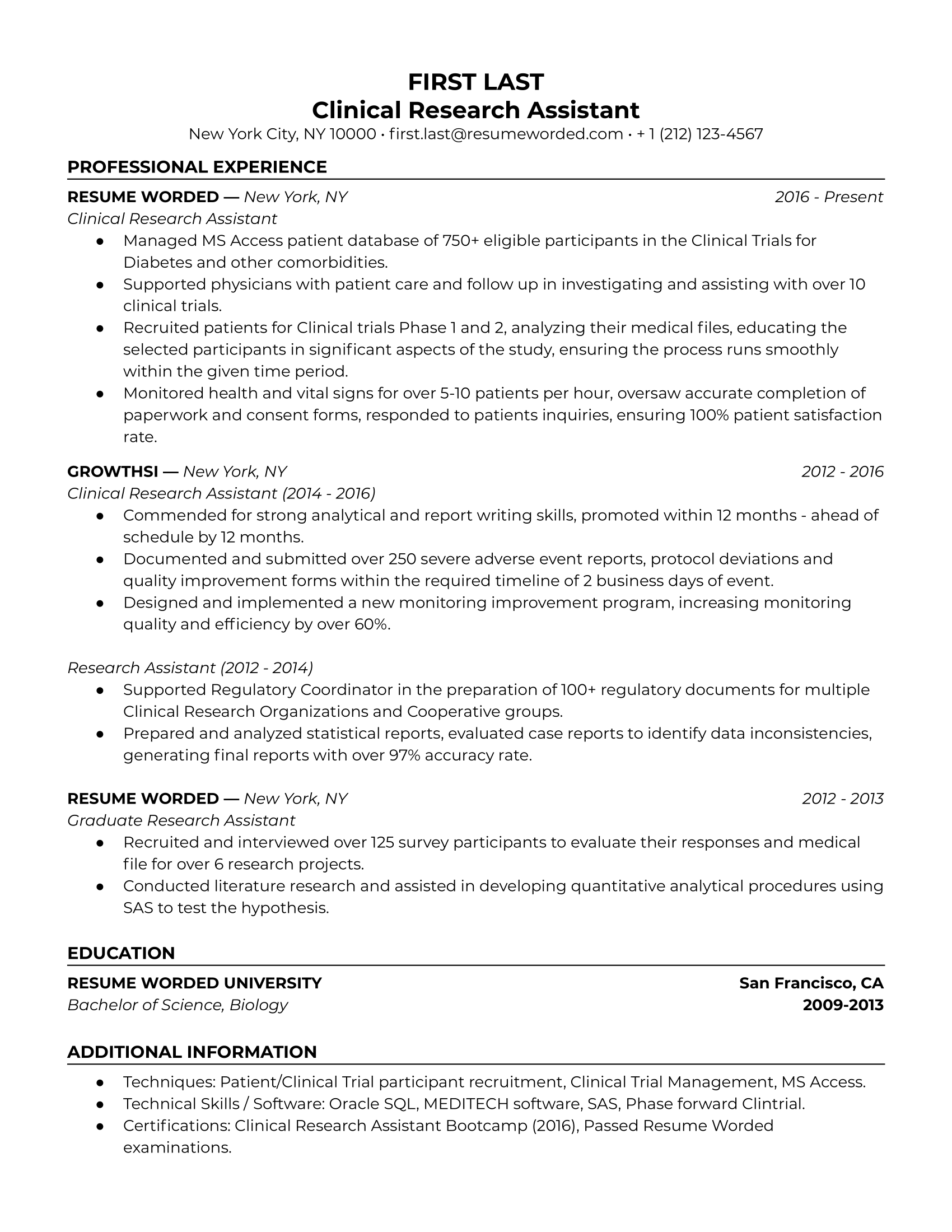 Why this resume works in 2021
Clinical research assistants work on clinical trials in hospitals and medical research centers. As a clinical research assistant, you'll be assisting doctors and senior researchers by recruiting and enrolling research subjects, developing protocols, setting up and managing trials, collecting and analyzing data, and contributing to trial reports, regulatory authority applications, and grant writing. Ideally, you'll need some experience or a degree in the field of study and clinical trial experience.
Laboratory Research Assistant Resume Sample
Download Resume Template (Google Doc)
Download Resume in PDF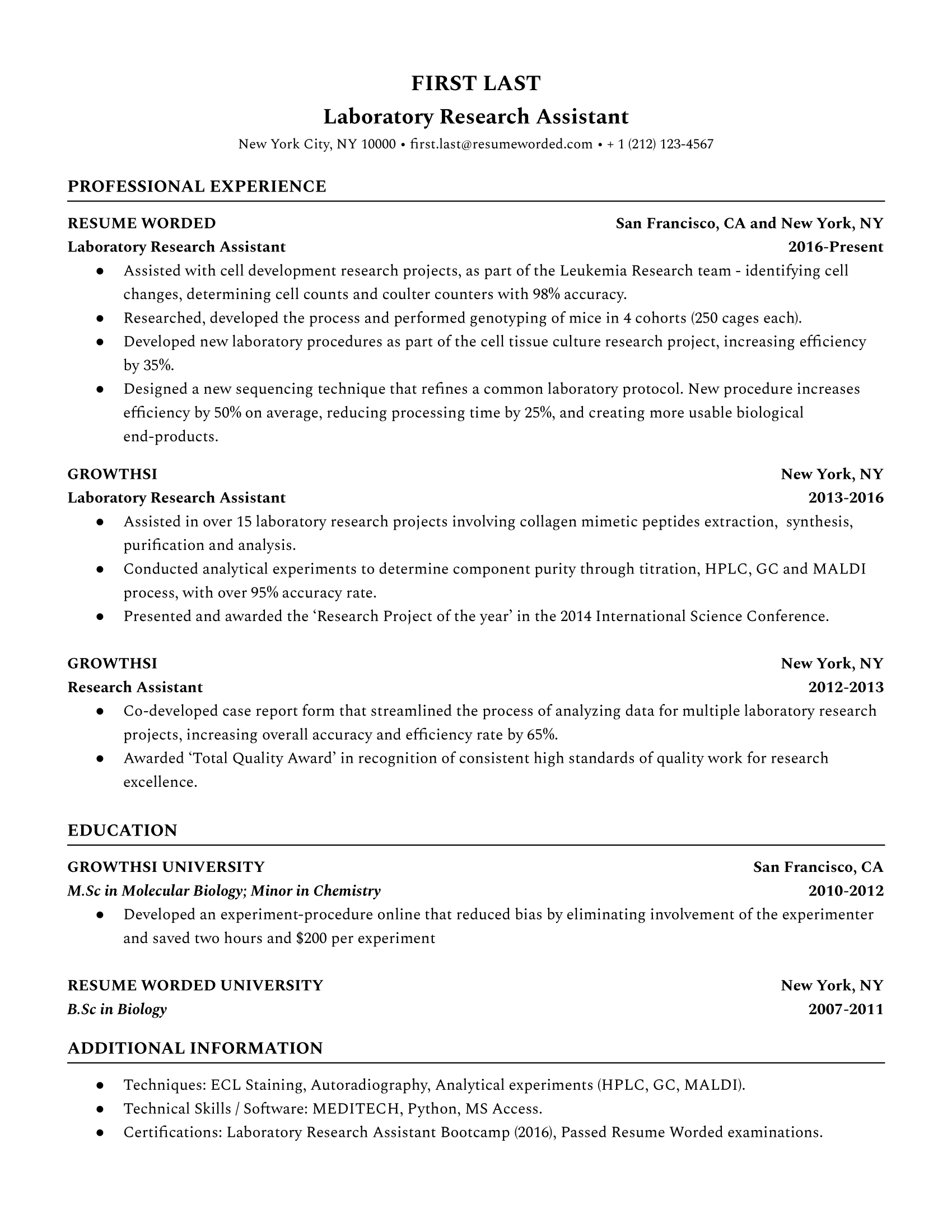 Why this resume works in 2021
As a laboratory research assistant, you'll be working in a laboratory environment to design projects, conduct research and experiments, write reports, perform general laboratory maintenance, and assist senior laboratory staff — so make sure to emphasize your technical skills. You may be working for a private laboratory, medical or research facility, or pharmaceutical company. Unlike standard research assistant positions, lab assistants typically work full-time, including weekend and evening shifts.
Graduate Research Assistant Resume Sample
Download Resume Template (Google Doc)
Download Resume in PDF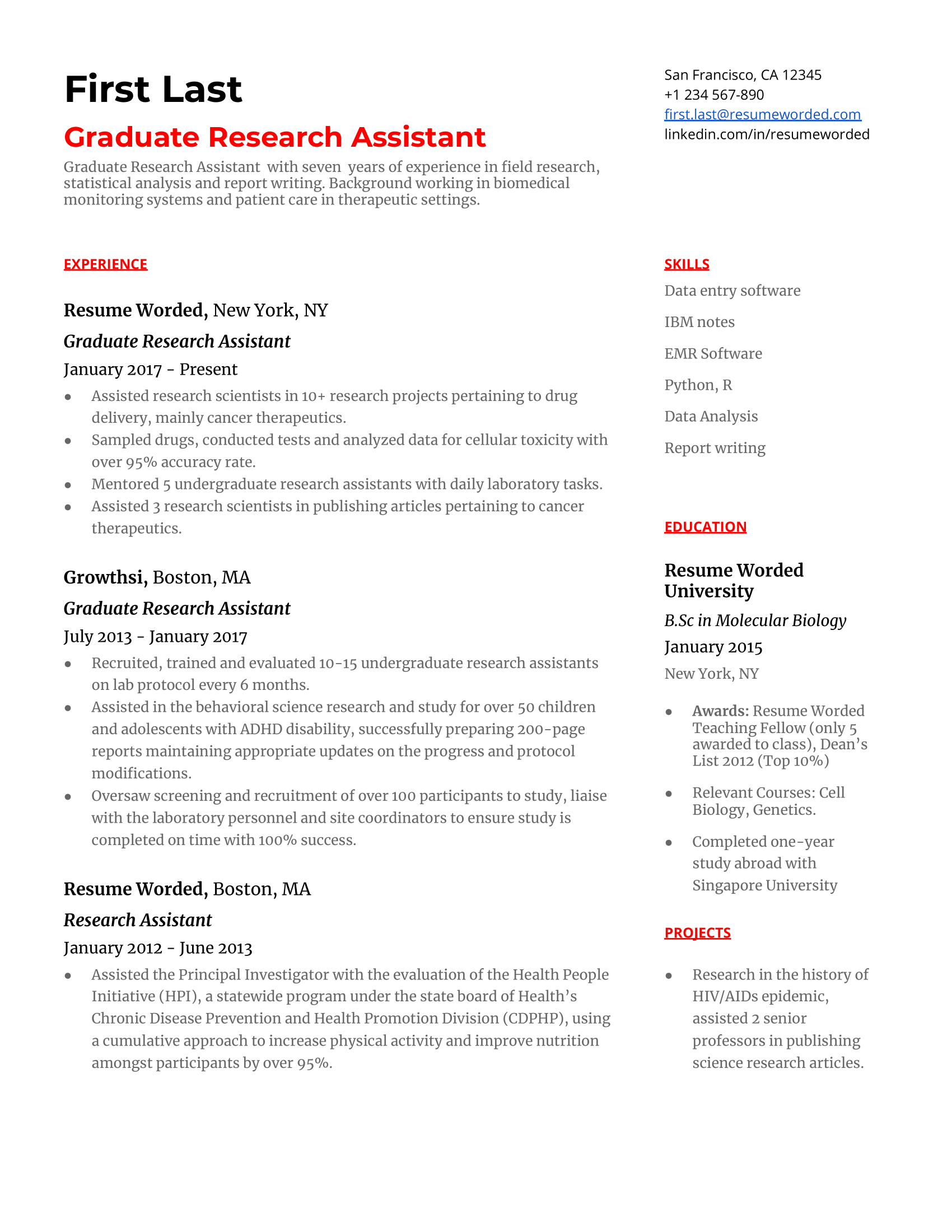 Why this resume works in 2021
Graduate research assistants are able to work while they study, receiving a tuition reimbursement or stipend as well as valuable experience working in academia. As a graduate research assistant, you'll have completed an undergraduate degree and be pursuing a master's degree or PhD. You'll generally be working closely with a supervisor to support their projects, including conducting research, analyzing data, writing reports, and supervising undergraduate research assistants.
Skills For Research Assistant Resumes
MATLAB
Python (Programming Language)
Research
R (Programming Language)
Data Analysis
C++
Statistics
LaTeX
Machine Learning
IBM SPSS
C (Programming Language)
Polymerase Chain Reaction (PCR)
Laboratory Skills
Cell Culture
SOLIDWORKS
Java
Science
Teamwork
Western Blotting
Molecular Biology
How to use these skills?
The skills you'll need as a research assistant will depend on your field and the specific position you're applying for. Clinical or laboratory positions will require more technical and scientific skills, while academic or market research positions may place a heavier emphasis on soft skills that don't need to be listed in your skills section.

To find out what hard skills you should be including on your resume, the best place to start is the job description itself. Pick out the most important skills from there and make sure to list the ones you have. For more comprehensive suggestions, you can check out our list of top resume skills and keywords or use our free Targeted Resume tool for keyword suggestions and personalized feedback on how to improve your resume.
Action Verbs For Research Assistant Resumes
Researched
Developed
Assisted
Designed
Analyzed
Supported
Supervised
Conducted
Streamlined
Recruited
Monitored
Interviewed
Documented
Presented
Reviewed
Tested
How to use these action verbs?
One of the easiest mistakes to make on your resume is listing the job duties for each position you held instead of focusing on your accomplishments. The best way to prevent this is to start each bullet point with a strong action verb. As a research assistant, you'll want to choose verbs that highlight clinical, scientific, and technical skills. Use Tested or Analyzed to highlight your experience with running tests and performing data analysis, or Monitored and Documented to show attention to detail.

If the position you're applying for requires soft skills like teamwork and communication, choose verbs like Assisted and Supported to show how you've worked with senior researchers and academics, Supervised if you'll be leading a team of research assistants, and Presented if the role required a lot of public speaking or outreach.

For a full list of effective resume action verbs, visit Resume Action Verbs.