Chemists are patient, logical, and analytical. You're curious about how the world works and love to tinker with something until you get it just right. You pay meticulous attention to detail and have a passion for the molecular.

Sound like you?

If you're recruiting in this industry, you've probably gone through several years of schooling or working in labs. Chemistry is a highly specialized and ever-evolving field, and demand is never scarce for chemists.

That's not to say you can phone it in on your application. Competition can be fierce in the science world, and recruiters are looking for those who are not only book-smart, but who have the practical ability to apply their knowledge to a variety of disciplines. Whether that's biochemistry, neurochemistry, or forensic chemistry, there's no shortage of jobs for those with a background in this unique science.

Landing a chemistry job shouldn't be nerve-wracking and confusing -- we're here to demystify and destress the chemistry job hunting process. We've researched what works in 2021, and below we've compiled three chemistry resumes that you can use to stand out from the crowd.
Chemistry Resume Templates
Chemistry Lab Assistant Resume Sample
Download Resume Template (Google Doc)
Download Resume in PDF
Why this resume works in 2021
A chemistry lab assistant is usually the next level up from a chemistry research student assistant. You will likely support more complex chemical procedures, while also performing administrative and clerical duties like cleaning and sterilizing equipment. When crafting your chemistry lab assistant resume, keep this in mind as you choose what kind of examples to include in your professional experience section. Emphasize your numerical achievements and relevant skills in the field.
Improve your Chemistry resume, instantly.
Use our free resume checker to get expert feedback on your resume. You will:
• Get a resume score compared to other Chemistry resumes in your industry.
• Fix all your resume's mistakes.
• Find the Chemistry skills your resume is missing.
It's instant, free and trusted by 1+ million job seekers globally. Get a better resume, guaranteed.
Upload your resume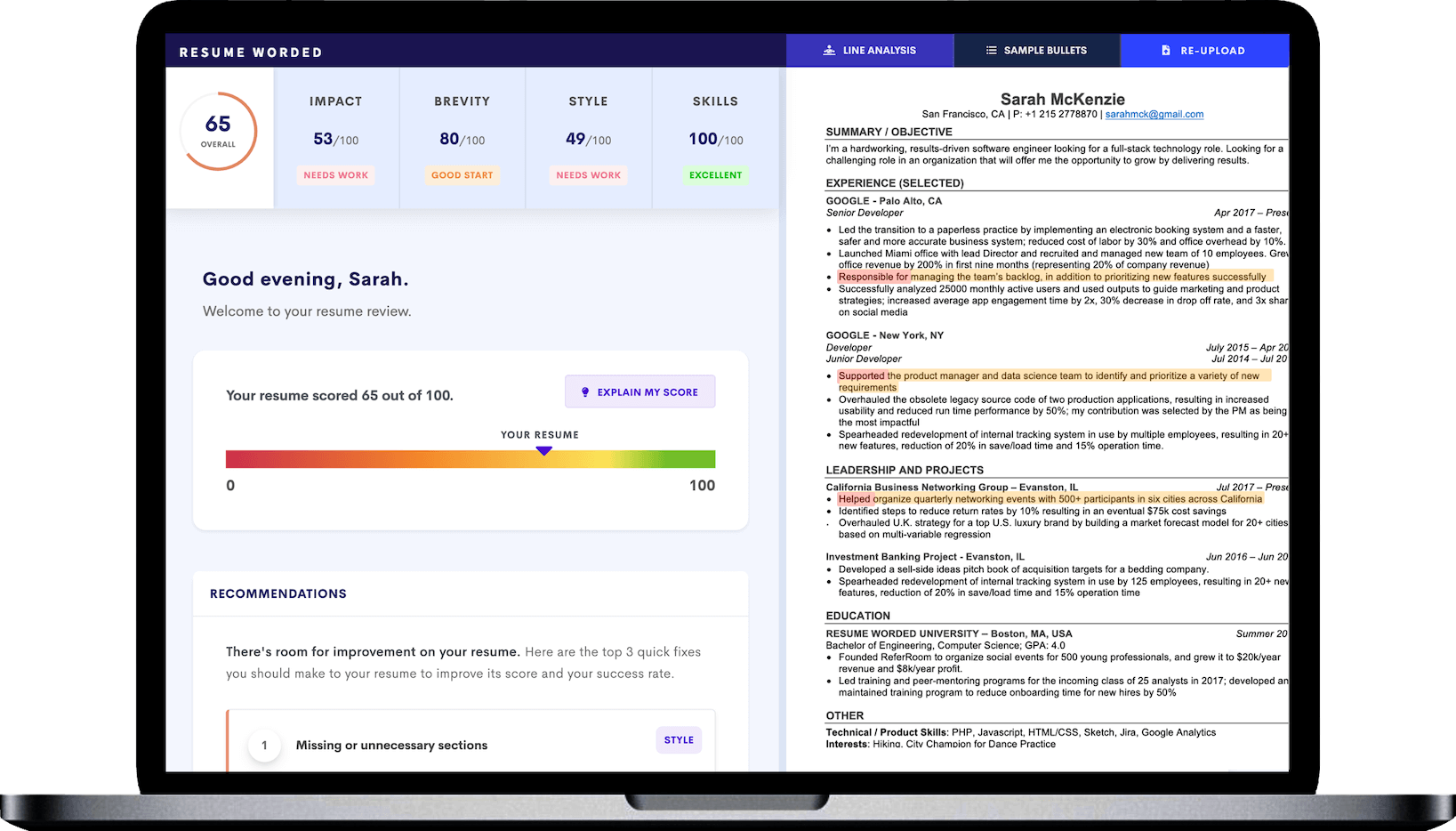 Chemistry Lab Technician Resume Sample
Download Resume Template (Google Doc)
Download Resume in PDF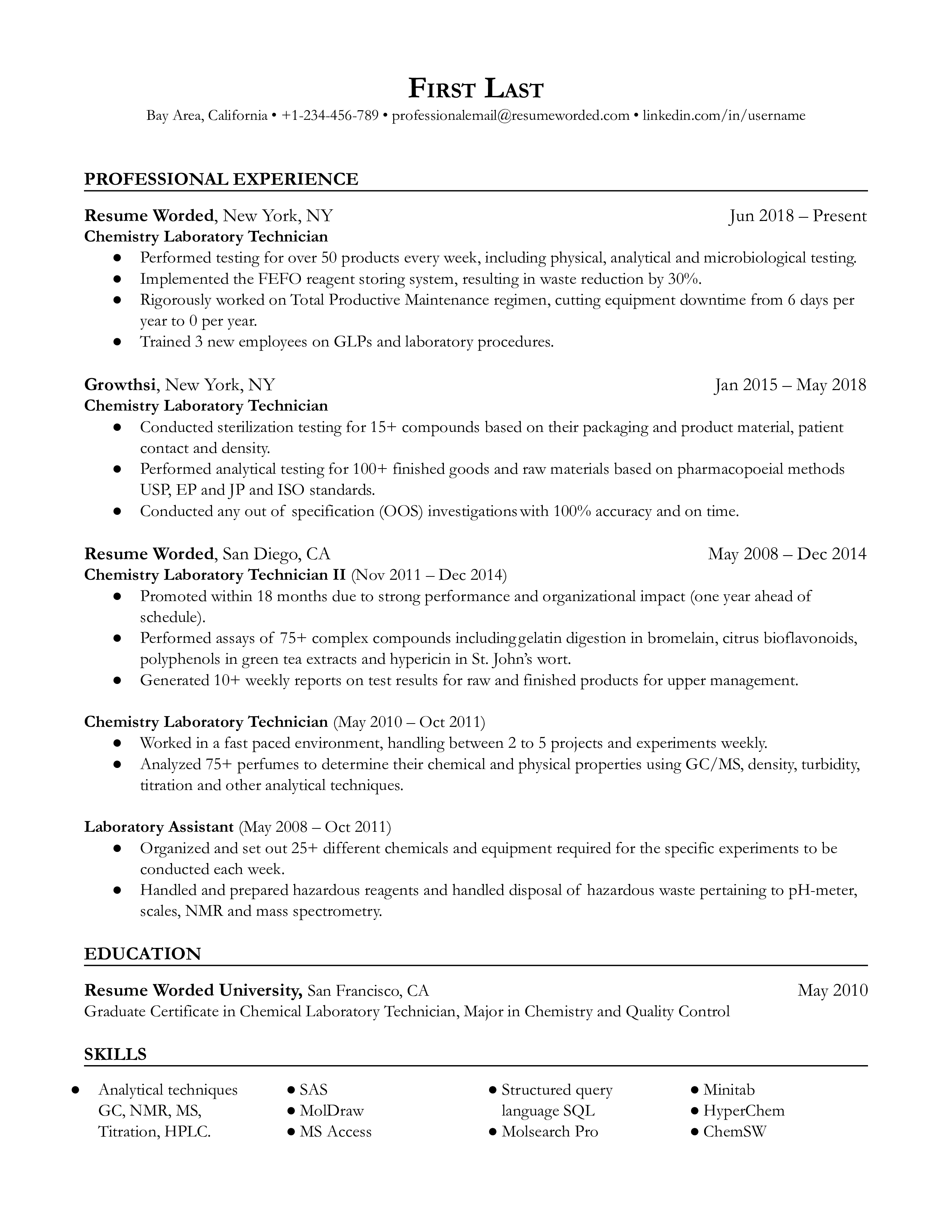 Why this resume works in 2021
After you've worked for a few years in a chemistry lab assistant role, you may be ready to apply to the next position up -- a chemistry lab technician. You've demonstrated your ability and skills in lab environments, and can take on more demanding responsibilities, like carrying out routine tests and procedures. As you'll be taking on more authority and duties, it's key to highlight your leadership skills on your resume and show your career path.
Chemistry Research Student Resume Sample
Download Resume Template (Google Doc)
Download Resume in PDF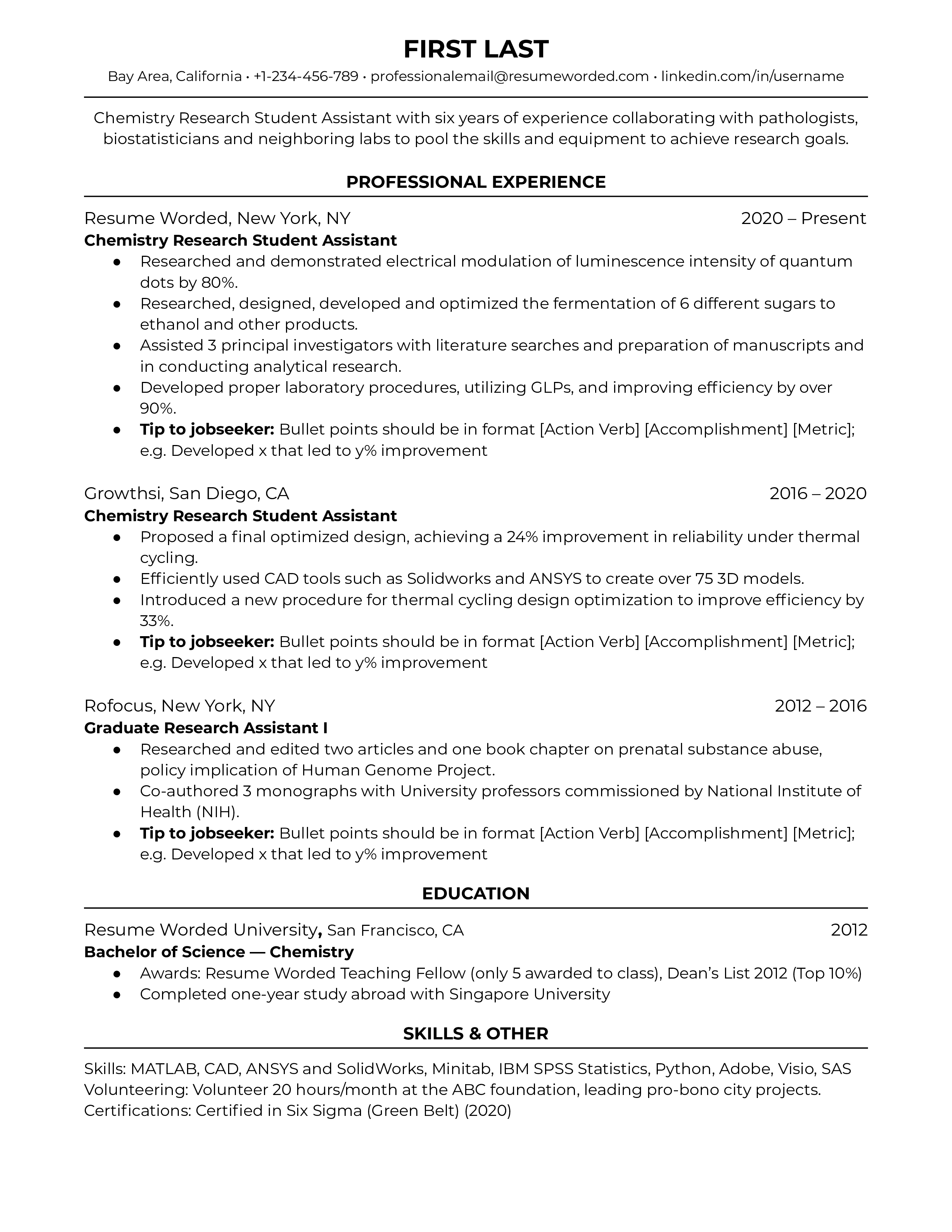 Why this resume works in 2021
When applying to be a chemistry research student assistant, emphasize your past research experience and chemistry skills in your resume. Chemistry is a specific and precise discipline, and your resume should reflect these qualities. Aim to choose instances that detail your expertise in hands-on lab procedures or with relevant software, as opposed to simply listing out the responsibilities you were assigned. Use strong action verbs and be deliberate with what you include.
Skills For Chemistry Resumes
Chemistry
High-Performance Liquid Chromatography (HPLC)
Organic Chemistry
Nuclear Magnetic Resonance (NMR)
Laboratory Skills
Analytical Chemistry
UV/Vis Spectroscopy
Organic Synthesis
Liquid Chromatography-Mass Spectrometry (LC-MS)
Spectroscopy
GC-MS
Chromatography
NMR Spectroscopy
Biochemistry
Gas Chromatography
Research
Medicinal Chemistry
Mass Spectrometry
Science
IR Spectroscopy
How to use these skills?
When choosing what to include in your chemistry resume, follow these tips to ensure that you're picking the best skills you can to help your application stand out.

After finding the chemistry roles that you want to apply to, carefully read the job description from front to end. Required skills and experience with certain types of equipment vary widely, depending on if you're applying to a lab, government agency, or academic institution. Take time to research the employer and figure out what techniques they are known for using so you have a better idea of what skills to include.

For example, if a job posting requires knowledge of certain analytical techniques such as Mass spectrometry or HPLC Chromatography, make sure you list that in your skills section. Better yet, you can further expand on instances you've applied this knowledge within experiments in your professional experience section.
Action Verbs For Chemistry Resumes
Processed
Implemented
Conducted
Performed
Generated
Analyzed
Combined
Organized
Researched
Proposed
Introduced
Outlined
Investigated
Interpreted
Formulated
Designed
How to use these action verbs?
Chemists are inquisitive, analytical, and scientifically inclined. You can work well with others to solve complicated problems and can patiently chip away at intricate, seemingly impenetrable enigmas. At the same time, you are great at communicating with others and keeping close inventory of all the equipment and processes you are working with.

It's important to not only have these skills, but also be able to communicate them in your application. As you write your chemistry resume, make sure to use powerful action verbs such as "researched" and "proposed" to emphasize your analytical skills.

Try your best not to use generic verbs. Instead, use strong action verbs that create an image in the reader's mind of a confident, well-organized chemist.

For a full list of effective resume action verbs, visit Resume Action Verbs.