Choose a category to browse Research & Science resumes
We've put together a number of free Research & Science resume templates that you can use. Choose a category depending on your field, or just scroll down to see all templates.
Chemistry
Research Assistant
Chemistry Resumes
Want to work in chemistry in 2022? We've compiled three resume templates for you that'll help you land your dream chemistry role, along with other tips and knowledge you'll need to gain an extra edge against the competition. (Google Docs and PDFs attached).
Chemistry Lab Technician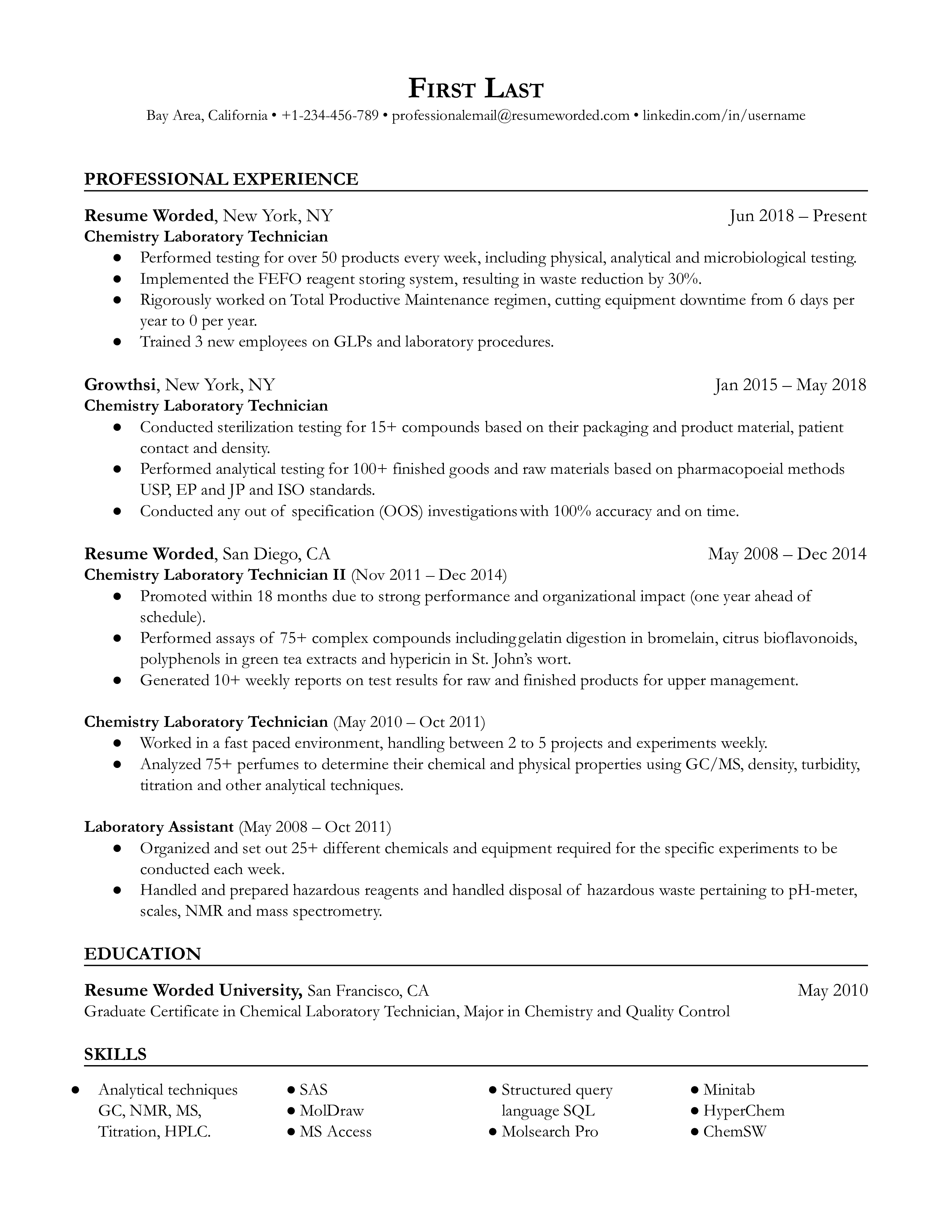 After you've worked for a few years in a chemistry lab assistant role, you may be ready to apply to the next position up -- a chemistry lab technician. You've demonstrated your ability and skills in lab environments, and can take on more demanding responsibilities, like carrying out routine tests and procedures. As you'll be taking on more authority and duties, it's key to highlight your leadership skills on your resume and show your career path.
Expand
Download .DOC or .PDF
Chemistry Research Student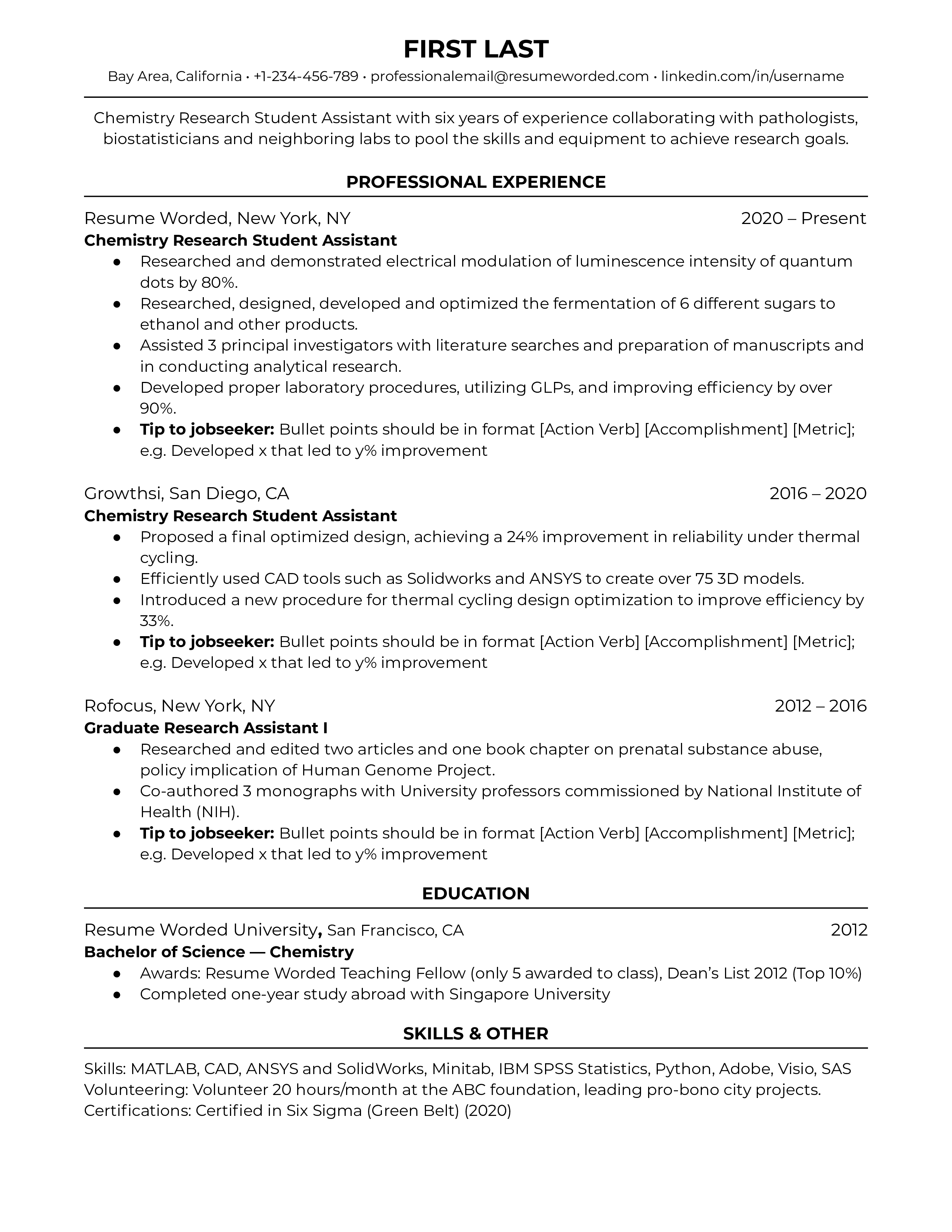 When applying to be a chemistry research student assistant, emphasize your past research experience and chemistry skills in your resume. Chemistry is a specific and precise discipline, and your resume should reflect these qualities. Aim to choose instances that detail your expertise in hands-on lab procedures or with relevant software, as opposed to simply listing out the responsibilities you were assigned. Use strong action verbs and be deliberate with what you include.
Expand
Download .DOC or .PDF
Chemistry resume guide
Research Assistant Resumes
Becoming a research assistant is an ideal path for those who love to learn new things and challenge themselves intellectually. With a growing demand for capable research assistants, there's never been a better time to apply. This guide contains everything you need to land the right position, including essential skills and sample resume templates for you to use.
Clinical Research Assistant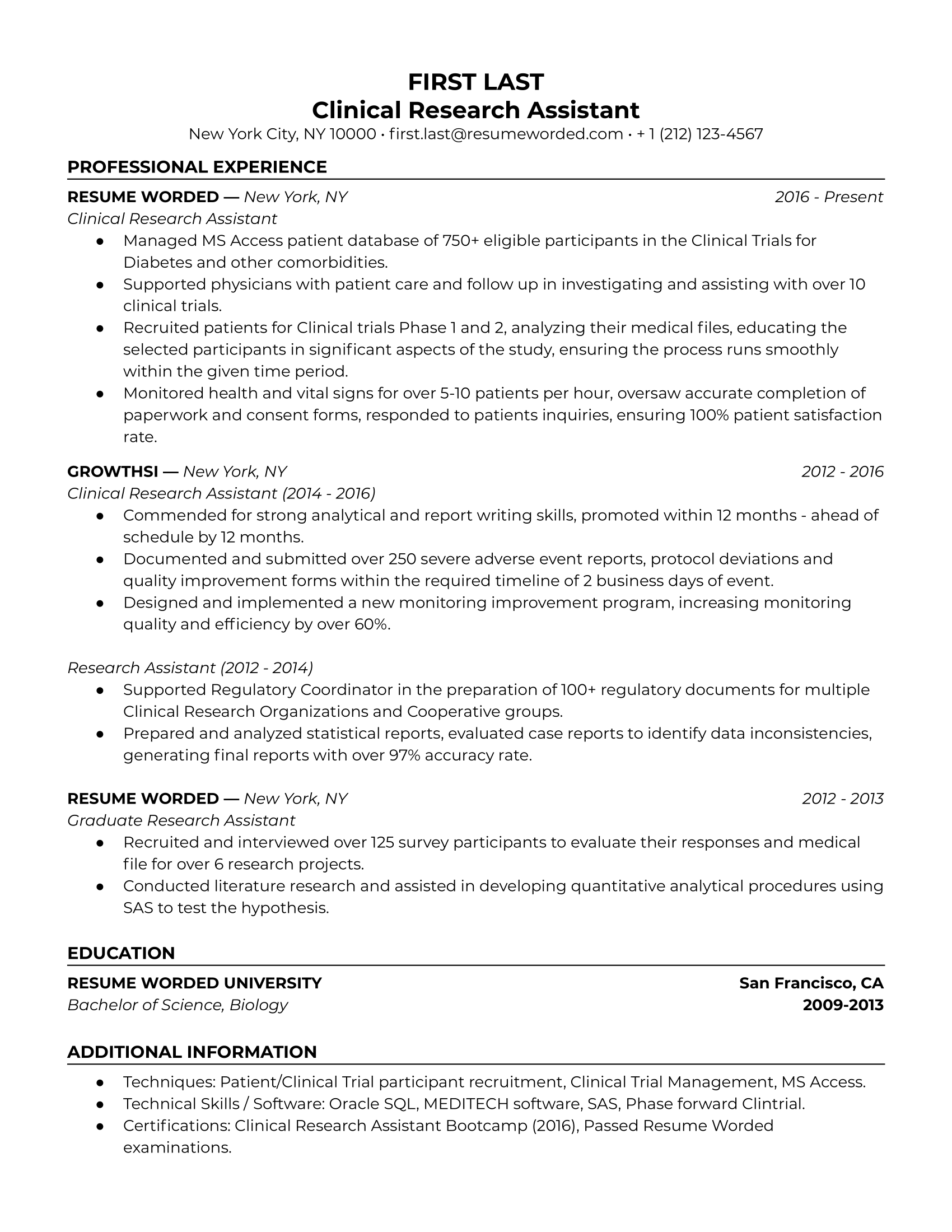 Clinical research assistants work on clinical trials in hospitals and medical research centers. As a clinical research assistant, you'll be assisting doctors and senior researchers by recruiting and enrolling research subjects, developing protocols, setting up and managing trials, collecting and analyzing data, and contributing to trial reports, regulatory authority applications, and grant writing. Ideally, you'll need some experience or a degree in the field of study and clinical trial experience.
Expand
Download .DOC or .PDF
Laboratory Research Assistant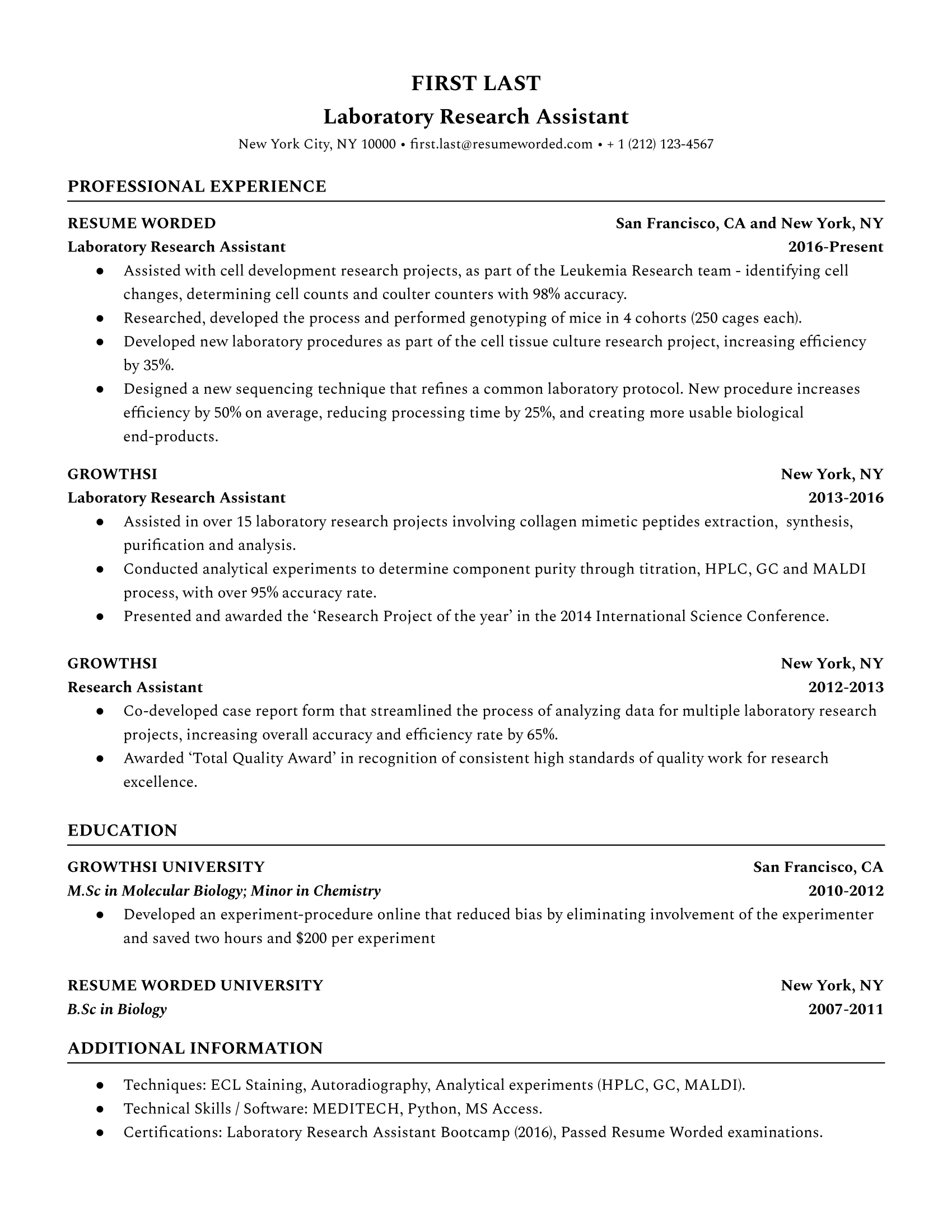 As a laboratory research assistant, you'll be working in a laboratory environment to design projects, conduct research and experiments, write reports, perform general laboratory maintenance, and assist senior laboratory staff — so make sure to emphasize your technical skills. You may be working for a private laboratory, medical or research facility, or pharmaceutical company. Unlike standard research assistant positions, lab assistants typically work full-time, including weekend and evening shifts.
Expand
Download .DOC or .PDF
Graduate Research Assistant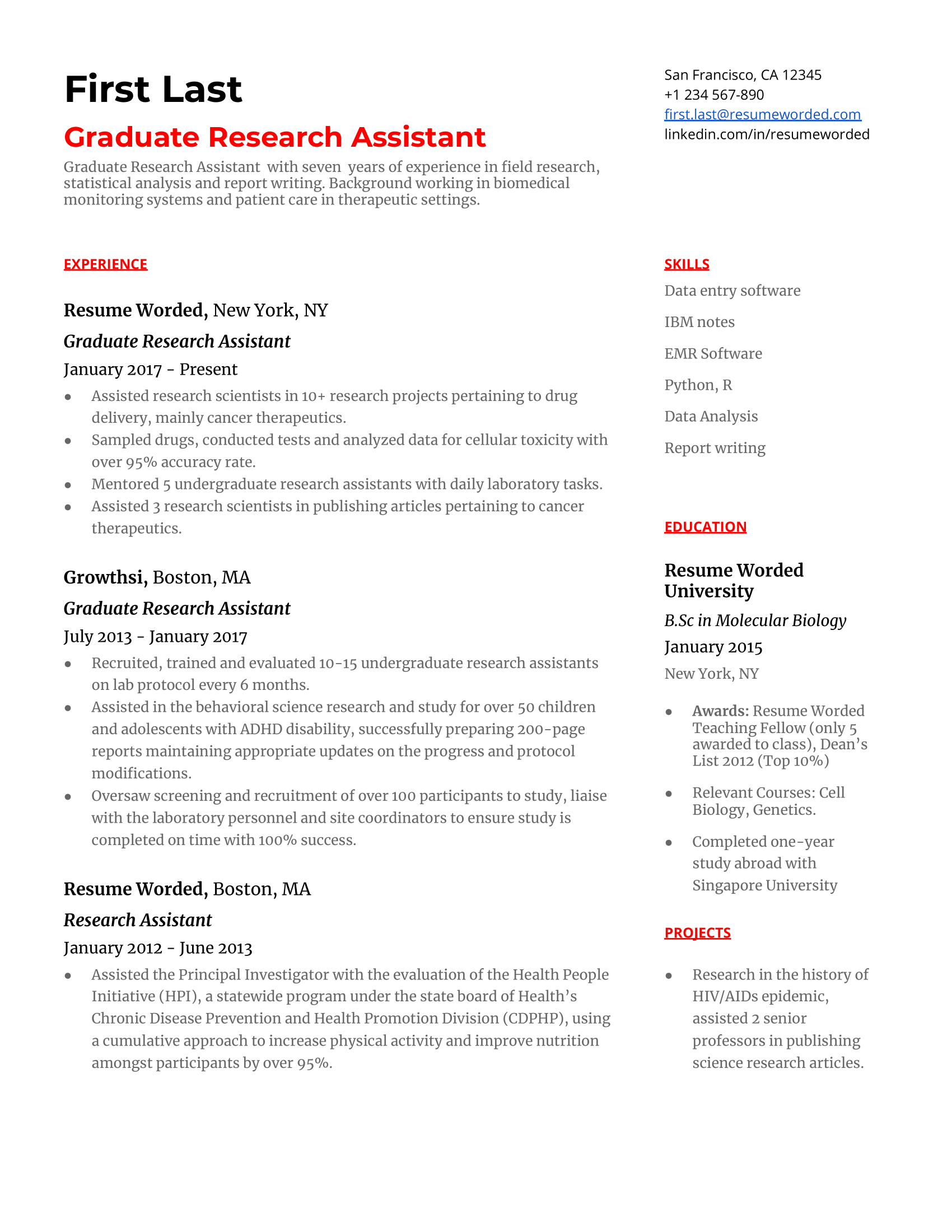 Graduate research assistants are able to work while they study, receiving a tuition reimbursement or stipend as well as valuable experience working in academia. As a graduate research assistant, you'll have completed an undergraduate degree and be pursuing a master's degree or PhD. You'll generally be working closely with a supervisor to support their projects, including conducting research, analyzing data, writing reports, and supervising undergraduate research assistants.
Expand
Download .DOC or .PDF
Load more resumes
Research Assistant resume guide
Action Verbs For Research & Science Resumes
Processed
Implemented
Conducted
Performed
Generated
Analyzed
Combined
Organized
Researched
Proposed
Introduced
Outlined
Investigated
Interpreted
Formulated
Designed
How to use these action verbs?
Use strong action verbs to describe your accomplishments at your previous companies, internships or classes. For roles involving science, use action verbs which highlight your experience with technical and engineering tasks.

For example, "Implemented" or "Structured" are good action verbs to show technical experience, while "Collaborated" could be a good verb to highlight your teamwork experience.