As one of the fastest growing industries, now is the time to get into game design. The field offers competitive pay, paired with the satisfaction of designing a unique game that people around the world can find joy in.

In practice, being a game designer requires focus and technical skills, and hiring managers will be looking for applicants who can demonstrate their familiarity with the industry. Game design encompasses multiple tasks to create code and media at each level of the process, meaning your background as a game designer may be different from someone else's.

Overall, game development includes the conceptualization process, designing the game world and its systems, and building a working prototype using code and visual editors. Last comes the testing process, which involves putting the game through its paces to ensure playability and remove bugs.

To help you build a resume that will catch the attention of hiring managers, this guide begins by looking at four types of game designer resume templates. Afterward, the skills you should emphasize and the action verbs you should incorporate are discussed.
Game Design Resume Templates
Game Design Resume Sample
As hiring managers do not spend long reviewing each resume, you'll want to make an impression quickly. A few key ways to do that are to start with a fact-filled, succinct summary and hit on strong action verbs that are relevant for game designers.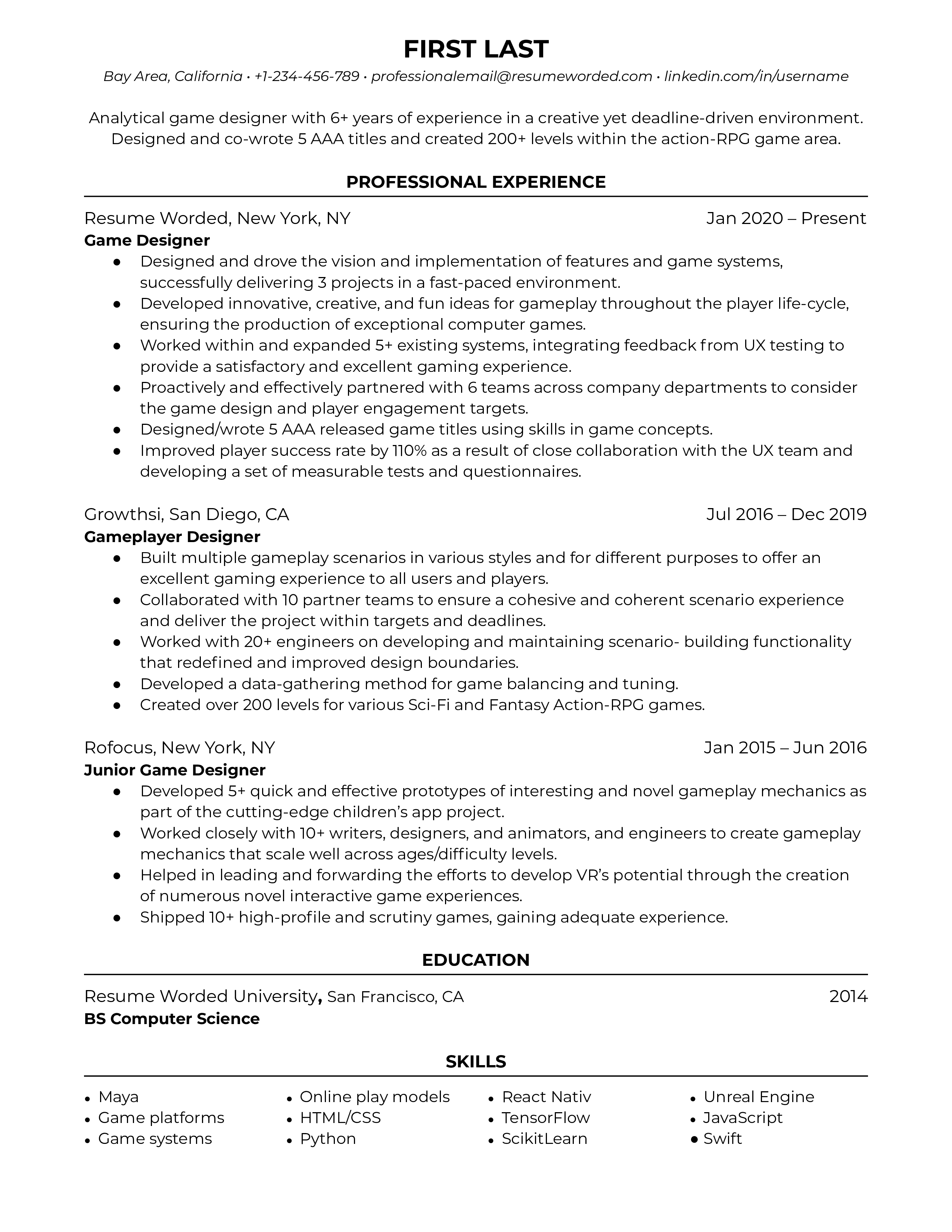 Recruiter Insight: Why this resume works in 2021
Senior Game Designer Resume Sample
Senior game designers have added expectations compared to less experienced game designers, including potentially leading teams. Reference any accomplishments related to leadership and consider listing your skills to highlight your capabilities. Desmontrate soft skills like leadership, teamwork and initiative in your bullet points - avoid listing those words directly, but instead show them through your resume's bullet points.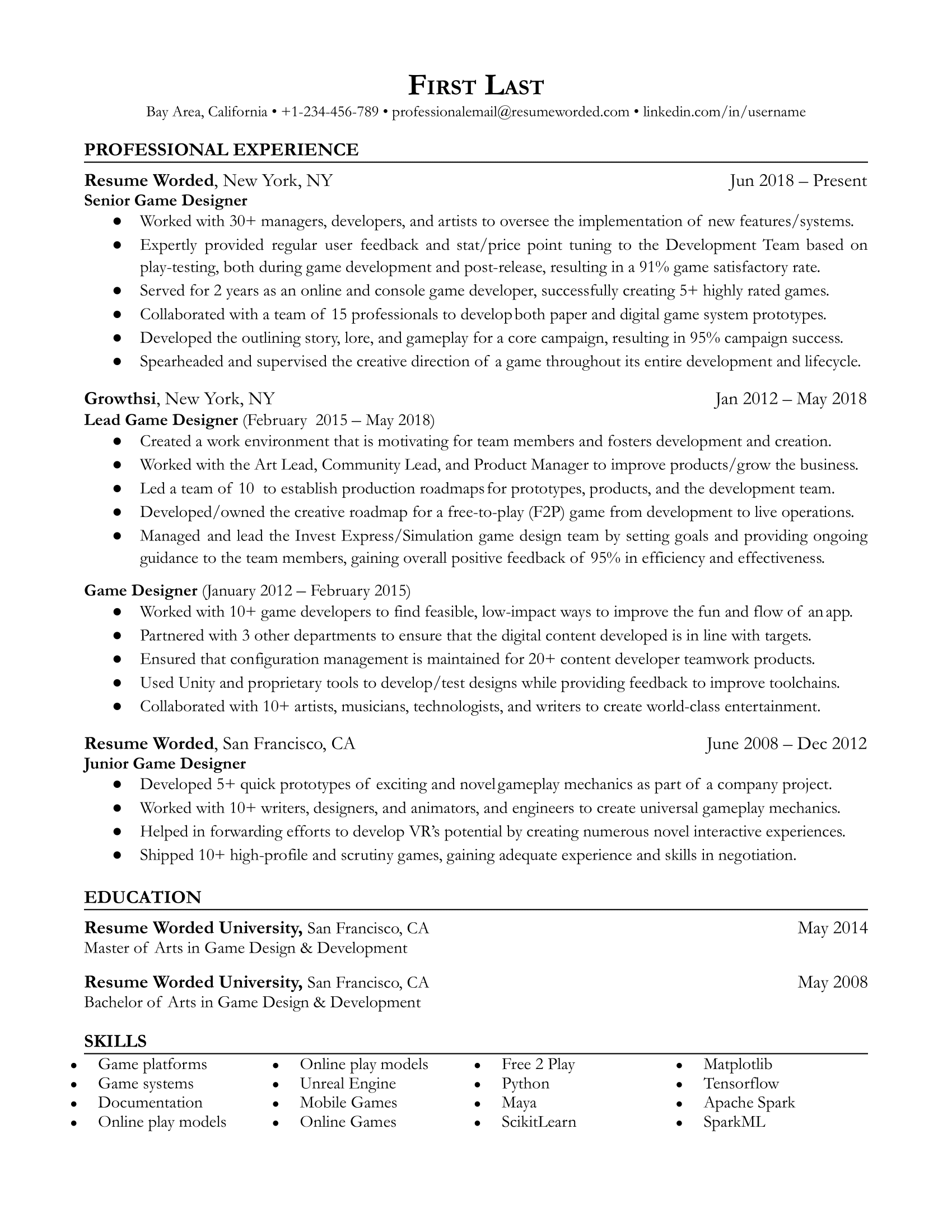 Recruiter Insight: Why this resume works in 2021
Video Game Designer Resume Sample
While some game designers dabble in multiple platforms, video game designers are dedicated to console games. Regardless of your specialization, you can stand out by adding in numerical values to your accomplishments and including relevant certifications or activities.
Recruiter Insight: Why this resume works in 2021
3d Game Artist Resume Sample
Game artists are specifically focused on developing visual assets for games, and thus they employ a different skill set than most game designers. You should be sure to name specific tools you've worked with. Additionally, including any internal promotions will help convey your commitment to companies.
Recruiter Insight: Why this resume works in 2021
Skills For Game Design Resumes
While game designers could be working on radically different kinds of games, the skills they utilize are generally the same. On the left, we've compiled the most referenced skills in game designer resumes.

Once you've identified the game designer skills that are most appropriate for your background, you should work them into your resume. You could pick the most relevant ones to incorporate in a short summary, weave them into your bullet-listed accomplishments, or list them in a skills bank.
Autodesk Maya
Game Art
Texturing
Game Design
Game Development
Unity
Video Games
3D Modeling
Substance Painter
Animation
ZBrush
Concept Art
Art
3D
Character Animation
Unreal Engine 4
Illustration
Mobile Games
Substance Designer
Adobe Photoshop
Action Verbs For Game Design Resumes
Game designers need to show their creative flair, plus technical acumen in design software. Use action verbs in your resume to highlight these skills.

Each of your bullet points should detail an accomplishment in your career(s). To indicate that you have a familiarity with the game designer position, you can begin your bullet points with an action verb that is relevant to the field from the list on the left. If you worked in other fields, you can still incorporate these action verbs as a way to emphasize your understanding of the responsibilities the work involves.
Designed
Developed
Validated
Created
Conceptualized
Revised
Coded
Tested
Troubleshooted
Debugged
Improved
Refined
Customized
Deployed
Spearheaded
Resolved
For a full list of effective resume action verbs, visit Resume Action Verbs.