UX Designer Resumes
With a global boom in demand for UX professionals, there's never been a better time to apply for UX design roles. This guide will walk you through how to write an effective UX designer resume, including essential skills and templates you can use as examples.
Load more resumes
UX Designer resume guide
UX Researcher Resumes
UX research plays a huge role in product development. The end goal of a UX researcher is to contribute to the product development process so that users interact better with the platform or product. To become a UX researcher, you should ideally have a bachelor's degree in Psychology, Marketing, Graphic Design, or Computer Science. If this is your case and you've started your job hunt, you might want to consider reading this guide. We'll show you some tips to improve your resume and your chances of getting a job as a UX researcher.
Entry-Level UX Researcher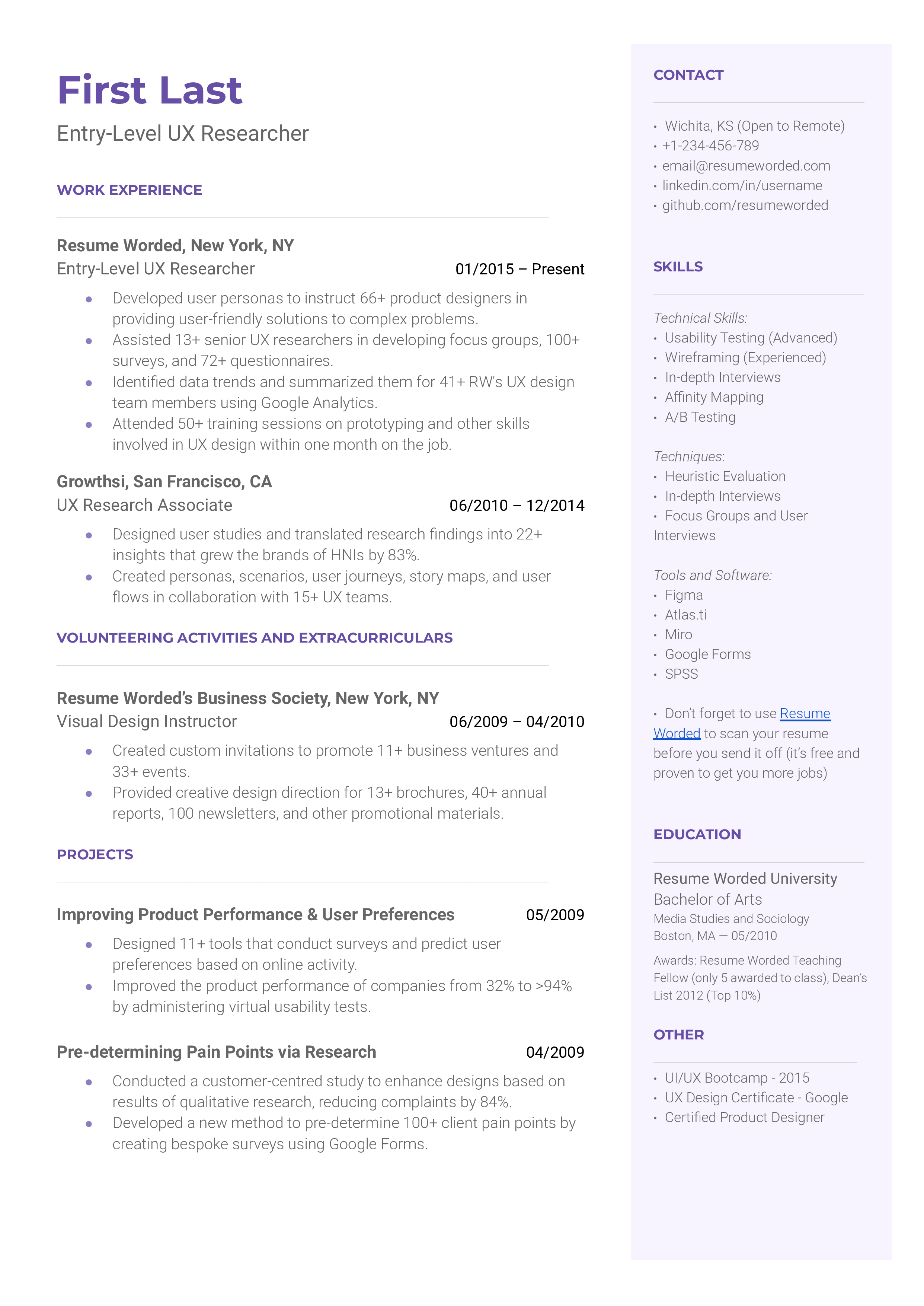 An entry-level UX researcher assists the user experience team by implementing analysis techniques to discover interesting insights. As an entry-level UX researcher, you might be under the supervision of more experienced colleagues. That's why it is essential to indicate your reporting skills. You must illustrate your discoveries through data visualization techniques or reports.
Expand
Download .DOC or .PDF
UX Researcher resume guide
Architecture Resumes
Architects are experts in both design and engineering, and are especially careful and analytical workers. When crafting your architecture resume, it's crucial to display those skills to recruiters. Below, we've created a template with the most important qualities to have in 2023. (Google Docs and PDFs attached).
Load more resumes
Architecture resume guide
Graphic Designer Resumes
Graphic designers are more in demand than ever, which makes now the perfect time to apply for that graphic design role. This guide will teach you the most important steps for writing an effective graphic designer resume, including templates for you to use and industry-specific tips.
Load more resumes
Graphic Designer resume guide
3D Artist Resumes
Highly skilled 3D artists continue to be in high demand, especially those that are able to specialize. This guide will show you how to set up your 3D artist resume, including templates that you can replicate, and important skills to succeed in the industry.
3D Game Artist
A game artist is an animator that designs 2D and 3D art in the gaming industry like scenery, characters, or backgrounds. To advance as a 3D game artist, you will need to show past experiences of how you've grown with previous companies or in past roles. You can also use strong language and verbs throughout your resume to show your technical skills and most important achievements and accomplishments.
Expand
Download .DOC or .PDF
3D Modeler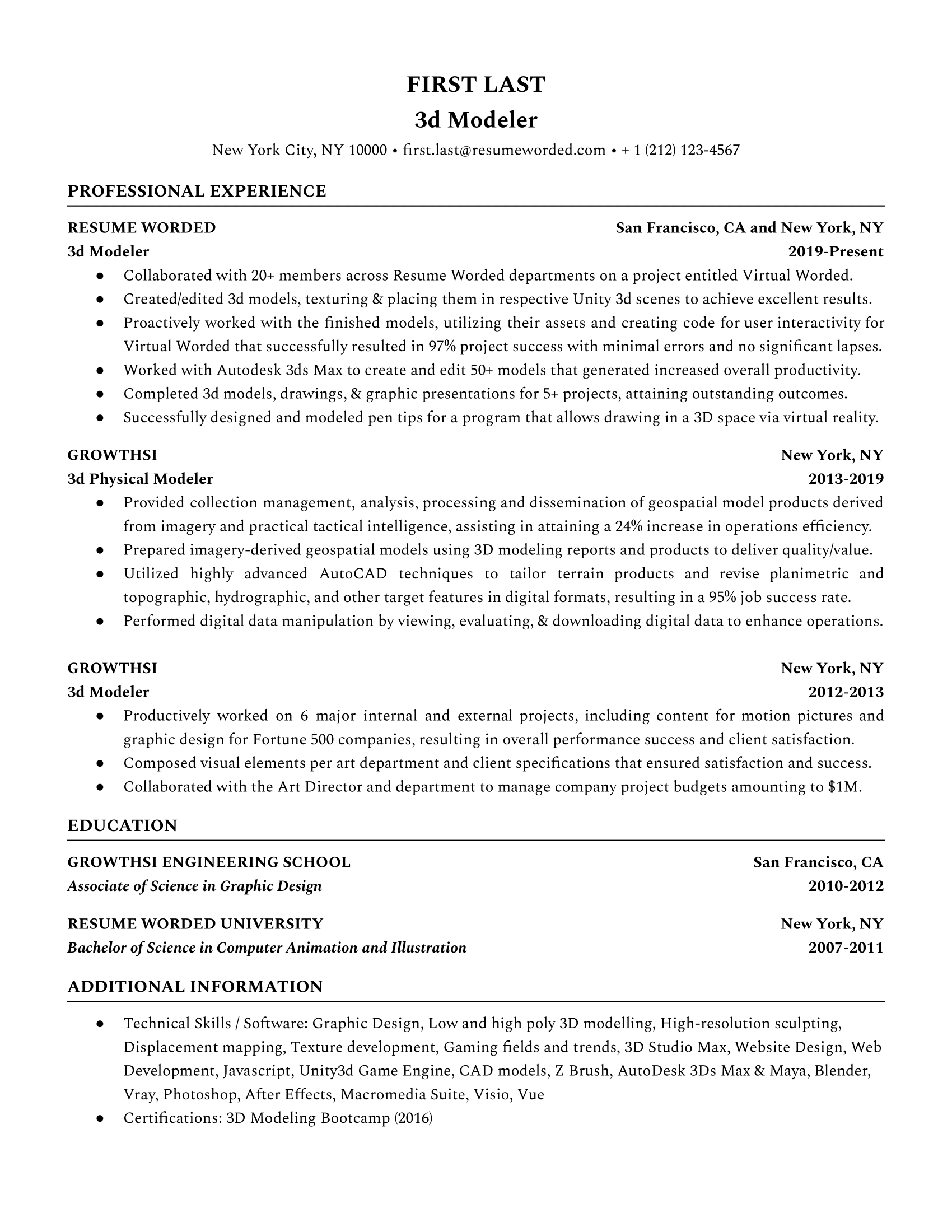 A 3D modeler is a special type of animator that uses software to create 3D models for television, gaming, movies or websites. As a 3D modeler, your technical skills are your greatest assets. By displaying a wide breadth of skills, you show that you are adaptable and can learn new skills. Also, while job titles can vary, pay close attention to the verbiage of how managers list the titles.
Expand
Download .DOC or .PDF
3D Modeler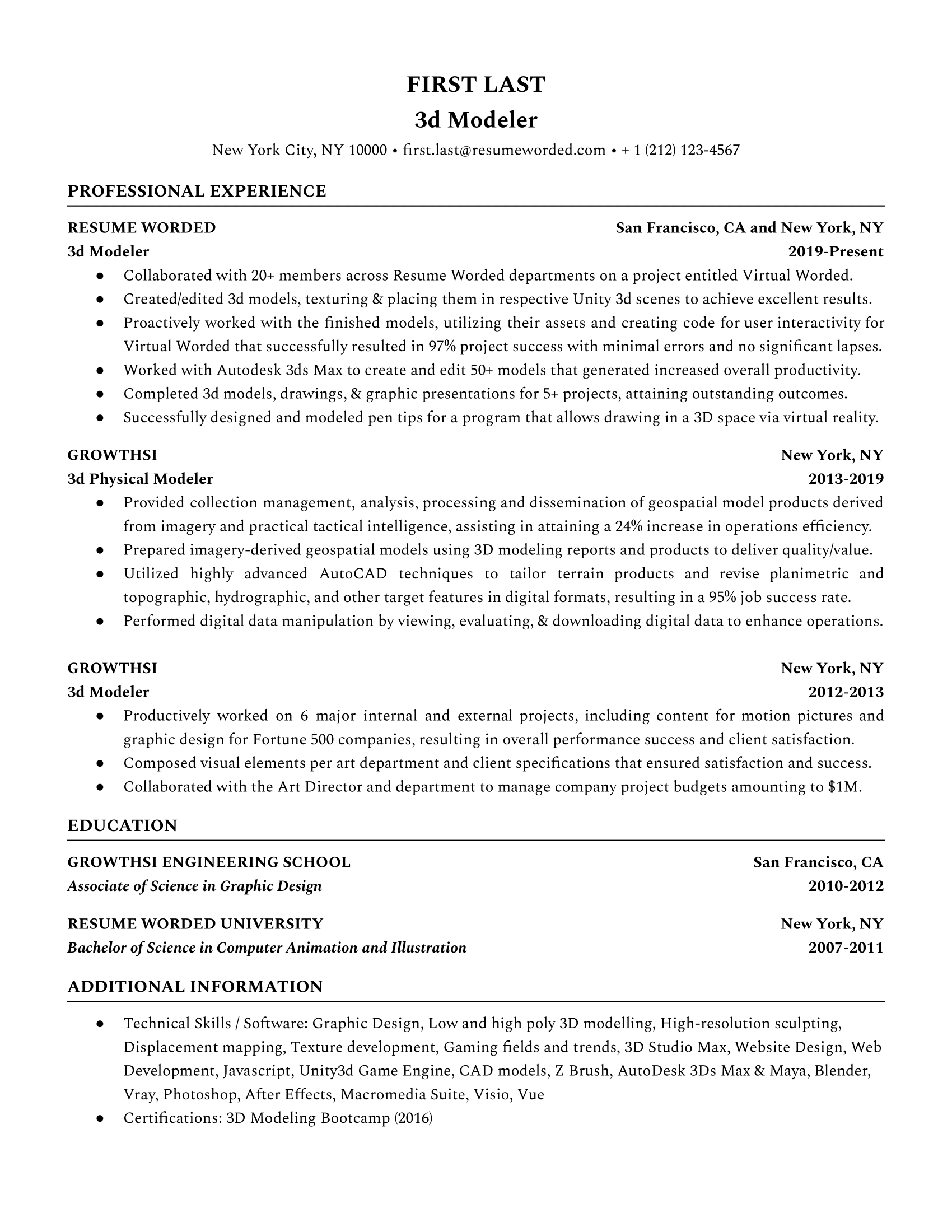 A 3D modeler is someone who creates proportional and realistic 3D models using computer software. They can work in a variety of fields, such as cinema or architecture. The job duties can change based on the industry. Generally, as a 3D modeler, you will use software to create realistic renderings, collaborate internally to ensure your renderings meet the needs of the project and present 3D designs for prototyping. To become a 3D modeler, you will need a bachelor's degree in a related field such as animation, architecture, industrial design, or electronic visualization. From there, you will want to get experience creating 3D models either through an internship or freelance work. Hiring managers will look for someone with related work experience, such as prior roles as an illustrator, product designer, or animator. Overall, hiring managers will be looking for a candidate who is creative and technically inclined with superb communication skills.
Expand
Download .DOC or .PDF
Load more resumes
3D Artist resume guide
Game Design Resumes
If you have a passion for creating virtual worlds, then becoming a game designer is the field for you. Learn how to create a standout resume in this resume guide, which includes four templates from different specializations within the game designing sphere, and the skills and action verbs you should be sure to tie in.
Senior Game Designer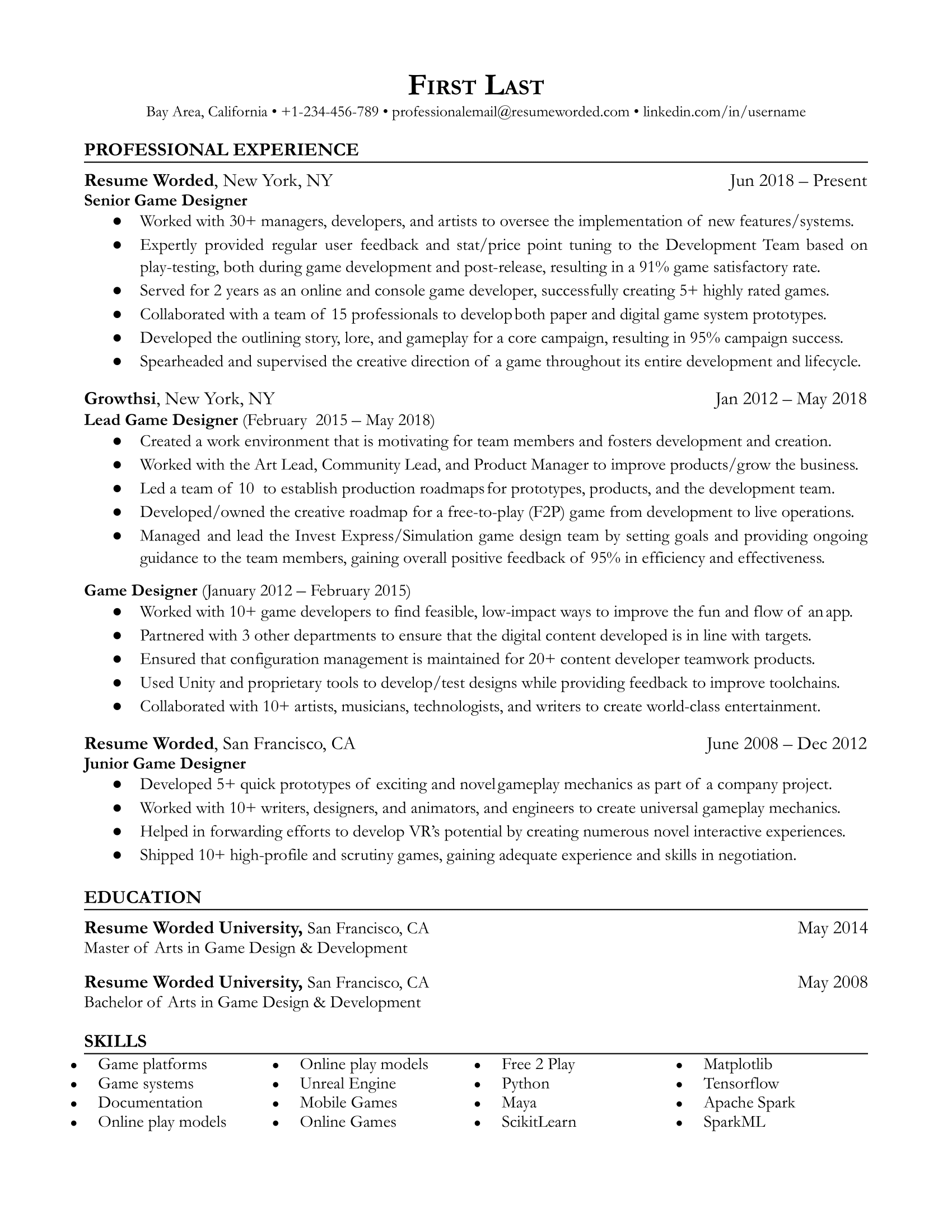 Senior game designers have added expectations compared to less experienced game designers, including potentially leading teams. Reference any accomplishments related to leadership and consider listing your skills to highlight your capabilities. Desmontrate soft skills like leadership, teamwork and initiative in your bullet points - avoid listing those words directly, but instead show them through your resume's bullet points.
Expand
Download .DOC or .PDF
Video Game Designer
While some game designers dabble in multiple platforms, video game designers are dedicated to console games. Regardless of your specialization, you can stand out by adding in numerical values to your accomplishments and including relevant certifications or activities.
Expand
Download .DOC or .PDF
3D Game Artist
Game artists are specifically focused on developing visual assets for games, and thus they employ a different skill set than most game designers. You should be sure to name specific tools you've worked with. Additionally, including any internal promotions will help convey your commitment to companies.
Expand
Download .DOC or .PDF
Load more resumes
Game Design resume guide
Interior Design Resumes
The way we use our homes and workspaces is rapidly changing, which means interior designers should get ready for a surge in demand. This guide will walk you through everything you need to apply for an interior design position, including sample resume templates, essential skills, and industry-specific tips.
Interior Design Assistant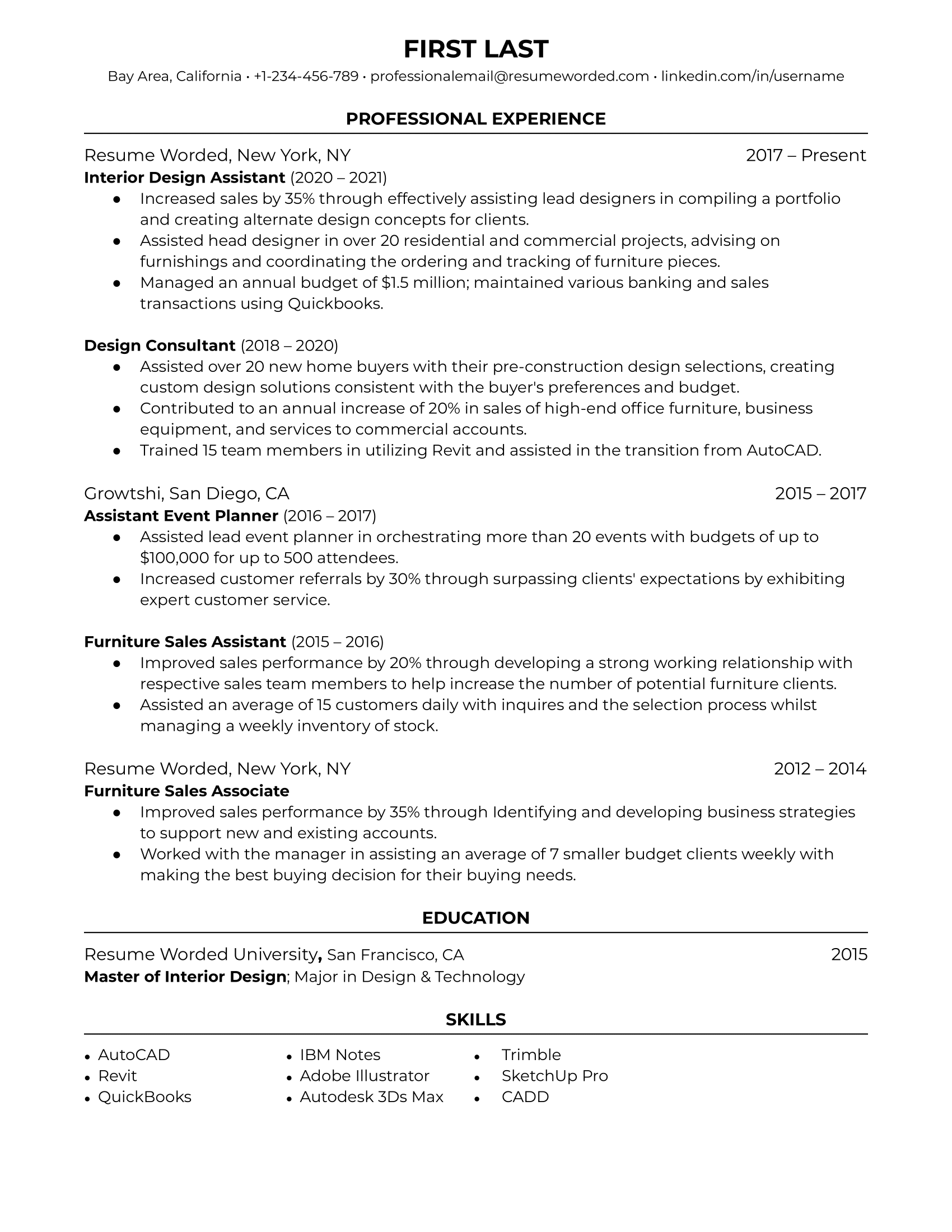 Interior design assistants are integral to the smooth running of design firms. To succeed, you'll need both administrative and creative skills, as your tasks can range from providing administrative support to assisting with design tasks, maintaining client relationships, and managing projects. Your resume should demonstrate your ability to assist with any aspect of the job, so make sure to emphasize the hard skills and experience that employers are looking for.
Expand
Download .DOC or .PDF
Entry Level Interior Designer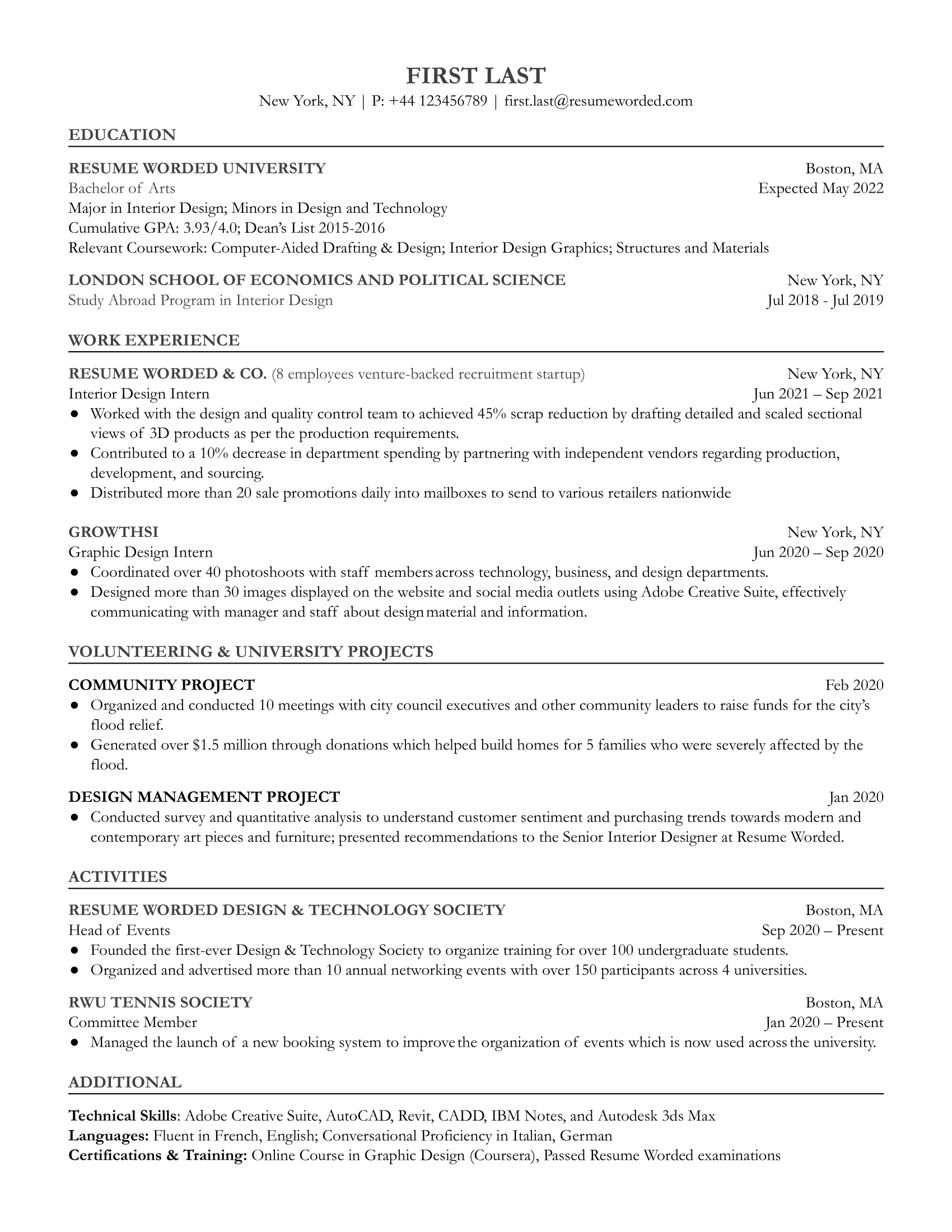 Early in your career, you'll be competing with other entry-level interior designers with similar amounts of education and experience. But that doesn't mean it's impossible to stand out — even without a long work history, your student activities, volunteer work, and personal projects can all demonstrate the essential skills you'll need as an interior designer. By using action-based bullet points, you can have a professional-looking resume even as a fresh graduate.
Expand
Download .DOC or .PDF
Interior Design resume guide
Production Assistant Resumes
Entering the television or film industry is an exciting prospect for those wanting to work in the entertainment field. While advances in technology are taking the place of some duties, production assistants will continue to be in demand as long as production crews are needed. This resume guide will help you build a resume based on two templates, followed by a review of important skills and action verbs to emphasize.
Film Production Assistant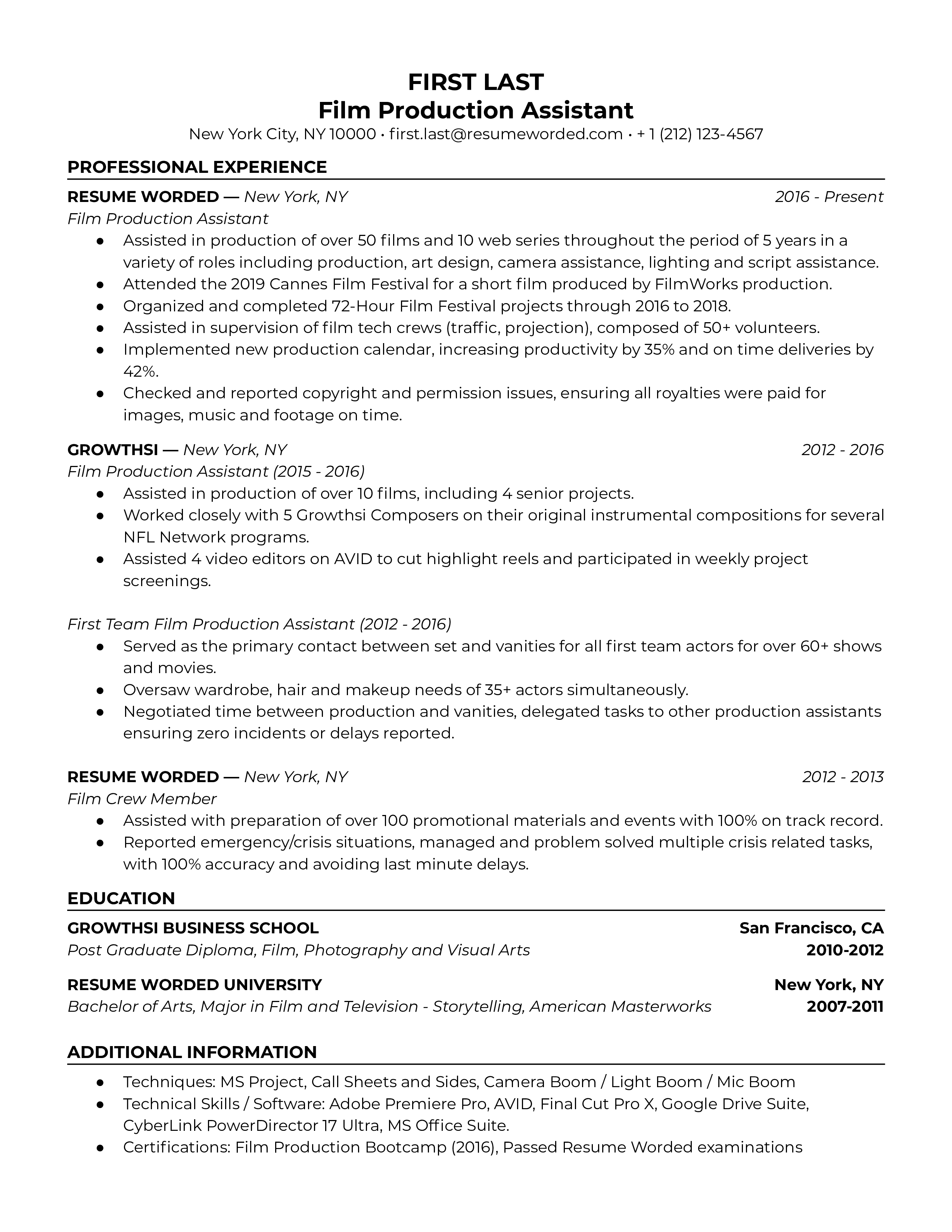 Rather than incorporating television production, film production assistants are focused on movies. Movie production is generally more linear, with one portion happening at a time, while the tasks of television production are all at once (leading to a more hectic environment). Film production assistants should aim to incorporate a variety of skills in their list of bullet-pointed accomplishments, as well as a skill bank.
Expand
Download .DOC or .PDF
Entry Level Production Assistant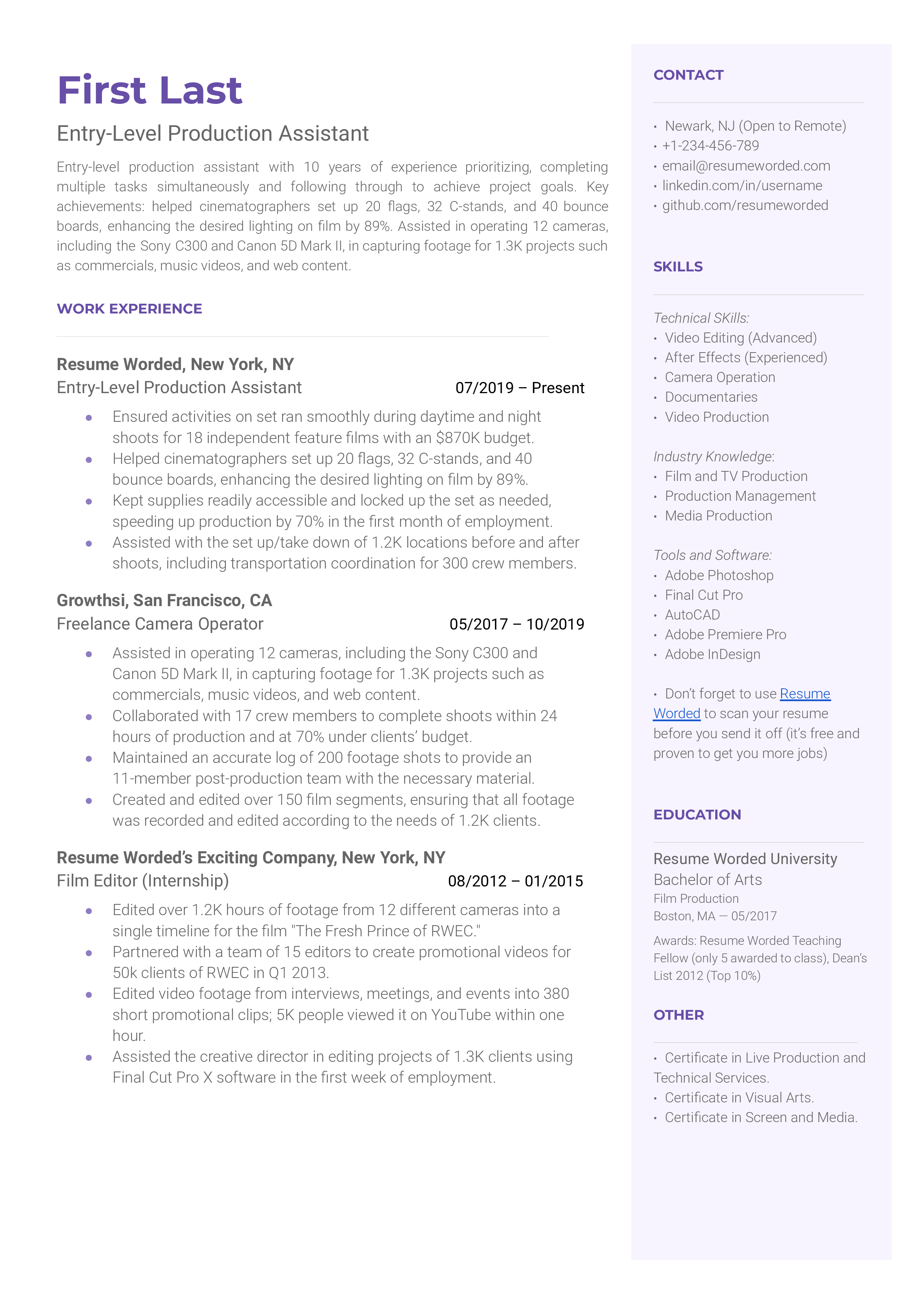 A production assistant performs a variety of tasks on the set of a film or TV show. Taking a role as an entry level production assistant is a great way to get experience in the film industry. A day in the life of an entry level production assistant may include tasks like copying scripts, making coffee for staff, transporting crew and equipment, and responding to production requests. To get hired as an entry level production assistant it will help to have a relevant degree in film, art, communications, or another related field. It will also help to have internship experience on a set. Knowledge of operating film equipment will be attractive to hiring managers, as well as soft skills like effective multi-tasking and time management.
Expand
Download .DOC or .PDF
Freelance Production Assistant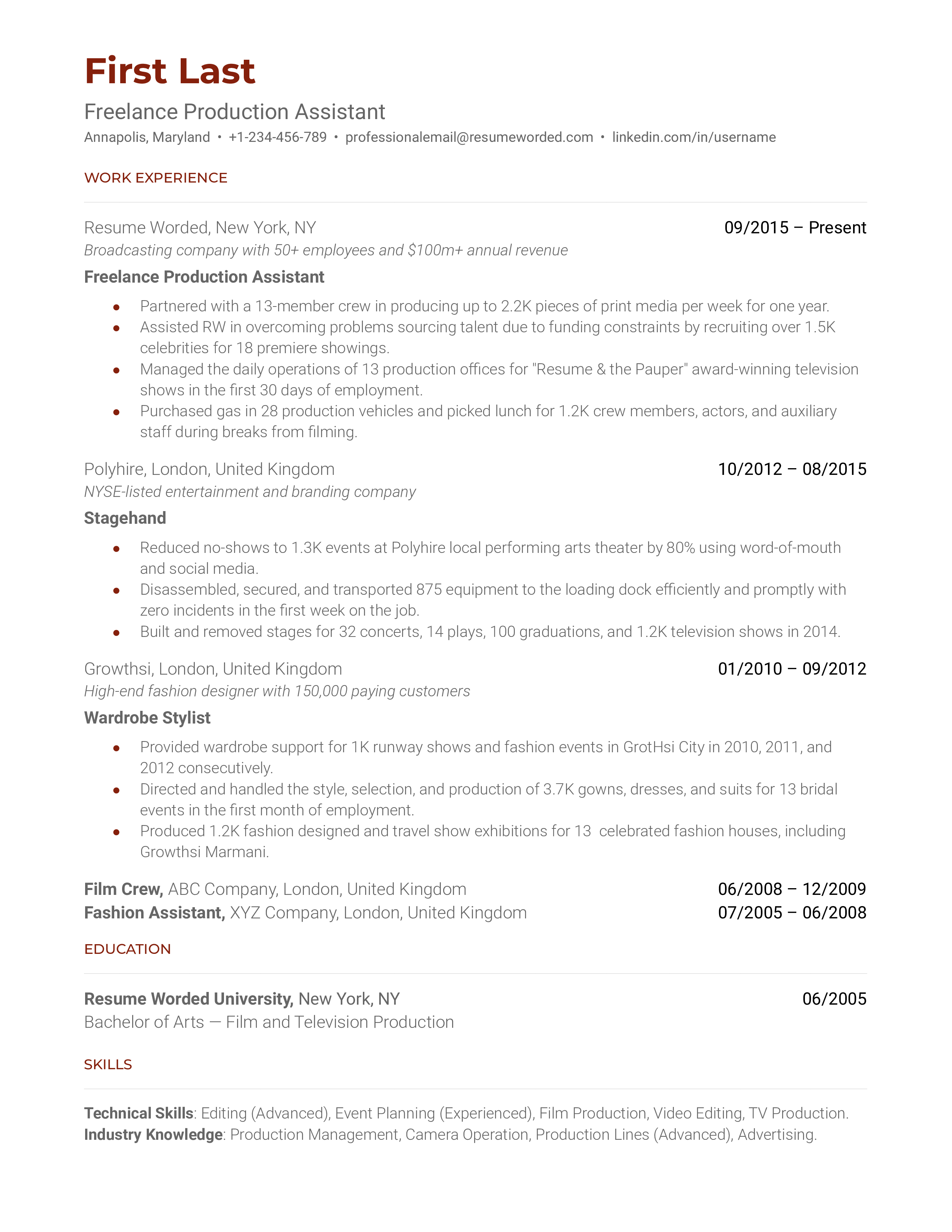 A freelance production assistant is someone who works on a contracted basis with film sets and production studios. Freelance production assistants may perform a variety of tasks, including assisting crew members, video and image editing, answering phones and emails, and more. Freelance production assistants are able to choose what jobs they take and which they pass up on. Still, hiring managers will have high expectations for freelance production assistants. They should have a degree in a related field, relevant experience in the film and production industry, and a track record of successful contracts with previous clients.
Expand
Download .DOC or .PDF
Load more resumes
Production Assistant resume guide
Instructional Design Resumes
People who constantly pursue their professional and personal development goals understand that learning must be a continuous process. The milestones they achieve along the way offer them great happiness and motivate them to pursue more knowledge. But learning is only impactful if it's well designed, well-structured, and implemented strategically. This is where instructional design comes in. So, if this is your career line, here are things you should know.
E-Learning Designer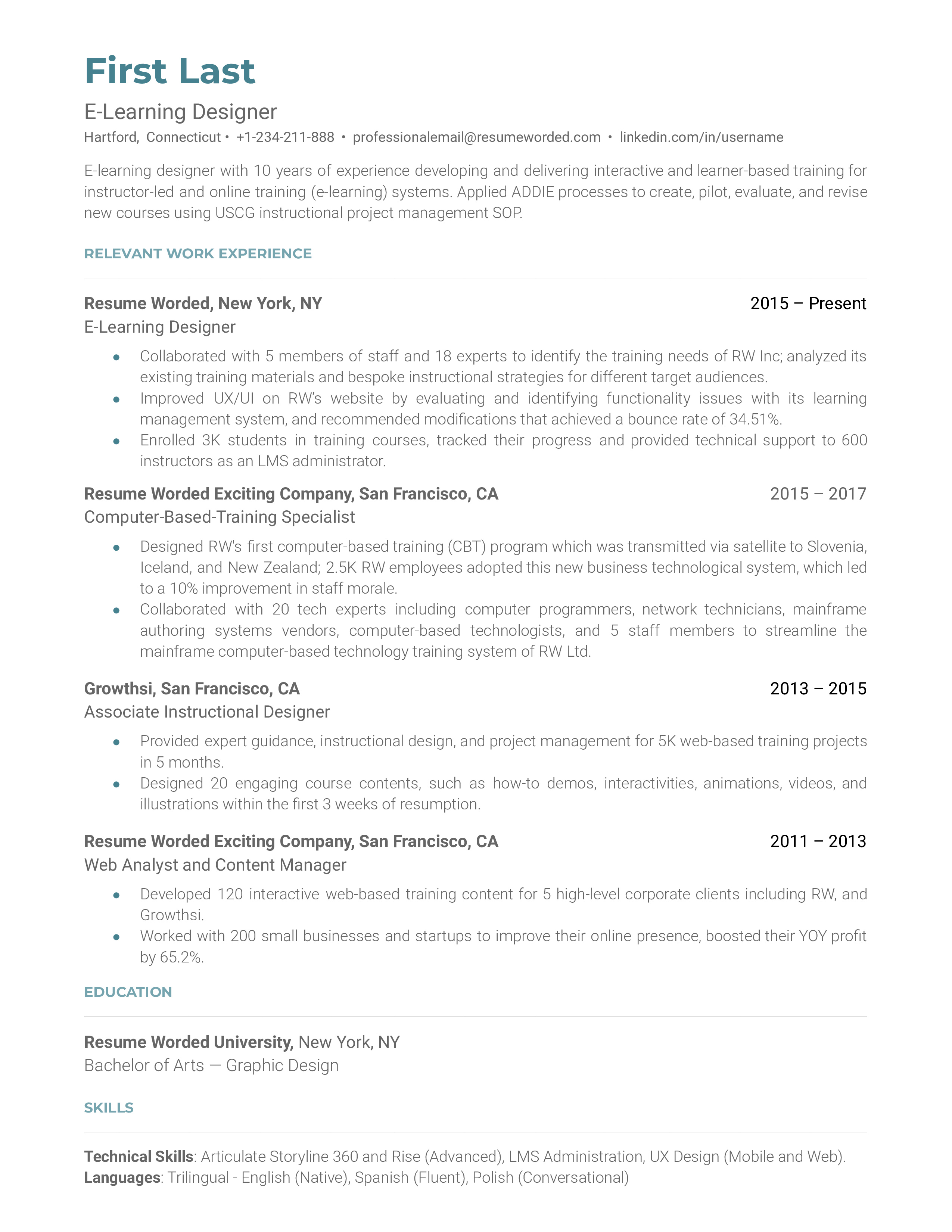 E-learning designers make virtual learning programs for learners. Typically, they first understand the learning needs of the student population and then tailor a syllabus around it. Part of the responsibilities of eLearning designers includes determining the correct media for learning and administering educational material accordingly. Experience in adult learning is usually a desired quality by employers. A 10-year stint in a particular profession justifies the opinion that you are a subject matter expert in your line of work. Therefore, as this resume illustrates, focus on showcasing your technical experience. If possible, demonstrate your top achievements to help you explain why you are the best candidate.
Expand
Download .DOC or .PDF
Instructional Design resume guide
Art Director Resumes
If you have an eye for design, art direction might be the career for you. As an art director, your job is to create a vision and oversee that vision coming to life. We have created this guide to help you construct a winning resume highlighting your art direction qualifications to impress recruiters and secure yourself a job interview.
Senior Art Director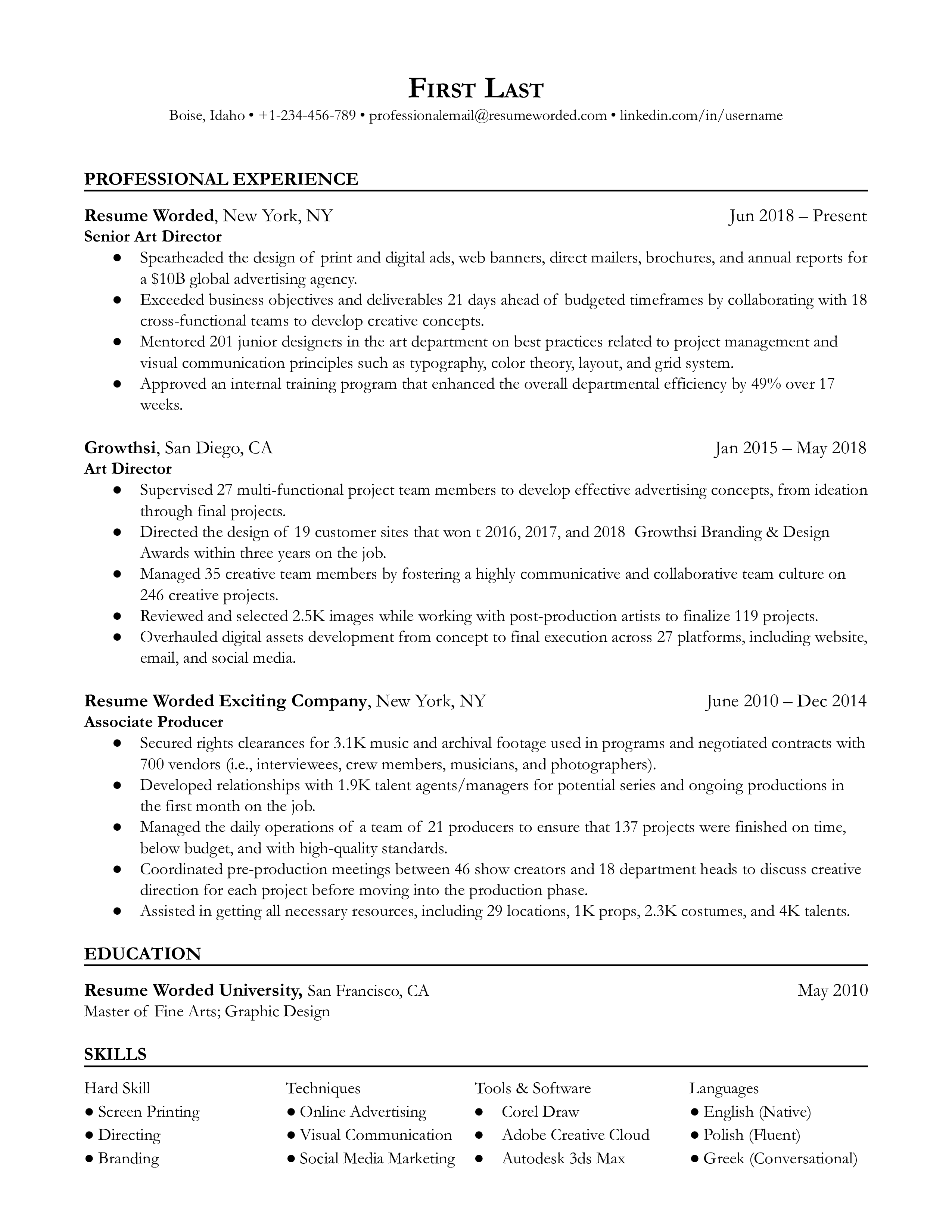 A senior art director is a highly respected professional in the creative industry. This is largely a leadership role where you will be guiding a team or department as opposed to doing direct design work yourself. Your tasks may include consulting with clients, concept creation, communicating your vision to your team, guiding your team, handling budgets and purchases, etc. As this is a senior position, a bachelor's degree in design, or a related field, is expected, as is at least 5-10 years of successful experience as an art director. Here is a strong senior art director resume sample to give you an idea of what recruiters are looking for.
Expand
Download .DOC or .PDF
Junior Art Director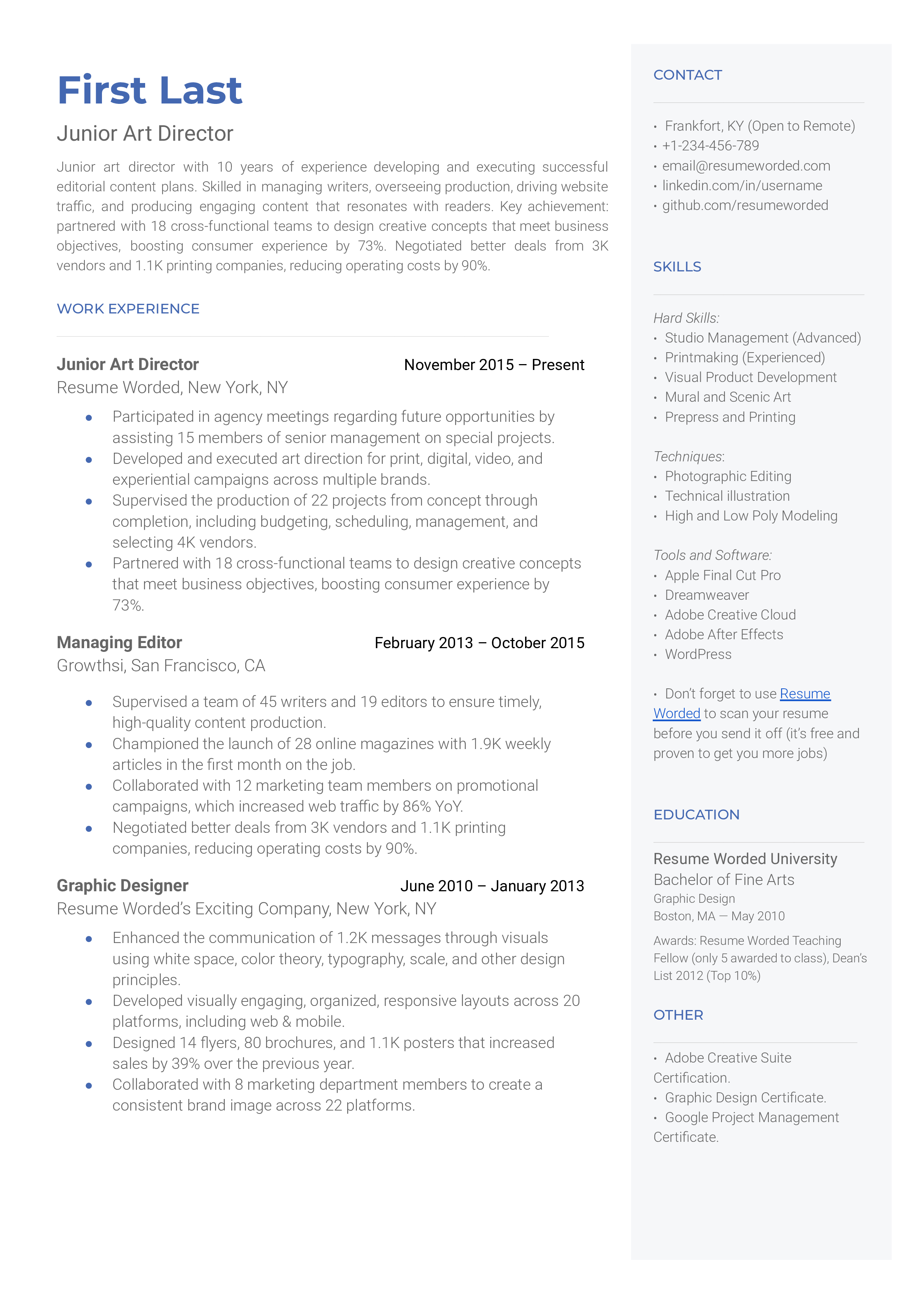 A junior art director assists in the creation of a design concept and the execution of the concept. Your tasks may include communicating the concept to the team or other stakeholders, training team members on design skills, overseeing the execution of the concept, etc. Like the rest of the team or department, you will be answerable to the senior art director, and you will serve as their representative when they are not present. You will be expected to have at least a bachelor's degree in design, or a related field, as well as extensive experience in design and leadership. Take a look at this strong resume sample as a reference.
Expand
Download .DOC or .PDF
Art Director resume guide
Design Director Resumes
Are you creative and innovative? If so, a job in the world of design might be right for you. A design director is responsible for overseeing the visual design of a company's products or services. Design directors may be responsible for revamping current designs or coming up with brand-new designs. They collaborate closely with other designers, marketing, and other company stakeholders to ensure the designs are cohesive. If you want to land a role as a design director, keep reading.
Fashion Design Director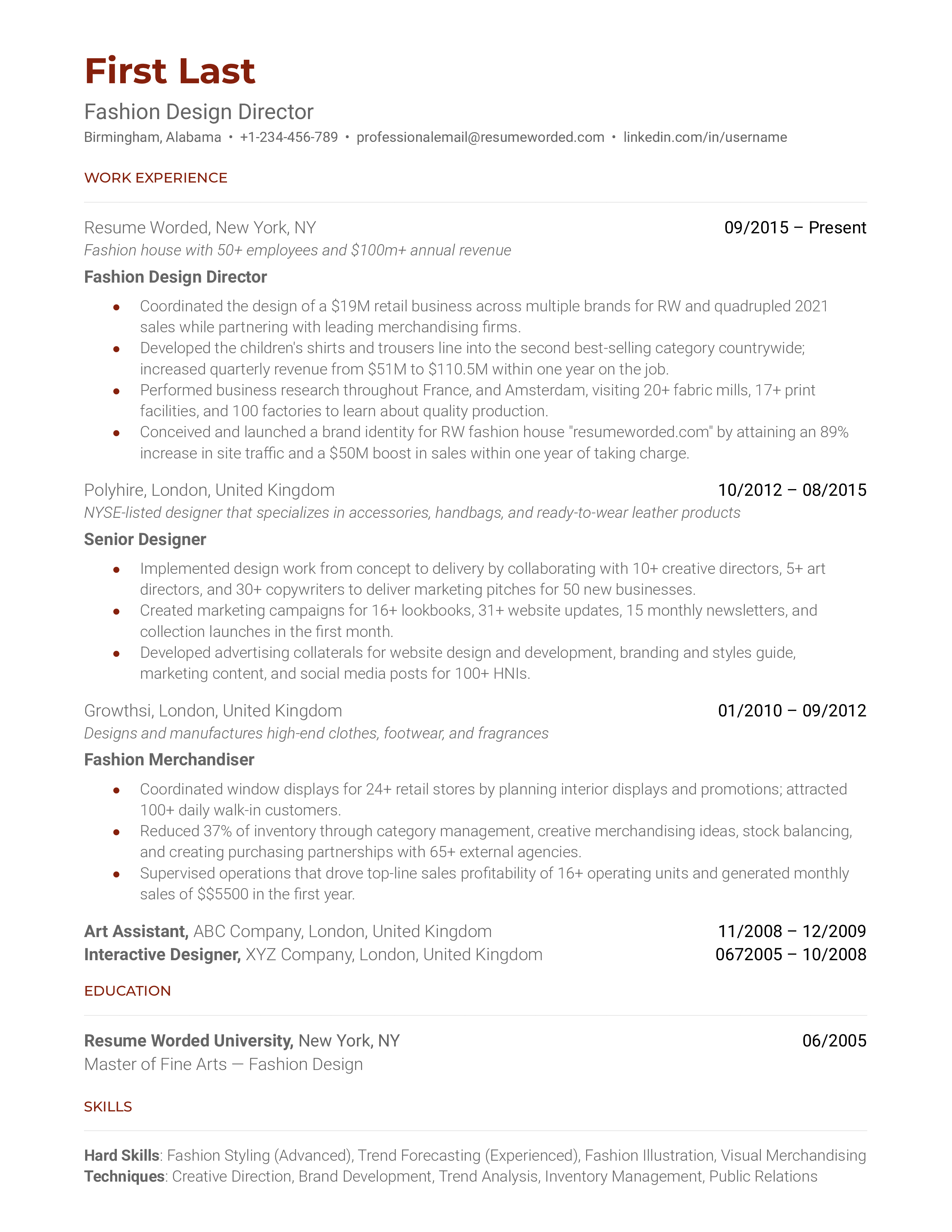 The fashion design director is tasked with overseeing all aspects of the fashion design process within a company. They will work with other designers to analyze the company's current line of apparel, develop new design ideas, and improve on existing fashion designs. They may also help with the marketing of these designs, such as organizing photoshoots or web pages. To be a fashion design director, you must have a mix of the right skills and education. Typically, hiring managers will look for someone with a bachelor's degree in fashion design. A master's isn't always required but can help you land this role more easily. Companies will certainly be looking for someone with several years of experience in the world of fashion design. Prior experience as a fashion merchandiser, assistant designer, creative consultant, or curator is necessary to land this role. Fashion design directors will exhibit several necessary soft skills, such as creativity, teamwork, leadership, and superb communication skills.
Expand
Download .DOC or .PDF
Design Director resume guide
Action Verbs For Design Resumes
Designed
Implemented
Streamlined
Conceptualized
Created
Integrated
Revamped
Planned
Shaped
Customized
Structured
Conceived
Modernized
Improved
Devised
Led
How to use these action verbs?
Starting your bullet points with action verbs is the most effective way to highlight what you've actually accomplished. In the field of design, you want to make sure you stress your creative ability — do this by using action verbs like "Designed" or "Illustrated", which highlight your design experience.

Similarly, design is also about effective communication, so also use action verbs like "Teamed" or "Presented" to highlight your communication and teamwork skill sets.