Interior designers create spaces that are functional, aesthetically pleasing, and appropriate for their clients' needs. To succeed in the role, you'll need a creative mindset, an eye for detail, and an aptitude for problem solving. You'll also need excellent people skills, as achieving client satisfaction is likely to be your primary goal.

There's no single path to becoming an interior designer. While formal education isn't always strictly necessary, most firms require at least a bachelor's degree in a design-related field. Additionally, some states require licensure to practice or to claim the title of interior designer, typically through the National Council for Interior Design Qualification (NCIDQ) exam.

In 2021, job prospects for interior designers are good, with the Bureau of Labor Statistics predicting 13 percent growth. In particular, expect to see a rapid increase in trends like environmental design, sustainability, accessibility, and universal design.
Interior Design Resume Templates
Interior Designer Resume Sample
As an interior designer, you'll be responsible for more than just designing attractive spaces — your duties may also include client acquisition, bidding on new projects, sketching design plans, estimating costs, and ensuring that all designs comply with health and safety, product, and building regulations. It's a tall order, which is why your resume needs to demonstrate a healthy mix of soft skills and hands-on design experience.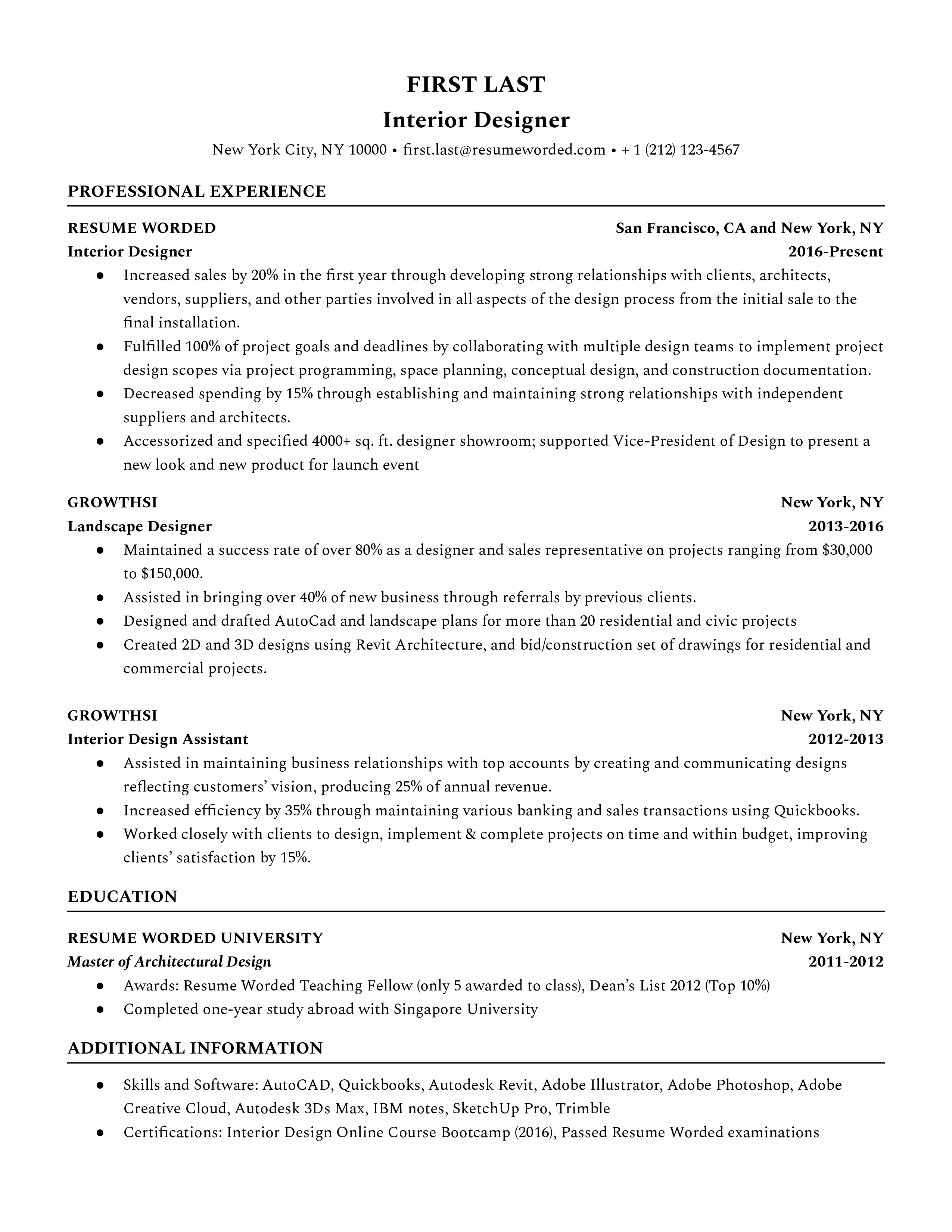 Recruiter Insight: Why this resume works in 2021
Interior Design Assistant Resume Sample
Interior design assistants are integral to the smooth running of design firms. To succeed, you'll need both administrative and creative skills, as your tasks can range from providing administrative support to assisting with design tasks, maintaining client relationships, and managing projects. Your resume should demonstrate your ability to assist with any aspect of the job, so make sure to emphasize the hard skills and experience that employers are looking for.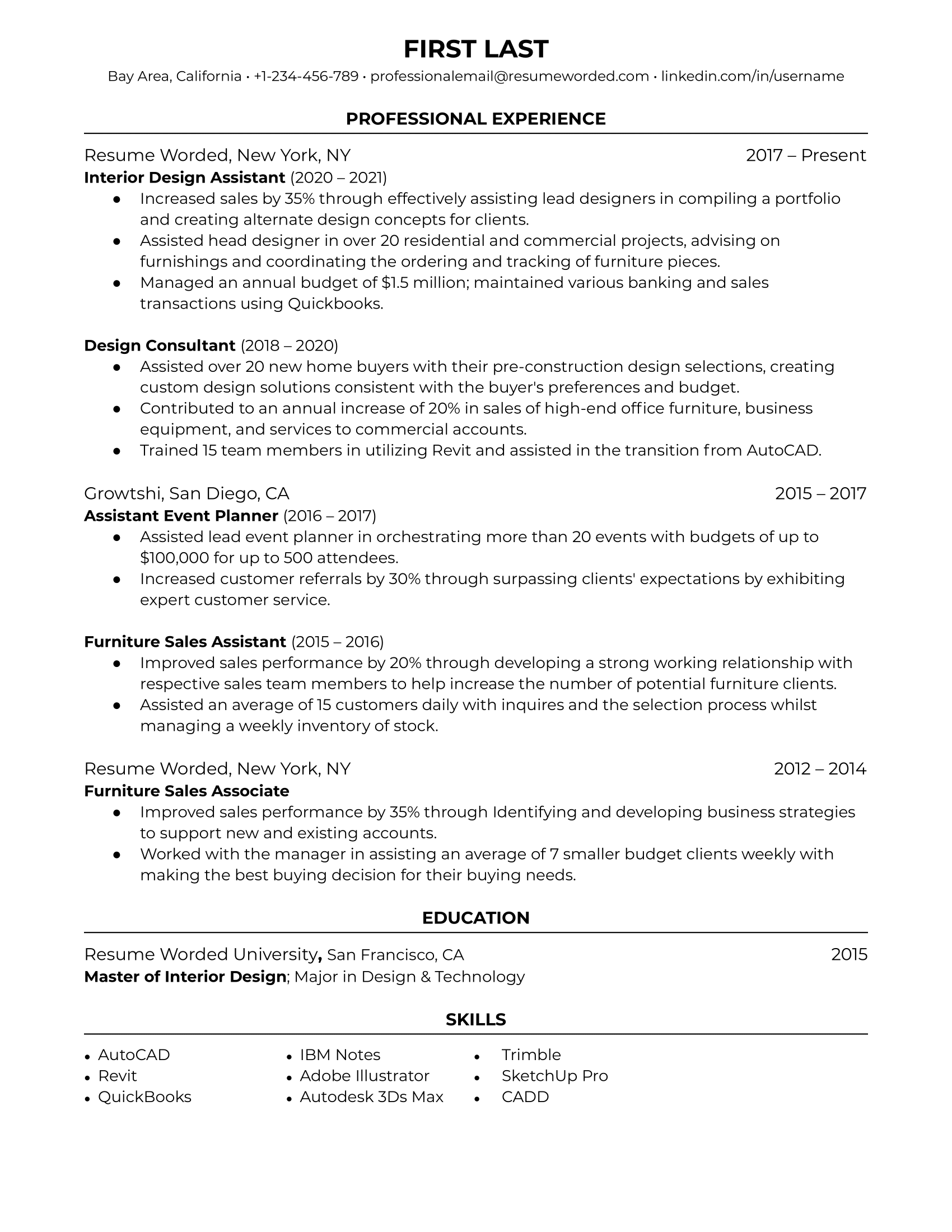 Recruiter Insight: Why this resume works in 2021
Entry Level Interior Designer Resume Sample
Early in your career, you'll be competing with other entry-level interior designers with similar amounts of education and experience. But that doesn't mean it's impossible to stand out — even without a long work history, your student activities, volunteer work, and personal projects can all demonstrate the essential skills you'll need as an interior designer. By using action-based bullet points, you can have a professional-looking resume even as a fresh graduate.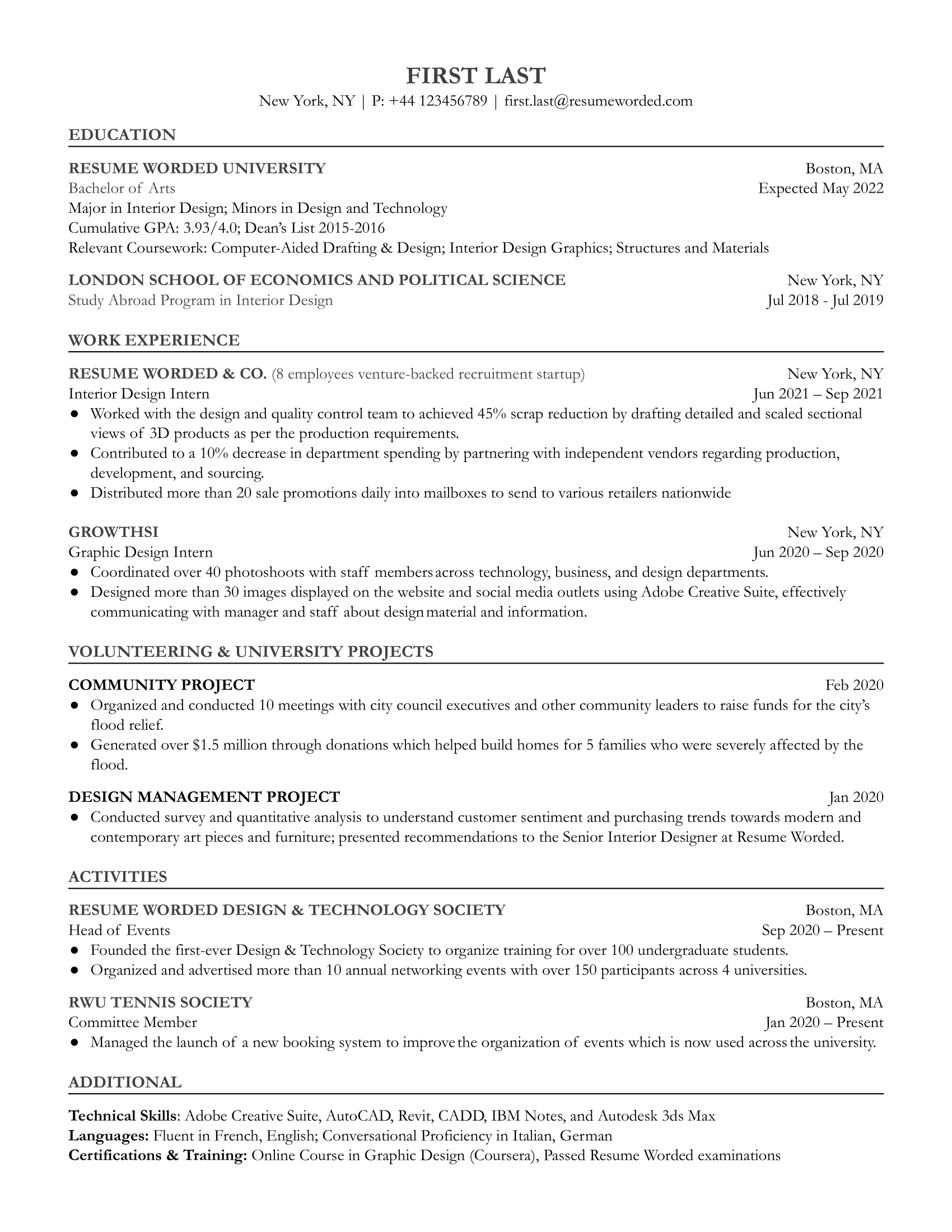 Recruiter Insight: Why this resume works in 2021
Skills For Interior Design Resumes
When listing skills on your resume, make sure you're focusing on hard or technical skills — think specific software programs, certifications, and elements of design. While soft skills like creativity and communication are also essential for interior designers, these should be demonstrated through your accomplishments only, never listed as skills on their own. Hard skills can be listed in your bullet points or in a 'Skills' or 'Additional Information' section at the end of your resume. If you do this, make sure to keep it short and easily skimmable — typically around 5-10 skills.

To find the right skills to get you past Applicant Tracking Systems and into the hands of a hiring manager, you should carefully read through the job description and pull out the most important skills. Our list of top resume skills and keywords has analyzed over a million job descriptions to give you a headstart.
Interior Design
Space Planning
Interior Architecture
Furniture
Furnishings
Sketching
Rendering
SketchUp
Residential Design
Design Research
Floor Plans
AutoCAD
Revit
FF&E
Finish Selections
Sustainable Design
Custom Furniture
Submittals
Renovation
Concept Art
Action Verbs For Interior Design Resumes
Interior designers need to have experience with taking designs from concept to creation, all while considering what their clients are looking for and how the space is going to be used. Want to show off your creativity? Use verbs like Designed and Created. If the job you're applying for is more focused on technical skills, try Drafted or Developed. To emphasize sales and customer service, use Generated, increased, or Fulfilled.

Starting each bullet point with a strong action verb is the best way to make sure you're focusing on your accomplishments, not simply listing your responsibilities. Remember, hiring managers don't want to know about your previous jobs — they want to know what you're likely to achieve in this one.
Designed
Created
Accessorized
Developed
Conceptualized
Fulfilled
Distributed
Customized
Shaped
Drafted
Instituted
Organized
Generated
Showcased
Increased
Managed
For a full list of effective resume action verbs, visit Resume Action Verbs.