Electrical engineers use the principles of electricity to develop novel solutions to problems. They design, test, and oversee the manufacturing of electrical technology such as computers, cell phones, and navigation systems.

These professionals typically have a wide range of duties such as conducting research, developing products, testing systems, and optimizing manufacturing processes. Electrical engineering is a diverse field that encompasses numerous sub-disciplines -- so specializing in a niche area such as electronics, signal processing, or telecommunications could help you take your career to the next level.

With their arsenal of skills, electrical engineers can find employment in a variety of industries, and the job outlook within the field is quite positive. The US Bureau of Labor and Statistics (BLS) has projected a 5% increase in electrical engineering positions between 2019 and 2029.

Being a great electrical engineer demands excellent problem solving and technical skills. At the same time, you'll also need to be able to think creatively and collaborate effectively with others. When you're applying for jobs, your resume needs to show that you have the right skills for the role -- so let's cover how to write a competitive electrical engineer resume in 2021.
Electrical Engineer Resume Templates
Electrical Engineer Resume Sample
As an electrical engineer, you'll use your keen understanding of electrical systems to solve various types of problems. Your job could require technical skills such as electrical design, automation, and even programming. Create a skills section on your resume and list your relevant hard skills there so your technical prowess will be readily apparent to any hiring manager.
Recruiter Insight: Why this resume works in 2021
Entry Level Electrical Engineer Resume Sample
When you first begin your career in electrical engineering, you'll likely start out in an entry-level position that requires little to no experience. But because electrical engineering is such a specialized field, your odds of getting hired are much better if you have a degree in engineering. Internships and volunteer projects related to electrical engineering also look great on your resume and can make you extra competitive for jobs.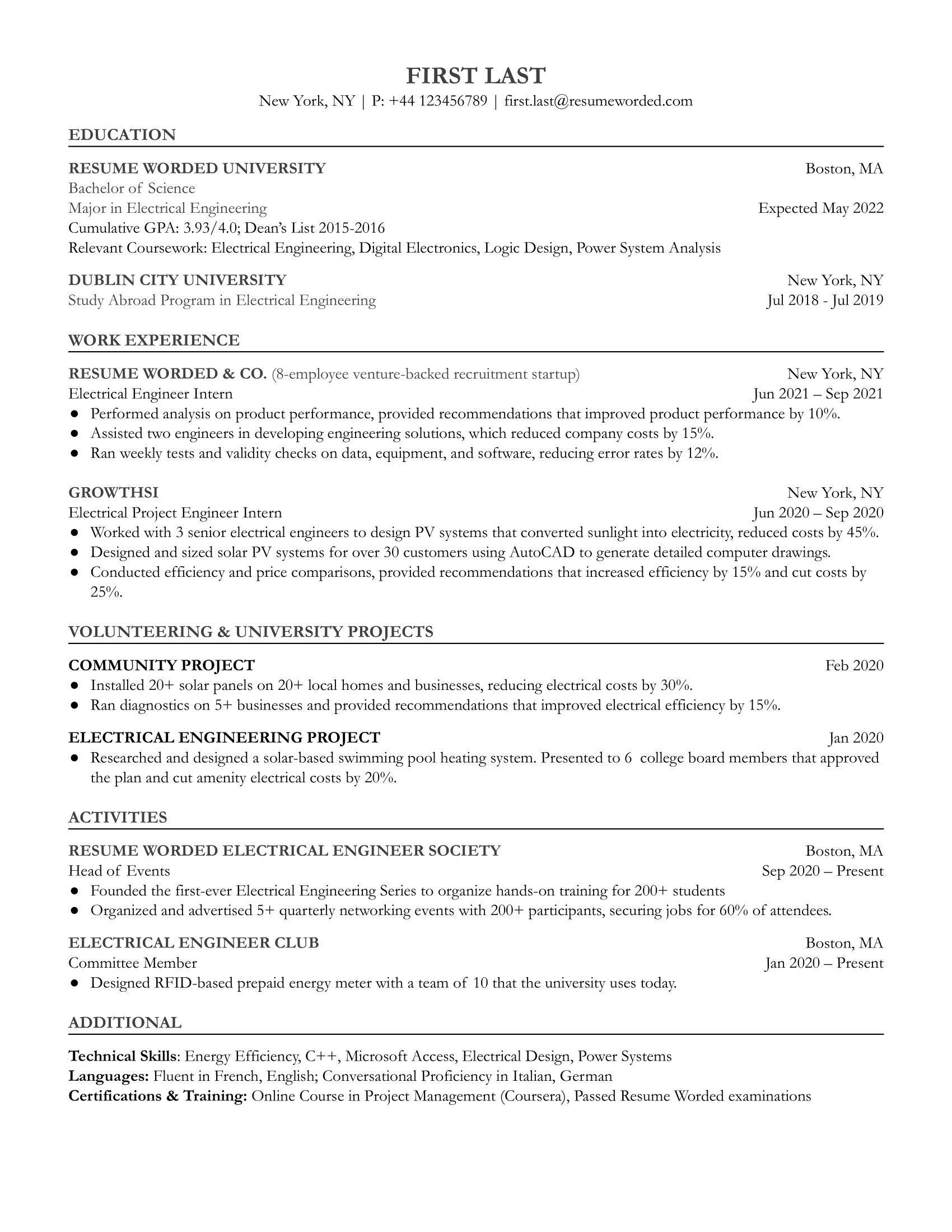 Recruiter Insight: Why this resume works in 2021
Electrical Site Engineer Resume Sample
Electrical site engineers specialize in projects taking place at construction sites. They are not only responsible for tasks such as testing electrical systems and fixing problems; they also act as project managers, overseeing all work that's being done and making sure it's completed to the necessary standards. Your resume should reflect the unique blend of engineering, project management, and leadership skills that the job requires.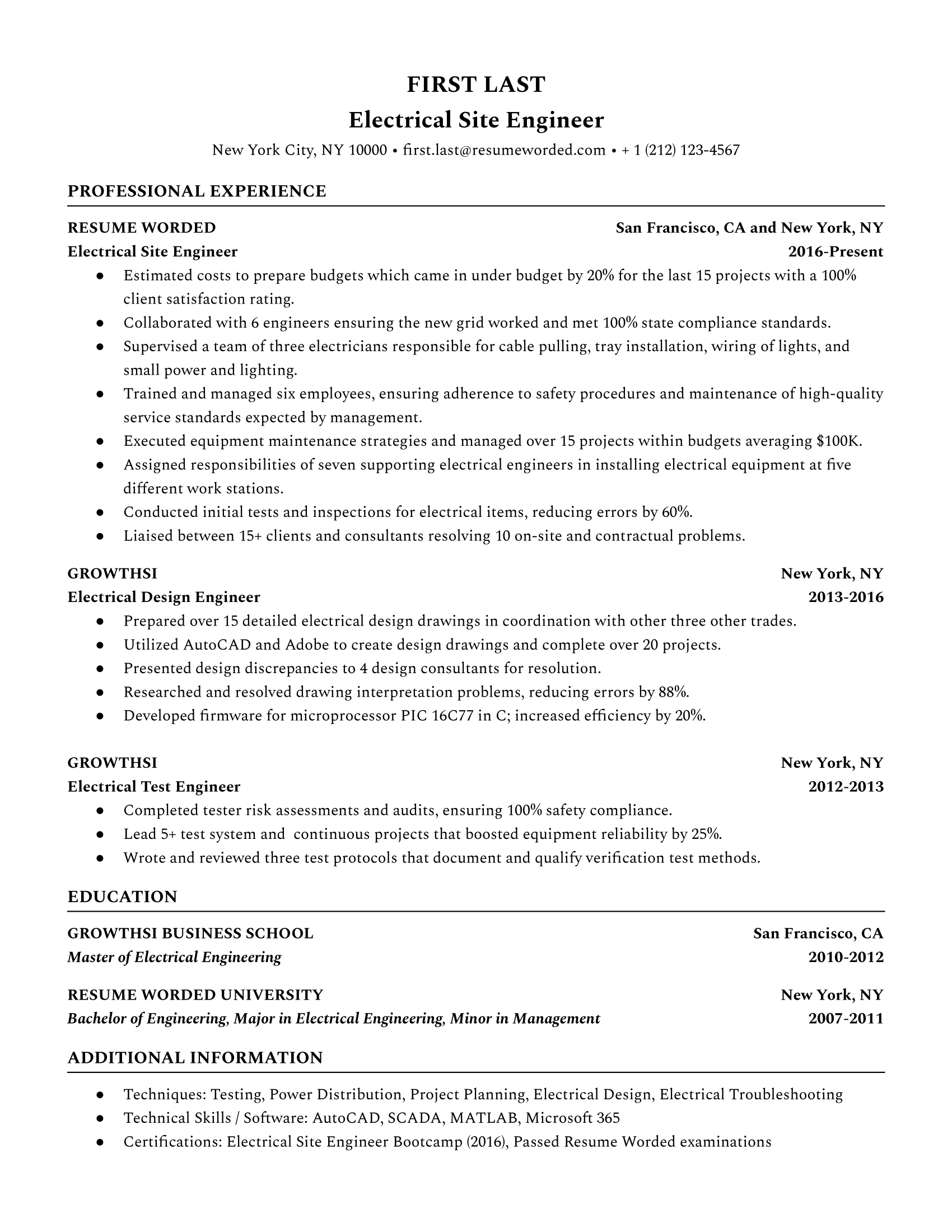 Recruiter Insight: Why this resume works in 2021
Electrical Design Engineer Resume Sample
An electrical design engineer conducts research and creates designs for new electrical systems. They also develop and test these systems, making any necessary changes as they go. You'll need a strong knowledge of electrical theory and design software for this role, so your resume should highlight your technical skills as well as your educational background.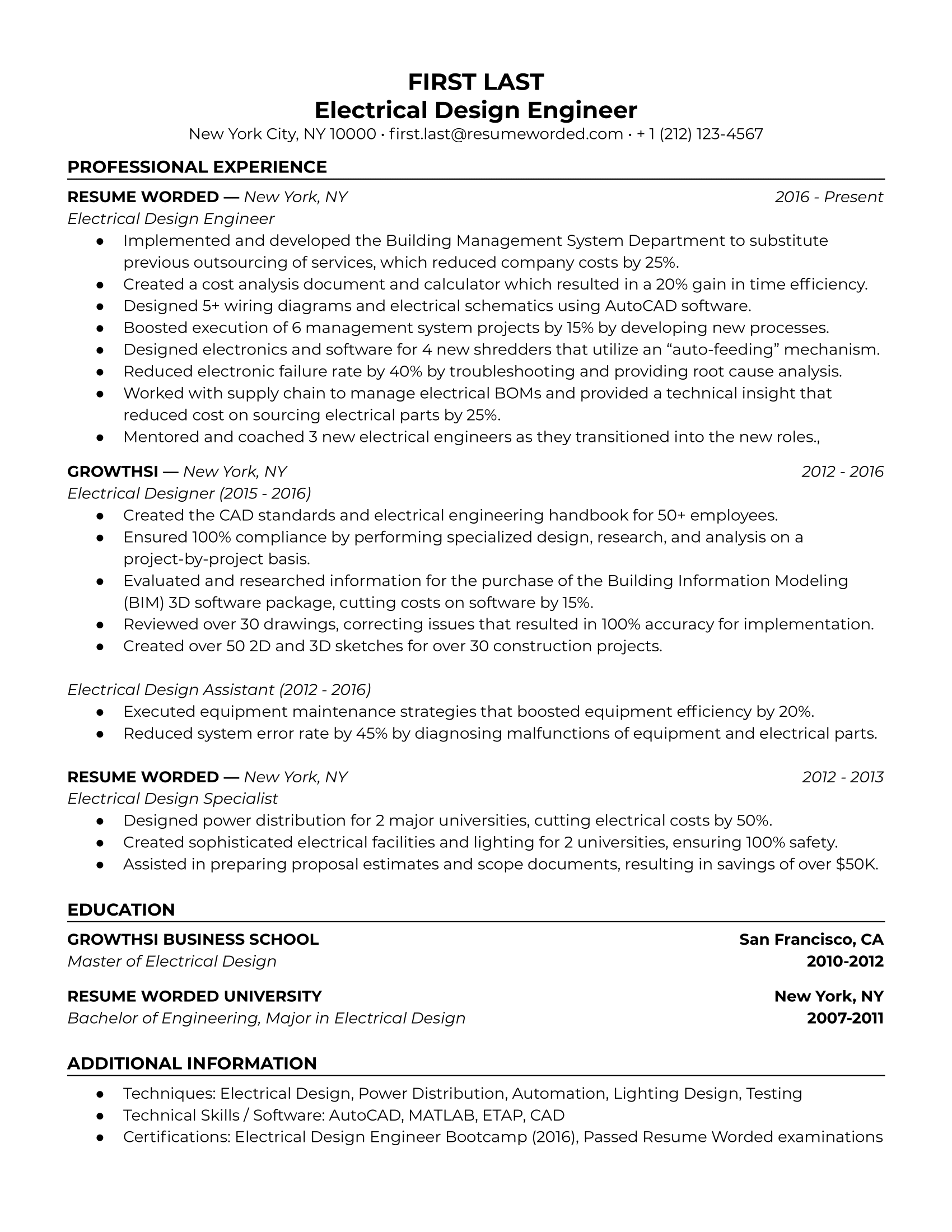 Recruiter Insight: Why this resume works in 2021
Senior / Experienced Engineer Resume Sample
In a senior electrical engineering position, you'll oversee other engineers and support them in their roles. You'll be tasked with reviewing, changing, and approving electrical designs, and you'll also perform some project management. To land this job, use your resume to showcase your exemplary performance at past jobs as well as your outstanding leadership skills.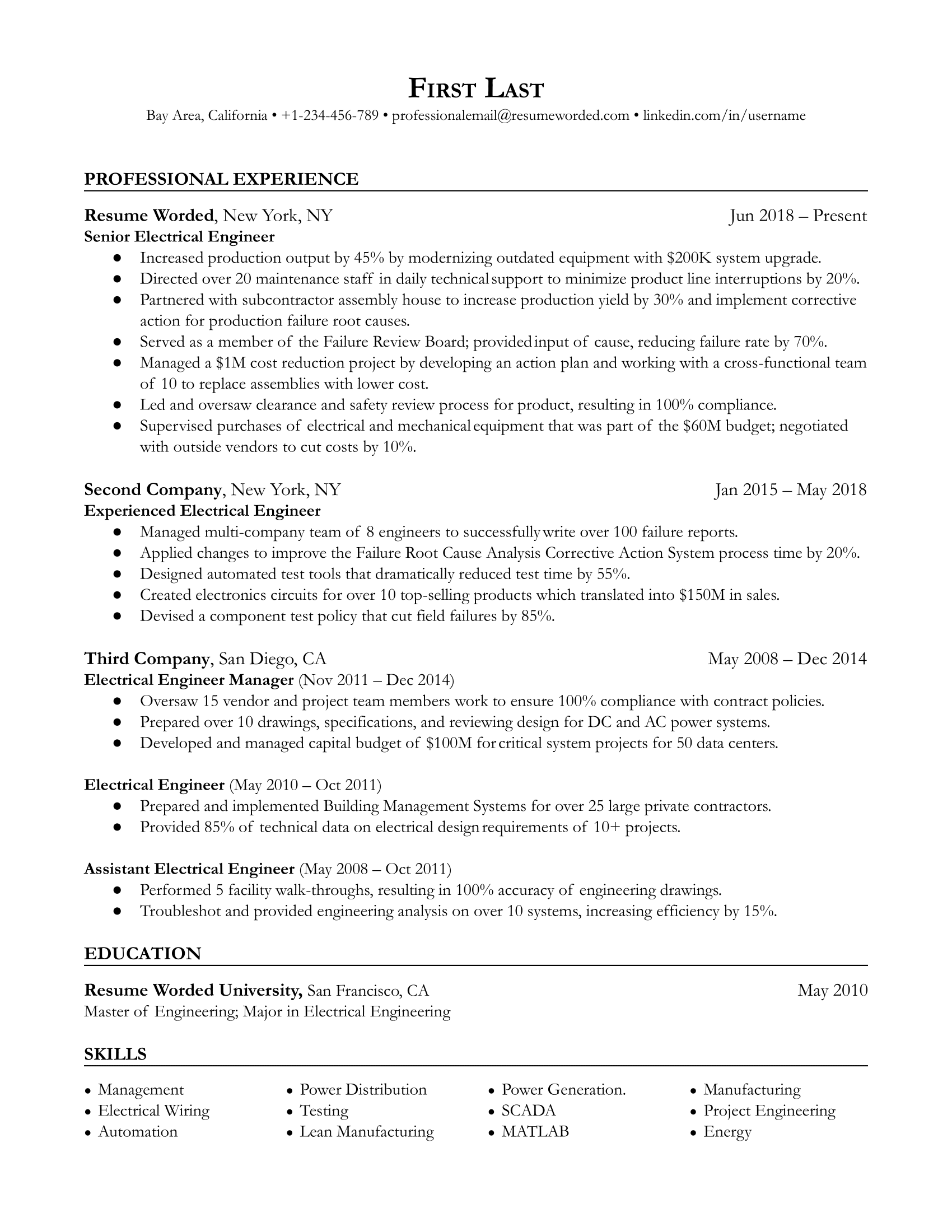 Recruiter Insight: Why this resume works in 2021
Skills For Electrical Engineer Resumes
As an electrical engineer, you will be working with numbers and data, and you'll also be using the principles of electricity to design equipment and systems. But there's much more to engineering than just math and science: You also need the ability to think logically about problems and devise creative solutions.

Great communication skills are also essential. Electrical engineers often work with team members, clients, and other professionals to help bring projects to fruition. So if you're applying for jobs within the field, be sure to highlight not only your technical expertise, but also your people skills and your creative problem solving abilities.
Electrical Engineering
Engineering
AutoCAD
Printed Circuit Board (PCB) Design
Electronics
Power Distribution
Electrical Design
Power Systems
Electrical Wiring
Testing
MATLAB
Project Engineering
Embedded Systems
Engineering Management
Programmable Logic Controller (PLC)
C (Programming Language)
Manufacturing
Altium Designer
Automation
Control Systems Design
Action Verbs For Electrical Engineer Resumes
When you're detailing your work history on your resume, you should always include clear and specific bullet points with examples of what you accomplished at past jobs. For maximum effect, those bullet points should always begin with clear and specific action verbs. You'd be surprised what a difference a handful of carefully-chosen words on your resume can make!

The best action verbs for electrical engineers reflect the mix of communication, problem-solving, technical, and creative skills needed for their jobs. Some of these verbs could include the ones on the left.
Automated
Designed
Developed
Devised
Diagnosed
Directed
Engineered
Led
Managed
Produced
Streamlined
Taught
Tested
Trained
Troubleshooted
For a full list of effective resume action verbs, visit Resume Action Verbs.