Quality Engineers work to ensure that the quality of a product lacks defects or problems. This could include devising tests, working closely with suppliers or other staff and creating documentation. While Quality Engineers typically work within manufacturing or production, a Quality Assurance (QA) Engineer is slightly different and works within software and technology to test websites or apps for bugs. As a Quality Engineer, you might take a linear path from Quality Engineer to Senior Quality Engineer. Or, you could pursue other higher level roles such as, Senior R&D Quality Engineer, Principal Supplier Quality Engineer, Quality Systems Engineer, or Senior Manufacturing Quality Engineer.

Because Quality Engineering is a highly technical field, it is important to have at least a Bachelor's degree in either industrial, production, mechanical engineering, or lab/science. However, if you don't have a degree now, it's possible to start as a technician or production operator, and then go back to school and eventually become a Quality Engineer. Ideally, you will need strong analytical, critical thinking, team working, and communication skills.
Quality Engineer Resume Templates
Quality Engineer Resume Sample
Download Resume Template (Google Doc)
Download Resume in PDF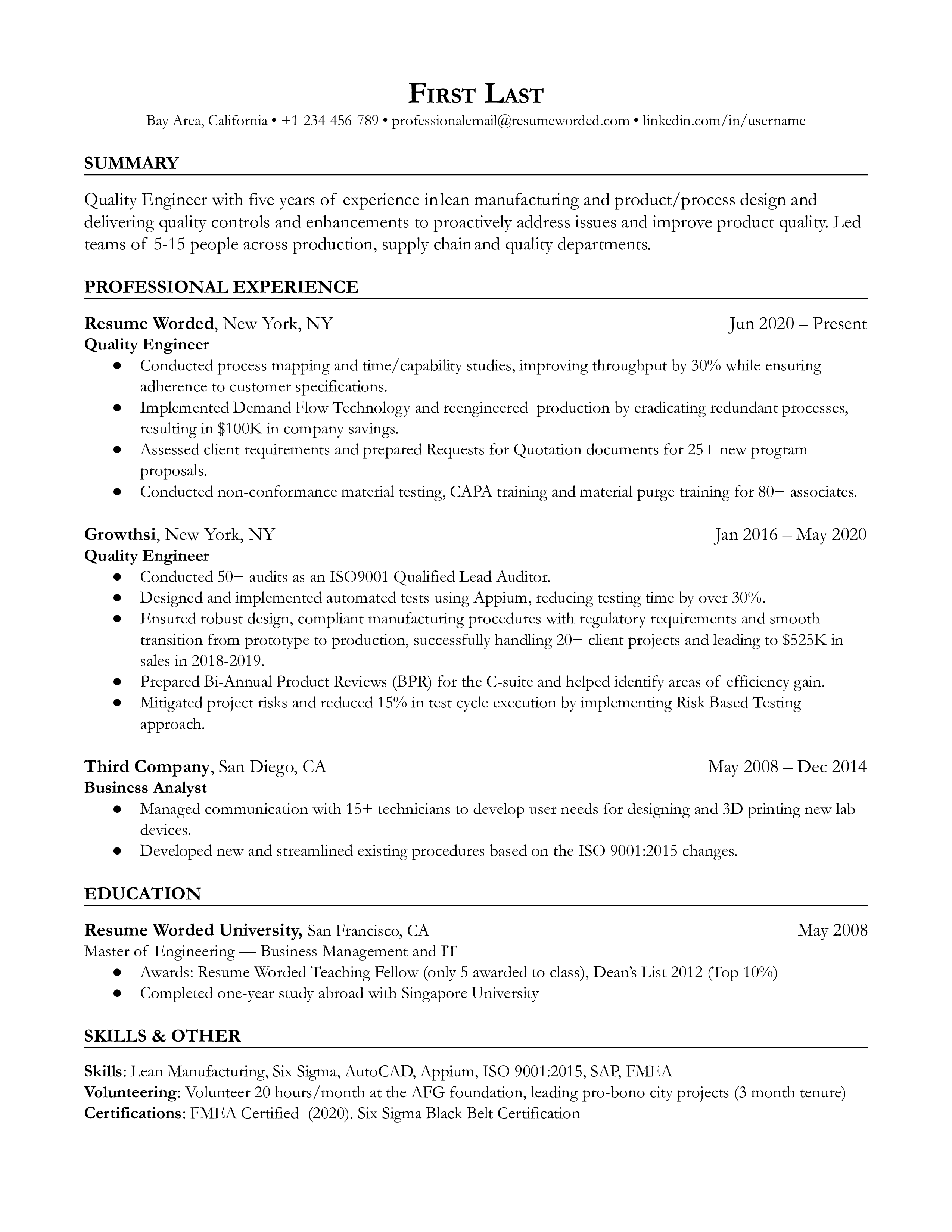 Why this resume works in 2021
A Quality Engineer is responsible for making sure that all of the engineering or manufacturing processes are moving smoothly and that high standards are maintained. As a Quality Engineer, you should be a technical and data driven person, and able to express your professional accomplishments using clear metrics. You should also use your resume bullet points to convey your technical and managerial skills.
Improve your Quality Engineer resume, instantly.
Use our free resume checker to get expert feedback on your resume. You will:
• Get a resume score compared to other Quality Engineer resumes in your industry.
• Fix all your resume's mistakes.
• Find the Quality Engineer skills your resume is missing.
It's instant, free and trusted by 1+ million job seekers globally. Get a better resume, guaranteed.
Upload your resume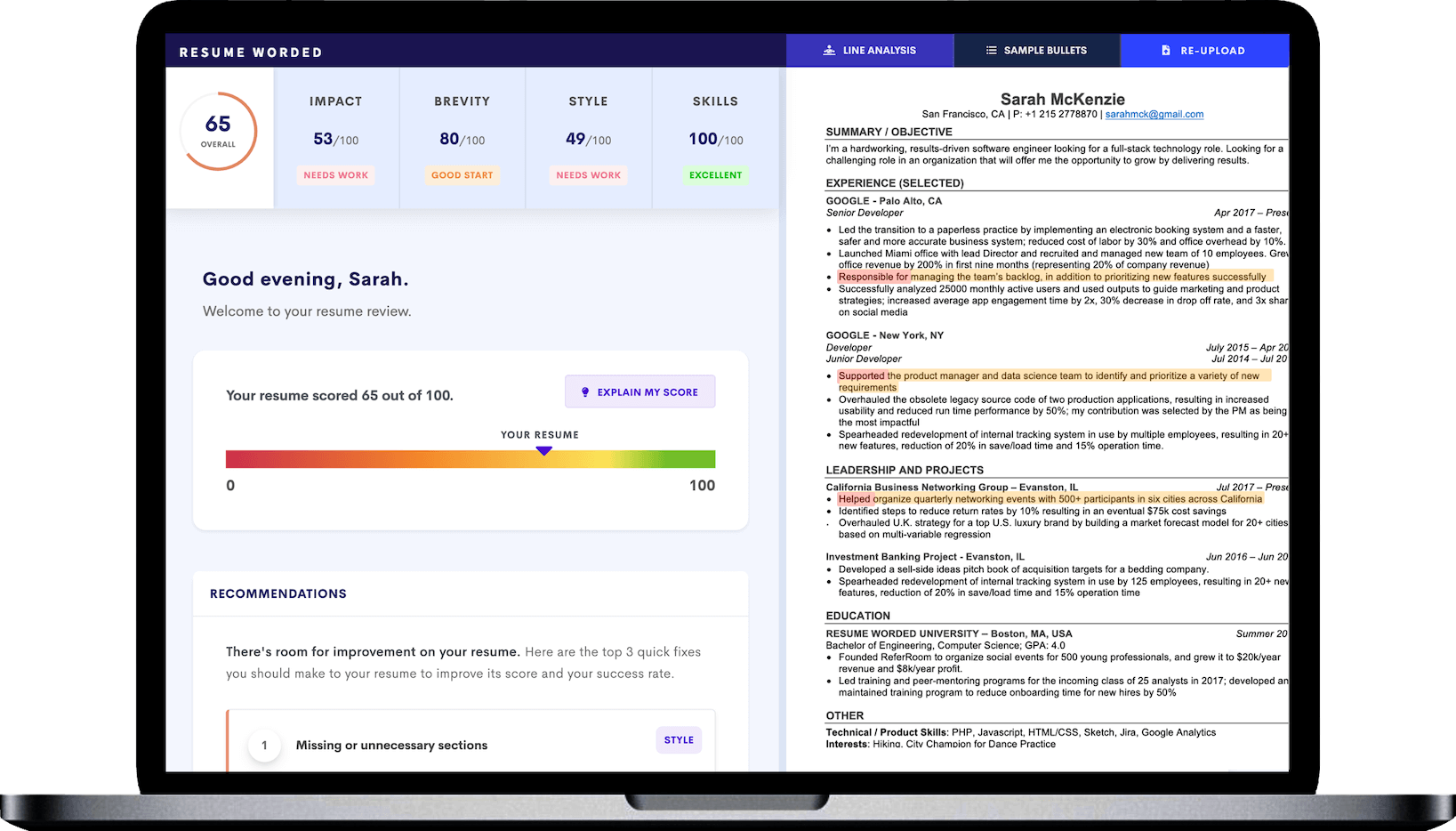 QA (Quality Assurance) Engineer Resume Sample
Download Resume Template (Google Doc)
Download Resume in PDF
Why this resume works in 2021
Quality Assurance Engineers are different from Quality Engineers because they are focused on computer software. They generally have degrees in Computer Science or Computer Engineering and focus on making sure that the code is up to standard, passes tests and is free from bugs. This is a career path where being highly educated with a Master's or other certifications will often give you an advantage. You can also emphasize your vast technical skills in your bullet points and skills section.
Senior Quality Engineer Resume Sample
Download Resume Template (Google Doc)
Download Resume in PDF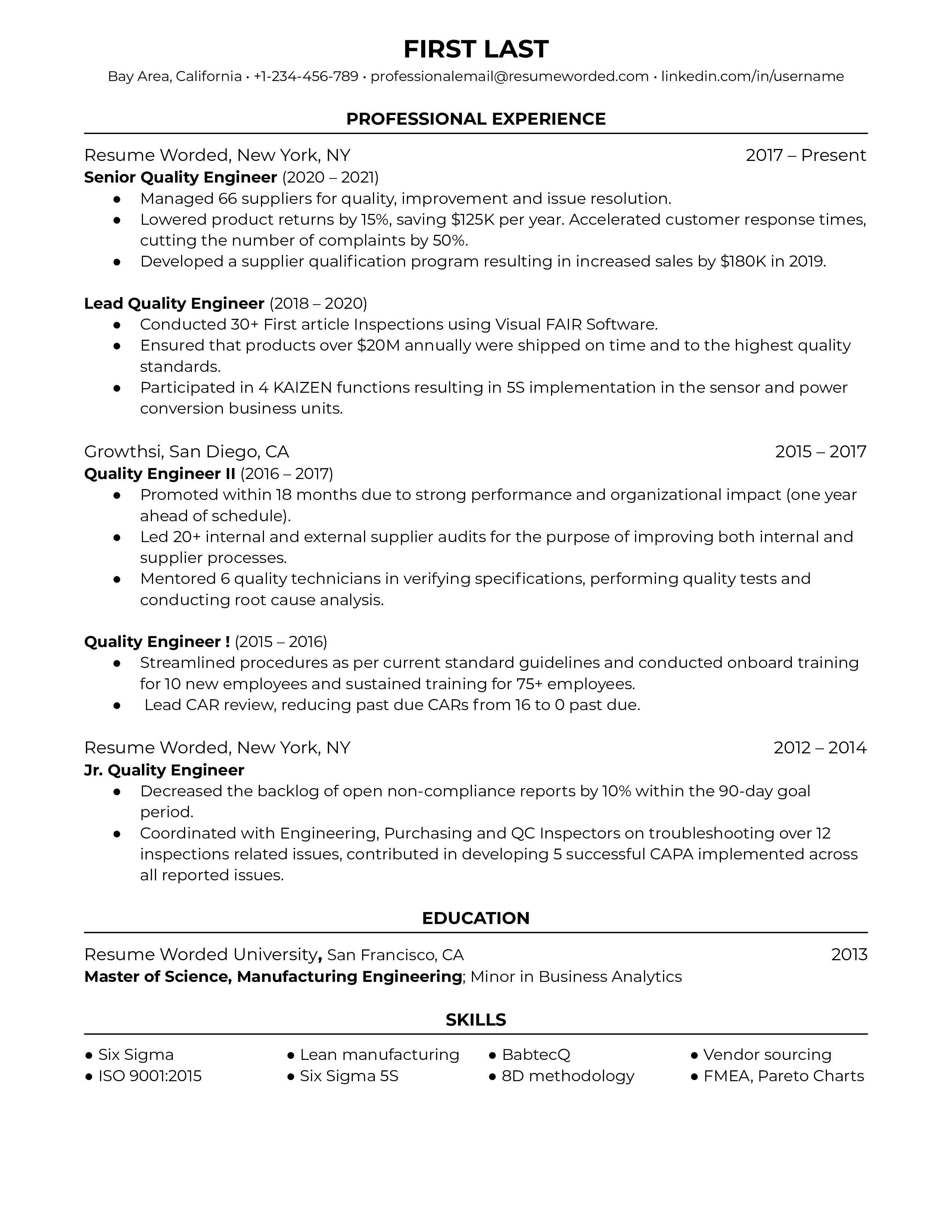 Why this resume works in 2021
Senior Quality Engineers are higher level Quality Engineers. In addition to testing products and finding defects, they often have managerial responsibilities with managing teams, guiding, and training other employees. If you already have management or training experience, make sure to make this evident on your resume. Also, prioritize your experiences where you have held similar skills or roles — this will show that you are prepared.
Supplier Quality Engineer Resume Sample
Download Resume Template (Google Doc)
Download Resume in PDF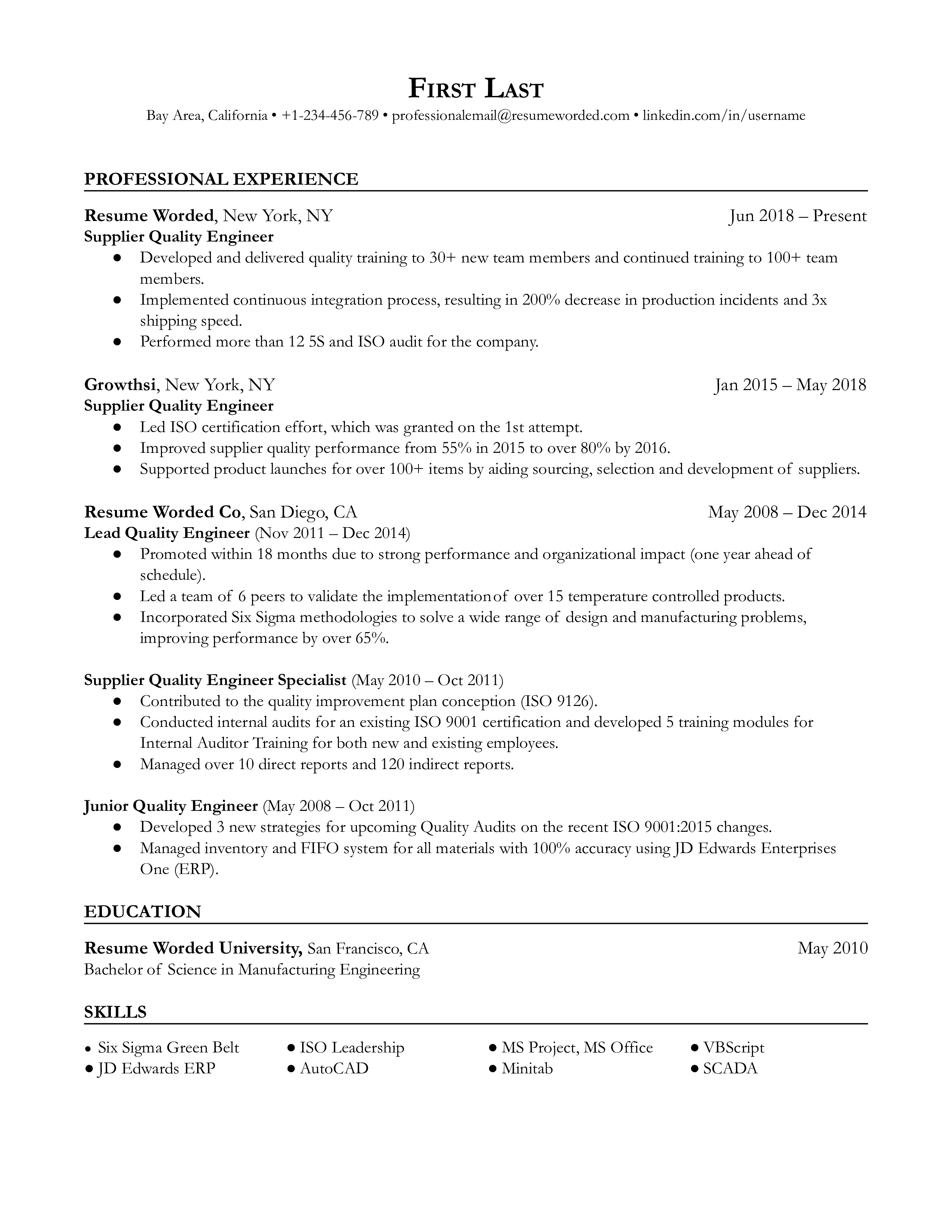 Why this resume works in 2021
Supplier Quality Engineers work with logistics, supply chain management, and manufacturing. They ensure that all products meet company, industry, and government standards and lack any defects. To advance in this field, it's important to show your strong technical and analytical skills through previous roles, using numbers and specific examples to quantify your proven results.
Skills For Quality Engineer Resumes
Root Cause Analysis
Failure Mode and Effects Analysis (FMEA)
Quality System
Lean Manufacturing
Statistical Process Control (SPC)
Manufacturing
Continuous Improvement
Six Sigma
Production Part Approval Process (PPAP)
Quality Assurance
5S
Corrective and Preventive Action (CAPA)
Quality Management
Supplier Quality
Engineering
Quality Control
Kaizen
Advanced Product Quality Planning (APQP)
Minitab
ISO 13485
How to use these skills?
For Quality Engineer jobs, you will need to be skilled in programs or methodologies such as Six Sigma, Lean Manufacturing, AutoCAD and ISO 9001:2015. As you read through the job description carefully, you can include the skills that the company is looking for throughout your resume in your skills section or in your bullet points.

You might say something like, "streamlined existing procedures based on the ISO 9001:2015 changes." This will help you get through the Applicant Tracking System. This tracking system is typically an automated filter and as you use the specific words that the system is tracking, you will be more likely to be chosen by the system to move forward.
Action Verbs For Quality Engineer Resumes
Developed
Implemented
Improved
Led
Managed
Streamlined
Performed
Created
Identified
Conducted
Assessed
Prepared
Promoted
Mentored
Automated
Produced
How to use these action verbs?
Quality Engineers need to have experience testing and automating processes, developing procedures, and creating solutions to problems. You can emphasize these skills using your action verbs -examples: use Led and Managed to show your leadership skills.

As you list your bullet points, remember to begin with an action verb. By doing this you are emphasizing what you've been able to achieve in other roles. Employers are looking for Quality Assurance Engineers that have proven results so use your action verbs to support this in your resume.

For a full list of effective resume action verbs, visit Resume Action Verbs.