System Administrators are responsible for ensuring that all systems and networks are installed and maintained properly. As a Systems Administrator you can expect to hold at least a Bachelor's degree with a major in Computer Science, Information Technology, or Information System Management. Depending on what you choose to focus on, you might earn a specialized certification as a Red Hat Certified Engineer (RHCE) for example.

To follow a linear path, you could begin your career as a System Administration Specialist and then continue to progress to System Administrator and then up to Senior System Administrator where you'll be taking on additional leadership roles. Or, you could specialize as an IT System Administrator or a Linux Administrator. Other options are to transition to areas such as IT Consulting, System Architecture, or Cybersecurity. Right now, you can expect steady growth in the field for the next few years.

System Administrators should have strong problem solving skills and be knowledgeable of software and hardware programs like Windows Server, Amazon Web Services, Python, or Red Hat Enterprise Linux. Remember that each role is slightly different so make sure to know which of these are required for the specific job.
System Administrator Resume Templates
System Administrator Resume Sample
A System Administrator is responsible for making sure that all systems are working properly. This might include setting up computer networks and performing server maintenance. To advance in this field, you will want to show past experience of clear growth through promotions or additional responsibilities. It's also important to use specific metrics throughout your bullet points with tangible examples. For each achievement, try to use a number or metric.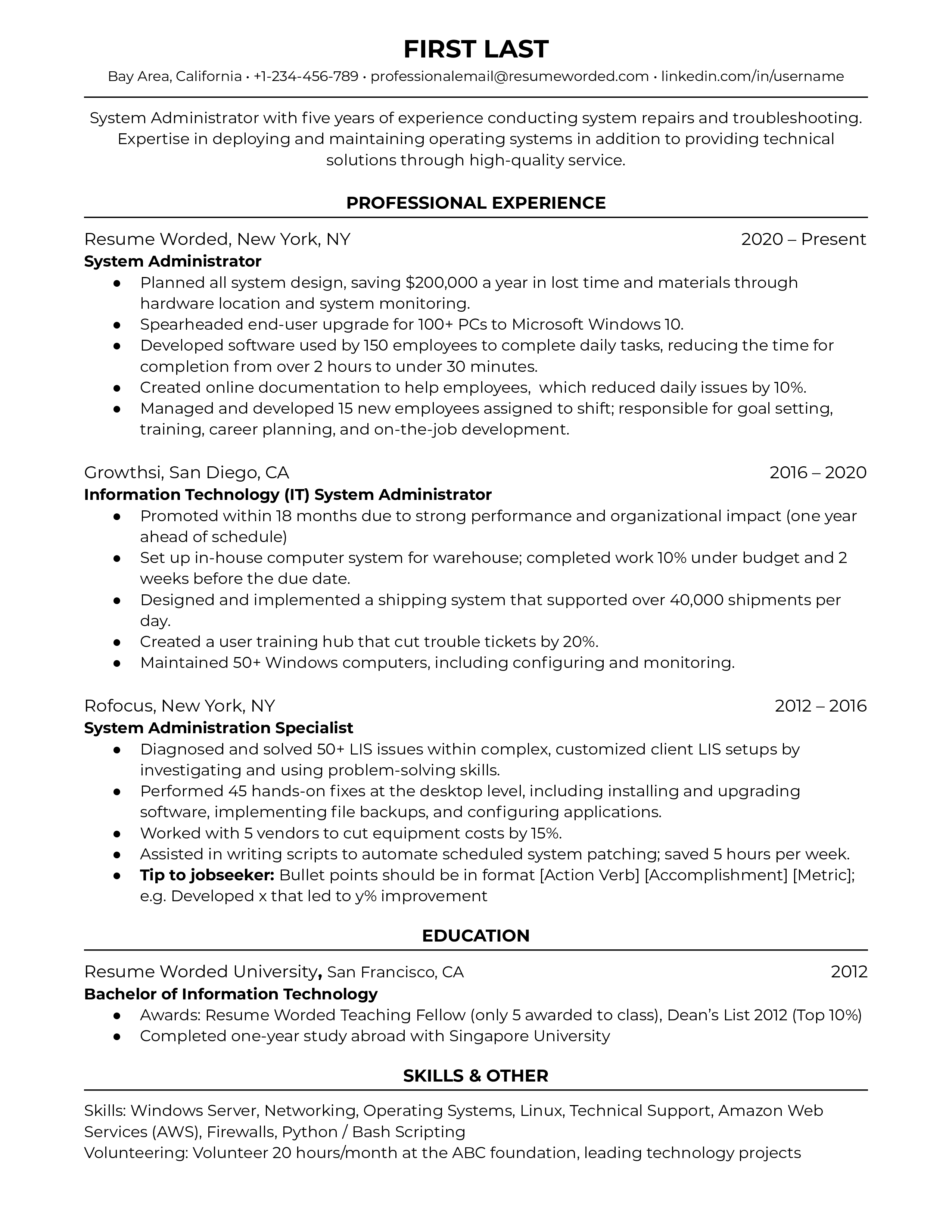 Recruiter Insight: Why this resume works in 2021
IT System Administrator Resume Sample
An IT System Administrator is a specialized System Administrator that is in charge of designing, organizing, changing, and supporting the computer systems, as well as solving problems related to LAN, Wide Area Networks, and other networking areas. Using strong action verbs to convey your leadership will help you to continually advance from junior to senior positions. Also, including the most important IT skills will help your resume to stand out.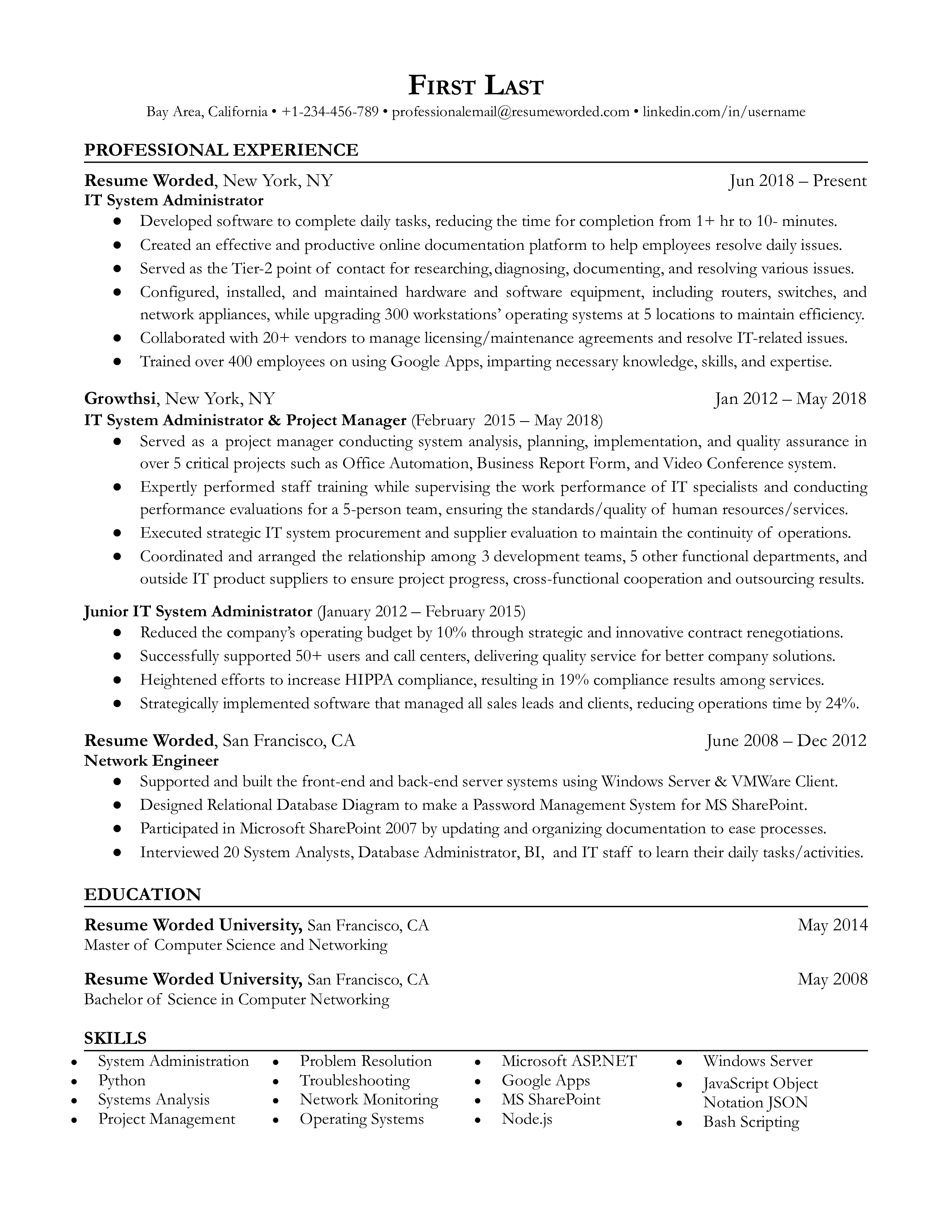 Recruiter Insight: Why this resume works in 2021
Junior System Administrator Resume Sample
A Junior System Administrator needs to assist other administrators with setting up, maintaining the computer databases and making sure that everything is operating well. In your resume you can use the keyword of the job title you are applying for and add any relevant certifications after the skills section of your resume. Remember you don't need to include everything, just the jobs, skills, and certifications relevant to the position.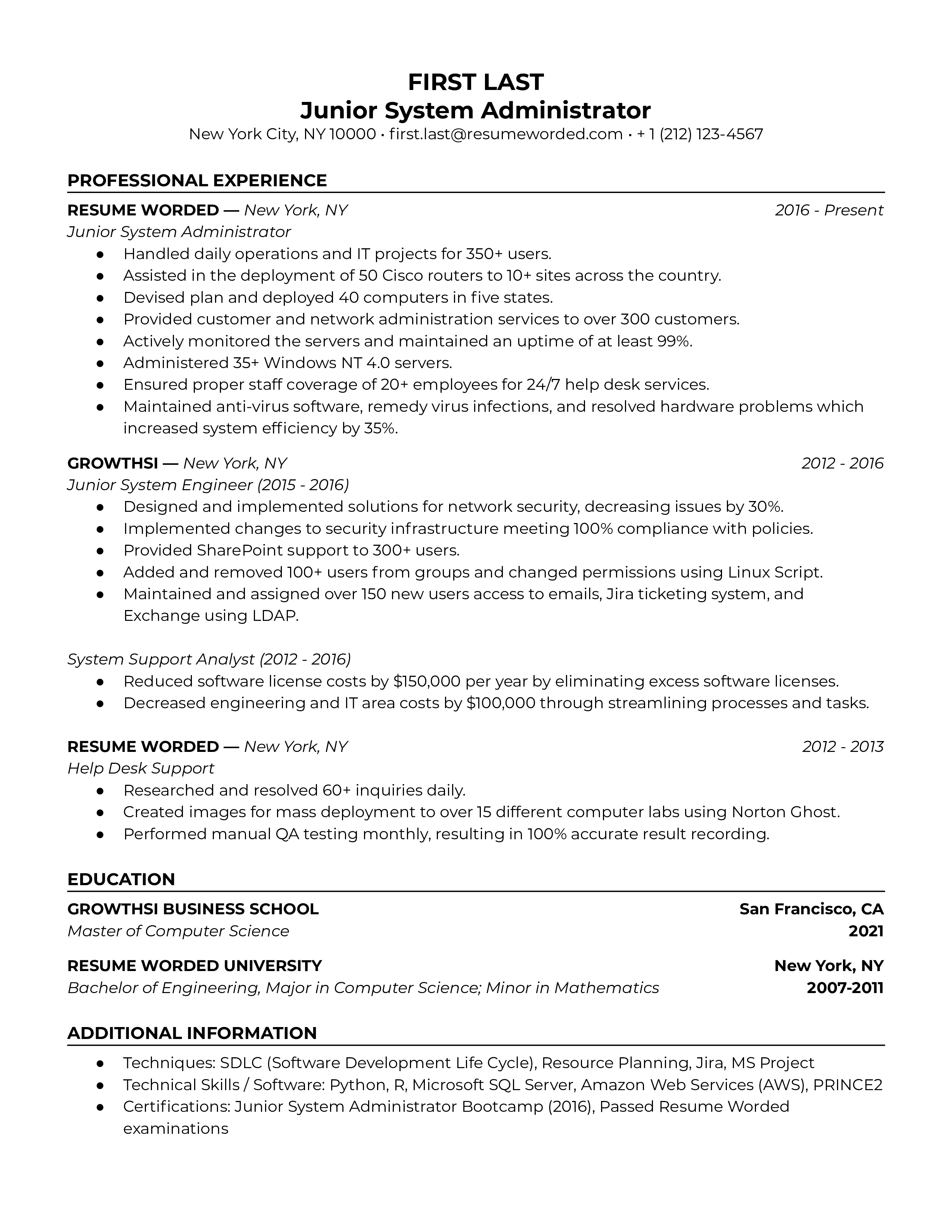 Recruiter Insight: Why this resume works in 2021
Linux System Administrator Resume Sample
Unlike generalist System Administrator roles, a Linux System Administrator is focused specifically on skills involving the Linux operating system — for example, installing and setting up Linux servers and systems. A resume like this can emphasize your advanced education in Computer Science and also references your vast experience working with Linux systems. Your bullet points can draw attention to common industry jargon.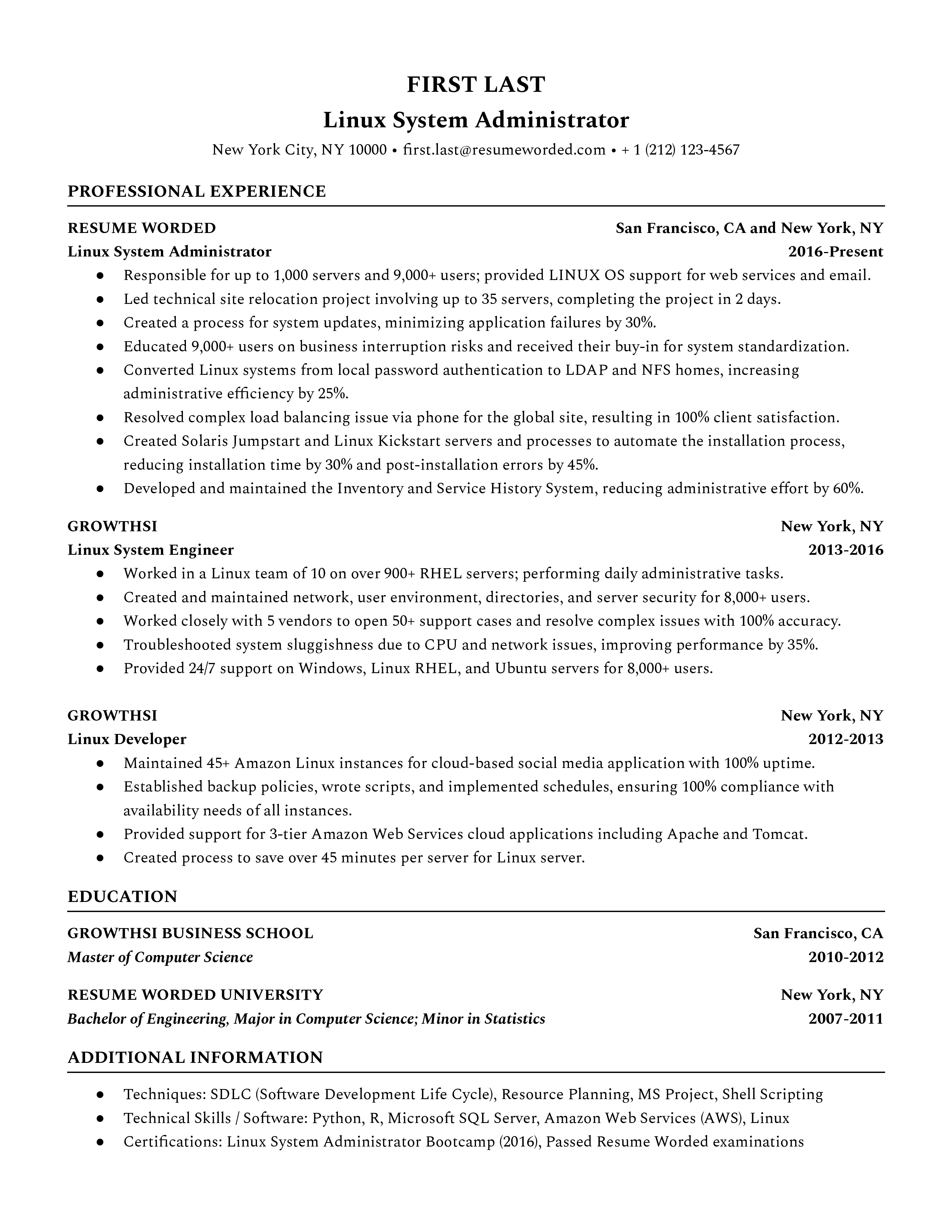 Recruiter Insight: Why this resume works in 2021
Senior System Administrator Resume Sample
A Senior System Administrator is part technical expert and part manager. In this role you'll be configuring new systems, monitoring progress and overseeing other employees and teams. Because this is a senior level role, you'll want to draw attention to your career progression, emphasizing promotions and leadership experience. You should also focus on specific project experience that the job will require or that are transferable skills or areas.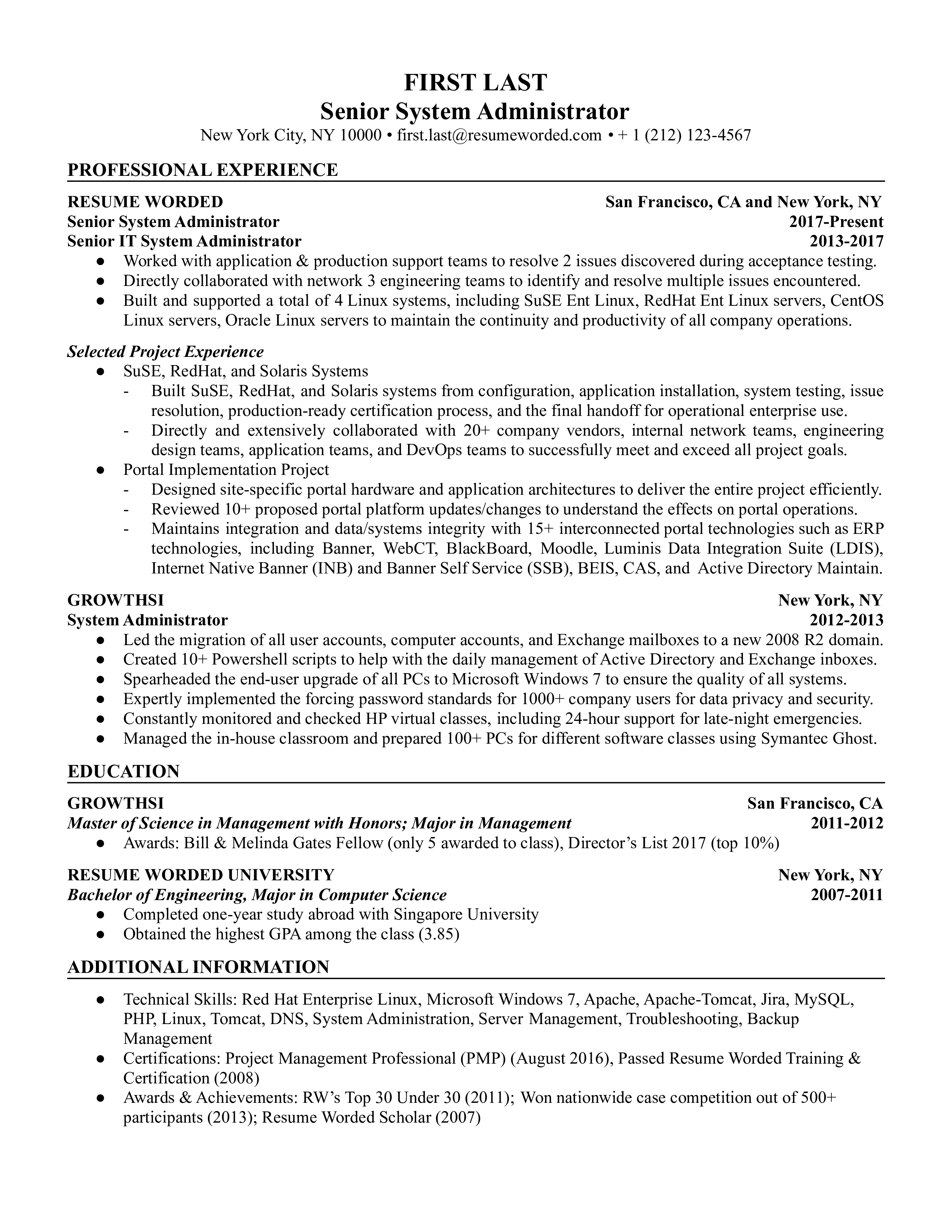 Recruiter Insight: Why this resume works in 2021
Skills For System Administrator Resumes
As the name suggests, it is important to have strong software and technical skills relating to system administration, often called 'sysadmin'. Of course, the system administration field is broad, so depending on your area of focus, you may need to know scripting (e.g. Python or Bash), Networking (e.g. LAN/WAN), Databases or work with Operating Systems. Your needed skills will vary depending on if you're applying for a role as an IT System Administrator, Junior Administrator, or Linux System Administrator so make sure that you read the job description carefully so that you can include any important skills in your bullet points or as a separate skills section.

Adding relevant keywords to your resume will help you get past the Applicant Tracking Systems. These tracking systems are automated filters and the more you're able to use the specific keywords that the system is looking for, the better chances you'll have of getting interviews.
System Administration
Windows Server
Active Directory
VMware
Servers
Network Administration
Microsoft Exchange
Troubleshooting
Domain Name System (DNS)
VMware vSphere
Technical Support
Virtualization
Networking
Powershell
Linux
Disaster Recovery
VMWare ESXi
Windows 7
Group Policy
Windows
Action Verbs For System Administrator Resumes
System Administrators need to have experience designing and implementing systems, diagnosing and resolving problems, and leading teams and projects. You can emphasize these skills with your action verbs - examples: use Troubleshooted and Resolved to show your problem solving skills.

As you are structuring your bullet points, remember to begin with an action verb. By doing this, you are putting the focus on what you've achieved in previous jobs.
Designed
Led
Created
Implemented
Managed
Educated
Developed
Resolved
Troubleshooted
Established
Devised
Administered
Spearheaded
Diagnosed
Researched
Performed
For a full list of effective resume action verbs, visit Resume Action Verbs.