Like many jobs in the tech field, being a security professional is more about professional chops and experience than it is your level of education. While acquiring a four-year degree is often useful, industry certifications are equally, if not more, important. Many cyber security professionals start as IT professionals, software developers, or systems administrators and then choose to specialize in cyber security. Even those with on-the-job experience will find that having industry certifications is extremely helpful to being hired at the top levels of cyber security jobs.

Some examples of these certifications are:
- CompTIA Security+
- Certified Ethical Hacker (CEH)
- Certified Information Systems Auditor (CISA)
- Certified Information Systems Manager (CISM)
- Certified Information Systems Security Professional (CISSP)
Don't let the stereotype of a hacker as a person in a dark room examining lines of code fool you: being a cyber security professional is as much about human interactions as anything else. So many of the vulnerabilities in the online world have human users at their root. High profile attacks recently have been directly related to successful phishing campaigns, which means that an employee had to open a specious link, granting a hacker access to protected networks. As such, companies value cyber security professionals who are adept at working in teams and communicating new security protocols to other employees.
Cyber Security Resume Templates
Cyber Security Analyst Resume Sample
Download Resume Template (Google Doc)
Download Resume in PDF
Why this resume works in 2021
A cyber security analyst is a professional who works to protect a company from cyber security hardware and software attacks. In addition to typical IT tasks like ensuring the organization's software is up-to-date and monitoring networks for potential attacks or security risks, they also educate employees in other departments about potential security risks and how to avoid them. The best security analysts are also researching new security threats to stay ahead of constantly changing threats.

This resume effectively shows a mid-level cyber security professional's ongoing growth and specialization. They have an excellent foundation with a computer science degree, obtained a cyber security specialization certificate, and applied it to their career path. Since the analyst wants to specialize in government and private security, it's extremely effective to list their security clearance front and center.
Improve your Cyber Security resume, instantly.
Use our free resume checker to get expert feedback on your resume. You will:
• Get a resume score compared to other Cyber Security resumes in your industry.
• Fix all your resume's mistakes.
• Find the Cyber Security skills your resume is missing.
It's instant, free and trusted by 1+ million job seekers globally. Get a better resume, guaranteed.
Upload your resume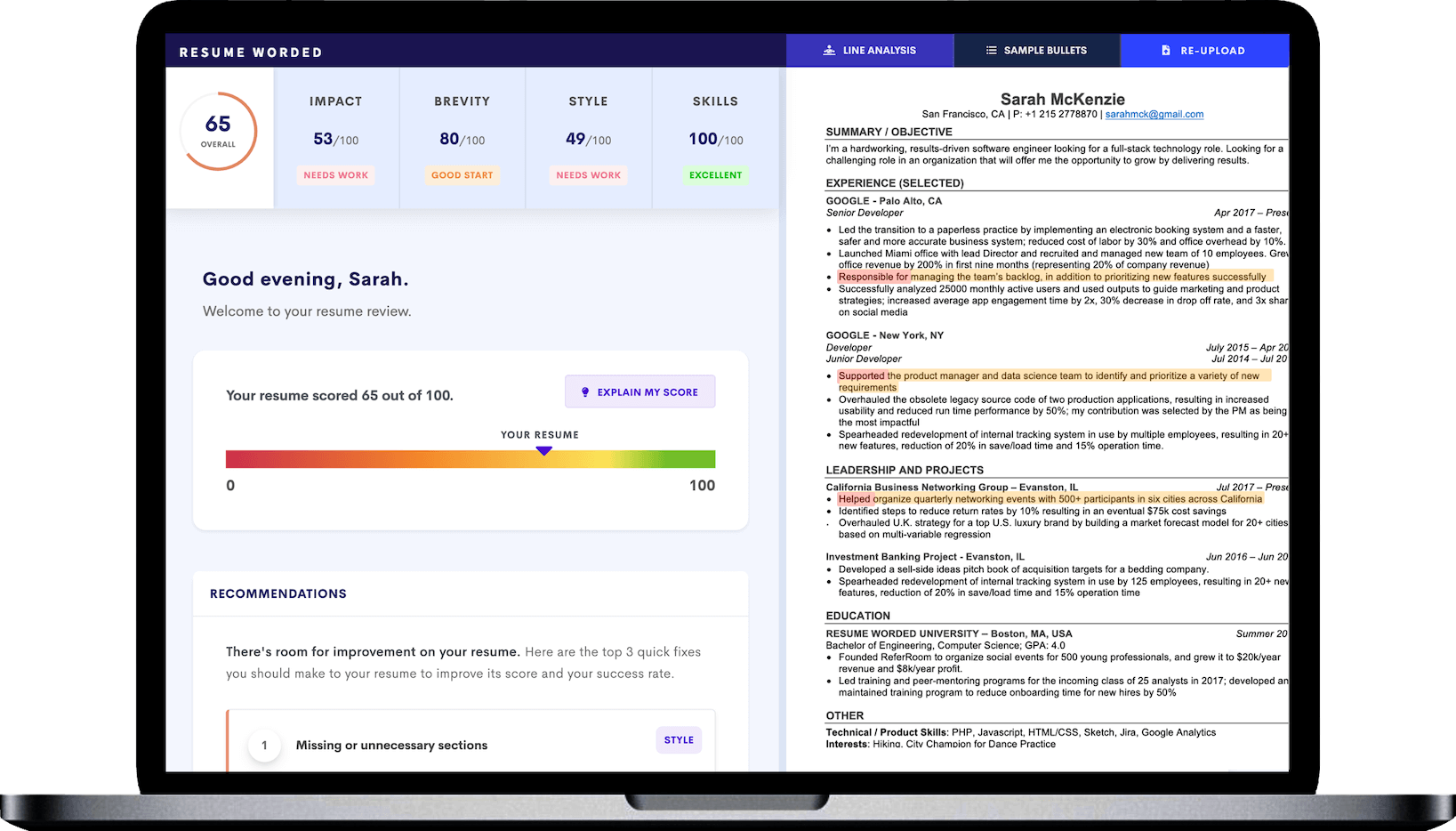 Cyber Security Engineer Resume Sample
Download Resume Template (Google Doc)
Download Resume in PDF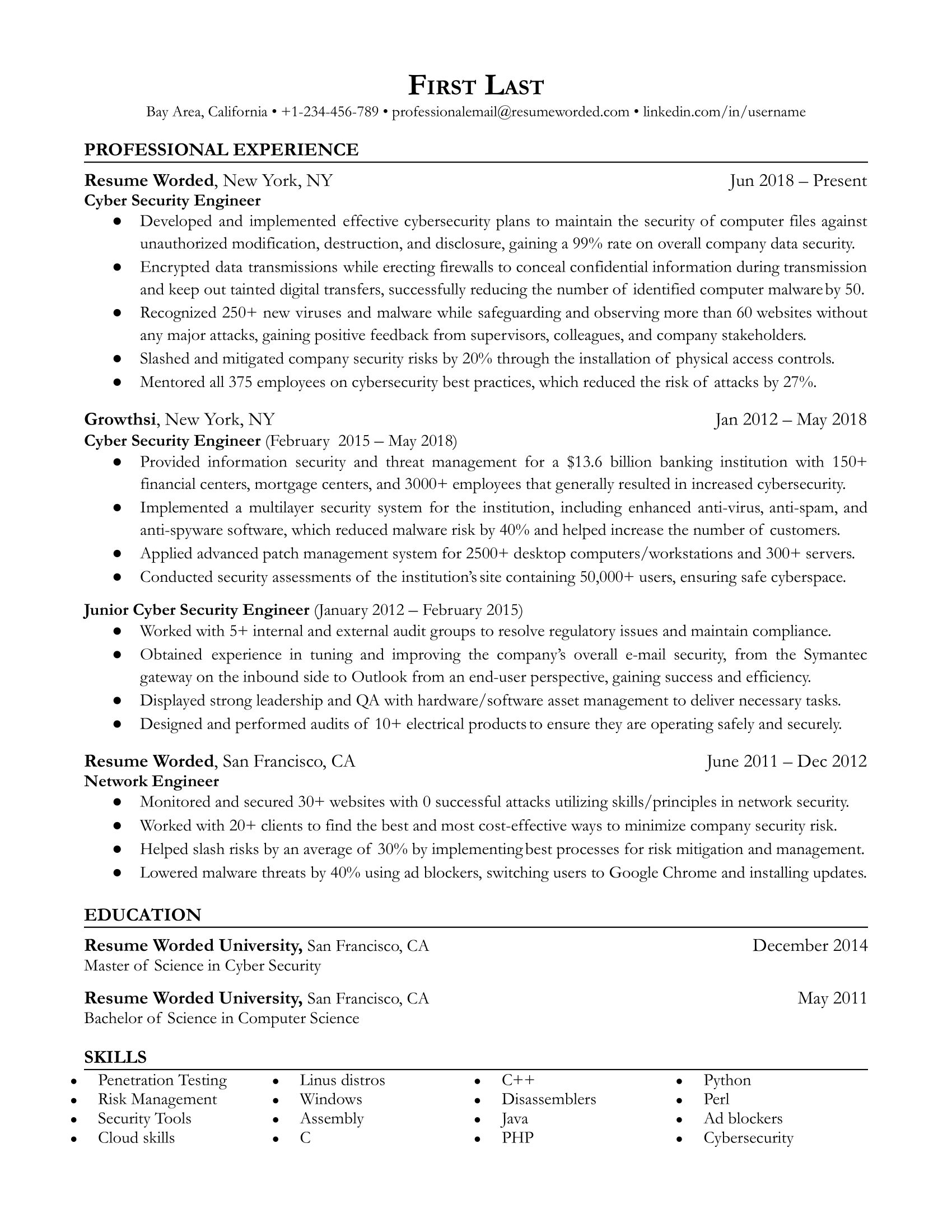 Why this resume works in 2021
In some ways, you can think of a cyber security engineer as a higher-level cyber security analyst. A cyber security engineer performs many of the same tasks but is working at a higher level on the network as well as more strategically. Often, they'll use tools like penetration tests to see where the vulnerabilities are in their system and are the architects of programs to combat them. They're usually the go-to person for creating and explaining security procedures and protocols of a company.

As an applicant with 10+ years of relevant experience, this job seeker is right to focus more on their impressive job experience, letting the skill box become secondary. He or she allocates more space to their recent experience, which brings together their technical skills with their ability to manage teams. This puts them in competition for top-tier jobs roles, like a chief information security officer (CISO).
Cyber Security Consultant Resume Sample
Download Resume Template (Google Doc)
Download Resume in PDF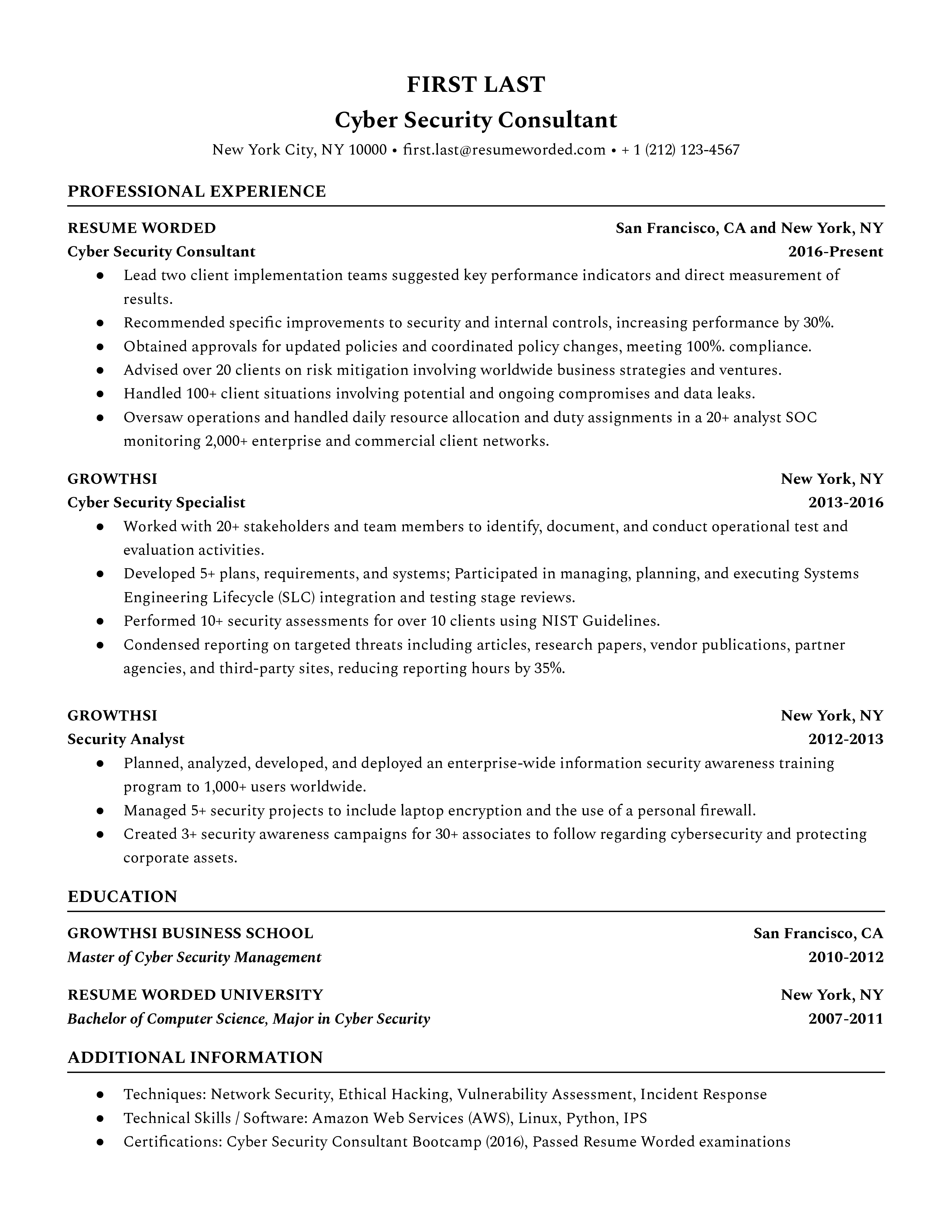 Why this resume works in 2021
Cyber security consultants perform many of the same functions as cyber security engineers, but they are hired (either as agencies or individuals) to work for clients. Often this means that they're evaluating systems for vulnerabilities, setting up a new and functional system, and then leaving the client to maintain the system with internal personnel.

Cyber security consultants represent a unique skill set in the industry. Because they are hired from outside of the organization in need, they have to have equally high standards in their ability to work with diverse companies, understanding and communicating with those they often don't have long-term relationships with, and in their wide but deep technical expertise, which allows them to recognize problems efficiently and in different settings. Unlike other roles in the cyber security industry, consultants are constantly proving their worth (just as a freelancer would).
Cyber Security Specialist Resume Sample
Download Resume Template (Google Doc)
Download Resume in PDF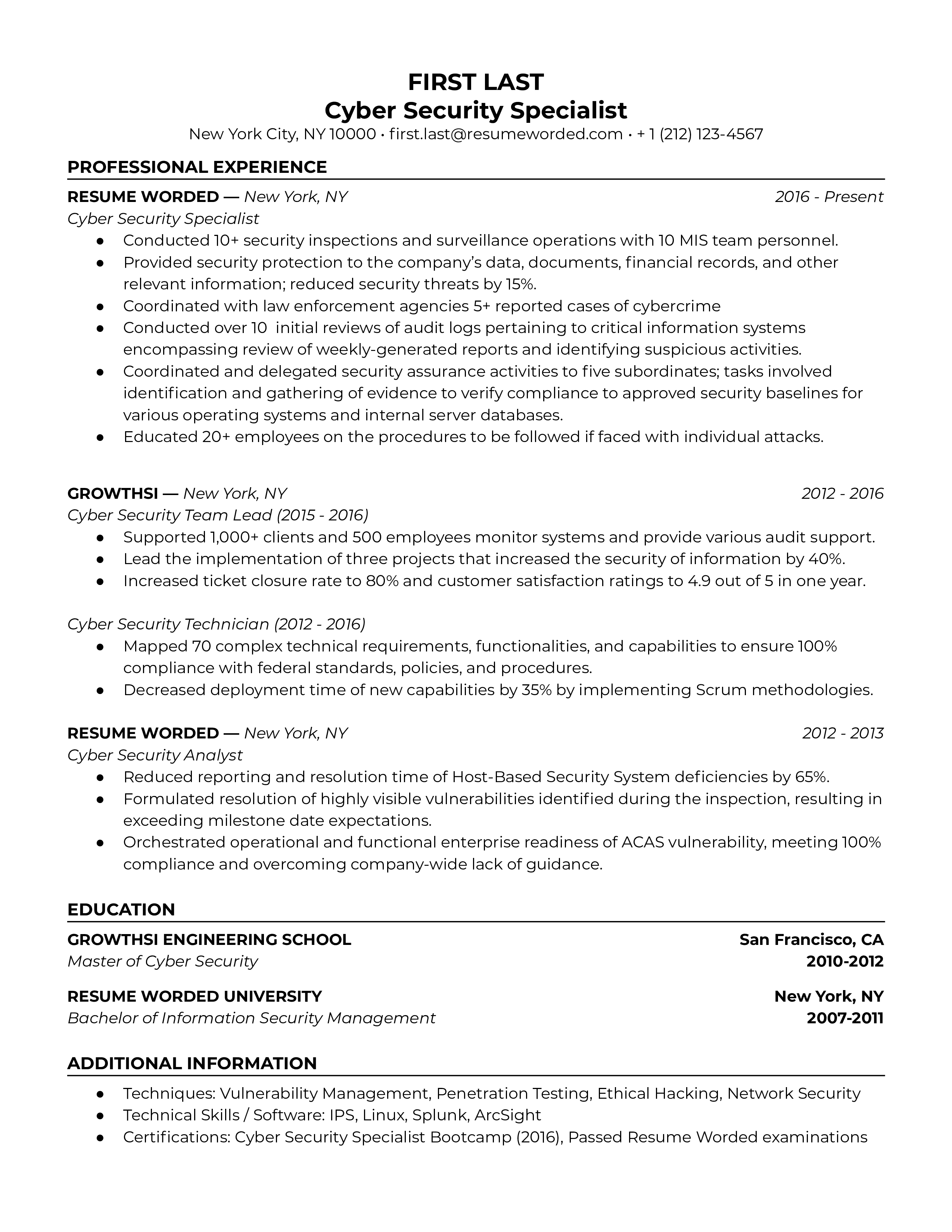 Why this resume works in 2021
A cyber security specialist is integral to the creation of networks. They are less focused on training fellow employees for vulnerabilities and are more focused on system-wide security threats and incursions. As such, they are most important when a company is setting up their network in the first place.

At first glance, this resume looks very similar to the third resume example. Both are great examples of employees with 10+ years experience and advanced degrees. However, this resume highlights the job seeker's ability to work well within an organization. They highlight excellent technical skills, but also their ability to train employees within the company on new security threats.
Entry Level Cyber Security Analyst Resume Sample
Download Resume Template (Google Doc)
Download Resume in PDF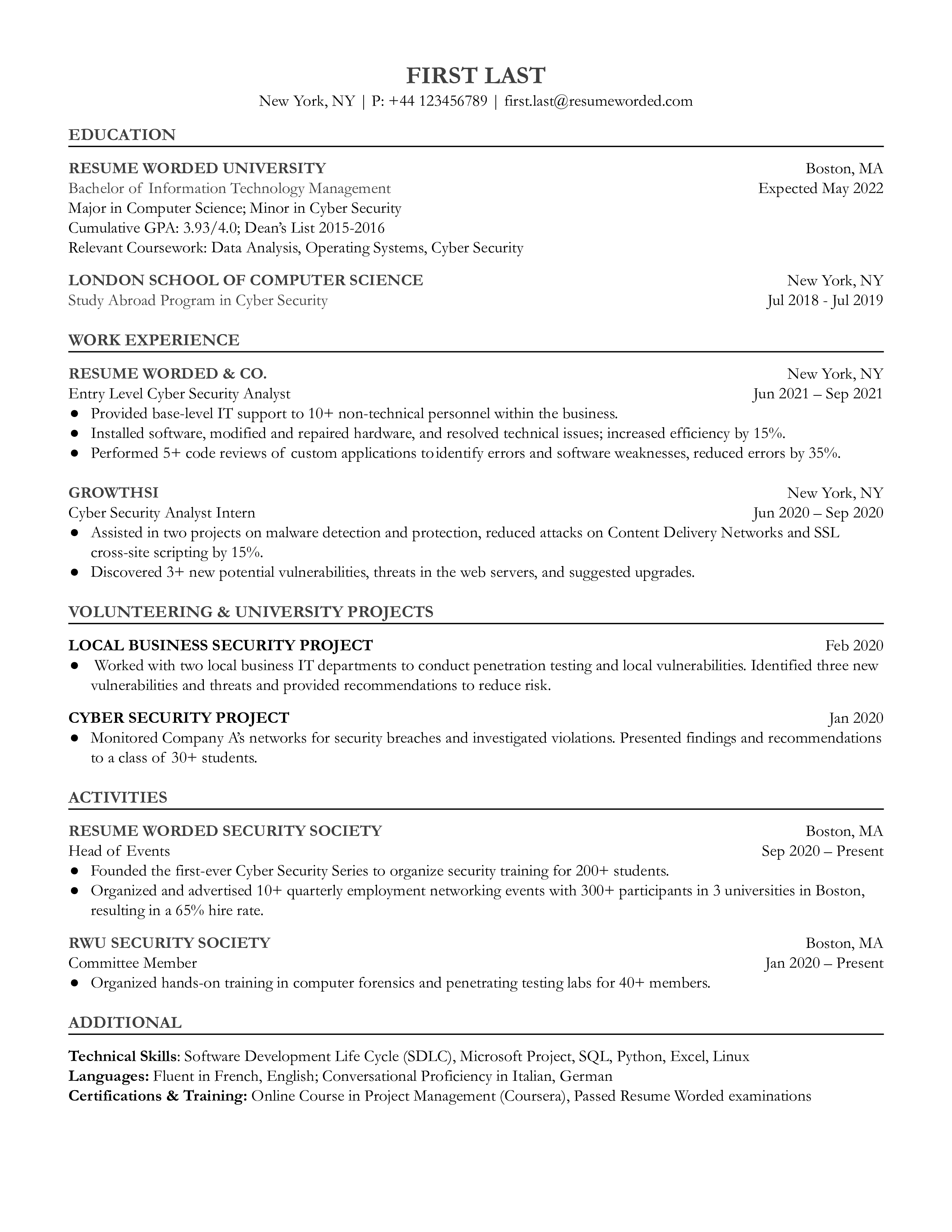 Why this resume works in 2021
An entry-level cyber security professional has not specialized in any of the above career roles, of course. Often they come from a computer science background, though some programs are starting to offer cyber security-specific degrees.

As this is an entry-level resume, it's entirely appropriate that the educational experience is listed first. However, this resume also lists excellent hands-on experience in both cyber security internships and volunteer projects as well as extra curricular activities. The skills section also rounds out experience with skills that aren't necessarily related, but could certainly be useful (i.e. language skills). Most of all as an entry-level professional, you want to show that you have been eager to learn and apply yourself to the cyber security industry.
Skills For Cyber Security Resumes
Cybersecurity
Information Security
Network Security
Vulnerability Assessment
Security Information and Event Management (SIEM)
Incident Response
Penetration Testing
Splunk
Security
Vulnerability Management
Information Assurance
Cyber Defense
Threat & Vulnerability Management
Linux
Information Security Management
Vulnerability Scanning
Malware Analysis
Ethical Hacking
Firewalls
Information Technology
How to use these skills?
When writing your resume for a cyber security role, remember to research the role and include core skills that are relevant to the specific position you are applying to. This ensures your resume is well targeted to the role and also ensures that your resume makes it past the resume screening stage.

To help you get started, here are some hard skills from cyber security job postings. Try to only include keywords that are relevant to the role.

You can also consider adding these skills to a Skills section on your resume. If you go for this kind of section, always remember to tailor your resume's skills section to the specific job you apply to.
Action Verbs For Cyber Security Resumes
Automated
Secured
Guarded
Tested
Pen-tested
Engineered
Installed
Computed
Assembled
Debugged
Strengthened
Troubleshooted
Deployed
Restructured
Led
Developed
Implemented
How to use these action verbs?
Each of your achievements and bullet points on your cyber security resume (specifically in your work experience) should start with an action verb. The action verbs here are examples of strong action verbs you can use when writing your cyber security resume.

Notice how these action verbs are relatively technical and related to engineering. These help you highlight your technical skill sets. Don't repeat action verbs more than two times on your resume - use different verbs to highlight different experiences.

For a full list of effective resume action verbs, visit Resume Action Verbs.