As a DevOps engineer, your job is to essentially close the gaps between software development, testing, and support. On a day-to-day basis you'll be monitoring, optimizing, and sometimes managing the whos, whats, wheres, and hows of an IT project.

It's not an easy career field. But it's a job that pays excellently and has a high career outlook; Studies estimate a 22% job growth.

To prepare your DevOps resume for the next interview, it'll require skills with various software programs and working with other software engineering departments to drive efficiencies. Today, we'll be showing you examples of what a winning DevOps resume looks like. Use our suggestions to help you tailor your DevOps resume to match the job you're aiming for.
DevOps Engineer Resume Sample
When applying for a DevOps engineer job, your resume needs to demonstrate your ability to unify, automate, and manage software processes. This means you will have worked with different software programs to get a job done. In your resume, include your experience with these programs, along with any achievements that occurred as a result.
Recruiter Insight: Why this resume works in 2021
DevOps Manager Resume Sample
Being a DevOps manager means that you will have done more than work with development/IT teams to test and improve quality and efficiency of programs. You will have led a team that has done the same thing. To get a managerial role in DevOps, show in your resume experience that you know how to effectively lead a team to deliver positive results for a company.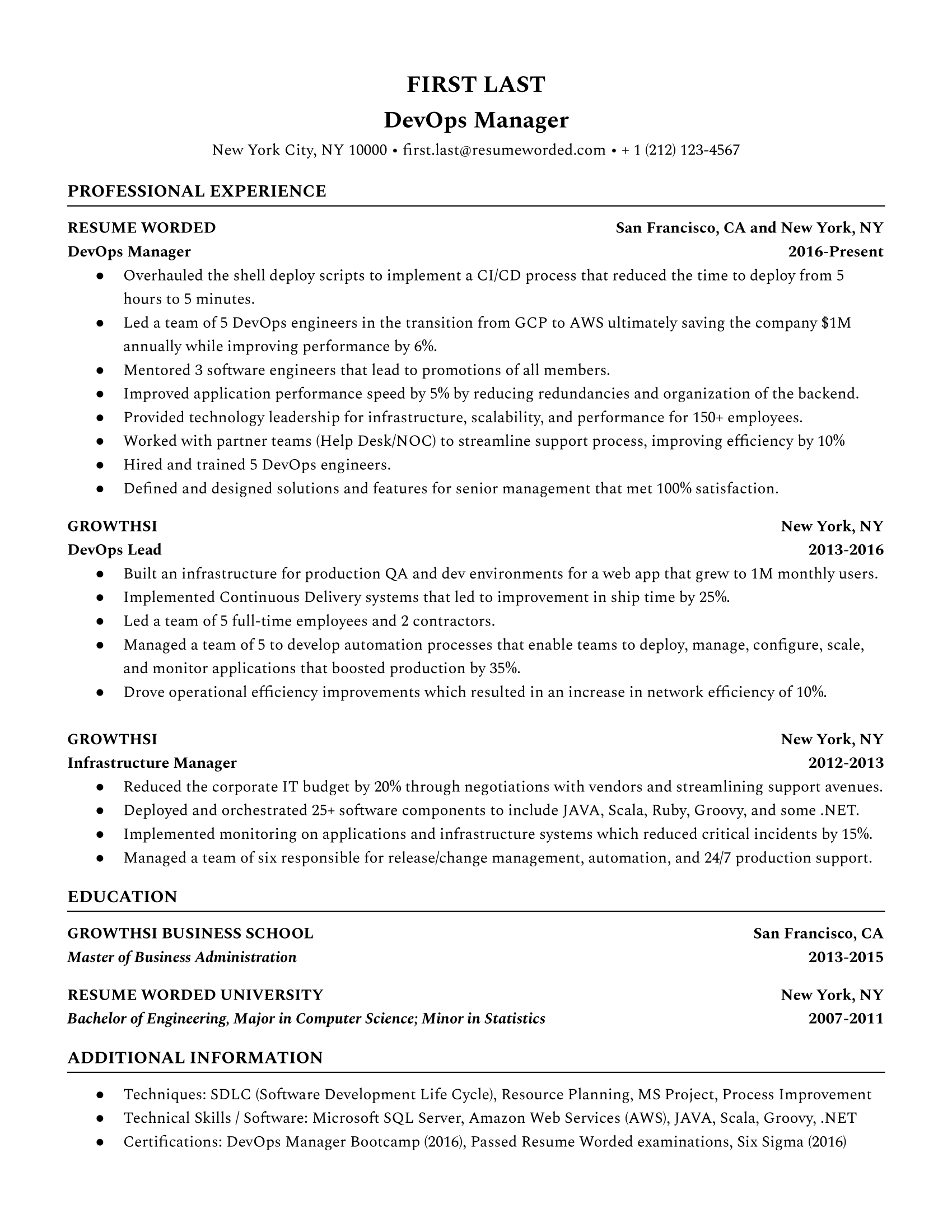 Recruiter Insight: Why this resume works in 2021
AWS DevOps Engineer Resume Sample
The responsibility of this role is to ensure proper management, automation, maintenance, performance, and scalability of AWS cloud-based production systems. Recruiters want to see that you have the programming skills to help increase efficiency or reduce costs or labor. In the experience section of this sample, you see many bullet points explaining how certain operational functions were improved. For example, "eliminating 85% of manual work", "reduced the service loading time by 97%", or "increased the page speed by 15%." Your resume should include the achievements you've reached by using AWS.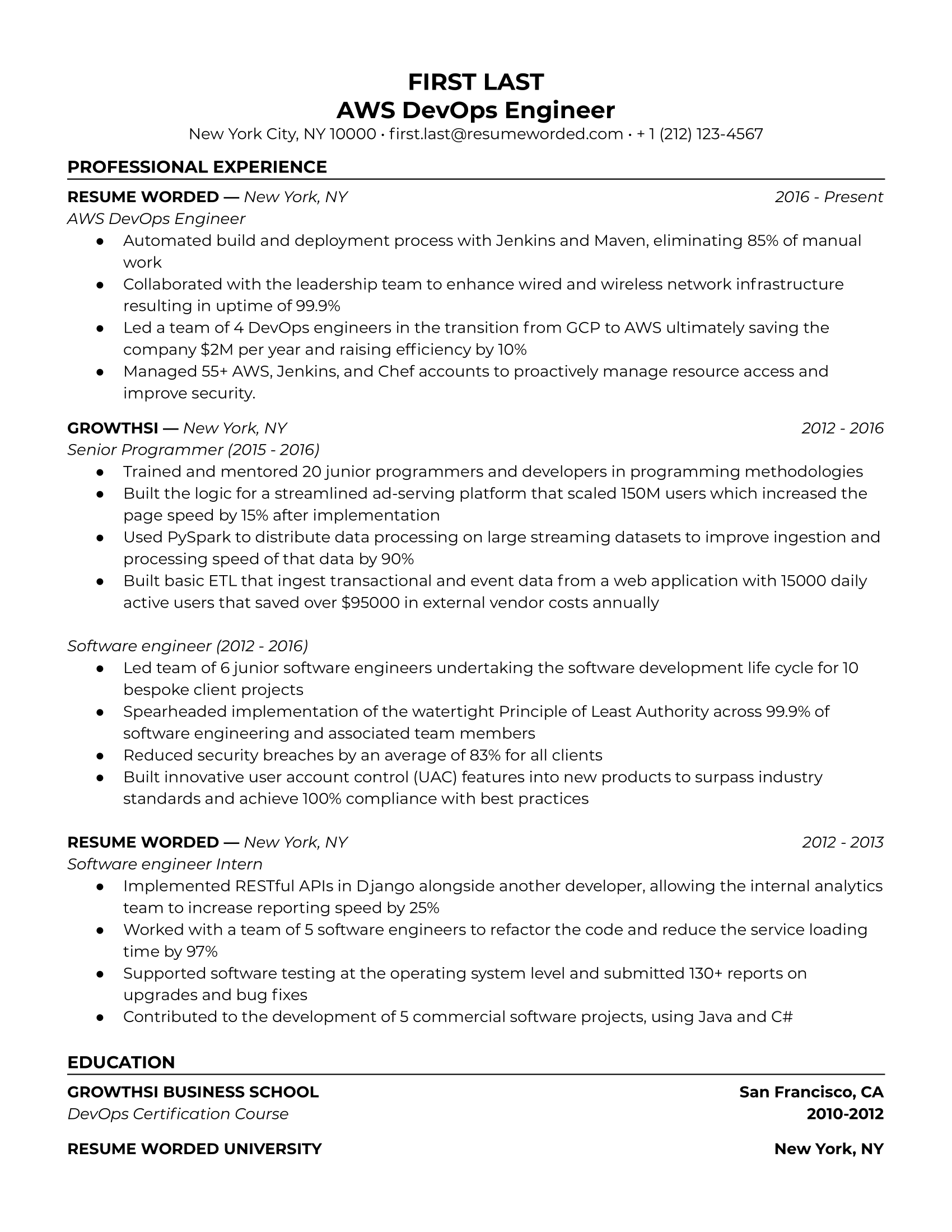 Recruiter Insight: Why this resume works in 2021
Kubernetes DevOps Engineer Resume Sample
To succeed as a Kubernetes DevOps engineer, you'll need to get used to working with the cloud. This sample explains how they have implemented different cloud-based services in their experience. Recruiters want to see that you're well-versed with the software. Your experience should highlight how you've used cloud services successfully on the job.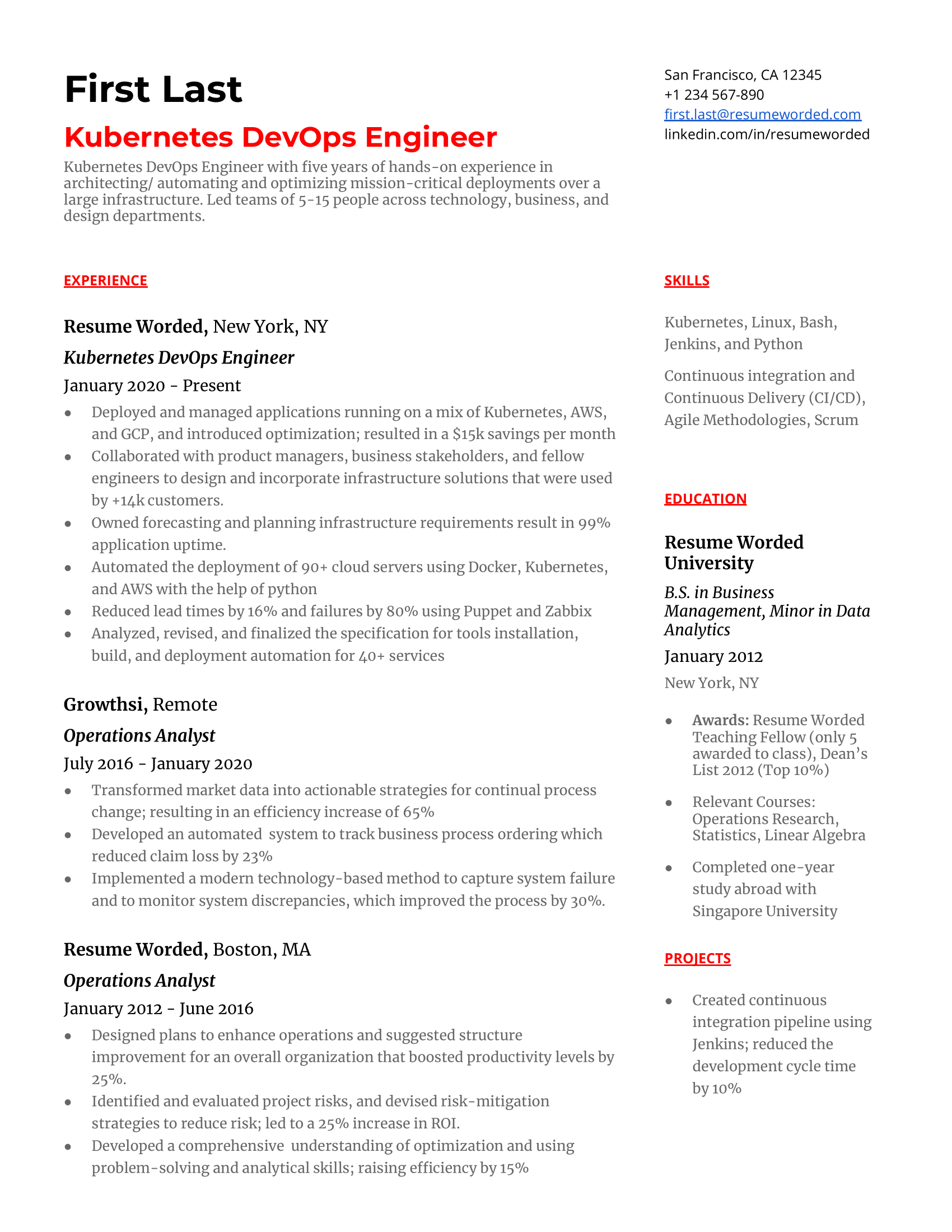 Recruiter Insight: Why this resume works in 2021
Skills For DevOps Resumes
Since the DevOps role involves much work with various software programs, experience and skills with tools that help to manage those programs are key. Include those skills and how you've used them throughout your resume.

If you're uncertain of which skills to include, the job description should help you out. It'll tell you which skills the hiring company is looking for in an applicant. Try listing some of them; it'll help you get past ATS. However, stick to using primarily hard skills. Soft skills are important to have, especially for upper-level roles, but technical skills should be what you focus more attention on.
Jenkins
Docker Products
Ansible
Amazon Web Services (AWS)
DevOps
Kubernetes
Terraform
Puppet
Git
Linux
Maven
Shell Scripting
Chef
Continuous Integration and Continuous Delivery (CI/CD)
Bash
Python (Programming Language)
Microsoft Azure
Continuous Integration
GitHub
Nagios
DevOps Resume Tips
Experience in data management, automation, and program quality testing are all critical skills needed for DevOps — after all, DevOps is short for Developer Operations, so anything that helps with improving the efficiency of developers is what you want. If your resume can display your success with many different programming tools and other departments' data to drive efficiency, you'll be one step closer to obtaining your next DevOps job.

Below are some tips to help you structure your perfect DevOps resume.
Action Verbs For DevOps Resumes
DevOps engineers need to do a lot of building, configuring, and testing programs. Doing so requires skill and experience with tools like OpenVZ/KVM, Hadoop, and the cloud. Therefore, it's necessary to use action verbs that highlight your abilities with these tools.

Just make sure the verbs --and the following experience-- are related to DevOps. Other software engineer-related jobs use the same or complementary tools. So whichever ones you choose to use in your resume need to be useful for this exact role. However, if those action verbs from other roles happen to be connected to this one, use them in your resume.
Systemized
Eliminated
Transformed
Revamped
Decreased
Improved
Modernised
Streamlined
Simplified
Redesigned
Innovated
Minimised
For a full list of effective resume action verbs, visit Resume Action Verbs.
Resume Bullet Points From DevOps Resumes
You should use bullet points to describe your achievements in your DevOps resume. Here are sample bullet points to help you get started:
Developed and implemented heavily parallelized algorithms to resize and watermark 5MM+ images of different sizes using Amazon EC2
Designed and implemented 50+ E2E tests using Selenium & Protractor, simulating each user group's actions
Cut projected time for data analysis by one week by developing reusable ETL components using Pentaho Kettle
Designed and implemented an automated system for processing employee timesheets, eliminating the need for manual handwritten timesheets and resulted in a 10/hr per week time saving
Led full redesign of website with findings from customer segmentation and competitive research, increasing website leads by 200%
For more sample bullet points and details on how to write effective bullet points, see our articles on resume bullet points, how to quantify your resume and resume accomplishments.