A product or brand's website is its digital footprint in the cloud, and the staggering rise in e-commerce means that companies aren't willing to take their web presence lightly. That's where web developers come in. Offering a range of abilities that can improve the consumer experience and the company's conversion rate, web developers can be viewed as a golden asset for businesses and individuals alike.

It's no surprise that the ever-expanding internet is in constant need of web developers. In fact, the Bureau of Labor Statistics anticipates that the field is growing "much faster" than most occupations, with an increase of 8 percent in the number of jobs between 2019-2029. The median pay is $77,200, making it a solid career choice.

While there are numerous positions opening up for web developers, the relatively small amount of formal education that's expected (with an associate's degree being the standard) means there is significant competition for quality roles. This guide will help you understand what hiring managers are looking for, and give you an idea of what template your web developer resume should be based on.

To start with, keep in mind that the web developer category is fairly broad. A company looking for a web developer may need someone skilled in front-end work (such as user interfaces), back-end work (such as server optimization), or specific technologies (such as mobile app development). Ideally, your resume should be tailored to the position you're applying for, with appropriate skills and experiences highlighted to match the role you're applying for. The job description itself should provide hints as to what the position requires most.
Web Developer Resume Templates
Web Developer Resume Sample
Progressive experience is the key theme in this resume template, which is best suited to web developers who have grounded experience in the field backed by a roster of skills and relevant education. If you have a similar background that involves increasing responsibilities and accomplishments, you can highlight it with this direct, succinct format.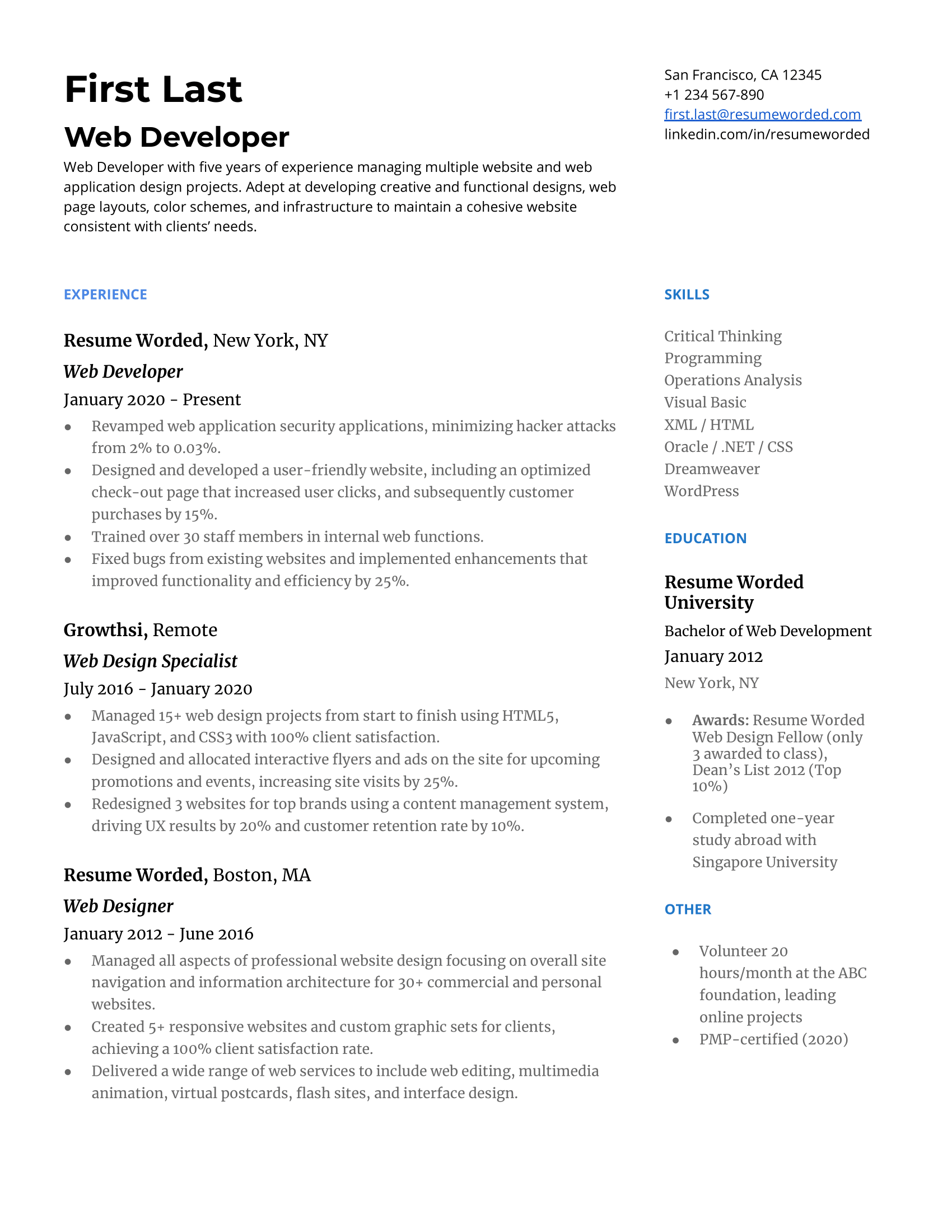 Recruiter Insight: Why this resume works in 2021
Front End Web Developer Resume Sample
Front end web developers should aim to encompass each aspect of familiarity that experts in front end experiences are expected to have, from increasing user time on page, designing landing pages, improving conversion rates, and reducing customer complaints. This can be a lot to cover, but breaking it up into digestible bullet points is a good way to tackle it.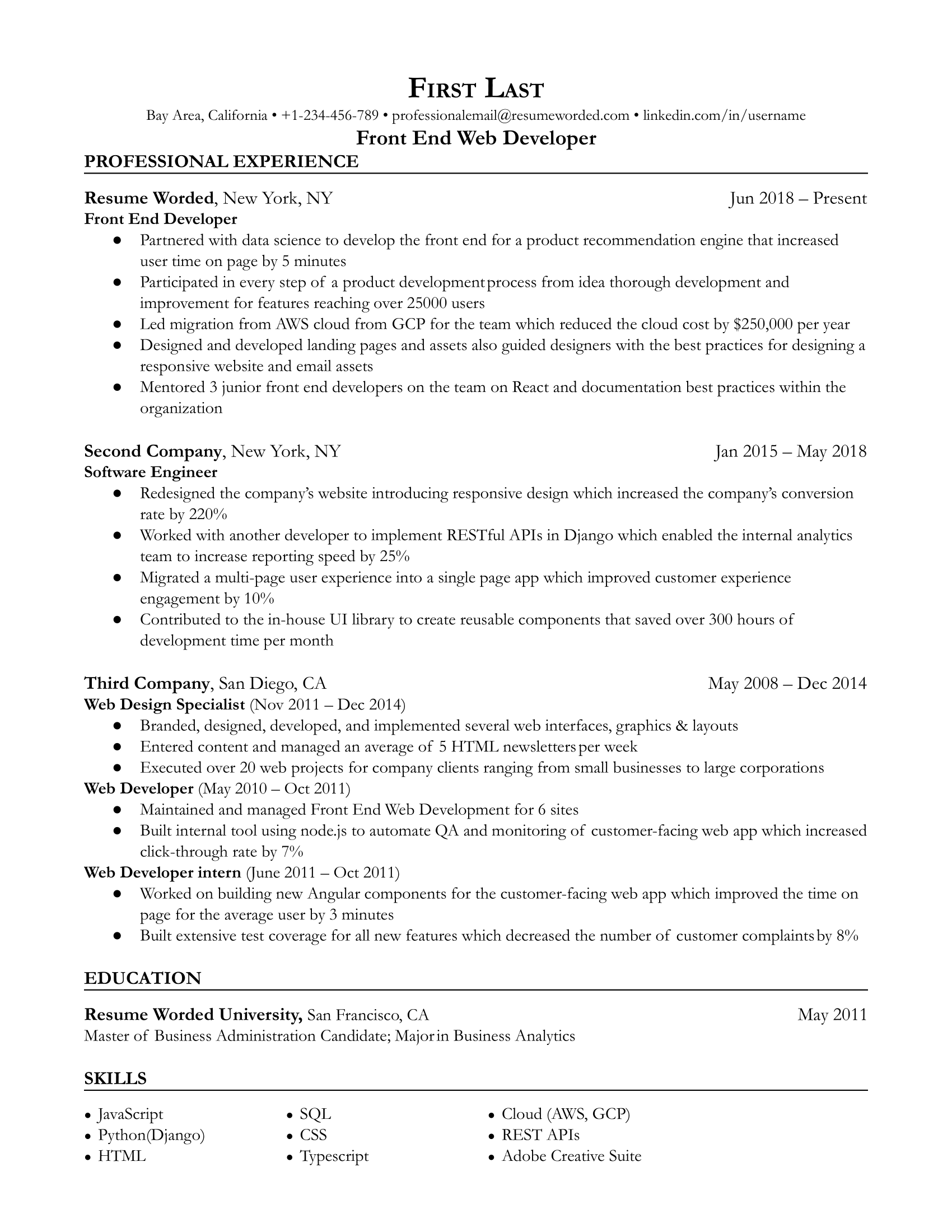 Recruiter Insight: Why this resume works in 2021
Entry Level Web Developer Resume Sample
Even without significant experience working for companies as a web developer, you can convey your capacity for the job by highlighting your skills and demonstrating how well you can put those skills to use. This can be done by including the relevant, skills-associated experience you have, either with companies, during your time in college, or with personal ventures.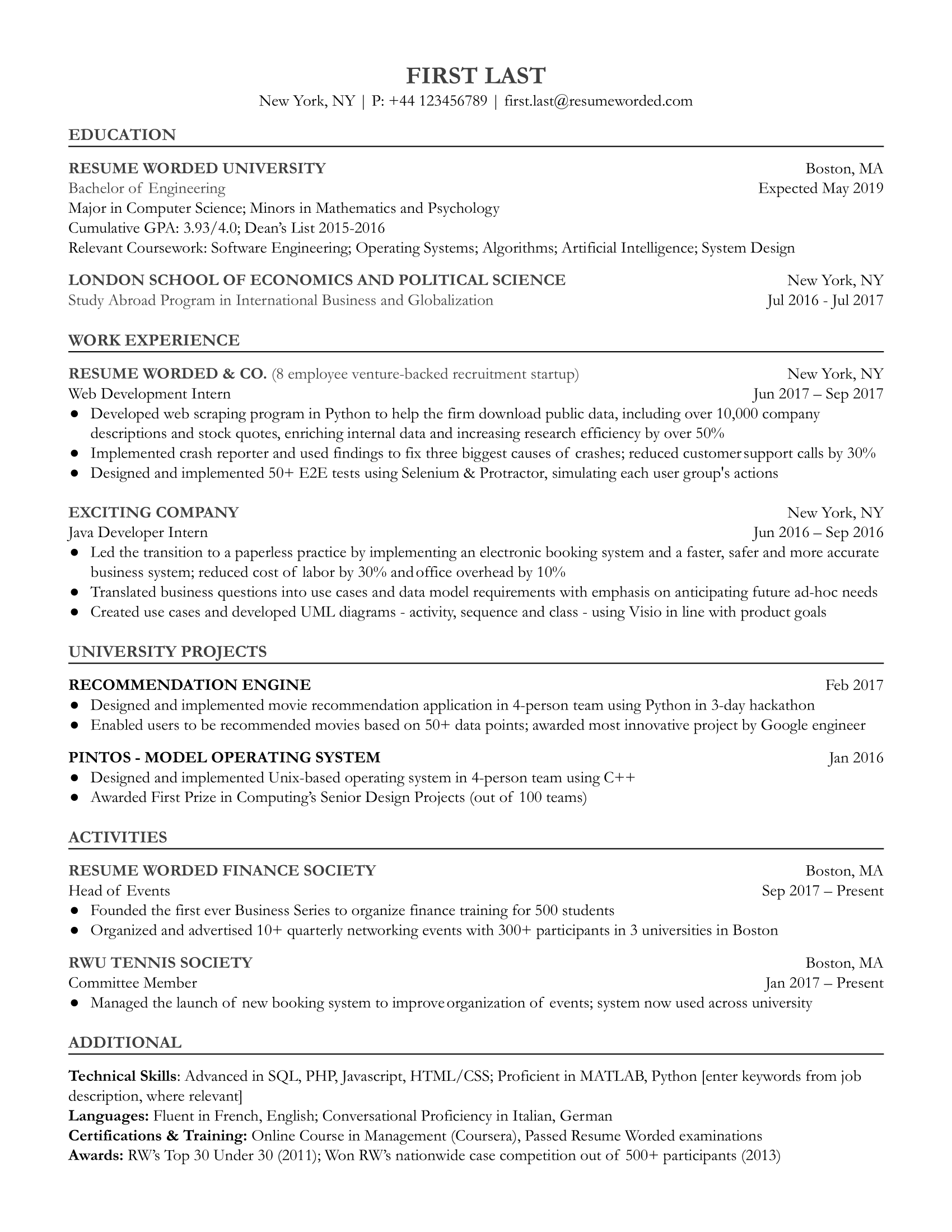 Recruiter Insight: Why this resume works in 2021
Freelance Web Developer Resume Sample
Freelancers will want their web developer resumes to reflect their commitment to client satisfaction. Being able to recognize, meet, and exceed a client's needs with consistency is a solid method of demonstrating your prowess to new clients. This resume doesn't simply impart their client's satisfaction with fluff; instead, quantifiable improvements are included to illustrate measurable gains.
Recruiter Insight: Why this resume works in 2021
Senior Web Developer Resume Sample
Senior web developers will want to impart their ability to lead. In the case of this web developer, they incorporate their work leading internal teams, as well as their capacity to work with external partners, both of which speak to strong personal skills. Pairing leadership with a background rooted in technical skills illustrates that you have the understanding and the willingness to encourage company growth.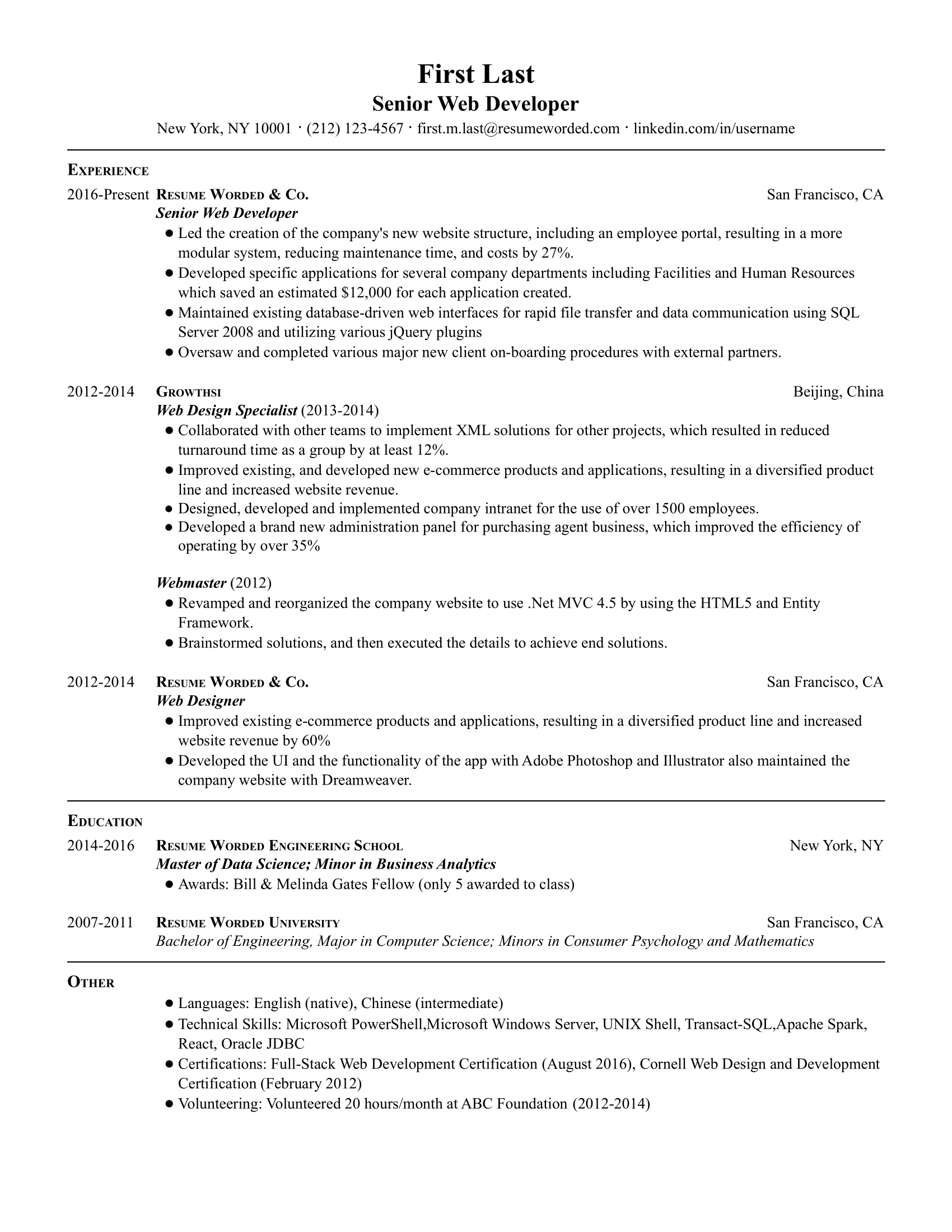 Recruiter Insight: Why this resume works in 2021
Skills For Web Developer Resumes
Perhaps more than most occupations, web development is a skills-based field. Having familiarity with particular software platforms and hardware setups can be a real asset for web developers applying to new positions, and your resume should reflect that.

On the left, we've provided a list of the top skills that hiring managers are looking for on web developer resumes. You can incorporate these in two primary ways: by adding a succinct section on your resume that lists the skills that are most relevant to the type of web developer role you're applying for, and by including your accomplishments related to these skills under each position you've held.

Remember to keep the focus on web development in terms of hard skills, but don't be shy about including relevant soft skills, either. A well-rounded web developer may exceed most at critical thinking, as in the first resume template we looked at above.
JavaScript
Cascading Style Sheets (CSS)
Web Development
jQuery
PHP
HTML5
React.js
HTML
Node.js
Bootstrap
MySQL
Git
AngularJS
WordPress
SASS
Front-end Development
Responsive Web Design
Web Design
SQL
AJAX
Web Developer Resume Tips
To recap on what we've covered thus far, you'll want to start planning your position-specific resume by first identifying what type of web developer the position is looking for (by reviewing the job posting). Once you've done that, you can match your background to it by selecting a template similar to the ones we reviewed above.
Action Verbs For Web Developer Resumes
Action verbs are critical for making your resume feel relevant and keeping it flowing. On the left, we've compiled a list of action verbs that should be included in web developer resumes based on our research.

These action verbs can be integrated throughout the text, such as in a short summary like the one present on the first web developer resume we reviewed. In that example, they have experience "managing" and "developing" projects to "maintain" cohesive websites, all of which speak favorably to their capabilities.

Every bullet point should begin with an action verb, as we discussed above. "Designed", "developed", and "created" are all important fundamentals for the web developer trade, while "revamped", "brainstormed", and "collaborated" indicate your ability to go above and beyond.
Designed
Created
Launched
Conceptualized
Coded
Engineered
Architected
Restructured
Debugged
Overhauled
Deployed
Redesigned
Improved
Grew
Troubleshooted
Automated
Tested
Unified
For a full list of effective resume action verbs, visit Resume Action Verbs.
Resume Bullet Points From Web Developer Resumes
You should use bullet points to describe your achievements in your Web Developer resume. Here are sample bullet points to help you get started:
Accelerated goal to increase digital sales by improving e-commerce experience on existing website and adding new storefronts on Amazon and eBay; analyzed consumer data to ensure accurate targeting by segment; resulting in 300% increase in online orders in the following year.
Conducted evaluative testing with 10+ participants using InVision and UserTesting.com; synthesized and designed against findings which reduced bounce rate for primary user flow by 30%
Developed an iPhone app to help medical professionals measure the insulin needs of patients with diabetes
Revamped website flows and navigation menus, reducing the frequency of misdirected customer service queries by 30% and increasing traffic to previously neglected pages
Conducted 25+ user-testing focus groups leading to 3 new product features in 6 months
For more sample bullet points and details on how to write effective bullet points, see our articles on resume bullet points, how to quantify your resume and resume accomplishments.