3D artists build 3 dimensional models to be used in a variety of fields like TV, film, advertising, or video games. Having a degree is not required but is often recommended, especially if it's related to graphic design, art, animation, or illustration. However, if you don't have a degree or related background you could easily take courses or certifications online. Early on, you might decide whether you want to be a 3D generalist, or specialize in a particular area in 3D Modeling, 3D Animation, Visual Effects, etc. Further along in your career, you can work your way up to a position as an Art Director, Senior Artist, or Creative Director.

3D artists should have a working knowledge of tools and software such as Revit, Adobe, 3D Studio Max and 3D Slash and you can highlight these in your 3D artist resume. As a 3D artist, you will be constantly collaborating with others, so excellent verbal and written communication skills are essential to include in your 3D artist resume. Since you'll also be working under strict deadlines, you'll need to be good with project management and time management.
3D Artist Resume Templates
3D Artist Resume Sample
Download Resume Template (Google Doc)
Download Resume in PDF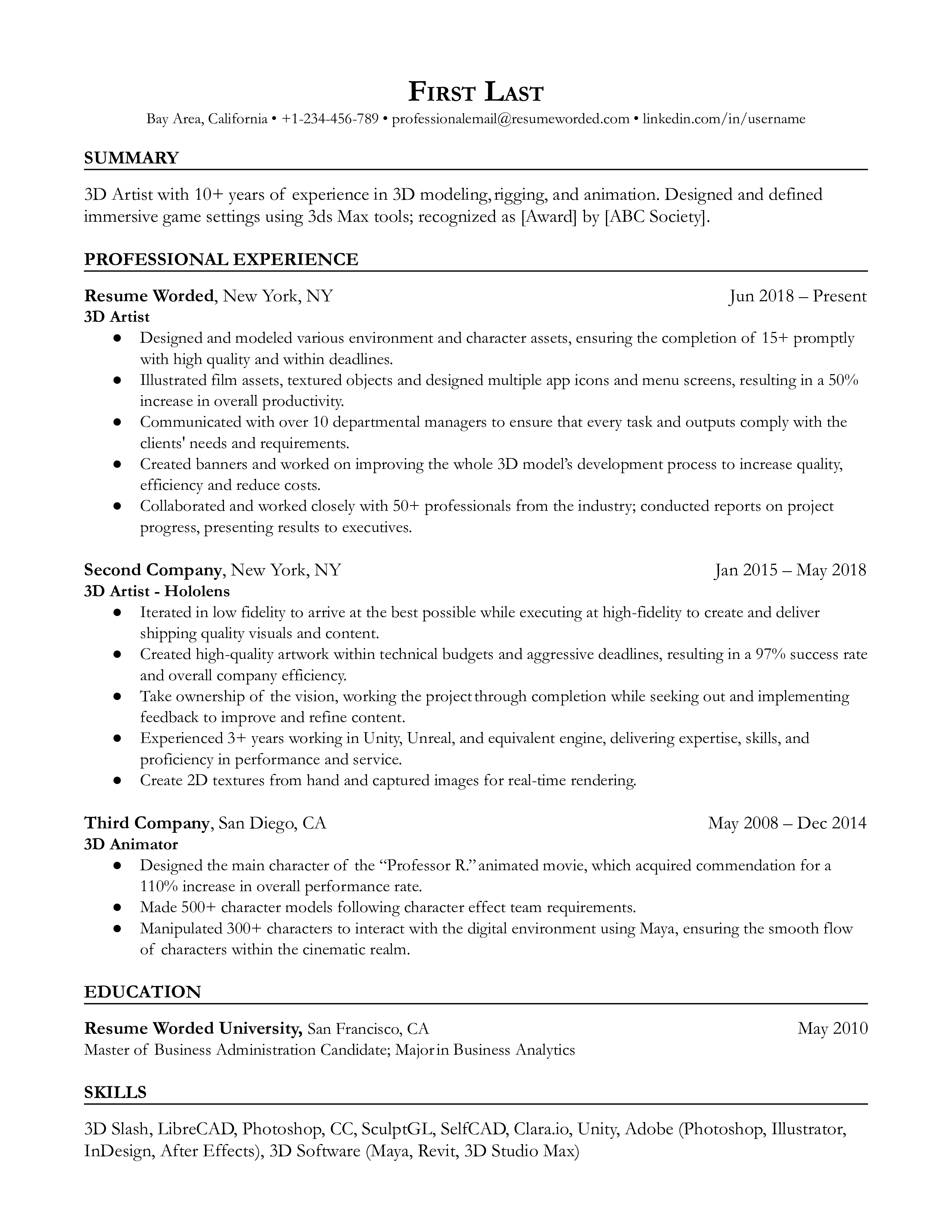 Why this resume works in 2021
3D artists are generalists responsible for building 3D models using both software and illustrations. As you progress in your career as a 3D artist, it's important not just to have experience but to be able to quantify with metrics what you were able to achieve or accomplish in each of your roles. Or, as you earn certifications or advanced degrees that will set you apart, include these in your resume.
Improve your 3D Artist resume, instantly.
Use our free resume checker to get expert feedback on your resume. You will:
• Get a resume score compared to other 3D Artist resumes in your industry.
• Fix all your resume's mistakes.
• Find the 3D Artist skills your resume is missing.
It's instant, free and trusted by 1+ million job seekers globally. Get a better resume, guaranteed.
Upload your resume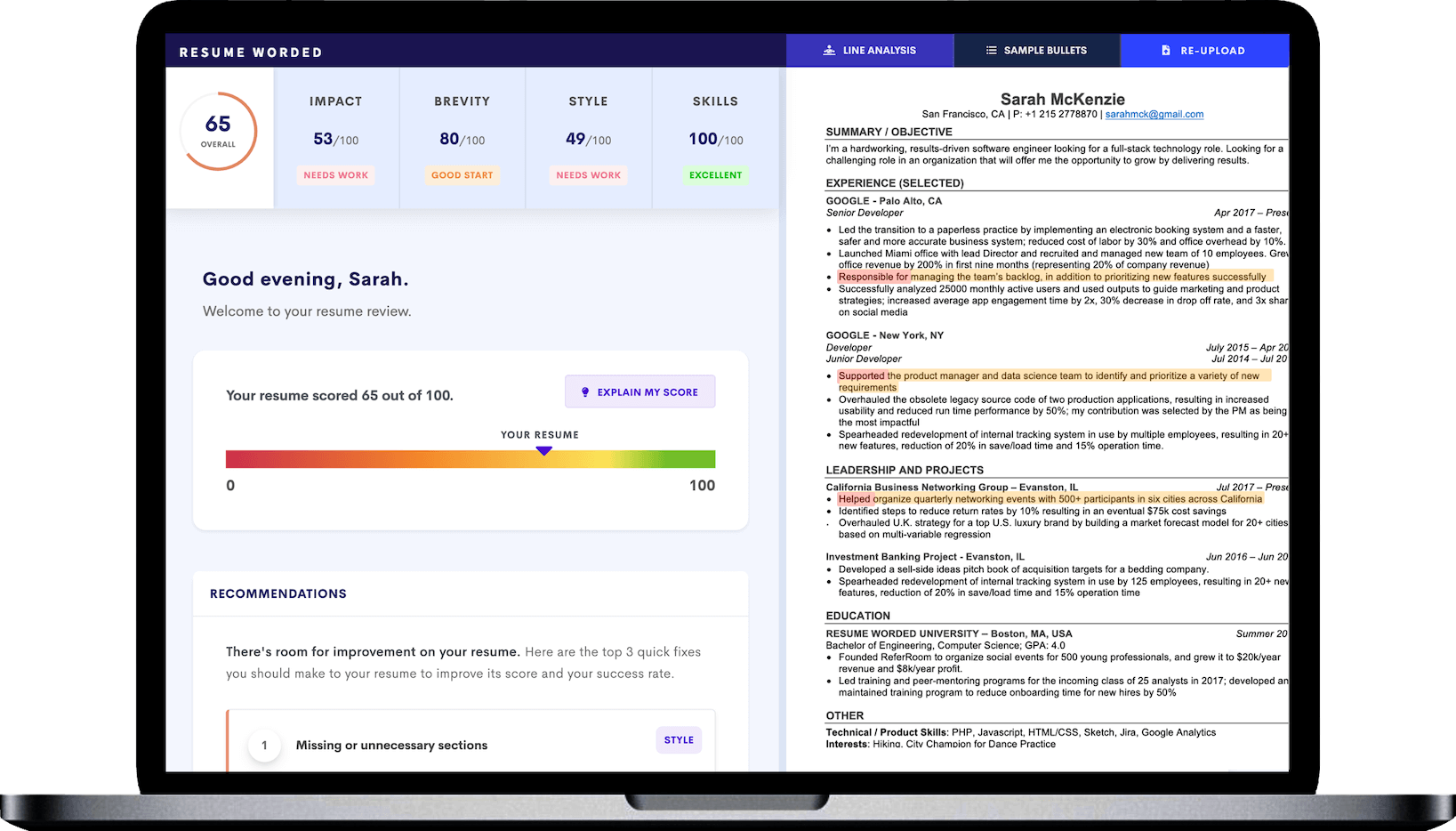 3D Game Artist Resume Sample
Download Resume Template (Google Doc)
Download Resume in PDF
Why this resume works in 2021
A game artist is an animator that designs 2D and 3D art in the gaming industry like scenery, characters, or backgrounds. To advance as a 3D game artist, you will need to show past experiences of how you've grown with previous companies or in past roles. You can also use strong language and verbs throughout your resume to show your technical skills and most important achievements and accomplishments.
3D Modeler Resume Sample
Download Resume Template (Google Doc)
Download Resume in PDF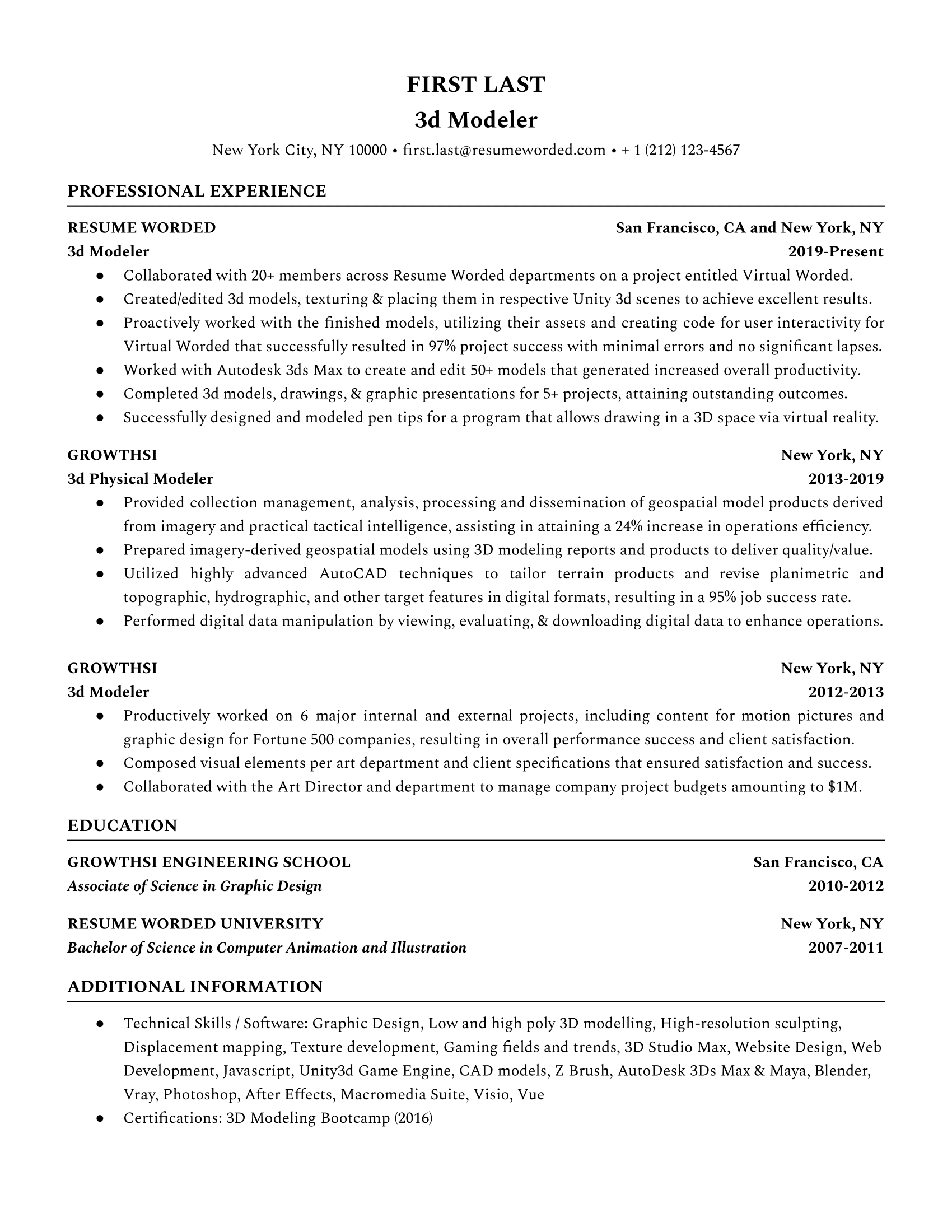 Why this resume works in 2021
A 3D modeler is a special type of animator that uses software to create 3D models for television, gaming, movies or websites. As a 3D modeler, your technical skills are your greatest assets. By displaying a wide breadth of skills, you show that you are adaptable and can learn new skills. Also, while job titles can vary, pay close attention to the verbiage of how managers list the titles.
Skills For 3D Artist Resumes
ZBrush
3D Modeling
Substance Painter
Texturing
Autodesk Maya
3D
Autodesk 3ds Max
Animation
Unreal Engine 4
UV Mapping
Substance Designer
Computer Animation
After Effects
Unity
3D Rendering
3D Animation
Character Animation
V-Ray
Adobe Photoshop
Game Development
How to use these skills?
For 3D artist jobs, having strong technical and software skills are essential because you'll be using a wide variety of programs from 3D Studio Max to Adobe Photoshop. You'll want to read through the job description carefully and then place any relevant skills throughout your resume as bullet points or in your skills section. You might include something like, "Developed 20 game settings in Revit." Doing this will help you get past the Applicant Tracking Systems. This tracking system is simply an automated filter, and by intentionally including the specific keywords that the system is looking for, you'll increase your chances of moving to the next stage of the interview process.
Action Verbs For 3D Artist Resumes
Created
Illustrated
Designed
Communicated
Customized
Directed
Shaped
Planned
Revised
Developed
Integrated
Conceived
Organized
Streamlined
Redesigned
Improved
How to use these action verbs?
3D artists need to have experience designing innovative concepts, planning and organizing ideas, and communicating well with clients and colleagues. Make sure to emphasize these skills with your action verbs - examples: use Developed and Created to display your creative skills.

As you structure your bullet points, start with an action verb first. This will allow you to really place the focus on what you've accomplished in previous roles. Employers are looking for 3D artists that are highly specialized, so use your action verbs that will showcase your area of design expertise.

For a full list of effective resume action verbs, visit Resume Action Verbs.