Training others, especially new employees, isn't easy, but it's one of the most versatile soft skill sets you can have. It shows leadership, communication, and initiative, all of which hiring managers across industries are looking for.
Not only that, but it's a valuable skill in its own right. Being able to pass down your skills and experience to others is something almost everyone will be asked to do at least once, and not just in jobs where teaching is a focus. So, how do you show a recruiter you have what it takes?
Training employees on a resume: The step by step guide
Like any other soft skill, putting training experience on a resume is all about focusing on your accomplishments. This guide will walk you through exactly how.
If you have recent training experience
List your job title, employer, and dates of employment for each position you include, with accomplishments underneath. Put this in your work experience section.
Include 1-2 bullet points at the top that demonstrate training skills, e.g. experience onboarding new hires, a mentoring program you ran, or training materials you put together.
Start with a relevant action verb, e.g. Coached, Mentored, Trained.
State exactly what you did, e.g. 'Trained new hires on customer service protocols.'
Include hard numbers or metrics that show the benefit to the company, e.g. 'Resulted in 50% increase in customer satisfaction on surveys.'
6. If you need help putting together effective bullet points, use Resume Worded Pro to access sample bullet points featuring skill sets that recruiters want to see, including management skills, communication, leadership, and teamwork.
7. Upload your resume for a free resume review which will give you personalized feedback to improve your resume bullet points.
When it comes to putting training experience on your resume, you need to focus on accomplishments that highlight your training and leadership skills. Upload your resume to the tool below to find out if you've shown strong training skills and other soft skills such as communication, leadership and initiative.
Examples of bullet points to show you trained employees
Training new employees
Trained and mentored 20+ new and existing account executives and interns on solutions selling strategies, customer relationship management, and advanced product knowledge.
Taught seminars within and outside the university to discuss SEO; attended by a total of 600+ SEO professionals, market analysts, and senior managers.
Managed daily technical training; supervised an 8-member team entrusted with over $1.5M in assets.
Overhauled existing employee onboarding processes resulting in an increase in performance of 30% in the average employee's first three months.
Improved sales efficiency by leading sustainable adoption of a new CRM tool among 150 sales persons in 6 months; redesigned key sales support workflows.
Designing training programs
Designed training and peer-mentoring programs for the incoming class of 25 analysts in 2017; reduced onboarding time for new hires by 50%.
Designed training programs for D&I events targeted at C-level executives; led training and awareness initiatives that were attended by over 10,000 employees in 2 years.
Coached 30 summer interns and launched a mentorship program for new joiners in the Berlin office.
Creating training documentation
Created a coaching strategy for sales development representatives leading to a new business performance that was 20% above plan for 2017.
Created onboarding documentation for new interns that was used to onboard 25 employees.
Created knowledge base of 80 internal resources, improving employee onboarding and reducing time spent per project on administrative tasks by 40%.
Senior management and oversight of training programs
Supplied leadership and oversight of 2,000 technology and consulting resources, requiring mentoring, performance management, and career development.
More examples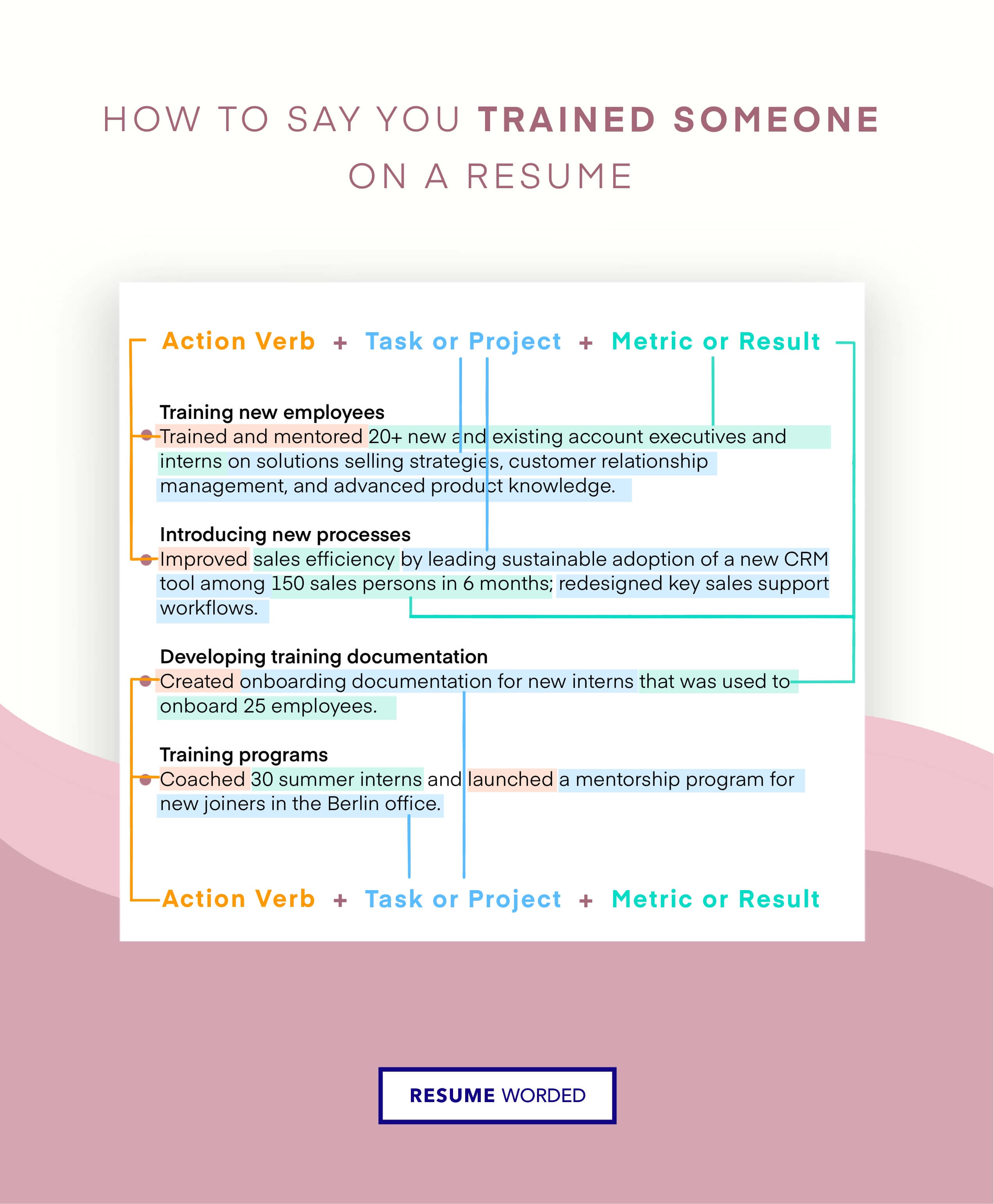 If you have older training experience
You should always list the skills you want to emphasize as close to the top of your resume as possible. Here's how to say you trained employees on a resume if your experience is a little older.
Option 1: Create a new section on your resume
If your training experience was a few positions ago and you're worried it might get buried at the bottom of your resume, consider creating a 'Training Experience' section to go at the top of your resume and listing the rest of your experience underneath.
When to do this: If you're applying for a job where training employees is a must-have skill, like a dedicated training or teaching role.
You should also aim to include hard skills and keywords related to the job you're applying for on your resume. Use the skills search tool to find hard skills related to the training / teaching roles you're applying for.
Option 2: Use a resume summary
Including a resume summary above your work experience section is ideal if you want to highlight key skills or experience that you're afraid a hiring manager might otherwise skim over.
When to do this: If you want to highlight your experience training employees without deviating from a standard chronological resume format.