You love planning, you're meticulous with every last detail, and you can juggle multiple different vendors effortlessly under tight deadlines.

Event coordination can be a demanding profession, and not everyone has what it takes to succeed. You must have a mix of creative talent, great decision-making skills, and fantastic networking chops. You know how to work with a variety of different clients and service providers -- balancing budgets, scheduling deliveries, and making sure everything's getting executed smoothly and on time.

As the world begins to open back up following the Covid-19 quarantine shutdown, experts predict a boom in event -- and accompanying that boom, skyrocketing hiring demand for savvy event coordinators who can ensure the health and safety of attendees while throwing a successful event.

Sound interesting? Keep reading to see how to utilize your event coordinator resume effectively to show clients you've got what it takes.

We've done the research and found what works in 2021. Below we've compiled two event coordinator resumes that you can use to craft a resume that'll help you stand out from the crowd.
Event Coordinator Resume Templates
Event Coordinator Resume Sample
Download Resume Template (Google Doc)
Download Resume in PDF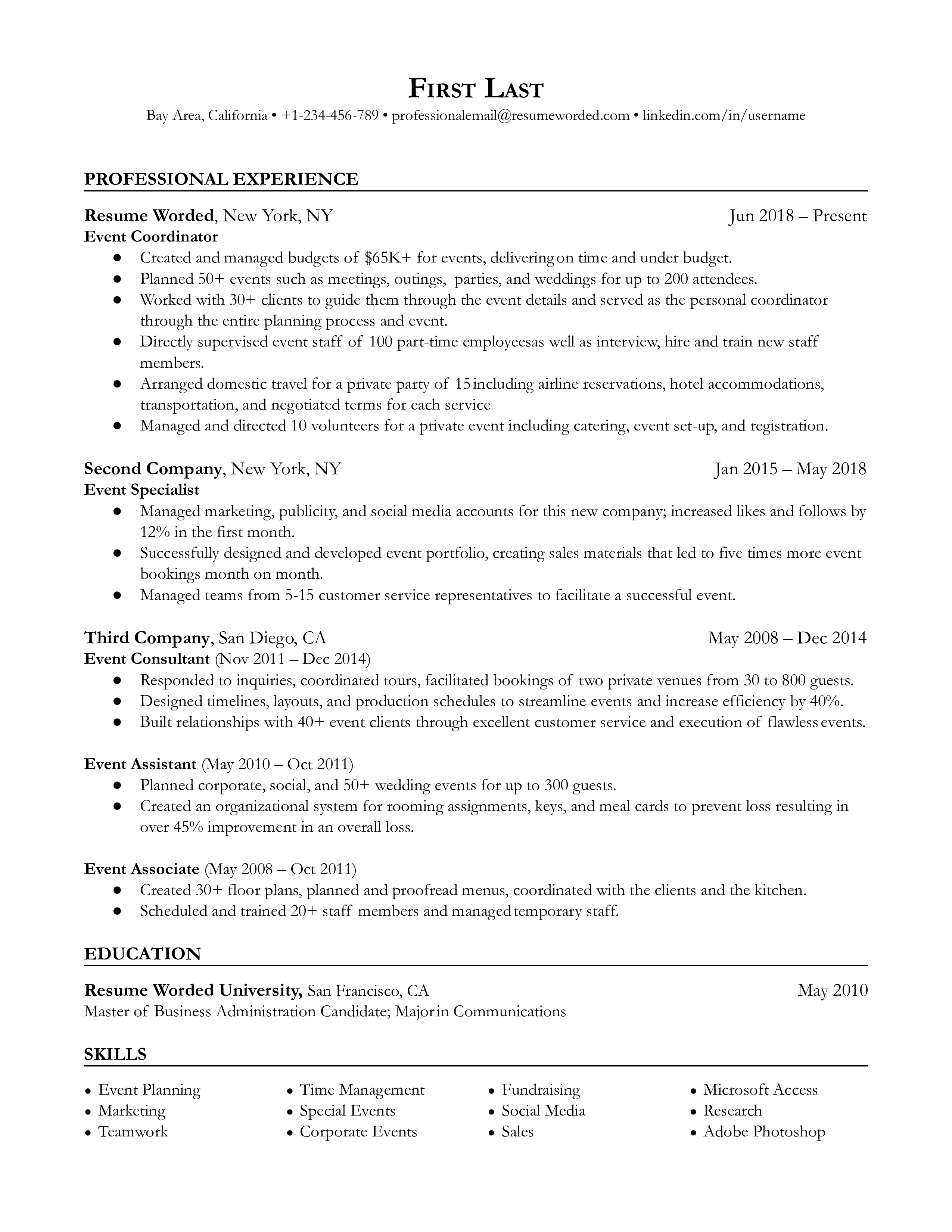 Why this resume works in 2021
If you've been in this industry for several years, make sure to emphasize your past event experience in your event coordinator resume. As you brainstorm what to add to your work and skills sections, aim to choose examples that demonstrate your planning strengths and that display your problem-solving abilities. One other thing to note is that, unlike other roles that can be carried out online, event planning can be geographically restricted. Include the area that you are based in so your clients know that you have experience in that location.
Improve your Event Coordinator resume, instantly.
Use our free resume checker to get expert feedback on your resume. You will:
• Get a resume score compared to other Event Coordinator resumes in your industry.
• Fix all your resume's mistakes.
• Find the Event Coordinator skills your resume is missing.
It's instant, free and trusted by 1+ million job seekers globally. Get a better resume, guaranteed.
Upload your resume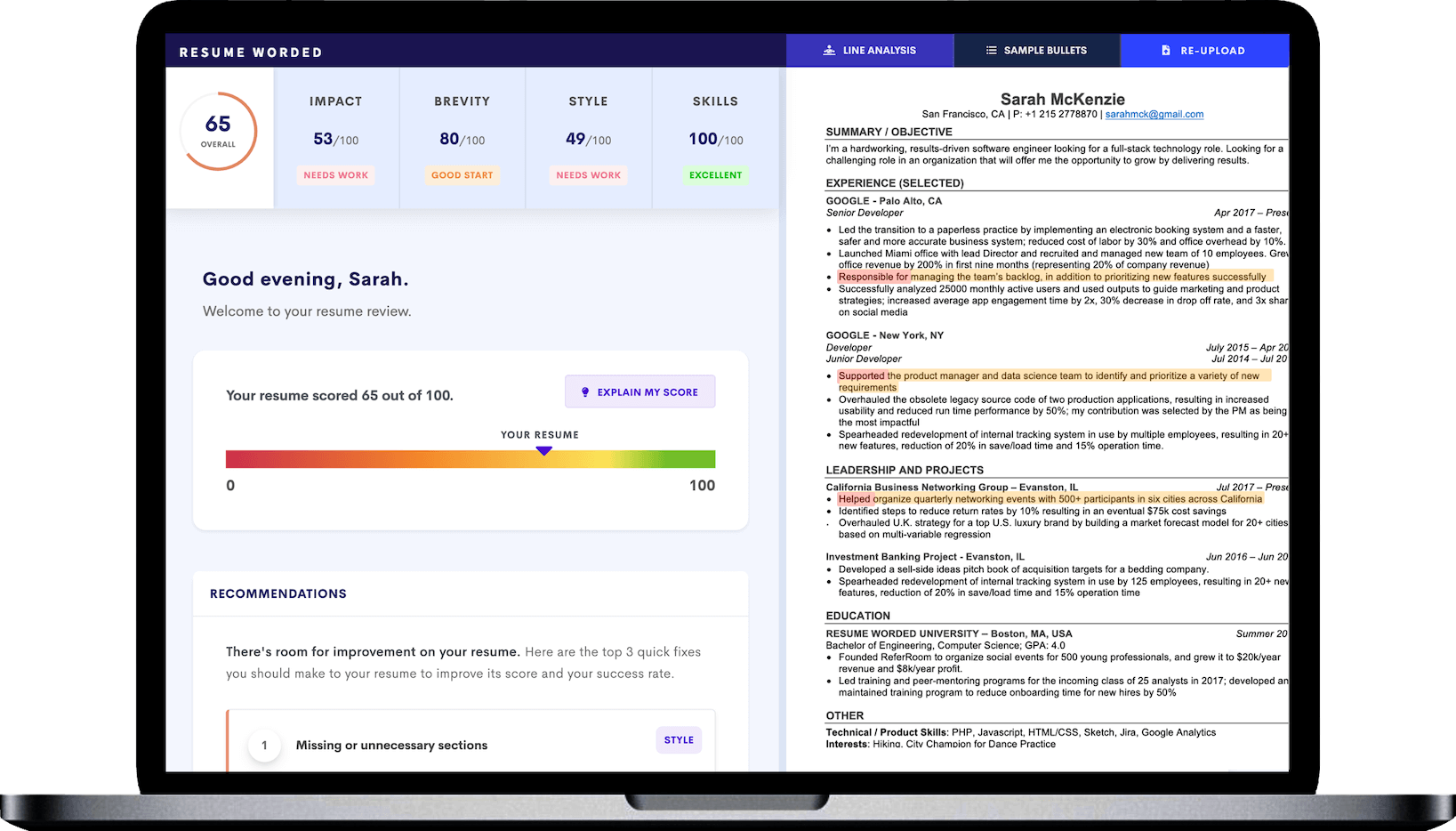 Event Coordinator Resume Sample
Download Resume Template (Google Doc)
Download Resume in PDF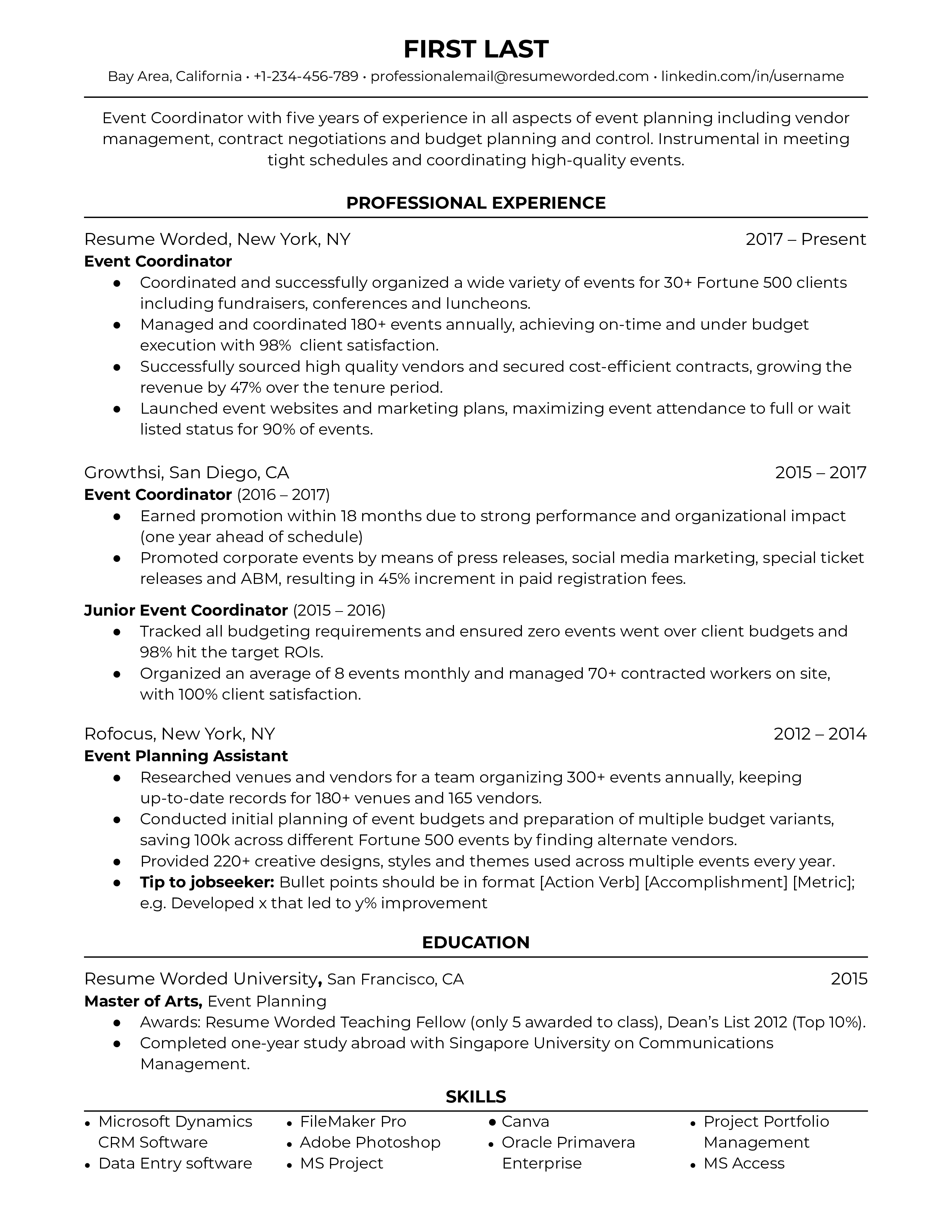 Why this resume works in 2021
Whether you excel at handling tricky clients, multitasking, or at finding great venues, make sure to clearly communicate your event coordination strengths. It should be easy to understand -- after just a quick skim of your event coordinator resume -- what your top skills are and how you have used them in the past to plan successful, great events.
Skills For Event Coordinator Resumes
Event Management
Event Planning
Social Media
Corporate Events
Social Media Marketing
Public Relations
Marketing
Time Management
Special Events
Special Events Coordination
Teamwork
Fundraising
Public Speaking
Facebook
Event Production
Communication
Sales
Customer Service
Organization Skills
Hospitality
How to use these skills?
When choosing what to include in your event coordinator resume, follow these tips to make sure you're picking the relevant skills that will help your application stand out.

First, make sure to carefully read through the posting to understand what the client's needs are. Do they want a really impressive venue, or is the most important thing for them to stay under budget? Are they struggling to coordinate requests from multiple stakeholders, or do they simply want the event to run smoothly? Even if the posting doesn't specifically call out a skill, try to read between the lines to understand what their main priority is, and tailor your skills accordingly.

It's also important to consider what kind of event you're applying for. From weddings to fundraising galas to corporate events, different events require different skills. Take the time to call out specific skills you have -- or even detail them in your experience section.
Action Verbs For Event Coordinator Resumes
Liaised
Launched
Drove
Coordinated
Communicated
Developed
Directed
Executed
Facilitated
Guided
Implemented
Led
Managed
Planned
Reduced
Resolved
Scheduled
Supervised
How to use these action verbs?
Event coordinators are highly organized, calm under pressure, and passionate about throwing a great event. You know how to earn the trust of your clients and you can quickly find creative solutions to unforeseen challenges. You're a great leader, but you also know how to listen to what your clients need -- sometimes without them even asking!

It's important to not only possess these skills, but effectively communicate them through your resume. As you write your event coordinator resume, use powerful action verbs such as "supervised" and "managed" to emphasize your leadership skills.

Use strong and powerful verbs that can create a clear visual in someone's mind of a well-organized, effective event coordinator. Try your best not to use generic verbs -- they can actually hurt rather than help your resume.

For a full list of effective resume action verbs, visit Resume Action Verbs.