Marketing managers can be invaluable assets for businesses of any size. While their jobs can encompass a variety of responsibilities, these individuals drive their company's brand and public image while developing strategies to promote its products and services. They also typically oversee marketing departments, supervise other employees, and manage budgets.

The future looks bright for people seeking to enter this bustling, fast-paced profession. According to the US Bureau of Labor Statistics, job opportunities for marketing managers are expected to grow by 6% between 2019 and 2029.

Marketing departments aren't going to disappear anytime soon because they provide such a vital service to businesses. Companies rely on marketing to promote public awareness of their brand and connect with customers.

To be successful as a marketing manager, you'll need to have a balance of analytical and creative skills. You should be able to analyze and interpret market data, balance budgets, and make logical decisions about marketing campaigns, all while consistently generating new ideas and communicating them effectively to others. Strong leadership skills are also essential for this senior-level position.

How can you become a marketing manager in 2021? You'll need a knockout resume to set yourself apart from other applicants. Let's look at some marketing manager resume templates that will help you get hired.
Marketing Manager Resume Templates
Marketing Manager Resume Sample
When you're seeking a marketing manager position, your resume should highlight the skills and abilities that will help you succeed in the role. A great marketing manager is a skilled communicator, a creative problem solver, and an astute analyst -- so your work experience should show how you've successfully used all of these skills (and more) at past jobs.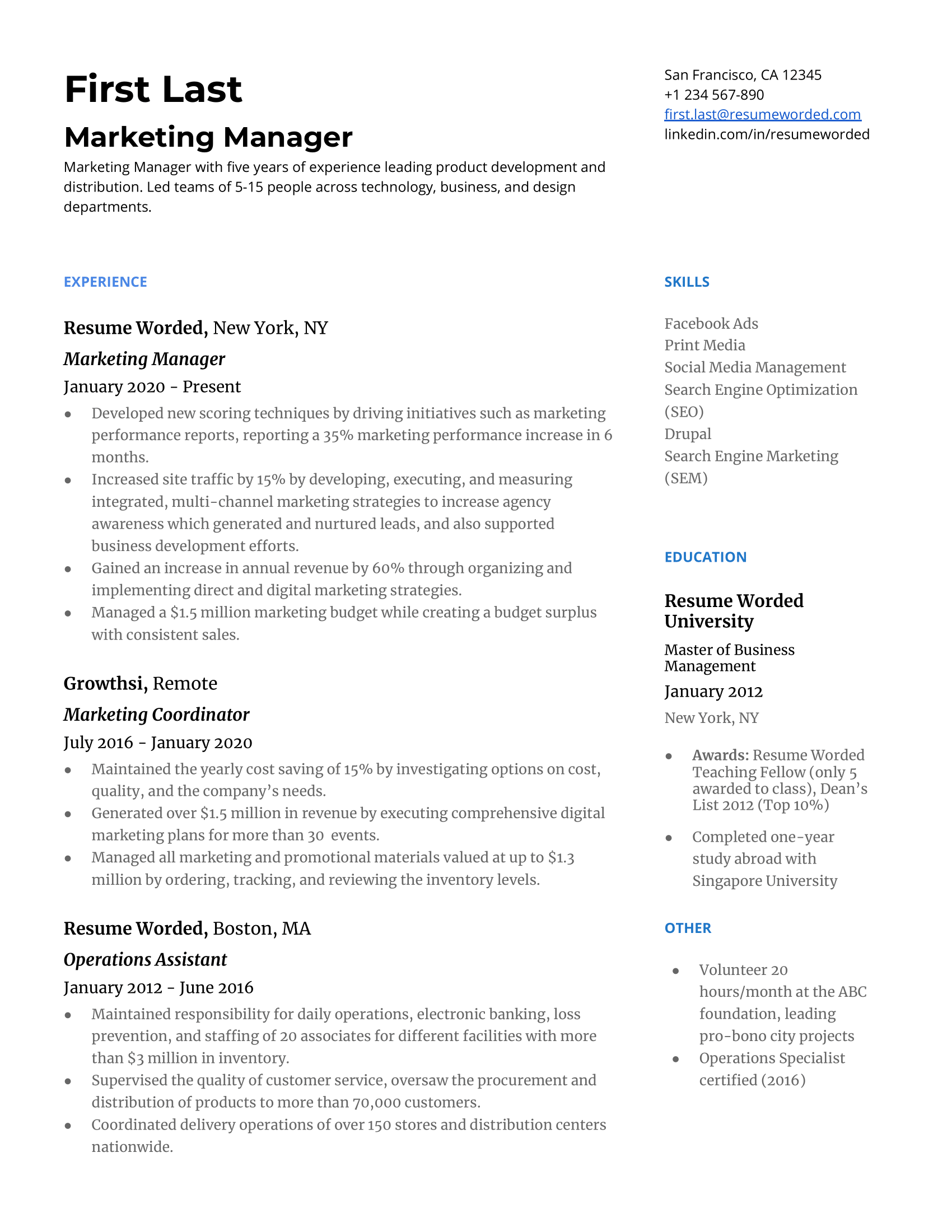 Recruiter Insight: Why this resume works in 2021
Product Marketing Manager Resume Sample
Product marketing managers research customer needs, develop marketing strategies, and create messaging and communications around products to shape their image. To get one of these jobs, you need to be an exceptional marketer with a proven track record of driving product sales. It's not an entry-level position, so use a resume like this one to demonstrate your success at previous jobs as well as any promotions you've received.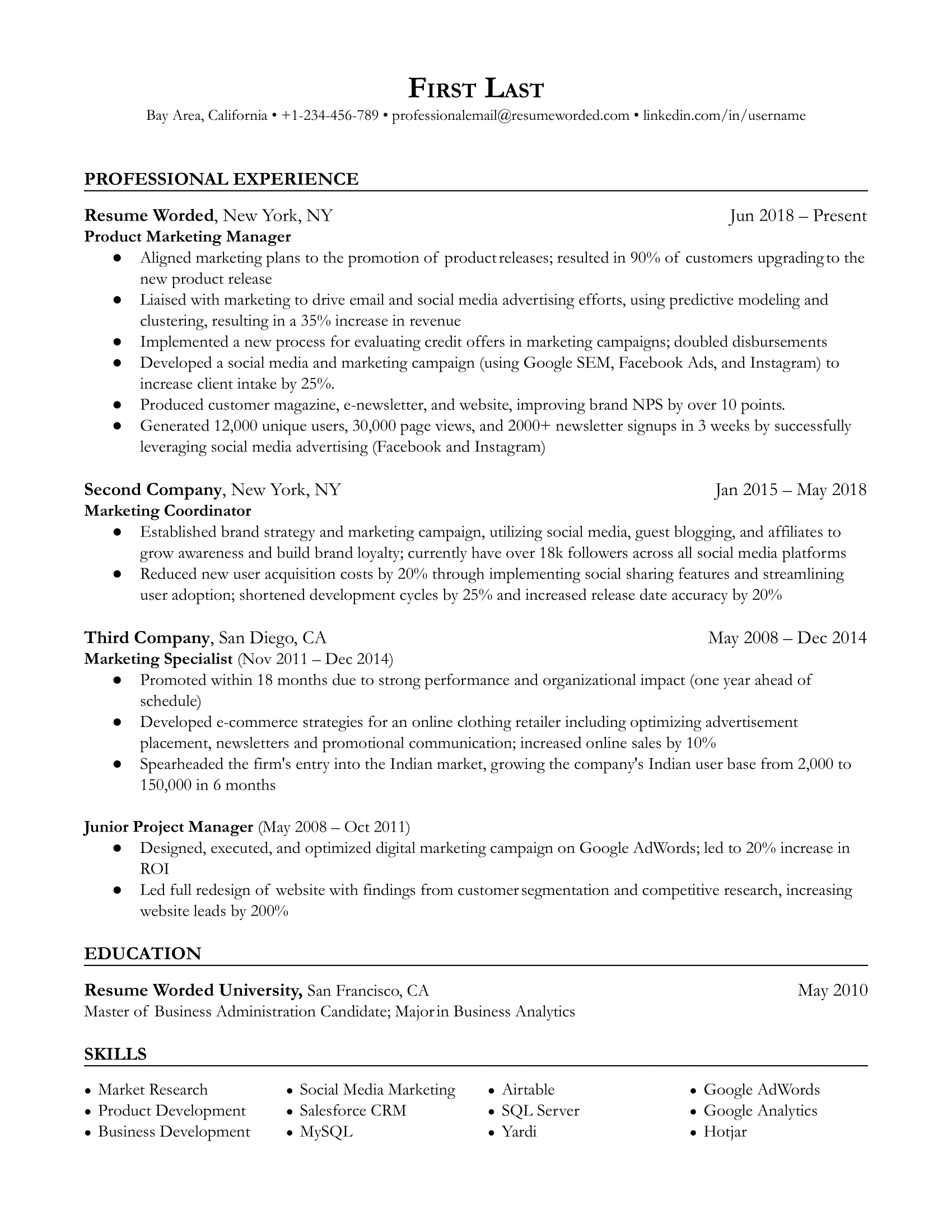 Recruiter Insight: Why this resume works in 2021
Digital Marketing Manager Resume Sample
A digital marketing manager oversees all of a company's online marketing efforts, which could include email newsletters, social media posts, and advertising. To become a digital marketing manager, you'll want to use your resume to emphasize your fluency with online marketing channels as well as your technical skills.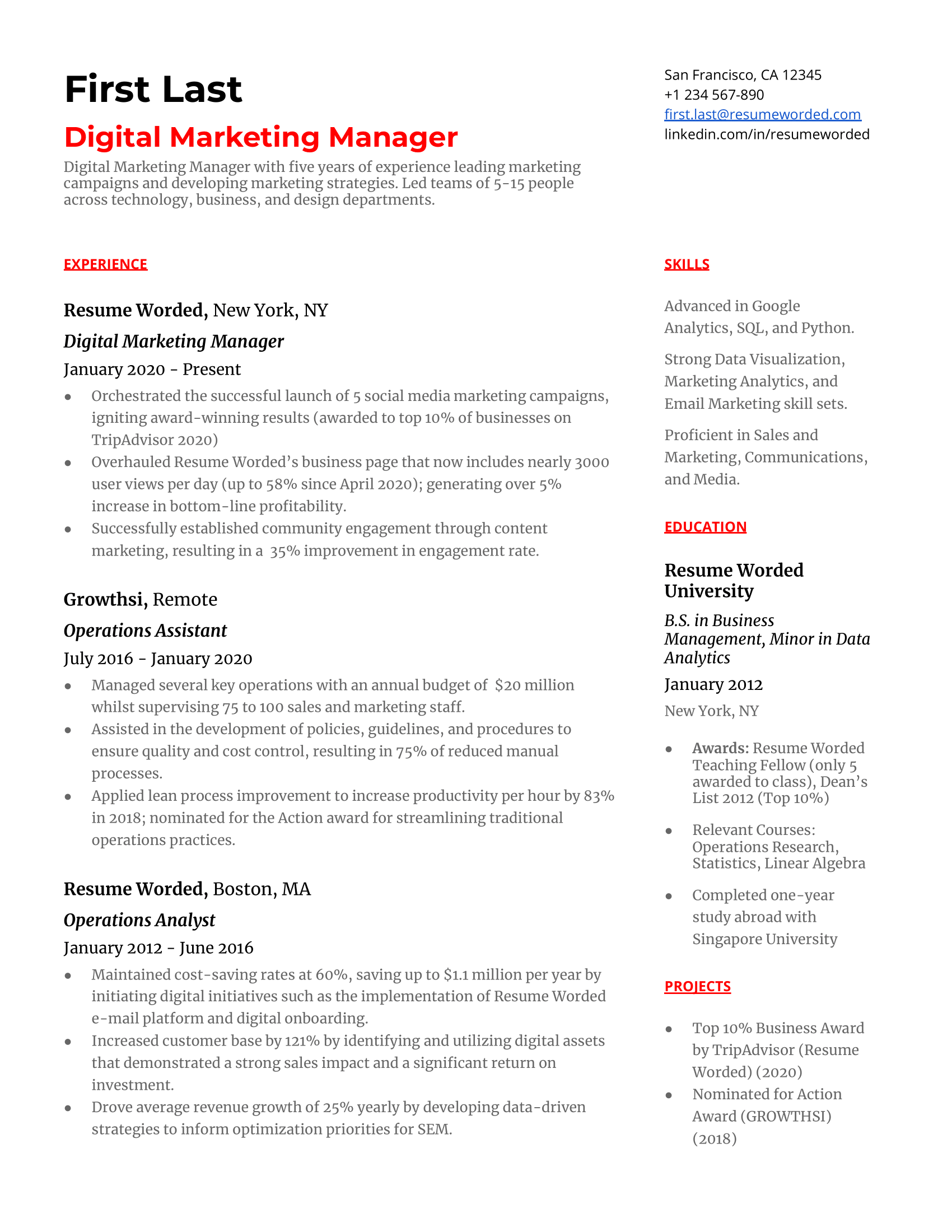 Recruiter Insight: Why this resume works in 2021
Digital Marketing Specialist Resume Sample
Digital marketing specialists are responsible for planning and carrying out marketing campaigns as well as analyzing and reporting data. Although this role is less senior than a management position, it still usually requires some prior experience within digital marketing. Your resume should highlight successful digital marketing campaigns you've run at past jobs. Make sure to also mention your relevant hard skills in your skills section, as shown in this resume.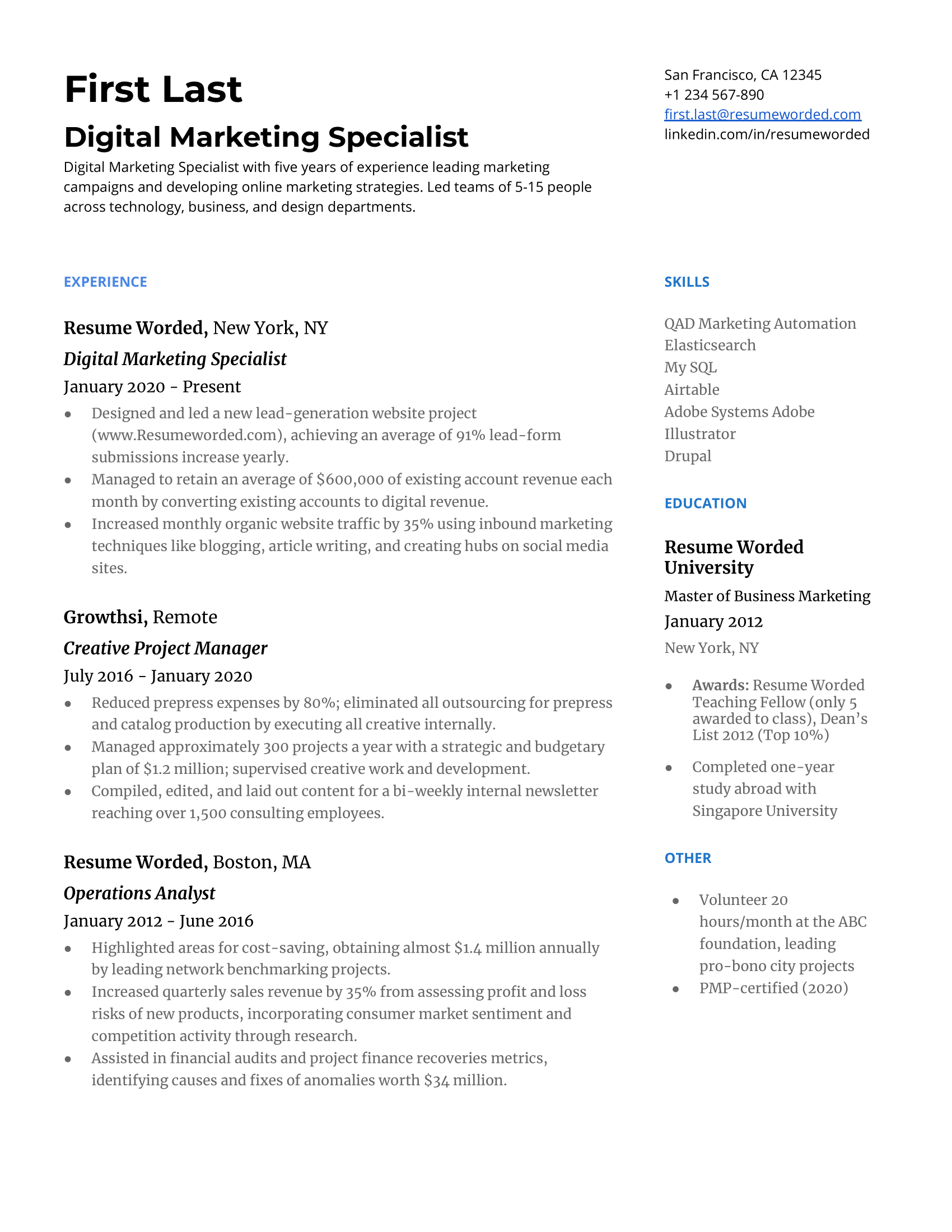 Recruiter Insight: Why this resume works in 2021
Marketing Director Resume Sample
If you're an outstanding leader with years of marketing and management experience, you may have your sights set on becoming a marketing director. Most professionals spend 5-10 years in various marketing jobs before advancing to a director position. When you're applying for this job, your resume should show that you've excelled in past marketing roles and that you've been successful as a manager.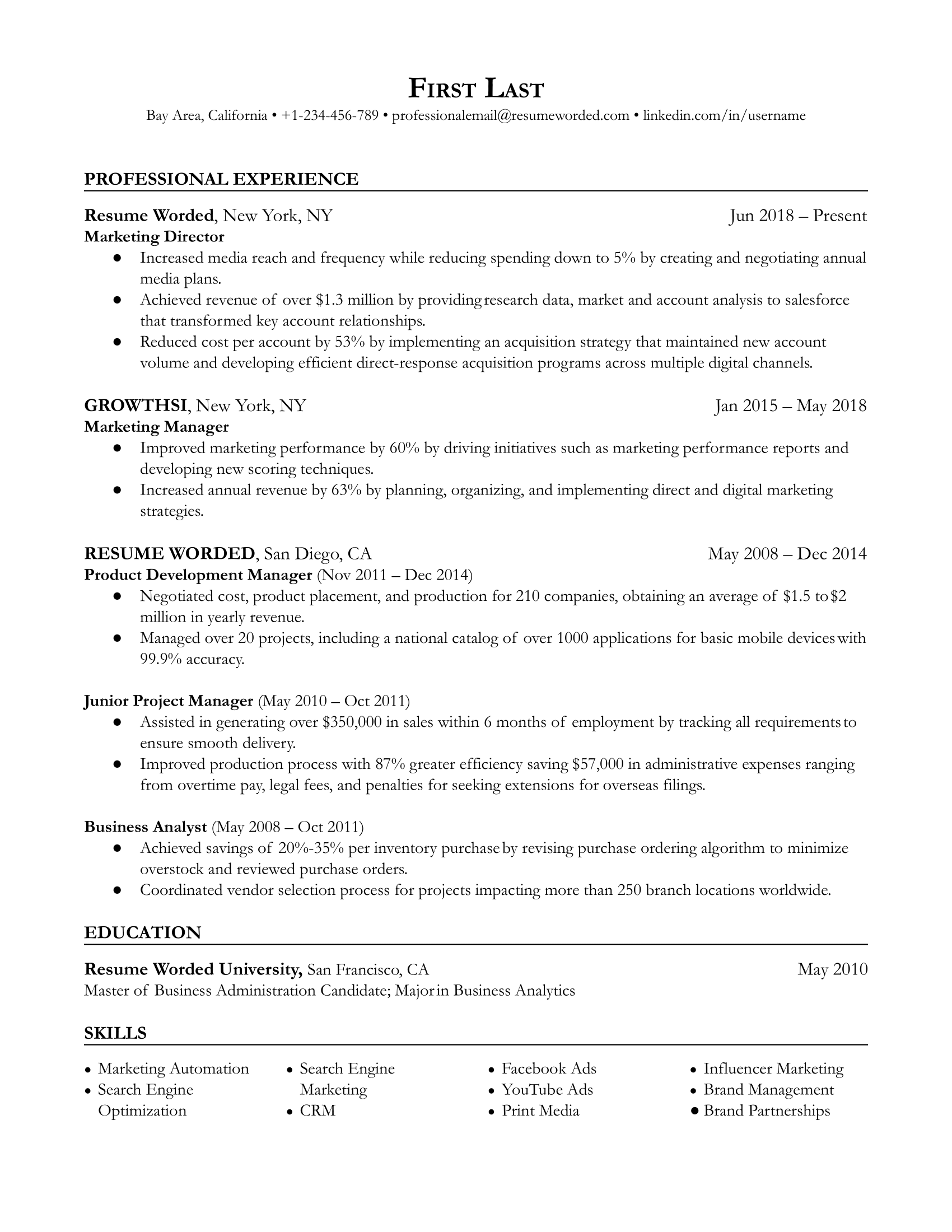 Recruiter Insight: Why this resume works in 2021
Skills For Marketing Manager Resumes
To get a position as a marketing manager, you need a resume that showcases a diverse set of skills such as leadership, communication, teamwork, creativity, and data analysis. Your job may also require you to be comfortable using certain types of marketing and analytical software.

Use examples from your past job experiences to illustrate how you've successfully managed others, driven increased revenue, and used analytics to fine-tune your marketing strategies. If you have relevant hard technical skills, create a prominent skill section and list your capabilities there.
Marketing Strategy
Digital Marketing
Email Marketing
Social Media Marketing
Marketing
Online Marketing
Advertising
Marketing Management
Search Engine Optimization (SEO)
Content Marketing
Product Marketing
Lead Generation
Brand Management
Google Analytics
Integrated Marketing
B2B Marketing
Branding
Market Research
Social Media
Online Advertising
Marketing Manager Resume Tips
So, do you think you have what it takes to be a marketing manager? If you're ready to apply for jobs, here are some tips for crafting a strong resume that will set you apart from your competition.
Action Verbs For Marketing Manager Resumes
The language you use when talking about your past achievements matters almost as much as the achievements themselves. Resume writing involves an element of storytelling, and if you want your story to be compelling, you need to tell it with vivid words that convey confidence and strength -- especially when you're discussing your accomplishments.

Don't be overly humble about what you've achieved at past jobs -- if there's ever a time to brag a little, it's when you're writing a resume. So lead your bullet points with strong action verbs like the ones on this list. Whether you've supervised teams, developed successful marketing strategies, or generated huge numbers of sales, using the right verbs to talk about your experiences makes your accomplishments look even better.
Launched
Achieved
Analyzed
Assessed
Conceptualized
Redesigned
Streamlined
Illustrated
Directed
Designed
Researched
Customized
Established
Examined
For a full list of effective resume action verbs, visit Resume Action Verbs.
Resume Bullet Points From Marketing Manager Resumes
You should use bullet points to describe your achievements in your Marketing Manager resume. Here are sample bullet points to help you get started:
Identified changes to assortment, distribution, and marketing using financial and behavioral analysis that enabled an upmarket fashion company to better target their customers, resulting in $400M growth
Analyzed data from 25000 monthly active users and used outputs to guide marketing and product strategies; increased average app engagement time by 2x, decrease drop off rate by 30%, and increased shares on social media by 3x over 6 months
Developed e-commerce strategies for an online clothing retailer including optimizing advertisement placement, newsletters and promotional communication; increased online sales by 10%
Accelerated goal to increase digital sales by improving e-commerce experience on existing website and adding new storefronts on Amazon and eBay; analyzed consumer data to ensure accurate targeting by segment; resulting in 300% increase in online orders in the following year.
Established brand strategy and marketing campaign, utilizing social media, guest blogging, and affiliates to grow awareness and build brand loyalty; currently have over 18k followers across all social media platforms (as of 10/2016)
For more sample bullet points and details on how to write effective bullet points, see our articles on resume bullet points, how to quantify your resume and resume accomplishments.