Digital marketers are specialists in all things marketing; especially in relation to digital platforms like social media digital advertising, and more. They provide creative solutions to help clients recreate their brand to increase awareness of the company and drive sales. Digital marketers will also analyze market trends and identify target audiences as a first step to launching a successful marketing campaign.

The job outlook for digital marketers is estimated to be a 6% increase from 2019 to 2029, which is an increase in over 18,000 jobs. As more companies go digital and as technology becomes more prevalent, the demand for digital marketers will continue to rise. The newest generation of consumers called Gen-Z are well-known for their social media usage and social media will continue to be one of the largest areas of opportunity for marketing.

With that being said, let's take a look at what successful digital marketing resumes look like in 2021. We will examine seven different templates with different digital marketing positions that leverage your work history and education. Then, we'll review a list of action verbs to complement your experience and a list of common hard skills that recruiters want in digital marketing candidates.
Digital Marketing Resume Templates
Digital Marketing Specialist Resume Sample
As an experienced digital marketing specialist, make sure to highlight your successful projects and marketing experience in previous positions. This is a general digital marketing specialist template that demonstrates a well-rounded grasp of best marketing practices with a variety of relevant hard skills and numeric accomplishments that show the recruiter what you can do.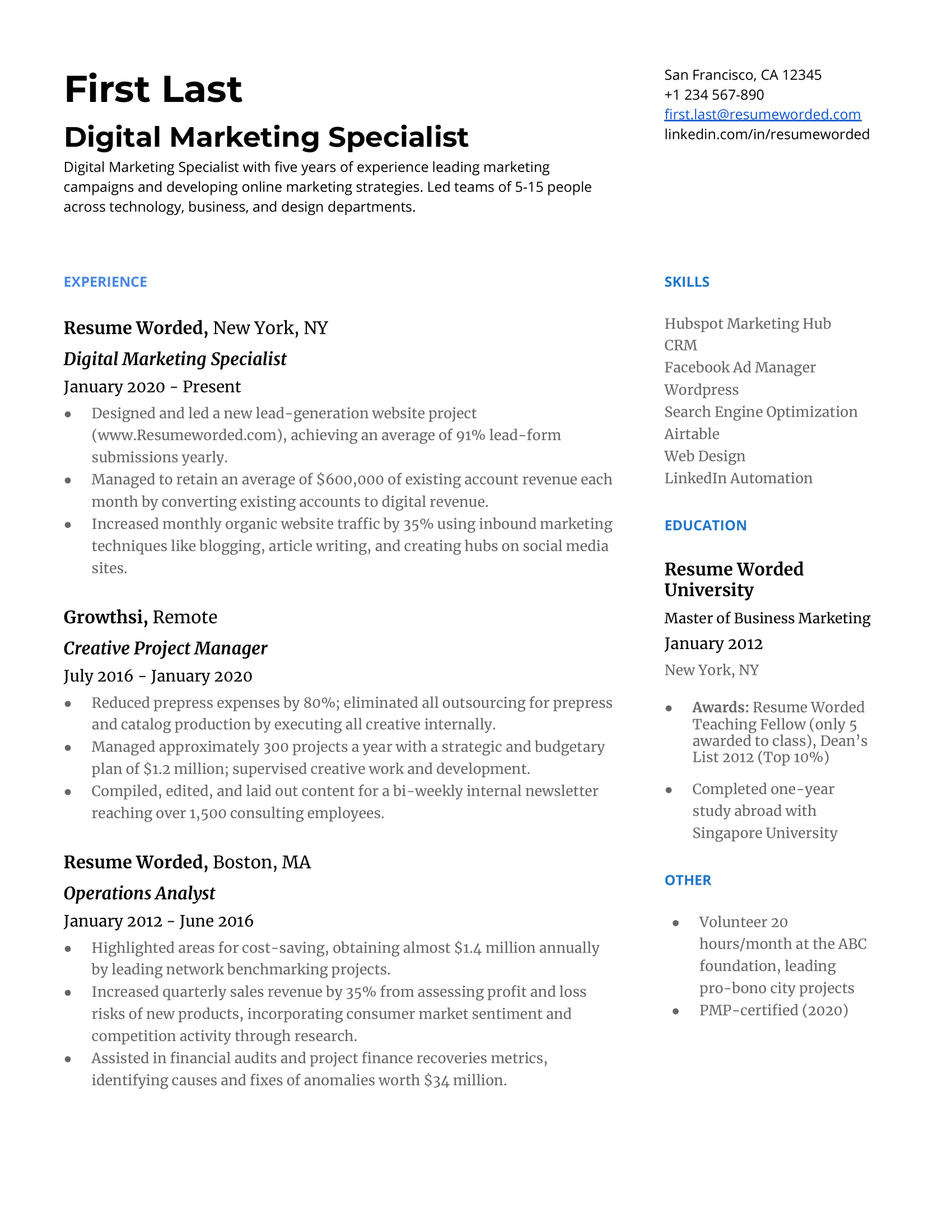 Recruiter Insight: Why this resume works in 2021
Entry Level Digital Marketing Resume Sample
If you lack work experience but are trying to gain more in your next job, the entry level digital marketing resume is for you. You'll want to supplement your work experience through internships with your education, alongside any relevant extracurricular activities and projects that you accomplished while in school. Skills related to digital marketing and certifications will further help you to demonstrate a strong educational background for the role.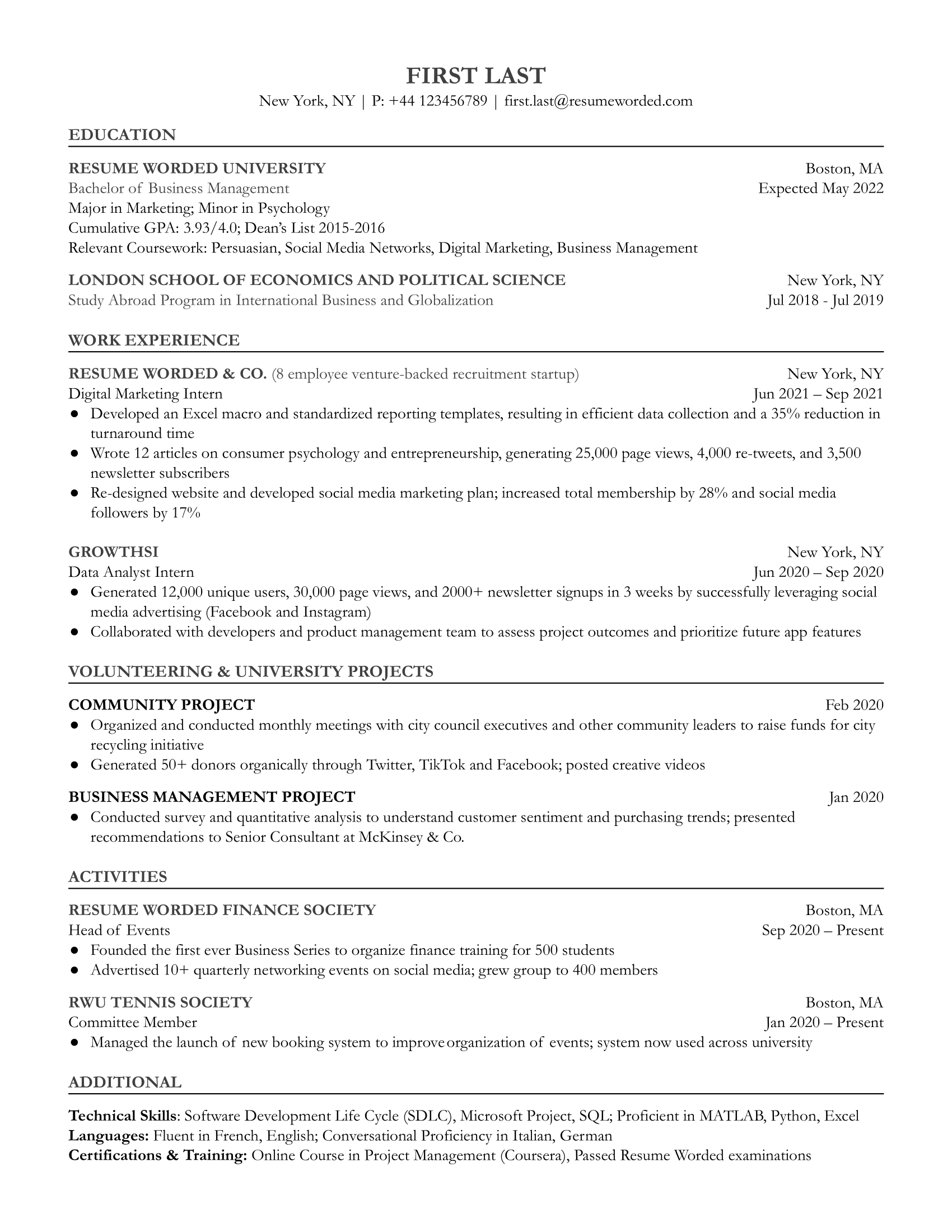 Recruiter Insight: Why this resume works in 2021
Digital Marketing Director Resume Sample
Digital marketing directors are not just specialists, but also leaders of the marketing department. You'll be responsible for directing the vision of the company's marketing campaign, developing new strategies to increase engagement and generating traffic for the company's website. The ability to analyze performance of previous marketing campaigns is a must and this role often requires 5+ years of leadership experience.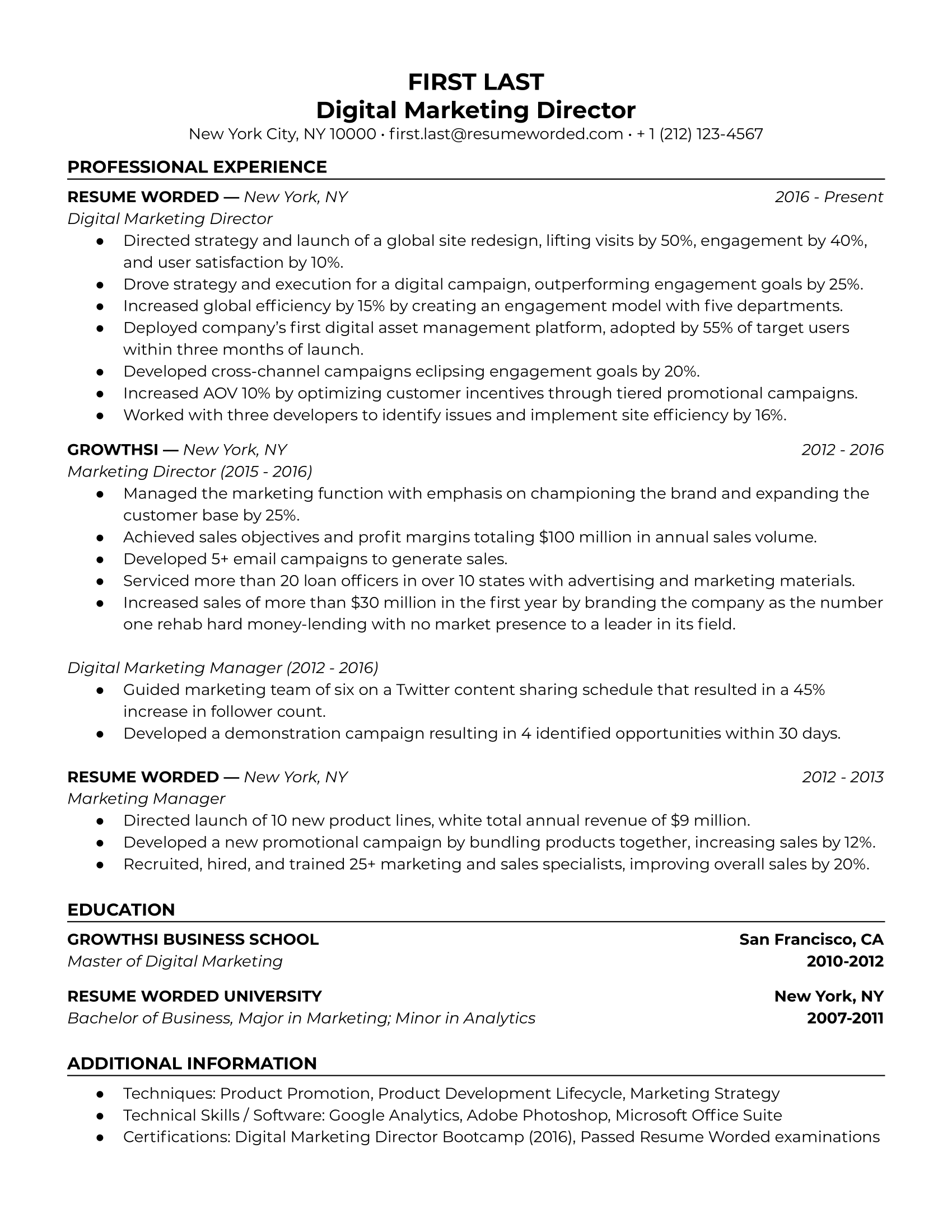 Recruiter Insight: Why this resume works in 2021
Digital Marketing Analyst Resume Sample
As a digital marketing analyst, you specialize in analyzing data, marketing metrics, and more. This is one option for a career path from a generalized digital marketing specialist, especially if you don't want to go into management yet or at all. Make sure you emphasize your transferable analysis skills and experiences making informed decisions based on data to show what you can bring to the table.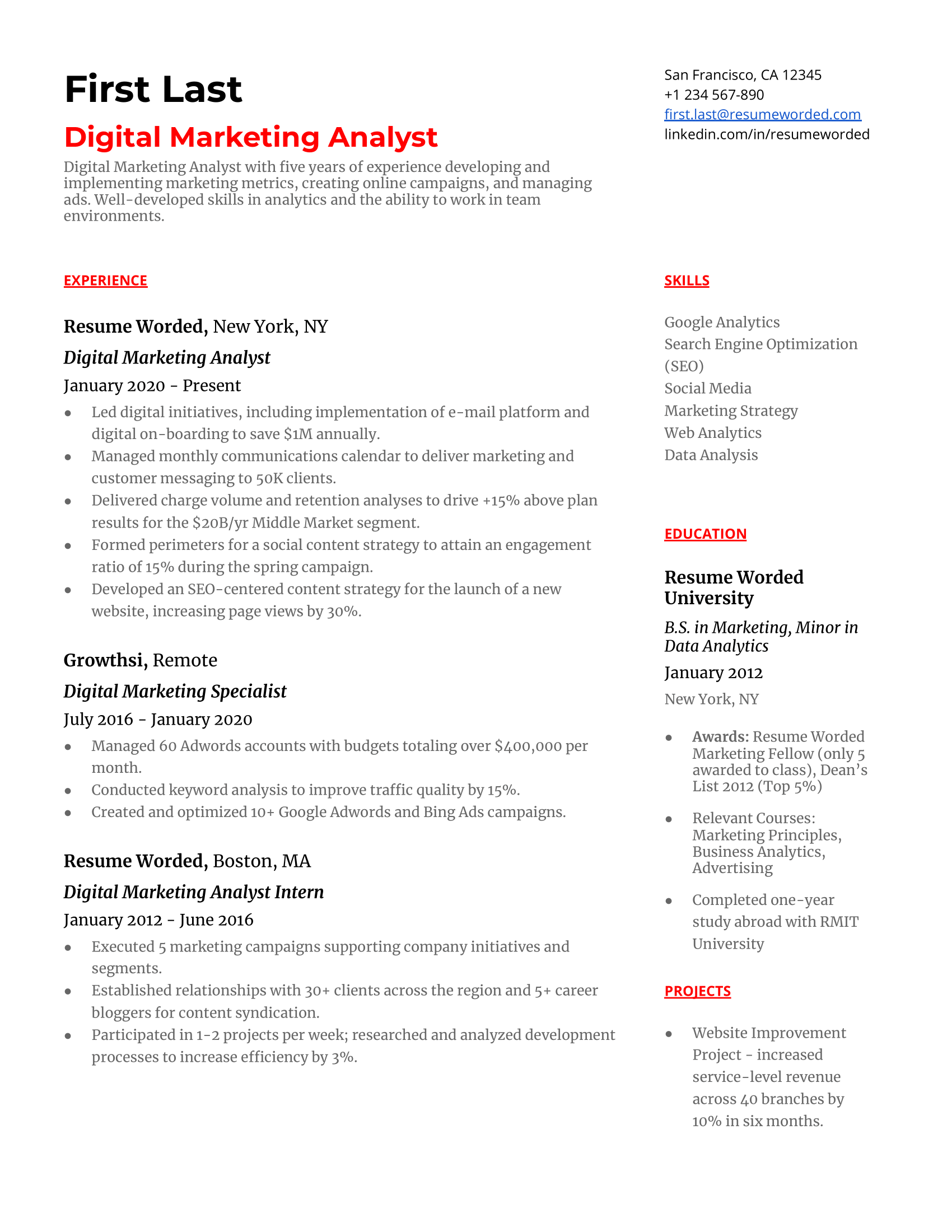 Recruiter Insight: Why this resume works in 2021
Digital Marketing Manager Resume Sample
Digital marketing managers are a key part of leadership in digital marketing, above digital marketers and under digital marketing directors. They're leaders and experts in the digital marketing space, including content, email, social media, and mobile marketing. They develop and implement marketing campaigns on digital platforms in order to promote a company's brand, products, and services. Experience with digital marketing and managing a team are a must for this role.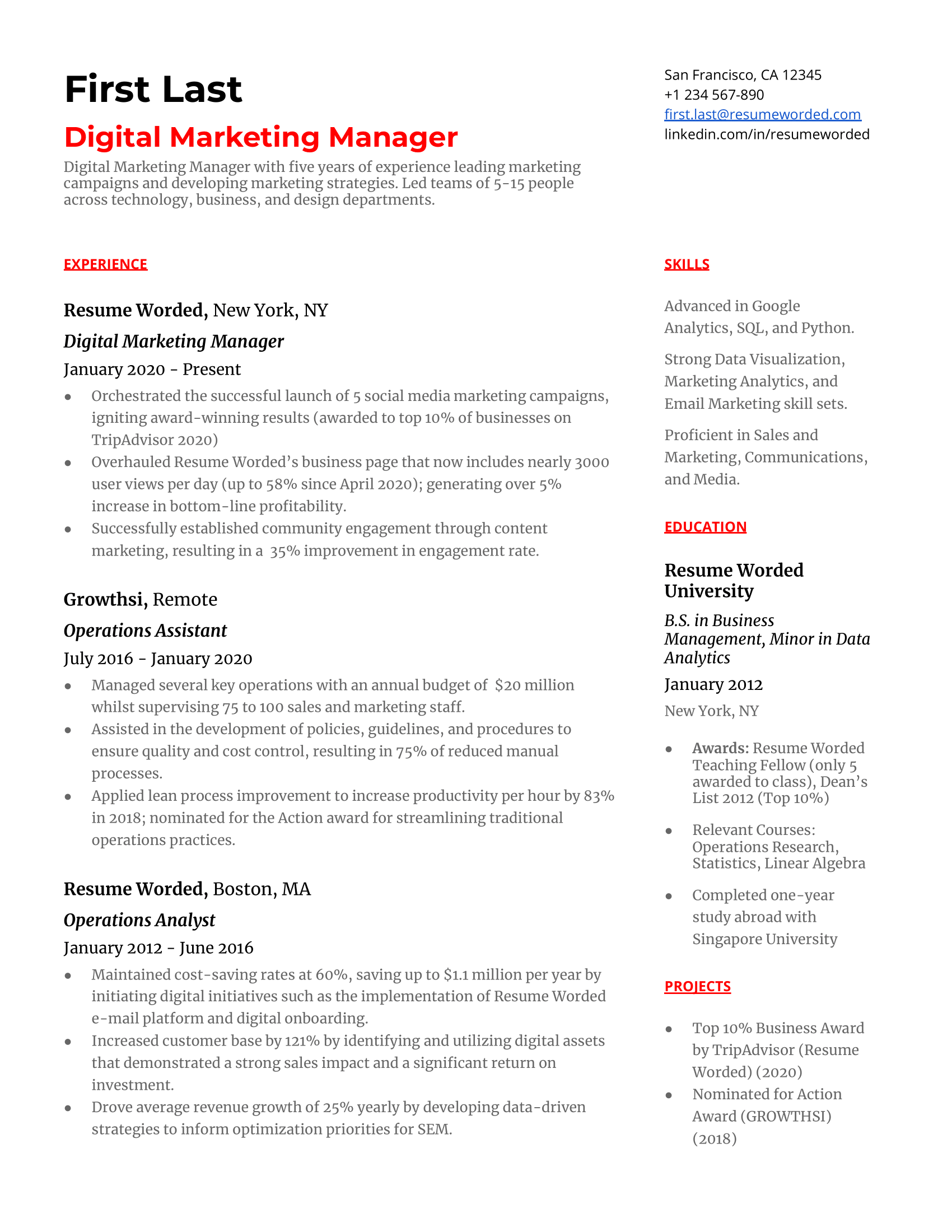 Recruiter Insight: Why this resume works in 2021
Senior Digital Marketing Manager Resume Sample
The senior digital marketing manager is the next step above the digital marketing manager, and underneath a digital marketing director on the leadership ladder. As a senior digital marketing manager, you have numerous years of experience as a digital marketing manager. Directing marketing campaigns, managing budgets, and leading digital marketing teams are all second nature to you.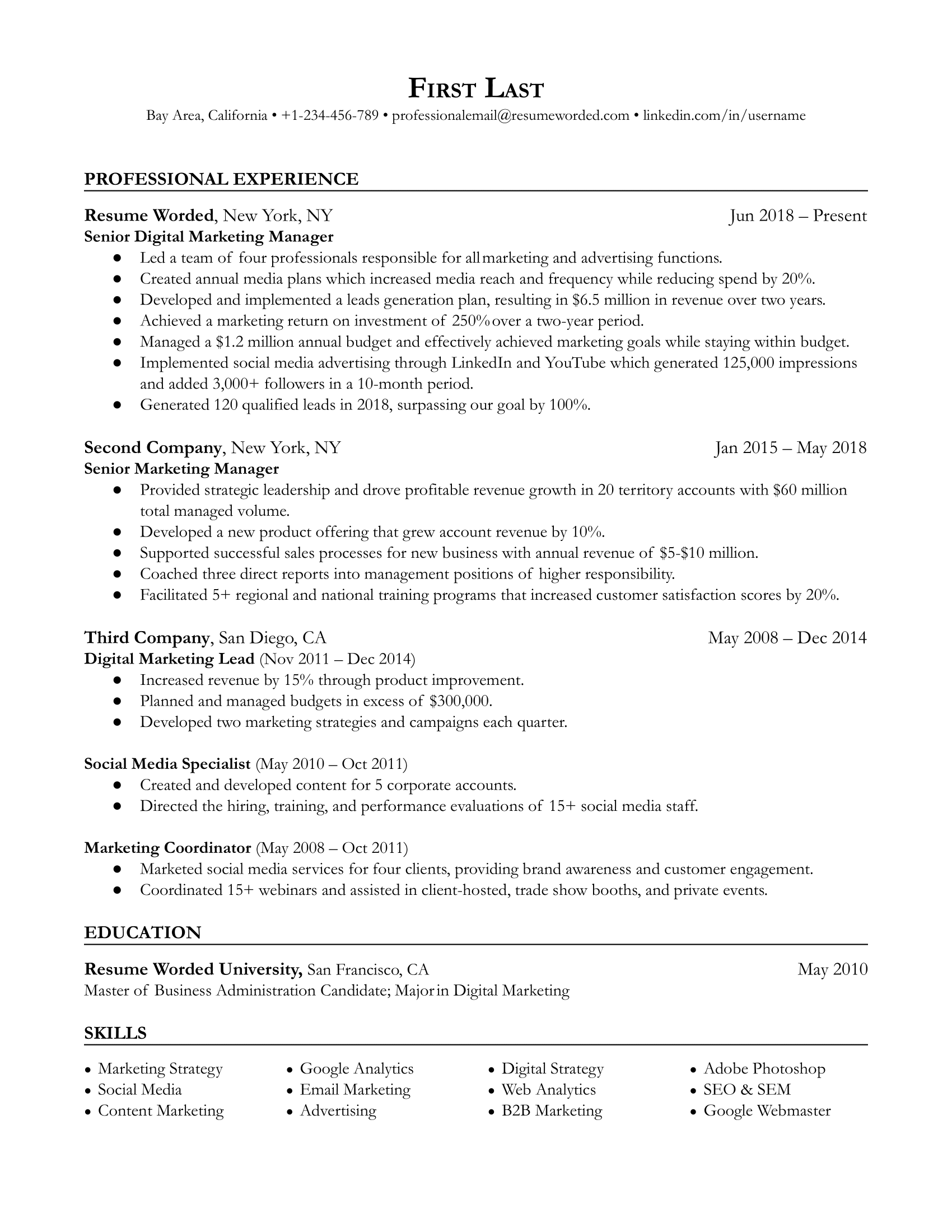 Recruiter Insight: Why this resume works in 2021
Marketing Director Resume Sample
Besides digital marketing directors, there are also traditional marketing directors who dabble both in the online space and in-person. This may include coordinating marketing campaigns for product launches, events to promote the product or service, and overseeing relationships with the public and marketing vendors. They lead their team and successfully complete projects within the set deadline and budget, while conducting market research.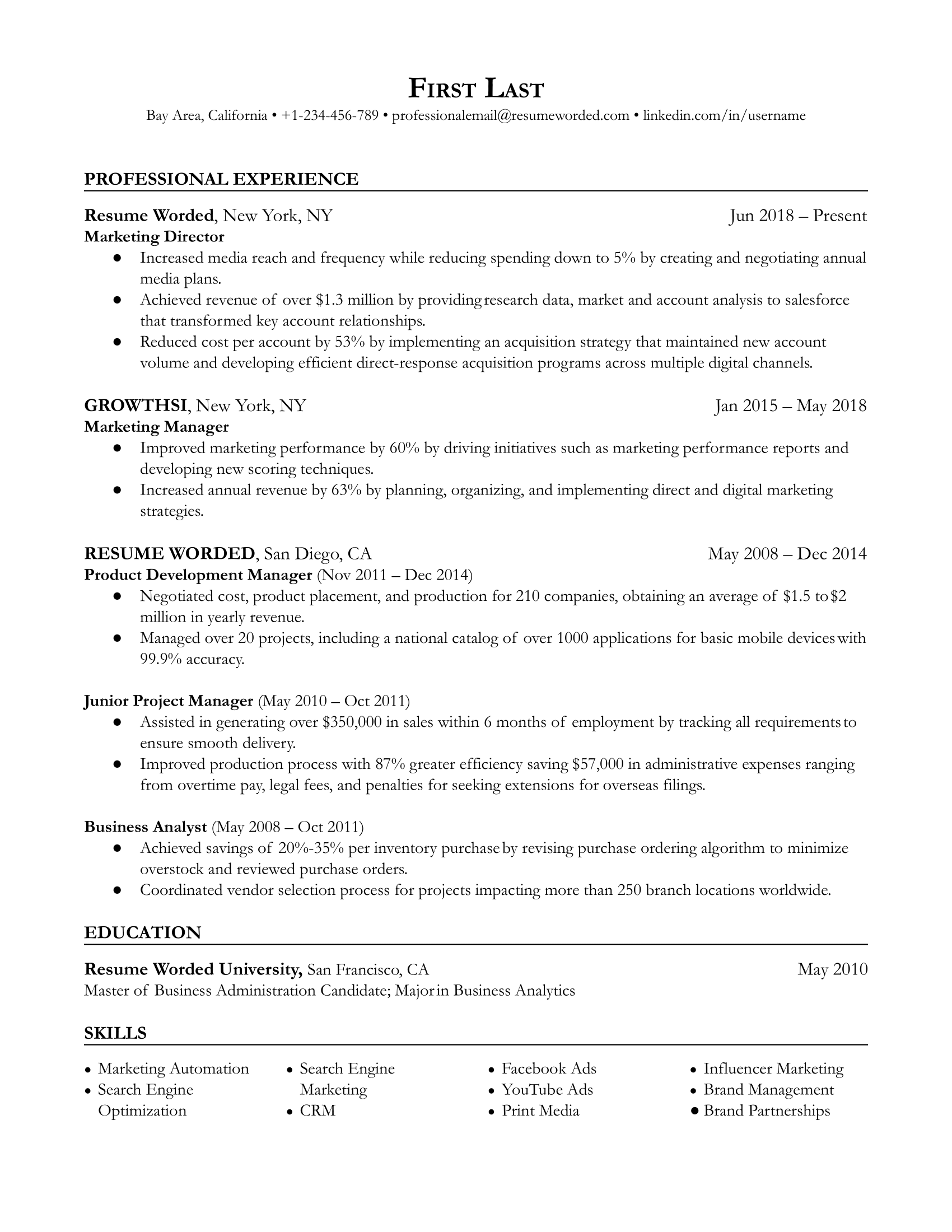 Recruiter Insight: Why this resume works in 2021
Skills For Digital Marketing Resumes
When you're looking for a digital marketing job, your relevant marketing skills in the digital space and data analysis will play a large role in your resume. Common hard skills you might include on your resume include Adobe Creative Suite, MySQL, keyword research (fits under search engine optimization and SEO), digital ads, and content management systems (CMS) such as WordPress, Hubspot, and Wix. Many of these skills include software that you should have professional or personal experience with that translates to a digital marketing role.

Taking the time to dissect the job description and posting will help you to understand the required and preferred skills that the recruiter will be looking for. It is also important to personalize the resume's skill sections, depending on which digital marketing position that you're applying for.

For more ideas, here is a comprehensive list of relevant hard skills that recruiters want in digital marketing candidates.
Digital Marketing
Google Analytics
Search Engine Optimization (SEO)
Google Ads
Email Marketing
Search Engine Marketing (SEM)
Social Media Marketing
Pay Per Click (PPC)
Online Marketing
Content Marketing
WordPress
Facebook Marketing
Advertising
Marketing Strategy
Marketing
Web Analytics
Facebook
Online Advertising
Copywriting
Social Media
Action Verbs For Digital Marketing Resumes
Your resume should be filled with action verbs, and each bullet point under your experience should start with one. Action verbs are powerful tools to help your resume stand out from the crowd and help to accentuate your work history and achievements. Some great examples for action verbs for digital marketing resumes are "compiled," "researched," "analyzed," "implemented," "overhauled," "deployed," "directed," "drove," and "delivered." These action verbs describe gathering and interpreting data, creating projects, launching campaigns, leading a team, and generating results.

Less impressive verbs that many people start their bullet points with are "assisted," "handled," and "made." These leave the reader of your resume wanting to know more and implies that you performed the basic job duties, but you weren't passionate about it and you didn't go above and beyond in your work.
Integrated
Directed
Developed
Recommended
Prioritized
Managed
Supervised
Influenced
Facilitated
Persuaded
Motivated
Designed
Accelerated
Overhauled
Convinced
Transformed
Established
Illustrated
For a full list of effective resume action verbs, visit Resume Action Verbs.
Resume Bullet Points From Digital Marketing Resumes
You should use bullet points to describe your achievements in your Digital Marketing resume. Here are sample bullet points to help you get started:
Led team of four overseeing all aspects of social media strategy, increasing Twitter following by 200%, Facebook by 500%+ and Instagram by 500%
Accelerated goal to increase digital sales by improving e-commerce experience on existing website and adding new storefronts on Amazon and eBay; analyzed consumer data to ensure accurate targeting by segment; resulting in 300% increase in online orders in the following year.
Developed go-to-market strategy for ~$100 million B2B market segment; led cross-functional team of 15+ internal stakeholders to prepare new product offering
Identified changes to assortment, distribution, and marketing using financial and behavioral analysis that enabled an upmarket fashion company to better target their customers, resulting in $400M growth
Established brand strategy and marketing campaign, utilizing social media, guest blogging, and affiliates to grow awareness and build brand loyalty; currently have over 18k followers across all social media platforms (as of 10/2016)
For more sample bullet points and details on how to write effective bullet points, see our articles on resume bullet points, how to quantify your resume and resume accomplishments.