C-Level and Executive Resumes
No company can run smoothly without top C-level executives. If you're applying for one of these demanding roles, you'll need a resume that speaks for itself — and we can help. In this guide, you'll find resume examples for any C-suite role as well as key industry-specific tips and insights.
Load more resumes
C-Level and Executive resume guide
Program Manager Resumes
They say that first impressions are forever. When applying for a new job, your resume is going to be a potential employer's first impression of you, and you want to make it count. Here are five excellent templates of resume samples for a program manager that will catch a recruiter's eye in 2022.
Load more resumes
Program Manager resume guide
Project Manager Resumes
Your resume can make or break your search for a project manager position. We've got five resume templates here with the key qualities that project manager recruiters are looking for in 2022 (Google Docs and PDFs attached).
Load more resumes
Project Manager resume guide
Product Manager Resumes
For product managers, having a well-organized, easily-readable resume that emphasizes your product assessment and leadership abilities is key. We'll review five examples of product manager resumes below, and provide tips on what should be included (and how).
Load more resumes
Product Manager resume guide
Operations Manager Resumes
Operations manager positions can be highly competitive. We've crafted six resume templates to help you snag one of these coveted jobs in 2022 (Google Docs and PDFs attached).
Load more resumes
Operations Manager resume guide
Creative Director Resumes
Your resume is your first (and often only) impression to a potential employer. You'll want to make it count by tailoring your resume to the job with action verbs and relevant skills. Here are four excellent templates that will help your resume land you an interview for a creative director role in 2022.
Associate Creative Director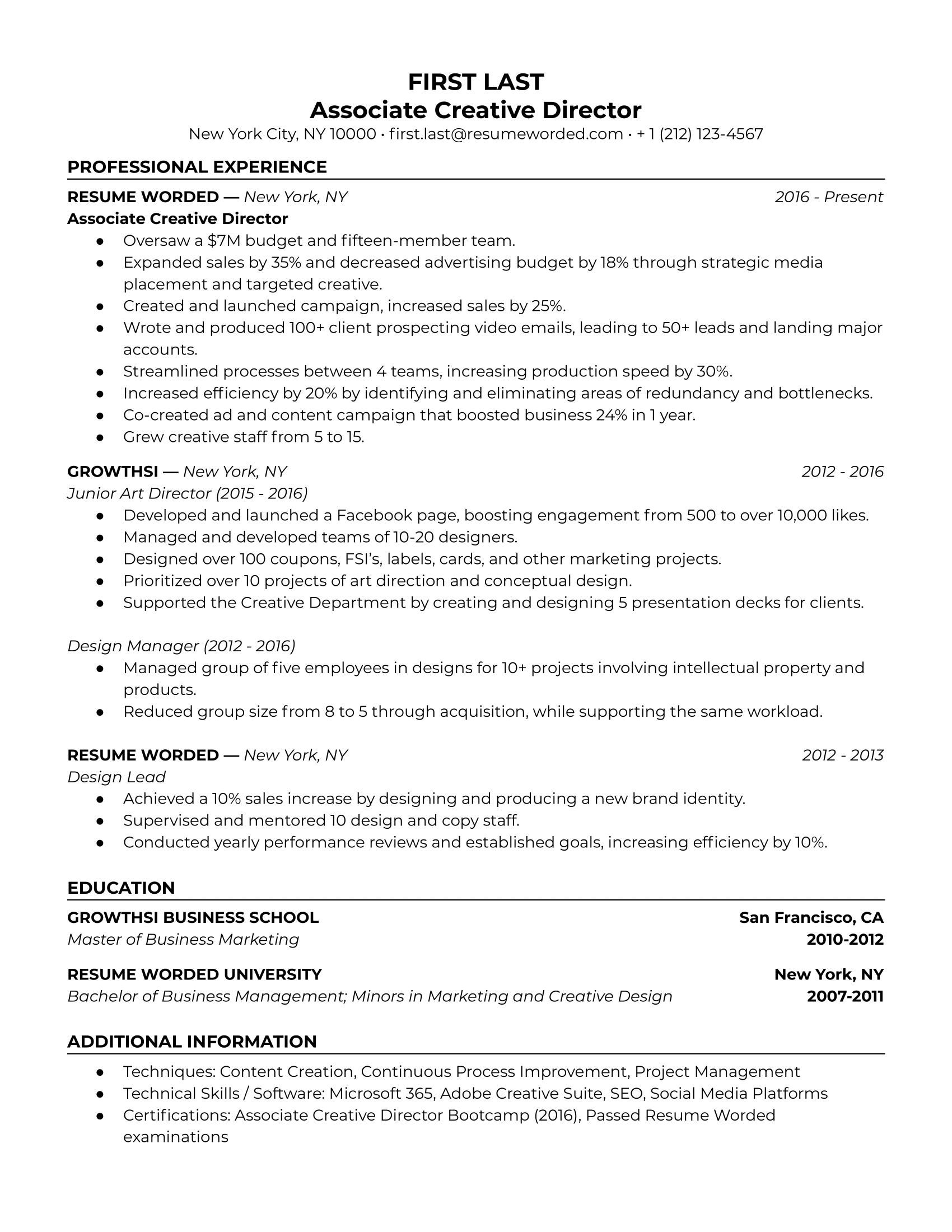 An associate creative director may be someone with less experience than a creative director, and is perfect if you're looking to grow into the position and obtain experience. As a mid-level role, you'll want to use a strong combination of your work experience, education, skills, and certificates to prove that you're looking to continue your career.
Expand
Download .DOC or .PDF
Creative Marketing Director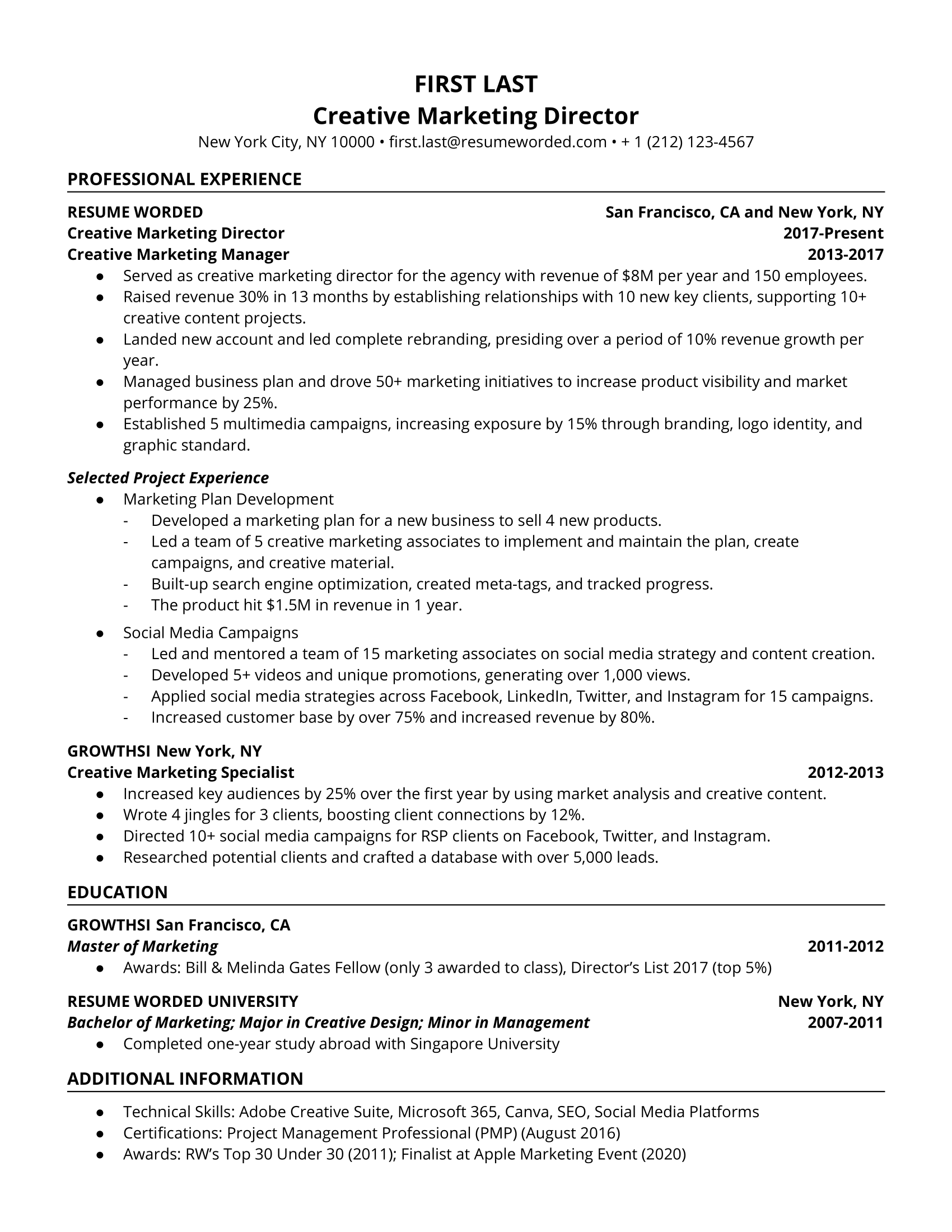 Creative directors can have niches, but a specialized one for marketing makes the most sense since creativity is often used for various marketing strategies. You'll want to use specific projects that you've accomplished while showcasing your marketing prowess and leadership abilities. This resume template will help you stand out when applying for a senior-level marketing role with creative marketing experience.
Expand
Download .DOC or .PDF
Chief Creative Officer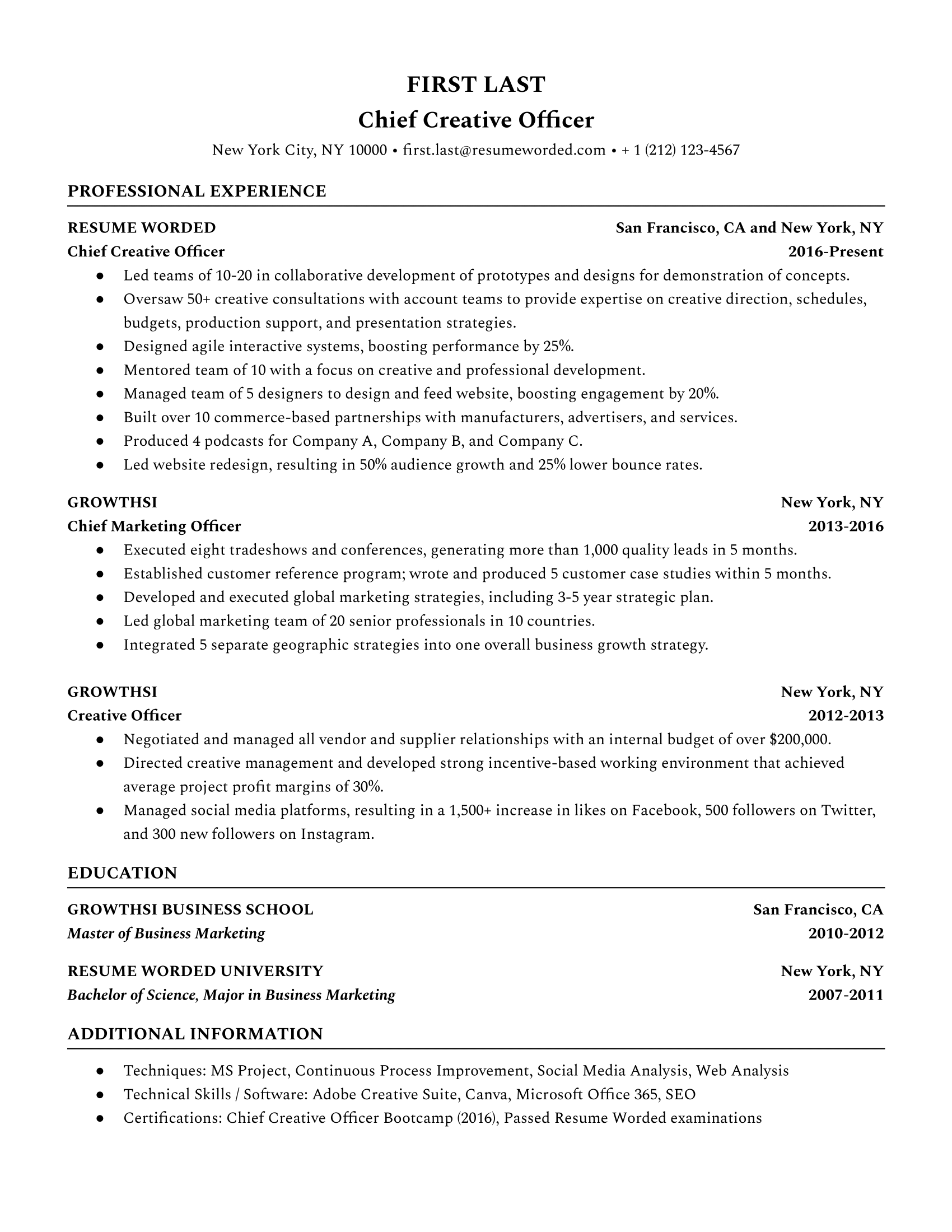 Different kinds of C-suite positions beyond CEO, COO, CFO, and more are becoming more popular as roles to establish strong leadership at companies. The Chief Creative Officer role is one of these and is similar to a Chief Marketing Officer. An emphasis on your leadership and management experience will be key here, as this role is one of the heads of the organization.
Expand
Download .DOC or .PDF
Load more resumes
Creative Director resume guide
Product Owner Resumes
Project management systems like Agile aren't new, but recent years have only seen them grow in popularity. There's a steady stream of demand for product owners, which makes it the perfect time to update your resume. In this guide, we'll provide product owner resume templates for you to use, as well as a few tips to get you started.
Senior Product Owner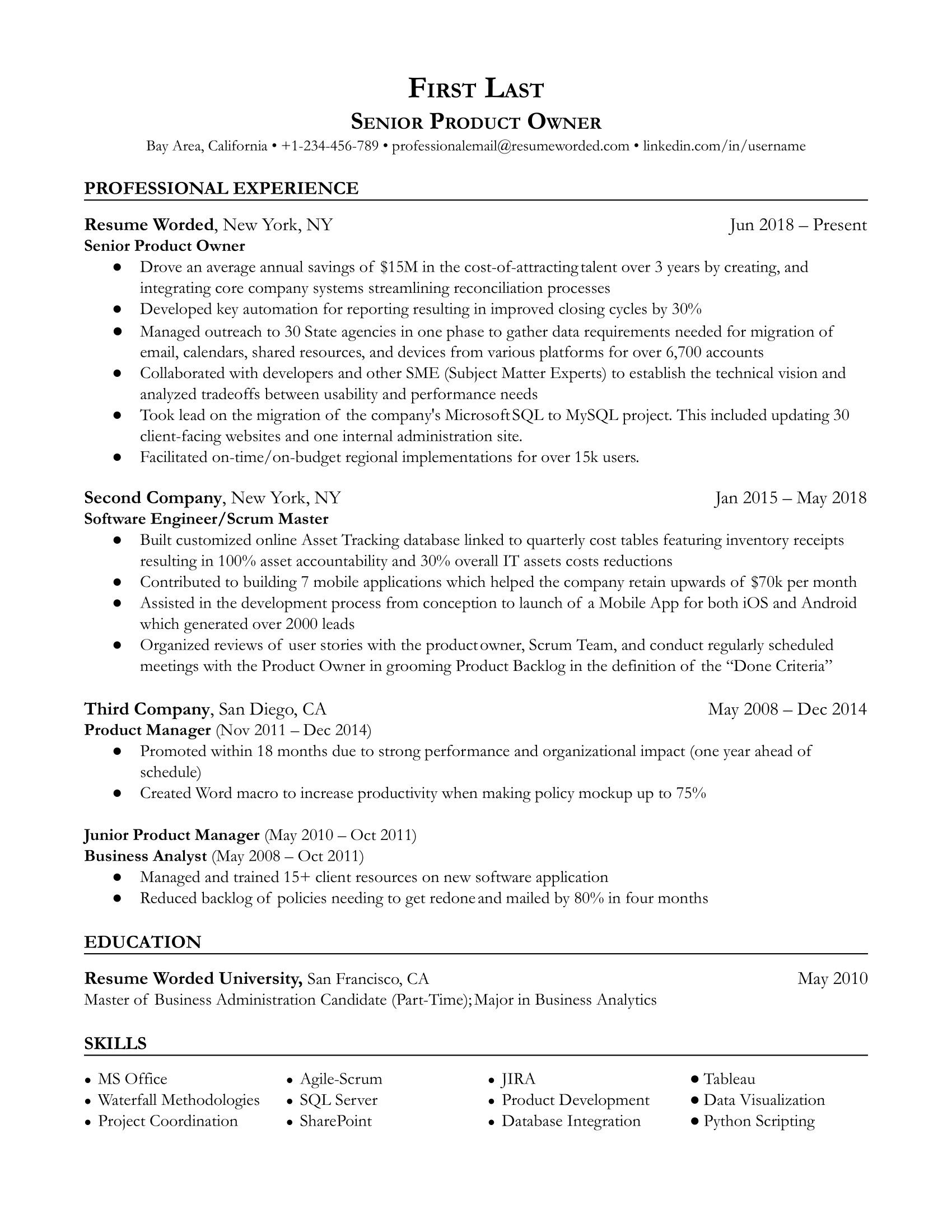 With enough experience in the field, you may find yourself rising to the ranks of senior product owner. As a senior product owner, you'll be expected to bring high-level expertise and years of experience, taking a leading role in implementing new tools and practices. Senior product owners are actively involved in building customer relationships and will need a strong business acumen as well as soft skills like leadership and communication.
Expand
Download .DOC or .PDF
Agile Product Owner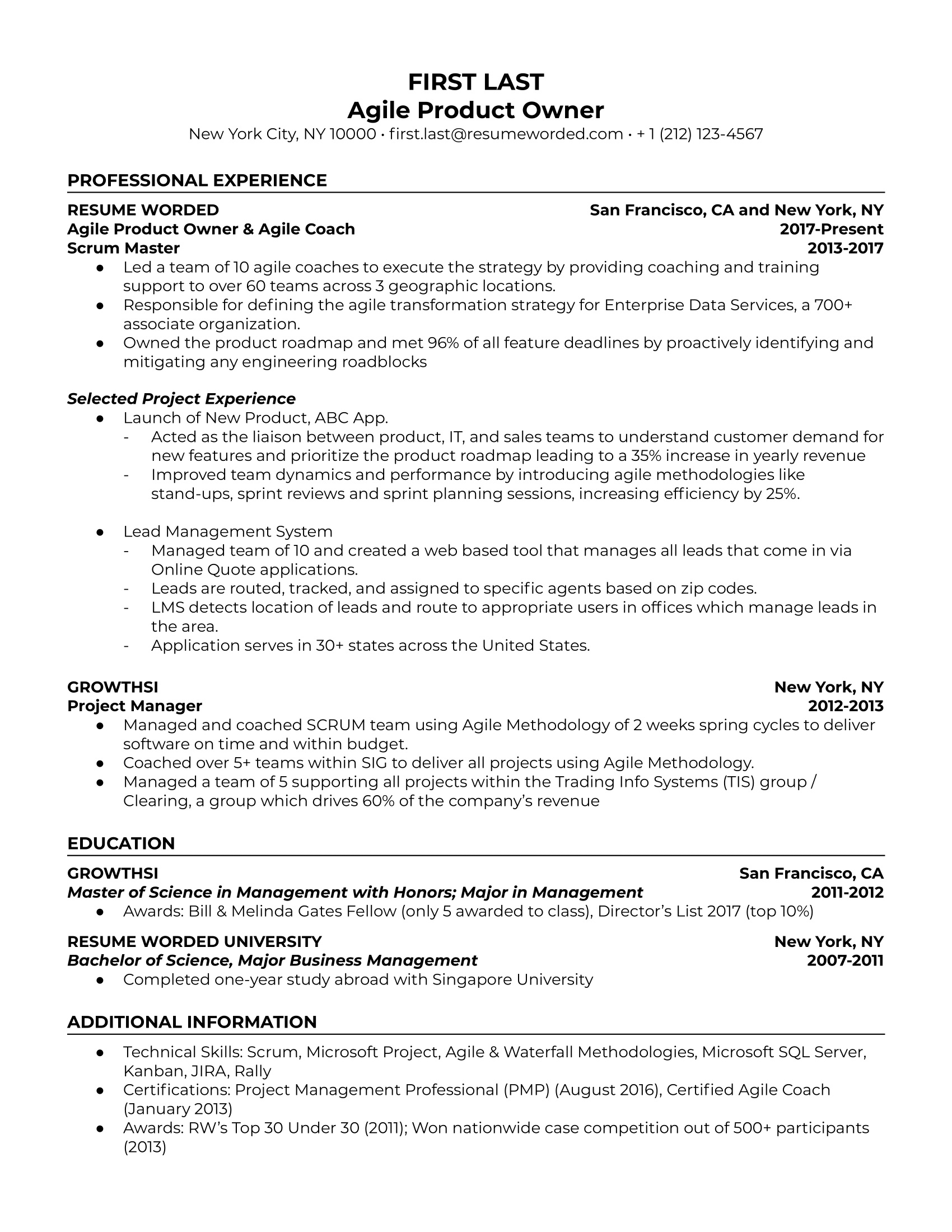 Agile Product Owners work within specific agile principles that value change and collaboration over technical processes and tools. As such, your resume needs to demonstrate a firm understanding of agile systems, including the scrum product development framework, as well as more general technical skills like data analysis, software, and programming skills. As a project owner, you'll also need solid soft skills, including attention to detail, problem solving, and strong organization skills.
Expand
Download .DOC or .PDF
Product Owner resume guide
IT Manager Resumes
Want to be an information technology manager in 2022? Your resume is a key part of your application. Below, we've compiled three resume templates that will help you land your dream IT Manager role, along with other knowledge you'll need to gain that extra edge against the competition. (Google Docs and PDFs attached).
IT Infrastructure Manager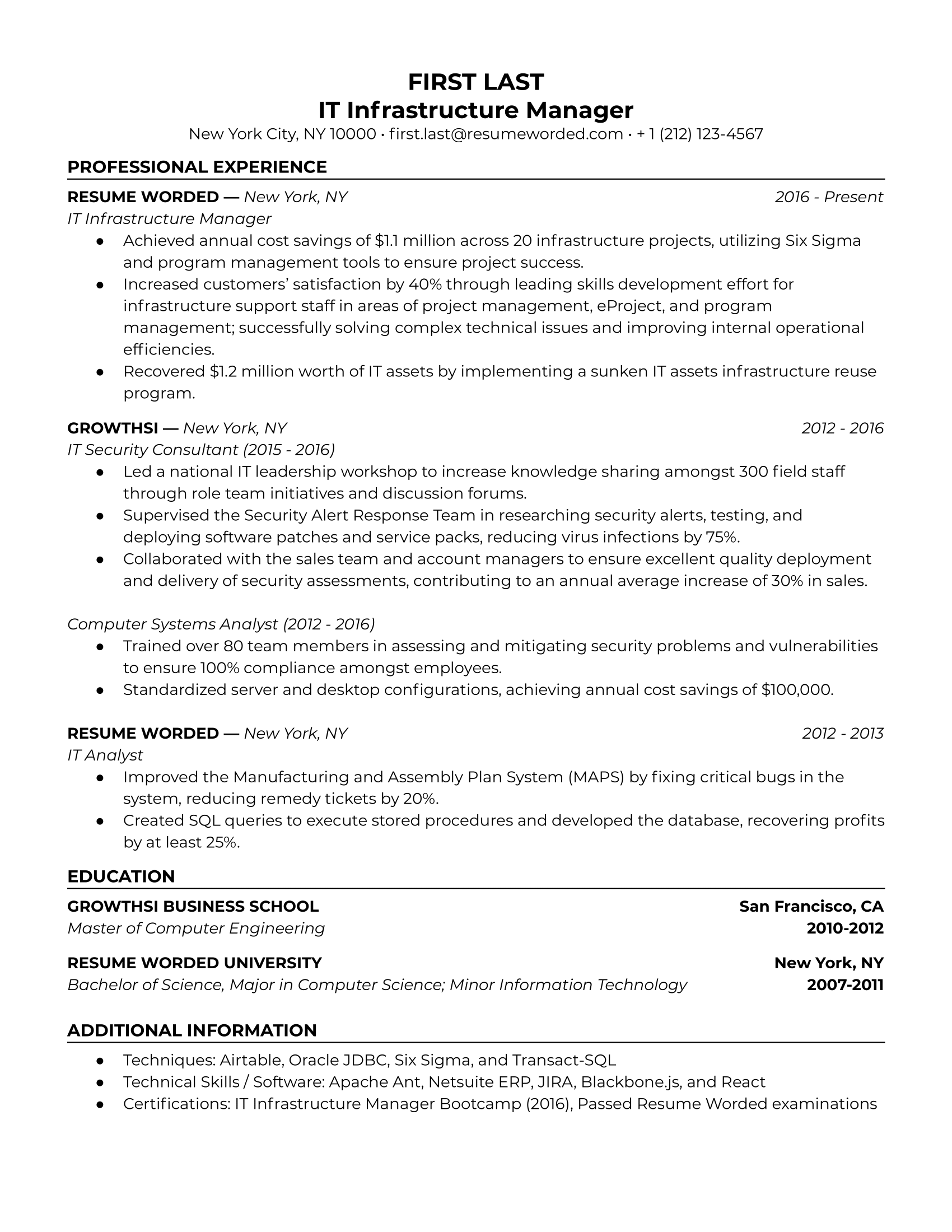 If you're applying for a more specific IT manager role, like an Infrastructure Manager, use this template when applying to jobs. An IT Infrastructure Manager specializes, not just in IT, but specifically in the design, maintenance and installation/retirement of the organization's information infrastructure. Like an IT Manager, you will oversee staff in ensuring the smooth operation of the company's hardware and software, so you'll need to tailor your resume to the skills and qualifications needed for such a role.
Expand
Download .DOC or .PDF
IT Security Manager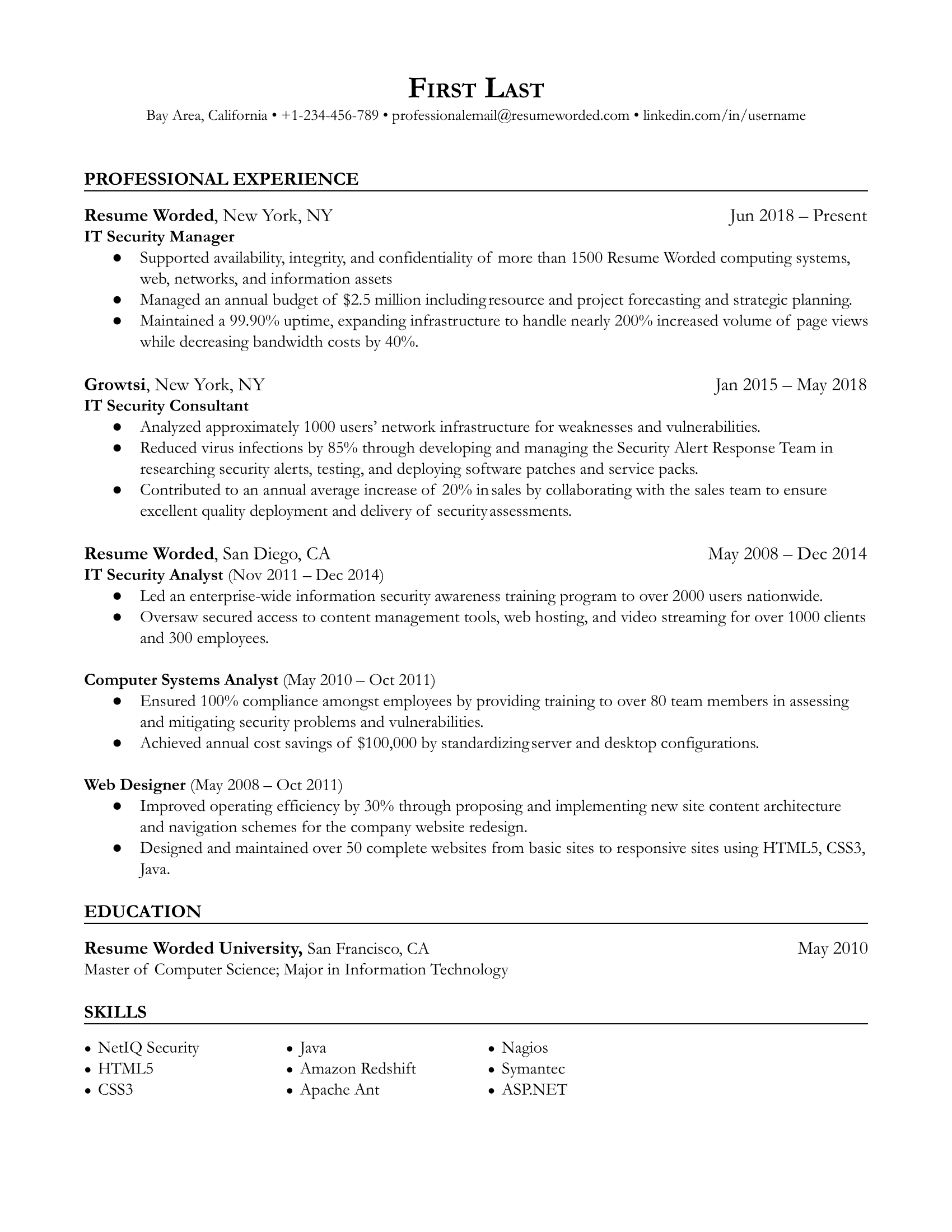 An IT Security Manager specializes in all things security for an organization's information technology, including protection, disaster recovery, virus detection, security breach response, and more. Especially for certain industries such as health or finance, it is of the utmost importance for companies to properly protect sensitive customer data. When crafting your IT Security Manager resume, emphasize your expertise in the cybersecurity space and detail your relevant skills and certifications.
Expand
Download .DOC or .PDF
IT Manager resume guide
Office Manager Resumes
Office managers keep businesses running through their prowess with organization, communication, and attention to detail, making them a vital part of operations everywhere. To help you craft an eye-catching resume that will stand out to hiring managers recruiting for an office manager position, this guide will review four types of office manager resume templates. At the bottom, we'll look at key skills and action verbs to incorporate in your resume.
Dental Office Manager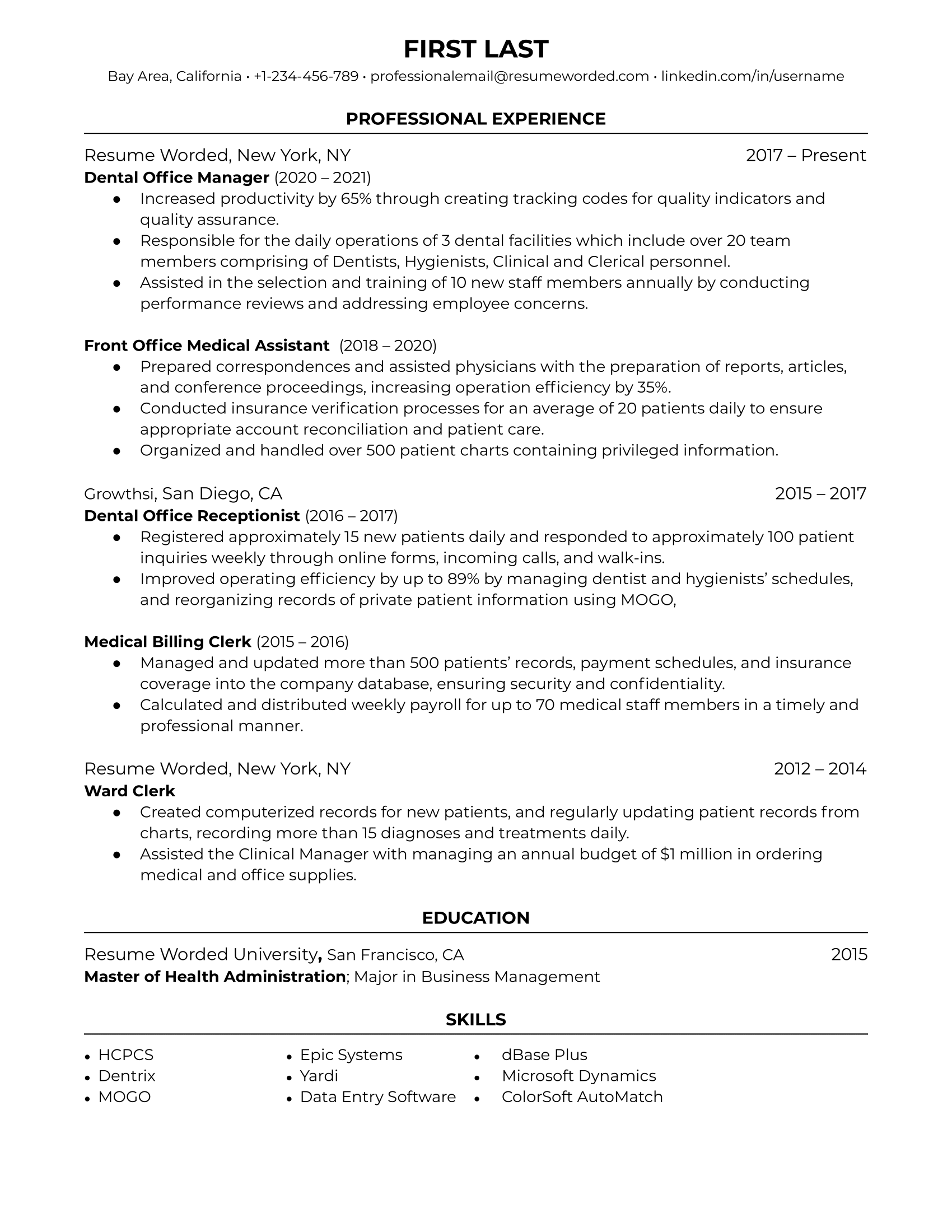 As the name indicates, dental office managers are specifically experienced with working in a dental office setting. Like medical office managers, they'll be accustomed to handling patient information and administering paperwork. You should demonstrate your experience with the work by emphasizing appropriate office manager skills and starting each bullet point with a strong action verb.
Expand
Download .DOC or .PDF
Medical Office Manager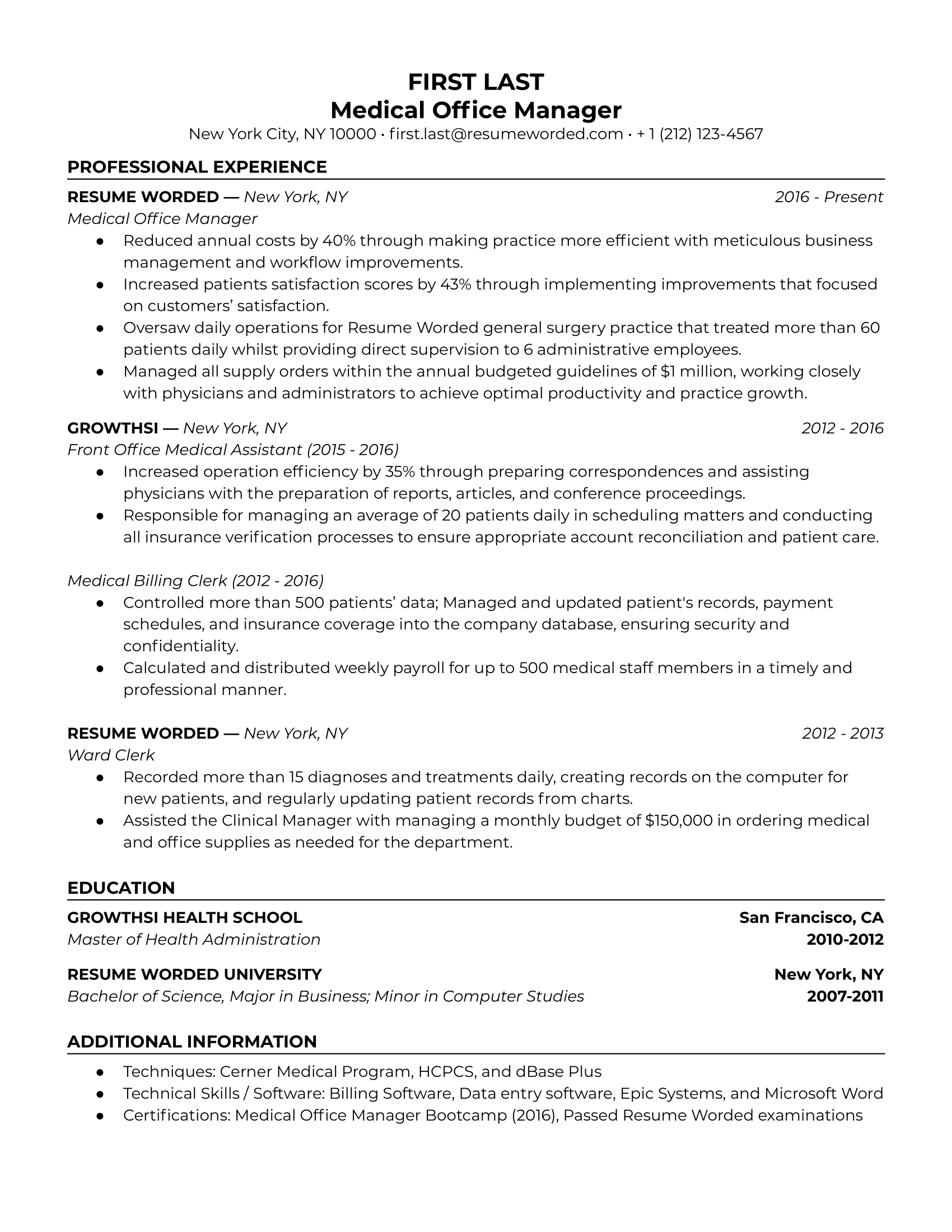 Medical office managers will have experience working with patient records, patient scheduling, office finances, and insurance verification, along with a host of other specialized tasks. Accuracy and attention to detail are more important than ever in this role, and so it helps to provide the scope and scale of your background in the medical industry with quantifiable data points and specific skills.
Expand
Download .DOC or .PDF
Front Office Manager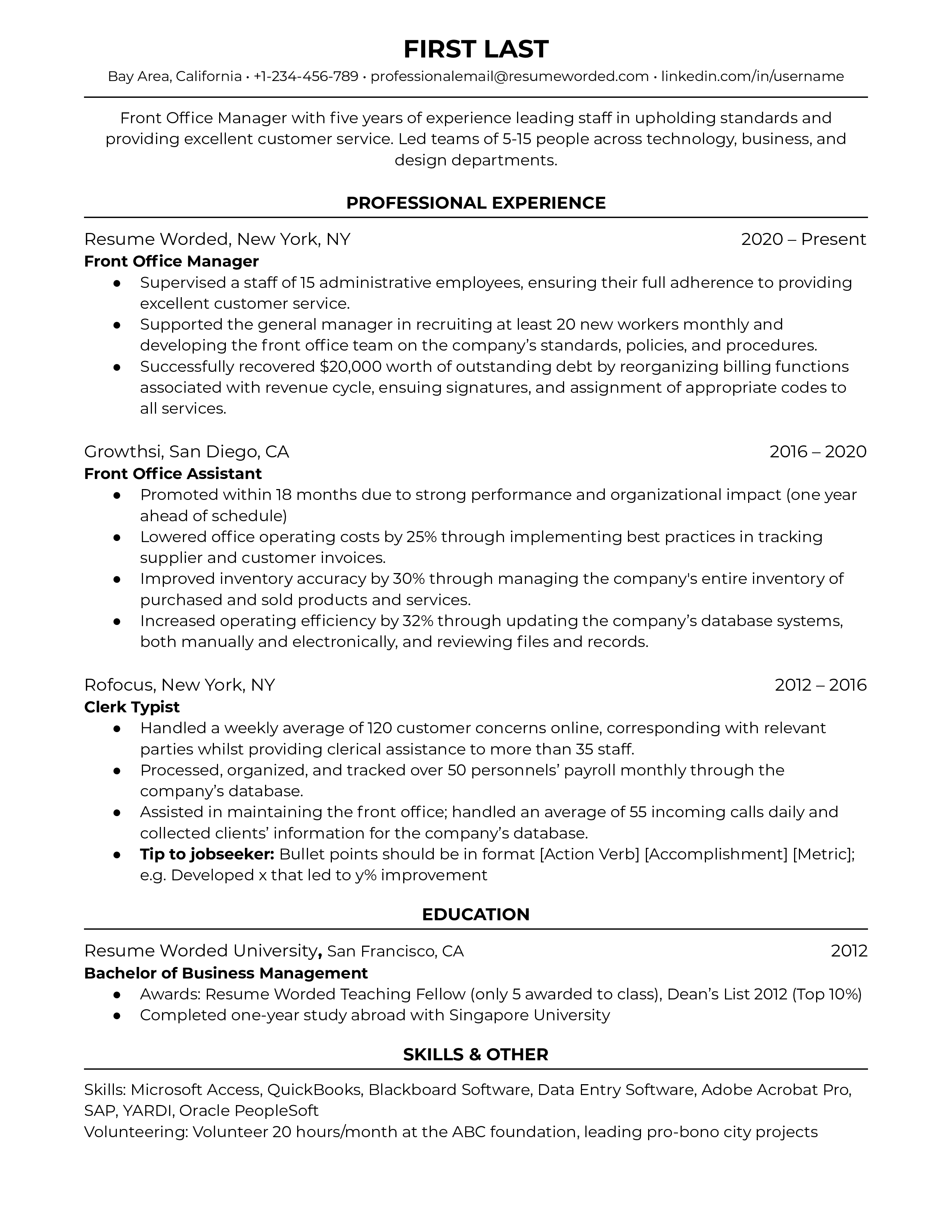 Front office managers are focused on staff management, typically in hotel settings or similar scenarios where the daily operations of a business will come down to your expertise. You can make a potent impression by starting your resume with a short summary or introduction. Adding in volunteer work or relevant certifications will further lend to your credibility as being involved in the front office management role.
Expand
Download .DOC or .PDF
Load more resumes
Office Manager resume guide
Production Manager Resumes
Production managers work in a variety of fields to help businesses lower their costs and maximize their efforts. If you have the ability to think on your feet while seeing the big picture, being a production manager may be the ideal career for you. This production manager resume guide will discuss three templates by specialty and highlight key skills and action verbs to include to help your resume stand out.
Print Production Manager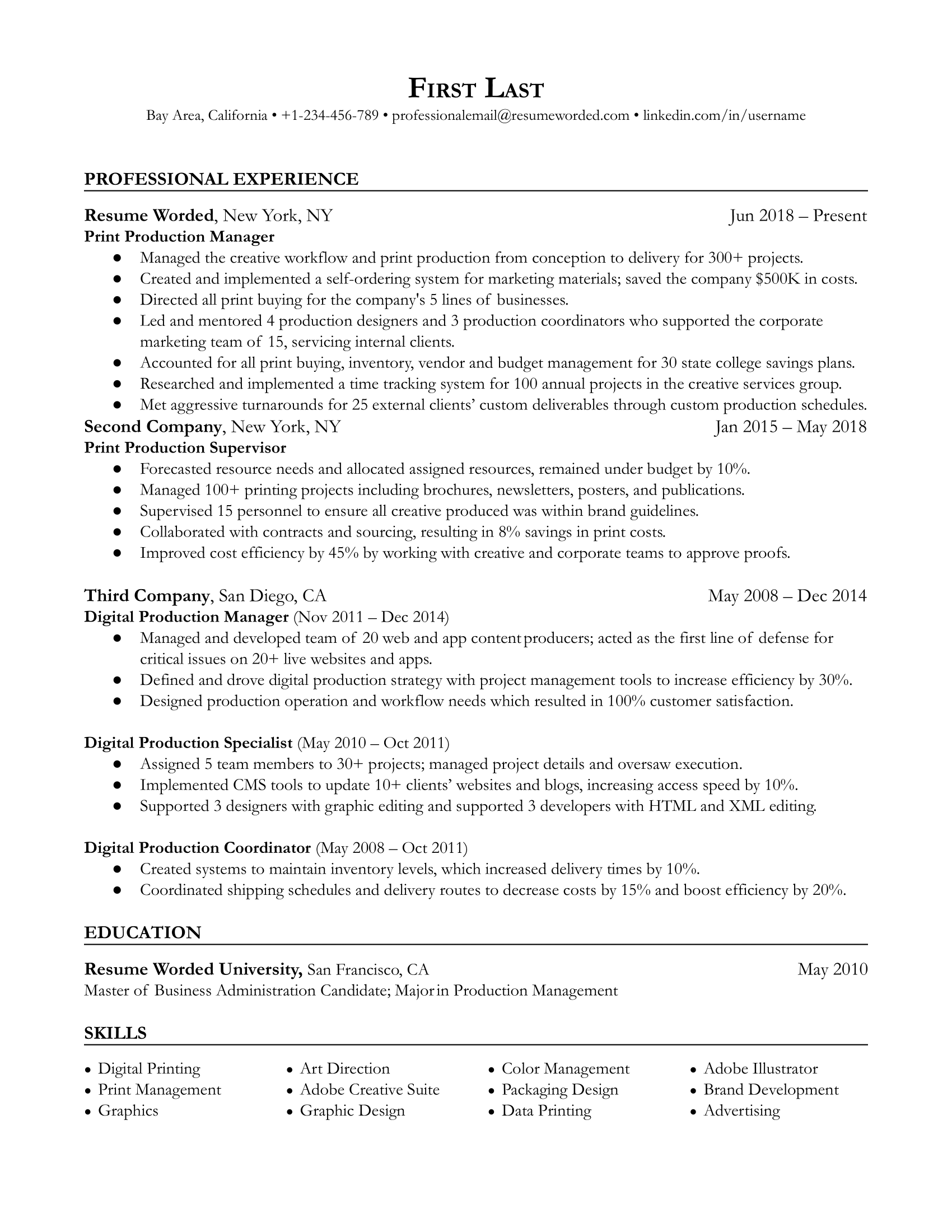 Print production managers typically work directly with clients to develop printed marketing materials and communications that are then distributed to potential customers. Along with having familiarity with printed products and paper types, you'll benefit from including strong action verbs in your resume and, if relevant, showing any internal promotions at past companies.
Expand
Download .DOC or .PDF
Video Production Manager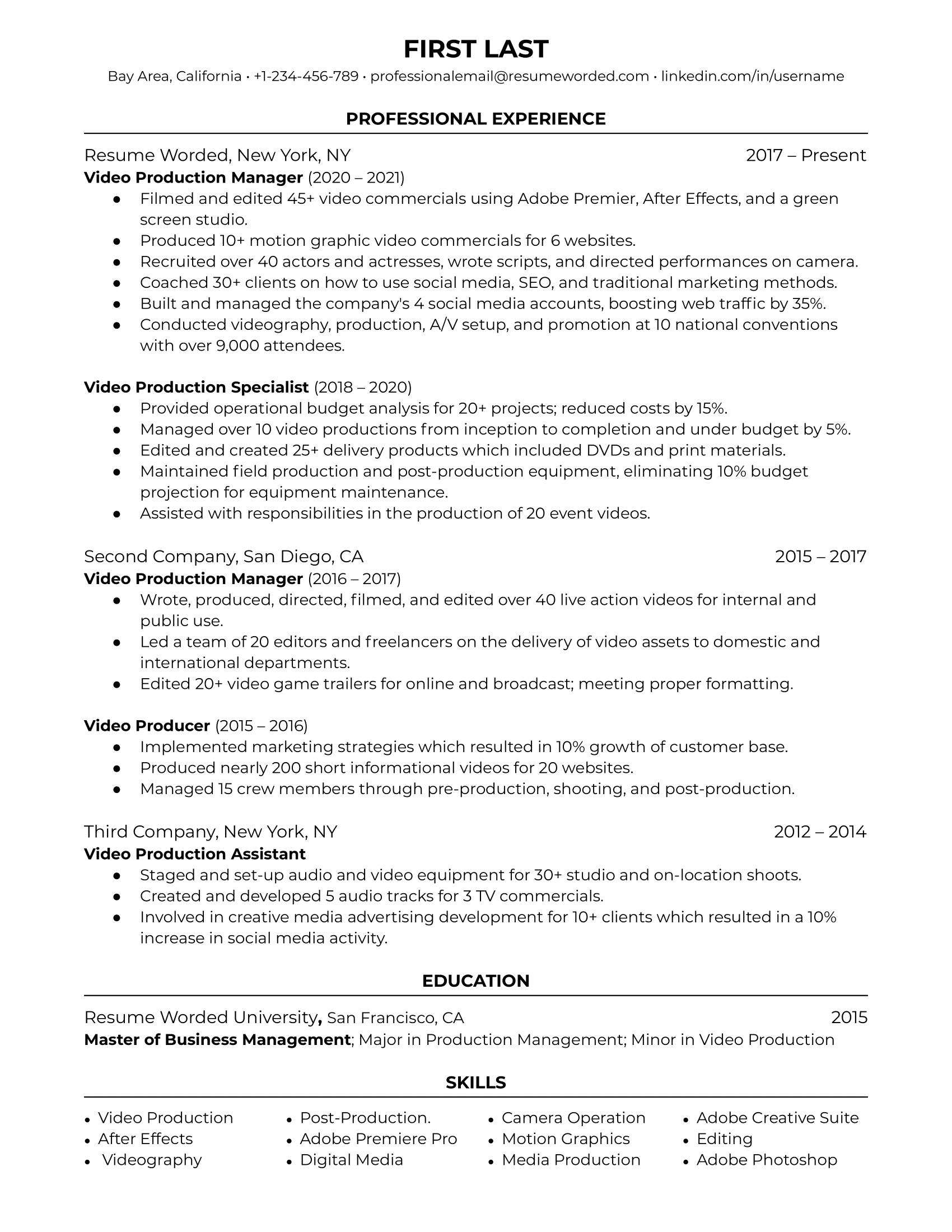 Video production managers work with clients to develop video materials that may be used for internal (training) or external (advertising) purposes. The projects you'll be working on will vary in size, and it helps to include a breadth of accomplishments across the field. As your technical skills will play a major role in your work, listing them in a separate skill bank will highlight your expertise.
Expand
Download .DOC or .PDF
Production Manager resume guide
Project Coordinator Resumes
A project coordinator is an essential player on any project management team. Here are three sample resumes sure to impress hiring managers in 2022 (Google Docs and PDFs attached).
IT Project Coordinator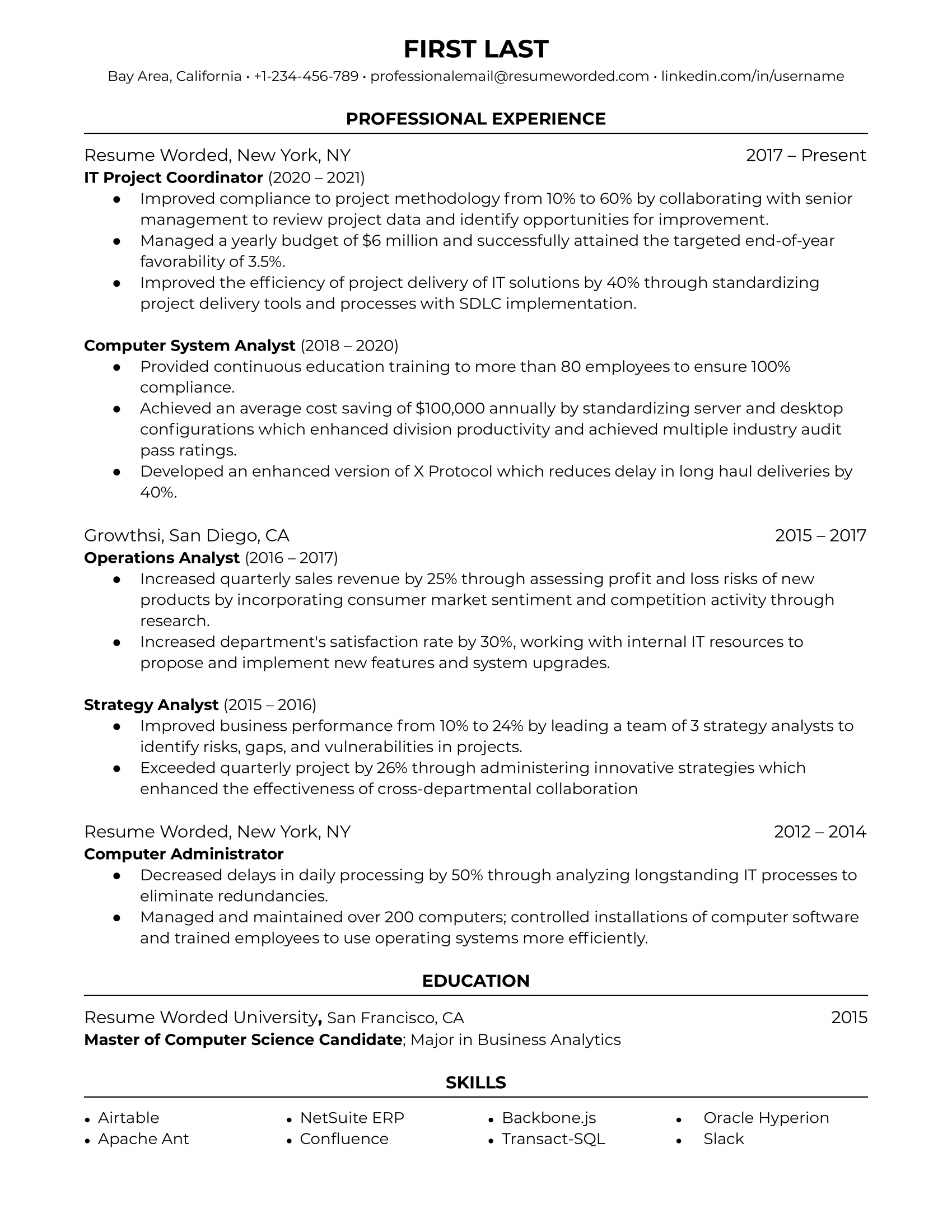 An IT project coordinator helps manage and plan technical projects. This position is more specialized than a typical project coordinator role, and it generally requires you to have some technical experience or education. On your resume, make sure to highlight your knowledge of computer systems as well as any relevant softwares you know how to use.
Expand
Download .DOC or .PDF
Construction Project Coordinator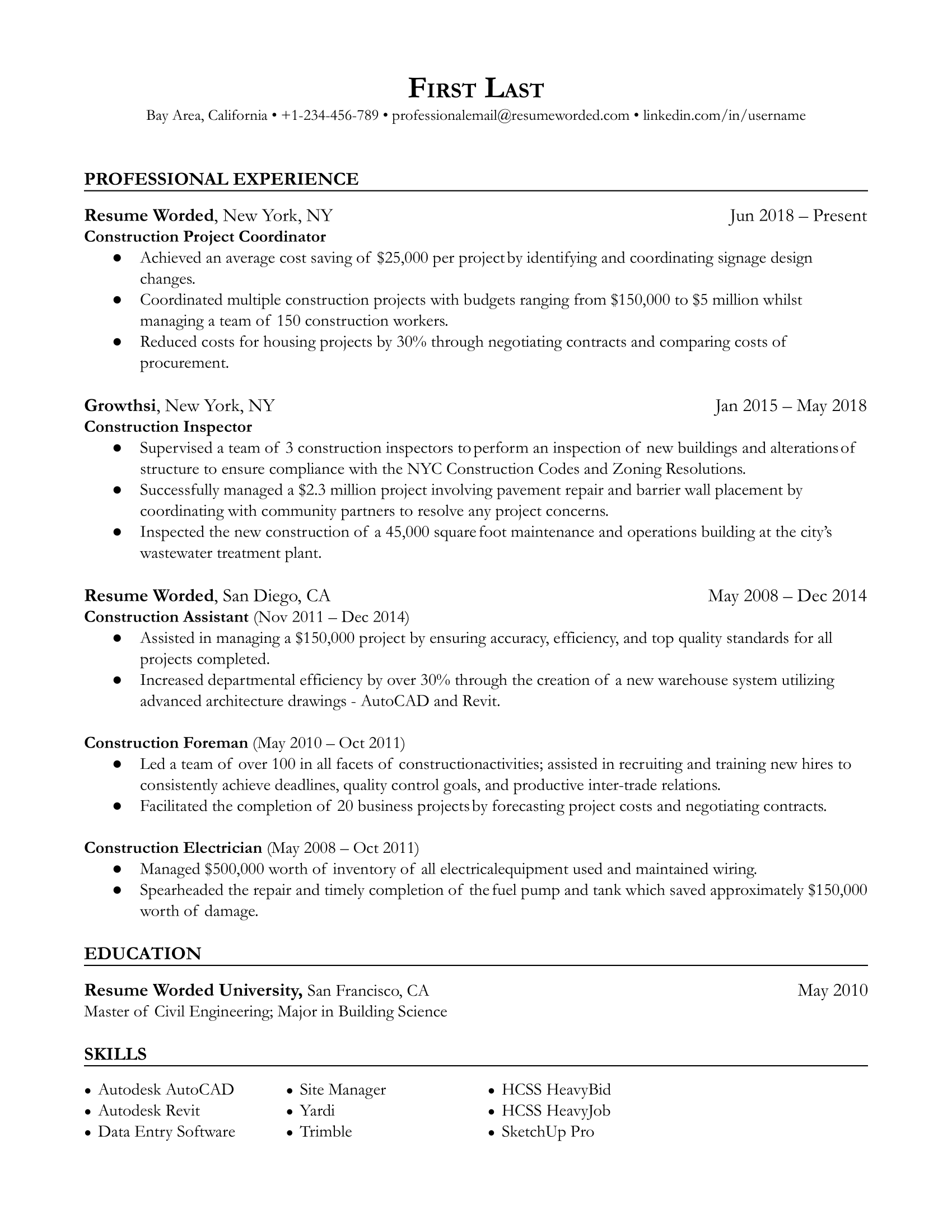 Construction project coordinators handle logistics and planning for construction projects. For this role, in addition to the organizational and communication skills needed for project coordination, you should have at least a basic understanding of building processes, standards, and codes. You may also need to manage teams of workers, so leadership experience is also a huge plus.
Expand
Download .DOC or .PDF
Project Coordinator resume guide
Brand Manager Resumes
In today's increasingly demanding world, it's clear that every company needs brand managers on hand. A brand manager removes the disconnect between brand strategy and target audience. In simple terms, they "speak the customer's language." Here are some ways to perfect your resume for a brand manager's important role.
Load more resumes
Brand Manager resume guide
Construction Manager Resumes
The construction space will become vibrant again with the world re-opening up after COVID-19. Subsequently, the demand for construction managers is expected to go up. Professionals in construction management boast a specialized set of skills and knowledge that make them excel in their jobs. So, if you're a new graduate or a professional seeking to progress your career in construction management, read on to learn how to tailor your resume to achieve that goal.
Construction Project Manager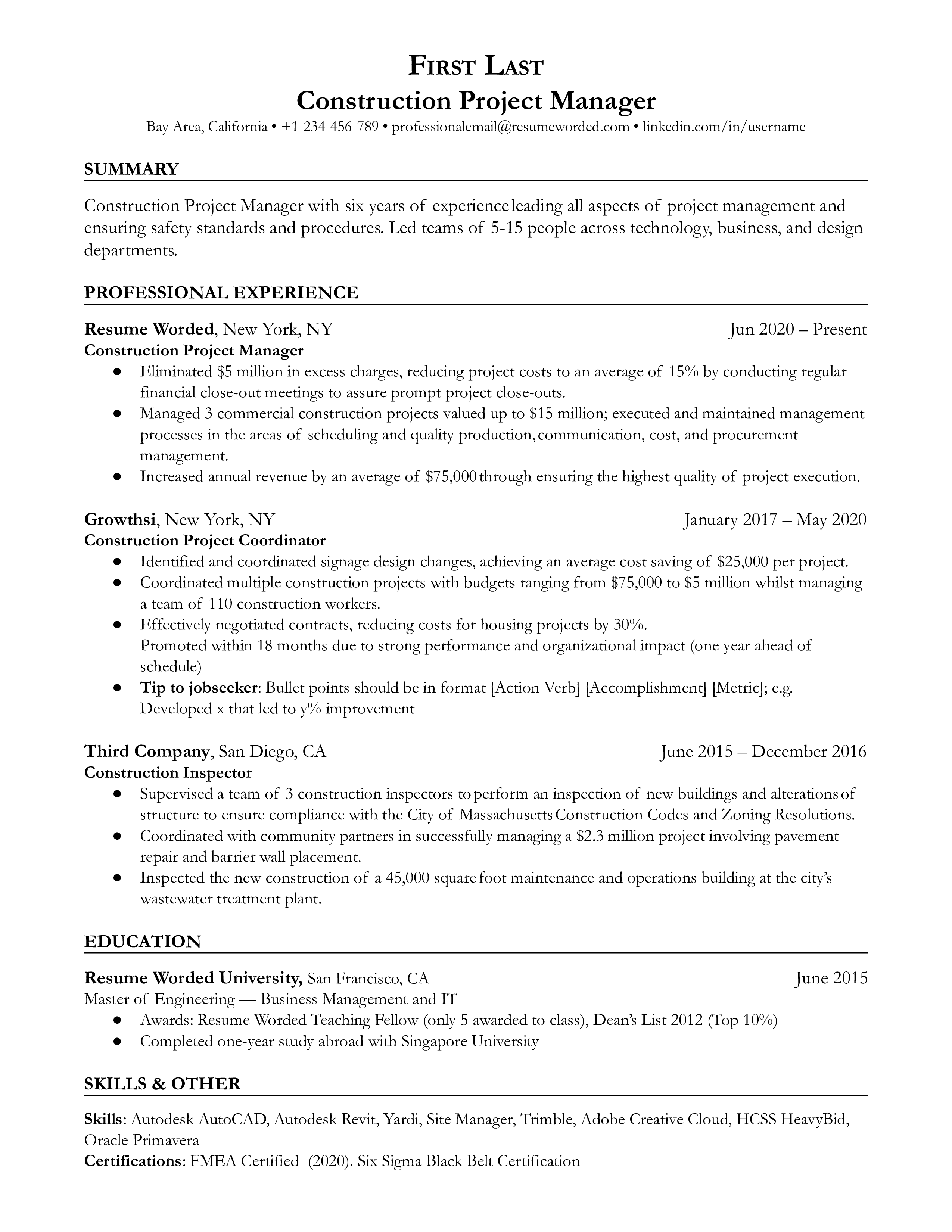 Construction project managers are project managers that are specifically focused on the construction projects. This includes consulting with architects, managing stakeholders and deadlines, and overseeing day-to-day work at sites. Remember to focus on your construction or real estate experience when applying for construction project management jobs.
Expand
Download .DOC or .PDF
Construction Project Manager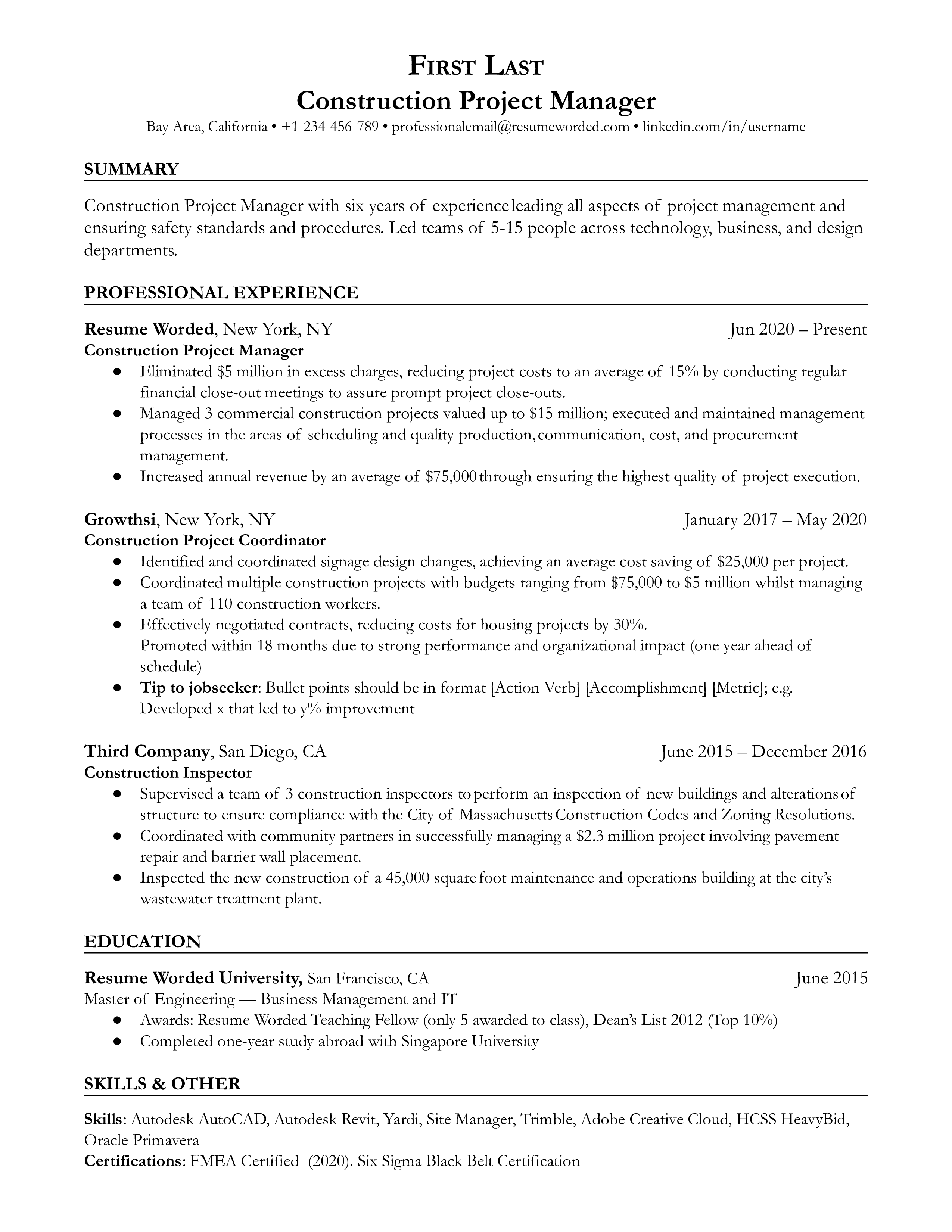 A construction project manager does more or less similar work as a construction manager. This professional ensures all the processes in a construction project run according to the project schedule. These include planning, implementation, controlling, monitoring, and closure. Think of a construction project manager as the overall head of a project. As a project's overall head, a construction project manager has a wide range of skills and knowledge. So, their resumes primarily focus on showing their in-depth understanding of the industry. It also highlights their top talents and the certifications they have received in their career.
Expand
Download .DOC or .PDF
Assistant Construction Manager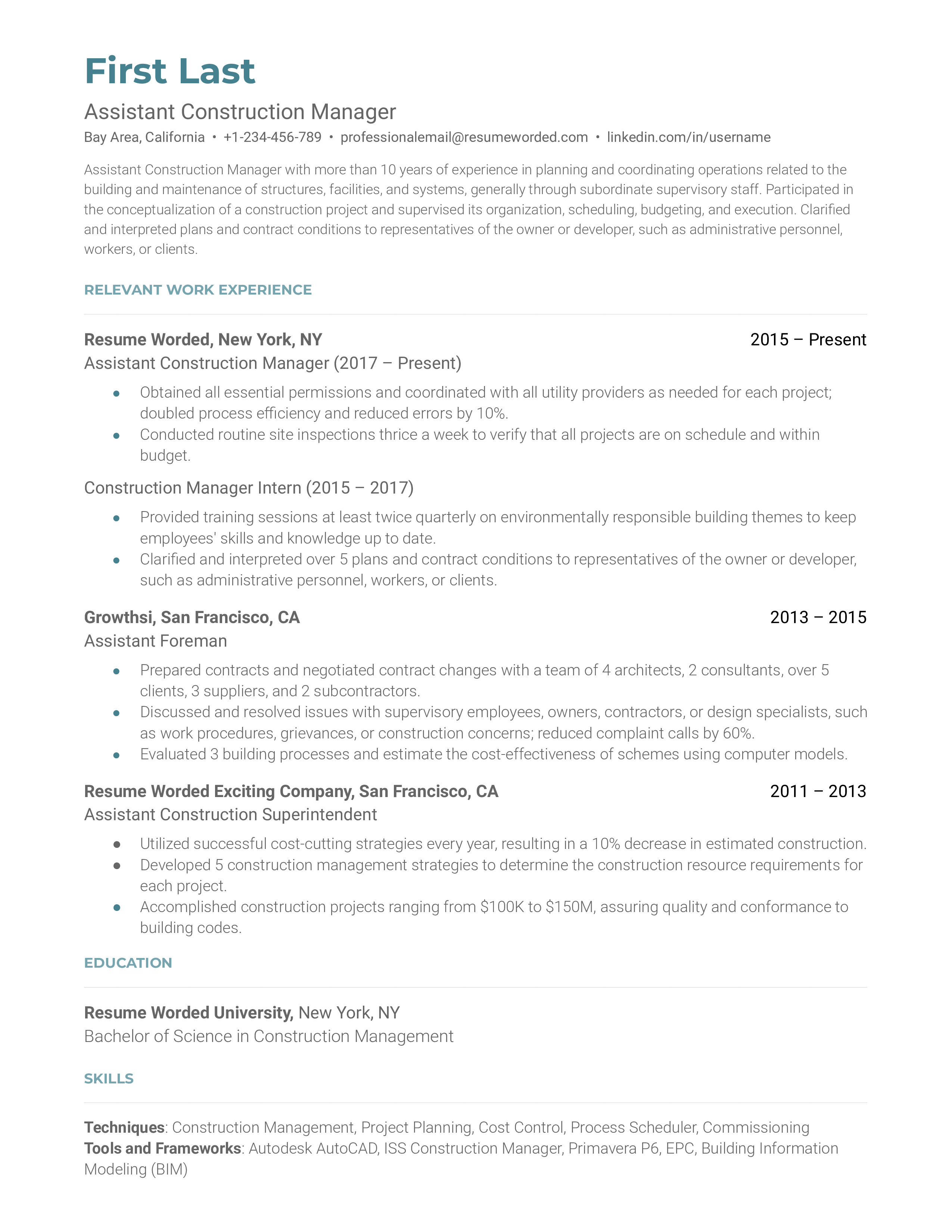 As the name suggests, an assistant construction manager is a personal assistant to the construction manager. Their role is to provide onsite assistance and help construction projects run smoothly and within the budget. The assistant construction manager's resume should highlight similar qualifications to those of a construction manager. For an applicant who has been in the industry for long, the resume focuses on expertise and skillset. The reverse chronological system is the best way to present your experience, starting with the most recent.
Expand
Download .DOC or .PDF
Load more resumes
Construction Manager resume guide
Action Verbs For Manager Resumes
Developed
Led
Spearheaded
Increased
Managed
Oversaw
Analyzed
Launched
Expanded
Recruited
Drove
Reorganized
Implemented
Directed
Negotiated
Maximized
How to use these action verbs?
One of the most important skills when writing your managerial resume is leadership and teamwork. After all, you're going to be managing other people and recruiters and hiring managers want to see evidence of that in your previous work experiences.

Every job is different and there are several kinds of managers depending on your industry. Always make sure you tailor your resume's action verbs to the job you're applying to, while avoid using the same action verb more than two times.

Action verbs like "Led", "Directed" or "Supervised" are excellent examples of those you can use in your manager resume to highlight core skills.