Overseeing a portion of the production of a business is no easy task, and so those who are willing to take the reigns as production managers are often highly sought after professionals. If your goal is to be a production manager in any field, you can expect to demonstrate your ability to produce products, lower costs, and improve operational efficiency.

Industrial or manufacturing production managers, video production managers, and print production managers all earn around $70,000 a year while utilizing technical skills that are specific to their trade.

Even though the responsibilities of a production manager will vary depending on the industry of their expertise, the key factors to keep in mind as you write your resume (which we'll cover below) are universal. Read on to find out what production managers should emphasize, as well as to learn the differences in their specializations. At the end, we'll cover key skills and action verbs that you should be sure to include throughout your resume.
Production Manager Resume Templates
Production Manager Resume Sample
Download Resume Template (Google Doc)
Download Resume in PDF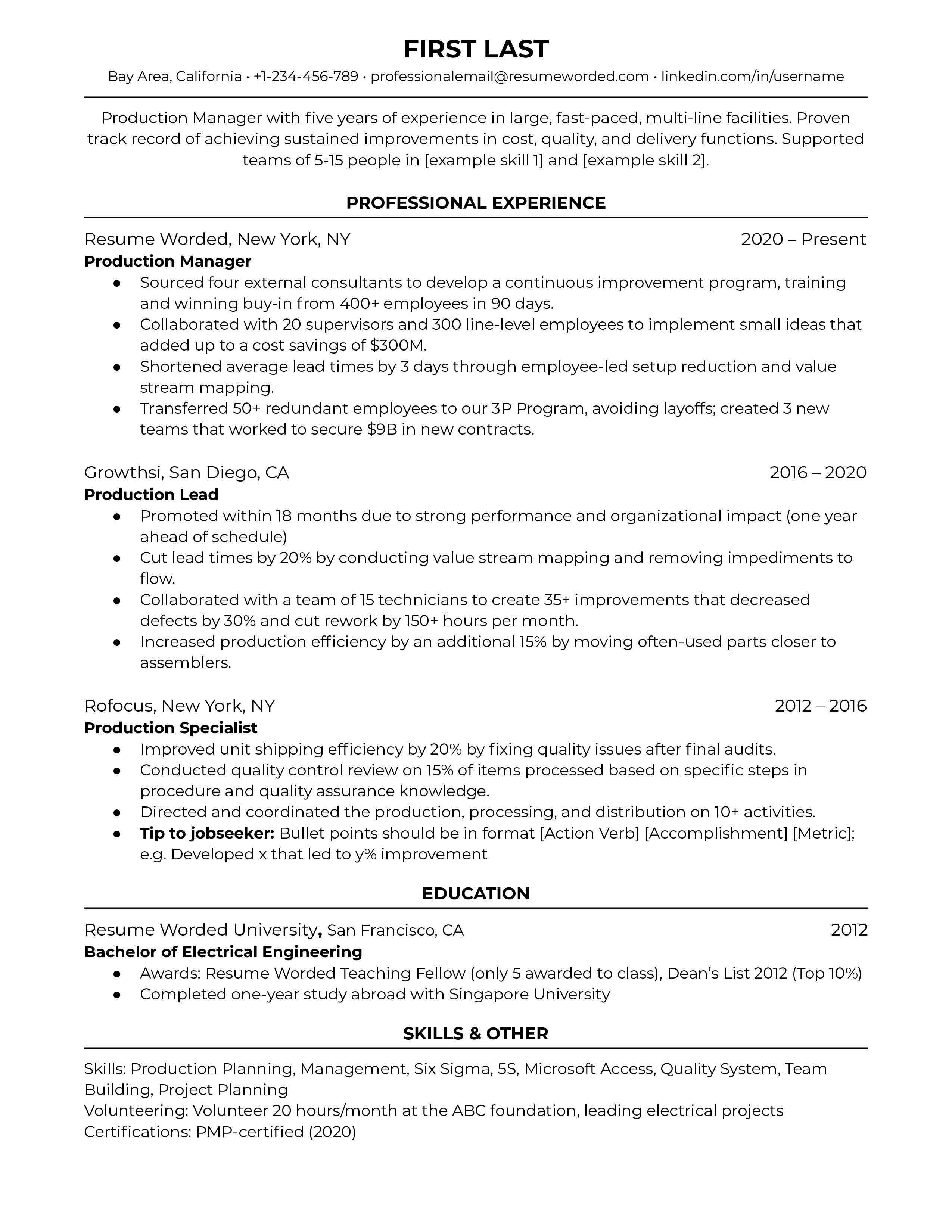 Why this resume works in 2021
Production managers are expected to ensure that the production operations at individual facilities continue smoothly. Being comfortable with numbers will serve you well in this role, and including them on your resume lets you express how you've performed at your past positions. Opening your resume with a short summary imparts your ability to be direct and efficient.
Improve your Production Manager resume, instantly.
Use our free resume checker to get expert feedback on your resume. You will:
• Get a resume score compared to other Production Manager resumes in your industry.
• Fix all your resume's mistakes.
• Find the Production Manager skills your resume is missing.
It's instant, free and trusted by 1+ million job seekers globally. Get a better resume, guaranteed.
Upload your resume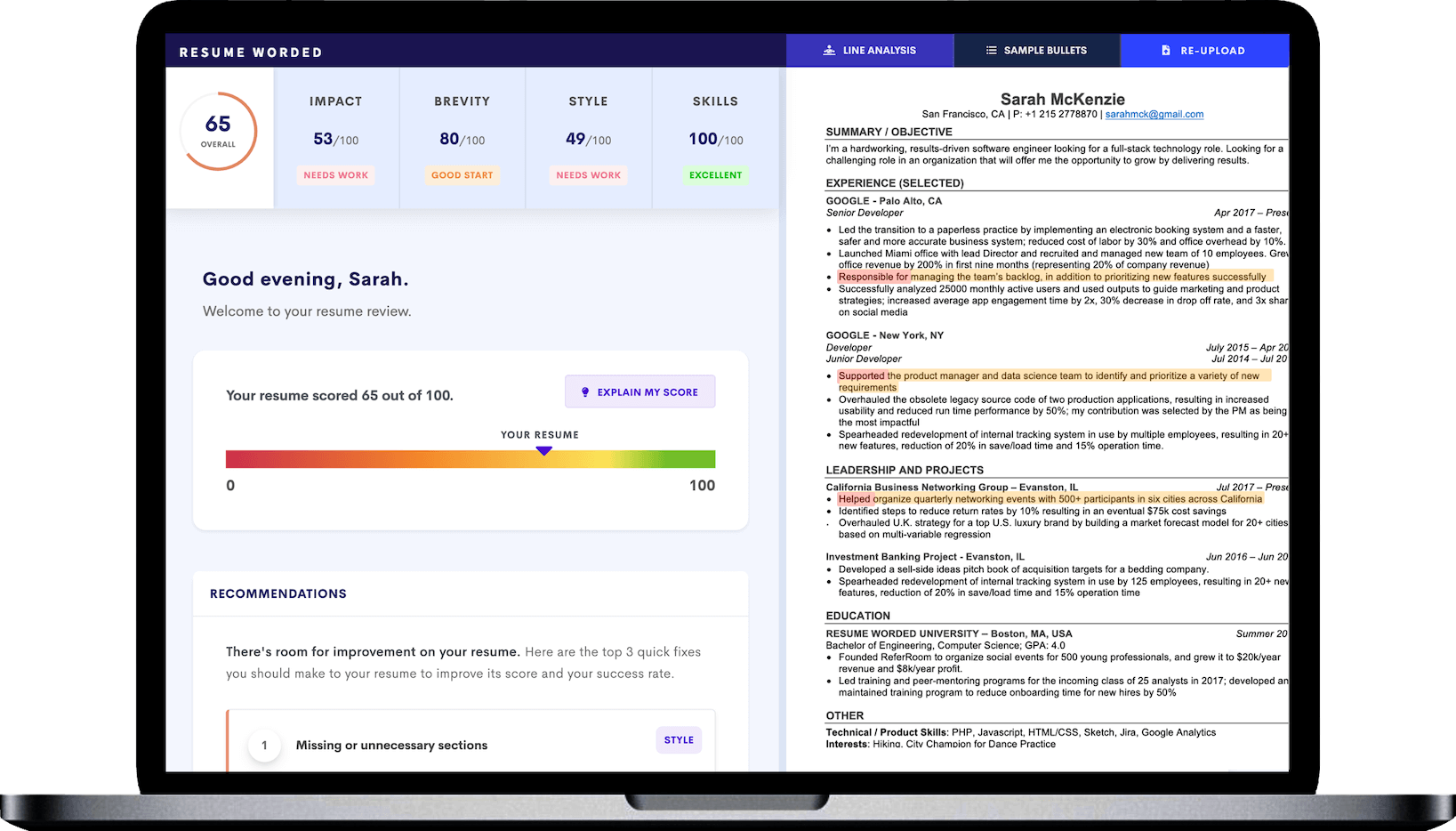 Print Production Manager Resume Sample
Download Resume Template (Google Doc)
Download Resume in PDF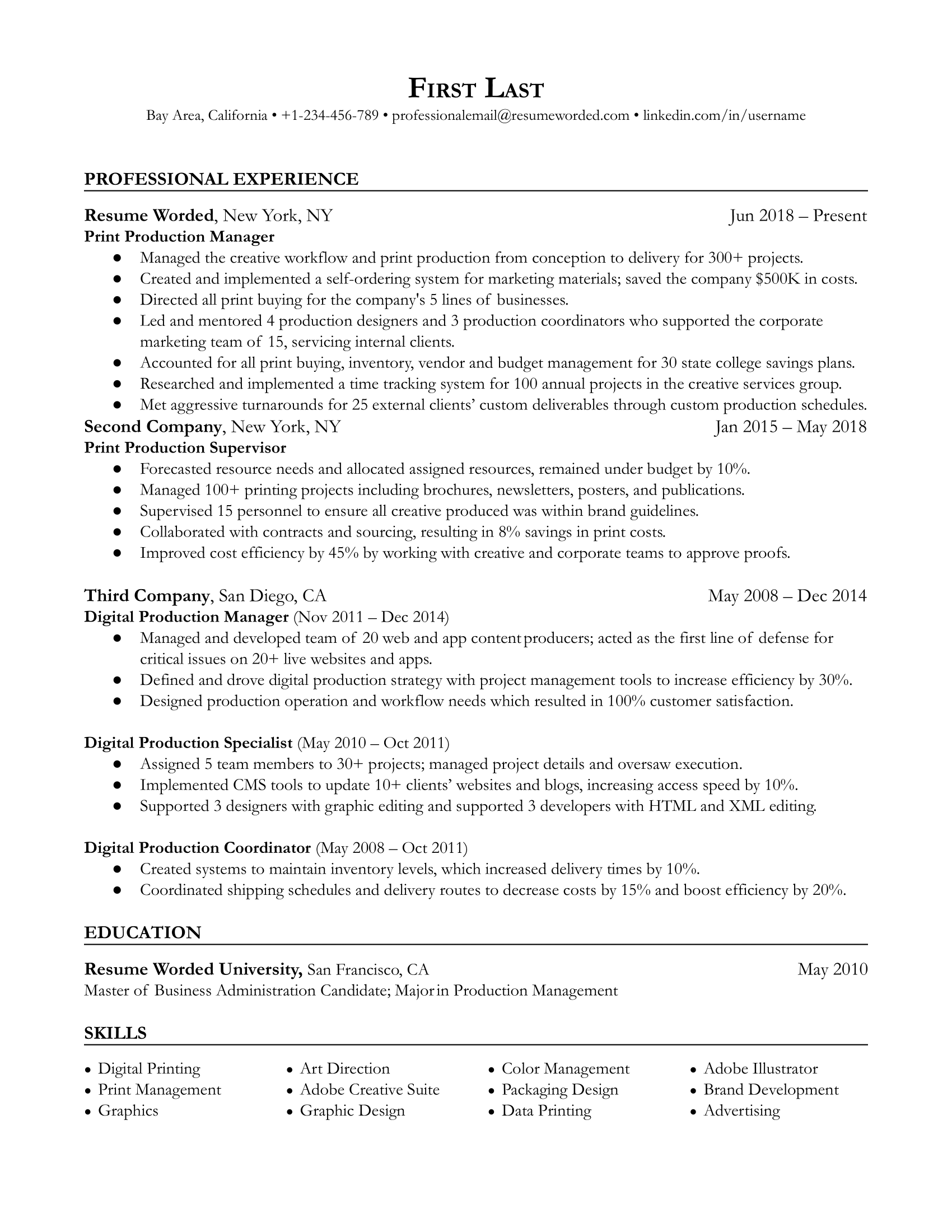 Why this resume works in 2021
Print production managers typically work directly with clients to develop printed marketing materials and communications that are then distributed to potential customers. Along with having familiarity with printed products and paper types, you'll benefit from including strong action verbs in your resume and, if relevant, showing any internal promotions at past companies.
Video Production Manager Resume Sample
Download Resume Template (Google Doc)
Download Resume in PDF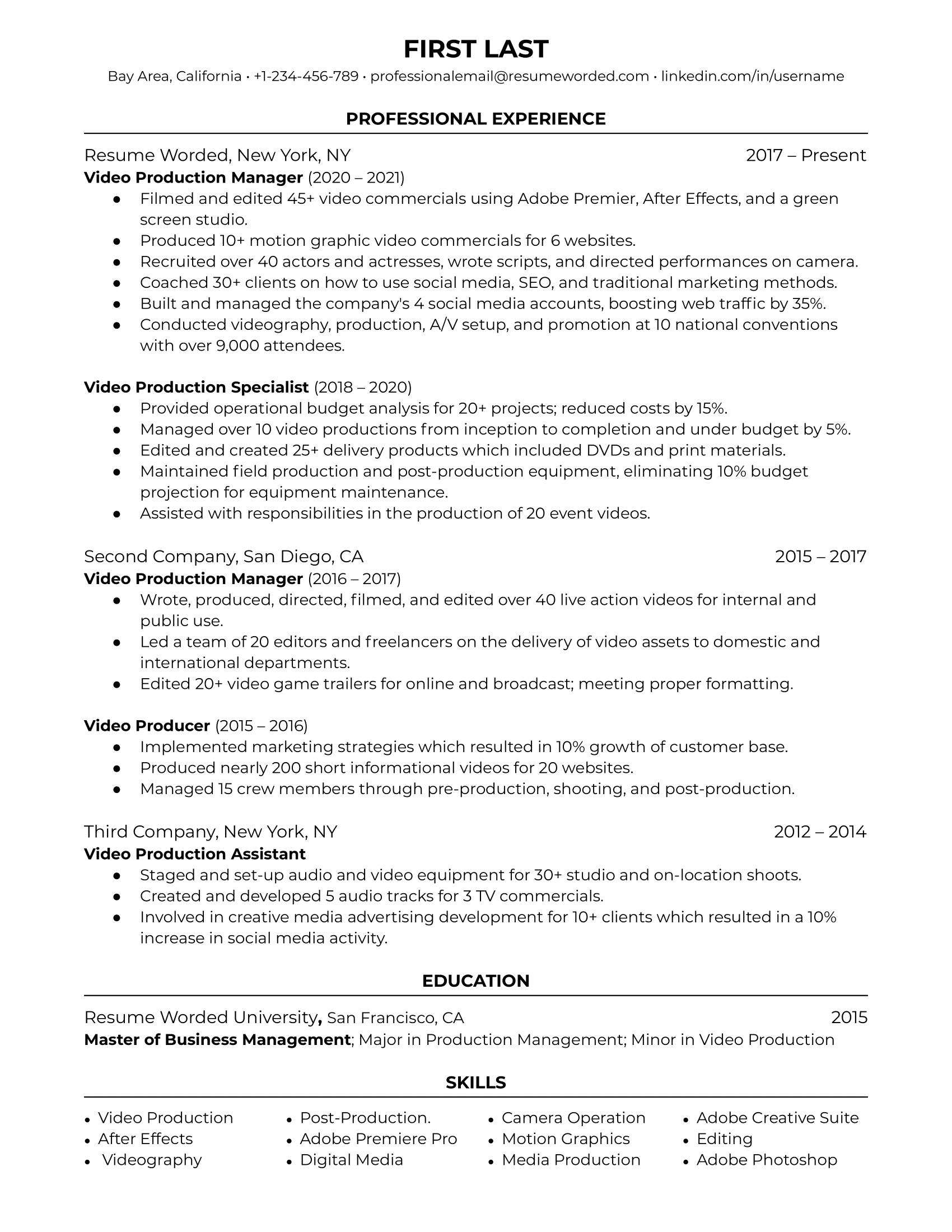 Why this resume works in 2021
Video production managers work with clients to develop video materials that may be used for internal (training) or external (advertising) purposes. The projects you'll be working on will vary in size, and it helps to include a breadth of accomplishments across the field. As your technical skills will play a major role in your work, listing them in a separate skill bank will highlight your expertise.
Skills For Production Manager Resumes
Production Management
Manufacturing
Lean Manufacturing
Continuous Improvement
Production Planning
5S
Product Development
Operations Management
Inventory Management
Entertainment
Six Sigma
Kaizen
Supply Chain Management
Manufacturing Operations Management
Purchasing
Video Production
Root Cause Analysis
Production Schedules
Engineering
Team Building
How to use these skills?
The specific skills you'll be including on your production manager resume will depend on the type of industry or field you'll be working in. Start by reviewing the job listing to identify the responsibilities the hiring manager is looking to fill, and tailor your own experience with the skills on the left to determine what skills you should emphasize.

You can work the appropriate skills for the position into a summary at the beginning of your resume, or throughout the body in each bullet pointed accomplishment. Staying focused on the skills that are relevant to production managers will show the hiring manager that you understand a key facet for production managers: being efficient.

If your position requires technical skills, such as in the case of print and video managers, you should include a skill bank at the bottom of the side of your resume.
Action Verbs For Production Manager Resumes
Managed
Created
Directed
Mentored
Accounted
Researched
Implemented
Supervised
Collaborated
Improved
Designed
Supported
Coordinated
Conducted
Produced
Implemented
How to use these action verbs?
To make your resume as hard-hitting as possible, you'll want to start each of your accomplishments with an action verb that conveys responsibility. From the list on the left, pick relevant action verbs for your experience and incorporate them into the beginning and the body of your bullet points. Don't overuse any single verb, or your achievements will run together; instead, show your past successes in a variety of production manager-related tasks.

For a full list of effective resume action verbs, visit Resume Action Verbs.