Program managers are the head of overseeing numerous projects at once, working with several project managers as a senior leadership position. They excel at coordination, efficiently handling multiple projects, and are responsible for spearheading enterprise-wide efforts in order to make informed, strategic decisions to scale the business while staying within specified budgets. Planning, delegation, and achieving clearly defined deliverables are all within the realm of a program manager.

The job outlook of program managers is dependent on your industry. There is an expected 15% rise in financial manager roles up to 800,000 jobs, while there is an expected 10% for computer and information systems managers up to 500,000. The top is general and operational managers with over 2.5 million jobs on its own. All together, the anticipated forecast of program managers roles will be well over 6 millions positions in the United States by 2029.

Since a program manager role is typically the next step in the career ladder from a project manager, it is a highly competitive field that requires an impressive resume that demonstrates the relevant skills and quantifiable deliverables to stand out from the rest of the crowd.

With that being said, what do successful resumes for a program manager look like in 2021? Let's dive in with some resume templates, specific skills to make sure to include on your resume, and action verbs to leave that strong, first impression on the recruiter.
Program Manager Resume Templates
Program Manager Resume Sample
As a seasoned project manager, you need to show off your achievements in your previous roles and connect your current skill set to this position. Your work history should detail your experience of implementing and streamlining processes, successful completion of projects with team collaboration, and effective time management. Catering to the role you're applying to by highlighting any relevant program management experience you have is also important!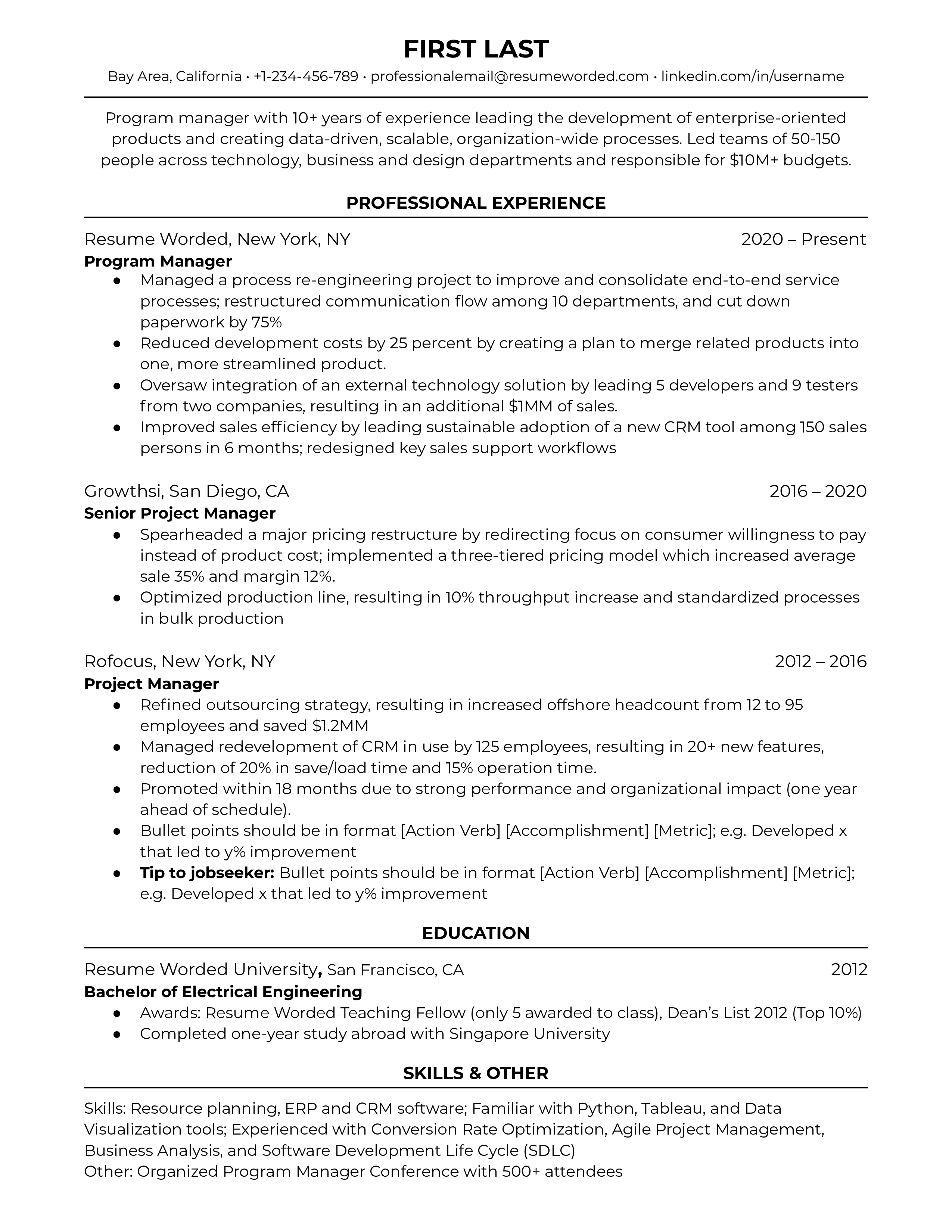 Recruiter Insight: Why this resume works in 2021
Marketing Program Manager Resume Sample
Every business needs marketing. The field has flourished over the last decade with the explosive growth of social media and endless channels to reach your target audience. A marketing program manager will work closely with the marketing team and cross-department communication is a must. This resume template will demonstrate your previous experience in marketing and communication.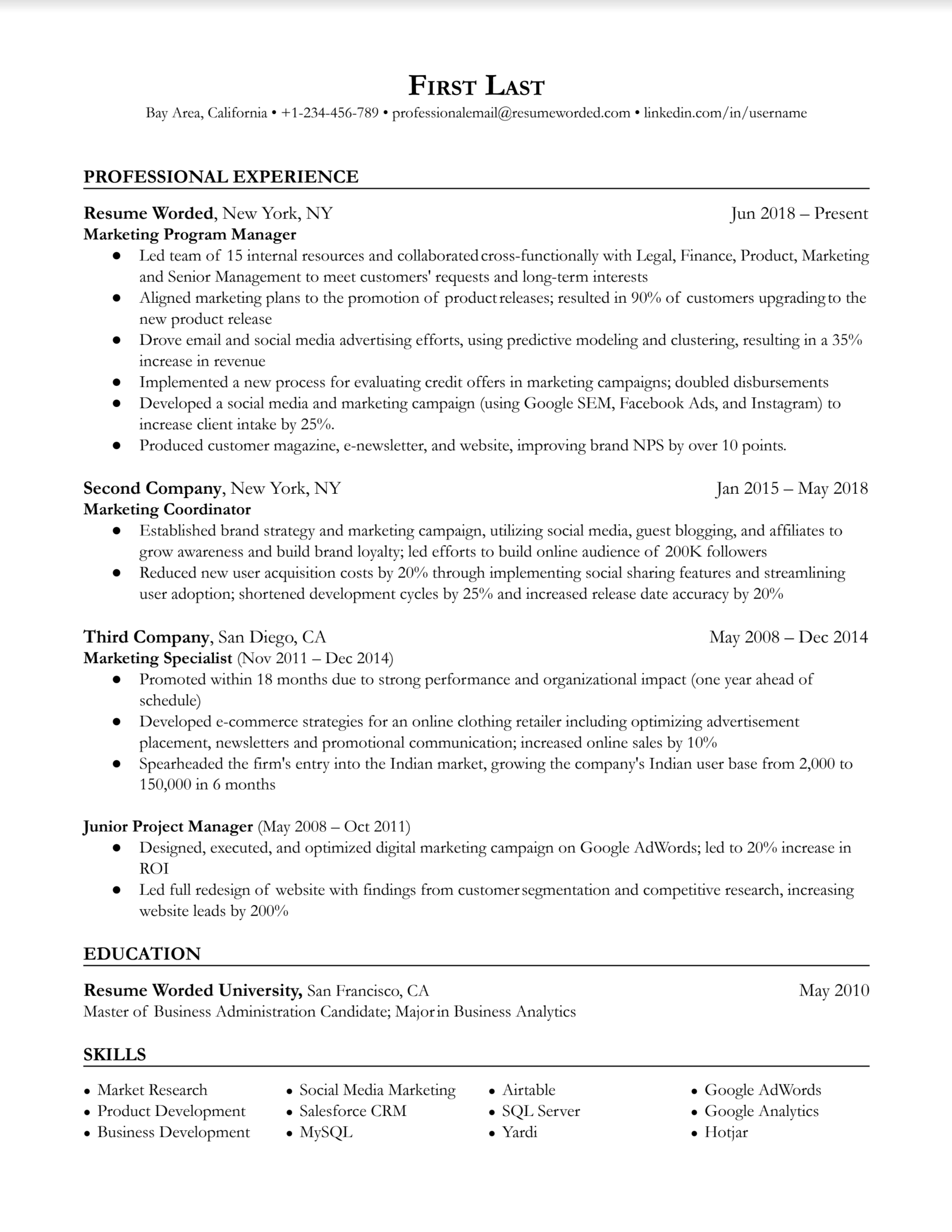 Recruiter Insight: Why this resume works in 2021
Entry-Level Program Manager Resume Sample
The barrier to entering a new industry can be difficult, but you shouldn't let that deter you from what you want to do and any windows of opportunities! After all, you miss 100% of the shots you don't take. This entry level program manager resume capitalizes on your education, followed by your work experience and other applicable activities that make you a promising candidate to get your foot in the door.
Recruiter Insight: Why this resume works in 2021
Senior Program Manager Resume Sample
So, you have experience in this role and you're looking for something new. This isn't your first rodeo and you're familiar with the world of program management -- if this sounds familiar, this senior program manager resume template is for you! This resume is heavily concentrated on your impressive work experience and transferable skills.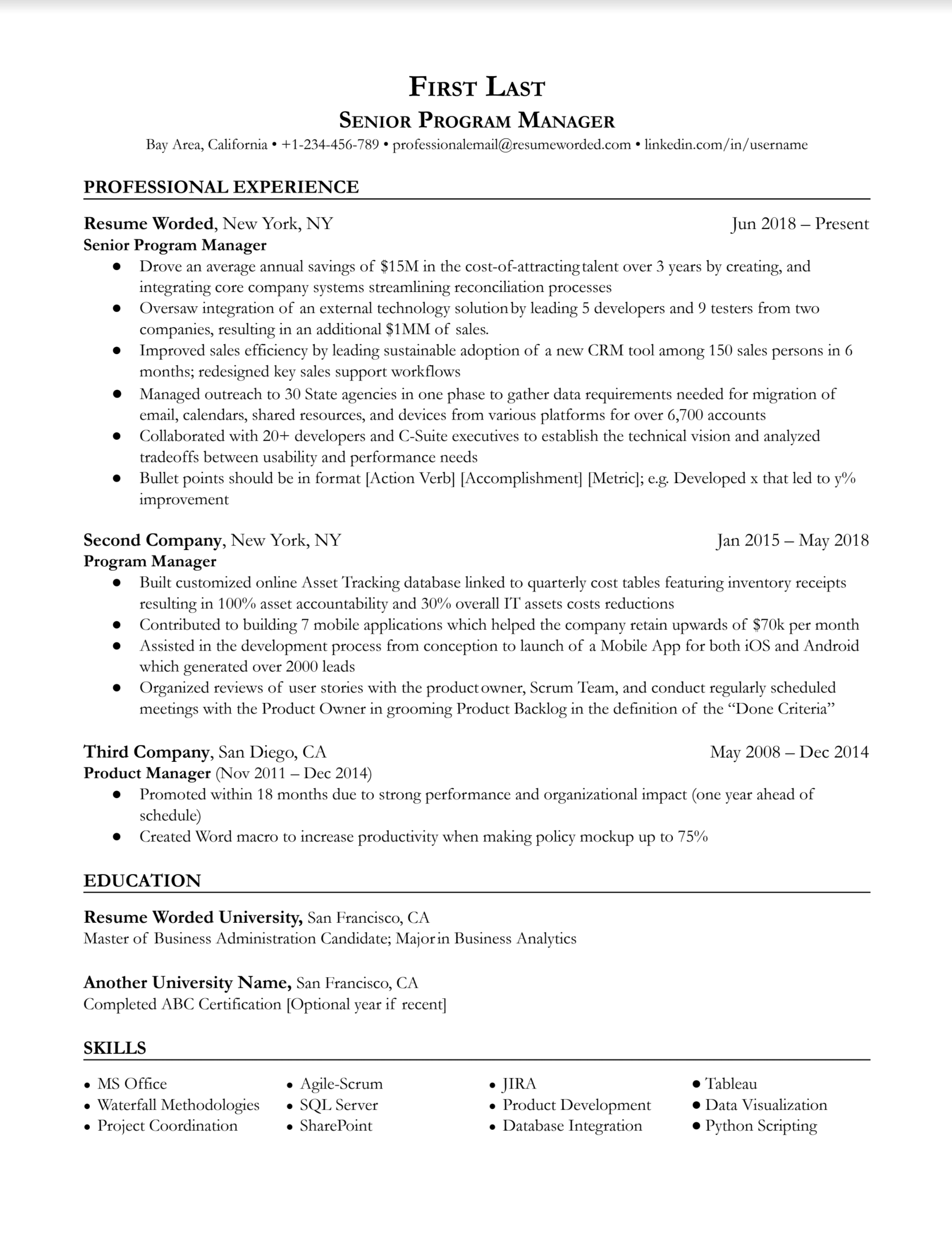 Recruiter Insight: Why this resume works in 2021
Technical Program Manager Resume Sample
The technical industry has wildly grown over the last several years, with many developer and engineer roles in high demand by startups and tech giants alike. As a result, technical program managers in 2021 are highly desirable and this resume template will show you how to stand out against the competition with powerful words and relevant examples.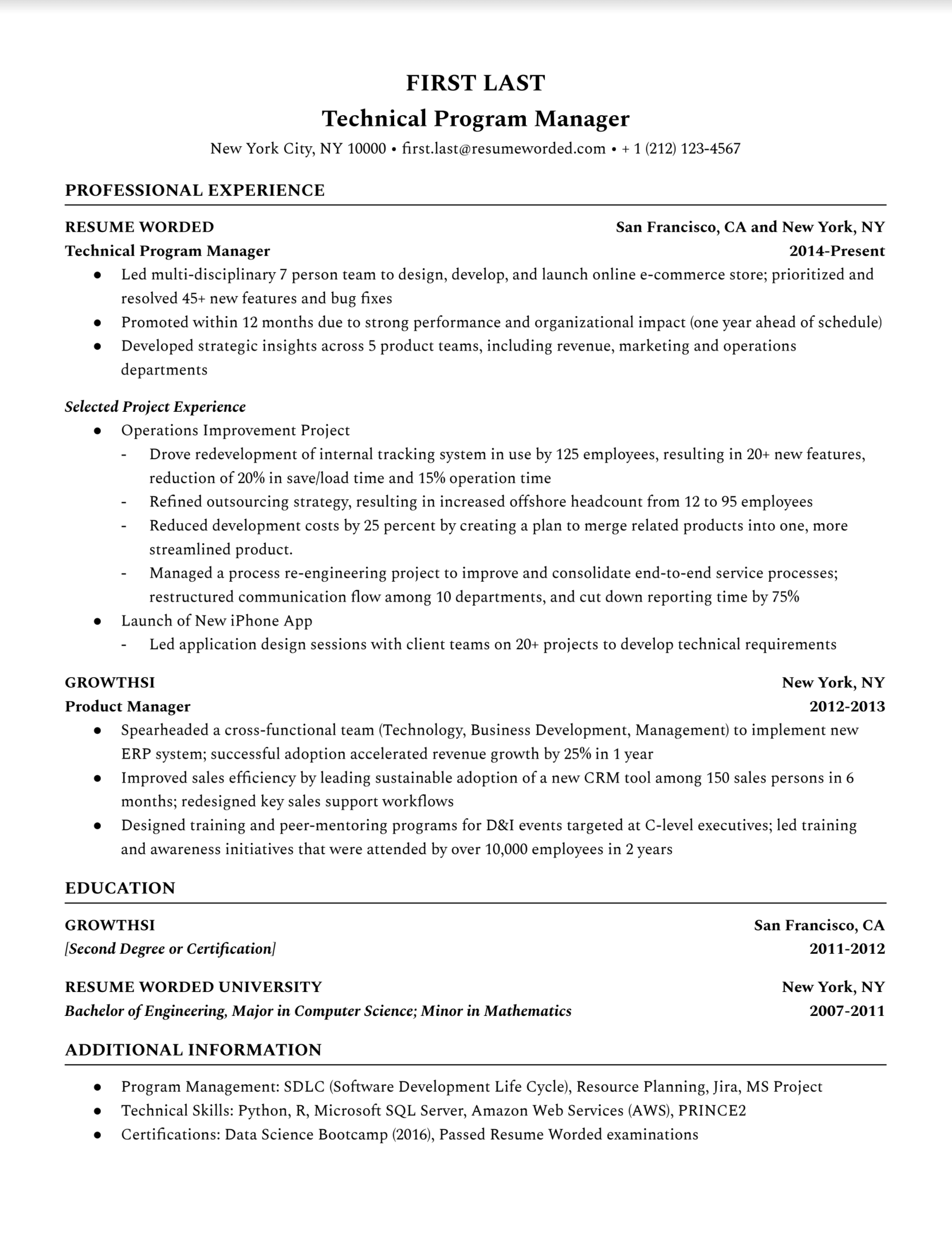 Recruiter Insight: Why this resume works in 2021
Operations Program Manager Resume Sample
If you're in operations, make sure to focus your resume on how you improved general operations at your company, whether that's process improvement or creating systems.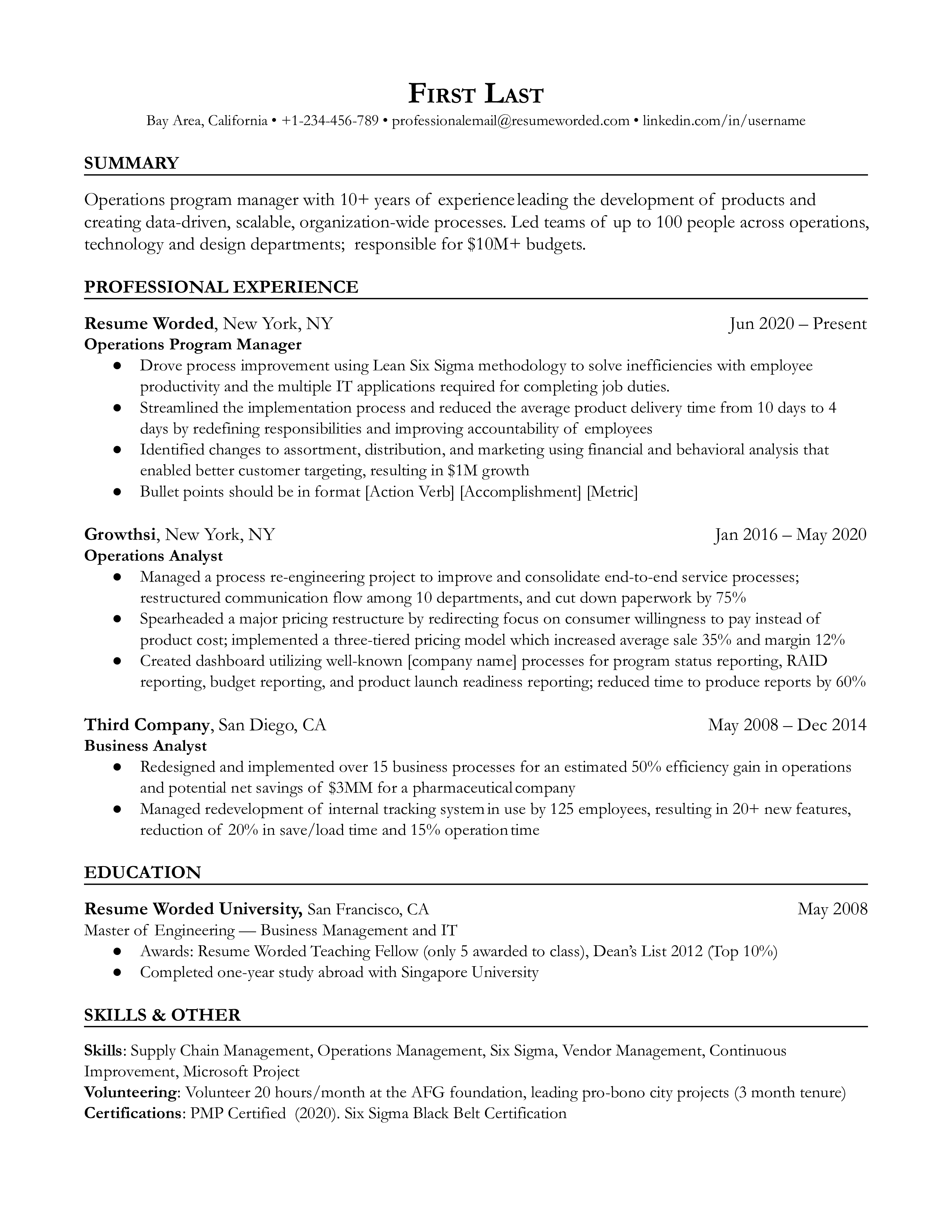 Recruiter Insight: Why this resume works in 2021
Skills For Program Manager Resumes
When crafting your program manager resume, make sure to carefully read the job description, responsibilities, and the requirements of the role that you're applying for. Each one may be slightly or drastically different in terms of the specific department. Using the same keywords in the job listing will help get your resume past the company's applicant tracking system (ATS), so a real human will read it and see your amazing accomplishments!

To give you an idea of what recruiters would be looking for, here is a list of keywords and hard skills that are relevant to a program manager role. It's important to use hard skills that you have under your belt -- make sure you actually are familiar with them if they're on your resume, and use examples to support them. Creating specialized, targeted resumes are also helpful to cater to the position to increase your chances of landing an interview.
Program Management
Cross-functional Team Leadership
Integration
Program Development
Agile Methodologies
Software Project Management
Business Process Improvement
Vendor Management
Software Development Life Cycle (SDLC)
Requirements Analysis
Agile Project Management
Nonprofit Organizations
Project Planning
Product Management
U.S. Department of Defense
Business Analysis
Community Outreach
Project Management
Strategy
Change Management
Program Manager Resume Tips
Program managers are known for their diverse abilities in business, leadership, communication, and project management -- just to name a few. Collaboration with others, delegating tasks, adapting to change, and making informed, strategic decisions based on data analysis are a must. Your resume should encompass a majority (if not all) of these skills as a demonstrated and experienced leader in the field.

That being said, here are some important tips when writing your program manager resume in order to catch the recruiter's eye:
Action Verbs For Program Manager Resumes
Action verbs are powerful tools at your disposal to demonstrate the significant impacts you had at your previous roles. Your program manager resume should utilize strong action verbs to support and emphasize your accomplishments. Here is a list of action verbs used in excellent program manager resumes.

It is important to make sure not to repeat the same action verb more than twice if you can help it on your resume. The more that you use it, the less impact that the verb has on the reader since you're just describing the same skill set. For example, if you saw "Researched market shares to increase effectiveness by 15% over one year" and "Researched strategic methods to facilitate meetings, boosting productivity by 60%" on the same resume, it sounds less impressive the second time.

Being creative with your action verbs while keeping them relevant to your program manager resume is key.
Spearheaded
Counseled
Directed
Performed
Overhauled
Authored
Overcame
Accelerated
Achieved
Improved
Revitalized
Pioneered
Strengthened
Resolved
Expanded
Upgraded
Mastered
Eliminated
Discovered
Completed
For a full list of effective resume action verbs, visit Resume Action Verbs.
Resume Bullet Points From Program Manager Resumes
You should use bullet points to describe your achievements in your Program Manager resume. Here are sample bullet points to help you get started:
Led multi-disciplinary 7 person team to design, develop, and launch online e-commerce store; prioritized and resolved 45+ new features and bug fixes
Developed an Excel macro and standardized reporting templates, resulting in efficient data collection and a 35% reduction in turnaround time
Reduced new user acquisition costs by 20% through implementing social sharing features and streamlining user adoption; shortened development cycles by 25% and increased release date accuracy by 20%
Managed international stakeholders in India, United Kingdom and Hong Kong by hosting daily standups and coordinating weekly status reports
Created knowledge base of 80 internal resources, improving employee onboarding and reducing time spent per project on administrative tasks by 40%
For more sample bullet points and details on how to write effective bullet points, see our articles on resume bullet points, how to quantify your resume and resume accomplishments.