With no shortage of new products entering the market in any given year, product managers are in high demand for a growing variety of industries who are targeting a wide range of consumers. Younger generations are rapidly gaining buying power, requiring companies to have the ability to rapidly adapt to new audiences with fresh, well-marketed products.

Product managers are responsible for overseeing the lifecycle of products, including successfully identifying both the product's assets and the consumers who would be most interested in buying it. This makes creativity high on the list of traits that companies are looking for, as well as having the technical skills to understand and incorporate data and create meaningful graphical renderings to convey the product's worth internally and externally.

Along with being able to assess a product's value to consumers and to companies, product managers need to have excellent people skills due to the different types of personalities they'll be managing and working with. The fusion of creativity, communication skills, and organizational ability is ideal for those interested in being a first-rate product manager.

From 2017 to 2020, the number of openings for product managers more than doubled. With an average salary of $110,916 and a high rate of job satisfaction, it's clear that competition in the field is fierce.

Having the ability to skillfully determine the value proposition of products and coordinate your team members isn't enough to secure a product manager job - you'll also need to have a resume that clearly communicates your prowess. This guide will cover best practices on what your product manager resume should focus on, section by section, including what should be emphasized to make your pitch truly pop.
Product Manager Resume Templates
Product Manager Resume Sample
This resume is well-organized and effective at conveying the successes of product managers who have had some experience in the field. Snippets of past positions, skills, education, and awards form a comprehensive picture of a well-grounded product manager who has worked their way up to a solid position and is looking to grow more with a new company.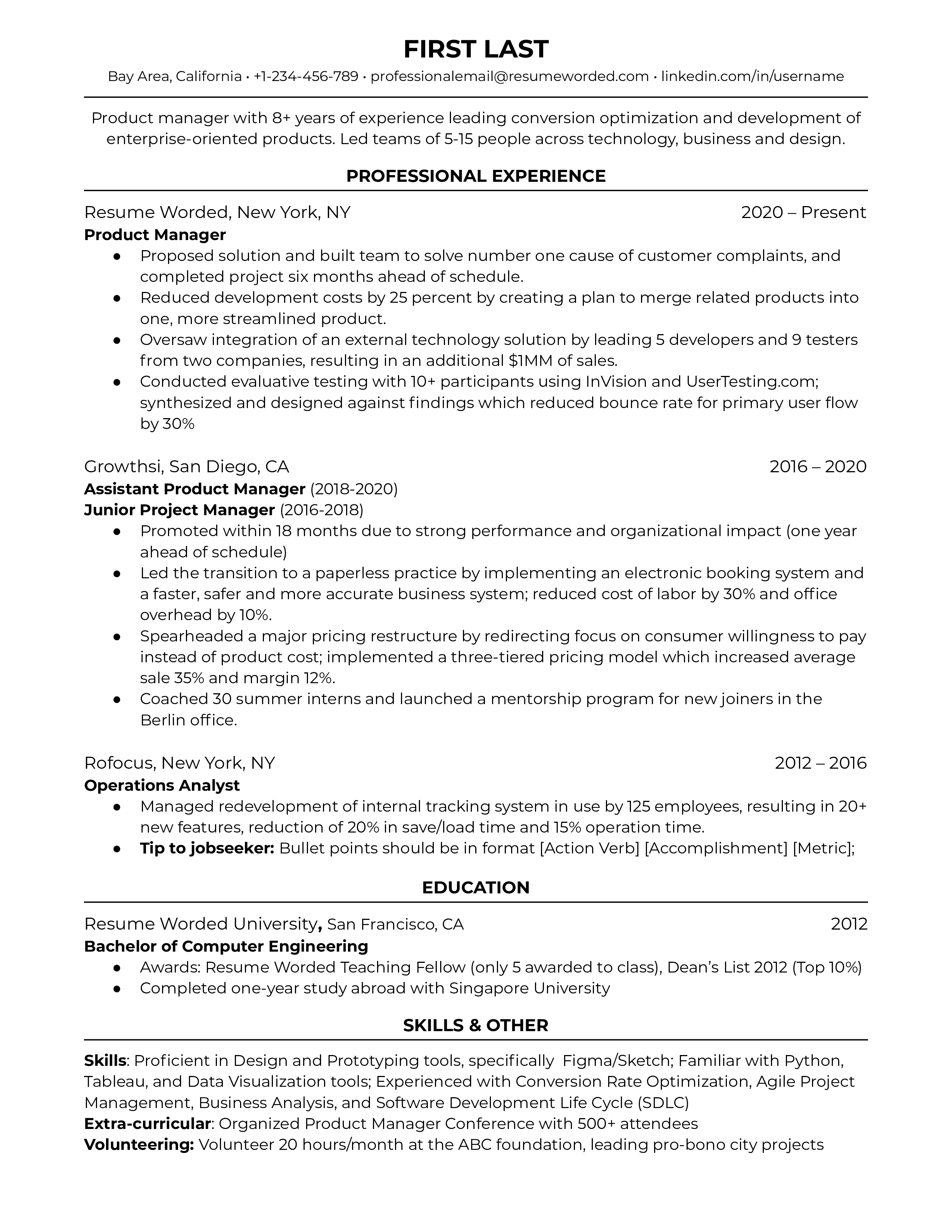 Recruiter Insight: Why this resume works in 2021
Senior Product Manager Resume Sample
Companies seeking experienced product managers will be looking for demonstrations of effective leadership, and this resume works for that purpose. If your past accomplishments speak for themselves, this format will help you illustrate that you have navigated the field for a while - and that you are prepared for and willing to take on even greater challenges.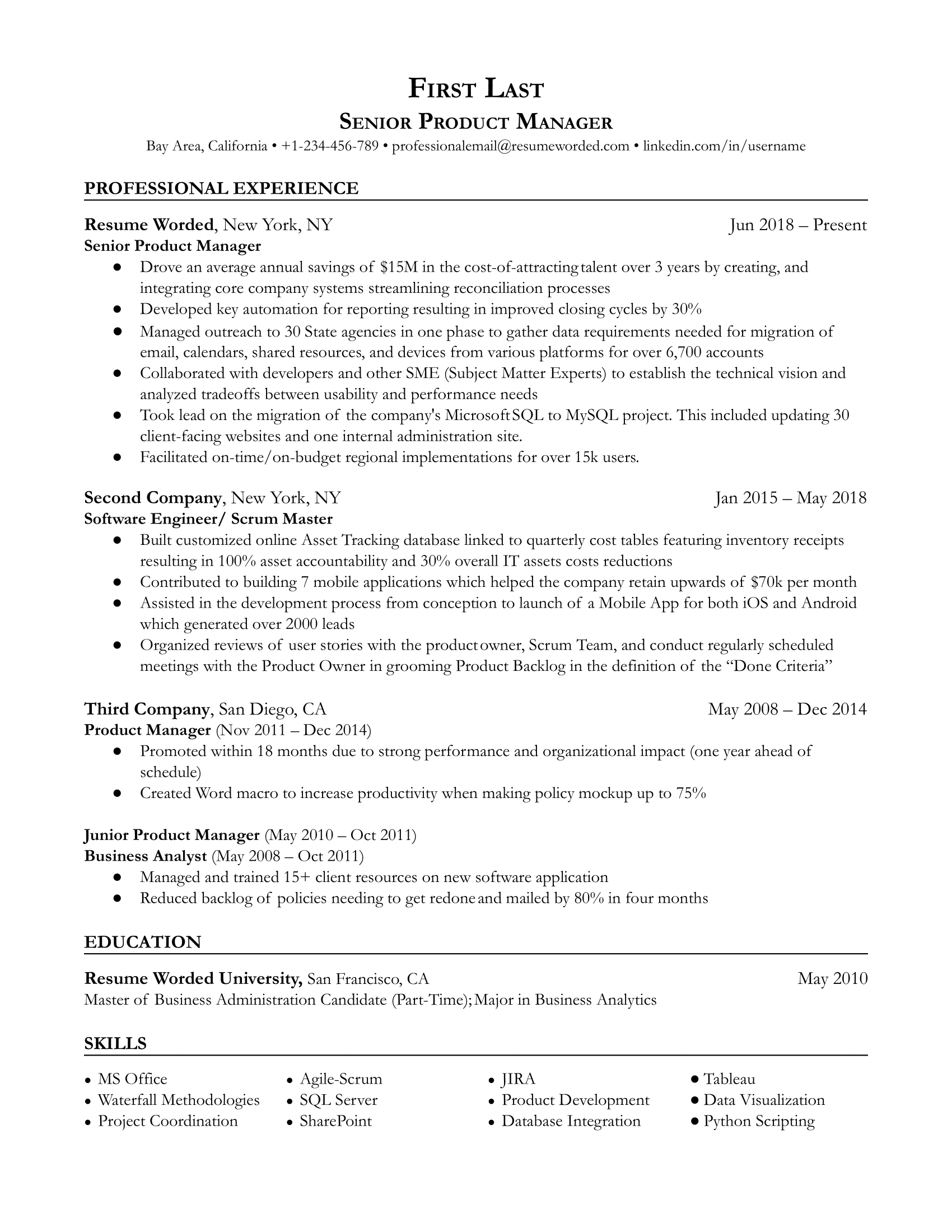 Recruiter Insight: Why this resume works in 2021
Entry Level Product Manager Resume Sample
Product managers who have less experience but sufficient education can remain in the running if they can incorporate their affinity for product manager skills in their resume. If you have similarly taken on related responsibilities (such as management of civic projects), or have relevant skills (which could lend well to international companies), make sure to include these in your resume.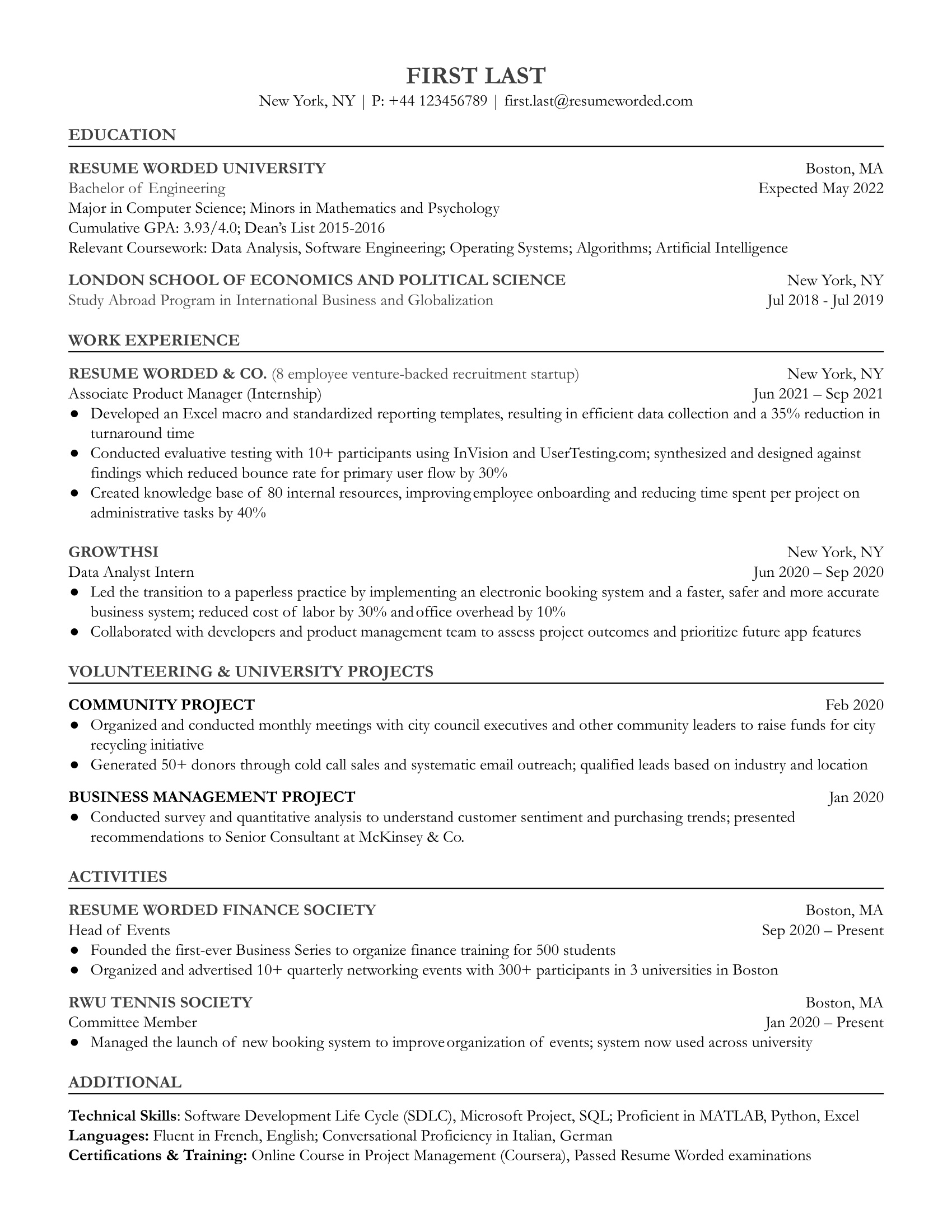 Recruiter Insight: Why this resume works in 2021
Technical Product Manager Resume Sample
If your background is in technical skills, IT work, and working with data, you can relate this using a similar format that emphasizes your ability to put technical skills to use for a range of purposes. The clear use of organizational ability and numerical affinity are present in this resume, highlighting a data-based background.
Recruiter Insight: Why this resume works in 2021
Product Marketing Manager Resume Sample
The marketing and product management field is filled with job applicants who lack significant experience. This resume, by contrast, illustrates the marketing background of the product manager and does an excellent job at conveying a sense of continuous accomplishments at a variety of tasks.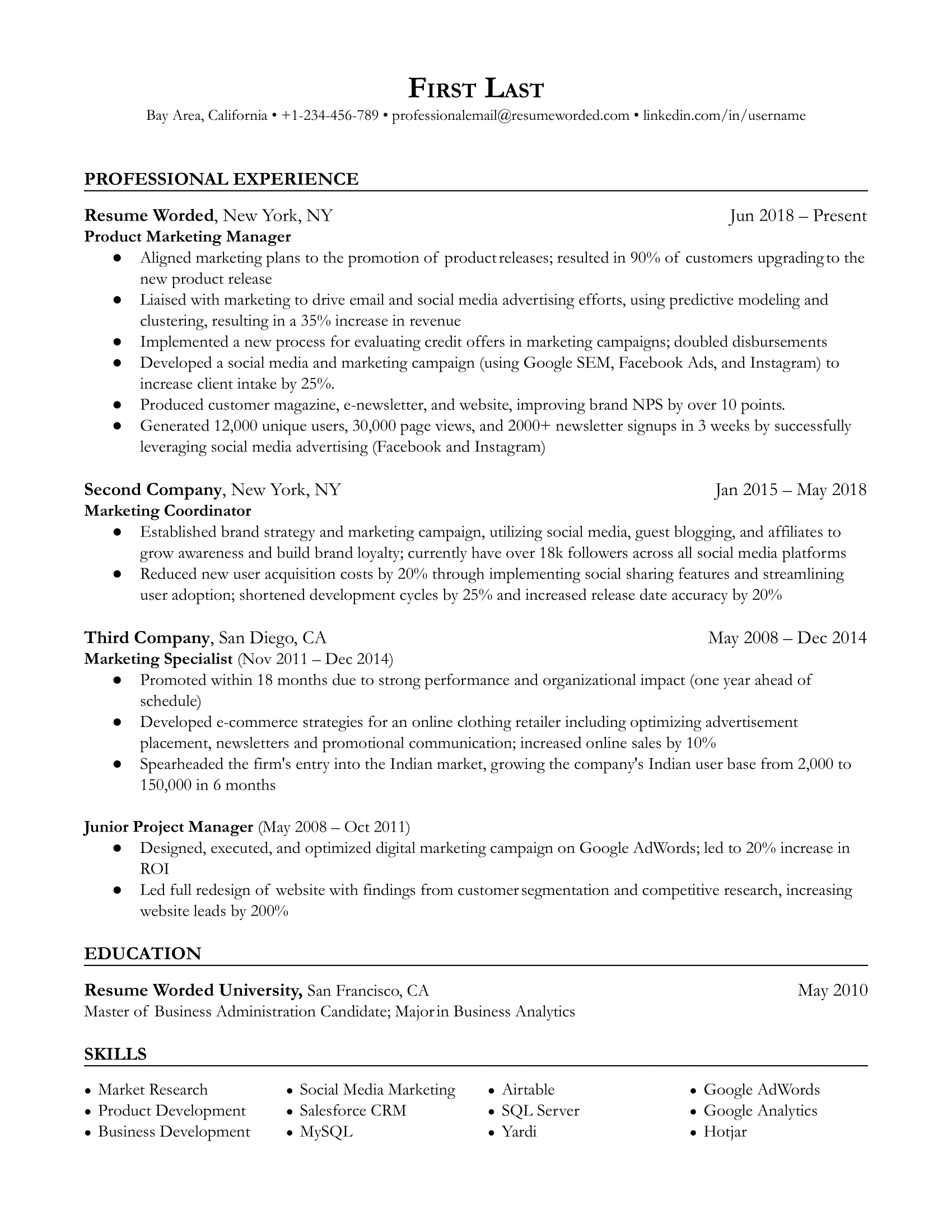 Recruiter Insight: Why this resume works in 2021
Skills For Product Manager Resumes
Product managers in the modern era will ideally demonstrate both hard and soft skills at first glance. Hard skills are fundamentally important as they convey experience working with data, numerical value input, technical software, and visual aids that make up the bread and butter of product and company reports. Soft skills, which can be illustrated by experience working with team members or as a manager who improved employee performance, are equally valuable to companies looking to fill a position for the long term.

To give you an idea of what skills are most desirable for product managers and the keywords employers are looking for, we've compiled the list on the left based on resumes in the product manager field. Try to incorporate whichever ones are appropriate to your background in your application, but don't overly stuff them - remember, being clear and succinct are desirable traits for product managers!
Product Management
Agile Methodologies
Product Development
Product Strategy
Product Marketing
User Experience (UX)
Scrum
Cross-functional Team Leadership
Jira
Product Launch
Strategy
Software as a Service (SaaS)
Product Lifecycle Management
Competitive Analysis
Agile Project Management
Product Road Mapping
Analytics
Business Analysis
Product Design
SQL
Product Manager Resume Tips
When showcasing your skills as a product manager, it's important to do it in a way that is easy to read. This is true whether the position you're applying for is based in marketing or in technical skills as having strong organizational ability is definitely an asset.

With that in mind, your first step should be to decide on what type of layout is best suited for your personal experience. You can do that by reviewing the example resumes covered above and tailoring them to fit your work and educational history.
Action Verbs For Product Manager Resumes
Every accomplishment listed (in a bullet point) should start with an action verb suited to the product manager role. As a manager, this can mean that you "led" or "coached" a team, "developed" strategic insights, or were "promoted" ahead of schedule due to your prowess. As a communicative innovator, you may have "overhauled" an aging system, "aligned" the goals of multiple departments, or "implemented" a new process. Perhaps your product assessing ability led to "reduced" development times or improvements based on the testing you "conducted".

Emphasizing your ability to lead a team, assess a product or system, reduce costs, or improve customer adoption are all effective strategies for product managers. Always focus on your accomplishments rather than your basic duties, and hiring managers will be more likely to take notice.
Overcame
Overhauled
Initiated
Doubled
Upgraded
Transformed
Pioneered
Designed
Devised
Introduced
Generated
Evaluated
Adapted
Revamped
Spearheaded
Innovated
Unified
Streamlined
Restructured
Conceptualized
For a full list of effective resume action verbs, visit Resume Action Verbs.
Resume Bullet Points From Product Manager Resumes
You should use bullet points to describe your achievements in your Product Manager resume. Here are sample bullet points to help you get started:
Generated insights on customer churn and renewal rates from data tables with 100M rows in SQL
Managed a 10-member cross-functional (engineering, product, sales, support) team and coordinated with five business partners towards the successful launch of an e-commerce website
Analyzed brand's pricing, advertising and distribution data and identified seasonal trends and white space by integrating consumer insights; recommended strategic changes in portfolio and marketing plan to C-suite executives, reversing sales slump (+6.5%)
Led multi-disciplinary 7 person team to design, develop, and launch online e-commerce store; prioritized and resolved 45+ new features and bug fixes
Managed international stakeholders in India, United Kingdom and Hong Kong by hosting daily standups and coordinating weekly status reports
For more sample bullet points and details on how to write effective bullet points, see our articles on resume bullet points, how to quantify your resume and resume accomplishments.